With most decent electric road bikes starting at nearly £2000, you may be wondering if it's possible to convert a road bike to electric and save a packet in the process. In this article, I'll be looking at the best electric conversion kits for road bikes and highlighting potential compatibility issues.
The good news is that most road bikes can be converted fairly easily. There are some exceptions that I will explain below, but most of the cheaper ones should be fairly straightforward to convert to electric. This article also applies to gravel bikes – if you want to build a cheap electric gravel bike, read on!
All of the e-bike conversion kits below have been reviewed elsewhere on this site, but this article aims to provide recommendations based on the context of road and gravel bikes. Check out my latest DIY gravel bike here.
Benefits of Converting a Road Bike to Electric 
The main benefit of choosing a conversion kit over purchasing a new e-road bike is the cost. Although there are cheap electric road bikes available, most new electric road bikes start at well over £2000, and for that price, you're usually getting an entry-level groupset like Shimano Claris.
If you already have something half decent, the chances are it can be easily converted using either a small rear hub motor or a mid-drive system.
Having electric assist on a road bike can be beneficial for several reasons: You may be recovering from an illness or injury, or you may have gained weight and want to ease yourself back into cycling after a long period without exercise.
Another factor is where you live. Some of us are fortunate enough to live in an area that is as flat as a bowling green, making cycling fairly easy. But if you live in an area where there is hill after hill, it can be hard to get yourself motivated to go cycling for any long distance.
Cost of Converting a Road Bike
As mentioned above, the main appeal of converting a road bike you already own to electric assist is cost. Even if you decided to purchase a new entry-level road bike the savings can be substantial. Below is an example of building your own DIY electric road bike (at the time of writing):
The total weight of the above build would be 16.72kg – 10.12kg (bike), 3.6kg (motor kit), and 3kg battery. And for that price, you would have a brand new, torque-sensing mid-drive electric road bike with a decent battery range of 50-60 miles.
If you opted for a rear wheel, cassette-compatible hub motor kit the total cost would amount to just £1124.99 ($1695). When you compare this to something like the entry-level Orbea Gain D50 which costs £2359 ($3250), it all starts to make sense.
Check out 10 of the Best Electric Road Bikes
Will my Road Bike be Suitable for Electric Conversion?
There are quite a few factors that will determine if your bike is suitable or not. These mainly focus on the type of bottom bracket your bike has, the frame material and wheel dropouts.
Bottom Bracket compatibility
The type of bottom bracket your bike has, is an important consideration especially if you're fitting a mid-drive. Most hub motor kits are supplied with a pedal sensor that is designed to be fitted to the non-drive side of a regular square-tapered cartridge bottom bracket.
A lot of road bikes will have either Octalink / ISIS or external cup bearings like the Shimano Hollowtech II (or FSA Mega Exo / SRAM GPX). If you are fitting a hub motor you will need a specific pedal sensor.
If you want to fit a mid-drive, then as long as your bike has a standard threaded BB shell that is 68 mm-73 mm wide with an internal diameter of 33.5mm you will be fine. But if your bike has a pressfit bottom bracket it's probably best to forget about a mid-drive and stick with a hub motor.
Rear Dropouts
Most older road bikes have standard dropouts, which will accept a regular rear hub motor, but more and more modern road bikes have thru-axles – this would make fitting a hub motor impossible.
Frame material
Frame material is an important consideration when converting a road bike to an electric assist. Simply because these frames weren't necessarily designed to cope with the extra weight associated with a conversion kit.
Steel Frames
The obvious choice for an electric conversion would be a steel-framed touring bike. Touring bikes are designed to carry extra weight and steel is (in my opinion) one of the best materials for an electric road bike. The only downside to this is the donor bike is likely to be quite heavy to start with – my old Dawes Galaxy tips the scales at about 13kg, so if I added an electric conversion kit and medium-sized battery the total weight would be up to around 20kg.
Alloy Frames
Most cheaper road bikes have alloy frames with carbon forks. The first time I converted a road bike to electric was on an alloy-framed, carbon fork bike.  I never had any issues in 2000 miles of riding.
Alloy frames are usually suitable for mid-drive or rear hub motors. But if you decide to fit a rear hub motor it's worth fitting a torque arm as a precautionary measure – this will prevent the wheel from popping out of the dropouts (which does happen from time to time).
Carbon Frames
A little further up the price range, you have full carbon frames.  A carbon-framed bike is going to be lighter to start with, but if it's quite new it's likely to have a pressfit bottom bracket (which will rule out a mid-drive).  Although carbon fibre is a strong material, fitting a rear hub motor weighing in at about 2.5kg is going to place greater stress on vulnerable parts of the frame.
There are plenty of carbon-framed e-road bikes available, but these have been designed from the ground up, and the X35 ebikemotion motor used is considerably lighter than the average retro-fit hub motor.
Another issue that is possible (when fitting a mid-drive) is even if your bike has a threaded bottom bracket, it is likely to have a 'beefed up' area around the BB shell. This can limit the clearance between the motor shaft and housing making it virtually impossible to fit the motor. This is more of a problem with the Tongsheng than the Bafang, but it's something you should consider.
I have fitted Bafang mid-drives to a variety of carbon-framed bikes in the past, but there has been the odd occasion that the measurements haven't tallied up and the motor wouldn't fit.
Front Hub Motors
You could fit a front hub motor, but bearing in mind nearly all road bikes have carbon forks, I would personally stick with a rear motor. If you have steel forks then a front hub motor will be fine.

Weight
The weight of your donor bike shouldn't be an issue because either way, you're going to be adding in the region of 6-8kg to the total weight of your bike.
Even if you go for the lightest conversion option possible, you will still end up with a comparatively heavy bike. Let's say your donor bike weighs around 10kg – if you add a Tongsheng TSDZ2 and 36v 10.2Ah compact bottle battery, the finished bike will be around 16.5kg.
The size of your battery will play an important part, you will need to strike a balance between range and weight. Longer-range batteries will be considerably heavier. A typical 36v 20Ah battery will weigh in the region of 4kg, whereas a 36v 8Ah compact battery should weigh less than 2kg. Long-range batteries are great if you are going to be relying on the assist more. Plus you won't have the dreaded 'range anxiety'.
Best Electric Conversion Kit for a Road Bike
I would keep it as light and simple as possible. But it depends on your personal needs. Converting any regular bike to electric is going to change the aesthetics of the bike, and increase the weight and feel. Below I have listed some of the best electric conversion kits for road bikes.
---
Tongsheng TSDZ2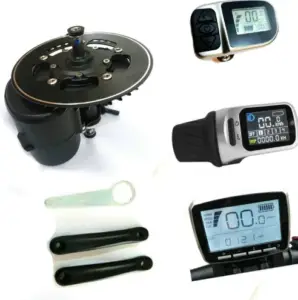 My personal favourite, for the ultimate stealth set-up, would be a Tongsheng TSDZ2B mid-drive motor with a compact bottle battery – these batteries are the same size as a large water bottle and usually fit in a regular bottle cage. If you have mounting for two bottle cages then you will still have space for a water bottle.
Pros:
Weight
With the motor weight of 3.6kg plus the 2kg of the battery, you will only be adding 5.6kg in total – that's not a huge amount more than the Fazua Evation system found on upmarket e-road bikes.
Torque-sensing pedal assist
Why do I think the TSDZ2 is suited to road bikes? Well, apart from the discreet look and the relatively lightweight, the Tongsheng boasts a very effective torque-sensing pedal assist system.
This mimics what you will find on the likes of Bosch, Brose and Shimano Steps e-bike motors. The sensor measures the amount of force you apply to the pedals and responds to that input by amplifying your effort.
This gives a very smooth and natural assist feel, and you still need to put some effort in to get the best out of the motor.
Small display option
Another good thing with the Tongsheng is you can choose the discreet VLCD6 display which is tiny and will not take up too much space on your handlebars.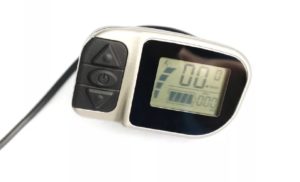 Shimano crank arms – reduced Q-factor
A couple of other plus factors with this motor are due to the design there is a somewhat wide q-factor which can feel a little odd if you're used to pedalling a compact crankset. This can be remedied by fitting Shimano Steps FC-E6000 crank arms, thus reducing the q-factor significantly and improving the pedalling feel.
Minimal wiring
The other great thing with this motor kit is there is a minimal amount of wiring – you have a speed sensor that mounts on the chainstay (with a wheel magnet) and a single lead coming from the handlebars down to the motor. This lead can usually be routed on the underside of the downtube.
Takes a standard 110BCD chainring
Although the motor comes with a standard 110 BCD 42t steel chainring, you can swap it out for any other 110 BCD chainring if you wish.  If you live in a relatively flat area with gently undulating terrain, you may want higher gearing, and if you live in a very hilly area you can lower the gearing.
As an example, I live in South East Cornwall which is very hilly, and on an average ride I'll climb 100ft for every mile cycled (sometimes more). When I used a converted road bike to get back into cycling I opted for a 36t front chainring combined with an 11-36 rear cassette. Of course, this meant that on the flat once I'd pedalled past the assist cut-off at 15.5mph by the time I got to 25mph+ my pedalling cadence was very high.
Cons:
Increased pedalling resistance
One thing that you can't escape with a mid-drive is the increased drag, which will be noticed once the assist cuts out above a certain speed.
On the Tongsheng TSDZ2, this seems to vary a little from the motor to motor, but in my opinion it isn't too bad. I ran a little experiment last summer, and I decided to build a TSDZ2-powered hybrid bike and use it for a few weeks to see how I got on with it. I would ride it on alternate days and similar routes to my regular road bike ride and time myself on Strava segments (and then analyse the data).
Interestingly, as expected on the long steep climbs, even using Eco mode, my times were marginally better than on my road bike. If I used Tour or Speed mode then the times were substantially quicker. But on the longer, less hilly segments where I could comfortably maintain a 22mph+ average on my road bike, I would be struggling to hold 17-18mph on the e-bike. I would also be more knackered after riding the e-bike beyond the 15.5mph limit and I could feel it in my legs.
This is down to several factors:
Hybrid Ebike weight 19.5kg vs Steel road bike 10.8kg
Rolling resistance of tyres 700 x 25c road tyres vs 700 x 38c Gravel tyres
Aerodynamics – flat bars vs drops
Gearing – 48/36 compact double with 11-36 on the road bike vs 42t single with 11-40 on the hybrid.
The drag of the motor after the speed limit is reached. Not so noticeable when riding at a leisurely pace, but as soon as I started to put some real power into pedalling I could feel it.
Offset chainline
Due to the design of the motor, the front chainring will be anywhere between 5-15mm further out than your big ring on a standard crankset. This is mitigated somewhat by the 'dished in' design of the standard 42t chainring supplied with the motor. But if you wanted to fit a regular 110BCD chainring then your indexing quality will be noticeably reduced.
I tried using a 36t SRAM chainring on the hybrid, but it didn't work well with the 11-40 10-speed rear cassette, so I opted to keep the original 42t.  This doesn't seem as much of a problem on 8 or 9-speed rear cassettes, and you can get away with a smaller or larger chainring.
Pedalling cadence
The TSDZ2 in standard road-legal form will stop assisting once your cadence gets to about 90 rpm regardless of what speed you are doing. Although this may not bother some riders, I found this a bit frustrating on occasion.  There is a way to reprogram the motor firmware using open-source software, but you will need to follow the guidelines very carefully.
Potential reliability issues
Unfortunately, anything electric has the potential to go wrong and the TSDZ2 is no exception. Speaking from personal experience of installing nearly 40 of these motors, I have only ever had a couple of minor issues.
These motors are mass-produced so there is inevitably going to be the odd dud knocking around. The main issues reported frequently are premature failure of the blue nylon primary gear, problems with the torque sensing system and failure of the sprag clutch (one-way bearing).
I have personally never had any issues with the one I owned, and it was ridden quite hard and on very hilly terrain for months without any issues. Others haven't been so lucky and mechanical or electrical failure has occurred within a hundred miles.
It seems to be the luck of the draw, but I would say on the whole it's a decent motor. At least if things do go wrong there is a good availability of spare parts and they are fairly easy to repair (unlike the Bosch motor).
Conclusion
If you want to add smooth, torque-sensing pedal assist to your road bike, then the Tongsheng TSDZ2 is a pretty good option. It's discreet, and it provides plenty of torque to help you up those steep climbs. I would say it's my favourite mid-drive motor. For more information, read my full Tongsheng TSDZ2 review.
Links to the Tongsheng TSDZ2
Links to Buy the Tongsheng TSDZ2
---
Bafang Mid-Drive
The Bafang BBS02B was the first electric bike conversion kit I fitted to a road bike, and it was one for my use. This was way back at the end of 2016, and I installed it on a road bike with the sole purpose of using the assist to help me on my road back to fitness and weight loss.
Looking back I'm not sure if it was the most suitable motor for my particular needs, mainly because I chose the 750w version. And although I de-tuned the motor and restricted it to top speed, there was still more power available than I needed and it was quite easy for me to 'go lazy' and let the motor do a lot of the work, when I should have been pushing myself a little harder. I now think a BBS01B 250w would have been more than adequate.
This, of course, depends on your individual needs. Maybe you have a health condition or injury and require more power to keep your legs spinning.
As far as suitability is concerned, the installation of the Bafang meets the same criteria as the Tongsheng – your bike will need to have a threaded bottom bracket of 68-73mm with an internal diameter of around 33.5mm.
Things to consider
One annoying aspect of the Bafang motor is unlike the TSDZ2, there is no way to secure the motor in such a way as to prevent the motor from pivoting in the bottom bracket shell. Bafang's solution is a steel mounting plate that is smooth on one side and has 'teeth' on the BB side.
The point of this is the assumption the motor is going to be installed on a bike with an aluminium frame, and when you sufficiently tighten the lockring, the teeth dig into the alloy surrounding the BB shell and stop it from moving.
Unfortunately, this doesn't always work, as I have found the Bafang to be a tight fit in some BB shells and quite loose in others. If your fitment is loose, then it's only a matter of time before the motor will start to pivot in the BB shell. And no amount of re-tightening the lockring, or adding locktite is going to make any difference.
If this is the situation you find yourself in you have two options – 1. Make up a very small shim out of 0.2mm steel to take up the slack (this sometimes works as a permanent solution) or 2. Purchase or fabricate a stabiliser bar which is available from Luna Cycle.
Can you fit the Bafang mid-drive on a carbon frame?
As long as your bike has a threaded BB shell then it is possible, indeed I have installed Bafang motors on carbon-framed road bikes and mountain bikes in the past. There is usually just enough space to clear the bottom bracket shell.  I don't think it's a particularly good idea. Carbon is a funny material and although it is strong, it does have its limits.
Programming the Bafang
The cadenced-based pedal assist on the Bafang mid-drive isn't as intuitive as the Tongsheng's torque sensor, but it seems to be more reliable and you have the added benefit of being able to fine-tune the assist settings using a USB lead and free Bafang configuration software.
I find the stock settings on most Bafang mid-drives to be somewhat counterintuitive, with the pedal assist starting strongly and then fading quickly as your pedalling speed increases.
Electric motors perform best when spinning fast, they are less likely to overheat and they'll be more efficient. I programmed mine, and subsequent other Bafangs in such a way as to have the power come in very smoothly and build progressively as pedalling increased. It not only gave the electric assist a more natural feel but also reduced the load on the controller and made for more efficient use of power.
Bafang displays
Another good thing about the Bafang mid-drive is there is a wide choice of displays available. You can have the old-style C965 display which has been around since about 2015, or you can opt for the most recent DP-C18 colour display or my personal favourite the 500c display which is quite small and ideal for a road bike.
Chainring options
Unlike the TSDZ2 where you can fit a standard 5-bolt 110BCD chainring on the Bafang you are limited to a Bafang-specific chainring. The steel ring usually supplied with the motor is usually 44 / 46 or 48t. Some of the suppliers are now offering 42t alloy chainrings as an option.
You can fit a 104 / 130 BCD adaptor or use something like a Lekkie Bling Ring, which is the nicest aftermarket chainring available for the Bafang. It is a superbly machined narrow wide chainring that not only looks good but helps improve the chain line a little. It's also available from 36t up to about 50t. I opted for a 36t as I have lots of steep hills in my area.
Bafang Q-factor
The Q-factor on the Bafang is narrower than on the TSDZ2, but still noticeably wider than on a regular compact crankset.
Chain line
As with all retrofit mid-drives, there is a trade-off with the chain line. You will be okay if you have an 8 or 9-speed cassette, but anything bigger and you may see a deterioration in indexing quality. sometimes this can be rectified with a bit of fine adjustment of the rear derailleur.
Power
The Bafang motor is available in power outputs ranging from 250w up to 1000w. The 1000w BBSHD is great fun, but it is very heavy at nearly 5kg and in my opinion, it is better suited to mountain biking. Although sold as a 1000w motor the BBSHD will produce nearly 1700w with a 52v battery fitted and I've seen videos of BBSHDs fitted to road bikes hitting nearly 50mph on the flat (with a big chainring and pedalling), which I think is over the top. Plus if you had an accident at that speed or hit someone, you'd end up in hospital, the morgue or prison. So in my opinion it's not worth the risk.
| Bafang Motor | Battery | Peak Power |
| --- | --- | --- |
| BBS01B 250w | 36v (42.2v x 15A) | 633w |
| BBS01B 350w | 36v (42.2v x 18A) | 759w |
The voltage figures in brackets are for a fully-charged battery. Note: As the voltage drops, so will the power.
In most countries like the UK, EU and Australia, 250w is the maximum you can legally have fitted to a bike and the top assisted speed cannot exceed 15.5mph (25 km/h). If you choose to have your motor configured to go beyond that speed, then it is your risk.
| Bafang Model | Battery | Peak Power (Watts) |
| --- | --- | --- |
| BBS02 500w 36v | 36v (42.2v x 25A) | 1055w |
| BBS02 500w 48v | 48v (54.4v x 18A) | 864w |
| BBS02 500w 52v | 52v (58.8v x 18A) | 1058w |
| BBS02 750w 48v | 48v (54.4v x 25A) | 1200w |
| BBS02 750w 52v | 52v (58.8v x 25A) | 1470w |
The voltage figures in brackets are for a fully charged battery. Note: As the voltage drops, so will the power.
Pedalling resistance
One thing I did notice in the 2000 or so miles I used a Bafang was the noticeable increase in pedalling resistance when the assist was switched off. This became apparent when a friend brought round his carbon fibre Trek road bike for me to try out. I was shocked at how easy it was to pedal compared with my Bafang converted road bike. So shocked in fact that it was at that point I decided to buy a road bike and forego the use of a motor altogether.
That was back in the summer of 2017, and I haven't used an electric bike regularly since then and have racked up nearly 12000 miles on a regular road bike.
Reliability
I have installed well over a hundred of these motors over the years, and generally, they're reliable. But as with all things electric, problems will occur from time to time. The main issues I've experienced are controller failure (several on the BBS02B 750w), PAS circuit failure and issues with some of the colour displays. Bearings and the primary nylon gear can also fail over time.
As far as my own experience is concerned, I rode about 2000 miles on mine, and I never had any issues whatsoever.

Conclusion
In a way, I owe my current obsession with road cycling to the Bafang motor. It was that first conversion that helped me back into cycling and it acted as a stepping stone back onto a regular bike. As a result, I lost loads of weight and achieved the kind of fitness level that I never thought possible.
So is a Bafang mid-drive suitable for a road bike? Most definitely, but if your goal is to get fit and lose weight, don't get anything bigger than a 250w. That should give you more than enough power unless you have a health condition.
If you're not bothered about fitness and just want an electrically assisted road bike to get you from A to B as quickly as possible, the 36v 500w Bafang BBS02B provides more than enough power for most – but PLEASE consider the law in your country. I don't necessarily agree with the laws (as they are at the moment), but ultimately if you do have an accident you could end up in big trouble. 
Links to the Bafang Mid-Drive
Links to the Bafang BBS02B 750w
---
Electric Hub Motor Conversion Kit
In a way, hub motors provide the best possible solution for adding an electric assist to a road bike. A lot of the major brands use the X35 ebikemotion rear hub motor on their electric road bikes including Orbea, Ribble and Cannondale.
Benefits of Hub Motors on Road Bikes
Well, for starters a 250w geared rear hub motor is fairly small in size – if you have an 11-32 cassette, the motor diameter is usually just a bit smaller than the 32 cogs on your cassette. They're only slightly larger than an internally geared hub like a Shimano Alfine.
Hub Motors are Lighter than Mid-Drives
Another benefit is weight – most hub motors weigh considerably less than their mid-drive counterparts.
But the biggest and most noticeable benefit of them all is there is virtually zero resistance when pedalling with the assist switched off. Meaning that if you do run out of power, or you only need to use the assist occasionally, hub motors are ideal. The only thing you will notice is the extra weight of the combined motor and battery.
You can also retain your original bottom bracket and crankset, and some hub motors come fitted with a freehub that will take a 10 or 11-speed cassette.
Hub Motors are Generally Reliable
There are even more benefits to having a hub motor on a road bike. Reliability is an important consideration, especially if you are going to be racking up the miles. In my experience, hub motors are far more reliable in the long term versus mid-drives.
I've covered big mileage on both, and I have been fortunate enough not to experience any issues. But during my time converting bikes to electric, it was always mid-drive motors that caused problems. I had hardly any problems at all with hub motor conversions – even on bikes that were being used all year round as commuters.
The Negatives
Reduced efficiency
The only trade-off with hub motors is they're not quite as efficient as mid-drives and they only produce about 50% of the torque you would get from a motor like the Tongsheng TSDZ2. Any equivalent 250w hub motor will consume slightly more battery power than a mid-drive motor.
More wiring with external sensors and controllers
Another issue, that might put potential buyers off is the installation isn't always necessarily as tidy as with a mid-drive. With hub motor conversion kits you usually have external controllers, and pedal sensors.
Cadence Pedal assist sensors
Most generic hub motor e-bike conversion kits come with cadence pedal assist sensors**, which give the electric assist a very on / off feel. You turn the pedals and the motor starts – there are pros and cons to this kind of system.
If you have an issue where applying pressure to the pedals to get going causes you pain or discomfort then cadenced-based pedal sensors are good, because you don't need to apply any real force, just spin the pedals and the motor takes over.
Cadenced pedal assist systems are less efficient than torque sensing systems.
A torque sensing system measures the force you are applying to the pedals and gives you assistance proportionate to that force, making for a very smooth natural feel.
**There are some hub motor kits available from China that use bottom bracket torque sensors. I have fitted these kits and they work very well, but you do need to drill a hole in the underside of the BB shell for the sensor lead.
Wheel choice
Most retrofit hub motors can only be laced into a 36h rim. This is only really an issue if aesthetics are a problem for you. Another consideration is if you're going for an 'off the peg' conversion kit, most wheels will have a machined braking surface for rim brakes and fitment for a standard disc rotor. If your bike has all-black disc rims fitted, then you may want to find a matching black rim and get the motor laced into that.
A lot of hub motor kits will also have stainless steel silver spokes, which may not match the colour of your front wheel spokes.
Conclusion
Hub motors are probably the best way to add e-assist to your road bike if you only really want help on hills and to reduce fatigue on longer rides.
The fact that there is negligible (if any) resistance when pedalling without assistance is a big plus point. Another thing I haven't mentioned is you can keep your original wheel, cassette and tyre, and if you want to ride your bike without the motor and battery fitted, it takes less than five minutes to swap out the rear wheel and remove the battery.
If you want to go for a lightweight approach and retain as much of your bike's original aesthetics as possible, then you would want to buy a hub motor kit (without a wheel) and get it laced into a rim that best matches your bike (e.g. rim and spoke colour). Pete at my local bike shop usually charges me about £50 for this service and he always does an excellent job!
For more information on hub motors read my Bafang hub motor review.
Links to Bafang Hub Motor Kits
---
Best Battery for an Electric Road Bike?
The answer to this question depends on how much range you need, and how often you'll be relying on the electric assist.
If you want to keep the weight down and go for a stealthy look, you could go for a compact bottle battery – these are usually available to power up to 360Wh (36v 10.5Ah) and are roughly the same size as a large water bottle. They come supplied with their bottle cage, but you may be able to fit it in an existing cage.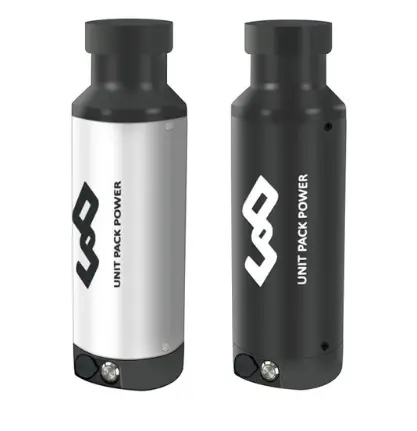 Another option for a stealthy approach is to have a pannier rack with a decent-sized bag and have a battery pack concealed within the bag (as I did).
The size and energy capacity of the battery you choose will also greatly affect the extra weight you will be adding. A small battery only weighs a couple of kilos, but a high-power 36v 20Ah battery can weigh more than double that – so it's worth taking into account.
Final thoughts
Deciding on which e-bike conversion kit is right for your road bike depends on a lot of the factors previously mentioned in this article. Whether you go for a mid-drive or hub motor depends on your personal goals.
If you want to build an e-road bike that you can quickly convert back to a standard bike, then a hub motor is probably the way to go. Mid-drives aren't quite so straightforward in that respect.
There are a lot of other factors to consider like the required battery range, and how much you anticipate using the e-assist.
Whichever you decide, if you're getting back into cycling and need electric assistance due to health or injury reasons, adding an e-bike conversion kit to a road bike can be a great idea, and it's a great motivational tool. Remember it's not a permanent thing, and once your fitness improves or your injury heals, you can remove the conversion kit and revert to a regular bike as I did.
E-bikes are a very emotive subject within the world of road cycling, and there are still a lot of prejudices out there – in my experience, most decent cyclists are in favour of electric bikes, but you're always going to get the idiots that criticise and come out with rubbish like you're lazy or cheating.
Don't give these imbeciles the time of day, and don't let anyone ever make you feel bad about doing something positive to improve your life – they're the one's with the problem not you. Electric bikes are great for health, fitness and general well-being – read my article on getting fit by riding an e-bike for more information.
If you need any help or advice choosing the right kit for your bike, please leave a comment below and I will respond within 24hrs.