Since its release back in 2015, the Bafang BBSHD 1000w electric bike kit has proven to be very popular among DIY e-bike enthusiasts. But does it live up to all the hype? This Bafang BBSHD review is based on my experience installing these motors on numerous different bikes.
There have been some interesting developments recently regarding e-bike conversion kits, but the Bafang BBSHD continues to be one of the most popular plug-and-play mid-drive motors available in 2023. It can be incredibly reliable over the long term, Indeed, I have customers with over 8000 miles on their motors and still going strong. If you're looking for an e-bike motor, that will enable your humble mountain bike to tackle any hill you can find, read on.
Pros
Very powerful
High torque output
Smooth and quiet
Durable
Cons
Heavy
Limited compatibility
Poor chainline
Specifications
Motor Position: Mid-Mounted – Bottom Bracket
Motor Compatibility: 68-73mm BSA Threaded Bottom Bracket
Rated Motor Power: 1000 watts
Motor Peak Power: 1632-watts (48v) to 1764-watts (Peak Power with 52v Battery)
Motor Torque:160Nm (Max)
Motor Rated Voltage: 48-volts (52v Battery Optional)
Controller Current: 30-amps
Top Speed: 28-35 mph (Depends on Bike Gearing)
Waterproof Rating: IP65
Price: $350-$450
Summary
The Bafang BBSHD is the flagship mid-drive motor from Bafang. The motor stator is 66% larger than that of the BBS02, and it runs at 130-150rpm vs 120rpm for the BBS02. The motor itself is physically larger and just under 1kg heavier and it has external cooling fins that aid with heat dissipation.  The motor controller uses 12 x INRFB 3077 MOSFETs which enable the motor to handle the 30A continuous current. Power-wise, it can produce up to 160N.m of torque (compared with 120N.m for the o2).
The installation criteria are the same as with all Bafang mid-drives and are available in the classic 68mm-73mm bottom bracket fitment – there is also a couple of versions made specifically for the wider bottom brackets used on fat bikes (100mm or 120mm).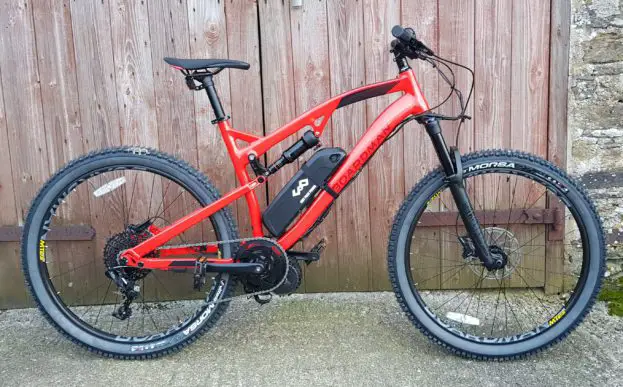 There is the potential to fit this kit to a full suspension mountain bike that uses a pressed-fit bottom bracket, although you will need to purchase the correct shim adapter kit and motor stabiliser bar, or if you know a good engineer, you could get one fabricated.
What's Included in the Bafang BBSHD Kit?
The motor unit with integrated controller
LCD Display
Wiring loom
Inner and outer lock-nuts
Chainring
Thumb throttle
Brake levers with cut-off sensors (only compatible with cable brakes)
Speed sensor and wheel magnet
A bag of various Allen bolts and screws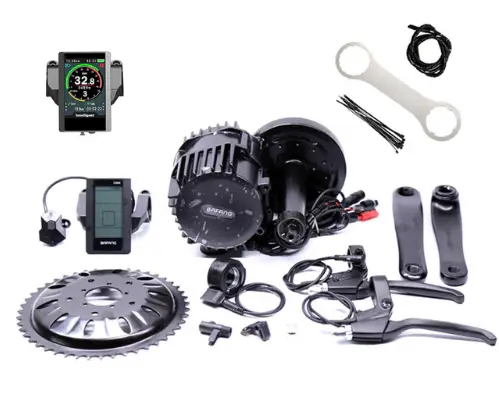 Bafang BBSHD Installation
The installation of this motor is the same as other mid-drive motors. If you are looking for a nice easy conversion to do yourself, but you have little or no experience with bicycle mechanics or using tools, I would not recommend this kit.  The installation will need to be carried out by someone who is fairly competent at general bicycle maintenance. Removing the bottom bracket on your bike can be a right pain, and you will require a lot of patience! I have added a downloadable PDF manual that gives a rough idea of the installation process with photos.
Motor Power Output
The Bafang BBSHD 1000w produces considerably more torque than its smaller siblings, the controller will handle up to 30A of continuous current all day long and the motor internals are much more robust.
As with all the other Bafang mid-drive motors, this uses an internal cadence sensor and gives electric assist based on pedalling rpm. The pedal assist is very responsive and with 9 power levels to choose from, you can fine-tune the power output to suit your ride.
The table below states the maximum possible power output for the 48v and 52v batteries.
| Bafang Motor | Battery | Peak Power |
| --- | --- | --- |
| BBSHD | 48v (54.4v) x 30A | 1632w |
| BBSHD | 52v (58.8v) x 30A | 1764w |
The voltage figures in brackets are for a fully-charged battery. Note: As the voltage drops, so will the power.
The kit is supplied with a thumb throttle, so the bike can be used like an electric motorcycle if desired. I find these throttles are not particularly good for modulating the power and function more like an on/off switch. Reprogramming the controller can make the throttle more user-friendly. There are also aftermarket twist throttles available.
The firmware settings in the BBSHD controller can be re-configured with a suitable USB programming lead and software (which you can download for free). You should exercise caution with this as some settings should be left alone. For more information on how to correctly program a Bafang, the Endless Sphere forum is an excellent source of knowledge.
This motor works on the same principle as the other Bafang kits and drives the rear wheel directly through a single front chainring. Gear selection is always important to maintain maximum motor efficiency when hill climbing.  Using a high gear on a very steep climb will place an unnecessary load on the controller and could potentially cause premature failure.
Bafang BBSHD Reliability
One of the main reasons I decided to do this review of the Bafang BBSHD, is because I've installed these kits on mountain bikes that have all been used off-road, and in testing conditions.
Out of the thirty kits I have installed, there have been three controller failures and one hall sensor failure. Generally speaking, this motor is very reliable and seems to put up with a lot of abuse. Most of the installations I have carried out have used 52v batteries which when fully charged are around 58.8v, this is very close to the motor controller's maximum operating voltage of 60v. The only controller failures I've had, have been on bikes that had a 52v battery fitted. I have never had any issues with the motors that used 48v batteries.
The motor still uses a nylon primary gear, that can degrade over time (particularly with heavy use). Replacements are easy enough to find, and there are plenty of good tutorials on YouTube for stripping this motor down.
Things to Consider When Fitting a Bafang BBSHD
I would personally stick with a 48v battery, as the power gained by using a 52v battery is minimal, and in my opinion, is not worth the risk.
As with all of the Bafang motors, you will need a specific motor lock-ring spanner – the BBSHD is especially prone to coming loose in the bottom bracket due to the torque of the motor.
The speed sensor can be easily knocked out of alignment with the wheel magnet – this will throw up an error code and the pedal assist will stop working.
Some colour displays can be unreliable – I find the black and white C965 display to be the most reliable, although the latest DP-C18 colour display is very good.
I would recommend fitting a Bafang gearshift sensor, with potentially over 1600w going to the rear wheel, you will drastically shorten the service life of your rear derailleur, cassette and chain.
A heavy-duty chain is definitely recommended – there is a lot of torque going to the back wheel.
If you are planning on keeping the bike long-term, it may be worth stocking up on some spare parts. It is always useful to have a spare controller and a nylon primary gear.
Riding a Bafang-powered Electric Bike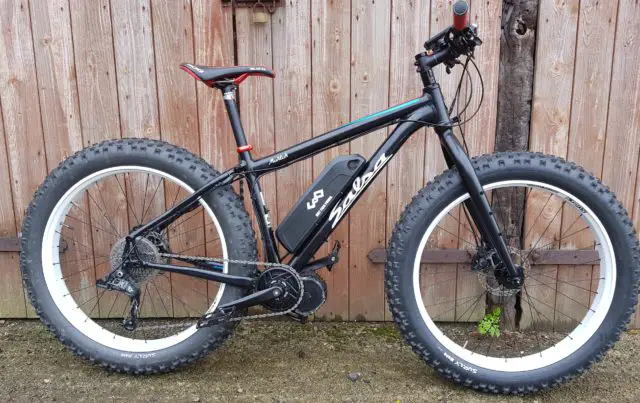 The motor is very quiet and silky smooth, the first thing you notice when riding, is the amazing amount of torque it produces. I have ridden across a steep-sloped muddy field on a BBSHD-powered Fat Bike and the thing just kept on pulling like a train! I think it's a bit too much power for a bicycle, but the great thing about these motors is that you can use them in a low assist mode like a normal bike, taking it nice and easy. The flip side is if you crank the power up to level 9, it feels like an electric motorcycle! You need to wear full protective clothing and a decent crash helmet when riding one of these off-road.
This kit comes as standard with a 46t steel chainring. This, in my opinion, is too higher gearing, especially if you are climbing lots of steep hills. There are however aftermarket chainrings available or a 104BCD chainring adapter.
One thing you will have to be aware of is if you do fit a smaller front chainring, the lowered gearing will make the bike prone to power wheelies, especially when hitting full throttle in a low gear on a steep hill start – I have had personal experience of this!
If you want to fit the brake levers with cut-off sensors, then bear in mind that these are only suitable for cable-operated brakes. I would only recommend installing this kit on a bike with decent hydraulic brakes. Because this motor is so powerful, I would recommend the hydraulic brake cut-off sensors or completely new hydraulic brakes with the sensors already built in.
The Verdict
The Bafang BBSHD is great fun! And although it is not without its faults, it is in my opinion one of the best e-bike conversion kits available. It is very powerful and should only be installed on a decent bike, with good brakes and suspension. It can only be legally ridden on private land (in certain countries) and should be treated with respect. It is without a doubt, great fun and is guaranteed to put a smile on your face!
 Check out the Latest Bafang M625 Mid-Drive Conversion Kit
I have been as honest as possible in this review of the Bafang BBSHD, and despite some of the faults, it is a great electric bike conversion kit.  As long as you can accept the potential long-term maintenance that will inevitably need to be carried out, it is an outstanding motor and well worth the money!
---
Thanks for reading. If you have any questions, please leave a comment below – I usually reply within 24hrs.