Things are hotting up in the world of electric gravel bikes. The new Cannondale Topstone has just been released and at first glance, it looks fantastic. In this article, I will be taking a closer look at all the new Topstone range of gravel e-bikes.
Summary
Gravel bikes have seen a massive surge in popularity over the last couple of years.  For me the gravel bike is the perfect solution for the road cyclist who wants to tackle more challenging terrain. Cycling is, after all about exploring your surroundings without boundaries. And the gravel bike allows you to do this.
Full-on mountain bikes are excellent at what they do, and nothing can replace a good full-suspension electric mountain bike for taking on challenging, technical trails. But when it comes to riding on the road, their extra weight can be a burden.
What gravel e-bikes do is offer a balance between on and off-road riding. Cannondale has taken the electric gravel bike to a whole new level with their 2021 Topstone range, including two versions with their iconic lefty fork.
None of these new e-bikes is cheap, but with full carbon frames, front and rear suspension and a whole host of high-tech goodies, the lines between road, gravel and MTB have become increasingly blurred.
Over the last couple of years, the Synapse Neo SE 650b has been their only gravel-specific e-bike, but this latest range shows that Cannondale means business when it comes to the increasingly lucrative gravel e-bike market. The only negative with the Neo SE was its rather heavy weight at over 18kg. I'm hoping this latest range is going to be at least 2kg lighter, considering the full carbon frame and finishing kit.
The Cannondale Topstone Neo electric gravel bike range
There are four models currently available in the new Topstone Neo range, with the Lefty 1 (below) as the flagship. Prices range from £3999 – £8000, so none of these bikes is particularly cheap. But then again, there's nothing quite like them available elsewhere in the e-bike world.
---
1. Topstone Neo Carbon Lefty 1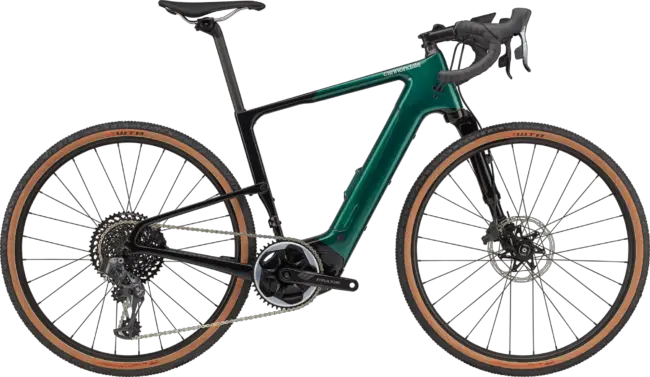 The range-topping Cannondale Topstone Neo Carbon Lefty 1 comes in at an eye-watering £8000, but what you get for your money is the most capable gravel e-bike currently available.
The Lefty 1 is just awash with all the latest technology you could wish for on an electric gravel bike. SRAM's very latest Force/X01 Eagle eTap AXS HRD 12-speed electronic groupset is a gravel rider dream come true, combined with the 4th generation Bosch CX motor and long-range 500Wh battery – the Topstone Neo Lefty 1 is ready for some serious exploring!
Gearing is superb with a 44t front chainring combined with a 10-50 rear cassette giving all the gear range you will ever need to tackle steep technical climbs and rocky descents.
Front and rear suspension – the all-New Lefty Oliver Carbon fork has 30mm of travel, Chamber Damper with the all-Over tune, ISO High-Ride air spring and tapered steerer, 650b, 55mm offset. The Kingpin rear suspension is a great addition and there is provision for an internal dropper seat post.
All in all the Lefty 1 looks like an amazing bit of kit… but will Cannondale lend me one to try out? Watch this space!
Buy Now: Cannondale Topstone Neo Carbon Lefty 1 £7999.99
---
2. Topstone Neo Carbon 2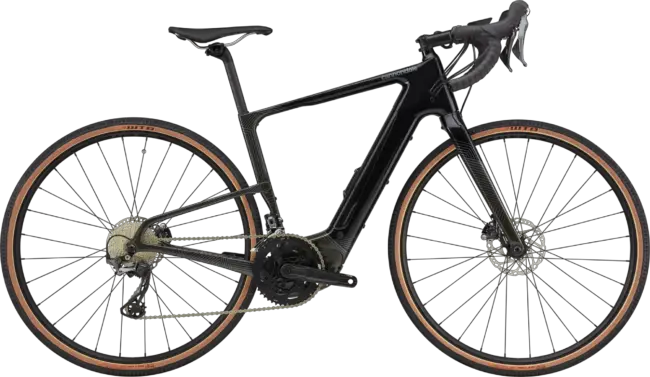 Next up is the Topstone Neo Carbon 2 – this version does not have the lefty fork, so is slightly lighter. The Bosch CX motor and 500Wh battery are the same as found on the Lefty 1 range-topper. This model also uses the colour Kiox display with Bluetooth connectivity and can be connected to a heart rate monitor and companion smartphone app – there is also a USB charging port.
The NEO Carbon 2 uses Shimano's latest GRX 2 x 11 groupset, with a 46/30 sub-compact crankset up front married to an 11-34 11-speed cassette at the rear, giving the Neo Carbon 2 plenty of gear range for those steep climbs.
---
3. Topstone Neo Carbon Lefty 3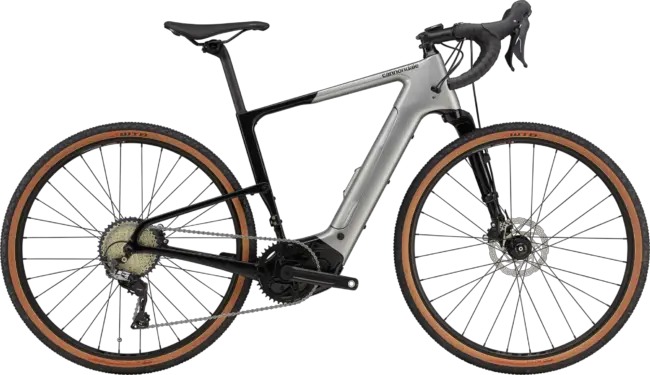 Similar to the range-topping Lefty 1, the Topstone Neo Carbon Lefty 3 uses mechanical shifting via Shimano GRX 1 x 11 drivetrain. This is an electric gravel bike that means business!
This is an e-bike for serious off-road adventures, with 30mm of suspension, plenty of tyre clearance and auxiliary mounts, and e-assist from Bosch's latest 4th generation CX motor with 500Wh integrated battery and Kiox display, this looks like one very capable exploring machine.
Features of the Topstone Neo Carbon Lefty 3
Carbon gravel bike chassis combined with one of the best e-bike motor systems available from Bosch, create a powerful, do-anything adventure bike with excellent off-road manners.
KingPin Suspension. Revolutionary, lightweight suspension that lets you ride harder on gravel and more smoothly on the tarmac. Better traction, better control and more comfort with no compromises.
Lefty Oliver. The iconic lefty fork – a trademark of Cannondale for many years has been refined to make the ultimate gravel suspension fork. With 30mm of suspension and an incredibly stiff, precise-handling structure, this lightweight fork lets you push harder, and ride smoother than ever before.
Ultimate versatility. This electric gravel bike has everything. Big clearance for big tyres. Lots of gear and storage mounts. Internal dropper seat post compatibility. Refined geometry and a confident rider position all come together to create a machine that's stable, composed and an absolute hoot to ride!
---
4. Topstone Neo Carbon 4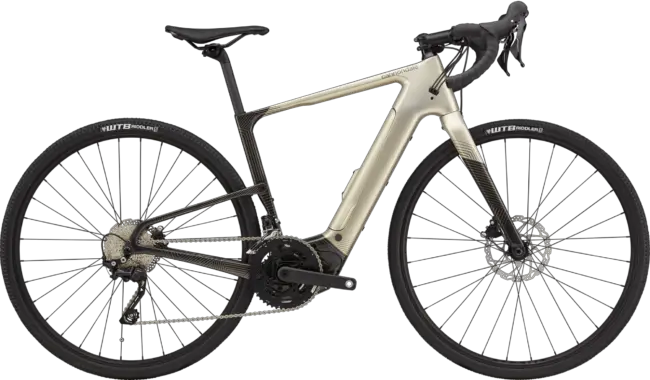 The Topstone Neo Carbon 4 is the cheapest e-bike in Cannondale's new range at £3999.99. Still a lot of money, but when you compare it to the slightly cheaper Synapse Neo SE 650b, it all starts to make sense.
You get a full carbon frame, with KingPin rear suspension (and 30mm of travel) 2 x 10 speed Shimano GRX gravel-specific groupset with an FSA 46/30 sub-compact crankset and 11-34 rear cassette.
There aren't any weights available yet, and until I can get my hands on one to test I can't confirm the weight, but I would imagine it should come in at around 16kg, which is incredibly light for a Bosch-powered mid-drive electric bike.
This model uses the same 4th Gen Bosch CX motor and 500Wh battery as all the others, although the display is the black and white Purion display which has been around for years – dependable and functional.
---
Conclusion
At a first glance, the new 2021 Cannondale Topstone Neo range of electric gravel bikes looks incredibly promising. They offer the kind of performance and off-road capabilities that were only dreamed of a few years ago and represent a true fusion of mountain bike and road bike technology.
But where does this new range fit into the great scheme of things and who is going to want one?
Serious gravel riders, explorers or even daily commuters – make no mistake, these bikes are packed with more tech than is currently available on the majority of gravel e-bikes.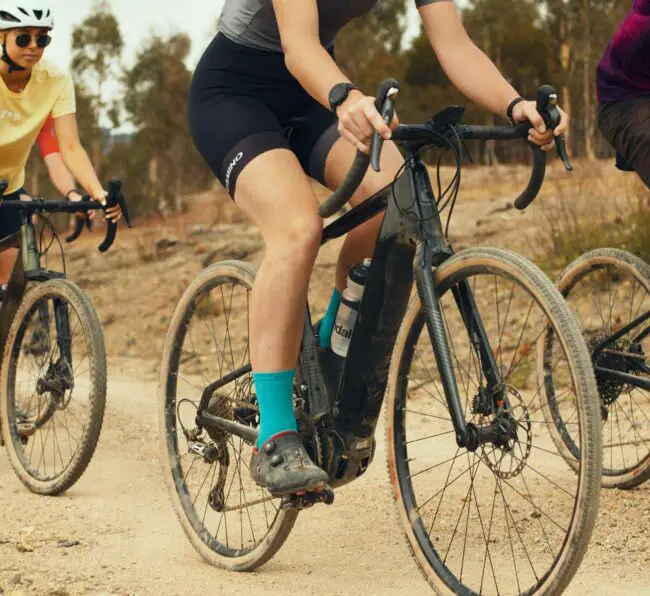 I'm really excited about this new range of gravel e-bikes and I will see if I can get hold of one of these to test out in the coming weeks. When I get a chance I will do a full write-up and YouTube video – Watch this space.
Please feel free to leave any comments below and I will try and reply within 24hrs. Thanks for reading.