If you have an unloved bike gathering dust in your garage, it may be worth giving it a new lease of life and converting it into an electric bike. The Tongsheng TSDZ2 is a great e-bike conversion kit and offers a unique riding experience with a smooth torque-sensing pedal assist. In this review, I'll look at the positives and negatives of this motor kit to see if it's a viable option in 2023.
This Tongsheng TSDZ2 review is based on my experience installing over 30 of these motor kits on bikes as diverse as road bikes, mountain bikes and recumbents. Find out more about my electric bike conversion service.
Skip to product specifications
Key features
Torque-sensing pedal assist
36v and 48v versions available
Fairly lightweight at 3.6 kg
Suitable for threaded 68mm-73mm bottom brackets
What's included?
The Tongsheng TSDZ2 conversion kit comes with everything you need, apart from a battery and certain tools. However, a lot of suppliers will offer a choice of suitable batteries.
The TSDZ2 motor unit with integrated controller
LCD Display – VLCD5 / XH18 / VLCD6
Wiring loom
Inner and outer lock-nuts
Chainring 42T
Speed sensor and wheel magnet
A bag of various Allen bolts and screws
Installation tool/spanner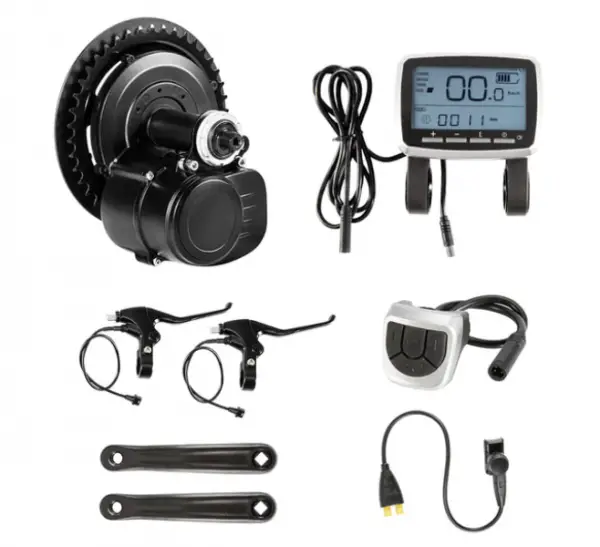 Compatibility
The Tongsheng TSDZ2 motor is only compatible with bicycles with a BSA threaded bottom bracket of 68 mm-73 mm. Many modern (high-end) mountain and road bikes use a press-fit bottom bracket with a much larger internal diameter and sometimes much wider than 73mm. You should be okay if you install the kit on an older or less expensive bicycle. But it's worth getting a second opinion from a qualified bike mechanic if you're unsure.
Another common problem is the modern boost rear hub spacing, which is 148mm as opposed to the old standard of 135mm or 142mm. This is to accommodate the wider tyres used on newer mountain bikes, but it means installing the motor could be very problematic.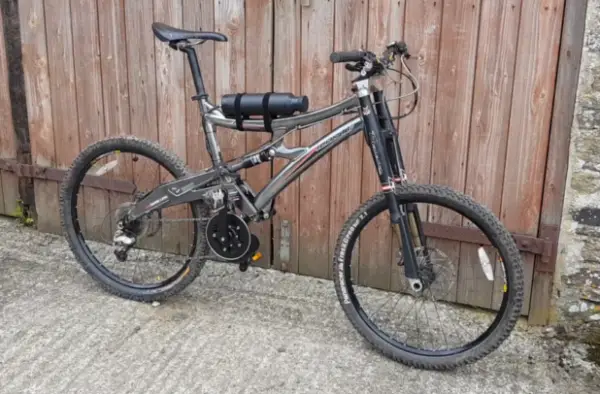 Another issue relates to how the motor is secured to the bike to prevent it from pivoting. A clamp and 8mm fixing plate require a chainstay bridge just behind the bottom bracket shell. Most hybrid bikes, older hardtail mountain bikes and road bikes will have this, but full suspension MTBs and some modern bikes won't have this, so you'll have no way of securing the motor (and will need to improvise).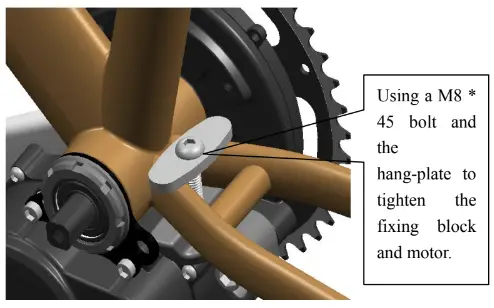 The TSDZ2 is a good fit for recumbent bikes. I have installed this motor on several Ice Trikes with great success. Read my article on fitting an electric conversion kit to a recumbent trike.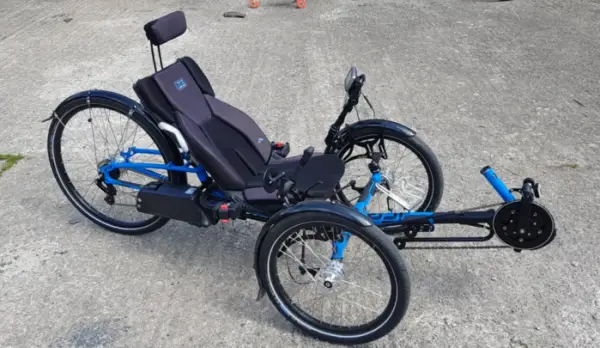 Carbon Frames: I would not recommend it, and it's unlikely to fit anyway. Most carbon bikes have a beefed-up area around the bottom bracket, which may make installation impossible due to the tight motor clearances.
Installation
Installation of the TSDZ2 requires a certain degree of mechanical prowess, and it's recommended to use the services of a bike shop or specialist if you're not confident about doing the job yourself. The Tongsheng TSDZ2 comes as a kit, either with or without a battery (depending on the supplier) and always includes a lockring tool for tightening the motor.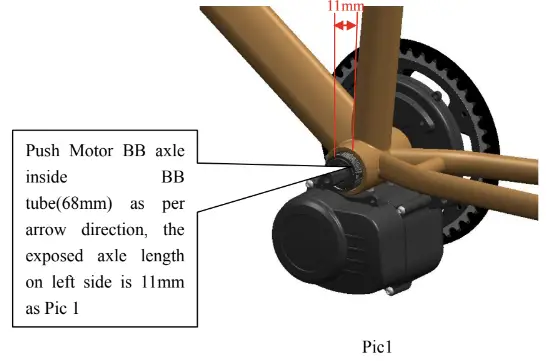 Installation requires the removal of the crankset and bottom bracket. You will need the correct tools to do this job, depending on the kind of bike you have. As the Tongsheng uses a torque sensing system, brakes with cut-off sensors are not required, reducing the need for more untidy external wires.
If routed underneath the bottom bracket, you may need to re-route the gear cable and brake hose/cable. This is due to a poor motor design, which leaves very little room for cables.
Once the motor has been installed, it's just a case of fitting the display, battery, speed sensor and plugging in the connectors. Finally, tidy everything up with cable ties or adhesive clips. Sometimes, there are redundant cable guides on the frame you can use. I have uploaded a PDF TSDZ2 installation manual, which explains the process in more detail.
It may be possible on some carbon frames. But, due to the securing issues mentioned above and the risk of cracking the carbon, I really wouldn't recommend it.
Performance
The TSDZ2 provides a very smooth and intuitive feel to the electric assist that responds well to slight changes in pedalling effort. This translates into a very 'natural' riding experience. It's more like you've been enhanced, and the best way to describe it is like pedalling up a steep hill with the legs of a young and fit cyclist.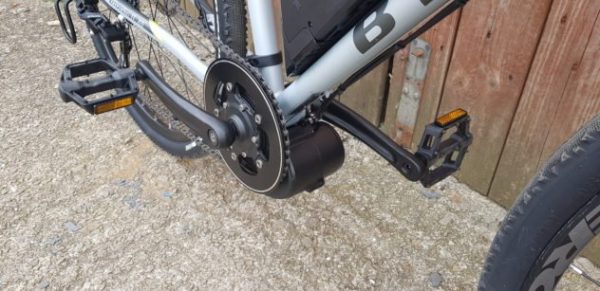 You have up to 4 levels of pedal assist to choose from – ECO / TOUR / SPEED / TURBO. This means you can select the best level of assistance to suit your needs and terrain. Because the torque sensor is sensitive to rider input, you always feel you're getting the right help.
Regarding pedalling resistance with the motor off, the TSDZ2 feels better than the Bafang motors. I have always felt the Tongsheng had less drag when the motor was off. However, this did vary from motor to motor, with some riders reporting significant resistance. It's worth noting that a motor and battery combo will add around 7.5kg to the weight of a bike. This in itself will add to the effort when not using electric assist.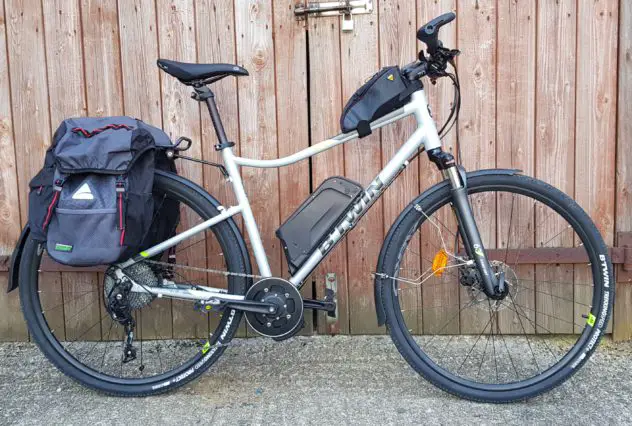 How far does the TSDZ2 go on a single charge? This will vary greatly depending on rider fitness, terrain and many other factors. My conversion used a high-quality 36v 13Ah battery, and I could squeeze nearly 100 miles out of a charge using ECO mode. This is an exception, though, as I was training to lose weight and get fitter. A realistic range for this kind of battery would be about 50 miles.

Another relevant thing to the riding experience is the Q-factor – it's a bit too wide for my liking. When measured parallel to the bottom bracket axle, the Q-factor is the distance between the pedal attachment points on the crank arms. On the TSDZ2, the Q-factor is quite wide at 210mm. If this is a problem, it can be easily solved by fitting a pair of standard Bafang BBS  or Shimano Steps FC-E6000 crank arms,
Motor variants
The Tongsheng TSDZ2 is sold in six different configurations: 36v 250w / 350w / 500w and 48v 350w / 500w / 750w. I have contacted Tonsheng for clarification and have been informed that all the motor variants have the same internals/electronics. The only thing differentiating the 36v and 48v versions is the controller firmware programming.
In 2022, Tongsheng released an improved version. This is called the TSDZ2B and features several improvements, but most notably, a dual-clutch system inside the motor, which drastically reduces drag when the motor isn't in use. The blue gear issue and the sprag clutch problem have been fixed.
| Motor | Battery | Peak Power |
| --- | --- | --- |
| Tongsheng TSDZ2 36v (250w variant) | 36v (42.2v x 16A) | 675w |
| Tongsheng TSDZ2 48v (500w variant) | 48v (54.4v x 16A) | 870w |
The voltage figures in brackets are for a fully-charged battery. Note: As the voltage drops, so will the power.
Display Options
I prefer the VLCD6 as it's very discreet. The VLCD5 has more functionality, but it is quite large and fits straddling the handlebar stem. Finally, there's the XH18, which fits near the left-hand grip. It's quite bulky but does have good functionality.

Legality
The Tongsheng TSDZ2 will be legal to use in the UK and EU, providing the maximum assisted speed is set to 25 km/h. All Tongsheng motors are the same and are manufactured to the EN15194 European safety standard. What defines the legal parameters is the continuous power rating (250w) and maximum assisted speed (25 km/h). It's okay to have a continuous output of 250w but with a peak output (under load) of 500-600w.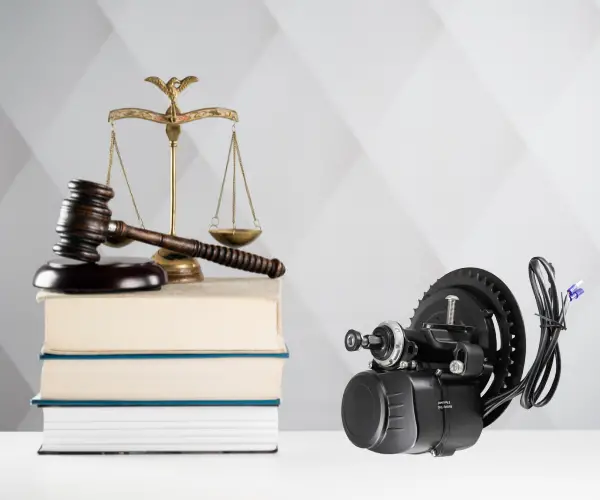 Some resellers will limit the top speed of the TSDZ2, and others won't. It's your responsibility whether you choose to do this or not. I wouldn't risk it as it's your driving licence on the line.
In the unrestricted form, the Tongsheng TSDZ2 will go as fast as you can pedal. Using a typical 42t chainring with 11t high gear (on the back), the TSDZ2 will have a top-assisted speed of 25 mph at a cadence of 80 rpm (near the maximum the motor supports). You could go faster if you had a larger front chainring, but I wouldn't recommend it! There's more information in my article on UK Electric Bike Law.
Tongsheng programming
The end user can program the Tongsheng TSDZ2. Although, the process is more complicated (than with the Bafang) and requires a certain degree of technical skill. The main route used is through OpenSource software. You will also need to buy an ST-Link V2, an in-circuit debugger and a programmer.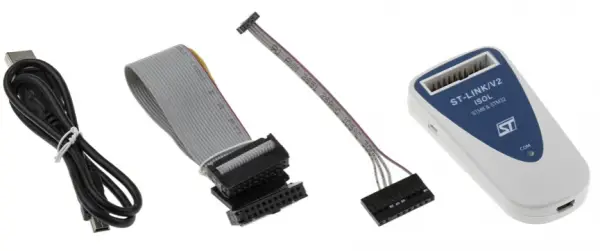 Lots of anecdotal reports suggest that reprogramming the Tongsheng TSDZ2 has many benefits. I have listed the key improvements below:
Greater motor efficiency – more power whilst reducing battery consumption.
More responsive and intuitive pedal assist feel – some say this brings the feel of the motor closer to that of the expensive Bosch system.
Improved reliability
Cadence support at higher rpm – the stock model stops assisting near 90 rpm. With reprogramming, you can have assistance up to 120 rpm pedalling speed.
The option to be able to use different displays. For example, the KT-LCD3, as is the colour Bafang P850c display, is commonly used.
From the research I've done so far, reprogramming the TSDZ2 can transform the motor. I would only recommend doing this if you are comfortable tackling the job yourself. You will void the warranty of the motor, and if it's done incorrectly, you could end up with a blown controller.
Common problems
How reliable is the Tongsheng TSDZ2? Below, I've listed the common problems associated with the Tongsheng motor.
The blue nylon reduction gear can be prone to premature wear, although this seems to hinge on how hard the bike is being ridden and is unlikely to be a problem on commuter or leisure bikes. ***The newer TSDZ2 'B' has a different system, and Tongsheng claims to have rectified this issue.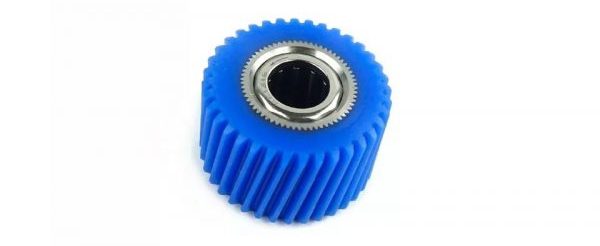 Torque sensors convert a torsional mechanical input into an electrical output signal. The main culprits are poor solder on the sensor, cracked sensor rings or a split in the main torsional tube (that runs between the cranks). Replacements are readily available.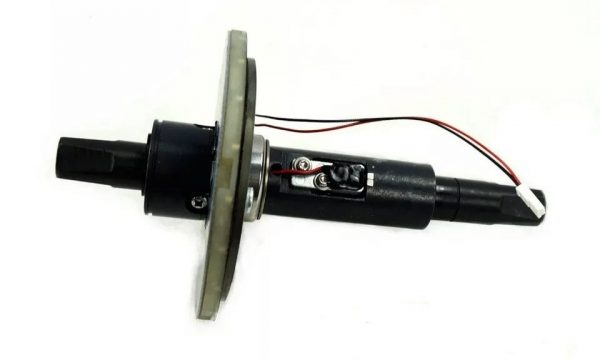 Controller failure – the TSDZ2 doesn't like prolonged load and can overheat, particularly on long, steep hills.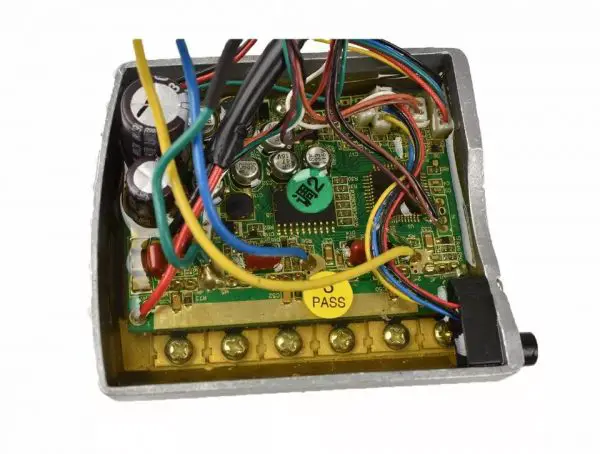 The 'Sprag clutch' or one-way bearing has also been known to fail occasionally. ***This issue has been rectified with the latest 'B' model.
Water ingress – Although water resistant, I wouldn't recommend riding in heavy rain or deep puddles.
Generally, the TSDZ2 is reliable. But, problems can and do occur. Sometimes, these may manifest within the first few miles, and others may not happen until the motor has over a thousand miles under the belt. Environmental factors seem to play a part, and if you live in a wet country, it's worth remembering that the Tongsheng isn't waterproof.
In 2022 Tongsheng addressed some of the above issues, and the latest 'B' version of the TSDZ2 has modified the internals with a dual-clutch system. I've yet to test one of these motors, but early reports suggest a great improvement.
Tongsheng alternatives
If you're reading this, you are probably familiar with the Bafang mid-drive conversion kit. I like the Bafang and have installed it more than any other motor. Although the Tongsheng and Bafang share similarities, the two motors are quite different once you get beneath the skin.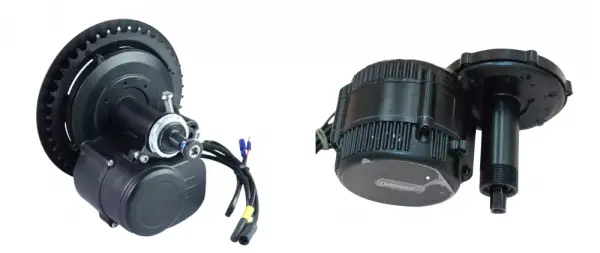 Whereas the TSDZ2 uses a torque sensor, the Bafang uses a cadence sensor, giving the motor an on/off feel. The Bafang is much quieter, almost silent. But it's heavier, more expensive and just as prone to technical faults. For more information, please read my Bafang vs. Tongheng comparison article.
Pros and Cons
Pros
Cheaper than Bafang
Torque-sensing pedal assist
Smooth power delivery
Neat installation
Cons
It is not straightforward to program
Lacks the outright power of the Bafang
Limited clearance when installing
FAQs
Is the TSDZ2 good on hills?
It's not as good on hills as the Bafang BBS02 but is fine on moderate hills.
Is the Tongsheng TSDZ2 waterproof?
No, it's resistant to water and can be ridden in the rain, but I would avoid puddles.
Will the TSDZ2 fit bikes with thru-axles?
There's no reason why not; it depends on the bottom bracket configuration.
Can I fit the TSDZ2 onto an old/vintage bike?
Yes, I have fitted Tongsheng motors onto bikes from the 1970s without any issues. As long as the bottom bracket is standard, it should be plain sailing!
Conclusion
The Tongsheng TSDZ2 is one of the best e-bike conversion kits available, but it will not be for everyone. Installation can be challenging, and the motor may need periodic maintenance. It is an excellent option, resulting in a bike that looks and rides more like a factory-produced e-bike.
The torque sensing system may not suit everyone, as you still need to put a fair amount of effort in for the pedal assist to work, but I love how it assists. My only real complaint is that this motor does not assist beyond the 90 rpm cadence. This can be altered if you're brave enough to have a go at reprogramming.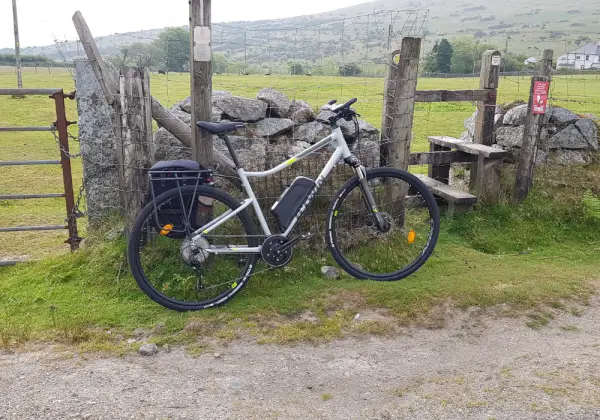 In 2023, the Tongsheng TSDZ2 is still cheaper than the Bafang and is excellent value for money. Suppose you are comfortable with your ability to install it. This is an excellent electric bike conversion option if you have an appropriate donor bike and can live with some of the compromises.
Specifications
Motor Position: Mid-Mounted (Bottom Bracket)
Motor Compatibility: 68-73mm BSA Threaded Bottom Bracket
Rated Power: 250w to 500w
Peak Power: 576w to 768w
Max Torque: 80Nm
Rated Voltage: 36v or 48v
Controller Current: 16A
IP Rating: IP54
Price: $300 – $400
Thanks for reading my Tongsheng TSDZ2 review. If you have any questions about the Tongsheng motor, please feel free to leave a message in the comments section below. Or head over to my TSDZ2 Forum, with over 400 posts from the last four years.