ebikechoices is supported by its audience. When you purchase through links on our site, we may earn a commission. Learn more
Overview
In this Tongsheng TSDZ2 review I will go over the Benefits of this particular electric bike conversion kit. In this post I will be reviewing the 250w version – this is the only variant I can recommend for road legal use in the UK, Europe and Australia.
Tongsheng have been manufacturing plug and play mid-drive electric bike conversion kits for a few years now, and although not as popular as the Bafang mid drive conversion kits, Tongsheng are steadily increasing in popularity Earlier versions did have some reliability issues, but as with the Bafang, a lot of these seemed to have been ironed out now.
I have personally installed approximately twenty of these kits on to various bikes, ranging from low-step commuter bikes through to full-suspension mountain bikes.
The main criteria for installation is similar to the Bafang mid-drive, the Tongsheng TSDZ2 will fit any standard threaded  bottom bracket which is 68mm-73mm wide, with an inside diameter of approximately 33.5mm.
👉USE DISCOUNT CODE BH2E24BXQH👈
It must be noted that these kits are not intended to be installed on bikes that use a pressed-fit bottom bracket as the BB shell dimensions would not be compatible with the motor shaft.
There can be a way around this if a special shim and mounting plate are machined by a professional engineer. It's important that the shim is machined in an eccentric fashion so there is more clearance at the bottom. The reason for this, is there's very little clearance between the motor housing and shaft.
Some pressfit bottom brackets are wider that 68mm-73mm, and if this is the case I would personally find a more suitable donor bike.
If your bike has an eccentric bottom bracket as fitted to tandems and bikes with internally geared hubs like the Shimano Nexus, installation is still possible, but may be problematic.
The motor comes as a kit with the following key components:
The motor unit with integrated controller
LCD Display – VLCD5 / XH18 / VLCD6
Wiring loom
Inner and outer lock-nuts
Chainring 42T
Speed sensor and wheel magnet
A bag of various Allen bolts and screws
Installation tool / spanner
Legal information
Please read my separate article on electric bike law.
Installation
The installation of this motor is the same as with the Bafang Mid Drive. One of the really useful things about this kit, is unlike the Bafang kit, the Tongsheng kit comes with an installation spanner. If you are looking for a nice easy conversion to do yourself, but you have little or no experience with bicycle mechanics or using tools, I would not recommend this kit. I will write a separate post detailing the installation process with photos, but the installation will need to be carried out by someone who is fairly competent. Removing the bottom bracket can be a right pain, and you will require a lot of patience!
The installation video below shows the installation process, although it looks like they loosened the bottom bracket beforehand!
Technical Data
These motors have an internal torque sensor, and give assistance proportionate to the amount of force applied to the pedals (much like the Bosch system) . The upshot of this is, that you will need to make a certain degree of effort in order for the motor to work, unlike the Bafang system, which will give assistance as soon as the pedals are rotated.
These motors can be reprogrammed using this OpenSource firmware / embedded software but you will need to purchase a KT-LCD3 display. It is not as straightforward as programming a Bafang, but if you are willing to have a go, you can really fine-tune this motor to suit your particular needs.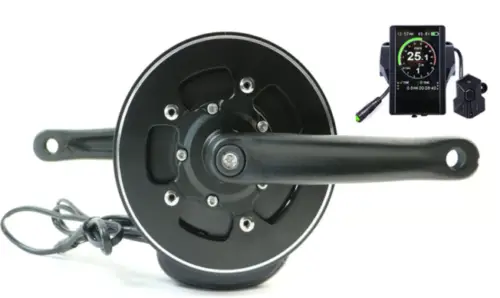 It should also be noted that unlike the 48v Bafang motor, you cannot use a 52v battery with the 48v version of the Tongsheng. There are some suppliers selling a 52v version, but these are not recommended or endorsed by Tongsheng.
It should be noted that Tongsheng do not specifically manufacture a 52v TSDZ2, and that all the motor kits sold as 52v have modified firmware.
Like the Bafang, this motor works through a series of gears, and drives the rear wheel directly through a single front chainring. The benefit of this is the motor is using the bike's gear ratios for maximum efficiency and torque. Also, like the Bafang motor, gear selection is important when pulling away or hill climbing.
Reliability
I have supplied and installed quite a few Tongsheng TSDZ2 motors and to date, and I have only had one issue reported, and this was on a bike being used for serious off-road riding.
Although I haven't personally had any issues with the Tongsheng, they can and do occur from time to time.
The torque sensor has been known to fail – although this seems rare and a replacement is not overly expensive.
Controller failure is also much rarer now than it was a few years ago, a replacement controller is much cheaper than a Bafang controller.
The blue nylon reduction gear can be prone to premature wear, although this seems to hinge on how hard the bike is being ridden and is unlikely to be a problem on commuter and leisure bike.
The 'Sprag clutch' or one way bearing has also been known to fail occasionally.
Because of the way the power is delivered there doesn't appear to be much of an increased risk of wear and tear on the bike chain and gear components.
The general feel is one of an enhanced cycling experience, you still have to put in an effort but it makes you feel like you have bionic legs, which is great fun!
👉USE DISCOUNT CODE BH2E24BXQH👈
Riding a Tongsheng powered Electric Bike
The first installation I did using a Tongsheng motor was on a Voodoo hardtail mountain bike, and I must say I was pleasantly surprised. The 250w motor is very quiet and smooth, and you have up to 4 levels of pedal assist to choose from – ECO / TOUR / SPEED / TURBO.
The torque sensing pedal assist works really well, and having ridden Bosch e-bikes, I would say the power delivery is very similar. The general feel is one of an enhanced cycling experience, you still have to put in an effort but it makes you feel like you have bionic legs, which is great fun!

Another big plus point is that unlike the Bafang motor, the pedalling resistance when the motor is switched off is barely noticeable, although I have been reliably informed that this can vary from motor to motor. Some users report significant resistance with the motor off.
As with the Bafang you will be limited to a single chainring, but Tongsheng offer a 42T as standard, which is much better gearing than the 44T minimum offered by Bafang. The TSDZ2 will also take a standard 110BCD chainring.
As this bike uses a torque sensing system, brakes with cut-off sensors are not required, reducing the need for more untidy external wires.
Another important consideration is the Q-factor – this is the distance between the pedal attachment points on the crank arms, when measured parallel to the bottom bracket axle. On the TSDZ2 the Q-factor is quite wide at 210mm – if this is a problem, it can be easily solved by fitting a pair off standard Bafang BBS  or Shimano Steps FC-E6000 cranks arms which should reduce the above figure by 28mm.
This motor is also 30% lighter than the Bafang equivalent, and the overall look is a little more discreet – below is a photo of an Orange full suspension mountain bike that a customer converted. He also owns a Haibike and actually prefers the Tongsheng conversion!
Conclusion
As with the Bafang, the Tongsheng will not be for everyone. Installation can be challenging and the motor may need periodic maintenance. It is nonetheless an excellent option, and the end result will be a bike that looks more like a factory produced e-bike.
The torque sensing system may not suit everyone, as you will still need to put a fair amount of effort in for the pedal assist to work. But for me personally, I loved the way it provides assistance. My only real complaint, is that I generally ride my bike at a higher cadence of between 80-100rpm, and this motor does not provide any assistance beyond 90rpm.
The TSDZ2 is also incredibly efficient if used wisely. I recently had 120 mile range from a 36v13ah battery, however I was only using ECO and TOUR mode on the hills -total elevation gain over that distance was 11000ft.
This motor is also a little cheaper than the Bafang, making it excellent value for money. Read my Bafang vs Tongsheng comparison.
If you are comfortable with your ability to install it, and you have an appropriate donor bike, then as long as you can live with some of the compromises, this is an excellent electric bike conversion option and an excellent alternative to the Bafang. There is also a good supply of spare parts available.
Where can I buy the Tongsheng TSDZ2
The Tongsheng is a very popular e-bike conversion kit and is available from various online retailers in multiple countries. Prices vary depending on where you live, but I've always found Aliexpress to be the cheapest. If you're concerned about potential problems and want the easy returns route, then I'd be inclined to buy from Amazon or eBay as these platforms make the returns process very straightforward.
Buy the Tongsheng TSDZ2 350w (EU direct from Yose Power)👉USE DISCOUNT CODE BH2E24BXQH
| | |
| --- | --- |
| Aliexpress | |
| eBay UK | |
| eBay USA | |
| eBay CA | |
| eBay AU | |
| eBay DE | |
| eBay IT | |
| eBay FR | |
| eBay ES | |
| Amazon (various locales) | |
| Banggood (EU Shipping) | |
How does the TSDZ2 fair against the Bafang mid-drive? Check out my Tongsheng vs Bafang comparison.
Thanks for reading. If you have any questions relating to the Tongsheng motor, please feel free to leave a comment below.