Recumbent trikes are becoming increasingly popular, and I can see why. Up until recently, I had never ridden a recumbent, but the first time I had a go on one I was hooked! In this article, I will be looking at some of the best electric conversion kits for recumbent trikes or bikes.
Due to the extra weight and design, Recumbent trikes (and bikes) are an excellent choice for electric conversion. If you have been thinking about adding E-assist to your recumbent, the great news is most regular conversion kits will fit. Below I will go into more detail on the different types of kits available, and their compatibility.
All of the kits listed in this article have been successfully installed, by myself on a variety of different recumbent trikes and bikes. Although these kits are generally reliable, some will require ongoing maintenance. I have been as honest as possible in my appraisal of each kit. If you have any questions regarding compatibility, please leave a comment below and I will respond within 24 hrs.
Do I need a recumbent-specific electric conversion kit?
The simple answer to this question is no. There are some brand-specific kits available like the Terra Trike Bosch boost kit which comes pre-installed in a new boom, but these can be very expensive when compared to the other options listed in this article.  You will need to consider several things beforehand. If you are fitting a crank motor you will need to check bottom bracket compatibility (see below). If you are fitting a hub motor, you will need to make sure you get the right-sized wheel – If you have an internally geared hub fitted (like a Rohloff) a rear hub motor would not be an option.
How much power?
This depends on your physical ability. If you have a health issue that prevents you from prolonged periods of exertion, or you are recovering from an injury, then it is likely you would need the electric motor to give you a lot of assistance, and maybe even have a throttle fitted to either get you rolling or enable you to have a break from pedalling once in a while.
I don't believe in motors that produce so much power that the need for pedalling becomes redundant as that will cancel out the health benefits of pedalling. But having a motor that complements and enhances your physical abilities enabling you to cycle further for longer and tackle more challenging terrain is a great idea. I know of many fit riders who choose e-assist, not because they're lazy, but because it enhances the whole recumbent riding experience.
What about Electric bike laws?
The power output you choose will also be important regarding the law in your country. The UK, Europe and Australia for example have a universal 250w power limit and 25 km/h pedal assist limit. In the US, federal law is 750w and 20mph and in Canada, it is 500w and 20mph.
All the recumbents I have converted so far have been 250w, and I find that provides more than enough assistance (and I live in an incredibly hilly area). But my experiences are subjective – I ride between 70-100 miles a week on a road bike, so I am fairly fit.  If you are getting back into cycling using a recumbent after a long illness or injury then 250w may not be enough power. This is why I  believe the law in the UK and Europe needs a serious overhaul.
You cannot exclude people from a potentially life-enhancing experience like riding a recumbent or bicycle by limiting the amount of assistance they can have. I think a more rational approach would be a 750w  upper limit with a 20mph maximum speed just like in the US.  Most competent road cyclists can comfortably maintain 20-25mph on the flat and hit speeds of over 50mph on long descents!
Is my Recumbent suitable for E-assist conversion?
If you are thinking about adding a crank motor to your recumbent, one of the most important things to consider is your bottom bracket shell. Most recumbents I have converted have a standard threaded bottom bracket shell, which is usually 68mm wide with an internal diameter of approximately 33.5mm. This would accommodate a regular square-tapered sealed cartridge bottom bracket or a Shimano Hollowtech II or SRAM GPX BB with external cup bearings.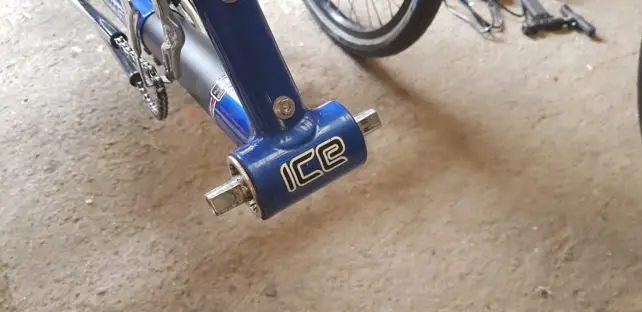 An FSA BB30 pressfit bottom bracket, on the other hand, has an internal diameter of 42mm, so you would need to purchase a BB30 to BSA adaptor shim.
Another important consideration is where to mount the battery pack. Some people prefer to mount the battery on a rear rack, but this can limit space for bags, panniers etc.  One excellent solution is made by Terracycle and is a recumbent-specific battery mounting plate.
The two most popular and well-known crank motors – the Bafang BBS and Tongsheng TSDZ2 will fit into a standard bottom bracket shell without any hassles.
Another thing to consider is gearing. The Tongsheng and Bafang utilise a single front chainring. If you have a triple or double crankset up front you will be going from 27-speed down to 9-speed, although with electric assist this becomes much less of a problem.
Best Electric conversion kits for recumbent trikes and bikes
My top 3 favourite kits for recumbents are ones that I have personal experience installing. None of these kits are perfect and it is worth remembering that compromises may need to be made, but generally speaking, all the kits below have so far served my customers well. That is not to say issues will not occur in future, because unfortunately, any mass-produced electrical item will have chinks in its armour!
Tongsheng TSDZ2
The TSDZ2 has now been around for a good few years and has (thankfully) been improved over the years. Early models proved troublesome, but thankfully the problems are not as frequent as before.
The Tongsheng is a great little motor as it uses a torque sensor (along with cadence and speed sensing) to provide electric assist. This provides the rider with very intuitive assistance. Pedal lightly without applying much force and the motor will not give much in the way of assistance, apply more force to the pedals and the motor will give you assistance proportionate to the force you apply.
The transition is very smooth and this is one of the reasons the Tongsheng is a favourite amongst recumbent riders.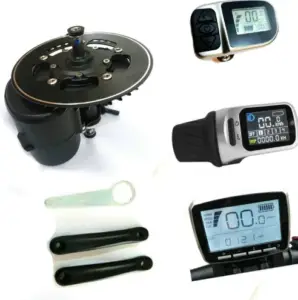 This motor is available in 36v 250w / 350w and 500w variants and also 48 v 350w / 500w and 750w versions.
Why do I think the TSDZ2 is especially suited to a recumbent?
For starters, it is a very small, discreet motor and it isn't particularly heavy, weighing in at around 3.6kg. There is a threaded hole on the motor, which is important as when you install it you will need to be able to stop the motor from pivoting in the bottom bracket shell. A 38mm stainless steel P-clip is sufficient to secure the motor to the boom of your trike along with a short M8 bolt. This applies to Ice Trikes, as I know other brands will probably have a different diameter on the boom.
It is incredibly efficient – I managed to squeeze a 120-mile range out of a 36v 13ah battery using mainly the 'ECO' pedal assist mode. Although this kind of mileage wouldn't be typical as it would depend on various factors.
This motor produces a lot of torque, making short work of hills. But you will need to be mindful of being in the right gear for steep climbs, just as you would on any bike. Climb a steep hill in a too higher gear, and you run the risk of placing too much load on the motor and risk damage.
One more important thing to remember when using the Tongsheng,  is before you switch the motor on, make sure you keep your feet off the pedals. Starting the system with your feet resting on the pedals will hurt the torque sensor calibration. If you do this by accident, just stop riding, turn the motor off, wait for a few seconds and turn the motor on again (making sure your feet are not resting on the pedals).
| Motor | Battery | Peak Power |
| --- | --- | --- |
| Tongsheng TSDZ2 36v (250w variant) | 36v (42.2v x 16A) | 675w |
| Tongsheng TSDZ2 48v (500w variant) | 48v (54.4v x 16A) | 870w |
The voltage figures in brackets are for a fully-charged battery. Note: As the voltage drops, so will the power.
Reliability Issues
So far I have been lucky with the Tongsheng motor and haven't had any issues reported to date. Having spent hours trawling Endless-Sphere.com it is obvious that there are several weak points with this motor.
The blue nylon primary gear can fail prematurely – a brass version of this gear is available as a replacement.
The sprag clutch or one-way bearing can fail – replacements are easy to obtain.
Torque sensor – surging or erratic pedal assist can signal problems with the torque sensing system.
Faulty display units – seems more of an issue with the VLCD5 display.
Another thing to consider when fitting this motor is the exaggerated Q-factor. Particularly the drive side crank arm is about 20mm more offset than the non-drive side. This can be mitigated by fitting either standard Bafang crank arms, that can be purchased in 152mm, 170mm and 175mm lengths or Shimano Steps FC-E8000 crank arms.
One more thing is to remember to purchase a Tongsheng speed sensor extension cable (110mm) as the standard cable will not reach the speed sensor mounted on the rear chainstay.
Conclusion
The Tongsheng TSDZ2 is a cost-effective way to add e-assist to your recumbent, but installation should be carried out by someone confident in doing the job correctly. There are also potential long-term reliability issues that need to be considered. You need to be a 'hands-on' kind of person to fit one of these kits and deal with any potential issues that may arise in future.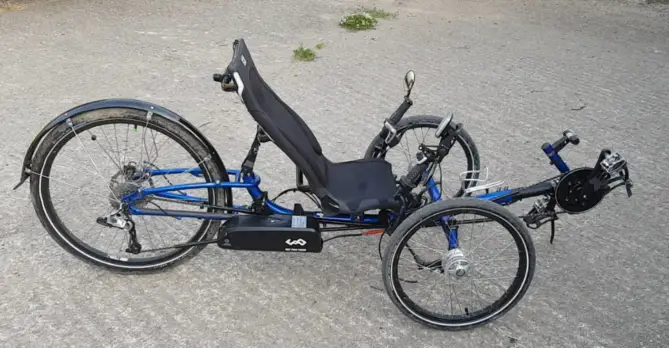 Most manufacturers now offer e-assist on their recumbent trikes and bikes, but these are comparatively expensive when compare with the DIY kit option. The Bosch, Yamaha and Shimano Steps units are renowned for their reliability over massive distances, but are nigh on impossible to repair should something go wrong. The TSDZ2 on the other hand can be fixed by any DIY enthusiast as the motor itself is easy enough to work on and spare parts are readily available.
>Check out Recumbent Trikes and Bikes on eBay<
The motor performance is, in my opinion on par with the Bosch Active Plus, it produces plenty of power, especially in 'Turbo' mode and is guaranteed to put a smile on your face.
Pedalling with the assist off and the extra weight and slight resistance of the motor becomes evident – not a problem on the flat, but if you run out of battery power with a long climb to tackle you could have some problems.
All in all, I'm giving this motor the thumbs up! It's great value, it performs well and does the job. Links below on where to purchase this motor.
Links to Buy the Tongsheng TSDZ2
---
Bafang BBS01 / BBS02 / BBSHD
The Bafang mid-drive motor has been a market leader for over five years, and it continues to be the best-selling electric bike conversion kit in its class.
The motor itself is a great little unit, and for the most part seems fairly reliable. I used a Bafang BBS02 powered bike for a year, covering nearly 2000 miles without any problems whatsoever.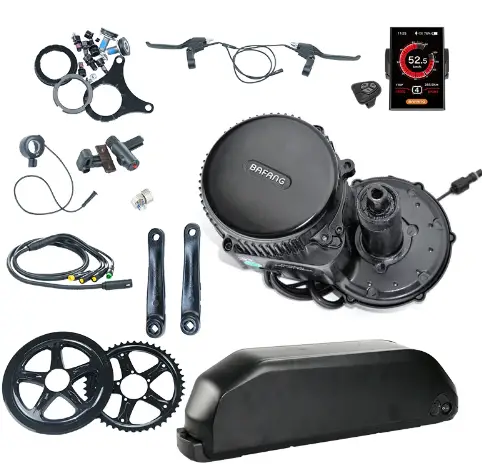 The Bafang motor is currently available in many different variants: BBS01B 36v 250w / 350w BBS02B 36v 500w, BBS02B 48v 500w / 750w, BBSHD 48v 1000w.
Which model you choose depends on the amount of power you need. As I have mentioned previously, you will need to carefully consider the law in your country.
The tables below show the peak power output of all the Bafang models (with a fully charged battery).
| Bafang Motor | Battery | Peak Power |
| --- | --- | --- |
| BBS01B 250w | 36v (42.2v x 15A) | 633w |
| BBS01B 350w | 36v (42.2v x 18A) | 759w |
The voltage figures in brackets are for a fully-charged battery. Note: As the voltage drops, so will the power.
| Bafang Model | Battery | Peak Power (Watts) |
| --- | --- | --- |
| BBS02 500w 36v | 36v (42.2v x 25A) | 1055w |
| BBS02 500w 48v | 48v (54.4v x 18A) | 864w |
| BBS02 500w 52v | 52v (58.8v x 18A) | 1058w |
| BBS02 750w 48v | 48v (54.4v x 25A) | 1200w |
| BBS02 750w 52v | 52v (58.8v x 25A) | 1470w |
The voltage figures in brackets are for a fully charged battery. Note: As the voltage drops, so will the power.
| Bafang Motor | Battery | Peak Power |
| --- | --- | --- |
| BBSHD | 48v (54.4v) x 30A | 1632w |
| BBSHD | 52v (58.8v) x 30A | 1764w |
The voltage figures in brackets are for a fully-charged battery. Note: As the voltage drops, so will the power.
It is worth noting that the peak power figures do not represent the nominal power output of these motors. The 250w motor for example can peak at over 600w briefly whilst under load, but the 'keep current' setting in the controller programming will ramp back the power once pedalling cadence increases.
In my opinion 250w provides adequate electric assistance, but if you are after some real power the BBSHD is on another level! If you were planning an off-road adventure then the BBSHD would be more than up to the job. I have ridden many bikes powered by this motor and the amount of torque it produces never ceases to put a smile on my face.
The 'HD' stands for heavy duty and I think the point of buying a BBSHD would be in the robust design of the motor. It is very heavy at nearly 5kg, but if you just wanted a super reliable drive unit that could be ridden day in and day out without a care in the world then this is a great bit of kit. And of course, you don't have to ride it in full power mode. You have 9 power levels to choose from and level 1 is around the 250w mark, so you can still get a workout if you so desire.
The best all-rounder for me is the BBS02B, whether in 36v 500w or 48v 750w guise. Although it doesn't produce the raw grunt of the HD, it still produces more power than most of us will ever need and it is a bit more affordable.
Buy the Bafang M625 from Amazon
Riding a Bafang-powered recumbent
Unlike the Tongsheng, the Bafang motor uses a much more simple cadence-based pedal assist, which acts like an on/off switch. The way the power ramps up once pedalling begins depends on the way the motor controller is configured, the rpm of the motor will also be limited by the controller settings.
One of the great features of the Bafang is that you can alter these settings easily using a laptop and USB programming lead and free open-source software  – you can reprogram the motor to produce a very smooth and intuitive level of pedal assist. The best beginner's guide to programming the Bafang can be found on Karls Electric bike blog.
Is the Bafang mid-drive motor suitable for a recumbent?
Like the TSDZ2, the Bafang motor wasn't designed specifically for recumbents, but having installed a couple of recumbent bikes myself, it seems to do the job perfectly! It is heavier than the TSDZ2 at around 4kg (4.8kg for the BBSHD) and physically slightly larger.
The short video below shows a recent installation of a Bafang BBS01B 36v 250w onto an HP Velotechnik Grasshopper recumbent bike.
The main criteria for installation are the same as with the Tongsheng. The motor shaft will fit a standard 68mm BSA threaded bottom bracket shell. The one important consideration is to make sure that the motor is secured tightly so it does not pivot in the BB shell. The mounting plate provided by Bafang will go some way to prevent the motor from moving, but you will want to have a Bafang lockring spanner in your toolkit just in case you need to tighten the motor.
As with the Tongsheng, you will need to purchase an additional speed sensor extension cable as the standard cable will not reach the motor.
To mount the display, you will need something like the Minoura accessory mount  (as used on the conversion above). Terracycle also does a mount specifically for recumbents.
As with any electric conversion, where you decide to mount your battery is important. You could go for a small compact bottle battery that would fit into a bottle cage or bag or you could go for a more elegant solution like the Terracycle battery mounting kit as mentioned in the Tongsheng section.
>Check out Recumbent Trikes and Bikes on eBay<
Is the Bafang motor reliable?
Bafang has been the market leader in DIY mid-drive e-bike conversion kits since 2014, and, like Tongsheng were plagued by early reliability issues – these mainly stemmed from poor quality MOSFETs in the motor controller.
These issues have been resolved, although as with any electric bike motor there are still long-term reliability concerns to think about. I have listed below the main problem areas I have encountered with the Bafang mid-drive:
Electrical problems – particularly controller failure on the BBS02 48v 750w. This is less of a problem on the BBSHD and the 36v models.
Not 100% waterproof, do not use a pressure washer or fully submerge – persistent riding in heavy rain, can on occasion cause problems.
Primary nylon  gear wearing out – this seems less of a problem than on the TSDZ2
Hall sensors – sometimes a bad solder, or poor connection at the controller
Pedal assist sensors can sometimes fail (although this seems quite rare).
It should be noted, that in my personal experience I have installed well over 100 Bafang mid-drives in the last three years, and I have had one 250w motor fail (after 14 months and 2000 miles), one controller failure on a 36v 500w, three controller failures, and one hall sensor failure on the BBSHD and eight BBS02 48v 750w controller failures. All the controller failures on the 750w version happened on bikes with 52v batteries fitted.
Conclusion
Despite the above problems, I still think the Bafang is a good motor.  The BBS01B 250w will provide enough assistance for most riders, and if you fancy having a bit more power on tap for those steep climbs the BBS02 is excellent.  The BBSHD is a very strong and efficient motor and gives you the flexibility of power ranging from 250w up to a potential 1700w. I wouldn't personally install a BBSHD on a recumbent bike for myself, as I think having all that power available would be too tempting to use and I like to get a decent workout when I go riding.
Which mid-drive motor is best for a recumbent trike or bike?
This boils down to your preferences. For me, the TSDZ2 wins hands down, as it provides an enhanced riding experience and is a very neat installation.  The Tongsheng provides a very fluid and intuitive pedal assist. The Bafang is also great and you have the added benefit of being able to easily configure the controller settings to suit your needs.
A lot of very experienced recumbent riders agree with my verdict on the Tongsheng, the following testimony is from one of my readers: Glen from Vancouver Island, Canada. Visit Glen's website: mid-islandadventures.com  – There is a wealth of information on his site for recumbent riders.
For those that are interested, I have just taken off my Bafang 36 volt/350-watt Mid Drive from my HP Gekko & replaced it with the TSDZ2 36 volt unit. I have had this TSDZ2 unit sitting in my shop for several months as it had been returned to me in need of repair. Since I had some free time on my hands I decided to open up the Tongsheng to see if I could figure out what was wrong. Since I had previously serviced this unit with new grease, and new Brass primary Gear, I suspected I had missed something or there was something faulty in the unit. It turns out a loose screw at one of the phase wire terminals had come loose & had been sparking inside the motor cover. Some emery cloth for cleaning up the Brass Terminals, a new screw, some Blue Loctite and a little JB Weld & that motor seems to be running well now,
As I had spent some time with the Bafang on my Gekko,  I should be able to make a direct comparison between the two comparably powered motors. Same Trike, the same riding conditions, the same battery & weight & the same rider.
So here goes – Since my trike is equipped with an Alfine 11 speed out back my ride results may differ slightly from those with a cassette & derailleur.
The first big difference is in the smoothness of the power delivery. The TSDZ2 feels more like stepping on a Gas Pedal whereas the Bafang unit feels more like turning on a light switch. The Power is either ON or OFF.
Both units seem acceptably quiet in use & being on a Trike Boom right out in front of you may be something to consider. This is a TSDZ2 with the Brass Gear upgrade as well which some owners have reported as being noisy. I didn't find it so but I do tend to either grease or oil anything that moves to be on the safe side. Coming from a Chinese factory I would recommend everyone to take off your covers before they have installed your motor kit of any brand & give it a going over. 12-hour shifts 7 days a week can mean some units just don't get the final love & care they should.
One of my gripes with the Bafang is the time delay from when you stop pedalling & the motor finally stops applying power. In practice, this may only be 5 secs but when you stop pedalling to shift gears on an Internal Gear Hub it can feel like 10 secs between shifts. During that time you get the motor trying to bypass the braking or clutch on the IGH resulting in some added noise. With the TSDZ2 unit, the Power stops as soon as you stop pedalling. This can of course be eliminated with the use of gearshift sensors on the Bafang but NOT having to add even more cables or possible problem connections to the TSDZ2 is just another bonus.
Both units come with an LCD Control that seems pretty similar in function & information displayed. The Bafang unit seemed to be a nicer quality than the T unit but the T unit was more adjustable having a nice tilt feature should you be getting glare or the sun reflecting in your eyes. Another plus for the T unit is its lightweight & compact size weighing about 2 lbs less than the Bafang. It also installs without doing any damage to the Bottom Bracket Shell which does result in indentations from the locking ring with the Bafang.
So which is the better unit? For me, it would still be a Geared Hub Motor as my first choice since the Power is more direct to the road & not lose efficiency through your chain, back gears & then finally to the road. If I had to choose between the Bafang & The TSDZ2 it would be the TSDZ2 with 500 watts.
Screenshot of Mid-Island Adventures – click on the photo to be taken to the website.

---
Electric Rear Hub Motor Conversion Kit
A geared hub motor is one of the easiest ways to add electric assist to your recumbent. Not only are these motors very reliable, but there is no increase in pedalling resistance with the assist switched off (unlike the TSDZ2 and Bafang BBS).
Hub motors are also generally cheaper than mid-drives, plus you don't need to lose your front crankset. Below is a video of an Ice Trike fitted with e-assist using a Bafang 36v 250w rear hub motor conversion kit.
Will a rear hub motor fit my recumbent?
This depends on several factors. If you have an internally geared rear hub like a Shimano Alfine or Rohloff then the answer would be no, unless you were willing to revert to derailleur gears.
The other thing to consider is the size of your rear wheel and the width of your dropouts.  Most hub motor kits are available in 20″ / 26″ / 28″ wheel sizes but are nearly always made to fit the standard bicycle dropout width of 135mm. A slight variation on this should not pose too much of a problem, but if your rear dropout is substantially narrower, you would need to think about a crank motor. If you do not know the width of your rear dropout, remove your rear wheel and take the measurement using a tape measure of Vernier calliper.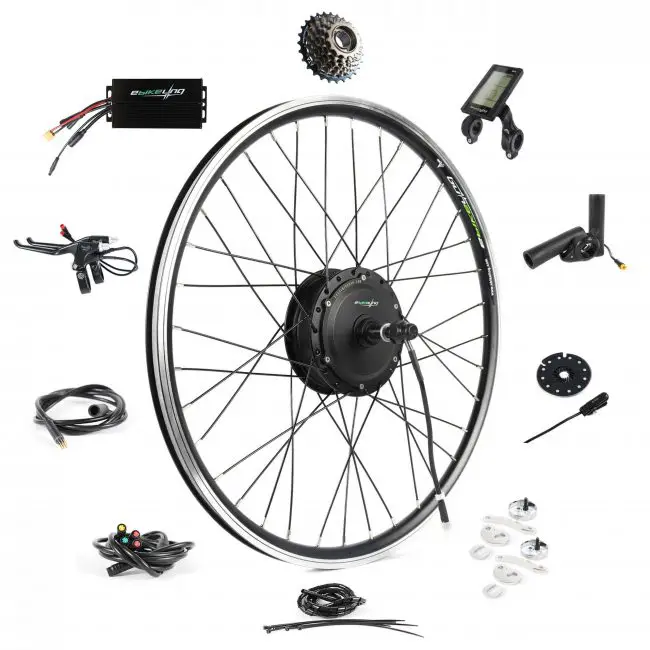 ✅The Ebikeling 500w 36v 26″ rear wheel conversion kit (US shipping)[/caption]
Pedal sensor compatibility can be an issue. Most of these kits come as standard for fitting on the right-hand side of a square tapered sealed cartridge bottom bracket. If you have a Hollowtech II, SRAM GPX or BB30 Pressfit bottom bracket you will need to order a compatible pedal sensor.
It is also likely that you may need to extend the cable going from the pedal sensor on the crank to the controller box/bag.
The Benefits of fitting an electric hub motor to a recumbent
Ease of installation – you just need to swap out your rear wheel and fit the pedal sensor, battery, motor controller and display.
Cost – hub motor conversion kits are nearly always cheaper
Simplicity – If hub motors do go wrong (which is quite rare) they are easy and cheap to repair or replace.
If you use derailleur gears you get to keep your full range of gears – e.g. triple on front 8/9 speed at the rear.
Negatives to fitting a rear hub motor
Rear hub motors do not produce as much torque as crank motors (40Nm vs 80Nm).
Repairing rear wheel punctures can be time-consuming – fit Schwalbe Marathon Plus tyres.
Not compatible with all recumbent dropouts
Hub motors are not as efficient as crank motors – reduced battery range.
Riding a recumbent fitted with a rear hub motor
I have installed a couple of Bafang rear hub motors on a recumbent bike and trike and I think they work great. Indeed, they don't produce the torque you get with a crank motor, but the assist is more than adequate in my opinion. I live at the bottom of a 0.2 miles 8-10% hill and my personal best on my road bike (unassisted) is 1 min 20 secs,  on a 250w Bafang powered Ice Trike I did the same climb in 1 min 13 secs, and that was without getting too out of breath!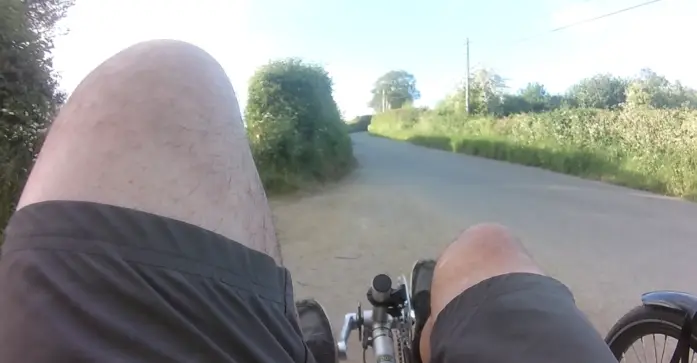 Most of the rear hub motor kits available use the cadence-based pedal assist, much like the Bafang mid-drive motor. There are hub drive systems available which use a torque sensing pedal assist to produce a smoother more efficient level of assistance much like the Tongsheng motor.
The main issue with fitting a torque-sensing hub motor kit is you will need to remove your existing bottom bracket to replace it with the torque-sensing one. You will also need to drill a hole in your bottom bracket shell to thread through the connector lead to the controller – you must fit a rubber grommet into this hole beforehand because if you don't it is very likely you will damage the connector lead when threading through the hole. You will also need to get a compatible extension lead for the torque sensor connector as the one supplied with the kit is not long enough for a recumbent.
Conclusion
The age-old question of is a hub motor better than a mid-drive or visa-versa boils down to your expectations of what you want from electric assist. Personally, I think hub motors are great, they lack the torque and efficiency of a crank motor, but they still do the job of providing electric assistance very well. The other plus point is the lack of drag at the wheel (and crank) when pedalling with the assist switched off.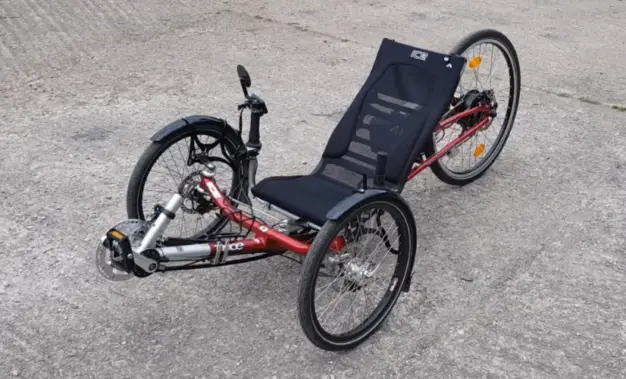 The main selling point of any hub motor would be its long-term reliability. I have installed a lot of geared hub motors over the last three years, and I haven't had one single reported motor or controller failure. I have had some minor problems like pedal assist sensors playing up and occasional issues with the display. But apart from that, the motors themselves are excellent.
I wouldn't hesitate to take a hub motor-powered recumbent on a 1000-mile tour!
Links to rear hub motor kits 
Buy the Ebikeling 500w 36v 26″ rear wheel conversion kit (20″ also available)
Links to Bafang Hub Motor Kits
Thanks for reading, if you have any questions, please feel free to leave a comment below. I usually reply within 24hrs.