This post contains affiliate links, to find out more information, please read my affiliate disclosure
In this Bafang BBS01 250w review, I will be going over the pros and cons of this popular mid-drive conversion kit – this is the only variant I can recommend for road legal use in the UK,  EU and Australia. I will be reviewing the more powerful variants later.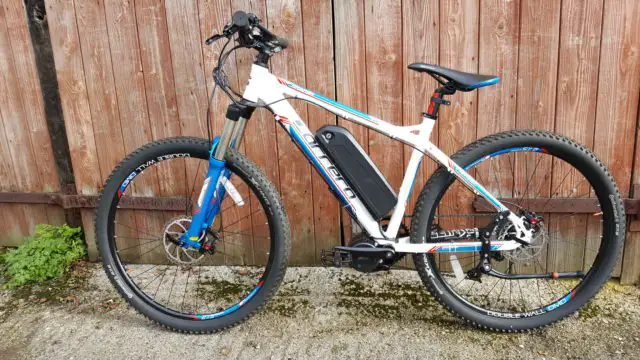 At the bottom of this post there are some useful links on where to buy the Bafang BBS01B 250w kit.
Bafang are currently the global leader in plug and play mid-drive electric bike conversion kits, and have been for a number of years. Earlier versions were plagued by reliability issues, and although this can still be an issue, the problem is not as bad as it was a couple of years ago.
Buy the Bafang BBS01B 250w in your region
| | |
| --- | --- |
| Aliexpress - BEST PRICE👉 | ✅Trusted Vendor |
| eBay UK | |
| eBay EU | |
| eBay AU | |
| Amazon (UK, EU, US, CA) | |
| Compare Bafang BBS01B Prices 👉 | |
I have personally installed over a hundred of these kits on to various bikes, ranging from low-step commuter bikes through to full-suspension mountain bikes.
The main criteria for installation is the size of the bike's bottom bracket. It needs to be a standard 68mm-73mm wide bottom bracket with an inside diameter of approximately 33.5mm. It must be noted that these kits are not intended to be installed on bikes that use a pressed-fit bottom bracket, as the dimensions are not compatible with the motor unit. There can be a way around this if a special shim and mounting plate are machined by a professional engineer.
If your bike has an eccentric bottom bracket as fitted to tandems and bike's with internally geared hubs like the Shimano Nexus, installation is still possible, but may be problematic.
The motor comes as a kit with the following key components:
The motor unit with integrated controller
LCD Display
Wiring loom
Inner and outer lock-nuts
Chainring
Chainguard (BBS01 and BBS02)
Thumb throttle – I do not recommend fitting this, as it is unnecessary and will increase the risk of controller failure if used inappropriately.
Brake levers with cut-off sensors (only compatible with cable brakes)
Speed sensor and wheel magnet
A bag of various Allen bolts and screws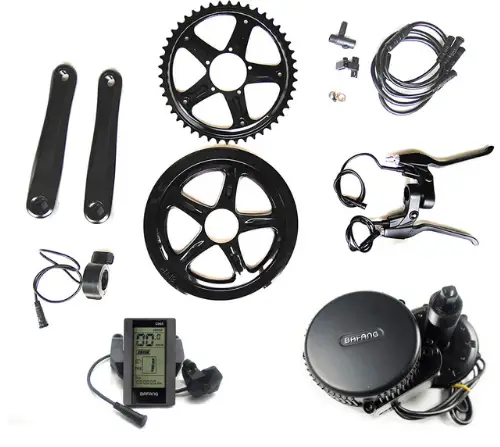 Legal information
Please read my separate article on electric bike law here.
Installation
If you are looking for a nice easy conversion to do yourself, but you have little or no experience with bicycle mechanics or using tools, I would not recommend this kit. See my guide on how to install a Bafang BBS02  This also covers the BBS01 which is physically the same.  The installation will need to be carried out by someone who is fairly competent. Removing the bottom bracket can be a right pain, and you will require a lot of patience!
The Bafang BBS01B 36v 250w fitted to a HP Velotechnik Recumbent bike
Technical Data
These motors have an internal cadence sensor, and give assist based on pedalling cadence. The controller will reduce the power in any given power level based on pedalling rpm. This is called the keep current, and depending on the way your particular controller is programmed, this can reduce the power by up to 60%. The logic behind this is the higher the cadence, the less help you need, this is somewhat counter-intuitive as electric motors works best when spinning at a high rpm.
One great thing about these motors, is they can be programmed with a Bafang programming cable and software (which you can download for free here). I will be writing a separate post about programming the Bafang. PLEASE NOTE: Reprogramming the 250w motor to any higher than 15A and 15.5mph (25km/h) would make it illegal for road use in the UK / EU / AU.
The motor itself works through a series of gears, and drives the rear wheel directly through a single front chainring. The benefit of this is the motor is using the bike's gear ratios for maximum efficiency and torque. The downside of this is you have to make sure you are in the right gear when hill climbing as excess load on the motor can cause controller failure.
The 250w motor is very quiet and smooth, and you have up to 9 levels of pedal assist to choose from.
Reliability
I have installed many BBS01B 250w Bafang motors and to date, and I haven't had any issues reported – these seem to be confined to the more powerful variants. Having said that there are a number of things to consider.
Although I haven't had any issues with the 250w, they can and do occur from time to time.
Controller failure is rare on this model nowadays, especially since Bafang upgraded the MOSFET's in the controller.
You will need a Bafang lock-ring spanner – these motors do sometimes need to be re-tightened periodically.
The speed sensor can be easily knocked out of alignment with the wheel magnet – this will throw up an error code and pedal assist will stop working.
In my experience the C965 display is the most reliable but has limited functionality. The available colour displays a great but I have had the occasional fault with these in the past.
Increased wear and tear on the bike chain and gear components – this can be mitigated by fitting a Bafang gearshift sensor.
Riding a Bafang powered Electric Bike
The 250w motor is very quiet and smooth, and you have up to 9 levels of pedal assist to choose from, so you really can fine tune the power output to suit your needs. When climbing step hills you will need to make sure you are in a low gear (as you would be in a car or on a motorcycle) this is especially important as trying to climb a hill in a high gear will put the motor under excess load and could overheat, causing controller failure.
The pedal assist is responsive, and works well, although on some of the older units, there was always a slight over-run noticeable when pedalling stopped. This was down to one of the controller programming parameters being set too high. I always reprogrammed the unit to stop this issue.
The main downside, in my opinion is the extra pedalling resistance this motor has when the power is on '0' or the motor is switched off altogether. It is not too bad on the flat, but it is really noticeable when going up a slight gradient. This is the main reason, I tend to prefer small geared hub motors.
If your bike has a double or triple front chainset, then you will be sacrificing that for a single steel chainring. Bafang only offer a 44t, 46t and 48t option. This in my opinion is high gearing, especially if you are climbing lots of steep hills. There are however a couple of alternatives – you could fit a 104BCD chainring adaptor or buy one of the many aftermarket chainrings available.
If you want to fit the brake levers with cut-off sensors, then bare in mind these are only suitable for cable operated brakes. If your bike has hydraulic brakes, you may want to purchase hydraulic brake cut off sensors or completely new hydraulic brakes with the sensors already built in.
Conclusion
The Bafang mid drive motor is not for everyone. Installation can be challenging and the motor will need periodic maintenance. It is nonetheless an excellent option, and the end result will be a bike that looks more like a factory produced ebike.
For a 250w motor it produces a lot of torque, I have done a side by side hill climb comparison of the Bafang 250w vs a 1000w hub motor and the Bafang out performed the larger, more powerful hub motor. The large direct drive hub motor was only rated at 35Nm of torque compared to the Bafang's 80Nm.
If you are comfortable with your ability to install it, and you have an appropriate donor bike, then as long as you can live with some of the compromises, this is still one of the best electric bike kits available.
Shop for the Bafang BBS01B 250w 
| | |
| --- | --- |
| Aliexpress - BEST PRICE👉 | ✅Trusted Vendor |
| eBay UK | |
| eBay EU | |
| eBay AU | |
| Amazon (UK, EU, US, CA) | |
| Compare Bafang BBS01B Prices 👉 | |
Thanks for reading, if you have any questions please leave a comment below – I usually reply within 24hrs.