Looking for a fun way to get out and enjoy nature while fishing? Electric bikes are the perfect option! Not only are they great for getting you from A to B, but they also make it easy to transport your fishing gear. Check out our list of the best electric bikes for fishing and find the perfect one for your next adventure!
Why electric bikes are great for fishing
The benefits of using an electric bike, mean you can fish more and spend less time getting there. E-Bikes can allow you to access remote waterways that are tough for walking or larger off-road vehicles; they can also help fishermen sink their line in unique spots deep into the backcountry where few other fishermen will go.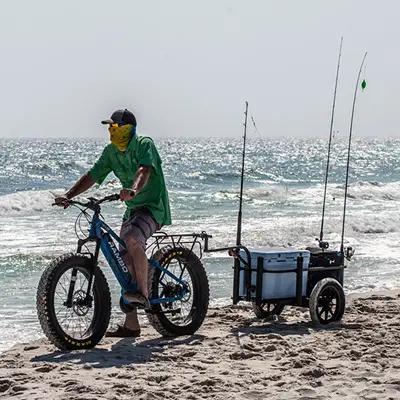 An e-bike is easy to transport, to within a few miles of your chosen location. Instead of having to carry all your fishing gear on foot, you just hop on your bike and get to your destination without any aches and pains!
Electric bikes are much cheaper to run and they make minimal noise, so if you don't want to attract attention to yourself and want to fish in a remote spot with a bit of peace, e-bikes are the way to go!
How to choose the best electric bike for fishing
Thankfully, there are a few brands that focus specifically on electric bikes for hunting and fishing. As far as requirements are concerned, you're going to need an electric bike that's rugged, capable of carrying extra weight and above all powerful. Below I've listed some of the key features to look out for.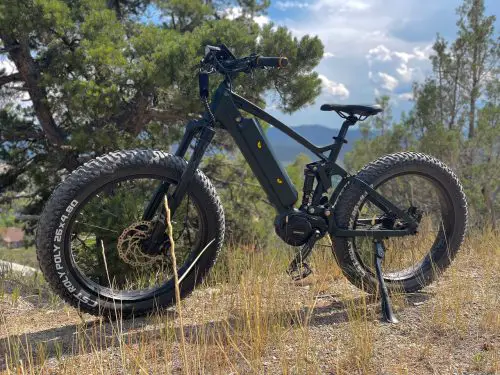 Motor: A good fishing e-bike will need to have a powerful motor, that's suitable for hauling a rider and fishing gear along difficult terrain. For this reason, a mid-drive motor is the way to go. Mid-drive motors produce a lot more torque than hub motors and they're more efficient. For power, I would recommend 750w and above. If you're in the UK unfortunately you'll be limited to 250w, but a good mid-drive motor will still get you to your destination.
Battery: Having a decent battery is important as you don't want to be running out of power miles from your vehicle or home. You can still pedal an e-bike without power, but due to the extra weight involved, it'll be tough. A battery above 600Wh (watt hours) will give you enough juice for one to two hours of riding.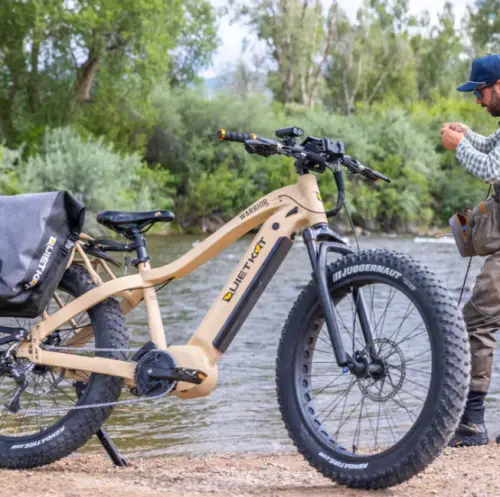 Tires: All of the e-bikes featured below have plus-size fat tires. These are ideal as they are run at a much lower pressure (than regular MTB tires) and provide excellent traction in mud, sand or snow. They also roll much better on rocky terrain.
Suspension: You may only be riding for a few miles, but comfort is important. Having front (and preferably rear) suspension will make things easier. Your e-bike will cope with rocks, tree roots and other obstacles much better.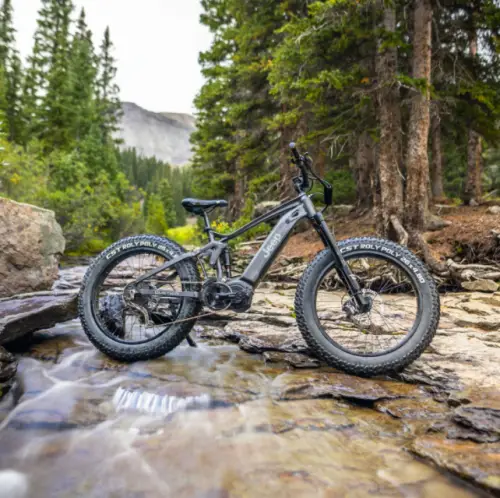 Accessories you'll need for your electric bike fishing trip
Apart from your fishing gear, the accessories you'll need depend on how far and how long you plan on fishing for. If it's just for a few hours then you can travel light, but if you're planning a few days out in the wilderness, you will want to go well prepared.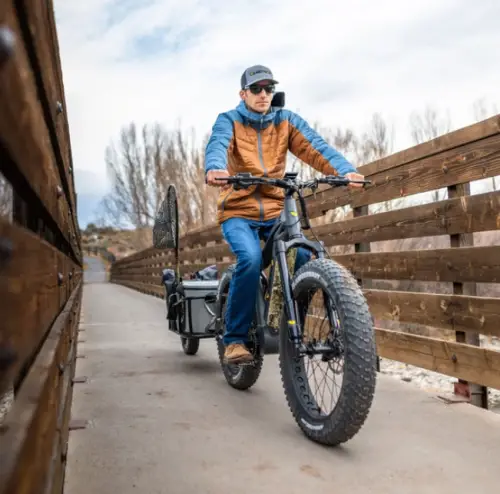 If you're planning on camping out then a cargo trailer would be an ideal accessory. You can transport a tent, food and other provisions. Plus, you'll have a place to store a cool box for your catch. Large pannier bags are also a good idea and it's worth taking a decent powerbank to keep your phone charged up.
For longer and more remote fishing, you will need to have a spare battery pack. Most of the brands featured in this article sell spare batteries for their e-bikes.
The Top 6 Best Electric Bikes for Fishing
All of the electric bikes featured in this article are specifically designed with the hunter/fisherman in mind. These e-bikes are tough and made to cope with the rigours of the backcountry.
---
Rambo Bushwacker
Ready to take your fishing adventures to the next level? The Rambo Bushwacker is an excellent choice. With its powerful Bafang BBSHD motor and durable construction, this bike will help you power through even the most rugged terrain with ease. leaving you more time to focus on landing that big one! To learn more about this great e-bike and see how it can help you get ready for your next fishing trip, check out the link below.
---
Bakcou Mule Step-Through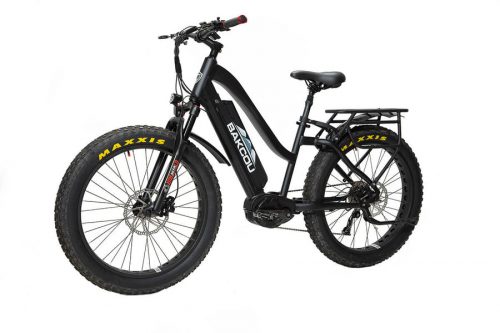 With a Bafang Ultra motor that delivers up to 1500 watts of power, the Bakcou Mule ST can take you anywhere you want to go. Whether you're hitting the trails for a quick ride or taking a weekend fishing trip in the backcountry, this bike is built to handle anything you can throw at it. There's even the option of a 21Ah battery, which will give you unparalleled range meaning you can ride for further and longer. If you're interested in learning more about the Mule ST or any of the other electric bikes in the Bakcou range, be sure to check out our website below. They have models for all types of riders and all kinds of adventures. So what are you waiting for? Get out there and explore!
Visit Bakcou for more information
---
QuietKat Ridgerunner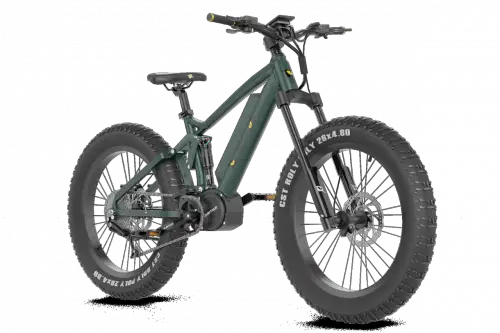 The QuietKat RidgeRunner electric mountain bike is the perfect choice for those who want to explore the most difficult-to-reach fishing spots. With its superior Fire-Link suspension system, fat tires and Bafang Ultra mid-drive motor with 1500w peak power, this e-bike can handle anything you throw at it. Plus, there's a long-range 768Wh battery which will ensure 2-3 hours of potential riding time – spare batteries are available for even more range. The Ridgerunner is a truly remarkable electric bike – check out the customer reviews on the link below.
---
Jeep Electric Bike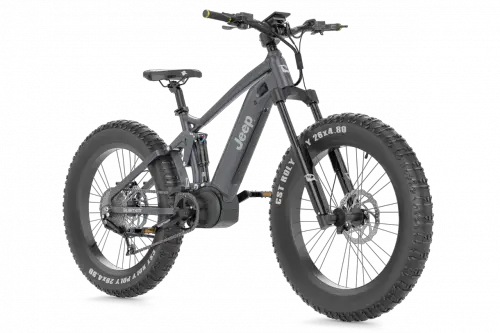 If you're looking for a powerful e-bike with all the bells and whistles, the Jeep E-Bike is worth taking a closer look at. This is an electric bike worthy of its iconic brand name. Featuring the advanced Bafang Ultra torque-sensor motor which produces 1500w of peak power and 160Nm of torque and a wide-range 9-speed drivetrain, and 4-Piston Tektro brakes, it's capable of handling even the most challenging terrain. To learn more about this impressive e-bike and read genuine customer reviews, be sure to check out the full product listing below.
Available to buy from QuietKat
---
Bakcou Storm Jäger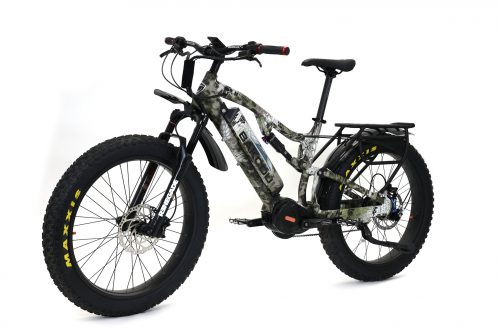 If you are looking for an e-bike that can take on anything, the Backcou Storm Jäger is the perfect choice. This full-suspension fat tire electric bike has been designed to handle even the most rugged and technical terrain with ease. With its Rohloff 14-speed hub gears and 1000w Bafang Max Ultra motor, this bike will help you power up those steep climbs and fly down those descents with confidence. So, if you are looking for a bike that can weekend fishing trips to remote locations, the Backcou Storm Jäger is your best bet. Learn more about this amazing e-bike below.
---
QuietKat Apex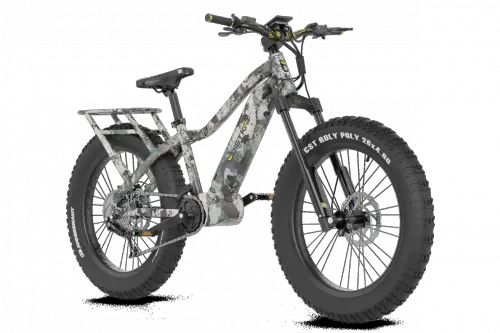 The QuietKat Apex is a versatile fat tire e-bike that can handle any terrain you might encounter. Featuring a Bafang 750w or 1000w motor and benefitting from 4-Piston hydraulic brakes and a wide range 11-36T cassette with SRAM derailleur and shifter, the Apex will give you the confidence to take on whatever comes your way. If you're looking for an e-bike to take you fishing in difficult-to-reach places, the Apex is up for the challenge. To learn more about this popular electric bike and how it could benefit your fishing adventures, visit the QuietKat website below.
Find out more on the QuietKat website
---
Conclusion
The electric bikes we've featured here today are all excellent choices for avid fishermen looking to take their adventures to new heights. With each of these machines, you have everything you need to explore uncharted territory and find those hard-to-reach fishing spots. So what are you waiting for? Get out there and start exploring!
If you own one of the e-bikes featured in this article, please let us know what your thoughts are in the comments below.