Give your cycling a boost with my professional electric bike conversion service. Avoid the expense of buying a new electric bike by having me convert a bike you already own. I offer a range of e-bike conversion options tailored to suit your needs. I can convert mountain bikes, hybrid bikes, road bikes, recumbents, or anything with pedals!
I provide a bespoke e-bike conversion service based on your specific requirements – whether that's the type of your bike, the desired battery range, or the power output you need. I have experience installing various electric bike conversion kits, including Bafang and Tongsheng mid-drive motors, front or rear hub motors, and the latest lightweight mid-drive motors like the CYC Photon.
My services
Tailored e-bike conversion planning
E-bike conversions offer solutions for a variety of rider needs. Whether you're a daily commuter looking for an added boost, someone recovering from a health issue aiming to return to cycling, or a rider simply seeking efficient transportation, choosing the right conversion is essential. Your weight, fitness level, and typical riding terrain significantly impact your selection. A tailored e-bike conversion will ensure you have the right electric bike and a satisfactory cycling experience.
Recumbent trike electric conversion
I can convert recumbent trikes or bikes to electric. Over the years, I have converted many Ice Trikes or similar to electric assist. Tadpole trikes can be converted using a rear hub or a crank motor. My fee for converting a recumbent is £175 plus the cost of the kit and any other components required.
Professional Installation
Once we've agreed on a suitable option, I will professionally install your electric bike conversion kit for a flat fee of £150. Please note this fee covers the installation only and excludes additional modifications or servicing to your bike.
Additional Servicing
Should your bicycle require additional work like a new chain, tyres, cables, bearings, brake pads, etc. I can perform these services at a rate of £25 per hour plus the cost of any required parts. If your bike needs a deep clean, I can thoroughly clean and degrease the components.
Custom Built Electric Bikes
I can custom-build you an electric bike from the ground up, whether you want a new off-the-shelf bike converted to electric or to go down the route of an e-bike-specific frameset, mid-motor, etc. I can source the parts and frameset required – you're only limited by your imagination!
Electric bike upgrades
I offer a range of upgrade options for your existing electric bike. Whether it's a bigger battery, increased performance, or you want better components, I can offer advice on the right upgrades for your e-bike, source the parts and perform the work.
Electric bike repairs
Electric bikes can be prone to numerous faults. I can diagnose and repair most cheaper hub motor e-bikes except the Mahle X35 ebikemotion. Unfortunately, mid-drive motors like the Bosch, Brose or Shimano units require specialist diagnostics equipment and must be taken to a registered technician.
Is my bike suitable for an electric conversion?
Before proceeding with an electric bike conversion, evaluating if your current bike is compatible with the available options is crucial. Several factors play a role in determining the suitability, such as the type of conversion kit and bike it's being fitted to. If you are unsure and can provide me with the make, model, and year of manufacture, I'll be able to find out if it's compatible or not.
Mid-drive conversion
Mid-drive conversion kits primarily interface with the bike's bottom bracket. Most standard kits are designed to fit 68 mm-73 mm threaded bottom brackets. However, many contemporary bikes come equipped with pressfit bottom brackets, which aren't universally compatible with most mid-drive conversions. Notably, kits like the CYC Photon can accommodate some pressfit setups. Moreover, modern mountain bikes with boost rear axle spacing may present challenges for mid-drive motor installation due to their specific frame designs.
Hub motor conversion
When considering a hub motor e-bike conversion, the dropout style of your bike is a vital factor. Most hub motor kits are tailored for bicycles with quick-release dropouts. On the other hand, many of today's bikes utilise thru-axles, rendering them incompatible with standard hub motor kits. I am researching suppliers offering thru-axle-friendly motor alternatives and will provide updates when suitable options are found.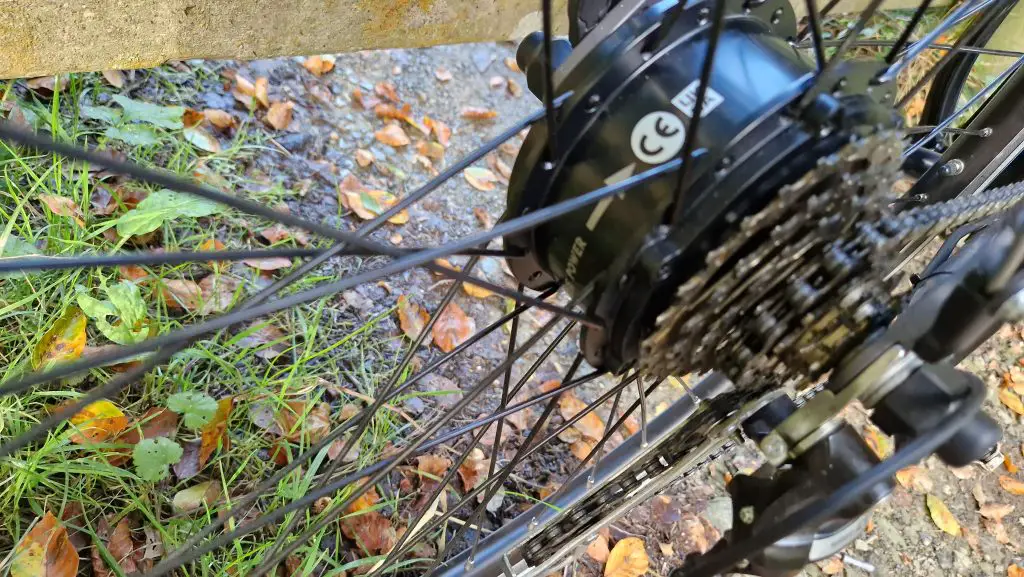 Bike condition
Beyond compatibility issues, ensuring your bike is in a sound, serviceable condition before any conversion is essential. I will not convert a bike to electric if it's in poor condition. If required, I offer servicing and renewal of vital components at an additional cost. If your bike or its components need cleaning before the conversion, this service is also available for an extra fee.
FAQs
Where are you based?
I am based in Saltash, Cornwall, UK. Saltash is located on the Devon and Cornwall border right next to Plymouth.
Do you offer collection and delivery?
I do not deal with bicycle collection or delivery due to previous problems with damages in transit. But you can use a dedicated bike courier service like Paisley Freight, which has a good reputation. I am happy to repackage your finished bike for re-delivery but cannot be held responsible for any damages that may happen after it leaves me.
Do you supply the electric bike conversion kits?
Yes, I can supply a wide variety of electric bike conversion kits, although in some cases, it may be more cost-effective for you to purchase the kit yourself. Once we have decided on the right kit for your needs, I can provide you with links to trusted suppliers.
How long will the conversion process take?
I will require your bike for at least 24 hours. The conversion process typically takes 3-4 hours, followed by a test ride to ensure everything works as it should and make any final adjustments.
Are your e-bike batteries safe?
I source all of my batteries from reputable suppliers and conform to strict UK and EU safety standards.
What are the legal requirements when riding an e-bike in the UK?
There are specific legal requirements for riding an e-bike in the UK. The motor should be rated to 250w continuous power, and the e-assist should cut off at 15.5 mph. A throttle can be retrofitted to a used bike if it doesn't exceed the speed. Riders need to be 14 years and older.
Do you install high-performance e-bike conversion kits?
If the donor bike and its components are suitable for a higher-performance conversion, I will convert it on the understanding that the converted bike will be used on private land only.
Do you provide after-sales support?
Yes, I'm always on hand to offer help and advice should you need it. I prefer to meet my customers face to face, but if that's not possible, I am happy to help over the phone or via email.
What is the warranty?
I offer a 12-month parts and labour warranty on any covered fault if I supply the conversion kit. If a third party supplies the kit, they will be responsible for the faulty part, and I must charge for the labour. All conversion kits are covered by the standard manufacturer warranty of 12 months. This excludes problems resulting from an accident, water damage, or modifications made after the installation. The components covered are the motor, display, pedal sensor, controller and battery. If your bike encounters any warranty issues, It will be your responsibility to return it to me for any repairs.
Contact me
Get in touch with me today to discuss your electric bike conversion needs. Please supply your phone number and a convenient time to speak if you want a callback. Alternatively, you can contact me through Facebook Messenger using the link below.