Hot on the heels of their popular E-ST500 e-MTB, Decathlon has just launched an even cheaper e-bike for the budget conscious.  The all-new Rockrider E-ST100 looks like it could be a hands-down winner in the best electric mountain bike under £900 category. Read my review below for more info.
Summary
Decathlon has really 'upped their game' in the last 12 months releasing some excellent value e-bikes. When it comes to the very popular electric mountain bike sector, they now pretty well much have everything covered in the sub £3000 market.
Previously the E-ST500 was their only electric mountain bike available for under £1000, but now there is an even cheaper model available – the Rockrider E-ST100.
At a glance, the new bike looks very similar to the more expensive option, but the differences are very subtle. There has been some cost-cutting here and there to keep the price down. For example, the battery capacity is down from 417Wh to 378Wh, the mechanical brakes are by Tektro (as opposed to Hayes) and there is 20mm less travel in the front suspension. The tyres are slightly narrower (2.2″ vs 2.4″) and there's an 8-speed with an 11-34 cassette as opposed to a 9-speed 11-36.
All these differences are arbitrary if you're looking for a cheap hack, that will get you from A to B on a multitude of surfaces without much fuss. Let's have a closer look at the specification.
Electric Components
Nothing new to report here. As far as I can make out the E-ST100 uses the same rear hub motor as the E-ST500. This motor is designed for wider than standard 150mm drop-outs and puts out a (claimed) 42Nm of torque. Just like its sibling, the rear wheel can be easily removed by using an 8mm Allen key.
As with the other model, the bearings are sealed and 100% watertight, meaning you can get away with a bit of mud-plugging – commuting to work in typical British weather shouldn't be a problem.
One noticeable difference is the absence of a torque-sensing pedal assist. The E-ST100 uses a more basic cadence sensor, meaning that electric assist is delivered according to the rotation of the pedals.
This pedal-assist system isn't as fluid and intuitive as torque sensing,  but it may suit some riders better. Torque sensors rely on a certain amount of force being applied to the pedals to produce assistance, whereas with a cadence system, you just spin the pedals and away you go!
What this means in real terms is probably slightly reduced efficiency, and although I prefer torque sensing, cadence sensing systems are okay, although they are not as smooth.
Display
Just like other e-bikes in the range the LCD is neatly mounted by the left-hand grip, allowing easy access to the controls without having to move your hand.
The functionality is similar to the other model although the absence of a USB charging port is a little disappointing.  Everything else remains the same and you have access to the following functions:
Stopwatch
Current speed
Average speed
Maximum speed
Distance covered
Total distance
Battery level
Remaining battery range (in km)
Active assistance mode
Reset
The levels of assistance are as follows:
Mode 0 (no assist)
Mode 1 (20 – 100 W) – the most economical assist mode will give you the greatest battery range
Mode 2 (80 – 175 W) – this mode will give you a meaningful push when the incline steepens, and hustle you along at 15.5 mph (25 km/h) effortlessly on the flat.
Mode 3 (150 – 250 W) – level 3 is where things start to happen. For maximum battery range, you should only use this level when you need to. It's perfect for helping you up steeper climbs and off-road riding.
Battery
Externally the battery looks the same as the more expensive model, but it has a slightly lower energy capacity of 378Wh (36v 10.5Ah). Thankfully this battery pack uses high-quality Samsung SDI lithium cells which should ensure decent reliability and battery longevity.
Battery range should be in the region of between 30-50 miles – this will depend on a number of factors including rider weight, the kind of terrain ridden on and of course, how much assistance you use.
Buy Now: Rockrider E-ST100 from Decathlon UK
Buy Now: Rockrider E-ST100 from Decathlon Spain
Bike components
Budget electric mountain bikes usually have budget components fitted, but in the case of the Rockrider E-ST100, there has been a good compromise. All the components are tried, and tested and work very well considering the price.
Gearing
Once again, Decathlon has been spot-on with their choice of gearing. It's quite common to see big front chainrings and 6-speed freewheels on electric mountain bikes at this price, but not on the E-ST100.
Considering the bargain-basement price, the drivetrain has been well thought-out – A single 33t chainring (with ChainFlow 3D anti-slip technology to prevent chain derailment) in combination with a Microshift 11-34 8-speed rear cassette. All are controlled with a Microshift TS39 trigger shifter, M25 long-cage rear derailleur and finished off with a decent KMC Z7 chain.
For the Shimano snobs out there, I have used many bikes (including Decathlon) that use Microshift gearing and I have always found their components to be just as effective as Shimano or SRAM.
Brakes
Mechanical disc brakes are to be expected at this price point, and the Tektro TDK68 callipers with 180mm rotors don't do a bad job at all. Sure, they lack the bite and modulation of hydraulic brakes, but they are effective enough for your average day-to-day rider. They're easy to adjust, and if maintained correctly provide reliable braking.
Wheels and Tyres
One thing you wouldn't expect to find on a budget electric mountain bike is tubeless-ready rims, but sure enough, the Rockrider E-ST100 has them. All you will need are tubeless tyres, Presta valves and sealant and you're good to go.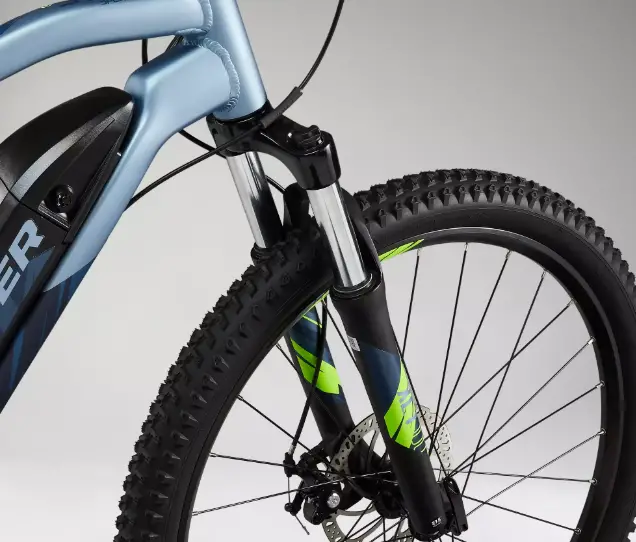 The 27.5″ rim has 28 spokes up front with 36 at the rear (to cope with the extra weight and torque of the motor). These are wide rims at 23mm and will readily accept tyres up to 2.5″ wide.
Decathlon branded 27.5″ x 2.2″ all-terrain tyres are fitted as standard. I'm not sure if these offer any level of puncture resistance, but I would be inclined to go tubeless if your budget allows it.
Front Suspension
Suntour XCR 30 forks with 100mm travel will provide more than enough shock absorption for all but the most adventurous of riders.
These forks are fairly entry-level, but in the greater scheme of things, a lot of bikes at this price have the inferior Suntour XCT forks fitted.  At least these can handle a reasonable amount of abuse – just be aware of their limits.
Finishing Kit
I've owned a few Decathlon bikes, and their finishing kit is always decent enough for the price. The E-ST100 is no exception and has 720mm wide handlebars, with ergonomic grips, a 31.6mm seatpost and an Ergofit Evo saddle – I have ridden their bikes with this saddle and in my opinion it's comfy enough, although saddle preference is a personal choice and you'll probably want to change it for one more suited to your behind.
Frame
Made from lightweight 6061 alloys with hydroformed tubes and the same low frame geometry as the E-ST500, the E-ST100 is going to please most entry-level e-MTB riders. The frame isn't bad at all and considering the price, I would go as far as to say that it's the best available on an electric mountain bike for under £800.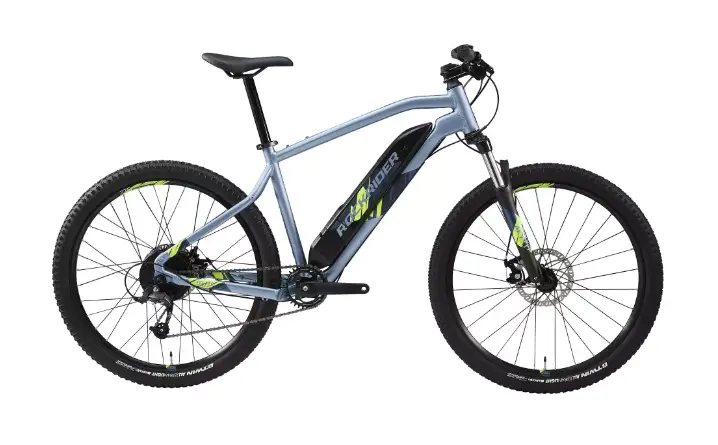 Who is the Rockrider E-ST100 bike aimed at?
The Rockrider E-ST100 is most definitely aimed at the budget-conscious rider, who still wants something half-decent that isn't going to fall to bits after a few miles.
This bike is going to be equally at home riding canal towpaths, bridleways, country back lanes and city streets. That's the great thing about these bikes. They're designed to be versatile.
An interesting fact is, a lot of electric mountain bikes that are sold, don't go anywhere near a trail. Most are used simply because of the extra comfort and durability afforded by the high-volume tyres and front suspension.
I can see the E-ST100 being very popular with commuters. Especially with mudguards and a pannier rack fitted.
Conclusion
Ah well… another Decathlon electric bike that offers excellent value for money. But what's the catch? Well, as far as I can make out there really isn't one. I know quite a few satisfied owners of Rockrider e-bikes and I've ridden a few myself and they never fail to please.
Sure, if you look through the customer reviews and forums, you will come across reliability issues. I know the first model E-ST500 had some problems, and I know there have been some issues with other models. But on the whole, these e-bikes consistently get decent customer reviews.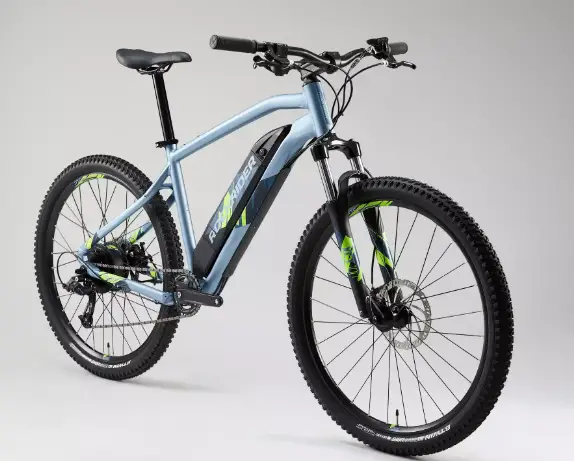 If you go and buy one of these bikes and then go thundering down the side of a mountain, then you're asking for trouble. You need to spend well over two grand before you start to get into the realms of really capable off-road machines.
The Rockrider E-ST100 is designed to be an affordable and versatile everyday bike, that can also be used on unpaved surfaces. Is it a true mountain bike? No – it's fine for some light off-road riding, but try any silly stuff and you'll be disappointed.
Final thoughts
For the price the Decathlon Rockrider E-ST100 is excellent. It has a decent enough motor, the battery range is respectable and all the components come together to form what is basically a very good package.
If a friend came to me asking for a recommendation of what electric mountain bike to buy for under £800, it would be a no-brainer. The Decathlon bike is about as good as it gets at this price.
A big thumbs up all the way – happy riding!
Buy Now: Rockrider E-ST100 from Decathlon UK
Buy Now: Rockrider E-ST100 from Decathlon Spain
If you own a Rockrider E-ST100 and would like to leave some comments and a review below, please feel free to do so.