I recently discovered this new twist on an old idea and felt compelled to dig a little deeper. In this overview of the Rubee X e-bike conversion kit, I'll take a closer look at the specs to see if it's a worthy alternative to the masses of hub drive conversion kits available. As always, I'll try and get hold of a sample of the Rubee X to review as soon as possible.
Summary
Rubee was started way back in 2012 with the idea of creating an all-in-one e-bike conversion kit that could be fitted to practically any bike. Version 1.0 of the kit became available in 2013 with subsequent models released in the ensuing years. Fast forward to 2021 and the latest version – the Rubee X, is now available.
Tech specs overview
I've never been a fan of friction drive systems, although I can understand their place in the world of e-bike conversions. The idea behind this type of conversion kit is simple – the electric motor drives a rubber wheel which in turn drives the rear wheel of the bicycle it's fitted to.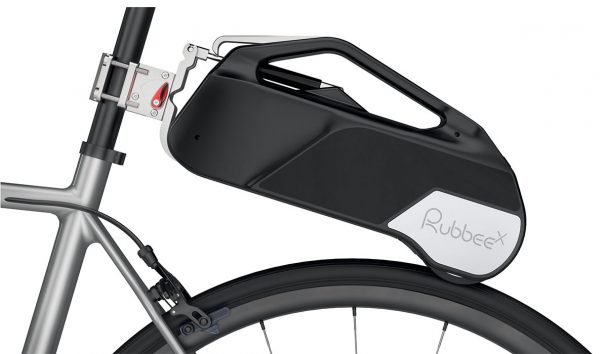 Early friction systems were very basic and usually quite heavy. There wouldn't be any pedal assist and the motor would usually be activated by a switch, so it would either be on or off.
Rubee has taken this design to a whole different level and added a clever wireless pedal assist sensor, modular battery pack and regenerative braking. There's also a smartphone app to control everything. The whole system is contained within a single, compact unit that fixes to your seat post.
The weight has also been substantially reduced with the base model weighing in at just 2.8kg.
|   | | |  (base model) |
| --- | --- | --- | --- |
| Speed | 32 km/h / 20 mph | 25 km/h / 16 mph | 25 kmh / 16 mph |
| Power | 350W | 250W | 250W |
| Range | 48 km / 30 mi | 32 km / 20 mi | 16 km / 10 mi |
| Charge | 3 h | 2 h | 1 h |
| Weight | 4.0 kg / 8.8 lbs | 3.4 kg / 7.5 lbs | 2.8 kg / 6.1 lbs |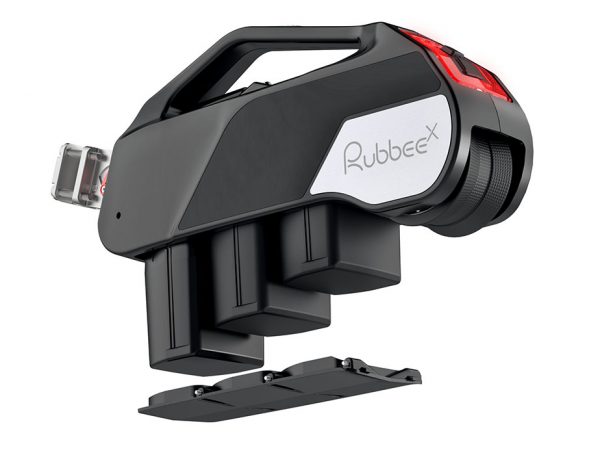 Battery specs (per module)
| | |
| --- | --- |
| Voltage | 36 V |
| Capacity | 93,6 Wh |
| Weight | 0.6 kg / 1,3 lbs |
| Chemistry | Li-Ion |
| Battery life | 1000 cycles |
Compatibility
According to their website, the Rubee conversion kit is compatible with 16″- 28″ wheels with a tyre width of 0.5-2.5″ and can be fitted to rigid or full suspension frames. I can see potential issues on full-suspension bikes and it's unlikely this kit could be fitted to a dropper seat post.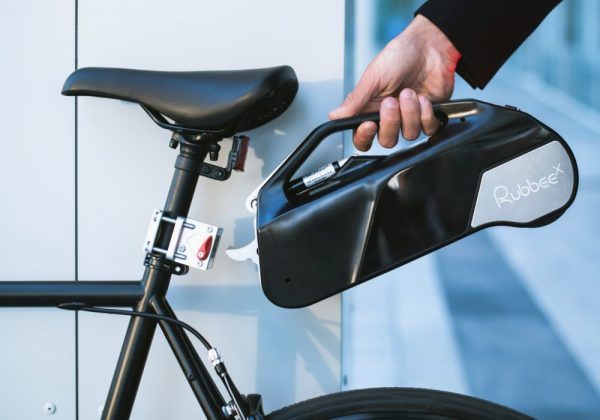 Who is the Rubee X aimed at?
The Rubee X is going to be popular with commuters or cyclists who are looking for occasional assistance when they ride hillier routes. If you already have a folding bike and don't want to fork out for an e-bike, the Rubee is easy to transport and will fit in a rucksack.
One of the great things about this system is the ease with which it can be installed and removed.  If you rely on your bicycle for day-to-day transport but only need to use e-assist occasionally, then I can see the Rubee being very useful.
Conclusion
I'll be contacting Rubee to see if I can get hold of a sample to review as it looks like an interesting option for someone who wants a quick and simple way to convert a bike to electric.
I like the fact that it's a completely integrated system and could be swapped between bikes quite easily. This would be especially useful if you had several bikes in your household.
Anecdotal reports suggest the performance is more than adequate and comparable to similarly powered hub motors. The battery range will be modest and even with a full complement of battery packs should give a potential of around 30 miles (48km).
If you're looking for a more permanent e-assist solution, then I don't feel it would be the way to go, as you'll be limited by a maximum of 30 miles (48km) range. However, if you wanted a plug-and-play system that was quick and easy to fit then you won't get any easier than the Rubee. For more conversion options, check out the best e-bike conversion kits for 2023.
Visit the Rubbe website for more information