Finding a half-decent budget mid-drive electric bike can be challenging nowadays. In this Eskute Voyager Pro review, I'll take a closer look at this new offering from the popular e-bike brand.
Although a relatively new company, Eskute e-bikes have seen considerable success with their first range of electric bikes – the Voyager and Wayfarer. I was sent an Eskute Voyager to review, and to date, I've covered over 500 miles on it without any major problems.
Needless to say, I'm a big fan of the Eskute Voyager – it's one of the best electric mountain bikes available for under£1000. During my time with the Voyager, I've always thought of ways it could be improved and the addition of a decent mid-drive motor, upgraded brakes and gears were at the top of my list.
Update 2023: Eskute has just released the Polluno Plus which has a hub motor with torque-sensing pedal assist along with a 36v 20Ah Samsung battery. Read the Eskute Polluno Plus review.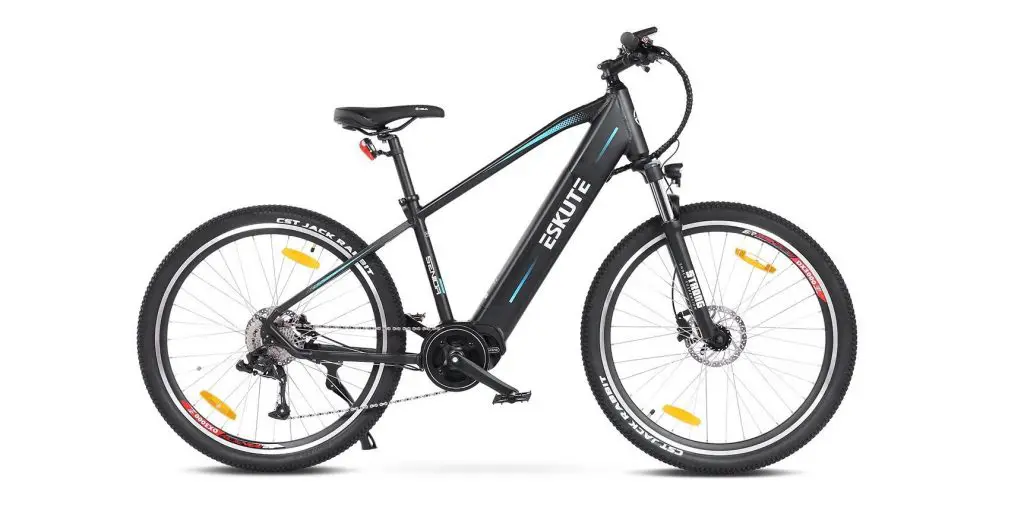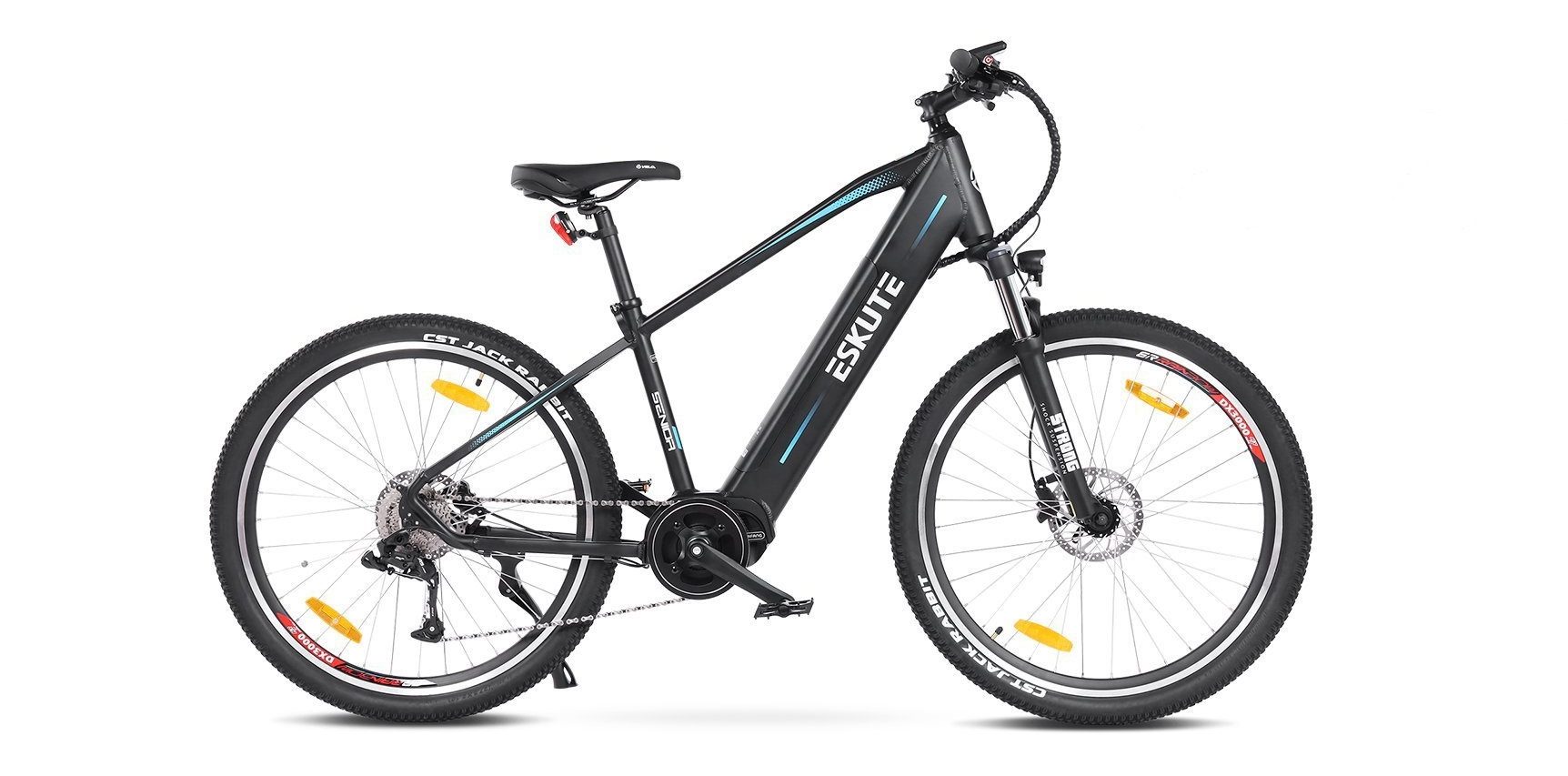 Well, the new Eskute Voyager Pro ticks all the boxes – all the above upgrades plus a 540Wh battery that uses Samsung cells and a very reasonable price tag of £1549.
Let's delLet's little deeper into the specification of this e-bike.
Electric components
The original Voyager uses a Bafang hub motor and the Pro version uses their excellent M200 mid-drive motor. Bafang has been the world leader in mid-drive e-bike motors for quite some time now, indeed I've personally installed well over 100 of their retrofit BBS mid-drive motors over the last few years.
One of the great features of the Bafang M200 is it uses a torque-sensing pedal assist system – this measures the pedalling force applied by the rider and provides a very natural and intuitive electric assist.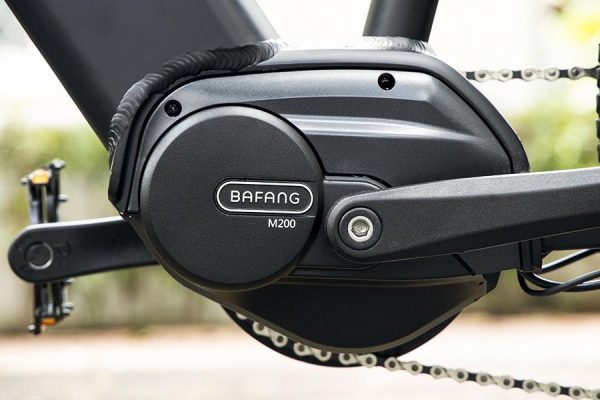 Not only is torque-sensing pedal assist very smooth but it substantially improves efficiency (over a cadence PAS system). Additionally, a mid-drive motor produces much higher torque (65Nm) when compared with its hub motor counterpart. This translates into much better hill climbing ability.
Another good upgrade is the 36v 15Ah battery (540Wh) – this battery uses high-quality Samsung lithium cells which should greatly improve longevity and range. I get anywhere between 30-40 miles out of a single charge on my Voyager so I would imagine the claimed range of 62 miles (100km) on the Voyager Pro is a realistic figure.
Finally, the display used on the Voyager Pro is a very nice Bafang unit that has a large, clear screen and a control keypad located near the left-hand grip.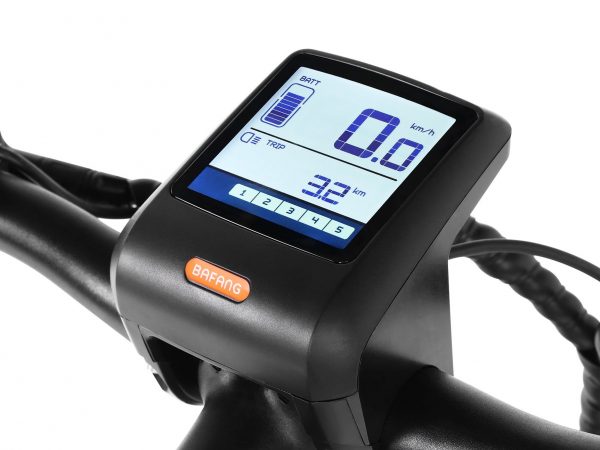 Bike components
The basic frame design and geometry remain the same for the Voyager Pro. This will give the rider a nice, upright riding position.
Gearing
9-speed gearing with a low 32 gear at the back and a 38t chainring upfront means the Voyager Pro will be particularly good at tackling steep inclines – factor in the high torque output of the motor and you have a mountain goat!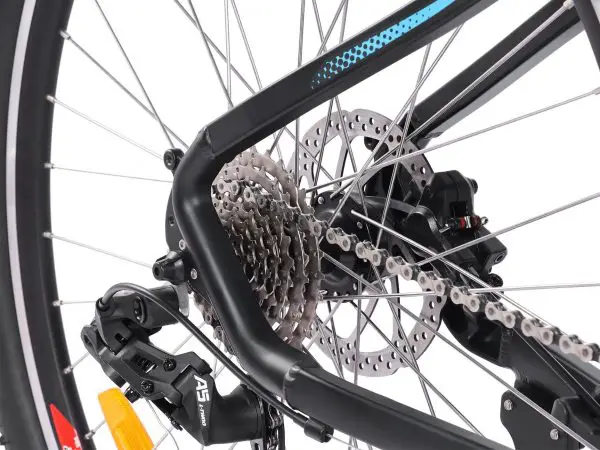 The rear derailleur is from a Malaysian brand LTWOO – I've looked up the derailleur and it costs less than £15. I can't comment on the shifting performance as I haven't tried it out yet but I don't see any reason why it wouldn't be comparable to the Shimano Tourney.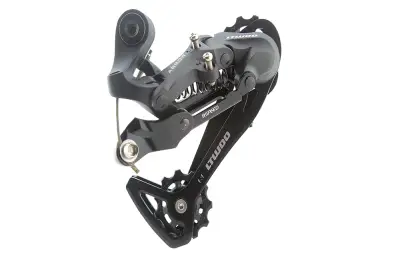 Brakes
The Meroca HD-M800 hydraulic brakes are also a relatively unknown brand here in the UK, but having done a little research they seem to be a decent enough budget brand with good feedback. I would imagine the performance to be similar to budget Shimano or Tektro hydraulic brakes.
Front Suspension
Looking at the suspension fork, it looks identical to the one used on the original Voyager. I've done over 50 miles off-road on my Voyager and they're okay for light single-track and gravel riding but on the rougher stuff, they feel very rickety. I would put them on a par with something like the Suntour XCT forks found on budget Cube MTBs – functional, great for mild off-roading but nothing too rough or technical.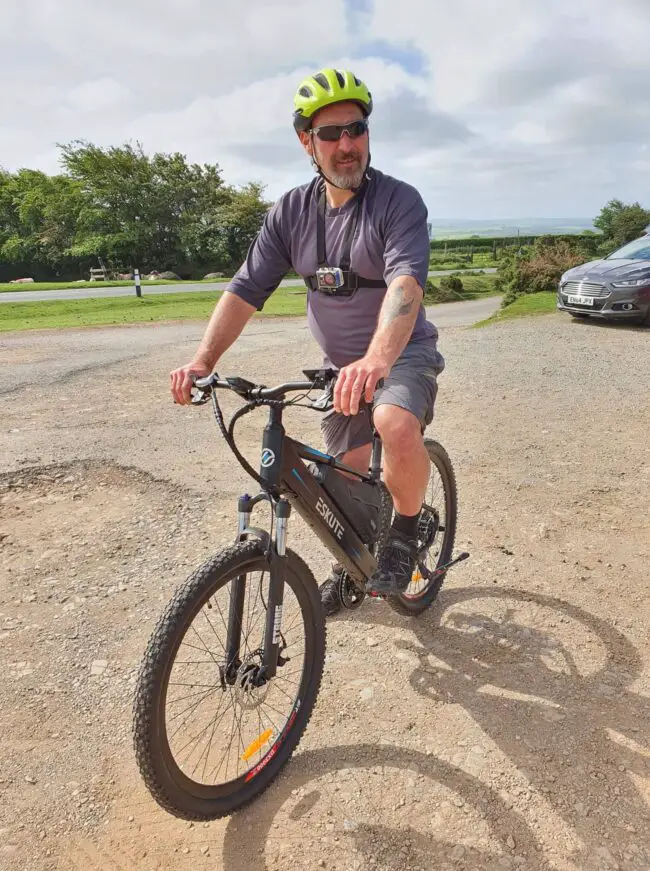 Wheels and tyres
The wheels and tyres used on the Voyager Pro look like the same ones used on my version. I have not had a puncture yet, and the Kenda's have a reasonable grip on and off the road. Despite riding off-road the wheels have remained true.
Finishing kit and accessories
There's a kickstand and headlight plus the Voyager Pro is supplied with mudguards (not fitted).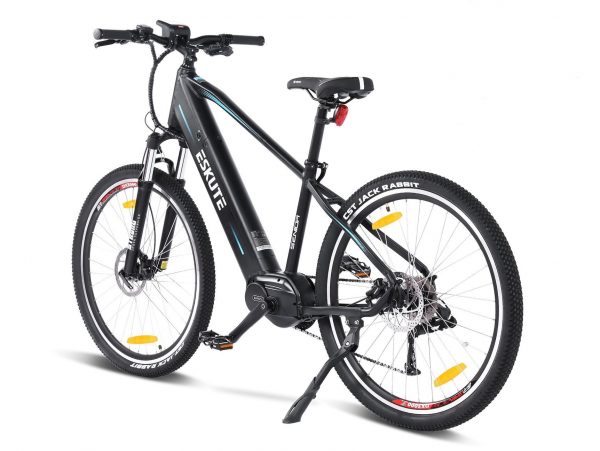 Conclusion
On paper, the new Eskute Voyager Pro looks like it could be a front-runner best value mid-drive electric mountain bike currently available. Priced at a very reasonable £1549, the Voyager Pro is a substantially cheaper option than something like a Cube Reaction Hybrid or even a Decathlon E-ST900.  If you're not bothered about buying a lesser-known brand then there are big savings to be made.
Initial customer reviews look very positive, and the Bafang M200 motor will perform on par with something like the Bosch Active Plus or Shimano Steps E6100 motor.
Having a generous 540Wh of battery power should ensure a decent range and the Samsung lithium cells are considered high-quality and are used on more expensive e-bikes.
All in all I think, the Eskute Voyager Pro should be a winner. I'll see if I can get my hands on one for a full test shortly.
If you own an Eskute Voyager Pro, please feel free to leave a review in the comments section below.