When you purchase through links in our articles we may earn a small commission. Read our affiliate disclosure.
Bafang Hub Motor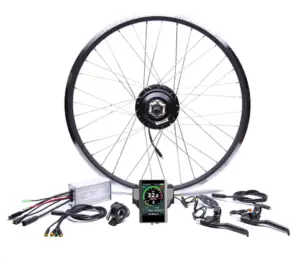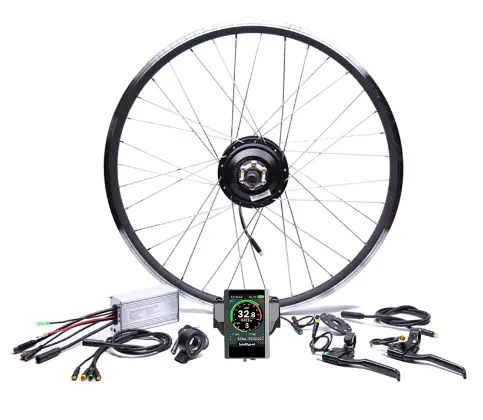 Whether retrofitting it as a conversion kit or buying an e-bike fitted with this motor, the Bafang hub motor is smooth, reliable and offers strong performance!
Motor Performance
Consistently strong performance
Ease of installation
Easier to install than a mid-drive
Reliability
Very good long-term reliability
Price
Excellent value option
Pros
Good performance for a hub motor
Straightforward to install
Supports torque-sensing option
Cons
Not suitable for thru-axles
Can struggle with very steep hills
In this Bafang hub motor review, we take an in-depth look at this high-performing and reliable electric bike hub motor. It's relatively cheap while offering a significant boost in performance for day-to-day riding. This makes it a popular choice among DIY e-bike builders and manufacturers. In this article, we will take a detailed look at its features, benefits, and drawbacks.
The information provided in this article is the opinion of the author. This is based on personal experience installing and testing e-bikes fitted with the Bafang hub motor over a six-year period.
Since this article was originally posted 4 years ago, Bafang has been very busy indeed! Their hub motors are now found on nearly 70 well-known brands and a lot of lesser-known brands. In addition, the Bafang hub motor range includes 12 rear motors and 3 front hub motors covering multiple uses from electric cargo bikes, city bikes and fat tire e-bike applications.
Specifications
The specs below cover the whole spectrum of Bafang hub motors ranging from their e-city range through to their e-cargo and e-MTB motors. Most e-bike conversion kits that use the Bafang motor will be the standard G20 model.
| | |
| --- | --- |
| Motor Fitment | Front or Rear Hub Motor |
| Motor Power | 250w – 1000w |
| Motor Voltage | 36-volt or 48-volt |
| Motor Torque | 35Nm to 95Nm |
| Compatibility | Quick-release dropouts |
| Dropout Width | 100mm (front) – 135mm (rear) 175mm (fat tire bike) |
| Motor Weight | 2.75 kg – 4.5 kg (approximate) |
Benefits of the Bafang Hub Motor
The Bafang uses a brushless motor with planetary gears. Small geared hub motors produce more torque than direct-drive motors, making them better for climbing hills. They are also much easier to pedal with the power switched off, making them much more suitable for someone who only needs the assist on hills.
If you're fitting the Bafang as part of an e-bike conversion kit, it's relatively easy to install. The motor kits usually come with all of the necessary hardware and instructions, making it a straightforward process even for those without a lot of mechanical experience. Additionally, the motors are available in a variety of wheel sizes, so you should be able to find the right one for your bike.
There are two options for gearing – one will take the old-style screw-on freewheel (usually 6 or 7-speed), and the other will take a mountain bike cassette of 8 to 11-speed. The cassette version will not take a road 11-speed (like Shimano 105), as spacing is different and requires a slightly wider freehub.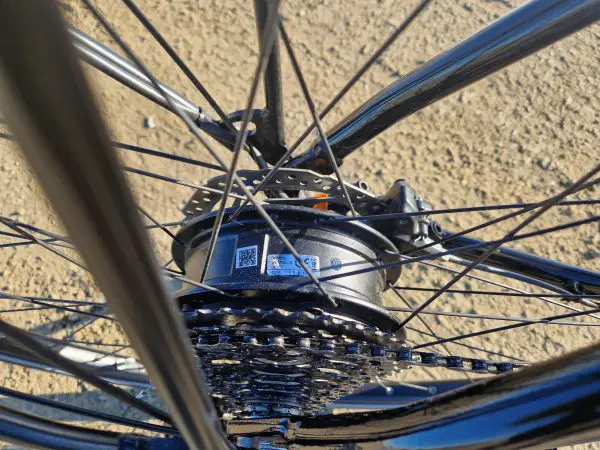 Drawbacks of the Bafang Hub Motor
While the Bafang hub motor has many benefits, it does have a few drawbacks. One of the biggest drawbacks is weight. Although it's now much lighter than previous incarnations, it still comes in at nearly 3 kg at the lower end.
Another drawback of the Bafang hub motor is it's only currently available for quick-release dropouts. With an increasing amount of new mountain bikes using thru-axles and boost rear hub spacing. Bafang is going to need to offer this option for DIY e-bike builders if they want to stay ahead of the game.
Reliability is generally good, but as with all electric motors, there can be problems from time to time. Issues that I have personally experienced include hall sensor failure and premature wear of the nylon planetary gear. If you did experience problems down the line, parts are readily available, and the motor is easy to service for a competent DIY enthusiast.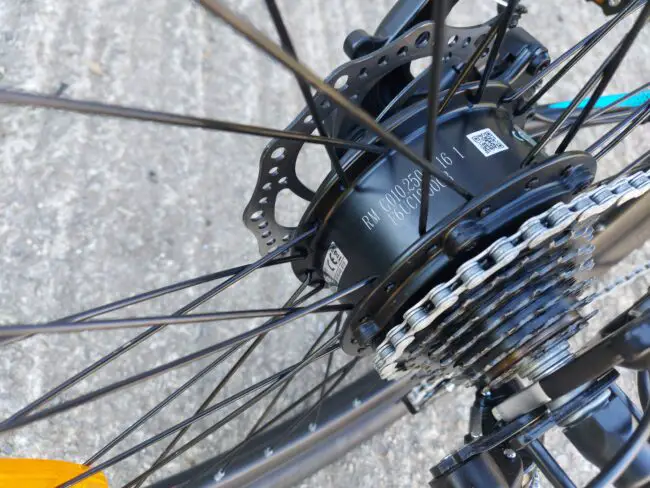 Motor Performance: 250w Variant
I've owned several e-bikes with this motor. Indeed, my latest electric bike uses a 250w Bafang motor. In my experience, Bafang hub motors offer solid performance, from the 250w version, right through to the 750w version.
The 250w Bafang hub motor is usually used in conjunction with a 36-volt 15-amp controller. This will give a peak power output (under load) of 540 watts. Peak output will depend on other firmware settings specific to the controller used. In addition, if a 48-volt controller is used, then peak power will be substantially more.  I've ridden a road-legal e-bike with 48v Bafang 250w, and peak power was showing (on the display) at over 700 watts.
For legality, it seems the continuous motor rating (250w) is important, but higher power outputs when under load are acceptable. The Bosch CX motor produces a peak power of around 600 watts.
Bafang offers a torque-sensing option – for OEM only, and unfortunately not in conversion kits. The new Eskute Polluno Plus has this configuration, and it works well. The torque-sensor unit is housed inside a Bafang-branded bottom bracket. This system works incredibly well – it provides instantaneous electric assist the second you start to pedal. The torque sensor measures pedalling force and adjusts the motor output accordingly. This drastically improves efficiency and riding experience.
Find out more on the pros and cons of a hub motor vs mid-drive motor.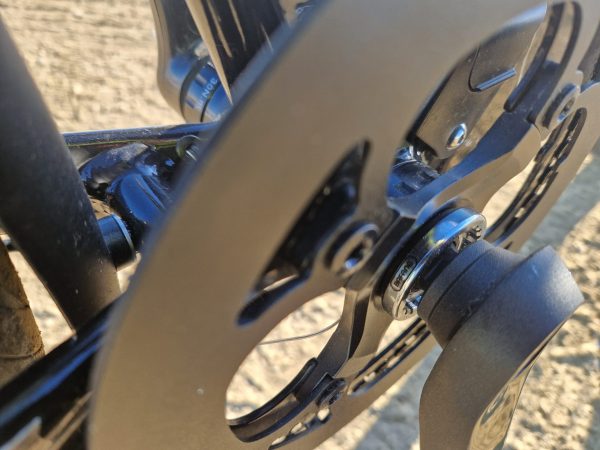 The other option is a cadence sensor – this is found on budget factory electric bikes like the Eskute Voyager, and Bafang e-bike conversion kits. The newer cadence sensor is an enclosed unit that slots into the splines on the bottom bracket. This kind of pedal assist has a much more on / off feel to it – you can ghost pedal (spinning the pedals without effort in a low gear) and you'll still get assist. Controller firmware is usually programmed so that when a higher cadence is reached, the motor current is dialled-back.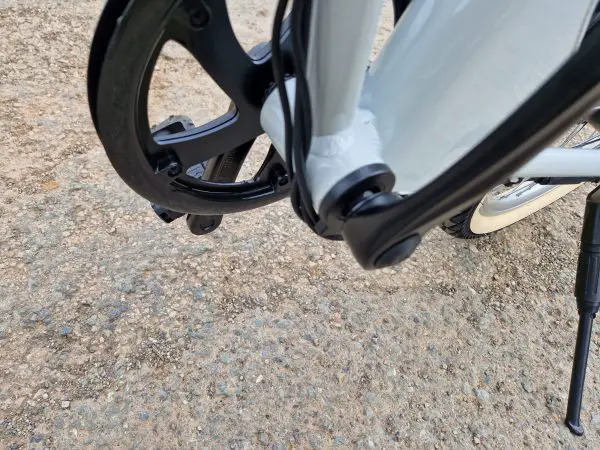 A 250w Bafang hub motor has enough power to comfortably get you up a 10% climb. But, steeper hills will require additional effort from the rider. The gearing on the bike will also be a contributing factor when negotiating steep hills – lower gearing = easier hill climbing.
For a 250-watt hub motor, the Bafang performs very well and will provide enough pedal assistance for most riders. Its limitations are only noticeable on very steep hills, but for moderate hills, it does the job.
Motor Performance: 750w Variant
The 750-watt Bafang hub motor tested here was fitted to a Cyrusher XF800 fat tire e-bike. This motor is used in conjunction with a 48-volt 25-amp controller, giving a peak power of 1200 watts. When the battery is fully charged @54.4-volts peak power will top out at 1360 watts.
Considering the heavy weight of this electric bike (32 kg), the performance of the motor is impressive. The cadence pedal assist sensor delivers a smooth, but strong surge in power,. The power builds rapidly and pulls strongly up to 28 mph.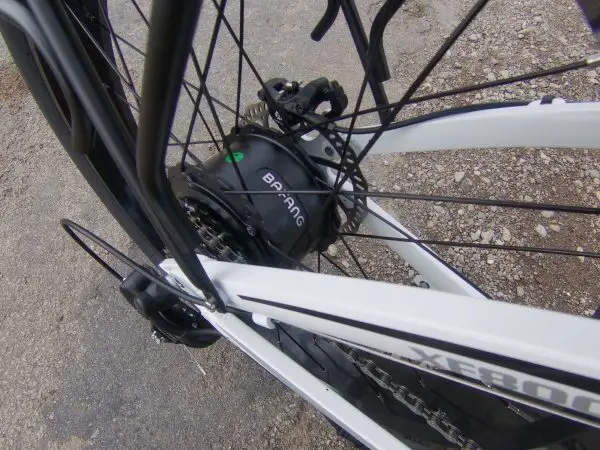 This motor is noticeably noisier than its smaller sibling, but the noise is never intrusive. I tested this particular bike on a couple of very steep climbs with a maximum gradient of around 20%. Although the motor did start to struggle a little on the steepest section, it still got me up there without me getting out of breath.
Where the 750-watt Bafang comes into its own, is on rolling terrain with moderate hills – you can cover ground fast, and it's not too difficult to keep the average speed above 20 mph.
Bafang E-Bike Conversion Kit
Front or rear hub motor laced into a rim
The motor controller (the electronic brain of the system)
LCD or LED display – for speed, battery range etc.
Wiring harness
Pedal assist sensor
Brakes with integrated sensors (for mechanical brakes)
I've installed, both the 250-watt and 500-watt versions of the Bafang e-bike conversion kit. These kits are a great way to give old, unloved bikes a new lease of life.
Compatibility
Before buying one of these kits, you'll need to check the wheel size of your bike. If you do not know the size, it can be found on the side of the tire, for example, 26″ / 599 (ISO) 27.5 / 584 (ISO) 28″ / 622 (ISO) – PLEASE NOTE: If you are installing this kit on a 29er mountain bike, then you will require the 28″ (622) wheel size. For more information on tyre and wheel sizes check out this tyre and wheel sizing article by the great Sheldon Brown.
These motor kits are only compatible with standard rear drop-outs (135mm wide). They will not fit bikes with thru-axles. Nearly all cheaper bikes have standard quick-release dropouts. But if you are thinking of installing this kit on a higher-end mountain bike or road bike, you will need to double-check. The fat bike version of these kits will be compatible with the wider 175mm dropouts of those bikes.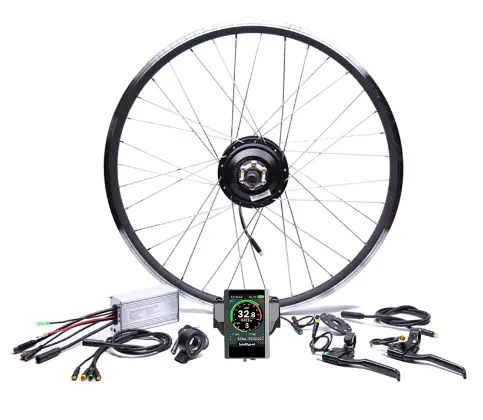 Finally, You will need to check the kind of bottom bracket your bike has fitted. If it is a standard square-tapered BB,  then the pedal sensor should fit. If, however, you have an Octalink / ISIS or Hollowtech ll type BB, then you will need to purchase a separate pedal assist sensor.
If your bike has flat handlebars with mechanical rim or disc brakes, the supplied brake levers with cut-off sensors will be a straight swap. Unless: You have integrated gear shifters and brake levers, you have hydraulic brakes, or you have drop handlebar (STi) shifters.
Installation
Installing a Bafang hub motor conversion kit is straightforward, and requires minimal skill – it should take roughly 2-3 hours to complete the job. It should be noted that you will require a basic bicycle maintenance tool kit to do the job properly. Things like a crank puller are essential to remove the right side pedal crank to fit the pedal assist sensor.
The installation process involves removing your existing wheel and swapping over your rim tape, inner tube, tire and any other components like disc brake rotor and gear cassette/freewheel. You install the motorised wheel and fit the other ancillary components like the pedal sensor, display and battery. Plug everything in and away you go!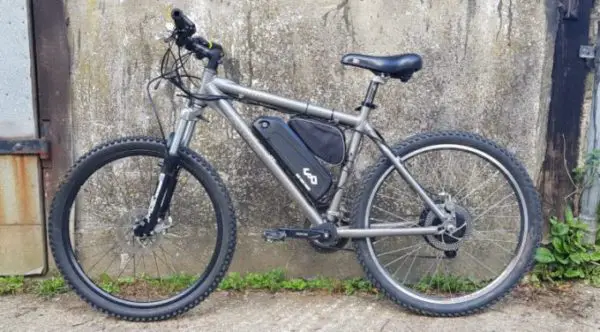 The Verdict
Overall, the Bafang hub motor is one of the best available. They are generally durable, and fairly weatherproof. Out of the dozens of kits I've installed over the years, there have been very few long-term issues. One of the big benefits of fitting a Bafang hub motor over a mid-drive is there's hardly any pedalling resistance. Plus, fewer internal parts to go wrong.
From the perspective of an e-bike buyer, thinking of purchasing a factory electric bike with a Bafang motor, I can highly recommend it. Out of all the e-bikes I've tested over the last few years. I can't think of a single time, a Bafang has given me cause for concern. That's not to say problems don't arise from time to time, but my personal experiences with this motor have been positive. Even in 250-watt form, it produces a good turn of speed and a very useful boost on hills. If you are regularly riding very steep hills, I would stick with a mid-drive.
The 750-watt version is a joy to ride and a great mile-muncher! Fit a 52-volt battery with a 25-amp controller and you will have peak power approaching 1500 watts – this is the maximum recommended output for this motor and you shouldn't go beyond that.
All in all, the Bafang hub motor is a great choice whether you're thinking of converting a bike or buying a factory e-bike.
Thanks for reading this article. If you have any questions, please feel free to leave a message in the comments section below – I aim to answer all queries within 24hrs.