ebikechoices is supported by its audience. When you purchase through links on our site, we may earn a commission. Learn more
In this review of the Bafang Hub motor , I will be looking at the 36v 250w that can be legally used in the UK, EU and Australia and also the 48v 500w version  – I have also compiled a product table of all variants of the Bafang hub motor from 36v 250w to 48v 750w available from Aliexpress and various Amazon locales.
These electric bike conversion kits are available from various suppliers on different websites. The one thing in common is they all use the proven Bafang geared hub motor. This compact electric motor uses planetary gears, which allow the motor to spin at high speeds, making it a lot more efficient than a larger direct drive motor.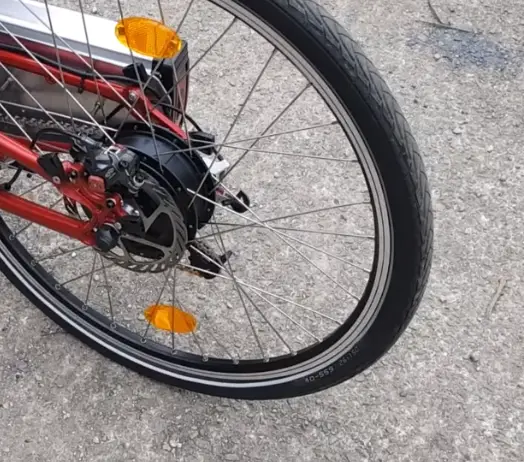 Are small geared hub motors any good?
Small geared hub motors produce more torque than direct-drive motors, making them excellent for climbing hills. They are also easy to pedal with the power switched off, making them much more suitable for someone who only needs the power on hills.
A couple of negative factors with these motors, is that they produce a little more noise than direct-drive hubs, and the nylon planetary gears can wear over time (especially if you regularly climb very steep hills or carry cargo). The good news is that replacement parts are cheap, easy to source and straightforward to replace.
The LCD display usually provided with these kits can vary, but they are usually clear and easy to use and offer 5 levels of pedal assist with '0' being no assist to '5' being full power.
These kits are usually sold laced into a front or rear wheel available in the most popular sizes of 20″, 26″,  27.5″,  28″ or 26″ Fat bike compatible wheel. There is also the option to buy the motor only, so you can have it laced into a wheel of your choice.
Shop for the Bafang hub motor in your region👇
| | |
| --- | --- |
| Aliexpress | |
| eBay UK | |
| eBay USA | |
| eBay CA | |
| eBay AU | |
| eBay DE | |
| eBay ES | |
| Amazon (various locales) | |
Do I need a rear cassette or freewheel Bafang hub motor?
Thankfully the Bafang hub motor is available in both formats. The CST version will have a standard freehub fitted so you can fit an 8, 9 or 10 speed rear cassette – an 11-speed MTB cassette will fit but not an 11-speed road cassette as the spacing is different. You could also fit a 7-speed cassette with spacer.  The other version takes the standard threaded Shimano or Sunrace freewheel.
Will the Bafang hub motor be compatible with my bike?
You will first need to check the wheel size of your bike. If you do not know the size, it can be found on the tyre for example:  26″ / 599 (ISO) 27.5 / 584 (ISO) 28″ / 622 (ISO) – PLEASE NOTE: If you are installing this kit on a 29er mountain bike, then you will require the 28″ (622) wheel size. For more information on tyre and wheel sizes check out this tyre and wheel sizing article by the great Sheldon Brown.
These motor kits are only compatible with standard rear drop-outs (135mm wide). They will not fit bikes with thru-axles. Nearly all cheaper bikes have standard quick-release dropouts. But if you are thinking of installing this kit on a higher end mountain bike or road bike, you will need to double check. The fat bike version of these kits will be compatible with the wider dropouts of those bikes.
You will also need to check the kind of bottom bracket your bike has fitted. If it is a standard square-tapered BB, there should not be a problem. If, however you have an Octalink / ISIS or Hollowtech ll type BB then you will need to purchase a separate pedal assist sensor.
Bafang hub motor installation (a rough guide)
Hub motors, are, in my opinion the easiest solution for a fairly quick and easy electric bike conversion. It usually takes 2-3 hours to do the job properly (including tidying up the cables). Installing a Bafang hub motor conversion kit is straightforward and requires minimal skill – it should take roughly 2 hours to complete the job.
It should be noted that you will require a basic bicycle maintenance tool kit to do the job properly. Things like a crank puller are essential to remove the right side pedal crank to fit the pedal assist sensor.
The installation process involves removing your existing wheel and swapping over your rim tape, inner tube, tyre and any other components like disc brake rotor and gear cassette / freewheel. You install the motorised wheel and fit the other ancillary components like the pedal assist sensor (and magnetic sensor disc), display and battery. Plug everything in and away you go!
There are several key components in this electric bike conversion kit:
The wheel with the hub motor
LCD Display
Motor controller
Wiring loom
Throttle (optional to fit)
Pedal assist sensor with magnetic disc
Fitting these kits, really couldn't be easier. The only other essential item you will need to purchase is 36v or 48v battery.
Remember to buy a good battery for your Bafang hub motor conversion – my preferred supplier UPP now sell through eBay – here is a link to their eBay store.
Should I use a throttle with a Bafang hub motor?
This is a matter of personal choice. It is legal to fit a throttle to a used bike in the UK and the EU – as long as the bike complies with the 250w / 15.5mph (25km/h) law. If you are using the 48v 500w version the throttle will effortlessly propel you along on the flat without the need for pedalling
If you have dodgy knees, then the throttle can be an invaluable asset in helping you to get moving. But over use or over reliance on the throttle can result in premature wear of the planetary gears and may cause the controller to overheat (especially when climbing a hill).
Bafang hub motor specification – 250w 36v
48v 500w Bafang hub motor
The 48v version of this motor is another beast altogether! The motor is physically larger and can handle considerably more voltage and current than its smaller sibling. I have run one of these motors using a 48v 30A controller, giving peak power output of over 1500w. But I wouldn't recommend this, as the nylon planetary gears will have a substantially shortened lifespan.
If it's power you are after the 48v 500w Bafang hub motor provides more than enough for even the steepest of hill climbs. It can't quite match the BBS02 mid-drive, but for a hub motor it's pretty good!
Motor specification – 500w 48v
Conclusion
I decided to review the Bafang hub motor, as I have installed dozens of these kits in the past and they have proven time and time again to be the most reliable. As much as I like mid-drive motors, the simplicity and comparatively easy installation of hub motors wins the day for me. I have had customers use these motors on daily commutes for two years without any reported issues. Even if they go wrong (which they rarely do) repair is usually straightforward, and parts supply is plentiful.
With a 36v13Ah battery fitted to the 36v 250w variant, you can expect an assisted range of between 25-40 miles, or a bit more if you are frugal with the pedal assist.
Where can I buy the Bafang hub motor kit?
The Bafang hub motor is a global best-seller and is available in most countries. Below I have provided product links to all the main e-commerce platforms where the Bafang is currently available. 
| | |
| --- | --- |
| Aliexpress | |
| eBay UK | |
| eBay USA | |
| eBay CA | |
| eBay AU | |
| eBay DE | |
| eBay ES | |
| Amazon (various locales) | |
Thanks for reading this article. Please feel free to leave a comment below – I aim to answer all queries within 24hrs.