In this article, I'm going to be looking at 4 of the lightest electric bike conversion kits currently available. Most of the e-bike kits featured below are remarkably lightweight and tip the scales at under 4kg (including battery and ancillary components).
Benefits of a lightweight e-bike conversion kit
One of the main benefits of fitting a lightweight e-bike conversion kit over buying a factory electric bike is cost. Most lightweight e-bikes currently on the market start at around £2000. If it's an electric road bike you're after, then you'll be paying over £2300.
The lightest e-road bikes on the market use the X35 ebikemotion – this system has a total weight of 3.5kg, which is roughly the same as the conversion kits featured below. Big brands like Ribble, Orbea, Willier and Cannondale all have electric road bikes that use this motor.
If you're just looking for some help on the hills, but otherwise want to ride without assistance, then you're not going to want an e-bike conversion kit that adds too much weight to your bike. A typical mid-drive e-bike conversion kit weighs 4kg (for the motor) plus roughly 0.5kg for the ancillary components – factor in a small bottle battery at 1.5kg and the total additional weight would be 5.5kg.
That's quite a lot of extra weight to be carting around, if you're only using the assist occasionally plus you would have the increased drag of the motor when the assist is switched off.
Most of the lightweight e-bike conversion kits featured below weigh 4kg or under. If you fitted one of these kits to an 8kg road bike, you'd have an electric bike that you could easily ride with or without assistance. If you fancied going for a ride without the extra weight, these kits are easy to remove. It only takes a matter of minutes to swap out the front wheel (for the original wheel) and hey presto! Your bike is returned to normal.
The top 4 lightest e-bike conversion kits are…
Unfortunately, there are not a lot of choices when it comes to a truly lightweight e-bike conversion kit, so I've found the 4 best options. Both the Sywtch and Cytronex C1 have been around for a while and have lots of positive customer reviews to show. The Bikee kit is quite new and is currently only available to pre-order, but it does look promising so I have included it on this list.
I have included a budget alternative recommendation that isn't quite as lightweight, but still comes in at under 5kg and offers excellent value for money.
---
1. Cytronex C1
Tipping the scales at around 3.2kg, the Cytronex C1 is one of the lightest e-bike conversion kits available. A friend recently installed one of these kits onto his wife's road bike – the total weight of the bike (with the kit fitted) is just over 11kg! That puts it up there with the likes of the Ribble Endurance SL e.
Cytronex is a British company that has been designing lightweight e-bike systems since 2008 when they made the first disguised electric bike system, the first water bottle battery and the lightest electric assist system in the world.
The latest Cyctronex C1 front wheel e-bike conversion kit benefits from British design and engineering. The small bottle battery has a total energy capacity of 198Wh and also contains the system electronics. The e-assist is operated by a small handlebar-mounted button and can be further customised using a smartphone app.
The Cytronex C1 is a very neat system and the small front hub motor doesn't look out of place on a road bike. I like the single button for controlling the assist level – it works in the same way as the X35 ebikemotion iWoc One control button. You press and hold the button once for assistance, then you press again for the next level up – the changing levels are indicated by different colours.
Each of the three assist levels can be customised by the Cytronex C1 partner app, where you can also alter the button brightness. You place the bottle battery upside down in the charging holder to connect to the app via USB.
Another great feature of this app is you can download important firmware updates.  In the unlikely event, you experience any problems, you can upload diagnostic files from the motor controller and send them directly to Cytronex.
Cytronex Battery Range and Performance
Firstly, I would say the Cytronex is aimed squarely at the rider who wants to enhance their cycling experience, as opposed to having a powerful motor that's going to completely take over. You still need to work, it just takes the edge off – especially on the hills.
My friend's wife recently completed a 35-mile round trip to Dartmoor, which included about 4000ft of elevation gain. At the end of the ride, there was still one-third of the battery remaining.  Considering the diminutive size and low energy capacity of the battery, that's pretty good going.
As far as performance is concerned my friend's wife had no problem staying with the other riders on the long, steep climbs. Despite its small size, the Cytronex motor packs a punch!
The Cytronex system uses a unique assist sensor which mounts on the drive-side chainstay and detects movement in the gear cassette. The assistance given by this system is incredibly smooth and quiet thanks to the virtually silent motor. The electronics are designed and built in the UK.
Conclusion
The Cytronex C1 is a very high-quality e-bike conversion kit. It's quite expensive, but most of the parts are designed and manufactured here in the UK. You can also customise your kit and get the motor built into a wide choice of very high-quality rims. Cytronex also offers an installation service, or you can choose a new bike from their list and they will supply the bike with the kit already fitted.
It's very smooth, very quiet and the pedal assist system works flawlessly. It's unlike any other hub-motor PAS system I've come across and works incredibly well.
Despite the small battery capacity, the range is very respectable. The motor and electronics are optimised for efficiency meaning that you can expect a similar mileage as the X35 ebikemotion system.
Cytronex are a small British company and I've yet to hear a bad word said about them. They have engineered the C1 to be incredibly reliable and offer a good warranty and after-sales service.
I can highly recommend this kit if you're looking to add e-assist to a lightweight road bike or hybrid but still want to use your bike unassisted for most of the time.
Visit Cytronex for more information
---
2. Swytch E-Bike Conversion Kit
The Swytch was first designed back in 2017 after the founder, Oliver Montague saw a gap in the market for a lightweight and easy-to-fit e-bike conversion kit. After a successful crowdfunding campaign, Swytch was launched and has gone on to be a global success story.
Converting a bike to electric continues to be an appealing option despite there being a mind-boggling array of new e-bikes on the market. The great thing about converting a bike to electric is you can generally convert anything from a vintage racing bike to a modern-day city bike. If you have an old bike that's got sentimental value, adding a motor kit is a great way to encourage you to keep using it.
Swytch Battery range and performance
The Swytch e-bike conversion kit has two battery options – a 5Ah and 7Ah battery with respective ranges of 20 and 30 miles. The battery, motor electronics and control panel are all fitted inside a very stylish bag which clips into a handlebar mounting bracket. There is an external pedal sensor which features a split magnetic sensor and sensor.  The whole kit weighs in at just over 3kg making it one of the lightest electric bike conversion kits on the market.
Performance-wise, the tiny hub motor goes surprisingly well and produces no more than a slightly audible hum when working. The pedal assist is nice and responsive, and there's more than enough power to get you up moderately steep hills with minimal effort.
Conclusion
Swytch is a great e-bike conversion kit if you're after a lightweight, quick and easy-to-fit way to add e-assist to your bike. There are plenty of cheaper options available, but most front hub motors are significantly heavier, and there are usually external controllers, displays and wiring to deal with.
This kit takes the hassle out of converting your bike and it's also very quick to remove if you ever decide to put it on another bike. Swytch is available in all the popular wheel sizes, so you shouldn't have any problem finding the right size for your bike. Read the full Swytch review here.
Visit the Swytch website for more info
---
3. Bikee Bike Lightest Electric Bike Conversion Kit
Bikee Bike is an Italian company that specialises in e-bike technology. The aptly named 'Lightest e-bike kit' looks very promising indeed. The company already sell a mid-drive conversion kit on their website, but this kit is an Indiegogo start-up so it's currently pre-order.
This small mid-drive motor has a claimed weight of only 1.6kg and boasts a lot of interesting features.
The specification is impressive, to say the least, and if they can deliver on their promises, then I'd say the Bikee Lightest e-bike kit should be popular.  The motor kit is listed with different battery options, but the lightest option would be the 225Wh compact bottle battery.
As I know very little about this motor, I've taken some of the specifications from their website and elaborated a little.
Motor dimensions: 85x90x128mm
Torque sensor – this doesn't measure force being applied to the pedals like traditional torque sensors, but instead uses a chain tension sensor. I can't comment on it's effectiveness as I have never ridden an e-bike with this type of sensor.
Bikee claim the motor does not produce any drag, thanks to the freewheel inside the motor.
Quick Release  – the motor can be removed in just 5 minutes. There are three bolts locking the motor in place. You could even split the motor between two bikes if you purchase a spare mounting plate.
Independent drive pinion – Gives the opportunity to have different transmission ratios between human power and motor power.
Bikee claims the chainline is not affected, meaning better-shifting quality (than a Bafang or Tongsheng) and better chain retention.
Ground Clearance – Improved capability of overcoming obstacles without damaging the motor.
Heart Sensor Assist  (Superhero version only) With the HRM feature, just set the BPM you'd like to keep and the assistance level will be adjusted to keep that on track. Seems like a great idea, it would be interesting to see how it works in practice.
KERS regen braking (Superhero version only) – The system will be able to use the braking energy to charge the battery. This is only possible with fixed gear on internally geared hubs. I'm not quite sure how effective this will be and if there would be any measurable benefits.
Conclusion
The Bikee lightest e-bike conversion kit looks very promising. There's still not a lot of independent information out there regarding this system, and the motor kits are currently listed as 'pre-order' with shipping in October 2021. I'll be tempted to buy one to see if it lives up to its expectations.
Visit the website for more info
---
4. Yose Power front wheel electric bike conversion kit
Even though this kit weighs a bit more than the others, I've included it here as it represents excellent value for money. I have installed a lot of these kits over the years and never had any reported failures.
The Yose Power front wheel motor weighs 2.5kg. Other components include a small 36v controller and display unit, plus a wiring loom and pedal sensor. This brings the total weight to roughly 3kg, and with the addition of a compact bottle battery (1.5kg) the final added weight would be 4.5kg – this excludes the weight of the rim and spokes as does the weights of the Swytch and Cytronex.
So, although the Yose Power kit (with battery) is about 30% heavier than both the Swytch and Cytronex kits, it's still fairly light in the greater scheme of things.
Yose Power does supply kits including batteries, but these are usually the heavier (3kg) 36v 12.5Ah Hailong type. If you're trying to minimise weight I would go for something like the 36v 5Ah UPP mini bottle battery (image below) these are very good and only weigh 1.5kg.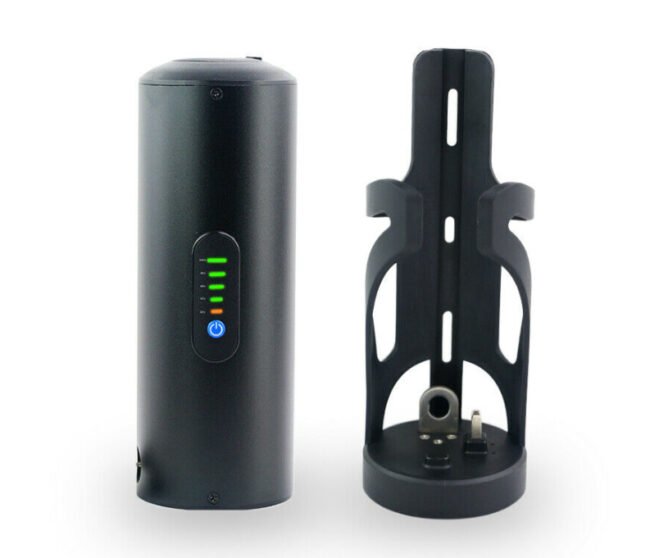 I have installed the Yose Power e-bike conversion kit on many different bikes, including road and hybrid bikes. Customers are always surprised at how easy the finished bikes are to pedal without assistance. I have used bikes fitted with this kit and have found that they're just fine to pedal without the motor activated and the extra weight doesn't impact rideability.
Conclusion
If your budget doesn't stretch to the Cytonex C1 or Swytch systems and you don't mind a bit of extra faffing around with wiring. The Yose Power e-bike conversion kit offers excellent value for money with not too much of a weight penalty (over the others).
Having installed of 50 of these kits over the last few years, they've always proven to be popular with customers and I'd have no hesitation recommending this brand. Read the full review here.
---
Which lightweight e-bike conversion kit is best?
I can't comment on the Bikee mid-drive kit, as it's not currently available and there's not a lot of info out there. On paper, it looks fantastic and if it works as they say, then it will be very popular.
Both the Swytch and Cytronex are very similar. Both kits use small, 250w front hub motors and small batteries with integrated controllers. There's not a lot to separate the two in that respect.
I would personally lean towards the Cytronex C1, as I like the style of the compact bottle battery and the way the electric assist works – it's very smooth. The Swytch is smooth, but it does have a more on/off feel to the assist. The handlebar-mounted power pack of the Swytch does look very neat, but I prefer to have the extra weight lower down. Performance-wise, both the Swytch and Cytronex are about the same in terms of power and noise.
If you're looking for a cheaper option and don't mind compromising on the weight slightly, then the Yose Power front hub motor kit combined with the UPP 36v 5Ah mini bottle battery is fantastic value for money.
Thanks for reading, if you have any of the e-bike kits featured in this article, please feel free to leave a comment below.