It's rare to see a decent step-through e-bike using a mid-drive motor for under £2000 these days. Eskute is a relatively new brand that sells affordable electric bikes. In this Eskute Polluno Pro review I'll take a closer look at this latest model to see how it stacks up against the competition.
Summary
Eskute e-bikes were unknown in the UK until the spring of 2021 when they launched their Wayfarer and Voyager electric bikes. Due to a combination of good quality and value for money, Eskute has become a popular and successful brand in a relatively short period.
More recently they've added two new models to their line-up – the Netuno Pro and Polluno Pro. Both of these new models share the same basic frame design as their hub motor counterparts but with a Bafang mid-drive motor, improved Samsung battery and better gearing.
Update 2023: Eskute has just released the Polluno Plus which has a hub motor with torque-sensing pedal assist along with a 36v 20Ah Samsung battery. Read the Eskute Polluno Plus review.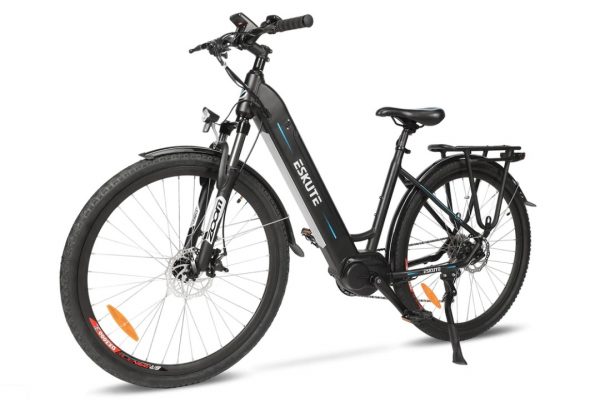 At the time of writing, there's not much choice when it comes to buying a mid-drive commuter e-bike for under £2000, so it's refreshing to see Eskute have taken advantage of a gap in the market.
Electric components
The Eskute Polluno Pro benefits from several significant upgrades when compared with the original model. These include the Bafang M200 mid-drive motor and a more powerful Samsung-celled lithium battery.

Bafang M200 motor
The Polluno Pro uses the excellent Bafang M200 mid-drive motor. For those of you unfamiliar with Bafang, they are one of the largest manufacturers of e-bike motors in the world and have been involved in e-mobility since 2003. The M200 motor produces pedal assist using a torque sensor which measures the force being applied to the pedals by the rider. This translates into a very smooth and natural assist feel which increases the connection between rider and bike.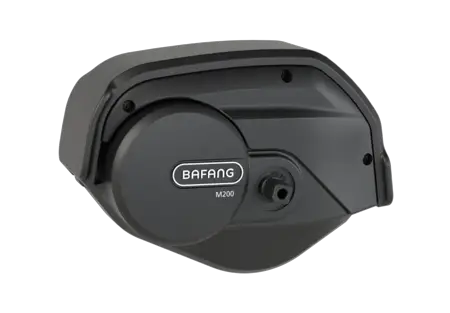 This motor isn't just smooth though, and the M200 produces considerably more torque (65Nm) when compared to an equivalent hub motor. What this means in real terms is climbing even the steepest of hills will seem considerably easier.
The M200 is part of Bafang's 'City' range of motors meaning they are specially developed for urban riding and commuting. Weighing in at just 3.2kg, the motor is light and incredibly efficient. Performance-wise it's on a par with the Bosch Active Line Plus motor.
A quality Bafang display unit is used which gives the rider 5 pedal assist levels, battery range, speed and a trip computer. You can also switch the lights on and off using the display.

Battery
Eskute has opted for high-quality Samsung lithium cells in this battery with a total energy capacity of 522Wh (36v 14.5Ah) –  the claimed range of 80 miles could be achievable using the lowest assist level. But, I would say for the average e-bike rider around 50 miles is going to be more realistic. Samsung cells are used throughout the e-bike industry and are usually found in more expensive brands.
Bike components
The frame has been changed (from the Wayfarer) and is now a full 'step-through' design, making it even easier for the rider to get on and off the bike. Step-through e-bikes are perfect for commuters and in particular city riding. Cables are routed internally and the battery pack neatly fits into the downtube.
Buy direct from Eskute (UK) – Discounted to £1599
Gearing
There's 9-speed gearing with a wide-range cassette and trigger shifter. This will give the rider more than enough gear range to tackle steeper hills if needed. The gearing is perfect for urban riding, country riding and even a bit of light off-road riding.
Brakes
I was a little disappointed not to see hydraulic brakes on the Polluno Pro. The Wayfarer Pro model it replaces did use hydraulics, although they were from an unknown brand.  The mechanical disc brakes fitted are from Zoom (which is a known brand) and they should provide decent enough stopping power for leisure riding and commuting.

Wheels and tyres
Double-walled alloy rims with cup and cone hub bearings should be robust enough for city riding and mild off-roading. The Kenda tyres have a Kevlar puncture-resistant belt and come in a generous 28″ x 2.1″ size.  High-volume tyres like this are especially good for negotiating pothole-strewn city streets or back lanes in the country.

Front Suspension
The Zoom coil-sprung suspension fork has a basic lock-out function and can be adjusted for preload. These are quite basic, entry-level forks but will provide enough shock absorption for most leisure riding.

Frame, finishing kit and accessories
A step-through frame ensures a low standover height, making the Eskute Polluno Pro suitable for men, women, young and old. The cables are neatly routed internally which not only looks tidy but protects wires and cables from the elements.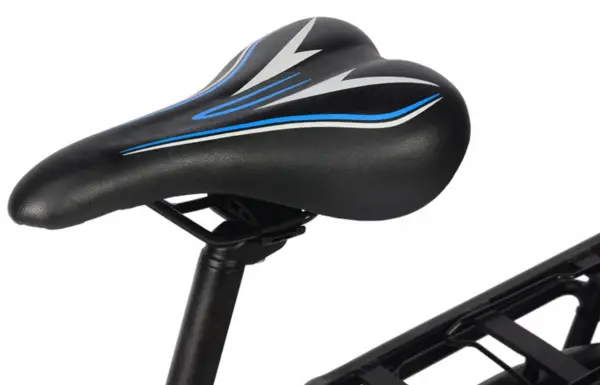 As you'd expect on a city / trekking e-bike, there's a whole host of accessories including full-length mudguards, lights, a pannier rack and a kickstand.
Who is the Eskute Polluno Pro aimed at?
The Eskute Polluno Pro is going to make the perfect daily commuter bike, in fact, I've put it at the top of my list of best electric bikes for commuting in 2022, simply because it offers so much for the price. It has comfort-orientated geometry with a nice and upright riding position. The motor is smooth, quiet and efficient and you have all the extras you'd need for a daily commuter bike. It would also be great as a 'his and hers' weekend leisure e-bike – perfect for exploring the countryside and bike trails.
Conclusion
I do think the Eskute Polluno Pro is a thoroughly decent electric bike for the price. At a time when the big guns are all increasing their prices, it's refreshing to see a quality e-bike in the £1500 price range.
I have a lot of experience with Bafang motors and my personal view is they're pretty good. Bosch has this reputation that they go on forever, but in reality, that's not always the case. The fact of the matter is if a Bosch unit packs up out of warranty, you're likely to be left with a hefty bill. If a Bafang motor packs up, it can usually be repaired or replaced for a fraction of the price.
Performance-wise, the Bafang motor is on par with the Bosch Active Line Plus – you'll struggle to find an e-bike fitted with one of these motors for less than £2200.
I like Eskute as a brand. They are a young company and have everything to prove. I've owned an Eskute Voyager for a few months now and it's proven to be a good, reliable workhorse. Based on what I know about the Eskute Polluno Pro, the electric components, frame and design I would have no hesitation in recommending it.
Available from Geekbuying – use discount code: 6BLW20KQ (EU countries)
Buy direct from Eskute (UK) – discounted to £1599