Bafang BBS02 Review – How Reliable is it?
This post contains affiliate links, to find out more information, please read my affiliate disclosure
Introduction
Hello and welcome to my review of the popular Bafang BBS02 mid-drive electric bike conversion kit. This review is based on my own personal experiences installing over seventy of these units over a three year period. I really like the Bafang and it is an excellent motor, but like all things electric there are a multitude of gremlins that rear their head from time to time – this is definitely not a motor to fit and forget!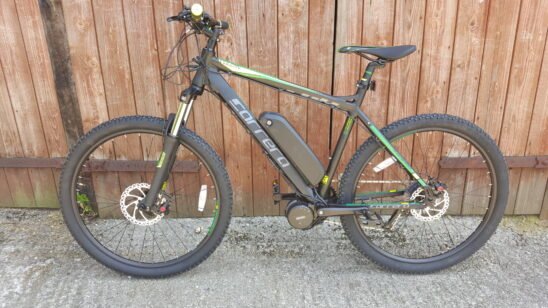 The are more useful links at the bottom of this article on where to buy the Bafang BBS02.  from various locales
Overview
The Bafang BBS02 is available in three different configurations: 36v 500w / 48v 500w and 48v 750w.  The 750w version is the most popular as it offers the most bang for your buck!  The motor itself is physically the same as the lower powered BBS01 250w / 350w, the only difference being the internals and controller. The installation criteria is the same as the other Bafang units for the classic 68mm-73mm bottom bracket fitment.

Pressed fit bottom bracket compatibility
As with all the Bafang e-bike kits, there is the potential to install it on a full suspension or hardtail mountain bike that uses a pressfit bottom bracket, although you will need to purchase the correct shim adaptor kit and motor stabiliser bar, or if you know a good engineer, you could get one fabricated. This is not a job to be taken lightly, but it is possible if done correctly. If your bike has an FSA PF30 pressfit bottom bracket then a PF30 to BSA reducer can be easily purchased and fitted.
⚠Legal Information
If you are not familiar with e-bike law, in your country, it is worth checking beforehand. The Bafang BBS02 750w is legal in the US, but not road legal in the UK, EU or Australia, as the power output is rated at between 500w-750w. Peak power is substantially higher – up to 1470w on the 48v 750w model with a 52v battery fitted. If you are in the UK and planning on using this on private land, that is absolutely fine, but if you are going to use it on public roads then you should be aware of the potential legal implications first. Please read this post on UK/EU electric bike law.
This Electric bike kit comes with the following components:
The motor unit with integrated controller
LCD Display
Wiring loom
Inner and outer lock-nuts
Chainring
Plastic Chain-guard
Thumb throttle
Brake levers with cut-off sensors (only compatible with cable brakes)
Speed sensor and wheel magnet
A bag of various Allen bolts and screws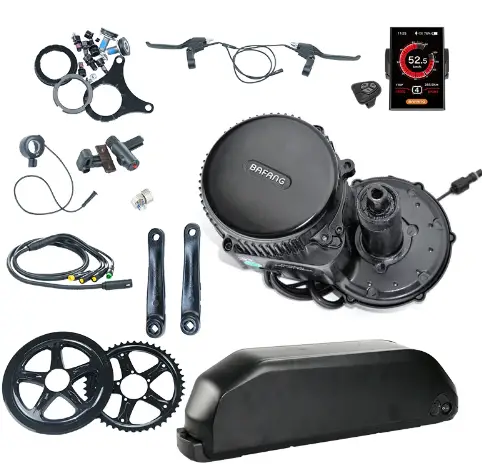 Installation
Installation of this motor is the same as other mid drive motors. If you are looking for a nice and easy conversion to do yourself, but you have little or no experience with bicycle mechanics, you should be warned that the installation can be quite challenging! See my guide on how to install a Bafang BBS02.  The installation will need to be carried out by someone who is fairly competent. Removing the bottom bracket on your bike can be a right pain, and you will require a lot of patience!
Technical Data
This electric motor produces considerably more torque than its smaller siblings (up to 120N.m), I have listed the peak power output for all the motor and battery configurations below:
| Bafang | Battery | Peak Power |
| --- | --- | --- |
| BBS02 500w 36v | 36v (42.2v x 25A) | 1055w |
| BBS02 500w 48v | 48v (54.4v x 18A) | 864w |
| BBS02 500w 48v | 52v (58.8v x 18A) | 1058w |
| BBS02 750w 48v | 48v (54.4v x 25A) | 1200w |
| BBS02 750w 48v | 52v (58.8v x 25A) | 1470w |
The voltage figures in brackets are for a fully-charged battery. Note: As the voltage drops, so will the power.
I have listed the power output to include the 52v battery  option, as this is quite popular, although I no longer advocate the use of a 52v battery with the BBS02, due to reliability issues (please see below).
Like all the other BBS motors, the BBS02 uses an internal cadence sensor, and gives electric assist based on pedalling rpm. The pedal assist is very responsive, and can be fine-tuned using the 9 power levels available – update: It seems that most of the DP-C18 displays being shipped from China only allow for 5 levels of assist. If you require the full 9 levels go for the P850c display.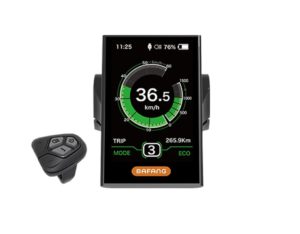 The motor kit is supplied with a thumb throttle, but I would  exercise caution when using this. Heat dissipation is not as good on the BBS02 as it is with the BBSHD and even the latest 'B' version of the controller (with the upgraded INRFB3077 MOSFETs) can be prone to premature failure when using a throttle inappropriately.
If you need to use the throttle regularly, it would be worth changing the throttle 'start current' settings in the controller firmware (you will need a compatible USB lead and software).
It is crucial to be in a low gear on steep hill climbs or starts, as subjecting the motor to unnecessary load can cause the controller to blow.
Personally, I am not a big fan of these throttles. They are not particularly good for modulating the power, and function more like an on/off switch, although reprogramming the controller can make the throttle more user-friendly.
Shop for the Bafang BBS02B 750w in your region
| | |
| --- | --- |
| Aliexpress - BEST PRICE👉 | ✅Trusted Vendor |
| eBay UK | |
| eBay USA | |
| eBay AU | |
| eBay France | |
| eBay Italy | |
| Amazon (various locales) | |
| Compare Bafang BBS02B Prices 👉 | |
As with all the other Bafang models, the controller firmware settings can be changed with a USB programming cable and software (which you can download for free here).  If you are doing this for the first time you should exercise caution and do your homework first. A good source of information on Bafang programming can be found on this excellent thread on Endless Sphere.
This kit is available with either a 44t, 46t or 48t steel chainring. If you are climbing lots of steep hills, I would definitely recommend an aftermarket chainring of around 36t .
One thing you will have to be aware of, if you do fit a smaller front chainring, the substantially lower gearing can make the bike prone to power wheelies, especially when hitting full throttle in a low gear on a steep hill start.
If you want to fit the brake levers with cut-off sensors, then bear in mind that these are only suitable for cable operated brakes. I would only recommend installing this kit on a bike with decent hydraulic brakes. Because this motor is so powerful, I would recommend the hydraulic brake cut off sensors or completely new hydraulic brakes with the sensors already built in.
Reliability
I have installed more BBS02 750w motors than any other (in excess of seventy units) and I have had a high rate of controller failure (17%). Whether this is down to the way the bikes are being ridden or the MOSFETs in the controller simply can't handle the voltage and current, it is hard to say for sure. But there does appear to be a correlation between using 52v batteries and controller failure.
UPDATE: Through 2020 up to the middle of 2021 I haven't had any reported issues with BBS02B's I've installed.
The 36v and 48v 500w version seems to be the most reliable, to date I have only had one controller failure on this model. If you do experience failure (outside of warranty) replacement 750w Bafang controllers can be sourced online.
Can a 52v battery compromise reliability?
A 52v battery when fully charged is at 58.8v, this is very close to the motor controller's maximum operating voltage of 60v. I would personally stick with a 48v battery which is 54.4v fully charged. I have never had any issues with the motors that used 48v batteries. If you would still prefer to fit a 52v battery, then it would be worth buying a spare motor controller.
Having said that, I used a 52v Bafang BBS02 for a year and covered nearly 2000 miles, and I never had any issues – I later sold the bike, and it is still running well to this day!
The motor also uses a nylon primary gear, that can degrade over time. Replacements are easy enough to find, and there are plenty of good tutorials on YouTube for stripping this motor down.
Things to consider
For the 500w and 750w 48v models, I would personally stick with a 48v battery, as the power gained by using a 52v battery is minimal, and in my opinion is not worth the risk.
You will need a Bafang lock-ring spanner – the BBS02 will sometimes come loose due to the torque of the motor and may need periodic tightening.
The speed sensor can be easily knocked out of alignment with the wheel magnet – this will throw up an error code and pedal assist will stop working.
Some of the colour displays can be problematic – I find the black and white C965 display to be the most reliable, although the latest DP-C18 colour display seems to be pretty good (although most of these displays only allow for 5 levels of pedal assist).
I would definitely recommend fitting a Bafang gearshift sensor, with between 500w – 1470w going to the rear wheel, you will drastically shorten the service life of your rear derailleur, cassette and chain.
A heavy-duty chain is definitely recommended – there is a lot of torque going to the back wheel.
If you are planning on keeping the bike long term, it may be worth stocking up on some spare parts. It is always useful to have a spare controller and a nylon primary gear.
A demonstration of the gearshift sensor working, on a BBSHD powered bike
Riding a Bafang powered Electric Bike
The BBS02 is guaranteed to put a smile on your face – the days of being intimidated by steep hills are a thing of the past!
All of these motors are quiet and smooth running, I have ridden all three versions, and in my opinion, there isn't a massive amount of difference between them in the lower power levels, it is only in the higher levels you really notice the extra power of the 750w version.
There is no doubt that in full power mode the 750w version is very quick, and a lot of fun to ride. Power-wise, there really isn't a lot between the BBS02 and the BBSHD, although the latter has a lot more grunt, and the motor and controller can handle the extra power for a prolonged amount of time, whereas the smaller motor can become unreliable when subjected to constant hard off-road use.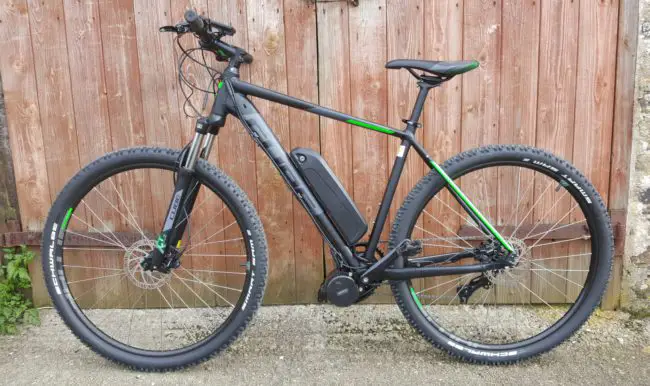 Conclusion
As long as you are aware of this motor's limitations, it is a fantastic piece of kit. If you constantly use it in full power mode, and use the throttle a lot, then it will inevitably let you down. I would advise you to purchase a spare controller or otherwise it may be worth spending the extra money and going for a Bafang BBSHD 1000w.
Install this kit on a decent bike, with good brakes and suspension and you will have a great high performance e-bike that is guaranteed to put a smile on your face!
I hope I haven't put you off with this review, as I really believe this is a great electric bike conversion kit. As long as you can accept the potential long-term maintenance that will inevitably need to be carried out, it is well worth the money.
| | |
| --- | --- |
| Aliexpress - BEST PRICE👉 | ✅Trusted Vendor |
| eBay UK | |
| eBay USA | |
| eBay AU | |
| eBay France | |
| eBay Italy | |
| Amazon (various locales) | |
| Compare Bafang BBS02B Prices 👉 | |
✅More trusted vendors below👇
Thanks for reading and If you have any questions about the Bafang BBS02B, please feel free to leave a comment below – I check this at least once a day and usually answer questions within 24hrs.
Bafang BBS02 mid-drive Electric bike conversion kit