In this article, we will be looking at a small selection of the best women's electric bikes of 2023, taking into consideration factors such as design, performance, battery life, and affordability. Whether you are commuting to work, running errands, or exploring new trails, e-bikes can provide an effortless and enjoyable riding experience.
Electric bikes have been gaining popularity in recent years, offering a healthy and eco-friendly alternative to the car. With the advancements in technology, electric bikes have become more affordable and accessible to the masses. Women's electric bikes have been specifically designed to cater for the unique needs and preferences of female riders. At the bottom of this article, we have included a Women's E-Bike Buyer's Guide, to help you make the right decision.
Skip to Women's E-Bike Buyer's Guide
The Top 9 Best Women's Electric Bikes
The list of women's e-bikes featured below includes a diverse selection covering different disciplines and price ranges. The author has experience with all the brands featured, and they have been selected based on several factors including excellent customer feedback.
---
Trek FX+ 2 Stagger 🆕
Best Lightweight Women's Hybrid E-Bike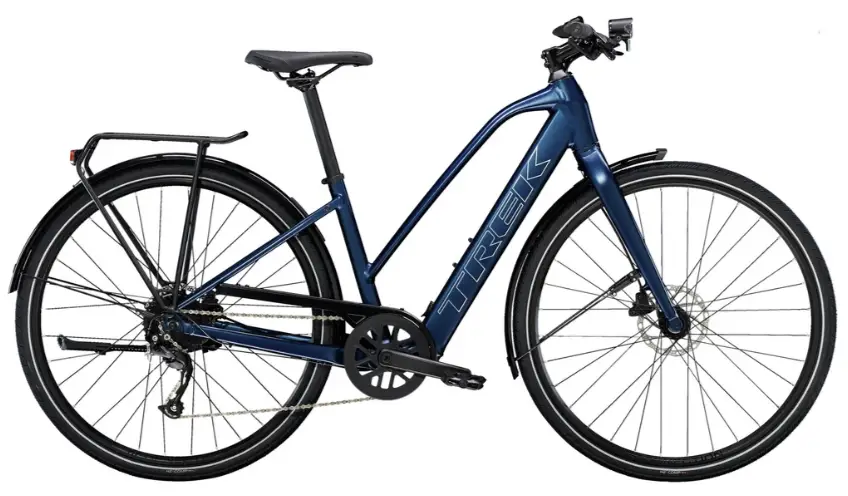 | | |
| --- | --- |
| Motor | 250-watt Hyena HyDrive Hub Motor |
| Battery | 252Wh |
| Range | 30 – 40 miles |
| Brakes | Hydraulic Disc Brakes |
| Gearing | Shimano 9-Speed |
| Weight | 17.2 kg |
| Price | £2250 |
New for 2023 is the Trek FX+ hybrid e-bike. This stagger frame version features a low standover height making it easier to get on and off. The FX has been a stalwart of the Trek brand for years and it's good to see an e-assist version now available. This version comes fully loaded with a pannier rack, mudguards, lights and a kickstand. The motor is a smooth and responsive HyDrive system, that uses a torque-sensing assist – this measures pedalling force and provides the rider with smooth and intuitive electric assistance. In addition, the FX+ 2 is a lot lighter than mid-drive e-bikes coming in at just over 17 kg.
---
Tenways CG0800s Step-Through
Best Single Speed Belt Drive Women's E-Bike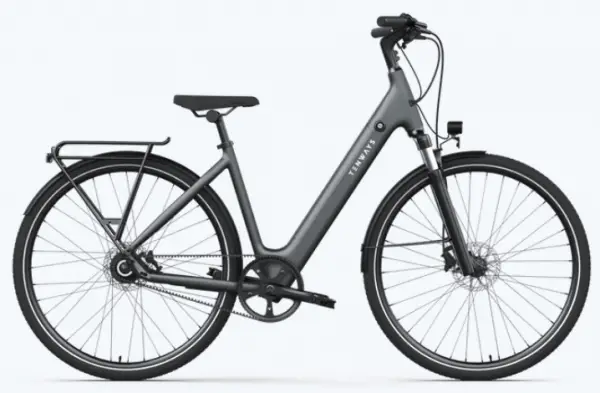 | | |
| --- | --- |
| Motor | 250-watt Mivice M070 Rear Hub Motor |
| Battery | 36v 10.4Ah / 374 Wh |
| Range | 30 – 50 miles (estimate) |
| Brakes | Hydraulic Disc Brakes |
| Gearing | Single Speed with Gates Carbon Belt Drive |
| Weight | 19 kg |
| Price (at time of publication) | £1899 |
The Tenways CGO800s is a great option for women who want a low-maintenance e-bike for city or town riding. Featuring a clean and durable Gates Carbon Belt drive that can last up to 18'000 miles before needing to be replaced, it's the perfect low-maintenance solution for daily riding. The CGO800s uses a smooth 250-watt rear hub motor that's activated by a torque sensor, which improves efficiency and riding experience. It's a great all-around package that's fairly light, has front suspension and all the accessories you'll need on an e-bike.
---
Specialized Turbo Como SL 4.0
Best Women's E-Bike with Internal Gears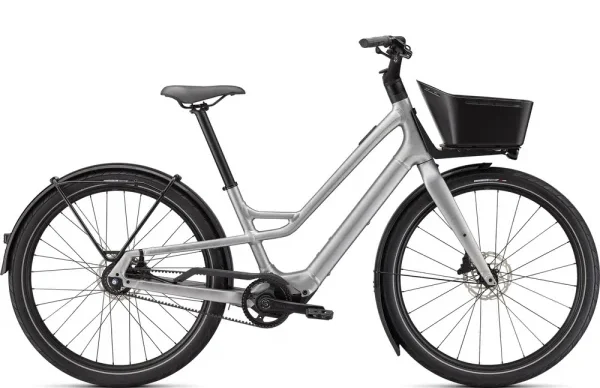 | | |
| --- | --- |
| Motor | 250-watt Specialized SL 1.1 Motor |
| Battery | 320Wh |
| Range | 40 – 60 miles (estimate) |
| Brakes | Hydraulic Disc Brakes |
| Gearing | Shimano Nexus 5-Speed Internal Geared Hub |
| Weight | 19kg (approximate) |
| Price (at time of publication) | £3000 |
Specialized is well-known for producing some very high-quality bikes, and the Turbo Como SL 4.0 is no exception. This e-bike uses its super-efficient SL 1.1 mid-drive motor which provides a powerful boost for hill climbing or will take the edge off your daily commute. There's a 320Wh internal battery and a low-maintenance Shimano Nexus 5-speed internal gear hub – no more fiddling with rear derailleur adjustment. This is a well-made e-bike, and although it's quite expensive you get a practical and stylish electric bike, that you can use for commuting, shopping or just meeting up with friends.
---
Cube Touring Hybrid One 500
Best Medium-Priced Mid-Drive Women's E-Bike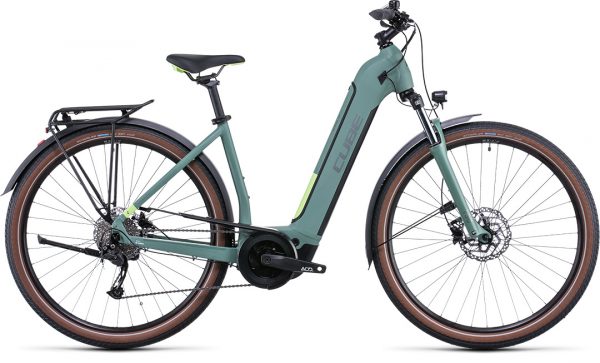 | | |
| --- | --- |
| Motor | 250-watt Bosch Active Line Plus |
| Battery | 500Wh |
| Range | 50 – 80 miles |
| Brakes | Hydraulic Disc Brakes |
| Gearing | Shimano 9-Speed |
| Weight | 25 kg |
| Price | £2499 |
If you're looking for a comfortable and stylish e-bike that's perfect for touring or urban riding, the Touring Hybrid ONE is worth checking out. With its powerful Bosch motor and long battery life, this bike makes it easy to get around town without breaking a sweat. Plus, the step-through frame ensures that getting on and off the bike is a breeze. So if you're ready to take your cycling experience to the next level, be sure to check out the Cube Touring Hybrid ONE.
---
Boardman HYB 8.9e Women's
Best Women's Performance Hybrid E-Bike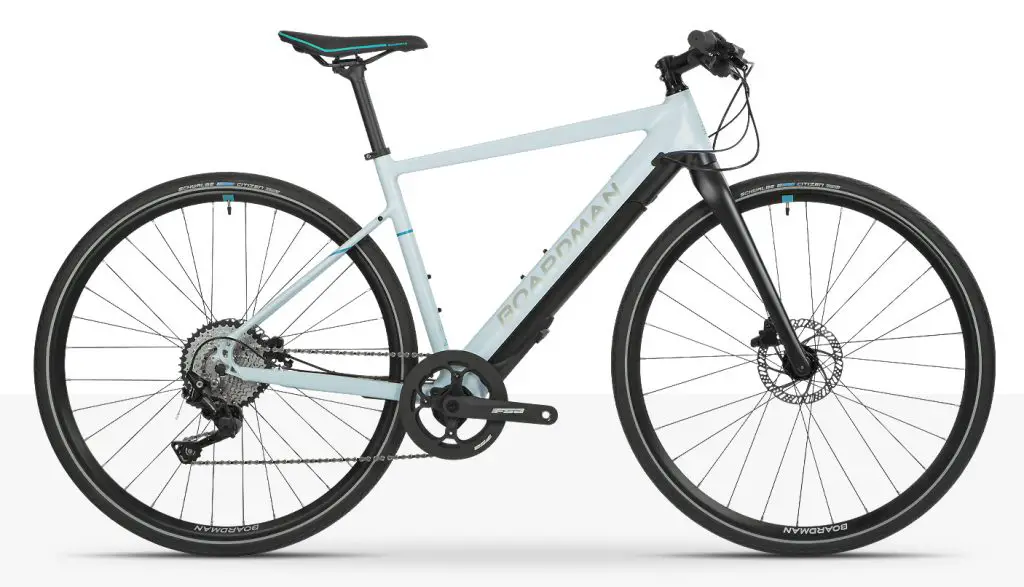 | | |
| --- | --- |
| Motor | 250-watt Fazua Evation |
| Battery | 252Wh |
| Range | 30 – 50 miles |
| Brakes | Tektro Hydraulic Disc Brakes |
| Gearing | Shimano Deore 10-Speed |
| Weight | 16 kg |
| Price | £2299 |
The Boardman HYB 8.9e Women's is hard to beat for all-around versatility. It uses the sophisticated Fazua Evation drive system to offer smooth and powerful electric assistance as you pedal, making it easy to get around town or cover longer distances. Plus, with its comfortable flat handlebar and upright geometry, it's perfect for anyone who wants an enjoyable ride without having to sacrifice comfort. Available in-store or online from Halfords, you have the added peace of mind of a long warranty and nationwide service centres.
---
Decathlon Rockrider E-ST900 Women's
Best Value Women's Electric Mountain Bike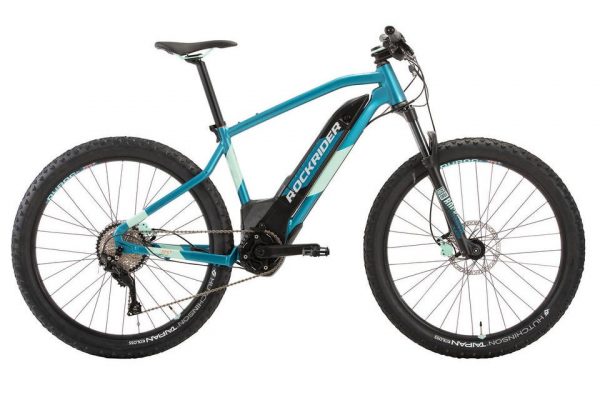 | | |
| --- | --- |
| Motor | 250-watt Brose T Mid-Drive Motor |
| Battery | 504Wh |
| Range | 40 – 60 miles (estimate) |
| Brakes | Hydraulic Disc Brakes |
| Gearing | Shimano Deore 10-Speed |
| Weight | 24 kg |
| Price | £1799 |
If you're looking for a mountain bike that is specifically designed to fit the female build, look no further than the Decathlon E-ST900 electric mountain bike. This e-bike is perfect for longer rides lasting 1.5 to 3 hours, and thanks to the Brose motor's 70 Nm torque, you'll be able to power over any obstacle in your way. Plus, with a 500 Wh battery, you'll be able to enjoy even longer rides without having to worry about running out of power. The E-ST900 is, in my opinion, the best-value e-MTB for women currently available at this price point. For more information, read my Decathlon E-ST900 review.
---
Ribble AL e Step-Through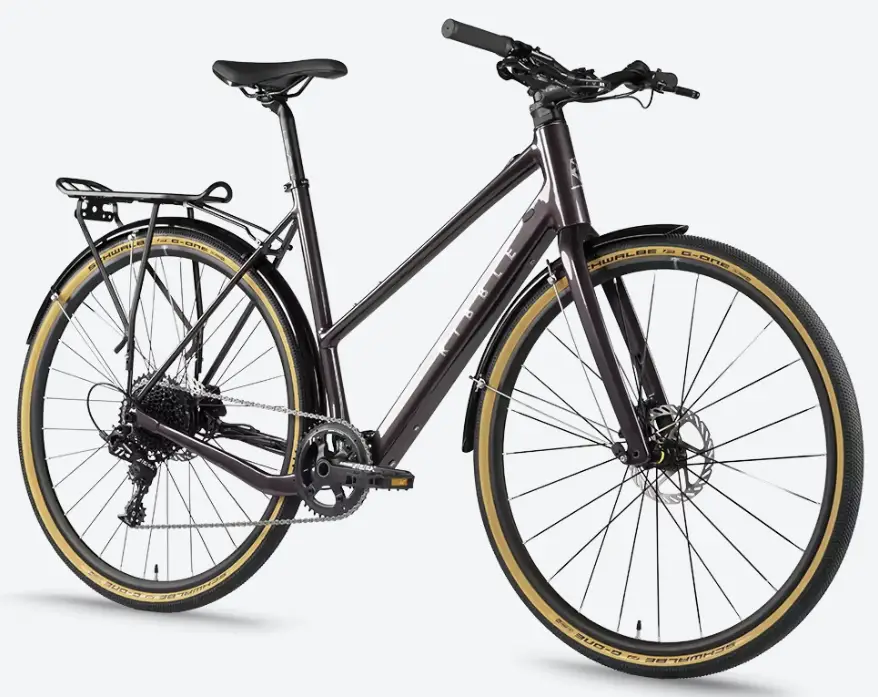 | | |
| --- | --- |
| Motor | 250-watt Mahle X35 Hub Motor |
| Battery | 252Wh |
| Range | 30 – 50 miles |
| Brakes | Hydraulic Disc Brakes (Shimano) |
| Gearing | SRAM 1 x 11 Speed |
| Weight | 15 kg |
| Price | £2599 |
If you're looking for a lightweight e-bike that can handle everything from weekend leisure rides to your daily commute, the Ribble AL e Step Through e-bike is an ideal choice. With its wide-range SRAM 1 x 11 gearing, and 3 levels of electric assistance, this bike will give you a useful boost on hills. Plus, with the convenient step-through design, getting on and off is a breeze. The AL e step-through is a versatile bike, equally at home on smooth tarmac or woodland trails. For a more detailed appraisal, check out the Ribble AL e review.
---
Eskute Polluno Plus Step-Through
Best Women's Electric Bike under £1500
| | |
| --- | --- |
| Motor | 250-watt Bafang Rear Hub Motor |
| Battery | 720Wh |
| Range | Up to 75 miles |
| Brakes | Mechanical Disc Brakes |
| Gearing | 7-Speed Shimano |
| Weight | 26 kg |
| Price (at time of publication) | £1399 |
The Eskute Polluno Plus is excellent value for money at just under £1400. With its Bafang hub motor, torque-sensing pedal assist and 720Wh battery. I'm currently testing the Polluno Plus and it's a very comfortable bike with an amazing battery range. The longest I have ridden in one go is 50 miles and I still had 2 bars battery remaining. I'm thoroughly impressed with this e-bike's overall performance and specification for the price and would have no problem recommending it.
---
Eleglide T1 Step-Through
Best Women's E-Bike under £1000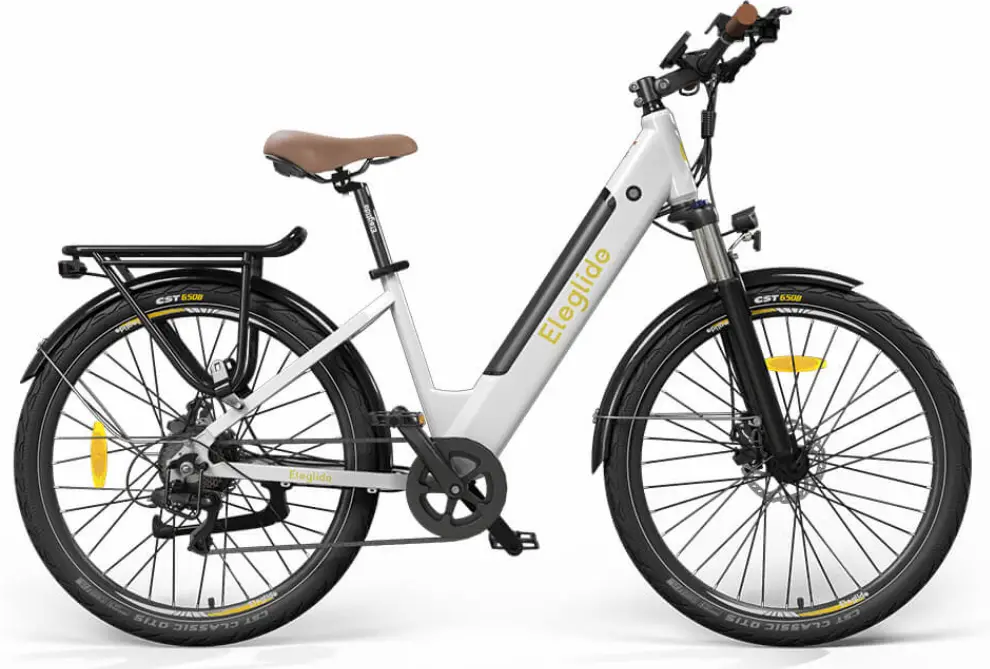 | | |
| --- | --- |
| Motor | 250-watt Rear Hub Motor |
| Battery | 450Wh |
| Range | 25 – 35 miles (estimated) |
| Brakes | Mechanical Disc Brakes |
| Gearing | Shimano 7-Speed |
| Weight | 25 kg |
| Price (at time of publication) | £819 |
If you're thinking of buying an e-bike, but don't want to spend a small fortune, the Eleglide T1 step-through offers exceptional value for money. For under £1000, you can have a truly versatile 'go anywhere' electric bike that's comfortable and has a decent specification. There is a 450Wh battery and 250w rear hub motor. Plus, mudguards, headlight, kickstand and pannier racks.
Although Eleglide is a budget brand, they offer decent electric bikes for the price – I'm currently testing their M1 Plus model and I've been very impressed with the build quality and value for money.
Geekbuying Use discount code: ELEGT1ST
---
Women's E-Bike Buyer's Guide
1. What's the difference between Woman's and Men's e-bikes?
There are several noticeable differences between men's and women's e-bikes, with the main one being the design of the bike's frame. Women's bikes usually feature a step-through frame or Trapeze frame, while men's bikes usually have a crossbar frame. The main benefit of a step-through frame is its low stand-over height, making it much easier to get on or off the bike.
Women's e-bike frames will usually have modified geometry which is better suited to female sizes. Women usually have shorter torsos and longer legs than men, so frame geometry is usually designed to take this into account.
Components may also vary for women's e-bikes – one of the most notable being a female-specific saddle. Women usually have wider sit-bones, so a women's saddle will usually be wider and shorter than a men's saddle. Handlebars may have a greater rise to give a more comfortable, upright riding position and the handlebar stem may be slightly shorter. Of course, you can always change components to suit your particular body shape. Some women are quite happy riding men's bikes and vice versa.
2. Different Types of Electric Bikes
Hybrid Electric Bike
Women's hybrid electric bikes are designed to be ridden on multiple surfaces like tarmac, gravel or even dirt. They're not quite as capable off-road as a mountain bike and not quite as fast on the tarmac as a road bike, but they're designed to be capable all-rounders. Hybrid is the most popular type of e-bike across both genders.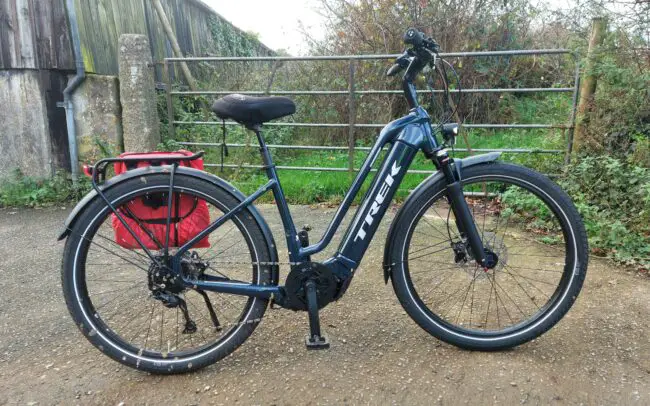 Electric Mountain Bike
Electric mountain bikes are much better suited to riding on rough terrain and exploring the great outdoors! Although it's perfectly fine to use an e-MTB on the road, but the wider, knobbly tyres tend to make more road noise on the tarmac and there will be increased rolling resistance.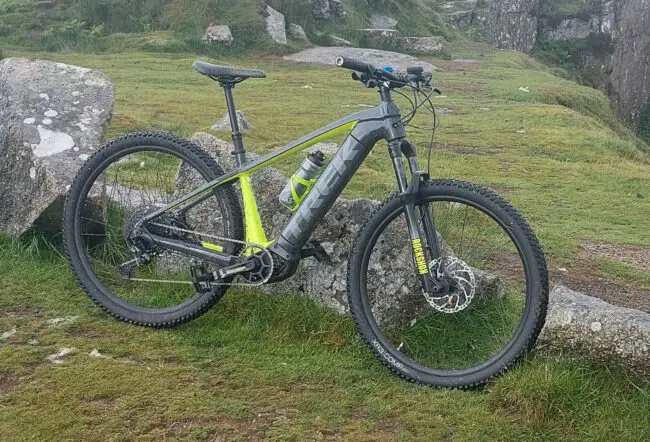 Electric Road Bike
An electric road bike is usually very similar in design and feel to its unassisted counterpart. E-road bikes are usually very lightweight, have small internal batteries and will be fast on tarmac, but not really suitable for anything other than compacted gravel surfaces. These e-bikes are great for building fitness and are usually so light, you can easily ride them without the electric assist activated.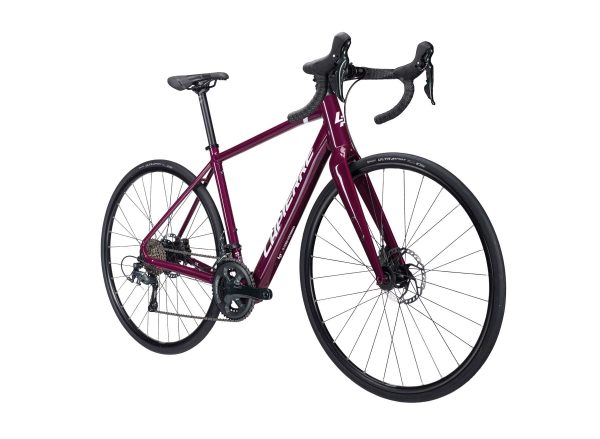 Electric Gravel Bike
The gravel bike is quite a recent phenomenon. Electric gravel bikes look similar to road bikes but have more relaxed frame geometry and clearance for wider tyres. This makes them versatile and can be ridden on or off-road. Gravel e-bikes are usually very lightweight and are great for commuting or weekend adventures.
3. Types of E-Bike Motor and Battery
Hub motor: Hub motors are usually fitted in the rear wheel or sometimes the front wheel. This is the simplest form of electric assist and has been around for years. The latest hub motors are small, lightweight, quiet and efficient. They provide useful assistance on undulating terrain but aren't always suitable for heavier riders tackling very steep hills.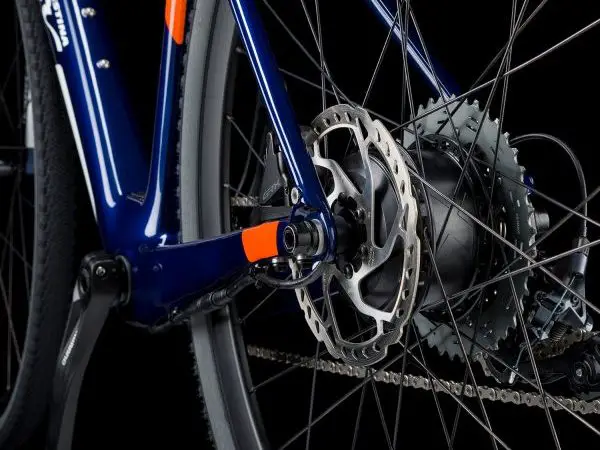 Mid-drive motor: Mid-drive motors like the Bosch, were originally developed for electric mountain bikes to tackle steep, technical climbs. They are now found on a lot of hybrids and cargo e-bikes. These motors will help even the weakest rider climb the steepest of hills with relative ease. They also provide a more natural and intuitive electric assist.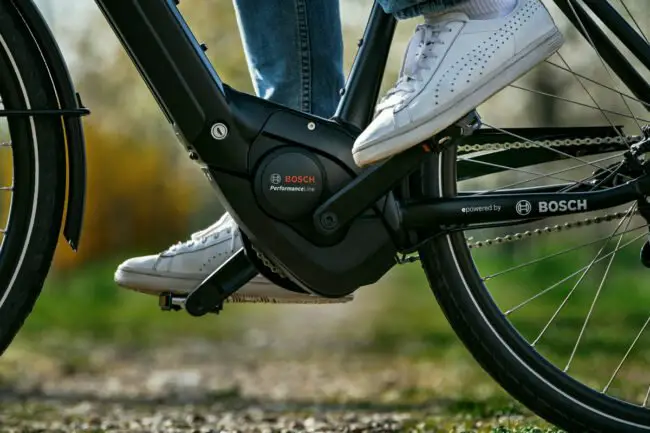 Battery: Electric bike batteries range in size from 250Wh (watt hours) to 750Wh and above. The higher the figure, the more assisted range. A lightweight electric bike with a smaller battery may have the same range as a heavier e-bike with a larger battery. Battery range will depend on a lot of factors like rider weight, bike weight, wind speed, tyres and the kind of terrain ridden on. Most modern e-bikes will have an average range of 40-60 miles.
4. How to Choose the Best Electric Bike
People buy e-bikes for lots of different reasons including commuting, fitness or just general leisure riding. In my opinion, electric bikes are a complete game-changer! I've seen how e-bikes can improve quality of life and fitness. There's nothing quite like going for a ride in the countryside and immersing yourself in the sites and sounds.
Where you live and the surrounding area is a key factor – if it's very hilly (like Cornwall) then you will want a mid-drive motor like the Bosch or Shimano Steps.
Your current health and level of fitness is also a very important factor. If you are returning to cycling after an illness or injury, you will want an electric bike that's going to provide significant assistance. If you already have a good degree of fitness, then a lightweight e-bike with a small motor and battery may be perfectly suitable.
It's quite possible you already ride a bike regularly for recreation and fitness, but want to ditch the car for the daily commute and use an e-bike instead. The benefits of using an electric bike for commuting are you can turn up for work nice and fresh.
If it's possible, I always recommend going to a good local bike shop to discuss your requirements – this is also important for sizing. E-Bikes are an expensive purchase and you need to make sure you're getting the right bike size for your frame.
---
Conclusion
So, there you have it! My selection of the best women's electric bikes – I will be adding more 2023 e-bikes to this list soon. I hope you've found this information useful and that it helps you make the right decision when buying your next e-bike. Electric bikes are a game-changer and make the joys of cycling accessible to everyone – they're great for commuting, and leisure rides and above all, they put the fun back into cycling! If you need any help or advice in choosing your e-bike, please leave a comment below and I'll be happy to help out. Thanks for reading!
If you're thinking of buying an electric bike and would like some advice from our expert, please leave a message in the comments section below. All messages are usually answered within 48 hrs.