When you purchase through links in our articles we may earn a small commission. Read our affiliate disclosure.
The word lightweight isn't something that usually springs to mind when thinking about electric bikes. Traditionally e-bikes have been very heavy, mainly down to the extra weight of the electric motor, and in particular the battery. Thanks to recent developments in technology, the best lightweight electric bikes are barely distinguishable from their unassisted counterparts.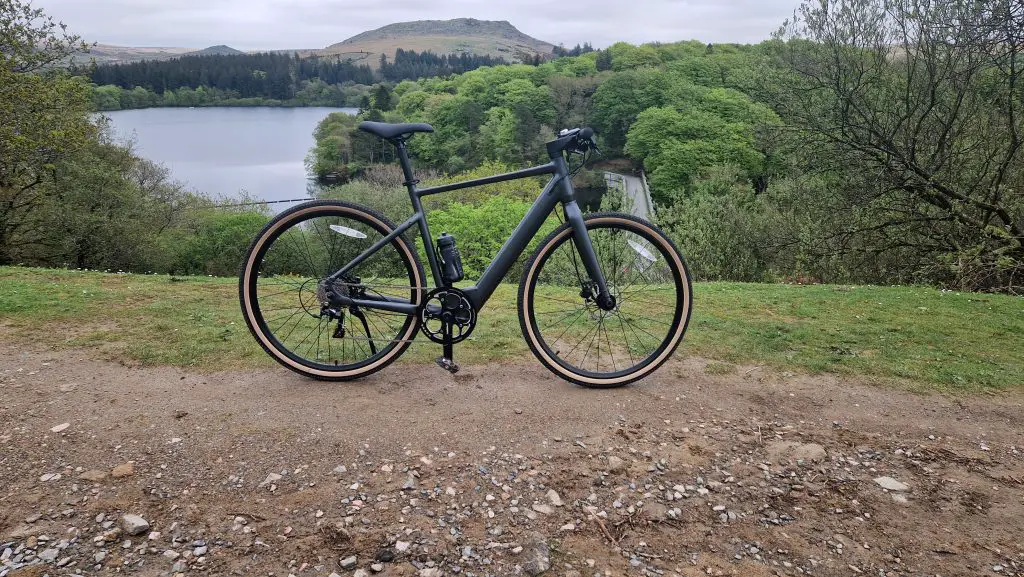 About 20 years ago, early e-bikes were still using very heavy sealed lead acid batteries, as we moved through the first decade of the 21st century, NiCAD batteries started to be used but it wasn't until this last decade we saw lithium battery technology become commonplace.
As the technology has evolved, so has the energy density of the lithium cells – put simply you can cram more power into a single cell than you could a few years back.  The upshot of this is a more powerful battery, that is not only smaller but considerably lighter.
Another big leap in technology is motor efficiency. Back in the day when e-bikes first became available, the motors used were typically heavy direct-drive hub motors. The latest generation of electric bike motors like the Fazua Evation and X35 ebikemotion are small, lightweight and efficient. Not only that, but they result in an e-bike that is practically indistinguishable from a regular bicycle.
lighter e-bikes generally appeal to people who are looking to make a return to regular cycling, or regular cyclists who want to take the edge off a hilly commute.  Either way, all the bike's featured here are well worth considering. At the bottom of this article, I have listed the key benefits of owning a lightweight electric bike.
Best Lightweight Electric Bikes in 2023
On to my list of the 12 best lightweight e-bikes, that are available in 2023. I have included quite a few 2022 models that are still available. I'll be updating this article, as and when newer versions become available. None of the e-bikes featured below are particularly cheap. There are cheaper bikes available, but I have gone with models that, in my opinion, offer the best all-around riding experience, quality and versatility.
---
Fiido C21 E-Gravel
Best budget lightweight e-bike for 2023 🥇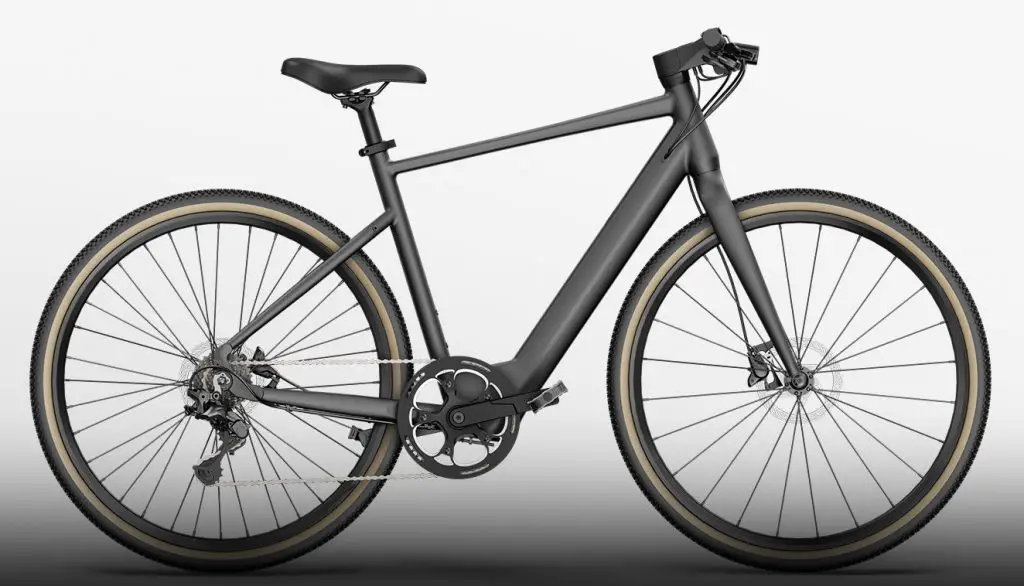 Key Features:
Mivice M080 Rear Hub Motor
208Wh Internal Battery
Up to 80 km range
Tektro Hyrdaulic Brakes
17.5 kg Weight
Approximate Price (UK) £1266 (USD) £1599 (EUR) £1458
I'm currently testing the new Fiido C21 E-Gravel and I can honestly say it's one of the best and most affordable lightweight e-bikes currently available. It features a super-smooth and quiet Mivice M080 rear hub motor which is virtually silent while providing a strong boost to your pedalling efforts. In addition, the 208Wh battery has returned me a range of 32 miles on a hilly route with range to spare at the end of the ride.
The Fiido E-Gravel boasts smartphone and smartwatch connectivity, a smart OLED colour display, Tektro hydraulic brakes and all-terrain gravel tyres. It offers a sporty but comfortable riding position and looks incredibly stylish with its smooth weld frame and internal cable routing. I can highly recommend the Fiido as its both lightweight and affordable.
---
Trek FX+ 2 🆕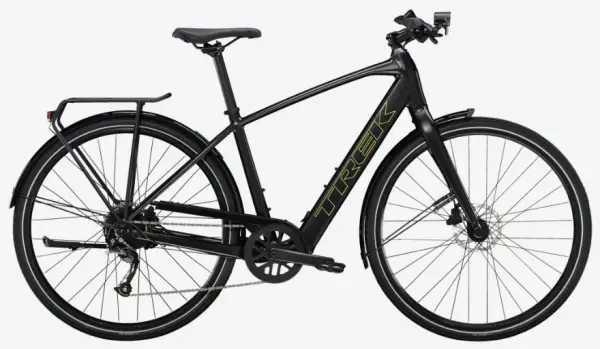 Key Features:
Heyena HyDrive 250-watt Rear Hub Motor
252Wh Internal Battery
Up to 56 km range
Hydraulic Brakes
17.5 kg Weight
Price (UK) £2250
Available direct from Trek Bikes
New for 2023, the Trek FX+ 2 looks almost indistinguishable from its unassisted counterpart. Weighing in at 17.5 kg, it's not too heavy considering the full complement of accessories fitted. The FX+ features the HyDrive motor with a 250Wh internal battery and sophisticated torque-sensing pedal assist.
This is going to be a great e-bike for commuting on, and even better for exploring the countryside. With Shimano 9-speed gearing, hydraulic brakes, mudguards, a pannier rack, lights and a kickstand, the Trek FX+ 2 wants for nothing!
---
Tenways CGO600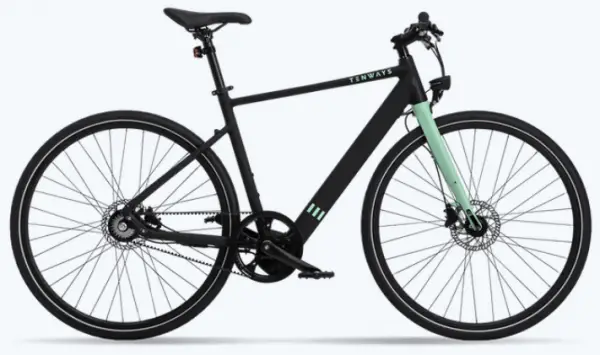 Key Features:
Mivice M070 250W Rear Hub Motor
252Wh Internal Battery
Up to 43 Miles / 70 km range (in eco mode)
Tektro Hydraulic Brakes
Gates Carbon Belt Drive
15 kg Weight
Price (UK) £1399
Available from Tenways (US, UK and EU)
The Tenways CGO660 is a lightweight single-speed e-bike that features a low-maintenance Gates Carbon belt drive. The CGO660 offers a really good spec for the price and is available in the US, EU and UK. Weighing in at just 15 kg, it's nice and light. Plus, it has a nice frame geometry, Tektro hydraulic brakes and torque-sensing pedal assist.
The motor is a 250w brushless, geared rear hub motor and the 252Wh battery is integrated into the frame. The claimed maximum range is 70 km, which should be possible in the lowest assist mode on flat roads. There's also a smartphone app which gives more detailed info, like total distance covered and range remaining.
If you're looking for a low-maintenance, lightweight e-bike and don't mind a single-speed. The Tenways CGO660 takes some beating!
---
Raleigh Trace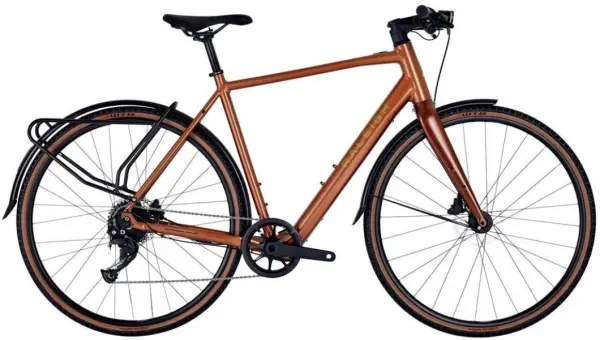 Key Features:
Mahle ebikemotion 250-watt Hub Motor
252Wh Internal Battery
30 – 80 Miles Range
Tektro Hydraulic Brakes
16.5 kg Weight
Price (UK) £2199
Iconic UK-based brand Raleigh has all but turned their back on regular bikes. Their range now comprises almost exclusively e-bikes. The Raleigh Trace is the first lightweight electric bike in their lineup, and it looks like a great option.
Featuring the Mahle X35 ebikemotion system wrapped up in a lightweight alloy frame and full carbon fork, the Trace comes in at a respectable 16.5 kg. In addition, there are quality components like Shimano Alivio 9-speed gearing and Tektro flat-mount hydraulic brakes. There are also WTB gravel tyres, mudguards, lights and a pannier rack. The Raleigh Trace is a light and practical e-bike with sporty looks.
Check out 100's nearly new e-bikes on the Pro's Closet (USA only)
---
Ribble Hybrid AL e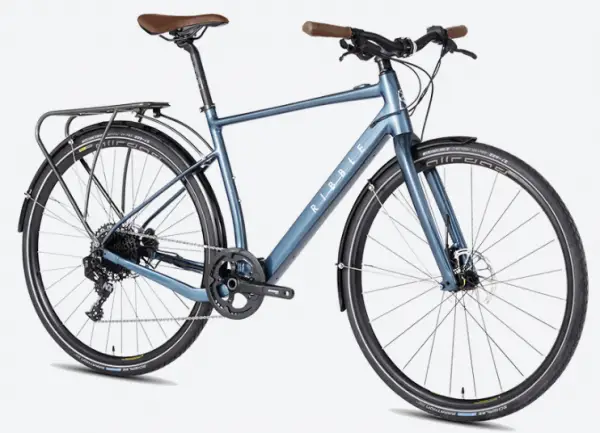 Key Features:
Mahle ebikemotion 250-watt Hub Motor
252Wh Internal Battery
30 – 80 Miles Range
Shimano MT200 Hydraulic Brakes
15 kg Weight
Price (UK) £2499
The Ribble Hybrid AL e is a popular lightweight e-bike. This 'fully loaded' version, comes complete with a rack and mudguards. Weighing in at under 15kg, it's very light for a hybrid e-bike. Featuring quality components like the excellent SRAM NX 1 x 11 gearing and Shimano hydraulic brakes. In addition, there are tough Mavic Allroad rims. The motor is the Mahle ebikemotion with a 252Wh internal battery.
Ribble has succeeded in producing a practical and versatile electric bike that not only looks great but is substantially lighter than some of the competition. Here is an e-bike that will be equally comfortable on canal paths and urban streets. Use the assist only when you need it and ride it like a regular bike any other time – the best of both worlds!
---
Specialized Turbo Vado SL 4.0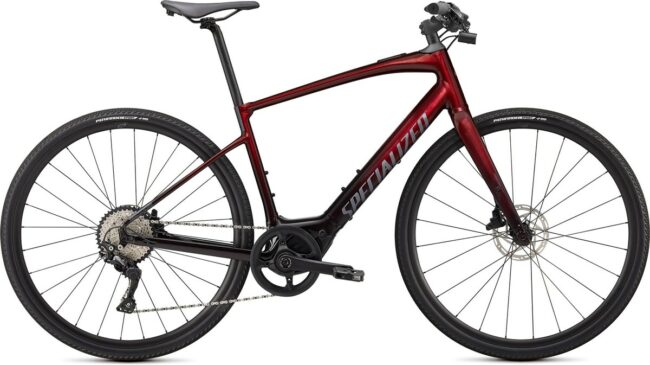 Key Features:
Specialized SL 1.1 250-watt Mid-Drive Motor
320Wh Internal Battery
40 – 80 miles Range
Tektro Hydraulic Brakes
16 kg Weight
Price (UK) £3500
Available Direct from Specialized UK)
Available direct from Specialized (USA)
The Specialized Turbo Vado SL 4.0 uses their SL 1.1 mid-drive motor, which was developed in collaboration with German company Mahle (who also makes the x35 system). Riding the Turbo Vado SL is a whole lot of fun!  What the Specialized offers, isn't a motor that takes over, but an assist system that mechanically enhances your abilities in a way that makes you feel superhuman!
Tipping the scales at just 14.9kg, the Vado SL is an easy bike to get along with. When you bear in mind the impressive 320Wh internal battery and the 1.96kg motor, you have the perfect combination of e-assist combined with a potential range of up to 80 miles. In my opinion, the Specialized Turbo Vado SL 4.0 is one of the best lightweight electric bikes available, and well worth considering if your budget allows.
---
Orbea Vibe H30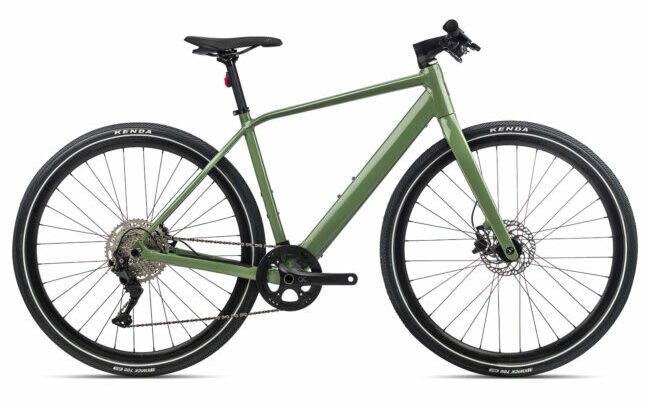 Key Features:
Mahle ebikemotion 250-watt Hub Motor
252Wh Internal Battery
30 – 80 Miles Range
Tektro Hydraulic Brakes
16.5 kg Weight
Price (UK) £1949
The Orbea Vibe H30 uses the latest version of the tried and tested Mahle X35 ebikemotion system which is a small and lightweight 250w rear hub motor and 250Wh (watt hour) internal battery. Pedal assist is provided by a magnetic sensor ring installed on the rear freehub. This ensures smooth electric assistance as and when needed.
If it's lightweight you're looking for, the Orbea Vibe H30 will fit the bill perfectly. Weighing in at under 14kg it weighs about the same as a regular hardtail mountain bike. The 42t front chainring combined with an 11-46 10-speed rear cassette gives a good spread of gears and the excellent Magura MT30 hydraulic brakes do a good job of slowing the rider down.
Check out 100's nearly new e-bikes on the Pro's Closet (USA only)
---
Cannondale Treadwell Neo 2 EQ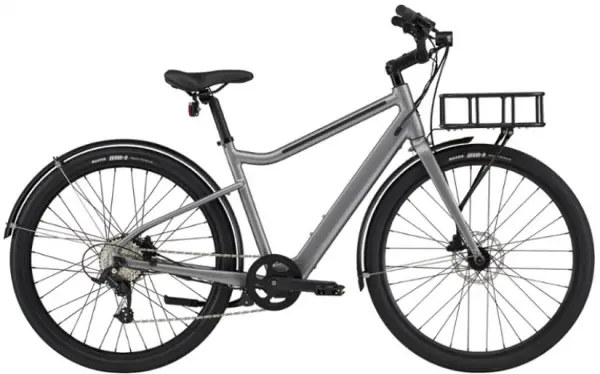 Key Features:
Mahle ebikemotion 250-watt Hub Motor
252Wh Internal Battery
30 – 80 Miles Range
Tektro Hydraulic Brakes
18.5 kg Weight
Price (UK) £2000
The Cannondale Treadwell Neo 2 EQ is a fun and practical lightweight e-bike, that's designed to be comfortable. Featuring the same torque-sensing Hydrive motor as the Trek, the Cannondale is a practical urban hybrid e-bike, that has the added feature of a large front basket for carrying things like shopping bags.
It's a nice-looking e-bike with relaxed frame geometry and durable 650b wheels with wide 47c tyres. Perfect for riding on tarmac, or ideal if you want to venture off the beaten track. Other features include powerful Tektro HD-R280 hydraulic disc brakes and Microshift 8-speed gearing. If it's a comfy urban bike you're after, the Cannondale Treadwell Neo 2 EQ is worth considering.
---
Vitus Mach E Urban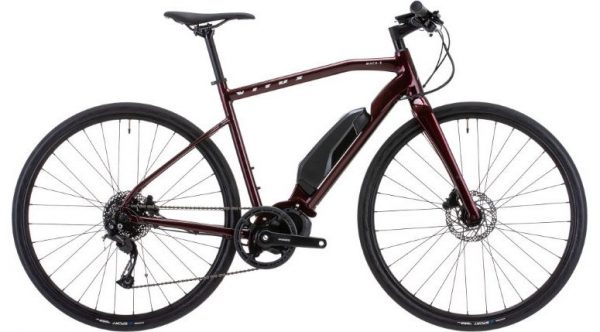 Key Features:
Shimano Steps E6100 Mid-Drive Motor
504Wh Removable Battery
80-100 Miles Range (in eco mode)
Shimano MT200 Hydraulic Brakes
17.5 kg Weight
£1729
Available from Chain Reaction Cycles
The Vitus Mach E Urban is a well-made e-bike. The 6061 alloy frame has a relaxed geometry and is finished with smooth welds and great paintwork. It also comes with a full-carbon fork and tough 700c wheels with thru-axles. I owned an earlier model for 12 months and in that time covered nearly 2000 trouble-free miles. The Shimano Steps E6100 will get you up almost any hill. And, the 504Wh battery will get you 50-70 miles between charges.
The Mach E weighs in at just over 17 kg, which is very light for a mid-drive e-bike. It's a great all-rounder and at the current price is unbeatable. Based on my personal experience, I cannot recommend this bike highly enough.
---
Kinesis Lyfe Equipped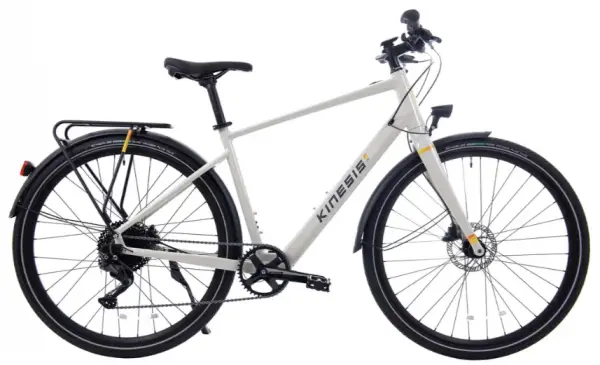 Key Features:
Mahle ebikemotion 250-watt Hub Motor
252Wh Internal Battery
30 – 80 Miles Range
Tektro Hydraulic Brakes
17 kg Weight
Price (UK) £1640
Kinesis are a UK brand whose focus has been designing bikes with the British rider in mind. Their range of e-bikes includes the Kinesis Lyfe Equipped, which is a lightweight e-bike aimed at commuters or weekend leisure riders. The Lyfe features the Mahle X35 motor with a very nice alloy frameset with a tapered fork.
There are also some quality components, like Shimano Deore 10-speed gearing and hydraulic disc brakes. Plus, it's fully equipped with front and rear lights, mudguards, a pannier rack and a kickstand. At its current discounted price of £1640, it's an absolute bargain!
---
Ortler Speeder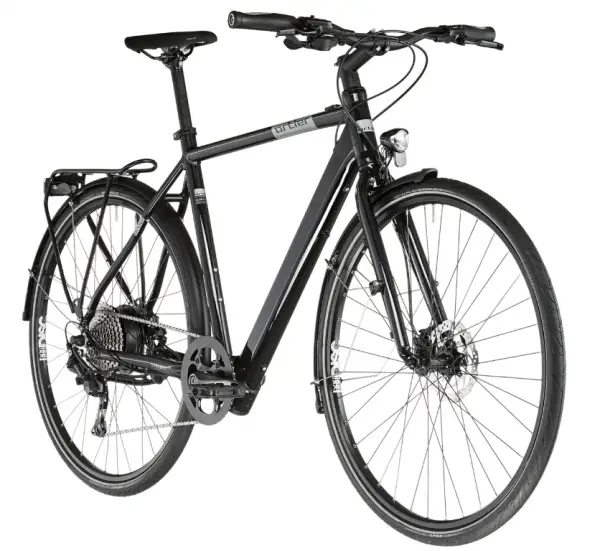 Key Features:
Bafang G20 250-watt Hub Motor
252Wh Internal Battery
30-60 Miles
Shimano MT200 Hydraulic Brakes
19.2 kg Weight
Price (UK) £1429
I've included the Ortler Speeder, as I recently acquired one of these in part exchange for another e-bike. So far, I have covered over 300 miles on it, and it's a cracking bike for the current price of around £1200 plus delivery.
Featuring a Bafang G20 rear hub motor, torque-sensing pedal assist, and a 252Wh internal battery, the Speeder is reasonably lightweight and very nice to ride. In addition, the Speeder is adorned with some very high-quality components. There is Shimano Deore 10-speed gearing, Shimano hydraulic brakes, Ergon grips, Velo saddle, SKS mudguards and more. The motor is smooth and efficient and it feels like you're riding a regular bike without the assist activated.
---
Boardman HYB 8.9e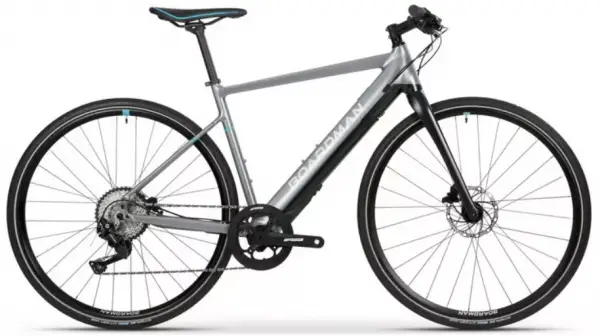 Key Features:
Fazua Evation 250-watt Mid-Drive
252Wh Internal Battery
40-80 Miles Range
Tektro Hydraulic Brakes
16 kg Weight
Price (UK) £2299
The Boardman HYB 8.9e has been around for a few years now and remains unchanged. It is, however still an excellent option in 2023 and has loads of positive customer reviews. It uses the excellent Fazua Evation drive system, and the total bike weighs in at under 16kg. Better still, if you want to ride without the motor and battery, you can remove it in seconds, fit a blanking plate (optional extra) and away you go!
There are some nice components fitted to the Boardman, including a Shimano Deore M6000 1 x 10 drivetrain, and Tektro hydraulic disc brakes. It's a well-designed bike, that can comfortably handle a mixture of terrain. It's a bit heavier than the Ribble and lighter than the Trek. But, it has the benefit of an easily removable drive system and battery.
---
Benefits of Owning a Lightweight E-Bike
Owning a lightweight e-bike is a particularly good idea if you have trouble lugging heavy items around. One of the first questions a lot of my customers used to ask me was 'How heavy will my bike be' after I had fitted a conversion kit.  Another thing to think about is a lot of bike racks made for cars have a weight limit, and a lot of modern e-bikes exceed this limit. Below I have listed four of the key benefits of owning a lightweight electric bike.
Ease of transportation
With the difference in weight being as much as 10kg, owning a sub-15kg electric bike is going to make life a lot easier, particularly if you want to put your e-bike on a car rack or you live in a flat and have to take your bike upstairs. They're also a lot easier to cart around especially if you take your bike on a train from time to time.
Easy to pedal with the motor switched off
Most regular hybrid e-bikes that weigh more than 20kg can be pedalled with the assist off, but the extra weight quickly becomes a burden, even on the slightest hill – you will feel like you are cycling with a couple of panniers loaded with shopping!
When riding a lightweight electric bike, pedalling with the motor off isn't an issue. All the lighter e-bikes I have tested feel like regular bikes and the moderately extra weight doesn't impact the overall riding feel.
Increased efficiency
Most lightweight e-bikes have lower-capacity batteries by design.  There are a couple of reasons for this – the main one is to keep the weight down, and the second is so the battery can be neatly integrated into the frame.
Lower overall weight will improve the efficiency of the motor, as it will not need to work so hard to produce the assist. 8-10kg can make one hell of a difference to a 250w motor.
Despite the relatively low energy capacity of the batteries fitted to lightweight e-bikes, there are many ways you can increase your range without having to buy a spare battery.
An e-bike that looks like a regular bike
All of the bikes featured in this article don't look like electric bikes. This can have a few benefits – from an aesthetics point of view these bikes look a lot neater, and there's no large battery pack dominating the frame. Also, they are less likely to be targeted by would-be thieves.
Another thing is, there is still a bit of isolated snobbery within the cycling community regarding e-bikes and some riders don't want to ride a bike that shouts out 'I'M RIDING AN E-BIKE'. Personally, any cyclist who knocks someone for riding an electric bike is a backwards-thinking idiot and shouldn't be given the time of day!
Great for commuting
Lightweight electric bikes are perfect for commuters who only want to use the electric assist to help with hills. Because there's very little weight penalty (when compared with regular bikes), you still have the feel of a normal bike when riding without assistance. There are several lightweight models in my article featuring the best electric bikes for commuting.
Conclusion
Owning a lightweight electric bike isn't going to be for everyone. There are certain compromises like motor power and battery range, that will put a lot of people off. But, for me, the benefits far outweigh the negatives. I've ridden lots of light e-bikes and I prefer them. They're like having a good old-fashioned regular bicycle with the benefit of a helping hand on longer rides. You still get a good workout, and you can still easily pedal beyond the assist cut-off. What these bikes do is help to reduce fatigue and put the fun back into cycling.
Thanks for reading, and if you need any help or advice choosing the right electric bike, please leave a message in the comments below and I will aim to reply within 24hrs.