If you're looking for the ultimate e-bike for fast commuting and weekend adventures, electric gravel bikes combine the best of both worlds. Swift on the road but capable of exploring rougher terrain, the gravel e-bike is fun but practical. In this article, I will recommend 11 of the best electric gravel bikes for 2023 and look at some exciting new tech used on these bikes.
The 11 best electric gravel bikes for 2023
What are gravel bikes?
The gravel bike is an amalgamation of designs from various disciplines – mountain, road and cyclocross bikes. Designers have integrated the best design cues from all three into one versatile machine.
Gravel bikes first became popular in the United States due to the thousands of miles of deserted gravel tracks crisscrossing the vast wilderness and the fire roads designed to allow access to fire trucks in remote forest plantations.
Typically, a gravel bike will have a much more relaxed frame geometry, more akin to a mountain bike, but with the advantage of being much quicker, particularly on compacted gravel surfaces and forest trails. They also have more clearance for wider tyres. – It's not uncommon to see gravel bikes with 47mm wide tyres.
Why buy an electric gravel bike?
If you commute by bike in the UK, US, or anywhere, it's unlikely that your daily commuting route will be free from potholes, road debris and other road surface hazards. Anyone who has ever ridden a bike with slick 25mm tyres on the average British road will know the ever-present dangers of poorly maintained surfaces.
Electric gravel bikes offer the perfect solution for this problem. With wide all-terrain tyres and hydraulic disc brakes, these bikes are designed to be versatile. Whether commuting through a wet British winter or going on a summer adventure, gravel e-bikes are great fun!
New gravel e-bike tech for 2023
It seems that things stagnated for a couple of years, but in 2022, things started to happen. This new tech will be filtering through to e-bikes in 2023. On the motor front, German company TQ rolled out their new e-bike system, which delivers a lighter, smoother and quieter experience. Mahle launched the X20 with torque sensing assist and a cableless motor connection for the rear wheel dropout. And Shimano introduced a wireless Di2 version of the popular 105 road groupset.
TQ-HPR50 motor
The new TQ-HPR50 crank motor was quickly adopted for e-gravel and e-MTB applications, where lightweight was required. This motor weighs only 1.8kg and fits in an oversized bottom bracket shell. It produces 300 watts of peak power and 50Nm torque and has an integrated 360Wh battery.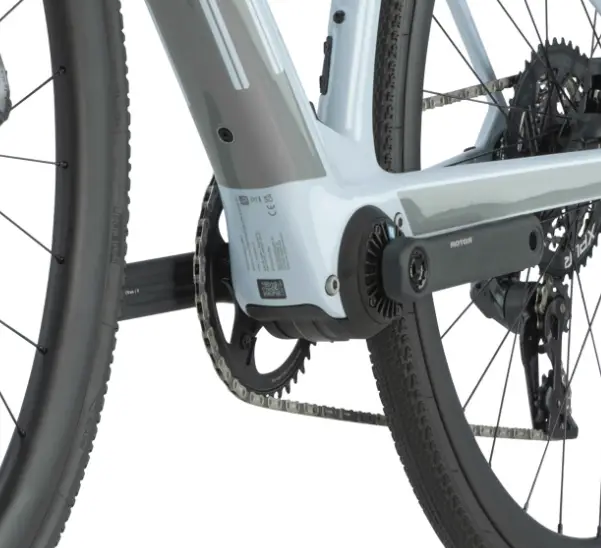 This new e-bike system has already been adopted by some of the biggest names in cycling – Scott, Trek and BMC, to name but a few. Early reports suggest it's an absolute gem of a motor and takes the gravel e-biking to another level. It is near silent in operation and offers zero resistance when not in use. Over the next few years, we'll likely see this motor fitted to many of the best electric gravel bikes on the market.
Mahle X20
This new motor from Mahle will eventually replace the older X35. The new X20 motor system is lighter at only 3.2 kg (including battery). Other significant improvements include a torque-sensing pedal assist and a wireless connector on the dropouts. Major manufacturers like BMC are already adopting this system.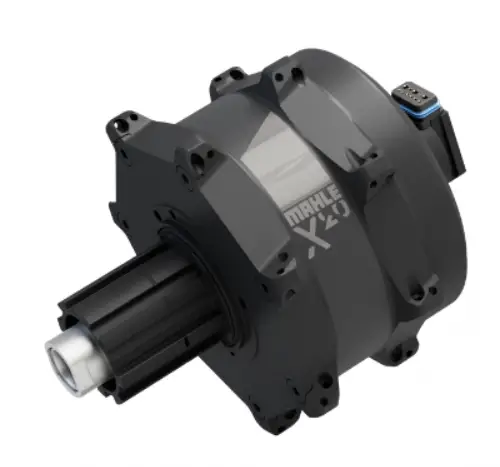 New wireless groupsets
Gearing options are now off the chart! With prices decreasing significantly on wireless shifting, cheaper and cheaper gravel e-bikes will have this option. You have SRAM Rival 1 AXS with an option for 10-45 cassette, or you could have a 'mullet' drivetrain using the Rival AXS shifters paired with a GX mountain bike mech and 10-52 cassette for a mega low gear.
Shimano GRX Di2 has been around for a while, but their new 105 Di2 drivetrains will work with an 11-36 cassette, making it suitable for some gravel applications.
What are gravel-specific components?
As they are designed for road and off-road riding, gravel bikes tend to use components suited to both. Typically, gearing will be lower, and using subcompact cranksets or 1 x drivetrains is the norm. Hydraulic disc brakes are also fitted as standard to most electric gravel bikes. Many gravel-specific e-bikes have a 650b wheel size with tubeless tyres, which can be run at lower pressures.
Gearing
Electric gravel bikes typically use sub-compact cranksets or 1 x gearing like their counterparts. A typical road bike will have a 50/34 compact crankset with an 11-28 rear cassette, whereas a gravel bike will likely have a 48/32 or 46/30 sub-compact crankset combined with an 11-32 or 11-34 cassette. This gives the rider much lower gear for tackling steep technical off-road climbs without getting out of the saddle (thus losing traction on the rear wheel).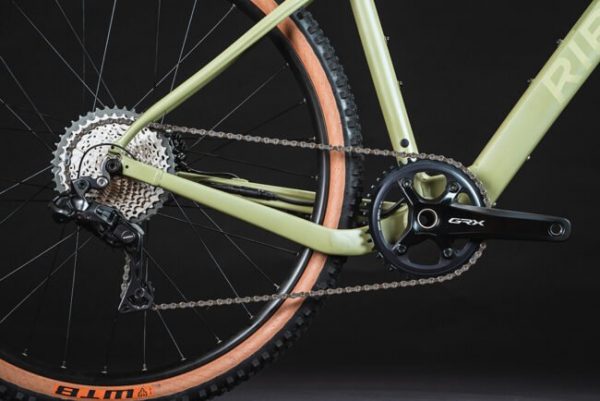 1 x Drivetrains are also very common on gravel bikes. These typically have a 42t front chainring and an 11-42t rear cassette. One of the main benefits of this kind of setup is simplicity and a small weight saving. 1 x drivetrains are almost universal on higher-end mountain bikes and gravel bikes.
With the new wireless groupsets available, particularly from SRAM, there's the possibility to mix and match with mountain bike components for an even bigger gear range. Even Campagnolo have got in on the action with their excellent 13-speed Ekar gravel groupset.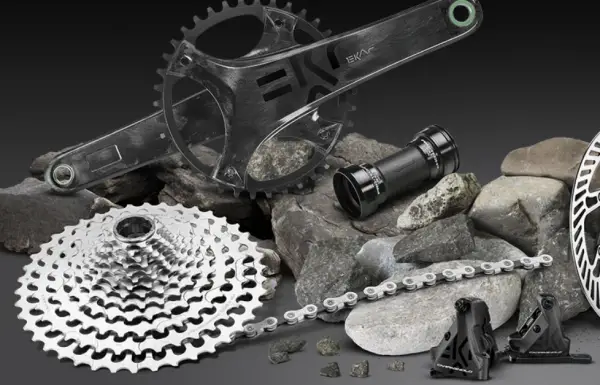 Wheels and tyres
Many of the latest gravel bikes will have 650b wheels fitted, although 700c is still widely used. The main advantage of 650b is the slightly smaller diameter and wider rim, making for a more robust wheel capable of handling the rough and tumble of off-road riding. A typical gravel tyre will be 650b x 47, and most can be run tubeless, meaning they can be used at the preferred lower pressures without worrying about getting pinch flats.
Gravel tyres will have a greater weight and rolling resistance, which will be especially noticeable when riding on tarmac. Still, I've ridden quite a few, and I feel that for the everyday rider, this is negligible. Larger volume tyres with many treads are also good for riding an e-bike in the winter.
Finishing kit
Because of the need for greater control (particularly when descending), gravel bikes generally have flared drop handlebars and shorter stems.
Flared bars have a drop bar portion wider than the maximum bar width at the hoods. This design was first seen on touring bikes in the '70's'70s and '80's'80s. This wider grip allows for greater control on technical descents. Some gravel bars are slightly flared, and some will be substantially flared (almost like moustache handlebars).
Dropper seat posts are also becoming quite common on high-end gravel bikes. This makes perfect sense, especially useful for technical descents.
Because gravel bikes are designed for off-road adventures, most will have provisions for mounting mudguards, front and rear pannier racks and multiple bottle cages.
What are the top 20 electric bike FAQs?
Can I use a gravel e-bike for touring?
Electric gravel bikes make excellent touring/bike-packing bikes. They're designed to go places regular road bikes can't, and their robust design makes them particularly suitable for touring and bikepacking. The only consideration would be the battery range. For more information, please read my article on the best electric bike for bikepacking.
Most electric gravel bikes below have a smaller internal battery to keep weight down. But, because these bikes are so light, they're very efficient. I have managed to squeeze nearly 100 miles out of a charge on the Ribble Gravel AL e I'm currently testing.
Electric gravel bikes are perfect for touring if you use the e-assist only when needed. Apart from the above benefits, you can also fit front and rear pannier racks, mudguards and bottle cages.
So, here are – my recommendations for the best electric gravel bikes in 2023. I have included some of the latest models, although some have remained unchanged from last year.
---
Trek Domane+ SLR 7 eTap
Best gravel e-bike for road riding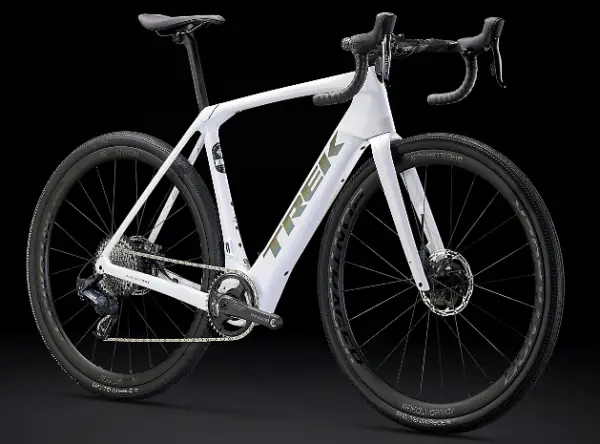 Key Facts
Carbon frame
TQ-HPR50 cranks motor
360Wh battery
SRAM Force eTap AXS
12.5 kg
Price: £8900
The Trek Domane+ SLR 7 sits near the top of the range in the new 2023 Domane+ range. It's designed to be a crossover bike suitable for endurance and milder gravel riding. It comes as standard with 40 mm tyres, rolling on Bontrager Aeolus Pro 3V carbon rims, making it versatile.
The latest cutting-edge technology features the TQ-HPR50 crank motor with a 360Wh internal battery. The Domane+ is the perfect fusion of bike and technology. This model has the excellent SRAM Force eTap AXS 1 x 12 electronic groupset, with a 10-44 cassette and XPLR long-cage mech.
Weighing in at just 12.50 kg, it's very light, especially considering the battery capacity. This is a true, long-distance mile muncher and should be just as easy to ride without assistance. The US version will assist up to 20 mph, and the UK / EU version will be 15.5 mph (25 km/h). I'll have to see if I can get ahold of one of these to review later this year, as it looks like a cracking bike!
---
Kona Rove HD
Best Cheap Electric Gravel Bike
Key Facts
Aluminium frame
Suntour HD rear hub motor
418Wh battery
Shimano Claris 8-speed
WTB SX19 rims
TRP Spyre-C mechanical disc brakes
Price: £2099
The Kona Rove HD is part of Kona's new budget e-bike range for 2023. This is great news for riders who don't want to spend a small fortune but still want a capable gravel e-bike from a world-class brand like Kona. This model features the excellent Suntour HD 250-watt rear hub motor, which uses a sophisticated torque sensor to measure pedalling input. In addition, there's a substantial 418Wh battery. Components include a 38t front chainring with a Shimano Claris 8-speed rear derailleur and an 11-32 cassette. The brakes are Tektro Spyre-C mechanical callipers with 180mm rotors. Wheels are WTB SX19 rims with Shimano hub upfront and WTB Horizon Comp 650b x 47.
I like the look of this new e-bike from Kona. With a retail price of £2095, it will be a great option for those on a budget while offering a solid entry to the world of electric gravel bikes.
---
Scott Solace Gravel eRide 20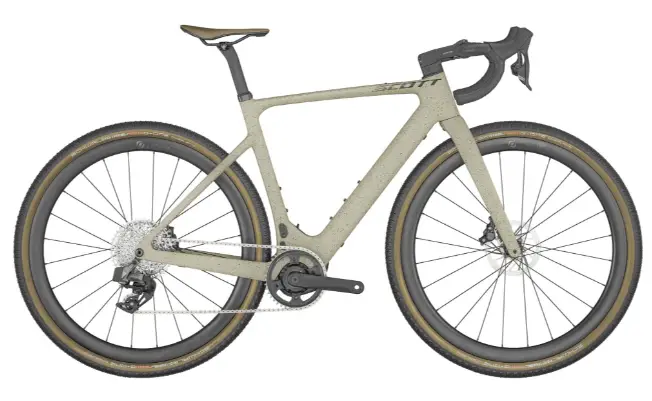 Key Facts
Carbon frame
TQ-HPR50 cranks motor
360Wh battery
SRAM Rival AXS XPLR
13.34 kg
Price: £7299
The Scott Solace is a completely new gravel e-bike for 2023 and benefits from the same TQ motor and 360Wh battery as the Trek. It features a full carbon frame, fork, and SRAM's Rival 1 AXS XPLR wireless gravel groupset. The Scott is more of a pure gravel bike (as opposed to the Trek above) and uses 650b wheels wrapped in trail-busting 50mm tyres. The geometry is more off-road friendly with a slack 71-degree head angle and a slightly longer wheelbase (than the Trek).
It's a great-looking e-bike and weighs in at just 13.34 kg, which is pretty good, considering the big tyres. Currently priced at £6995, it's one of the more expensive options. I have checked, and it's not currently in stock online, but it should be available in time for Spring.
---
BMC Roadmachine 01 AMP X One
Key Facts
Carbon frame
TQ-HPR50 cranks motor
360Wh battery
SRAM Force 1 AXS XPLR
12.5 kg
Price: £8100
Another brand-new e-bike for 2023, the BMC 01 AMP X, is aimed at the same market as the Trek. It's more of an endurance bike, with clearance for 38mm tyres. It will be great for long road rides, with rougher surfaces thrown into the mix.
This is the third bike here to feature the new TQ-HPR50 motor and 360Wh battery. The drivetrain is the same SRAM Force 1 AXS XPLR used on the Trek. The BMC uses some quality finishing kit, like a D-shaped carbon seat post and Redshift suspension stem, to help reduce fatigue on rough surfaces.
A quality brand like BMC is typically expensive and priced at €8499 or £8100 in the UK. It looks like a fantastic e-bike that will have good road manners and be able to handle a bit of the rough stuff.
---
Orro Terra E GRX600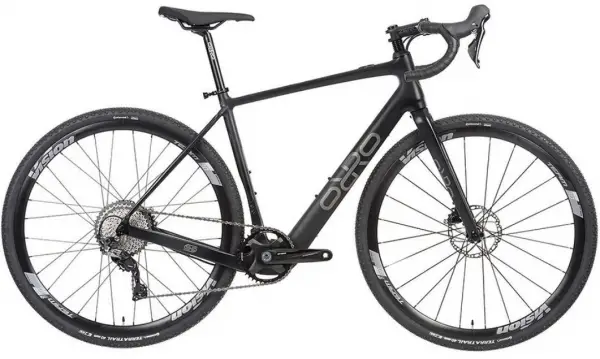 Key Facts
Carbon frame
FSA HM 1.0 rear hub motor
252Wh battery
Shimano GRX600
13.4 kg
Price: £3899.99
The 2023 Orro Terra E GRX600 is the only gravel e-bike on this list that uses the FSA HM 1.0 e-assist system. It's very similar to the original Mahle X35 in weight (slightly heavier at 3.98kg) and battery capacity (252Wh) but has a torque sensor. The hub is slightly larger, and the top tube control is similar in functionality. This system was released in 2021 and has been used by Pinarello on some e-bikes.
It features a full carbon frame and fork, a mixture of Shimano GRX components, Vision rims with rast-rolling Continental Terra Trail 40c tyres and a quality FSA finishing kit. Costing £3899.99, the Orro Terra E is reasonably priced for a full carbon gravel e-bike. There's also a range extender battery available.
Orro has a fine pedigree for gravel bikes, and If you're in the market for a lightweight carbon gravel e-bike, it's well worth considering.
---
Ribble Gravel AL e
Key Facts
Alloy frame
X35 ebikemotion hub motor
252Wh battery
Shimano GRX groupset (Di2 option available)
14 kg
Price: £2799 – £4399
I recently had a Ribble Gravel AL e on loan from Ribble Cycles. It's a capable e-bike and is a great all-rounder. It features the Mahle X35 ebikemotion motor with a 252Wh internal battery. The Gravel AL e is at home on tarmac or rock-strewn single track.
I covered over 300 miles on it over the winter months, including a couple of rides on Dartmoor, and I'm impressed with how it handles rougher terrain. Another big plus point is it's fairly light at 14 kg. That's about 4 kg heavier than my regular gravel bike, and you don't notice the extra weight that much on the road. Another plus is I found it very comfortable.
My test model has the Shimano GRX 400 groupset with 46/30 crankset and 11-34 cassette – I've found this gearing okay for moderate trails, but it does struggle a bit on steep, technical sections. If you have deeper pockets, there's a GRX Di2 version. It's a great gravel e-bike and one of the cheaper options available.
Watch my YouTube video review.
---
Vitus E-Substance Alloy Gravel E-Bike
Best Value Fazua-Powered Gravel E-Bike
Key Facts
Fazua Ride 50 Trail motor
252Wh battery
SRAM Apex 1 x 11
15.3 kg
Price: £2629.99
French company Vitus makes quality bikes sold exclusively through Wiggle and Chain Reaction Cycles. For 2023, their gravel e-bike range hasn't changed but offers exceptional value for money.
Their Vitus E-Substance Alloy gravel e-bike features SRAM Apex 1 x 11 drivetrain with Prime Kanza 650b wheelset wrapped in Maxxis Rambler 47c gravel tyres. Power is provided by the latest Fazua Ride 50 Trail, which has 10% more power and 6% less weight than its predecessor. It's also more efficient, which will marginally improve battery range.
The E-Substance Alloy is one of the best all-around gravel e-bikes available for the price and is currently on offer for £2629.99, which is an absolute bargain and well worth considering.
---
Giant Revolt E+ Pro XR
Best Electric Gravel Bike for Battery Range
Key Facts
Alloy frame
Shimano EP8 motor
500Wh battery
Shimano Di2 GRX
17.5 kg
Price: £4499
The 2023 Giant Revolt E+ Pro XR remains largely unchanged from last year's model. It still uses Shimano's excellent EP8 mid-drive motor, which boasts a maximum of 85Nm and a massive 400% assist in full power mode – like the Sync Drive motor of old, it's been tuned specifically for this bike. Another great feature is the use of Shimano GRX Di2 wireless shifting, which doubles up as a control of the electric assist.
There's no display, but the RideControl Go panel is neatly integrated into the top tube. Electric assist is controlled using the left-hand shifter, and there's ANT+ connectivity to pair a compatible bike computer (like a Garmin). The brakes are GRX hydraulics, large 180mm diameter front and back rotors, and 700 x 40c Maxxis Receptor Evo tyres. Finishing off the package is a 500Wh downtube integrated battery, which should give a realistic range of 60-70 miles.
I like the look of the Giant Revolt E+, and having that Shimano EP8 motor is a big plus for me. It can be fine-tuned using the Shimano e-tube app, allowing you to change performance characteristics and other parameters to suit your needs.
---
Specialized Turbo Creo SL Comp Carbon Evo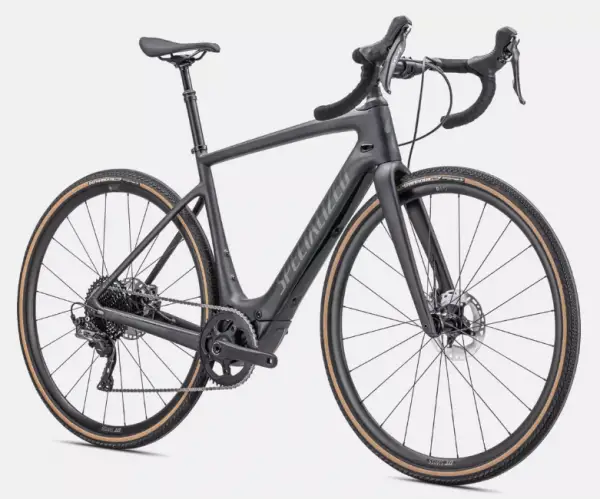 Key Facts
Carbon frame
Specialized SL 1.1 motor
340Wh battery
Shimano GRX
12.8 kg
Price: £6250
The Specialized Turbo Creo SL comp carbon evo remains unchanged for 2023, but it's still a cracking e-bike despite new competition. It uses its own SL 1.1 mid-drive electric motor, developed by Brose, specifically for its Turbo Creo range of e-road and gravel bikes. This motor is an absolute gem, almost whisper quiet, and produces seamless assistance when needed.
The 340Wh battery gives a potential assisted range of up to 80 miles (in the lowest setting) – you can even purchase an additional range extender, making the Turbo Creo SL a potential long-distance touring machine. A built-in power meter will transmit data to an ANT+ head unit like the Wahoo Elemnt Bolt. The mission control smartphone app lets you fine-tune your power settings to suit your riding style.
Apart from the usual Shimano GRX components, you have the addition of the excellent Future Shock 2.0, which gives you a small amount of front suspension that can be easily adjusted via a knob on top of the stem. This removes the sting from the lumps and bumps associated with rough terrain and reduces rider fatigue over longer distances. I've tried it, and it does the job! Another excellent feature is adding a dropper seat post – something you rarely find on other electric gravel bikes.
The Specialized Turbo Creo SL comp carbon evo is expensive, but the price hasn't prevented it from being one of their best-selling e-bikes. I see a surprising amount of these on the roads, and some riders in my local cycling club use them. It's a great e-bike that's equally good on the road or gravel and worth considering if your budget allows it.
---
GT eGrade AMP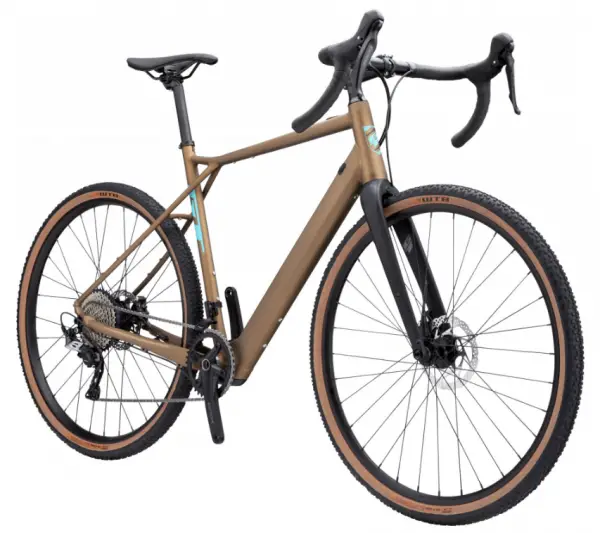 Key Facts
Alloy frame
Mahle X35 rear hub motor
252Wh battery
Shimano GRX 1 x 11
14.5 kg
Price: £2900
The GT eGrade AMP is another lightweight gravel e-bike from the iconic mountain bike brand. GT Cycles have been making gravel bikes for a good few years, and the regular-grade gravel bike has been one of their best sellers. The eGrade uses the same frame geometry as its non-assisted counterparts. It benefits from Shimano GRX 1 x 11 groupset with a gravel-specific wheelset and WTB Resolute 700 x 42c tubeless-ready tyres.
Like many other bikes featured here, the GT eGrade AMP uses the super light x35 ebikemotion, which helps keep the total bike weight below 14kg. I like the understated styling of the GT and the classic 'triple triangle' frame design, which increases stiffness, response and durability.
I can see the GT eGrade AMP being a very popular choice for gravel e-bikes – it's very competitively priced and will be a tough workhorse ready to take on forest trails, single track or a spot of bikepacking. A much cheaper flat handlebar version is also available (£2300) – read the full GT eGrade Current review.
---
Cannondale Topstone Neo SL 2
Key Facts
Aluminium frame
Mahle X35 rear hub motor
252Wh battery
Shimano GRX 400
14 kg
Price: £2950
The Cannondale Topstone Neo SL 2 hasn't changed much since 2021, but it's still a great option for under £3000 / $3000. Its lightweight alloy frame and durable Shimano GRX components make it a great entry into the world of gravel e-bikes.
Featuring the tried and tested Mahle X35 system, it's smooth and quiet and provides just the right amount of assistance when you need it. Shimano GRX400 is ideal for a mix of road riding and gravel; top gear is high enough for descending and riding on the flat, and the 30/34 low gear combination is ideal for those steeper climbs. The WTB Resolute 700 x 42 tyres will be great for hardpack gravel and smoother single track.
It's a tidy package, and although it doesn't feature any of the latest tech, at £2950, it's one of the cheaper options here and well worth considering.
---
Conclusion
Gravel bikes have polarised opinions within the cycling community. Some see them as a big brands' marketing ploy, while others praise them. Love or hate them, gravel bikes are here to stay and having e-assist adds a whole other dimension of fun and practicality.
The best electric gravel bikes are designed for exploring different terrains while being light enough to pedal without electric assistance if the battery runs out. They are the ultimate 'do-it-all' bike for weekend adventures. For now, I'm happy to stick with my regular unassisted gravel bike, but I would consider buying one in the future.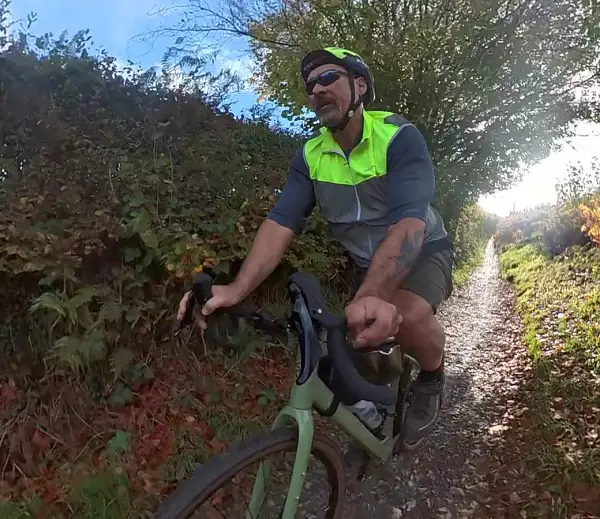 Thank you for reading this article; if you have any questions or need any advice before purchasing, please comment below, and I will reply within 24hrs.