This Fiido X review is based on six months of regular usage during winter in the UK; I'll share the good and bad points I've noticed. What's it like to live with on a day-to-day basis? How good is the battery range? Is It any good on hills? All these questions and more will be answered below.
Skip to product specifications
Key features
Unique Frame Design
Torque-Sensing Pedal Assist
Keyless Security
Wireless Battery Connection
Improved Primary Locking Mechanism
In the interest of full disclosure, the Fiido X reviewed in this article was generously provided to me by Fiido. This gesture, however, does not influence my opinions, and the ensuing evaluation remains impartial, reflecting my genuine experience and assessment of the product.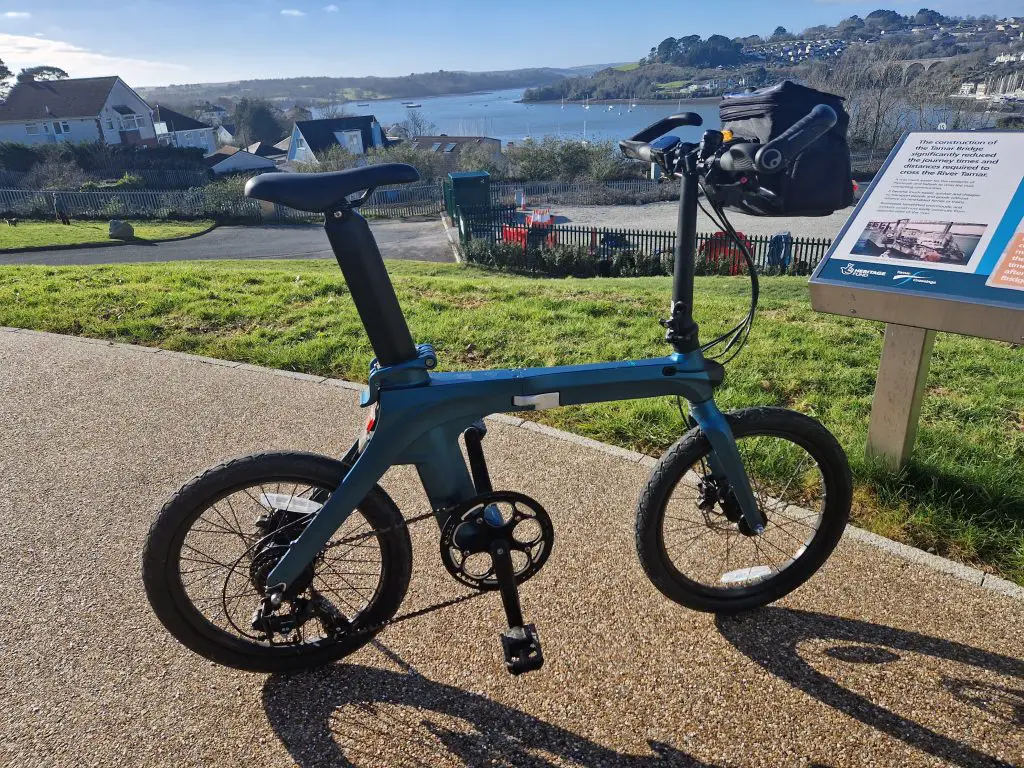 The Fiido X is a lightweight, feature-packed, folding e-bike that has great specifications for the price. The first thing you notice about the Fiido is its unique frame – the sleek design wouldn't look out of place in a Sci-Fi film! In addition, many features are not usually found on folding e-bikes at this price point. Most notably, the torque-sensing pedal assist, near silent motor, wireless battery connector and security keypad.
Unboxing and assembly
Inside the box, the bike was very well protected with lots of foam and cardboard. The package includes a toolkit, mudguards, charger with UK plug adaptor and instruction manual.
The assembly was very straightforward and took me about 15 minutes. You don't need any special tools, as Fiido include a toolkit. The seatpost battery must be inserted and locked in place, and the pedals must be fitted (clearly marked left and right). Then, all you need to do is adjust everything to suit your size. The Fiido X comes with easy-to-understand instructions on the assembly process.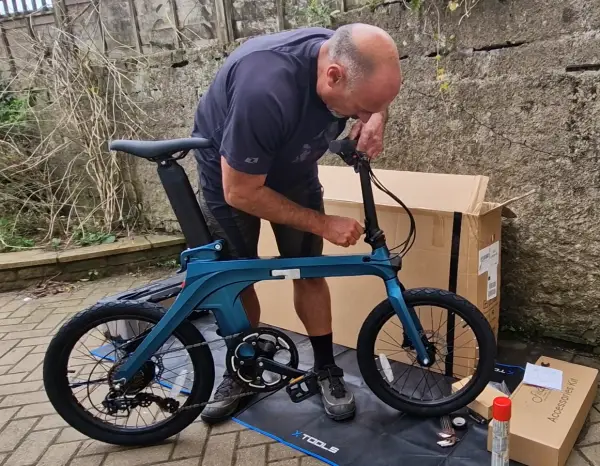 The battery will come partially charged, and you should fully charge it before first use. Once the battery is charged, the bike is switched on using the keypad (located just below the tail light). You long-press the power key, and when you hear the beep, enter the 5-digit code followed by a short press of the power key, and the display should power up.
Motor performance
I was sent the 350w version, although it has been limited to 25 km/h. One of the first things I noticed was how quiet and smooth the motor is. I'm used to audible hub motors, but this motor is practically silent  (it's as quiet as the X35 ebikemotion motor). The motor is made by a well-established company called Aikema, and I would go as far as to say it's one the best small hub motors I've tested on any e-bike to date.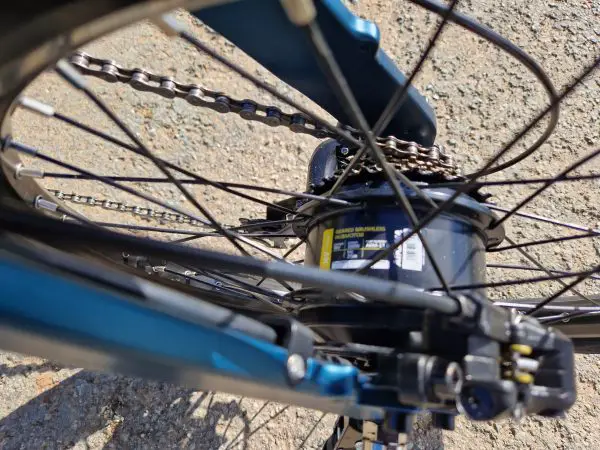 Pedal assist responsiveness is another area where the Fiido X V2 exceeded my expectations. I have ridden hub motors with a torque-sensing pedal assist before, but the system used here is very good. The Fiido uses a torque-sensing bottom bracket, which measures the pedalling force (and cadence) from the rider to provide the right amount of assistance. This system is super smooth and reactive to even the smallest change in your pedalling efforts – full marks!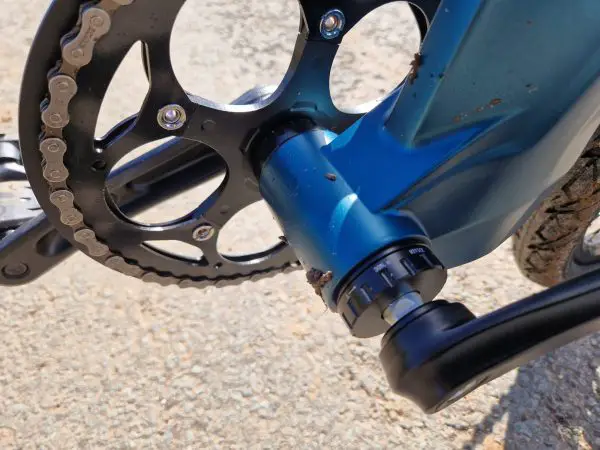 It's all very well having a quiet motor and smooth pedal assist if the motor doesn't provide much help! Thankfully, the Fiido X performed very well in this respect. On my test ride, I didn't need to go above assist level 2 (out of 3 available) on the moderate climbs; it was only on the steeper climbs that the small motor started to struggle. Watch my Fiido X hill climb test video.
There is no noticeable drag from the motor with the assist switched off. If you live in a flatter area and only need the assist for hills, you'd have no problem riding the Fiido X without power. Or, if you run out of battery a few miles from home, pedalling wouldn't be too much of a problem.
The display is small but functional. It shows the current speed, battery level and assist mode. Plus, it records trip distance. It is set at km/h by default but can easily be switched to mph. My only complaint here is it's not easy to read in direct sunlight.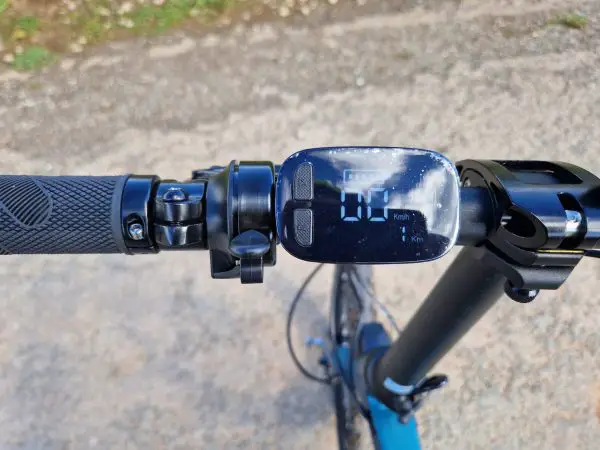 Regarding battery range. Based on my initial test ride, things look promising. The 417Wh battery uses DMEGC cells – these are comparable in performance to the Samsung 35E and are made by one of China's biggest lithium battery producers. Just before the end of the test ride, I lost one bar from the battery indicator – this would suggest a real-world range of between 40-50 miles (considering my weight and the hilly route).
Bike components
I've never heard of Radius hydraulic brakes, but I'm impressed with their performance. They're comparable to the Shimano MT200s – I didn't experience any brake fade on steep descents. I tried an emergency stop from 20 mph, and they brought the Fiido to a swift standstill. After three months of regular use, they still perform well and wear less.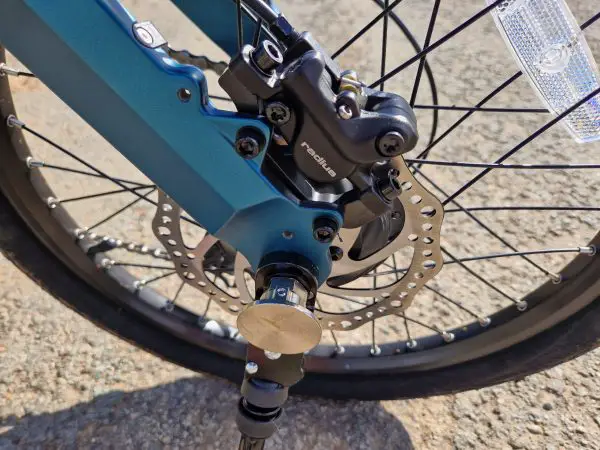 The Fiido X uses entry-level Shimano Tourney 7-speed gearing, which provides crisp and precise gear shifts through the trigger shifter. They've even used Jagwire cable housing, which is top quality. My only complaint is the low gearing – on the flat or downhill, you'll struggle to pedal much above 20 mph.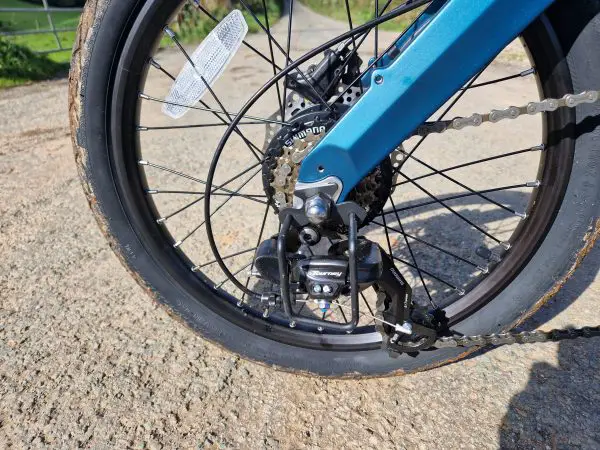 I felt very comfortable on the Fiido X. Even though it looks quite small, there's a lot of adjustment in the saddle height. The saddle has plenty (but not too much) padding and is made of a nice, rubberised material. I didn't experience any numbness or lower back discomfort. My only criticism is the lack of handlebar height adjustment – I'm 6'1″ (185cm), and I found the riding position comfortable, but other riders may need the handlebars higher. This could be remedied by fitting a riser handlebar.
The wheels look tough; there are even eyelets in the rim. The front wheel bearing is especially smooth. Tyres are CST 20″ x 1.95″, providing decent grip and comfort throughout the ride on poorly surfaced country lanes. At the time of this update, the wheels are holding up. They're still true, and I haven't broken any spokes.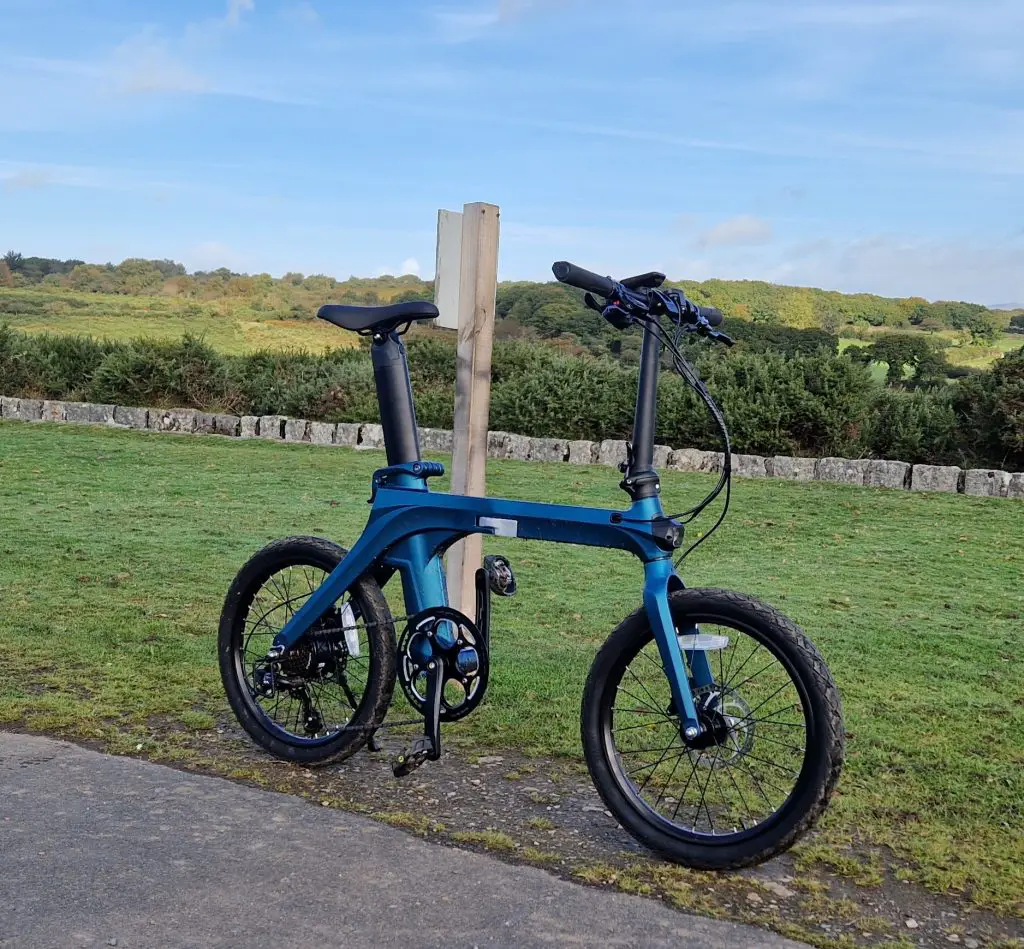 Handling and security features
The Fiido X is lightweight, agile and handles like a dream. Cornering inspires confidence, and the CST tyres seemed nice and grippy. It is a fun e-bike to ride and would be in its element in an urban environment. I have ridden in wet weather, and the tyre grip seems good.
The Fiido X folds up in four easy steps – pedals, steering, seatpost and main beam. The process takes seconds, and all the catches are easy to use.
The security keypad is a novel feature, but isn't everyone's cup of tea. It didn't bother me too much, but I feel it's a bit of an unnecessary gimmick. It won't stop a would-be thief from stealing the bike, but it will render the bike useless to them. You must enter a 5-digit code to power up the Fiido X and remove the battery. It doesn't take long to get the hang of it, but I don't feel it's necessary as a good strong lock should be enough deterrent.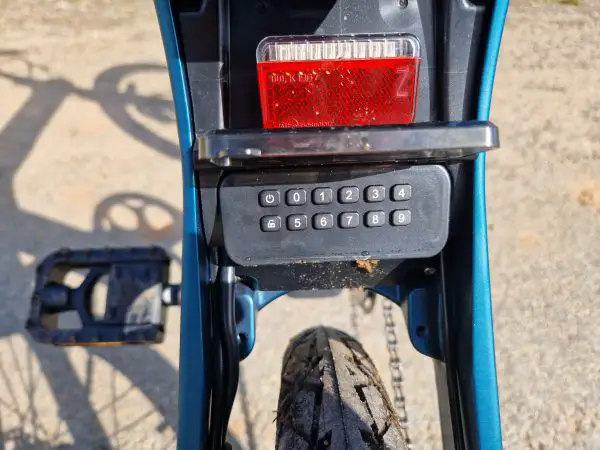 A Fiido Smartphone App is available, which negates the need to use the keypad and simplifies the start-up procedure. The battery needs to be switched on, and via the dashboard screen, you press the red circular icon (with a padlock) and the display powers up. You can also switch off the lights. There is a Fiido owners community within the app and a leader board for distance covered. In addition, the app displays the percentage of battery remaining and the total mileage of your bike.
Reliability
I've been using the Fiido X for several months and haven't experienced any reliability problems despite riding it in heavy rain and freezing temperatures. The brakes are still performing well, but some bolts show signs of rust – I may replace them with stainless steel bolts. 
The only negative I've noticed is the paintwork seems to chip quite easily. It's occasionally picked up a couple of chips despite me being careful when moving it about. It's not a deal-breaker but could do with a more durable finish.
Who is the Fiido X suitable for?
The Fiido X will make a great commuter e-bike and suit those seeking a more active lifestyle. It's also small enough to take on holiday – if you have a camper van, it would be easy to fit a couple of these on the back.
Pros and Cons
Pros
Smooth and silent Aikema hub motor
Decent battery range
Torque-sensing pedal assist
Hydraulic brakes for confident stopping power
Unique styling
Reasonably lightweight
Cons
Paint chips easily
Some bolts are starting to rust
Struggles on steep hills
FAQs
Is the Fiido X waterproof?
I have ridden the Fiido X in heavy rain without issues, although I would avoid deep puddles.
How easy is the Fiido X to transport?
It's very easy to take on trains and buses or to put in the back of your car. I have taken it on buses and trains without issue. Folding takes a matter of seconds.
Is the Fiido X easy to carry when folded?
It's much easier than folding e-bikes, but it is quite heavy. Carrying it for brief periods is okay, but I wouldn't recommend carrying it up many stairs regularly.
How reliable is the Fiido X?
So far, I've not experienced any reliability issues. Everything is still working as when new. The battery hasn't declined in range at the time of writing.
What brake pads does the Fiido X take?
The brake pads are standard Shimano-type pads and can be easily sourced from bike shops or online.
How much is the Fiido X?
The Fiido X is currently available for $1799 (US), £1587 (UK) and €1829 (EU). It should be noted that Fiido often runs promotions, so that this price may be subject to periodic discounts.
What is a good alternative to the Fiido X
If you are on a tight budget, the cheaper Fiido D21 is a great alternative. It still has many of the X's features but costs less.
Conclusion
The Fiido X V2 isn't going to be for everyone. You need to put in a bit of effort to feel the benefits of the electric assist, and some riders may prefer the feel of cadence pedal assist. This is a cyclist's e-bike – you'll get a workout riding the Fiido; you just won't be working quite as hard as on a regular bike.
I'm also impressed with how smooth and quiet the motor is. Considering the Fiido is at the budget end of the market, the hub motor is impressive, not just in terms of performance but also refinement. If you're looking for a performance-orientated folding e-bike that's light, agile and fun to ride, I'd have no problem recommending the Fiido X.
Specifications
Motor: Aikema 36v 250w or 350w brushless, geared hub motor
Battery: 417.6Wh using DMEGC 18650 cells
Range: 130 km / 80 miles (claimed) 35-40 miles (as tested)
Charge time: Up to 7 hours
Top Speed: 15.5 mph (25 km/h) 250w version,  19.2 mph (32 km/h) 350w version
Weight: 19.8 kg
Maximum load: 115 kg
Gearing: Shimano Tourney 7-speed with trigger shifter
Brakes: Radius Hydraulic disc brakes
Accessories: Kickstand, mudguards, integrated front and rear light
I hope you've found this Fiido X review useful; if you have any questions or want to leave your review, please feel free to leave a message in the comments section below.