Fiido X Review – Latest Model Available Now
ebikechoices is supported by its audience. When you purchase through links on our site, we may earn a commission. Learn more
I'm getting sent a lot of folding e-bikes to test at the moment and they're all pretty good. There is, however, one that stands head and shoulders above the rest (in my opinion). In this Fiido X review, I'll look at the features that set this electric bike apart from the competition, and give you my appraisal based on my initial inspection and test ride.
Black Friday Sale Now on Get $200 off the Fiido X
Summary
Fiido are a well-established global e-bike and brand who were started back in 2016. As a direct to consumer brand, they've always had a good reputation for after-sales support.  The Fiido X is a lightweight, feature-packed, folding e-bike that has a great specification for the price.
Key Features
The Fiido X  boasts certain unique features not usually found on folding e-bikes of this price. Most notably, the torque-sensing pedal assist, near silent motor, wireless battery connector and security keypad.
Torque-sensing pedal assist: Measures pedalling force (as well as cadence) to provide smooth and intuitive e-assist and maximal motor efficiency.
Silent motor: Very smooth and so quiet, you can barely hear it.
Wireless battery connector: The innovative seatpost battery does not have any cables to plug in – you simply insert it to the correct height and the locking mechanism connects the battery.
Security keypad: You need to enter a 5-digit number into the keypad to switch the display on. This will not prevent the bike from being stolen, but may deter would-be thieves. The code is set to a default number, and can be easily changed by the owner.
Improved frame: The magnesium alloy frame has been improved (over the original) and contributes to the very light weight of 19.8 kg.
Specification
Motor: Aikema 36v 250w or 350w brushless, geared hub motor
Battery: 417.6Wh using DMEGC 18650 cells
Battery Range: 130 km / 80 miles (manufacturers claimed maximum)
Charge time: Up to 7 hours
Top Speed: 15.5 mph (25 km/h) 250w version,  19.2 mph (32 km/h) 350w version.
Weight: 19.8 kg
Maximum load: 115kg
Gearing: Shimano Tourney 7-speed with trigger shifter
Brakes: Radius Hydraulic disc brakes
Accessories: Kick stand, mudguards, integrated front and rear light
Price: Current prices (at time of writing) USA $1799, UK £1587, EU €1829
The Fiido X V2 has a really good specification for the price and includes some innovative features not seen on other e-bikes. It's a unique looking bike with futuristic styling and internal cable routing.
Visit the official Fiido website for more info
Unboxing and first impressions
My Fiido X was delivered very quickly (within 2 days of the order being placed), and the packaging showed no signs of damage. Inside, the bike was very well protected with lots of foam and cardboard.
I inspected the bike for any marks, and am please to say it was in perfect condition. The finish of the paint and components is impeccable!
Assembly was very straightforward, and took me about 15 minutes. You do not need any special tools (a toolkit is included). The seatpost battery needs to be inserted (saddle is already fitted) and locked in place, and pedals fitted (clearly marked left and right). Then, all you need to do is adjust everything to suit your size. The Fiido X comes with easy to understand instructions on the assembly process.
The battery will come partially charged, and it is recommended to fully charge the battery before first use. Once the battery is charged, the bike is switched on using the keypad (located just below the tail light). You long press the power key and when you hear the beep, enter the 5-digit code followed by short press of the power key, and the display should power-up.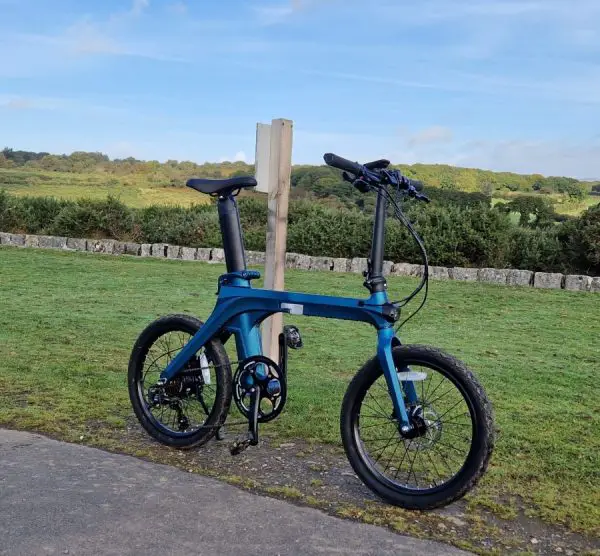 What's in the box?
The Fiido X V2 comes with everything you need to get going quickly. You could be riding this e-bike with minutes as my battery came 75% charged. Although it is recommended to fully charge before initial use. The box contains the following items.
Fiido X e-bike
Seatpost battery (with saddle)
Charger EU plug with UK adapter
Toolkit
Mudguards (with stays)
Instruction manual
Folding pedals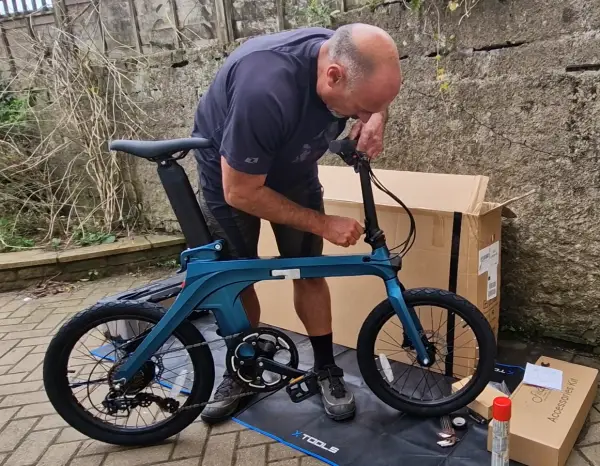 Fiido X V2 test ride
I decided to go a bit further than my usual route, and my initial ride was around 10 miles. This route involves around 1100ft of elevation gain and some very short, but steep climbs. Plus, a longer climb of around 1 mile. Below, I've broken down my opinion of the key components.
Motor
I was sent the 350w version, although it has been limited to 25 km/h. One of the first things I noticed was how quiet and smooth the motor is. I'm used to hub motors being quite audible, but this motor is practically silent  (it's even quieter than the X35 ebikemotion motor). The motor is made by a well-established Chinese company called Aikema and I would go as far to say it's one the best small hub motors I've tested on any e-bike to date.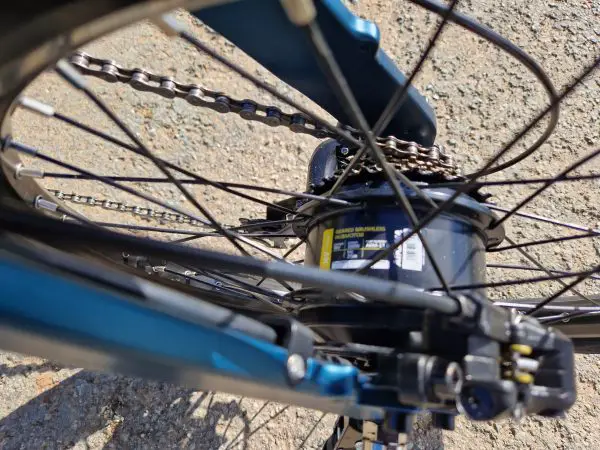 Pedal assist
This is another area where the Fiido X V2 exceeded my expectations. I have ridden hub motors with torque-sensing pedal assist before, but the system used here is just sublime!  The Fiido uses a torque-sensing bottom bracket which measures pedalling force (and cadence) from the rider in order to provide the right amount of assist. This system is super smooth and very reactive to even the smallest change in your pedalling efforts – full marks!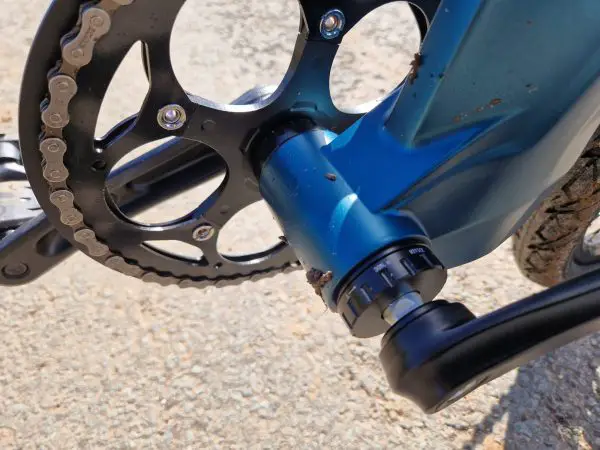 Performance
It's all very well having a quiet motor and smooth pedal assist if the motor doesn't actually provide much help! Thankfully, the Fiido X performs very well in this respect. On my test ride, I didn't feel the need to go above assist level 2 (out of 3 available) even on the steeper climbs. For such a small and quiet motor, it performs better than expected.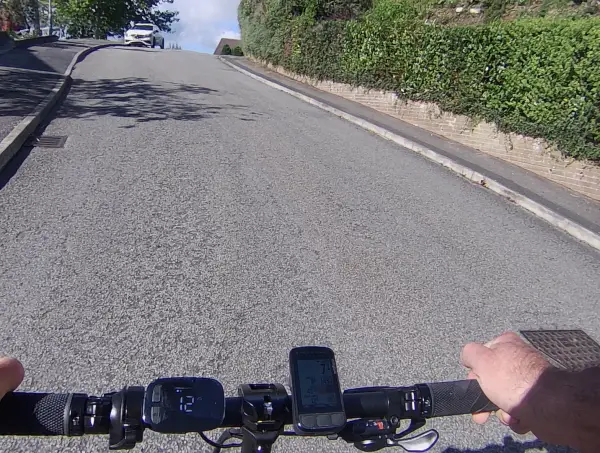 Display
The display on the Fiido X is small, but functional and easy to read. It displays speed, battery level and assist mode. Plus, records trip distance. It is set at km/h by default but can easily be switched to mph.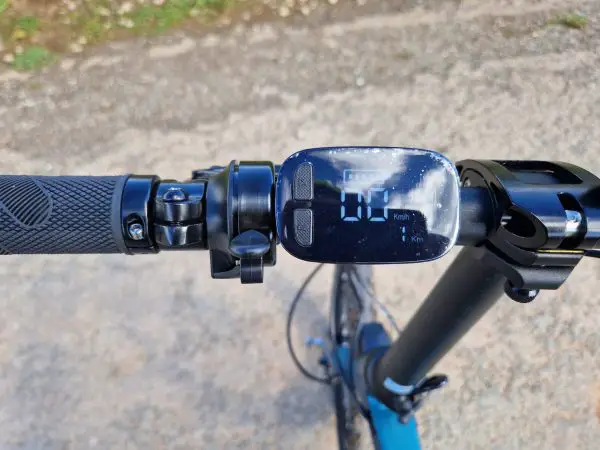 Battery range
I expect to be doing a full range test in the near future, but based on my initial test ride things look promising. The 417Wh battery uses DMEGC cells – these are comparable in performance to the Samsung 35E and are made by one of China's biggest lithium battery producers. Just before the end of the test ride, I lost one bar from the battery indicator – this would suggest a real-world range of between 40-50 miles (considering my weight and the hilly route).
Update 8/10/22 – I did a 33 mile ride on the Fiido X yesterday (with 1800ft elevation gain) and only lost two bars (out of five). I used assist level 1 for most of the ride and occasionally level 2. I only used level 3 once for a steep hill climb. Bearing in mind my current weight of 107kg and a relatively good fitness level, this would indicate a potential range of around 60 miles. Of course, everyone is different and some riders may need to use more assist on a similar ride. I reckon a safe ball park figure would be between 30-50 miles.
Brakes
I've never heard of Radius hydraulic brakes before, but I'm suitably impressed. They're comparable in performance to Shimano MT200's – I didn't experience any brake fade on steep descents. I tried an emergency stop from 20 mph and they brought the Fiido to a swift standstill.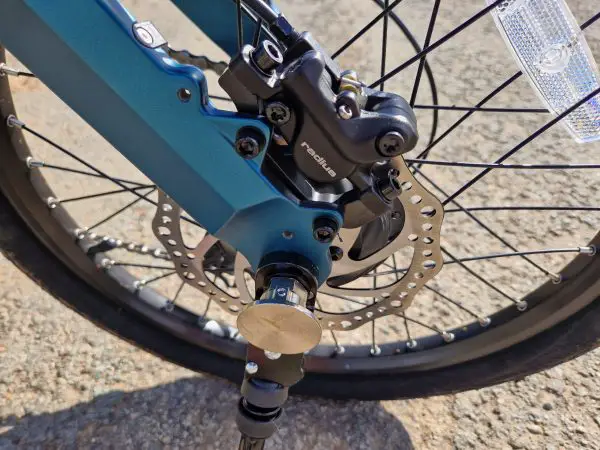 Gear shifting
The Fiido X uses entry-level Shimano Tourney 7-speed gearing which provides crisp and precise gear shifts through the trigger shifter. They've even used Jagwire cable housing which is top quality. My only complaint is the low gearing – on the flat or downhill, you'll struggle to pedal much above 20 mph.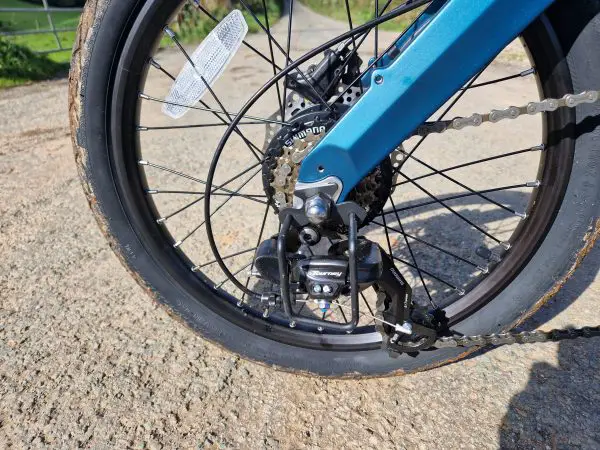 Comfort
I felt very comfortable on the Fiido X. Even though it looks quite small, there's lots of adjustment in the saddle height. The saddle has plenty (but not too much) padding and is made of a nice, rubberised material. I didn't experience any numbness or lower back discomfort. My only criticism here is the lack of handlebar height adjustment – I'm 6'1″ (185cm) and I found the riding position to be comfortable, but other riders may need the handlebars higher. This could be remedied by fitting a riser handlebar.
Wheels and tyres
The wheels look tough, there's even eyelets in the rim. The front wheel bearing is especially smooth. Tyres are CST 20″ x 1.95″ and they provided decent grip and comfort throughout the ride on poorly surfaced country lanes.
Handling
The Fiido X couldn't be further from the Engwe EP-2 Pro fat tyre folding e-bike I tested last month. It's lightweight and nimble and handles like a dream. Cornering inspired confidence and the CST tyres seemed nice and grippy. It really is a fun e-bike to ride and would be in its element in an urban environment.
Riding without the assist
This is another big plus for me. There is no noticeable drag from the motor with the assist switched off. If you lived in a flatter area and only needed the assist for hills, you'd have no problem riding the Fiido X without power. Or, if you ran out of battery a few miles from home, pedalling wouldn't be too much of a problem.
Folding / Unfolding
No test of a folding e-bike would be complete without seeing how easy it is to fold and unfold. The Fiido X folds up in four easy steps – pedals, steering, seatpost and main beam. The whole process takes a matter of seconds and all the catches are easy to use.
Security Keypad
This isn't going to be everyone's cup of tea. Personally, it doesn't bother me too much, but I feel it's a bit of an unnecessary gimmick. It's not going to stop a would-be thief stealing the bike, but it will render the bike useless to them. You need to enter a 5-digit code to power up the Fiido X and also to remove the battery. It doesn't take long to get the hang of it, but I don't feel it's really necessary as a good strong lock should be enough deterrent.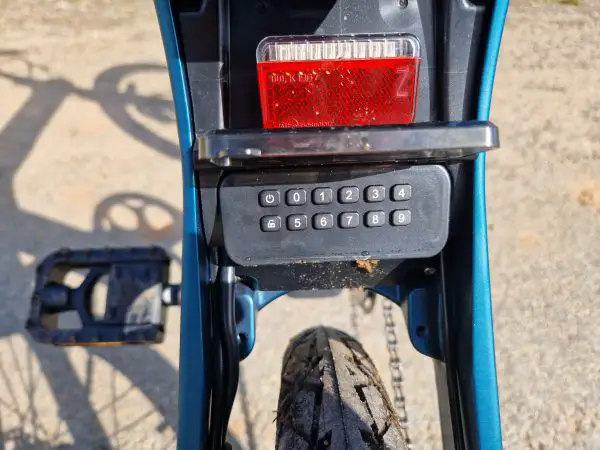 Test ride conclusion
For me, personally, the Fiido X is the best folding electric bike I've ridden to date. It doesn't have the power of something like the Engwe Engine Pro, but the 250w version is legal to use in the UK and EU. It's lightweight, nimble and really fun to ride. The torque-sensing pedal assist is smooth and intuitive. You still need to pedal and put a bit of effort in, but that effort is rewarded by a smooth wave of power. The connection you feel between your pedalling effort and the response of the motor is quite addictive!
My only criticisms are I felt the q-factor was unnecessarily wide (the distance between crank arms at pedals). And, the gearing was too low – this won't be a problem for most riders as it's perfectly fine at city cycling speeds, but once you're above the assist limit pedalling cadence will be very fast (100 rpm @ 22 mph). The security keypad may make a thief think twice, but personally, a good solid lock would be advisable.
Who is the Fiido X aimed at?
Unlike some of the folding fat tyre e-bikes I've tested, the Fiido X is truly portable and can be taken on public transport easily. Weighing in at 19.8kg, it's still quite heavy, but a lot more manageable than some e-bikes. It's going to be a great option for the daily commuter – the battery range is good enough for quite a long commute and the bike itself is surprisingly comfortable.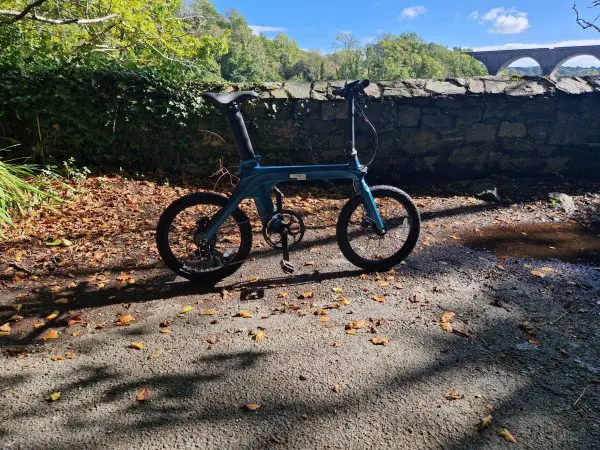 I reckon, this will also be a great e-bike for fitness or general leisure riding. Don't be fooled by it's relatively small size and folding design. When I was riding it, I forgot I was riding a folding bike altogether! It's small enough and light enough to take on holiday – if you have a camper van, it would be easy to fit a couple of these on the back.
Conclusion
The Fiido X V2 isn't going to be for everyone. You need to put in a bit of effort to be rewarded with e-assist, and some riders prefer the feel of cadence pedal assist. The Fiido is a cyclists e-bike – you will get a workout riding this bike, it's just you won't be working quite as hard as on a regular bike. The best analogy I can use is, it's like riding a bike with the legs of a pro. With torque-sensing pedal assist there's a real connection between your effort and the electric assist. And, that's great fun and makes you want to ride more.
Performance aside, the Fiido X has some really innovative features. The wireless battery interface is great and the frame design is very stylish and futuristic.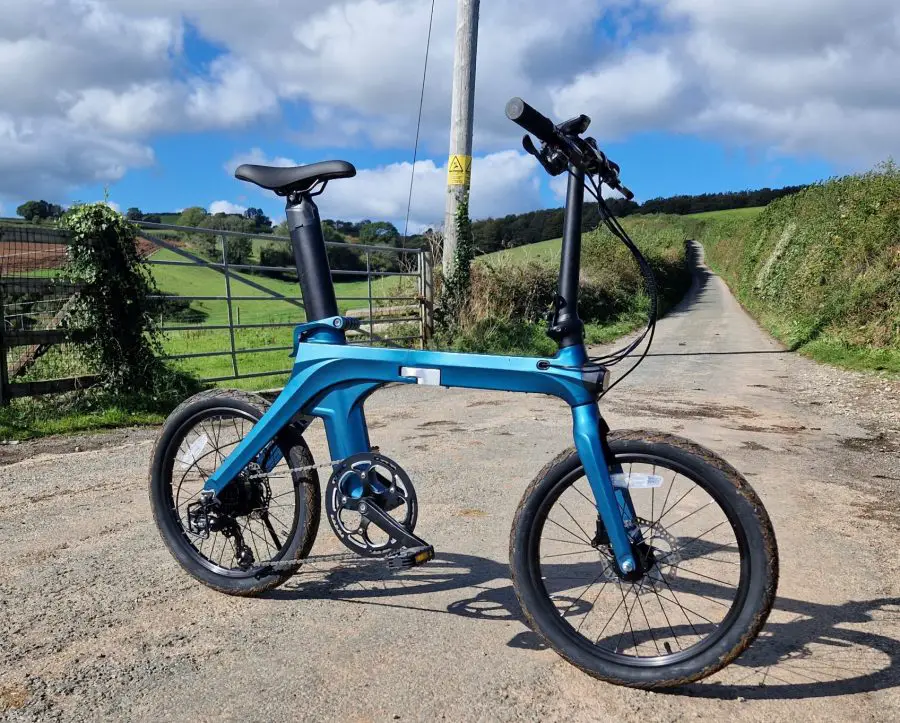 I wasn't expecting the motor to be as smooth and quiet as it is. Considering the Fiido X is at the more budget end of the market, the hub motor they use is impressive not just in terms of performance, but also refinement. The torque-sensing pedal assist has to be one of the best I've experienced on a hub motor e-bike.
I'll definitely be keeping this one for the long term. I plan of doing some longer rides on it to asses the range and long-distance comfort. Plus, I'll also be doing a direct comparison with the similarly priced Morfuns Eole X.
If you're looking for a performance-orientated folding e-bike, that's light, nimble, great fun to ride and has the intuitive feel of torque-sensing assist, then I'd have no problem in recommending the Fiido X.
Fiido X V2 Pros and Cons
Pros
Torque-sensing pedal assist
Quiet motor
Wireless battery connection
Lightweight
Road legal version for EU and UK
Unique styling
Comfortable
Cons
Wide Q-factor
Low top gear (for 20 mph+ pedalling)
No handlebar height adjustment
Security keypad complicates things
I hope you've found this review useful, if you have any questions or would like to leave your own review, please feel free to leave a message in the comments section below.