When you purchase through links in our articles we may earn a small commission. Read our affiliate disclosure.
In this article, I'm going to be looking at 10 of the best electric road bikes currently available for the 2022 season. In recent years e-road bikes have enabled riders of all ages and abilities to get back on two wheels and re-discover their love of cycling. The initial stigma associated with electric bikes is all but disappearing, as more and more riders appreciate the benefits an electric road bike can offer.
The Benefits of Electric Road Bikes
This is a subject close to my heart, as it was riding an electric bike that reignited my long-lost passion for road cycling and ultimately enabled me to regain my fitness in my early 50s.
In my late 40's I really wanted to get back in the saddle after years of self-neglect and weight gain. Unfortunately, living in a ridiculously hilly part of the country didn't help. My first e-bike was a complete revelation and helped me steadily build my fitness and strength over a 12-month period. I managed to lose a substantial amount of weight and I finally made the return to unassisted road cycling.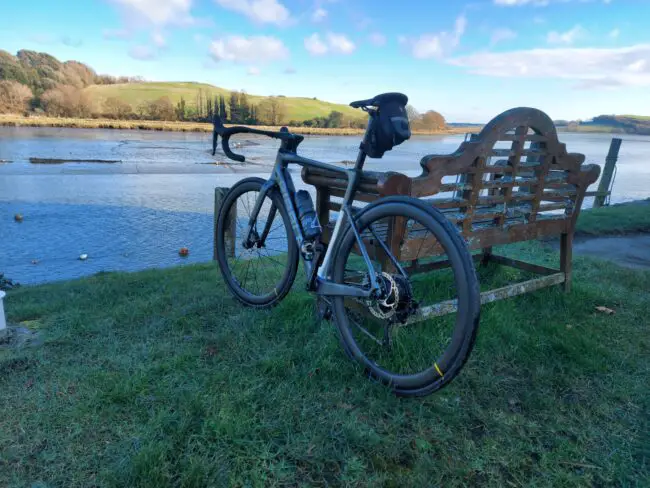 5 years on from my first e-bike, I've covered over 16,000 miles unassisted. I still own an e-bike which I use for trips to the shops or recovery rides.
Last year, I joined my local club for a ride up to Dartmoor to see the 2021 Tour of Britain and I was pleasantly surprised to see a few e-bike riders amongst the group. Electric bikes are catching on in a big way, I know people who now cycle regularly thanks to an e-bike.
Electric road bike electric motors
There are two types of motor used on electric road bikes – mid-drive (or crank-drive) and rear hub motor. By far the most common is the Mahle X35 ebikemotion rear hub motor system, followed closely by the Fazua Evation (mid-drive) modular system. Some manufacturers use their own brand motor, including Specialized and Giant.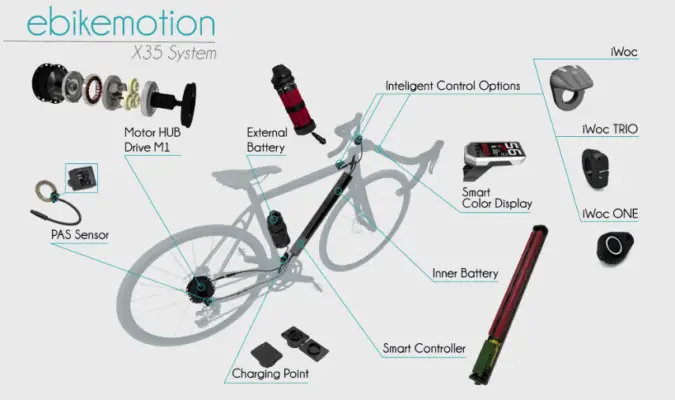 Hub motor
One of the main benefits of having a small hub motor is weight and appearance. The X35 ebikemotion is used on a lot of e-road bikes and the whole system weighs in at just 3.5kg – this is why it's not unusual to see a carbon electric road bike weighing in at under 11kg.
Most e-road bike riders are not really looking for a motor that's going to provide a massive amount of torque and power (like the Bosch CX found on e-MTBs). Instead, a small, inconspicuous motor that provides a useful push (more akin to a strong tailwind) is enough for most.
I've compared the Ribble SL e to my regular bike on a moderate local climb, and the time was over a minute faster with my heart rate around 10 bpm lower.
There are a couple of minor negatives though, and some riders don't feel that the X35 provides enough assistance, although this is purely subjective. It really depends on your level of fitness and how hard you want to push yourself. A rear hub motor won't be as efficient as a mid-drive and the pedal assist has a more on/off feel to it.
Mid-Drive motors
Mid-drive motors are installed in the bottom bracket area of the bike and transfer power to the back wheel via the drivetrain. Road e-bikes with these kinds of motors will have a specially designed frame, so the motor integrates neatly and is barely noticeable.
The main difference with a mid-drive when compared with a hub motor is the feel of the assist. The best way I can describe it is the electric assist feels like an extension of your own abilities – the connection between your effort and the way the power is transferred to the rear wheel is very subtle and it makes you feel like you have developed super-strong legs overnight!
Most mid-drive motors generally provide a bit more torque than their hub motor counterparts, which some riders may find more beneficial for long, steep climbs. The main mid-drive motor fitted to e-road bikes is the Fazua Evation – I have written a separate article that compares the Fazua Evation with the X35 ebikemotion system.
The best electric road bikes are…
I've had the pleasure of riding a few of the e-road bikes featured below, and they're all very high-quality machines. For me, the best electric road bikes should be light, and nimble and produce assistance that enhances the riding experience instead of dominating it. If you prefer a more upright riding position, read my article on the pros and cons of flat-bar electric road bikes.
---
1. Ribble Endurance AL e
Ribble Cycles released the new Endurance AL e earlier this year. It uses the same X35 ebikemotion system as the more expensive full-carbon SL e (below). The entry-level Shimano Tiagra version comes in at only £2395, making it one of the most affordable, high-quality entries into the world of e-road bikes. I would personally pay a little bit extra and go for the 105 version at £2795.
---
2. Ribble Endurance SL e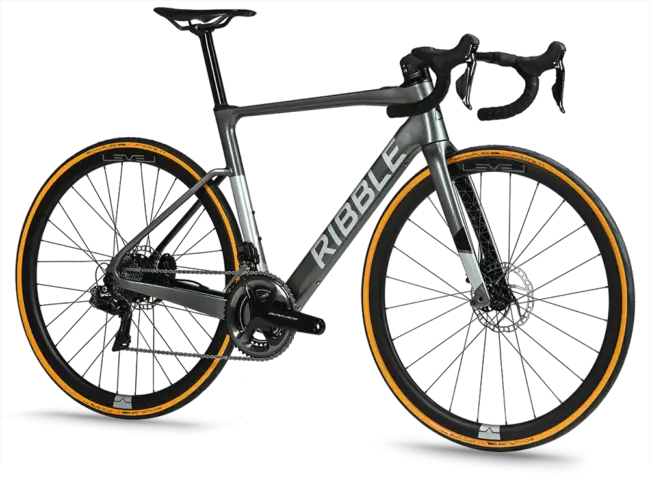 One of the original and still one of the best-value full-carbon electric road bikes available. The Ribble Endurance SL e is a cracking bike to ride! Recently updated with new build options and some great new colour schemes (custom colour option still available). I was fortunate enough to be lent one of these by Ribble at the beginning of 2021 – it's one of those bikes you could happily ride all day without the motor on and you'd be hard-pressed to notice the extra weight from the motor and battery.
The above video was filmed early in 2021 when I had the pleasure of borrowing the Ribble SL e for a few weeks. Unfortunately, the weather was appalling during that time, so I didn't get to cover the mileage I wanted. But the few shorter rides I did were great fun and I'd certainly think of getting something like the Ribble if my knees ever started to give up! Read the full Ribble Endurance SL e review here.
---
3. Cannondale SuperSix EVO Neo 1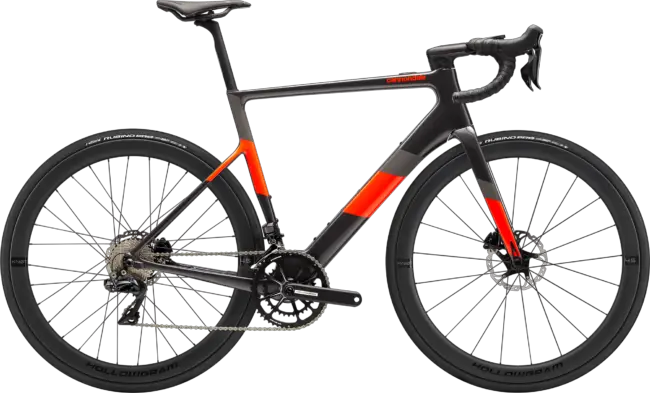 It was only a matter of time before Cannondale released an e-assist version of their iconic SuperSix road bike. The SuperSix EVO Neo 1 is the flagship model featuring SRAM eTap 12-speed electronic shifting and a carbon wheelset. This is truly an electric road bike for enthusiasts and whether you choose to use the assist or not, you can guarantee it's going to be a thrilling ride!
---
4. SCOTT Addict eRide 20
The Scott Addict eRide 20 is another great-looking e-road bike and comes with a full Shimano Ultegra groupset. It's proven to be very popular since its release earlier in 2021. Fitted with the X35 ebikemotion system, the total weight of the Scott is just 12kg. The Scott Addict eRide 20 has a full-carbon frame with Syncross wheelset and finishing kit – priced at £4399 it's decent value for money.
---
5. Orbea Gain D30 Electric Road Bike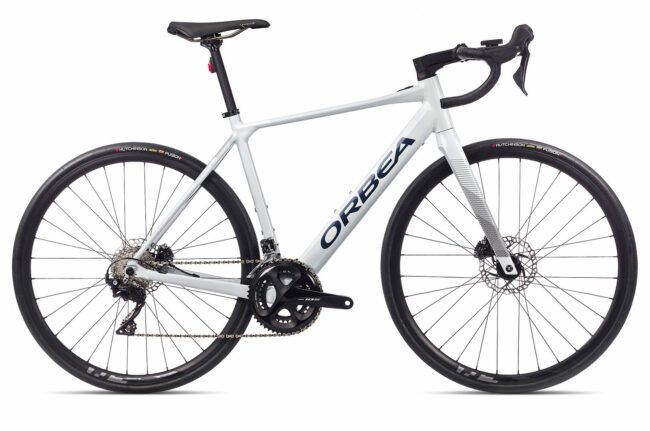 Orbea was one of the first major brands to introduce a lightweight electric road bike, and the original Gain proved to be not only groundbreaking but incredibly popular. One of the things that always deterred road bike riders from e-bikes was the ungainly looks and heavyweight.
The original Gain broke the mould and was one of the first road e-bikes to use the revolutionary X35 ebikemotion system. This latest incarnation – the Orbea Gain D30 comes with a full-carbon frame and Shimano 105 groupset.
---
6. Giant Road E+ 1 Pro Electric Road Bike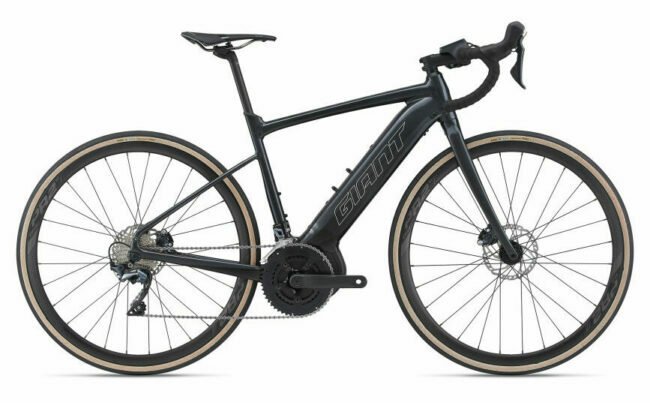 The Giant Road E+ 1 Pro is the black sheep of this group – it's not particularly light and it actually looks like an electric bike. But one of the reasons the Giant continues to be a top seller is the sheer grunt available from the Yamaha / Giant Sync Drive Pro mid-drive motor.
Unlike the rest of the e-bikes featured here, the mid-drive motor provides up to 380% of assist and a massive 80Nm of torque (more than double that of the X35 ebikemotion hub motor). There's also the very obvious 500Wh battery pack – this is double the energy capacity of the other bikes here.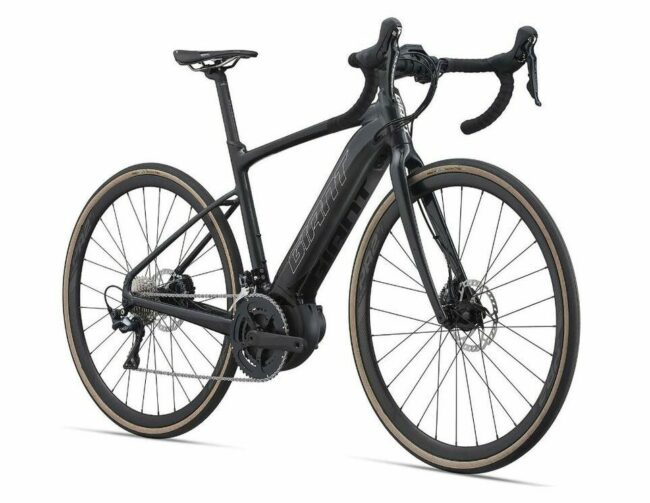 I would say the Giant Road E +1 Pro is perfect if you live in a very hilly area or you just need more substantial assistance and greater battery range. When used in Eco mode it's quite possible to squeeze 100 assisted miles out of a single charge. I'm not a big fan of the way it looks but it is a great e-bike to ride – that motor is an absolute gem and makes you feel like Superman! Read the full review of the 2019 Giant Road E +1 Pro.
---
7. Specialized Turbo Creo SL Comp 2021 Carbon Electric Road Bike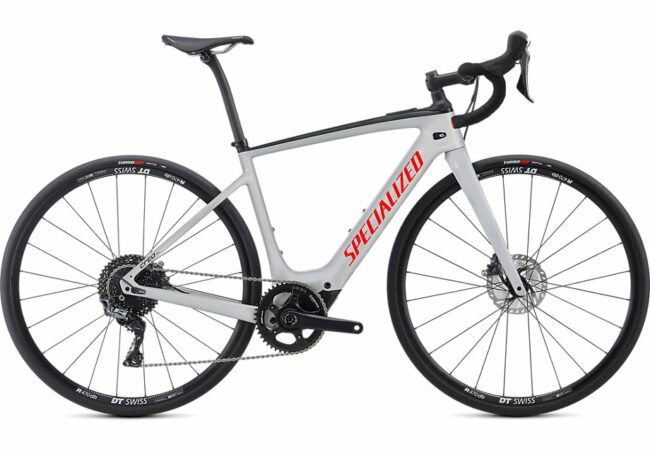 It was obvious when Specialized entered the e-road bike market, they were going to make a big impression and they didn't disappoint with the Turbo Creo SL Comp.
Specialized like to do things differently and instead of following the crowd and using the X35 ebikemotion system, they opted to have their own motor specifically designed for this new range of e-bikes. The SL 1.1 mid-drive motor was actually developed by the same company as the X35 (Mahle). There's also a slightly more powerful 320Wh battery which can give an estimated range of up to 80 miles.
Because the motor is so lightweight at 1.92kg, the Turbo Creo SL Comp is also very light (12.2kg) – it has a different feel to the X35 and you feel more of a connection to the bike. The assist is so reactive to rider input that it makes you feel like you've been enhanced in a very subtle way. It's a fantastic bike to ride and is guaranteed to make you smile.
Buy direct from Specialized (USA)
Also available from Specialized (UK)
---
8. Vitus Emitter Carbon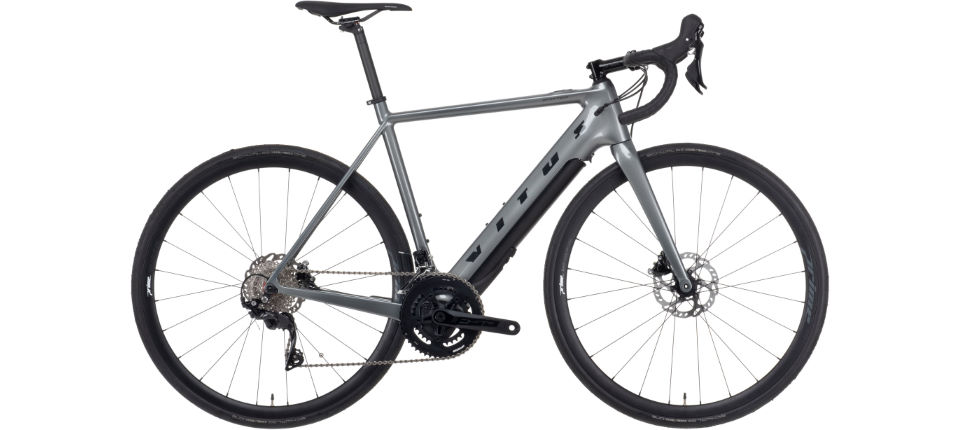 The Vitus Emitter carbon is sold exclusively through Wiggle and Chain Reaction Cycles and offers great value for money when compared with the competition. It uses the excellent Fazua Evation modular mid-drive system, which has a little bit more 'get up and go' over the X35.
Weighing in at 13.7kg, the Emitter is a little heavier than some of the other bikes featured here. But the Fazua motor and battery can be quickly removed – this is a great feature if you wanted to go for a ride without the assist. The weight of the Vitus without the drive pack is 10.8kg (with an optional alloy cover fitted), which puts it on par with a heavier aluminium-framed road bike.
For the current price of £3419.99, it's definitely great value for money and well worth a look.
---
9. Trek Domane + LT 700c Electric Road Bike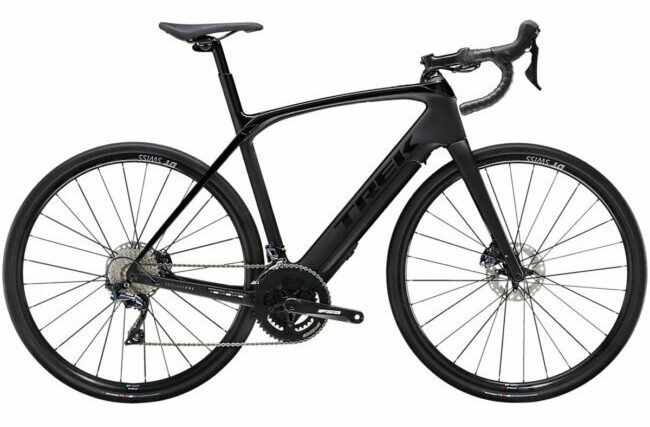 Trek's foray into the electric road bike market is another excellent example of modern e-bike technology. The Domane + LT uses the Fazua Evation motor and has a gorgeous carbon frame with Shimano Ultegra gearing, FSA crankset and lovely DT Swiss hoops.
As you'd expect from Trek, it's a very well-finished-off e-bike and looks the business, plus you can remove the Fazua motor if you want to go for an unassisted ride. The only downside is it's a little heavier than the Vitus Emitter at 14.7kg. (11.8kg without drive pack and cover fitted).
Find out more details from Trek Bikes
---
10. Colnago E64 Disc E-Road Bike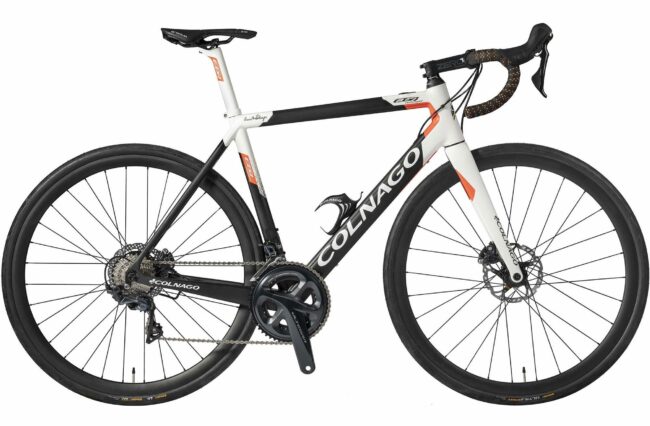 Another iconic brand, Colnago's E64 looks every inch the high-end road bike. It's a stylish e-road bike that uses the X35 ebikemotion system, so the bike retains its sleek lines.
The E64's styling is inspired by the popular C64 model and features Shimano Ultegra Di2 electronic shifting and a Mavic Aksium Elite wheelset. This really is a gorgeous-looking electric road bike and has the added prestige of the Colnago name.
---
Conclusion
As with all these recommendations, choosing the right electric road bike depends on your own personal circumstances and budget.
If you're after an e-road bike that's practically indistinguishable from a regular bike, then anything with the X35 system will fit the bill perfectly. I can see why so many manufacturers favour this motor as it provides the perfect compromise between e-assist, integration and weight.
If I had to choose a favourite e-road bike (fitted with the X35), it would have to be the Ribble Endurance SL e – I'm a bit biased towards the Ribble as I've ridden quite a few miles on one, and it's a thoroughly enjoyable riding experience. The Endurance AL e with Shimano Tiagra is the cheapest option here at just £2395.
The Fazua Evation isn't quite so seamlessly integrated with the chunky downtube and bottom bracket being a dead giveaway.  Having said that, I prefer the power delivery of the Fazua motor and I like the fact you can just remove the drive system and battery. It produces a bit more torque than the X35, and this is noticeable on the climbs.
Out of all Fazua e-bikes featured, the Vitus Emitter Carbon is by far the best value for money, although the Trek Domane LT+ is a fantastic bike.
Giant has done a great job with the Road E +1 Pro – it's a different beast altogether and the Sync Drive Pro motor produces masses of torque and assist. It's also got double the battery capacity of the other bikes featured. The Road E would be more suitable for riders needing a much stronger level of assistance from the motor. The downside is the 20kg weight, which means you'll need to rely on the assist more than if you were riding one of the others.
Finally, we have the Specialized – they've absolutely nailed it with the SL 1.1 motor. It doesn't produce the brutish torque of the Giant, but instead, you get this almost eerie sense that you've mysteriously developed masses of leg strength and lung capacity! Out of all the e-road bikes I've test-ridden, nothing quite gives the sense of connection you feel when riding one of these. It really is great fun and very addictive.
If you've ever thought about converting a road bike you already own to electric – read the Convert a road bike to Electric article.
Check out  the best electric gravel bikes currently available
 Visiting from within the EU? e-Gravel, e-MTB, e-Road Bikes👇
Thanks for reading and if you have any questions please feel free to leave them in the comment section below. I usually reply within 24hrs.