Iconic brand GT has been a late entry into the world of gravel e-bikes, but this brand new model looks to be fantastic value for money. In this GT eGrade Current review, I'll take a closer look at this new flat-bar electric gravel bike.
Summary
GT Cycles have a long history of producing excellent mountain bikes and their trademark 'triple triangle' frame design is not only iconic but also functional. Designed to improve stiffness by reducing flex whilst increasing durability it's a tried and tested formula. I've always been a big fan of the GT Grade range of gravel bikes, indeed GT is one of the pioneers in this field and was producing gravel-specific machines long before some of the other brands caught up.
This latest addition to their range is also complemented by the GT eGrade AMP which is featured in my best electric gravel bikes article. Both bikes use the same frame and x35 ebikemotion electric assist system, but the eGrade Current offers a substantial saving when compared with its drop handlebar sibling.
Flat Bar Electric Gravel Bikes make sense
Gravel bikes are an evolution of the original 'gravel grinder' effectively an old steel frame rigid mountain bike from the 80s or 90s fitted with drop handlebars. It was inevitable that gravel bikes would come full circle and go flat bar.
A lot of people may think "What's the point?" surely if you want to ride off-road just go and buy a mountain bike – but there's more to it than that. Modern mountain bike technology has made us forget the nostalgia of riding off-road back in the day. A time when bikes were much more unforgiving and a time when you had to choose your line wisely or pay the price!
Flat bar gravel bikes are a throwback to those times, but all wrapped up in a modern, lightweight package and benefit from the latest components and 1 x drivetrains. I haven't owned a 'proper' mountain bike for a few years but I'm quite happy to ride my electric hybrid bike or my regular flat bar cyclocross bike off-road – I have just as much fun riding these bikes on challenging moorland trails and woodland single track.
Of course, they do have their limitations, and you'd be foolhardy to try anything too silly – these flat bar gravel bikes are about having fun but knowing your limits.
Electric components
The x35 ebikemotion integrated electric assist system has been around for a couple of years and is the lightest e-assist currently fitted to any factory electric bike. The whole package weighs in at just 3.5kg including the 250-watt hour battery. That's why the ebikemotion system is fitted to a massive range of e-road and e-gravel bikes.
One of the main benefits of this system (apart from the weight) is the fact you can own a regular bike and e-bike all in one. Weighing in at around 14kg, the GT eGrade Current doesn't weigh much more than a regular bike, and unless you were cycling up a long steep hill you probably wouldn't even notice the moderate weight increase when compared with a regular bike. You can ride this like a normal bike safe in the knowledge you have a bail-out if the terrain gets too hilly or you're feeling tired after a long ride.
The x35 produces a very smooth and subtle assist – you don't get the kind of boost commonly associated with mid-drives. Instead, you have a motor that compliments your riding abilities and fitness. The battery is integrated into the down tube of the frame and can be charged through a port located where the down tube meets the seat tube. Assist levels can be changed by a simple control button located on the top tube, near the steerer.
There is also a smartphone app that can be paired with the system giving you much more information like battery usage, navigation, and pedalling cadence – you can even connect a heart rate monitor and download your ride to Strava.
Bike components
Gravel bikes need to have a wide range of gears to cope with the rigours of off-road riding. The GT eGrade Current benefits from very wide-range 1 x 10 gearing and Tektro hydraulic brakes, combined with a tough 700c wheelset and gravel-specific tyres.
Gearing
Gearing is provided by the excellent Microshift Advent 1 x 10 drivetrain which features a clutched rear derailleur and a very wide-range 11-48 10-speed cassette – there is a 40t front chainring which is going to give the rider perfect gearing to get up those steep, gravelly inclines. The eGrade Current uses a regular squared-tapered, sealed cartridge bottom bracket.
Brakes
Braking is provided courtesy of Tekro M275 flat-mount hydraulic disc brakes – these are more than adequate on a bike like the eGrade and provide good modulation and decent stopping power.
Wheels and tyres
Tough 700c 32h rims are shod in the excellent WTB Nano 700 x 40c gravel tyre – perfectly suitable for riding either on or off the road.
Frame and finishing kit
The aluminium frame utilises the classic GT 'triple triangle' design and uses the same geometry as the non-assisted counterpart. There is a full carbon fork with a tapered steerer and the finishing kit is comprised of alloy GT-branded components. The saddle is a nice Fabric Scoop Shallow Sport.
Who is the GT eGrade Current aimed at?
I can see the GT eGrade Current appealing to riders who want the benefits of an electric gravel bike but don't get along with drop handlebars. One of the main benefits of having flat bars is more control, especially when negotiating tricky descents off-road.
Flat bar gravel bikes are also great for riding in the urban street and I can see the eGrade being popular with city riders, in particular bike couriers who want a nimble, fast e-bike that can easily be ridden beyond the assist limit on the flat. The GT eGrade Current should also be popular with general leisure riders, especially because of its lightweight and relaxed frame geometry.
Conclusion
It's encouraging to see manufacturers like GT embrace flat handlebars on a gravel bike, particularly an electric version. I ride a combination of drop handlebar bikes (touring and road) and flat handlebars (e-bike and cross) – I prefer riding with flat bars when riding on rougher terrain, I feel they give you more confidence and control.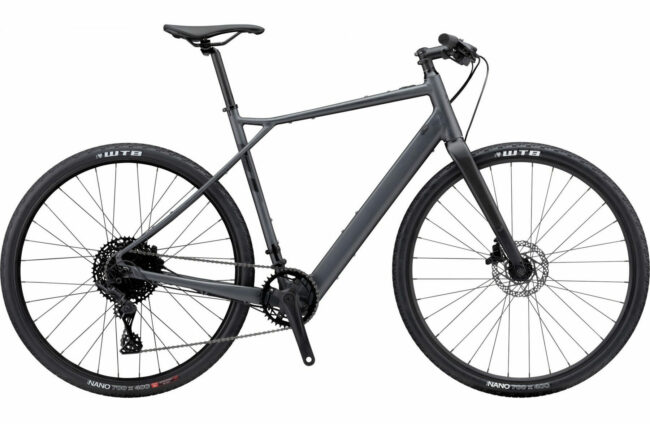 The GT eGrade Current is a great addition to their line-up and as far as I'm aware this is currently the cheapest gravel-specific e-bike available which is bound to make it a good seller. This is a bike ready for fun and is equally comfortable riding on asphalt or single track.
If you're used to riding a mountain bike, then you may find the eGrade a bit more challenging  – but for me that's part of the fun! If your budget doesn't quite stretch to nearly three grand this is probably one of the best options for a gravel e-bike currently available.
Buy Now: GT eGrade Current Flat Bar Electric Gravel Bike £2300