The Vitus brand is sold directly to consumers via Wiggle and Chain Reaction cycles and is synonymous with great value for money and good quality.  I recently had the chance to test out their Vitus Mach E urban (Alivio) electric bike and I was so impressed with it, I brought one! Read my full review below to see why I think it's one of the best all-around e-bikes currently available.
Summary
The Vitus Mach E Urban e-bike brings a breath of fresh air to the £2000 price bracket.  For starters it's very light (for a crank drive e-bike) – weighing in at just 17.3kg,  it comes in at a whopping 6kg lighter than the similarly priced Bosch-powered Cube Reaction Hybrid Performance. Another big plus point is the excellent Shimano Steps E6100 crank motor and powerful 504Wh battery pack.
Although styled and marketed as an 'urban electric bike' it comes across as an incredibly versatile machine that is equally happy on city streets or moorland gravel tracks.  The frame geometry means it's not only comfortable but responsive and stable to ride.  If you wanted to use this as a gravel/adventure bike you could fit 650b rims with 47mm wide gravel-specific tyres or stick with the capable 700 x 40 Vee G-Sport tyres already fitted.
Riding the Mach E brought a big smile to my face. It reminded me of the more expensive BMC Alpine Challenge AMP Cross Two electric bike. Riding without the e-assist wasn't a problem – which is one of the things that attracted me to it (along with the price).
The Shimano Steps E6100 motor (also found on the aforementioned BMC) epitomises everything a good e-bike motor should be – lightweight, quiet, smooth and very responsive to rider input. The claimed battery range is a massive 185km in Eco mode – I have personally achieved a range of just under 100 miles (with one bar left on the battery indicator).
I borrowed the test bike from a friend and was so impressed with it, I decided to buy one. When I went onto Wiggle and found the 2020 model had been reduced to a very reasonable £1649.99, the temptation got the better of me!  The latest 2022 model will be available soon, so check availability now.
So why did I decide to buy the Vitus Mach E?
I've been toying with the idea of getting another electric bike for some time now.  Riding an E-bike helped get me back into cycling and lose nearly 4 stone in weight (25kg) – I progressed to road cycling (in 2017) and have since covered over 12,000 unassisted miles.
Since I started this blog a couple of years ago, I've had the pleasure of testing out many different models of e-bikes. They're getter lighter, more efficient and a lot of the latest electric bikes provide a more natural cycling feel. Long gone are the days when e-bikes were ugly, cumbersome machines that were inefficient and quite frankly, unpleasant to ride.
I ride anywhere between 75-120 miles per week, purely from a recreational (and fitness) perspective. It's fair to say that I've been well and truly bitten by the cycling bug, but I also realise I'm not getting any younger and staying fit isn't just important for me, but it also inspires my kids to be more active.
Since I started riding a regular bike in 2017, I have completed many 100+ mile days in the saddle and lots of epic rides around the South West of England. I've seen my fitness increase to a level that I never thought possible and at 51 years of age I feel fitter than I did as a teenager.
So why have I decided to buy another electric bike? Well, for starters the Vitus Mach E is going to be complementing my current cycling regime not replacing it – I'll still be putting in the miles on my regular road bike.
My primary reason for buying an e-bike is to enable me to ride on recovery days (at a lower intensity), but I'd also start factoring in more regular 100-mile bike rides.  Cornwall can be a very unforgiving place for an older cyclist. There are no flat roads in the area I live, you're either cycling uphill or downhill. On an average local ride, I regularly climb 3500ft (1066m) over a typical 30-mile ride. If I do 60 miles then it is usually nearly 6000ft of climbing.
This isn't too much of a problem if you're a lightweight rider, but I'm  6'1″  (185cm) tall and weigh 17 stone (107kg), I've always been a big lad – it's just the way I'm built! Consequently, the constant hill climbing does take it out of me and if I do go on a long ride, when I get home I usually flake out. Which isn't particularly helpful for my wife!
I always said to myself that at one stage I would buy another e-bike, but certain criteria needed to be met. I wanted an electric bike that was fairly lightweight, so I could pedal it unassisted for at least 50% of the ride and it needed to have a decent battery to give me a potential range of around 100 miles. It also had to cost under £2000.  I wanted an e-bike that would essentially ride like a regular bike but would flatten out some of the more brutal climbs and enable me to ride longer distances at a better pace, but without me crumbling when I (eventually) got home.
Having now ridden over 250 miles on the Vitus Mach E, I'm 100% certain I made the right choice!
Electric components
The Vitus Mach E Urban uses one of the best electric assist systems currently available. This exact system is found in more expensive brands like BMC. The battery is also top-notch offering a potential assisted range of up to 185km on a single charge.
Shimano Steps E6100 Motor Review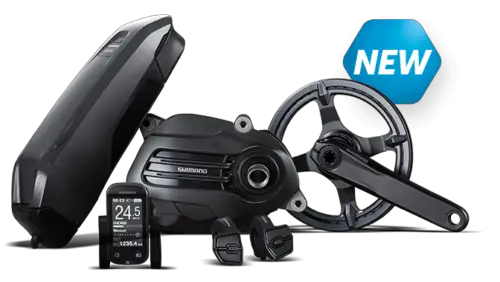 Photo courtesy of Shimano
Motors nowadays are so much more refined than they were a few years ago, and even though the Shimano Steps E6100 motor was released in 2018, it has stood the test of time very well. Not only is the E6100 very light at 2.8kg, but the battery weighs in at 2.5kg making the whole system 5.3kg which is excellent for a mid-drive system like this. The Fazua Evation system is indeed lighter at 4.6kg, but the battery has half of the energy capacity.
I would say Steps E6100 compares favourably with the Bosch Active Plus system. The E6100 produces a very respectable 60Nm of torque and feels very lively in high-power mode. Having ridden both, I prefer the Shimano as it has a little more oomph, and the transition from assistant to unassisted (at the 25km/h cut-off) is almost imperceptible. The way the assist starts is also incredibly smooth.
What I love about these high-tech mid-drive systems is they take your pedalling effort and enhance it. The torque sensor fitted to the Shimano Steps is very sensitive to changes in pedalling force and what you get is a very intuitive level of assistance.
Having ridden this bike a good few miles now, for me the sweet spot is 'Eco' mode – this is the most efficient assist level and amplifies your pedalling effort by 70%. I find this takes the sting out of the 15% climbs near where I live.  When using 'Normal' mode the motor gives 150% of assist – I use this if I need to go somewhere in a hurry. 'High' mode produces a massive 230% of assist and flattens out all but the steepest of hills. I can see maximum assist being very helpful for riders just getting back into cycling after either a long period without exercise or after an illness or injury – it is a game changer!
When compared with the Fazua Evation and X35 drive systems, the Shimano Steps E6100 produces considerably more assistance. It's not a million miles away from the high-performance Bosch CX performance line or even the Shimano Steps E8000 e-MTB system.
Display
Another great thing about the E6100 system is the wealth of functionality and information available from the display. When you compare it to the entry-level Bosch Purion display, there's no comparison.  There is the usual info like speed, trip computer, assist level and battery indicator plus other useful information like estimated battery range and pedalling cadence (rpm). You also have the option of removing the display altogether or downloading an app and using your Android or Apple smartphone as the display.
The display is clear and easy to read, and there is also Bluetooth and ANT+ connectivity – you can even pair the display with a Garmin or Sigma Cycle computer (see below). You can also connect a lighting system and operate it using the display – useful for commuting in the winter.
Shimano also offers a companion app the Shimano E-Tube Project – this can be downloaded as an Android or Apple smartphone app, and there is a version for Windows for your laptop or PC. From here you can download firmware updates and even configure certain pedal assist characteristics. Through this app you can also turn your smartphone (or Garmin) into the display – there is a list of supported devices on the Garmin website.
504Wh Battery
The Shimano battery on the Vitus Mach E is the highest spec 504Wh version and uses high-quality Sony 18650 Lithium cells – even the more expensive BMC only has the 418Wh battery fitted. Shimano claims a range of up to 185km in 'Eco' mode which is based on a combined rider/bike weight of 100kg, riding on flat terrain – I've managed to squeeze nearly 100 miles from one charge, although the battery wasn't depleted and the indicator was still showing one bar remaining (I didn't have the assist on the whole time and only used 'Eco' mode). The battery charger is shipped with an EU plug, so you will need to purchase an EU to UK plug adaptor.
Is the Shimano Steps system Waterproof?
Well, so far so good. I've ridden about 250 miles to date, nearly all of which has been on wintery, wet and muddy Cornish country lanes, with the occasional moorland gravel ride. I've ridden in heavy downpours, through fords and so far, no problems (fingers crossed).  After each ride, I give my bike a good wash (with a garden hose) and this hasn't caused any problems. I wouldn't recommend pressure washing though.
Bike components
The components fitted to the Vitus Mach E are about right for the price point. It's nice that there are Shimano flat-mount hydraulic disc brakes and Vitus's brand rims with thru-axles. The gearing is provided by the dependable Shimano Alivio, which works fine.
Gearing
Alivio is at the lower end of Shimano's MTB groupset range, but in my experience, it is reliable and works well. The Alivio RD-M4000 rear derailleur has always been my 'go-to' mech when I've wanted to use a wider range gear cassette on my touring bike and road bike. It will easily work with an 11-36 cassette and I have successfully used an Alivio derailleur with an 11-40 rear cassette with no noticeable reduction in shifting quality.
The Vitus gearing is probably more suitable for undulating terrain – it comes as standard with an 11-34 9-speed cassette in combination with a 44t chainring. I found this gearing a little too high for the steep hills in Cornwall, so I initially replaced the rear cassette for a Sunrace 11-40 9-speed. I was also going to change the front chainring for the optional 38t that's available, but I've now changed it to a complete 11-speed system with an 11-46 rear cassette. Mid-drive electric bike motors are more efficient at higher pedalling cadences, so if you live in a very hilly area you may want to consider this upgrade when purchasing the Mach E.
Brakes
The brakes are excellent Shimano UR300 flat-mount hydraulic brakes with 160mm rotors. I find they work very well (once sufficiently bedded in and warmed up) and provided the right amount of modulation and bite. They also look very neat and the levers are comfortable to operate.
Wheels and tyres
The wheels are Vitus's own branded components. They have the obligatory thru-axles and are shod in 700 x 40 Vee Tire Co G-Sport E-Bike tyres which come in a very nice 'gum wall' finish. These tyres seem to be a good all-rounder for road and a bit of gravel riding, although I couldn't find a lot of information about them on the internet. They do make for a very nice ride and the manufacturer claims a good level of puncture protection. I've decided to fit a pair of Schwalbe Marathon Plus tyres to mine as I had a nearly new pair knocking about.
I initially thought the wheels looked and felt quite tough, but within 150 miles of poorly surfaced Cornish back lanes (and a heavy rider), I had a broken spoke. This wasn't too much of a problem for me as I had spare spokes and a truing stand. Whether this was a one-off, due to a combination of my weight and bad roads it's hard to say, but I decided to err on the side of caution and purchased a Shimano RS170 wheelset  – if you decide on this upgrade, remember to get a pair of Shimano 160mm centre-lock disc rotors. I've used budget Shimano wheelsets on all of my bikes and they stand up to a fair amount of abuse.  The RS170s are fairly narrow, and Shimano recommends a maximum tyre width of 38mm.
Frame and finishing kit
The frame and finishing kit on the Vitus are very nice indeed. The frame is made of 6061 T-6 alloy and there is a full carbon fork (including a steerer) and an ACROS Aix-Low R3 tapered headset. The geometry is aimed at comfort/endurance with a nice slack head angle and dropped seat stays.
I was also pleasantly surprised with the Vitus saddle. Usually, when I get a new bike I fit a Charge Spoon saddle, but I will see how I get on with the supplied saddle as my first impressions were favourable.
The handlebars weren't too wide at 620mm and the seat post and stem also looked to be well-made and finished off.
Who is the Vitus Mach E electric bike aimed at?
The Vitus Mach E Urban does have a broad appeal. I can see this bike being popular with a wide range of cyclists. It's perfect for commuting through busy city streets or leisurely country rides. I can even see the potential for credit card touring – with a potential range of over a hundred miles on a single charge, you could cover some serious daily mileage on a bike like this.
I have already fitted a pannier rack and set of SKS mudguards to my bike, so it's ready for winter rides and errands to the local shops. If you're after a day-to-day runabout the Mach E would be an excellent choice.
It will also make a great training e-bike and would be perfect for a rider who is looking to get back into the saddle after an injury. My friend who lent me the test bike also rides a road bike and he uses his specifically for a 15-mile daily commute – no more turning up for work sweating buckets!
---
My Vitus Mach E Urban
Below is a timeline from my first receiving my bike – I have added subsequent updates and photos further down. As of 10/11/20 I have covered nearly 250 miles and added a few significant upgrades.
My Vitus Mach E arrived quicker than expected and the delivery company had taken good care of it as the box was completely unscathed. The whole bike took less than 20 minutes to assemble. Unfortunately I forgot to order an EU to UK plug adaptor for the battery charger so had to wait a couple of days before I could take it for a good spin.
I decided to fit the nearly new Schwalbe Marathon Plus tyres I had spare, as I've used this brand on my touring bike and never had a puncture, despite covering over 10'000 miles. I also fitted a pair of LifeLine Ergonomic grips, a set of SKS commuter hybrid mudguards and a lightweight Tortec Ultralite Pannier rack.
With all the extras fitted and taking into account the extra weight of heavy-duty tyres, the top tube bag, tyre pump and saddle bag (with a toolkit and spare inner tube) I weighed the bike and was surprised to find the total weight came in at a whisker under 19.2kg – which is impressive, when the similarly equipped Cube Touring Hybrid One 400 weighs 24.9kg and has a less powerful battery.
I've yet to take her for a long ride, but early indications as to the battery range look promising. At the time of writing, I have ridden about 25 miles (with 2200ft of elevation gain) in 'Eco' mode and only used one bar from a total of five on the battery indicator.  Incidentally, I kept the assist on for the whole ride, which is something I wouldn't usually do, so I'm quite confident of being able to do 100-mile rides on a single charge. I also fitted a Sunrace 11-40 9-speed cassette, which has lowered the gearing enough that I can comfortably climb an 8-10% gradient without the assist on – Very useful if I were to run out of battery power after a long ride.  I'm still toying with the idea of fitting the optional 38t front chainring to lower the gearing even further, but I will see how I get on. The Shimano Alivio rear derailleur indexes perfectly with the larger cassette, all I needed to do was adjust the 'B' screw a couple of turns in.
All in all, I'm pleased and don't regret my purchase. I'm looking forward to many, many miles.  The only problem is I'm already getting crazy ideas, about fitting drop handlebars with Shimano GRX 1 x 11 groupset – I generally prefer drop handlebars on a bike, but the cheapest gravel e-bike I could find was about a grand dearer and had half the battery capacity. The GRX groupset with Shifters, hydraulic brakes, derailleur and cassette would set me back around £500, so it would still work out substantially cheaper than the cheapest electric gravel bike – maybe something for next year!
---
Update 25/10/20 
I've had the Vitus for a week and have now ridden a total of 97 miles with 9200ft of elevation gain (as of 25/10/20) and still have one bar left on the battery indicator! I reckon, I could manage another 20 or so miles before the battery shuts down, which is very good going. Bearing in mind, I've only used 'Eco' mode so this will vary depending on the rider's ability. At the end of the week, my legs still have a little bit of soreness, but not as bad as usual. The cadence sensor is a really useful metric, and the motor has allowed me to keep my pedalling cadence in the 80-100rpm range (while still putting my power through the pedals). I will be getting a heart rate monitor and posting a separate article showing HRM data from the e-bike ride vs regular bike ride on a hilly 30-40 mile route.
---
Update 10/11/20
I've now covered just under 250 miles and apart from a broken spoke, everything is going well. I'm riding about 25%  more miles per week (despite the awful weather) and find that riding the Vitus at a fast pace using 'Eco' mode, allows me to ride that little bit further, more often without the consequences of getting too tired.  Interestingly, even though I rode the Vitus for a week straight, then went back to my regular road bike there was no decline in my performance, if anything it's improved my endurance a little.
I have spent a bit of money on upgrades though, which I personally feel have made it the perfect e-bike for me. After I repaired the broken spoke, I decided to fit a Shimano RS170 disc wheelset, which was available for a great price at Chain Reaction.  This wheelset is not only lighter than the stock items, but they seem to roll better. As I've mentioned earlier in this post, I've always used Shimano wheelsets and found them to be robust and great value for money (plus they look quite smart as well).
Another major upgrade I've done changes from the Shimano 9-speed to SRAM NX 11-speed gearing. Although I was quite happy with the shifting performance of the Shimano Alivio drivetrain, I wanted a bit more gear range without having to sacrifice the higher speeds afforded by the 44t chainring. The SRAM NX rear derailleur works flawlessly with a Sunrace 11-46 cassette, and the SRAM trigger shifter provides a buttery smooth gearshift on par with Shimano XT.
I now feel the bike is set up perfectly for my needs. Even with the upgrades the total bike stands me in at just under £2000. I've done a couple of 40-mile-plus rides and it's comfortable but with a nice sporty riding position. Not once have I experienced any back or neck pain, and the pins and needles I sometimes get in my hands (on my road bike) are practically non-existent. All in all, I'm over the moon with my purchase and I will be doing a series of separate articles ishortly(along with some YouTube videos) called 'The Ebike Diaries' where I'll be sharing some of my rides along with tips for increasing your fitness by riding an e-bike.
---
Update 06/12/20
I've now covered over 500 miles on the Vitus since receiving it on the 17th of October. It's still going like a dream, despite getting it lagged in muck on every ride, and then subsequently cleaning it after each ride.
The battery range seems to be improving slightly (as expected) and I'm quite confident to be taking it on a 100-mile ride over the Christmas break. Recently I have had the chance to test out a Ribble CGR AL e electric gravel bike courtesy of Ribble Cycles, and it's been interesting comparing the two different bikes side by side. The Ribble is a lot lighter in weight at 13.4kg, but the small X35 ebikemotion hub motor doesn't provide anything like the assist of the Shimano Steps E6100 unit.
In fairness to the Ribble, it's so light that you can ride it easily with the assist off, and it is aimed more at riders who already have a degree of fitness and are maybe just looking for a little help once in a while.
Below are some comparison charts of heart rate monitor data of me riding the Vitus vs Ribble on the same route under similar weather conditions. It's interesting to note that my heart rate is about 10 bpm lower on some of the climbs despite staying in 'eco' mode on the Vitus and using 'full power' mode on the Ribble (beneath the red line).
Another interesting thing is there is a 4.3 miles undulating segment and my average speed is marginally faster on the Vitus at 17.5mph vs 17.1mph on the Ribble (even though the Vitus is nearly 6kg heavier).
I'm going to be doing the same ride next week on my regular road bike (unassisted) so it will be interesting to see the difference. Below is the heart rate zone data from both rides.
It's not a particularly scientific test, but I think it gives a rough idea of the difference between the two motor systems. Incidentally I lost one bar out of five on the battery indicator from my Vitus and the Ribble lost 35% from its 250Wh internal battery (according to the accompanying smartphone app).
Having said that the Ribble is a cracking bike and great fun to ride, it certainly felt livelier when there was no assistance, and the fact it's very light and looks like a regular gravel bike will appeal to a lot of riders. Read my full review of the Ribble CGR AL e here.
---
Update 21/12/20
Yesterday I completed my longest ride yet on the Mach E – a 57-mile loop of Bodmin moor with lots of climbing (and bucket loads of rain!). I kept the bike in 'Eco' mode for the entire ride, start to finish and the battery indicator dropped down to one bar just before the finish – usually I wouldn't use the assist for large portions of a ride like this, but the weather was appalling, and I wanted to complete the ride as quickly as possible.
I've completed a similar route on a regular bike, and my average speed was 2mph less over the same distance – my average heart rate for this ride was 121 bpm with a max of 160 bpm and calculated calories used 1595kcal – I was still pretty tired after the ride, and have a bit of soreness in my legs the following day.
Below is a 3D view of the route
---
Conclusion
I wasn't thinking about getting another electric bike until next Spring, but after I had a go at this and saw the discounted price for the 2020 model, I couldn't resist it. For me, it ticks all the right boxes – smooth mid-drive, long-range battery, great handling and comfort, and not too expensive. I've yet to test another e-bike that comes close to the Vitus Mach E Urban at this price. Even the £2199 price tag for the 2021 model is very reasonable, especially when you consider the BMC Alpine Challenge AMP Cross Two costs nearly £500 more, uses the same E6100 motor, but only has the 418Wh battery fitted.
I'm absolutely over the moon about my purchase. I was able to do a fairly tough 25-mile ride with sore legs from the previous two days of riding. I still worked up a sweat, but the lowest power setting just made the steep climbs more palatable. I didn't feel the need to go beyond 'Eco' even on a short 15% climb, the power was enough for my liking.
All in all the Mach E is a great e-bike. It looks great, but most importantly it's versatile and will appeal to a variety of riders. A big thumbs up all the way!
Check availability on  Chain Reaction Cycles
Thanks for reading this article. If you own a Vitus Mach E Urban, please share your thoughts in the comments section below. If you have any questions relating to this bike leave a comment and I will reply within 24hrs.