People are wising up to the fact that using an e-bike for the daily commute is not only good for their health, wallet and the environment, but it can also save time being stuck in traffic. The market for commuter e-bikes is stronger than ever, and most major manufacturers now sell bikes designed specifically for this purpose.
Halfords have been quick to jump on the bandwagon with their new Carrera Subway Electric hybrid bike, and in this review, I will be looking at the specification and asking the question – what makes a good commuter e-bike?
Buy the Carrera Subway E from Halfords
Summary
The Carrera Subway has always been one of Halfords best selling models, and just like the Vengeance, Vulcan and Crossfire, it was inevitable they would release an electric assist version.
When I first got involved in the electric bike business nearly four years ago, I knew e-bikes were going to be massive. In the UK alone between 50-60,000 e-bikes were sold in 2018 [Source Halfords UK].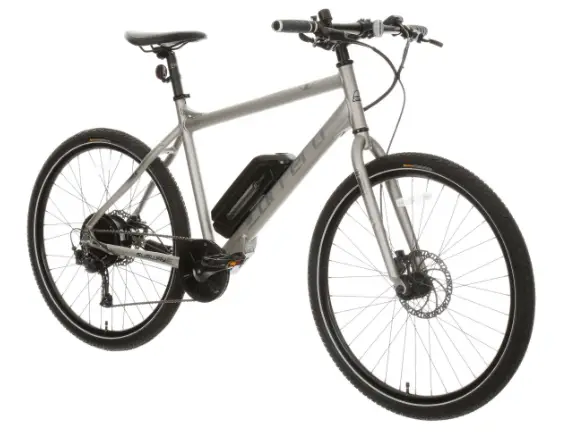 One of the largest growth sectors continues to be the commuter market. This makes perfect sense. With the cost of running a car at an all-time high and public transport being expensive and overcrowded,  people are looking for alternative ways to get to work.
If you're prepared to brave the elements, then riding an e-bike to work can not only be great fun, but it can save you a lot of money in the long term, and have great health benefits.
What makes a good commuter e-bike?
Ideally, a good commuter e-bike should be fairly simple in design, be rugged enough to cope with potholes and have provisions for mudguards, a pannier rack and a reasonable battery capacity. Comfort should also be an important factor.
Does the new Carrera Subway electric hybrid bike meet the above criteria? Having ridden about 20 miles on one, I would have to say yes, it does. It's not perfect, and you will need to spend some money on extras like mudguards, lights and a rack (if you need one). But as a basic, no-frills, get you their commuter bike. It does the job well.
Let's delve a little deeper into the technical specification to see what the Carrera Subway E has to offer.
Electric Components
Motor
Halfords have chosen to use the same Suntour HESC motor on the Carrera Subway, as is found on most of their other Carrera branded e-bikes.
If you have read any of my other reviews on Carrera electric bikes, you will know that I really like this motor. Hub motors have been used on e-bikes for many years now, and the reason for their success is simplicity.
As much as I like (and even prefer) mid-drive motors. For sheer reliability, you just can beat a good old-fashioned hub motor. If you are wanting a bike to get from A to B, and you're not riding off-road or climbing mountains, a geared hub electric hub motor is going to be ideal for a daily commute.
The Suntour HESC is one of the better e-bike drive systems I have come across. It is smooth, reliable and provides enough assistance for most people.
I live at the bottom of an 8-10% hill, that is about a quarter of a mile long, and I find this bike in level 2 assist, gives you enough power to get up the hill without getting out of breath, or breaking into a sweat!
Active Torque Sensor
As with some of the other Carrera models, the Subway uses Suntour's ATS torque sensing pedal assist. This clever crank-based system measures the force being applied to the pedals and gives you an e-assist in proportion to how much effort you are putting in.
If you are cruising on the flat with the wind behind you, and not putting in much effort, then the motor will not be giving you much assistance. If, however, you are on an uphill ride with the wind in your face, the motor will respond by giving you a really good boost.
The upshot of this is, is increased motor efficiency, and a more fluid, seamless pedal assist. I personally love it, as it really does make you feel like you have bionic legs!
Display
The Subway E uses an LED display which gives you all the basics, like speed and battery level. It isn't particularly fancy, but it does the job.
Battery
The Carrera Subway electric hybrid bike uses a decent 36v 10.4ah (317Wh) battery pack. The manufacturer's claimed maximum range is 60 miles, which I think is a little optimistic for real-world applications.
Although this range could be achieved if you are a featherweight and you are not riding many hills or using the e-assist much. In reality, I would say a range of 30 miles is much more realistic for the average rider on a daily commute.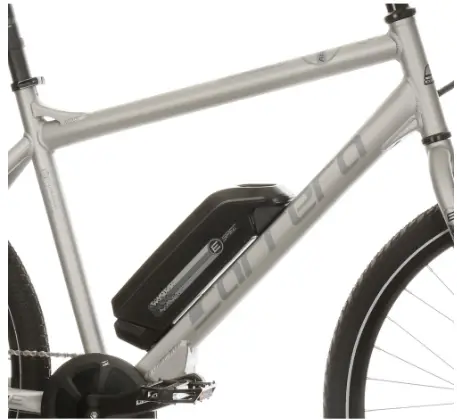 The chances are, most riders on their way to work are going to use the maximum assist for most of the time. If you are using the bike for recreation, then maybe 40-50 miles is more the mark.
Still, 30 miles should satisfy most commuters, and even if you had a longer commute, you can always recharge the removable battery at work to ensure you have enough juice to get home.
The supplied battery charger should recharge the battery from empty in around 5-6 hours.
Bike Components
Gearing
The gearing on this bike is typical of a commuter bike, with a 44t front chainring and an 11-34 9-speed cassette at the rear. The gearing is taken care of by Shimano, using the dependable Altus rear derailleur and trigger shifter. Although this system is fairly entry-level, at this price point it is more than acceptable, and it will give you a good spread of gears.
The great thing with all Shimano products is their reliability, and even if they do wear out over time (which is inevitable) replacing the rear derailleur will cost about £20, the Cassette about £20 and a chain is about £10 – This groupset should be good for a few thousand miles though.
Brakes
The entry-level Tektro hydraulic disc brakes are also reliable. They do the job and will bring you to a standstill, quickly and safely. When it comes to replacing the pads, it's a 10-minute job, and anyone with a set of Allen keys, and some long-nose pliers can do the job easily.
Wheels and Tyres
The 27.5″ wheels are a good size for a hybrid bike. They are a nice compromise between 26″ and 28″ wheels. The 36-spoke rear wheel uses a double-walled rim and heavy gauge spokes to deal with the extra weight and torque of the Suntour motor. The front wheel uses a double-walled rim with a Formula DC-20F  hub and quick-release skewer.
The tyres are Kenda K-841, which have a reflective side wall and offer a decent amount of puncture protection. These tyres are decent enough, but if I was using the bike for the daily commute, I would be inclined to fit the excellent Schwalbe Marathon Plus tyres. These are great tyres for e-bikes, and well worth the extra money.
Finishing Kit
Standard unbranded Carrera components are used. The seat post, stem and handlebars all seem of good quality. The saddle is comfortable enough, although as with all bikes, some riders may want something with a bit more padding, particularly if you are using the bike every day for commuting.
Frame and Forks
As you would expect from an e-bike aimed at commuters, the geometry is nice and relaxed. The frame is made from lightweight 6061 alloys, and the forks are made from tough Cromoly steel – which is perfect for dealing with less-than-perfect UK road surfaces.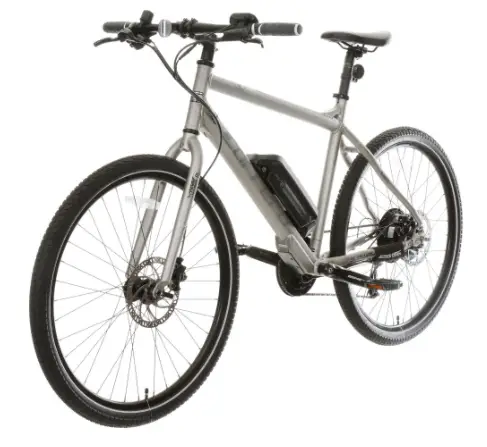 Internal cable routing gives the Subway E a nice and clean look and also keeps the cables away from the elements – particularly important in the UK.
Who is the Carrera Subway Electric Bike aimed at?
Without a shadow of a doubt, the Carrera Subway E is aimed primarily at commuters and leisure riders. The main buyer of the Subway will be people looking for a reliable commuter e-bike to use on a daily basis.
It would have been nice to include an option with a 'commuter pack' – mudguards, rack and lights. But these things can be easily purchased separately. Typical costs are below.
Good quality mudguards £25
Decent rear pannier rack £25-£35
Good quality rechargeable bike lights £20-£50
All of the above will add nearly £100 to the price, but if you are going to be using this every day, it will be worth the investment.
Reliability
The Carrera Subway electric hybrid bike uses the proven Suntour HESC motor, with a decent 36v battery. It is unlikely to give you any major long-term issues if well looked after.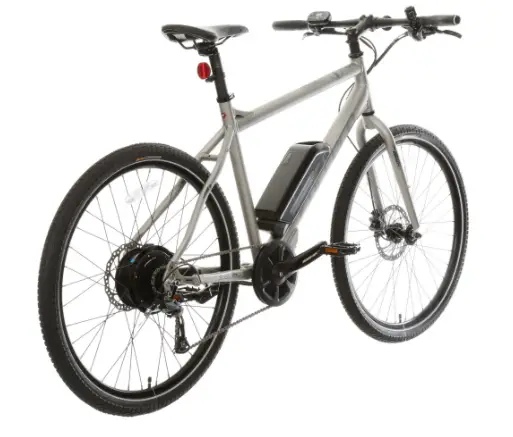 If issues do occur, Halfords provide a 2-year warranty on all the electric components.
Conclusion
I really like the Carrera Subway E. It rides and handles well, it doesn't feel particularly heavy when riding it. The only time the extra weight becomes evident is when you're pushing it beyond the 15mph maximum assisted speed limit.
The geared hub motor does not give any increased pedalling resistance when the motor is disengaged, so it can be pedalled on the flat like a normal bike.
When the motor is giving the rider assistance, it is delivered in such a subtle way, that it just makes riding the bike a pleasure.
I also like the fact, they have gone with CroMo forks. Steel is a good material to have up the front and it is good at soaking up imperfections in the road surface.
How does it stack up against the competition?
As I mentioned earlier in this article, the commuter e-bike sector is particularly competitive. And there are a lot of good electric bikes available for around the £1000 mark. I would say, the main competitor would be Decathlon's Riverside 500 electric bike. For the same price, you get still get torque-sensing pedal assist plus front suspension and a more powerful 36v 11.6ah battery.
Having said that, I like the Subway E, and I particularly like the clean minimalist styling. The motor is very responsive to pedalling input, the battery range is good enough and it is not overly expensive.
If you're after a commuter e-bike for around £1000 you could do a lot worse than this, plus you have the added bonus of a Halfords 2-year warranty and an extensive network of nationwide service centres. The Carrera Subway Electric Hybrid Bike is well worth a look.
If you own a Carrera Subway E and would like to leave your own review, please feel free to leave one in the comments section below.