With e-bike technology advancing all the time, it was inevitable that some of the more high-tech wizardry would start trickling down to the cheaper end of the scale. Having looked at the new Rockrider E-ST900 electric mountain bike from Decathlon, that trickle is more like a flood! In this review, I will see if this great new E-MTB is too good to be true.
When I first checked out the spec on this bike, I was amazed at what it had to offer at such a low price. Firstly, the Brose 'T' mid-drive motor is one of the best on the market.
Specialized have been using the Brose 'S' motor on their high-end electric mountain bikes for a couple of years now, and although the 'T' version doesn't produce quite as much torque as the 'S' model,  it is still nice to see such a good quality motor on a relatively cheap e-bike.
Summary
Decathlon has always designed and produced excellent bikes. Their B'TWIN range has always been popular, but recently they have dropped the B'TWIN moniker from a lot of their bikes.
When  I first looked at the specification of the Rockrider E-ST900 and then saw the price, I thought there had been some mistake! I will go into more detail regarding the specification below, but let's just say it's remarkable that they have built such a good electric mountain bike and they can sell it at such a great price.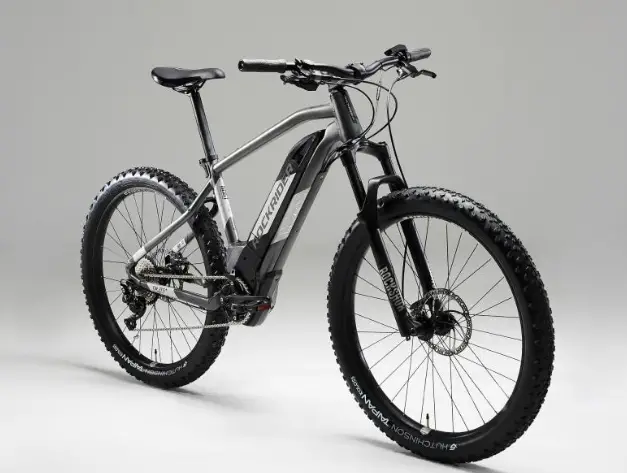 I have ridden and reviewed more electric mountain bikes than I can remember, and nothing has come close to this on price and specification. Usually, you would need to be spending at least £500 more to get a similar specification Giant, Cube or Specialized.
The centrepiece of this bike is the Brose 'T' motor. For those of you who are unfamiliar with Brose, they are a German company and the fourth largest family-owned supplier of components for the automotive industry, specialising in electric systems for vehicle doors, seats and electronic systems for steering, brakes, transmissions and engine cooling.
Their Brose e-bike motor is widely regarded as one of the best in the industry and is often seen on high-end electric mountain bikes.
But it doesn't end there
Not only has the Rockrider E-ST900 got a fantastic motor, but the 36v 14ah (504Wh) Samsung battery should also give a potential real-world range of 80 miles plus.
If the electric components weren't good enough, there are Rockshox  JUDY front forks with 120mm of travel, and the excellent Shimano Deore M6000 1 x 10 groupset, with an 11-42 rear cassette. Tektro TKD 32 hydraulic disc brakes with 180mm discs. And to cap it all off – 27.5″ x 2.8″ tyres on Sunringle DUROC 40 tubeless-ready wheels with thru-axles.
Anyway, I'm going to stop rambling and get on with the specification overview.
👉All sizes in stock now – visit Decathlon here
Features and Tech Specs
Electric Motor
I think Decathlon have proven that they are serious about being a major player in the electric bike industry. Choosing the Brose motor is a wise move. Fitting it to an e-bike at this price point is a game changer!
As I have said previously, the Brose motor is one of the best in the e-bike industry. The 'S' version is commonly found on electric mountain bikes in the £4000 plus price range, and the Brose motor is used by over 30 manufacturers worldwide. The Brose 'T' motor produces a respectable 75nm of torque, which puts it firmly in Bosch CX and Shimano Steps E7000 territory.
Of course, these motors will produce peak power closer to 400w when in Boost mode, but the top-assisted speed is limited in compliance with European law to 15.5mph.
The motor can provide up to 320% extra assist, thanks to the 'flex power mode'. The electronic torque sensing pedal assist is one of the most advanced systems currently in use, taking thousands of measurements per second.
When you ride a Brose-powered electric mountain bike, you do feel like you've gained superhuman strength!
Not only is the Brose motor powerful, but it is incredibly quiet and efficient. Meaning you can stay on the trails for long, and ride further.
Display
Accompanying the motor is an excellent, compact display, that fits discreetly on the left-hand side of the handlebar. This tells you everything you need to know, including speed, range, battery indicator and power level – Economy, Economy +, standard and boost.
I could rabbit on all day about how great this motor is, but I think by now you get the idea. Let's move on to the battery.
Battery
The compact battery pack that fits neatly into the frame, uses the excellent Samsung SDI 18650 lithium cells. With a total energy capacity of 504Wh (watt hours), this battery is well above the norm for an e-MTB at this price point.
Combined with the efficiency of the motor, a real-world range of 80 miles should easily be achievable, with a potential range of over 100 miles possible. Of course, if you spend all day hacking around in Boost mode, then you will deplete the battery a lot quicker.
The battery comes with a fast charger, and it can be easily removed using the supplied keys. Lithium batteries should always be charged at comfortable room temperature. In the winter you would want to take the battery indoors to be charged. In warmer weather, it can be charged on the bike.
Gearing
Usually, electric mountain bikes at this price point have fairly entry-level Shimano groupsets fitted – we're talking Altus, or maybe even Alivio. Decathlon has once again gone above and beyond by fitting Shimano's excellent Deore M6000 1 x 10 groupset.  This includes an M6000 trigger shifter and an excellent Deore Shadow+ rear derailleur.
Up front, there is a perfectly matched 34t  Chainflow and anti-slip chainring. With gearing like this, the Rockrider E-ST 900 is aimed at serious off-road riders.
The groupset is finished off with an excellent KMC e10 turbo e-bike-specific chain. This shows good attention to detail on the part of Decathlon, as the Brose motor will put extra demands on the drive-train.
Brakes
The Hydraulic brakes are courtesy of Tektro. The TKD32 brakes, combined with 180mm disc rotors front and rear provide good modulation and a nice amount of bite. They are middle-of-the-road when it comes to overall braking power, but they are more than adequate for a bike of this calibre.
Wheels and Tyres
The Sunringle DUOC 40 27.5″ wheels are tough and have aluminium hubs with sealed bearings. They are 36mm wide, and tubeless-ready, allowing for the extra wide 2.8″ Hutchinson Taipan Koloss tubeless-ready tyres.  These tyres will offer a good level of puncture protection, help with traction on steep climbs and inspire confidence when negotiating technical trails.
Thru axles add to the stiffness and robustness required for rigorous off-road riding.
Front Suspension
The RockShox Judy front forks are hydraulic and pneumatic, offering 120mm of travel, plus the usual lock-out and adjustment features.  They are fairly entry-level forks as far as Rockshox is concerned, but when you look at other e-MTBs in this price range, they usually use the very basic Suntour XCM forks, which aren't a patch on these.
As I have previously said, Decathlon wanted a budget mid-drive hardtail, that could be used for proper off-road riding, and not just light trail riding, like a lot of the other electric mountain bikes around this price.
Finishing Kit
All of the finishing kit is high-quality alloy Decathlon branded. And includes the B'TWIN ergofit EVO saddle, which is designed to be more comfortable for long days in the saddle.
The stem can be adjusted for height, and the 720mm alloy handlebars ensure good control when riding off-road.
Frame
The frame has a more relaxed geometry and is made of good quality 6061 alloys with hydroformed tubes. The battery fits very neatly in the frame, and the welds are neat. This bike comes with Decathlon's lifetime warranty, so you can be confident that it's going to stand up to the rigours of off-road riding.
Who is the Rockrider E-ST900 aimed at?
This bike is so versatile that it can be used by anyone, from weekend warriors to daily commuters. A pannier rack and mudguards can be easily fitted if required – I think this would make an excellent and comfortable commuter bike. Due to the excellent battery range, it would also make an excellent electric bike for bikepacking helping you on your weekend adventures.
As far as off-road riding is concerned, this bike is more than up to the job. When you look at the alternatives in this price range, it's easy to see why the Rockrider E-ST 900 beats them hands down, not only on price but also on specification.
I would be confident in taking this e-bike on more challenging trails, and although I do believe it will have its limits, I do think you would have to go some to reach them.
👉All sizes in stock now – visit Decathlon here
Also available online from Decathlon Spain
Conclusion
Well, what can I say? I've ridden and tested a lot of e-bikes over the last three years, and nothing has come close to this in terms of value**, performance, battery range and components.
With the Rockrider E-ST900, I think Decathlon has built an excellent electric mountain bike, and made it accessible to a lot more riders.
Previously, if you wanted an e-MTB with this kind of specification, you would be forking out £2000 plus. Here we have an e-bike with all the bells and whistles for nearly £500 less.
For the price, I honestly can't fault it. I like it so much, I'm tempted to buy one myself! When you compare this side by side with the competition, it becomes obvious that prestigious brands like Cube, Specialized, Trek and Giant can't come close to this bike in terms of sheer value for money.
👉All sizes in stock now – visit Decathlon here
Also available online from Decathlon Spain
If you are fortunate enough to own one of these, please feel free to leave a comment and review below