Finding a decent e-bike for under £1000 is not an easy task with hundreds of models to choose from. In this Himo C26 electric bike review I'll take a closer look at the specification to see if you really can buy a half-decent e-MTB for less than £1000.
Summary
The Himo-Tech brand of e-bikes has proven to be very popular over the last few years with their folding models being best-sellers in Europe. I've ridden a few of their electric bikes in the past and have always been very impressed with the build quality. Himo were originally crowdfunded by Chinese tech giant Xiaomi, so they've got off to a good start.
This particular C26 model has been on the market since 2019 and at its current price of around £900 offers excellent value for money. I have tested several cheaper electric bikes lately and so far I haven't been disappointed.
Cheap e-bikes are an important gateway in the world of assisted cycling as not everyone can afford to spend £2000 plus on a Cannondale or Cube.
In the early days, some bargain-basement electric bikes suffered from poor electric and battery longevity but this seems to be less of a problem nowadays. With the electric bike market being as competitive as it is, consumers expect decent quality when parting with their hard-earned cash. Just because a bike is at the cheaper end of the scale doesn't mean it should be of poor quality and unreliable.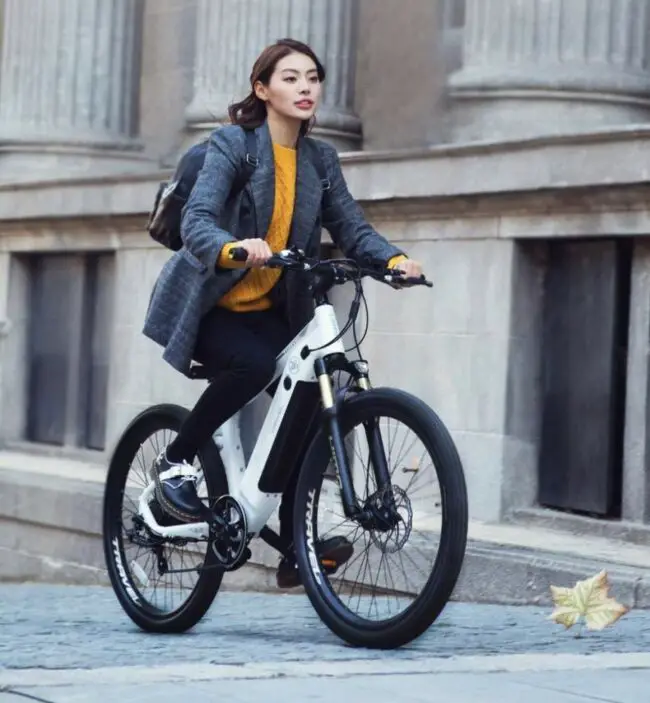 Electric components
One of the great things about the Himo C26 is it uses a 48v battery, which has several benefits. The main benefit of this is the same peak power output can be achieved with a lower current (amps) meaning the motor and controller will always run at a cooler temperature. This should help with long-term reliability and efficiency.
Motor
The small, geared 250w hub motor fitted to the c26 performs very well, I would say that peak power is closer to 500w – which is allowed (as long as it's not continuous). On the model I rode, I tested it on a fairly consistent 8% gradient and it handled it comfortably in full power mode with minimal pedalling effort.
There's a multi-function LCD fitted to the left side of the handlebar, making switching between power modes nice and easy. This display is the same as used on the Z20 folding e-bike. This UK model doesn't have a 'throttle mode' so there are 3 different assist levels in total plus a '0' assist for using the bike without electricity (useful for saving the battery for when you need it).
Battery
The 48v 10Ah battery fits flush with the downtube and looks very neat – this is the kind of thing you'd expect to see on a more expensive e-bike, but I am seeing it more often at the budget end of the scale.
As for the specification, I couldn't find any information on the exact spec of the lithium cells apart from the fact they're standard 18650 sizes. Having previous experience with other Himo e-bikes I would say they're generic cells but of decent quality.  With a total energy capacity of 480Wh (watt hours), I feel the claimed range of 100kg (62 miles) is optimistic. I would expect the Himo C26 to have a real-world range of around 30-40 miles.
Bike components
Most components on the Himo C26 would be considered entry-level although the forks and finishing kit do seem to be well-made and of decent quality. The gearing uses dependable Shimano 7-speed components, the brakes are unbranded mechanical disc brakes and work as expected.

There is a front suspension fork that offers 100mm of travel – the fork is unbranded but has an air of quality about it. The stanchions are finished in a nice, anodised gold (like more expensive forks) and there is preload and lock-out available. I never had a chance to properly ride this bike off-road but they felt fine on rough country lanes and I would imagine they'll be okay for some moderate off-road riding. If I had to draw a parallel I would put these forks on a par with the budget Suntour XCT forks found on some cheap mountain bikes.
A traditional 26″ wheel size is becoming rarer these days as a lot of manufacturers have moved over to 27.5″. I'm just fine with 26″ and I think for city riding, canal towpaths and woodland trails this wheel size is just fine. The black alloy wheelset looks robust enough to cope with some off-roading, but I would say the fitted  Kenda tyres are more suited to roads and gravel. If you wanted to take this on muddy off-road tracks, I would recommend fitting an MTB-specific tyre with a more aggressive tread pattern.
As for extras, the C26 is supplied with a kickstand and a nice front headlight which works off the battery and can be switched on through the LCD. The supplied tail light uses small batteries.
There's a nice surprise when it comes to the all-important seat arrangements as the Himo C26 is supplied fitted with a Selle Royal saddle. I found this seat comfy, although I only rode the Himo for a few miles, I didn't experience any tale-tale discomfort.
The frame looks very sturdy and has internal cable routing which is a nice feature on a budget electric bike like this. It looks thoroughly modern with its dropped seat stays and sloping top tube, it also has a nice upright riding position.
Full specification
General
Brand: HIMO
Type: Electric Bicycle
Model: C26
Colour: Grey
Specification
Meter: Three-speed switch, one-button switch
Wheel: Spoke wheel
Shock Absorption: Fork Shock Absorption
Tyre: KENDA 26X2.125 Pneumatic Tire
Brake: Front and rear disc brakes
Controller: Vector sine wave controller, fault code feedback.
Charger: Customized charger, automatic charging power off
Max Load: ≤100KG
Moped mode Endurance: ≈100KM(it all depends on the body weight)
Battery Category: Ternary Lithium
Battery parameters: 48V / 10AH
Motor: 250W
Max Speed: 25KM / H
Battery Life: 650 cycles
Charging Time: 5-6H
Frame Material: Aluminium Alloy
Battery Removable: Yes
Support Pedal: Yes
Cruise At Fixed Speed: Yes
Target Population: General
Weight & Size
Product Weight: 25kg
Package Weight: 32kg
Product Size(L x W x H): 174 x 66 x 105cm
Package Size(L x W x H): 169.8 x 28 x 115.7cm
Who is the Himo C26 aimed at?
As with many other e-bikes in this category, the Himo C26 is going to appeal to a broad spectrum of riders. The sloping top tube and low stand-over height mean the C26 will appeal to both male and female riders.  Thanks to the versatile design it's going to be equally suitable for light off-road riding, exploring the countryside or urban riding and commuting.
Although I wouldn't class the Himo as a proper electric mountain bike, it can handle rougher terrain and as long as it's not treated too harshly then I don't see any problems.
Conclusion
As is so often with these reviews, I don't always get to spend as much time as I'd like riding these bikes but I can glean a fair bit of info from a shorter ride. My first impressions of the Himo C26 are that it's incredibly good value for money and has a look and feel of an e-bike costing considerably more.
It's a little on the small side for my 6'1″ frame, and even with the seat post fully adjusted, I felt a little too low. But for the average rider of between 5'2″ and 6′ I reckon it would be ideal.
The motor works a treat and pulls very well when climbing hills. I didn't get to test the full battery potential but 30-40 miles seems realistic. Also as with other hub motors, there's no discernible resistance with the assist off although it's quite a heavy bike at 25kg.
For the price the Himo C26 is one of the best electric bikes there is and it features on my list of 7 of the best electric mountain bikes under £1000. Even though this model was released in 2019, it's stood the test of time well and still puts most other budget e-bikes to shame in the styling department. I like the Himo and it's currently in stock!
Buy the Himo C26 from Geekbuying.com (UK stock and shipping)
Thanks for reading, if you own a Himo C26, please feel free to share your experiences below.