When it comes to buying a budget e-bike, compromises usually have to be made regarding specifications. But, e-bikes like the Eleglide M1 Plus offer way more than you'd expect for the price. This review is based on several months of use and some longer rides in the country. Spoiler alert – I was pleasantly surprised!
Key features
250w Hub Motor
36v 12.5Ah Battery
27.5″ All-Terrain Tyres
Front Suspension
Current Discount Codes:
£549.99 after coupon code: NNNM1PUK (UK) €676.62 after coupon code: GKB11ANNI2 (EU)
The Eleglide M1 Plus has been available for a little while now, and this latest version is now available in the UK. Geekbuying.com sent me this sample, and the review below is based on my initial findings and subsequent usage.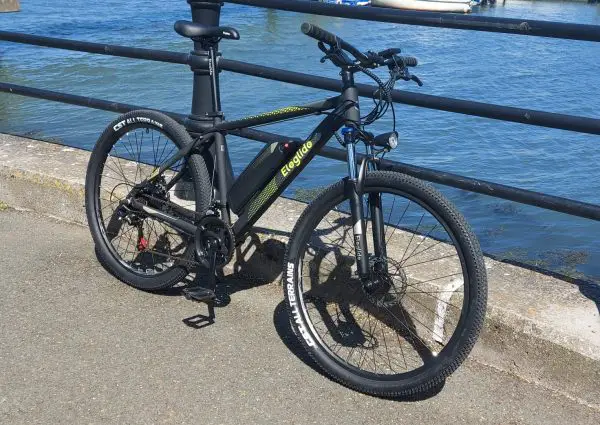 Unboxing and assembly
I was very impressed by the quality of the packaging – the box used was triple-walled and there were extra polystyrene panels inside to box to further protect the bike. The bike itself was very well protected (see photo below) with foam wrapped around all areas of the frame.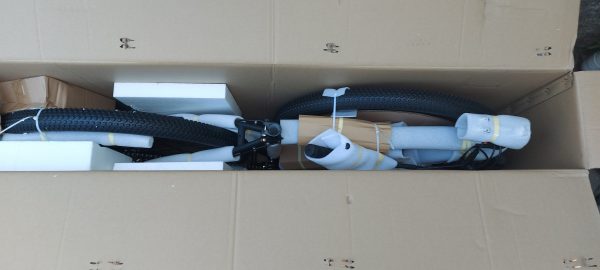 Assembly was fairly straightforward – the front wheel, seat post and pedals required fitting. Then, it was just a case of straightening the handlebar and tightening the stem. All the tools required for the job are included with the bike, and the instructions are clear and concise.
I was pleasantly surprised to find that everything seemed to be set up – there was no rubbing of the disc brakes and the gears were nearly perfect (they required a small adjustment). The tyres needed to be pumped up a little – they were both set at just under 30 psi.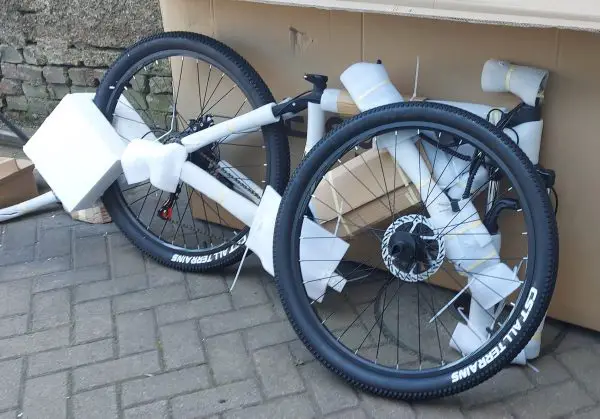 First impressions
Once I'd removed all the packaging, I checked the frame over for small marks/scratches and I'm pleased to say there weren't any. The paint finish is excellent and flawless with no imperfections.
It's a really nice looking e-bike considering the price and the bright yellow decals really stand out from the matt grey paintwork.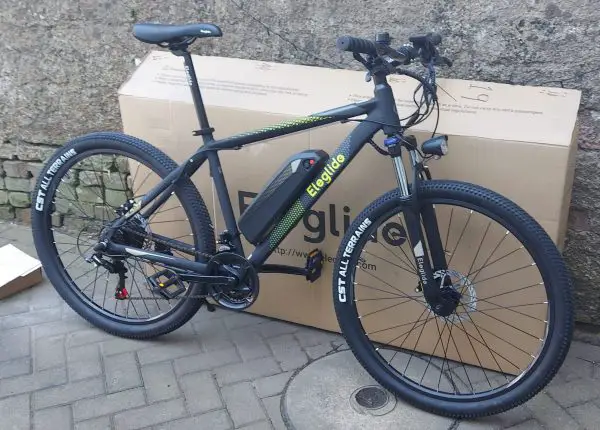 Sizing
The Eleglide M1 Plus is available in one size (18″ / 45.72cm) which is a medium. Even though I'm 6'1″ (185cm) I found with the seat post correctly adjusted it offered a surprisingly comfortable riding position – I didn't feel awkward or cramped on the bike. The 680mm wide handlebars could have used a bit more back sweep though.
Eleglide M1 Plus test ride
Once the battery was fully charged, I took the bike for a quick spin down to the waterfront near me. I started in level 2 and there was a short delay before the electric assist kicked in. Once on the go, I found levels 2 – 3 offered plenty of assistance. I tried the bike up a short steep hill climb (10% gradient) and handled it well.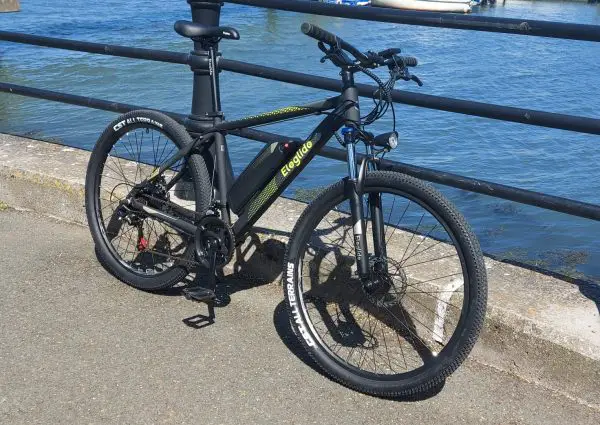 Travelling at around 15 mph, the bike was comfortable with the suspension forks doing a decent job of soaking up road imperfections. I had both tyres inflated to just under 40psi which seems to be the 'sweet spot' – I did try them briefly at 60psi but this made the ride noticeably harsher.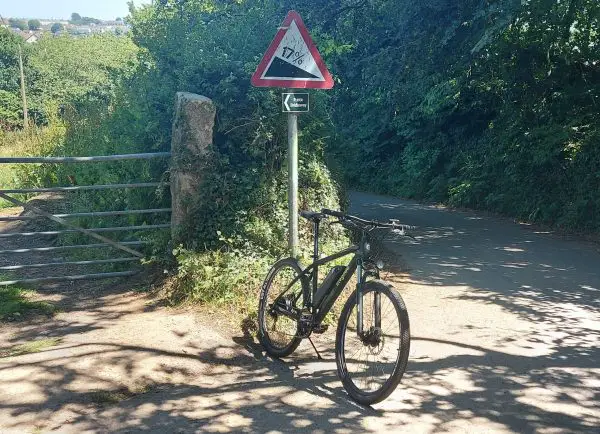 Update 22/6/2022 – I've now covered just over 100 miles on the Eleglide M1 Plus, and it's holding up very well. There have been no issues so far and I'm very pleased with how the bike has been performing. Battery range is very good and I have been getting around 40 miles (64km) from a single charge using mixed assist (in a hilly area)

Electric components
The Eleglide M1 Plus uses a fairly standard, brushless geared hub motor. It's very smooth but does make a small audible whine which is quite normal for these types of motor. Performance-wise it performed as expected – the pedal assist sensor measures cadence and there is a short delay before the motor kicks in (this can be adjusted in the advanced settings on the display). In full power mode, it pulled strongly up to the 15mph (25km/h) cut-off limit.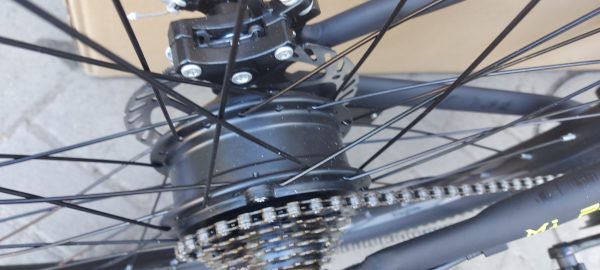 Hill climbing performance is pretty good for a small hub motor – it coped very well with a short 10% hill climb (I will be trying it out on much longer climbs).
The S866 V 1.0 LCD is found on a lot of budget e-bikes and offers as good functionality as other, more expensive displays. It's clear, easy to navigate and provides all the information you'll need – speed, trip, battery range and power/assist mode. You can also switch the headlight on or off using the + key.
It is possible to change the speed limit, but I wouldn't recommend this if you want to stay on the right side of the law.
There's a 36v 12.5Ah (450Wh) battery fitted to the M1 Plus. This uses the traditional Hailong case battery, which is great news if you wanted to upgrade the battery or buy another. Spare batteries are available for £200 which is very reasonable.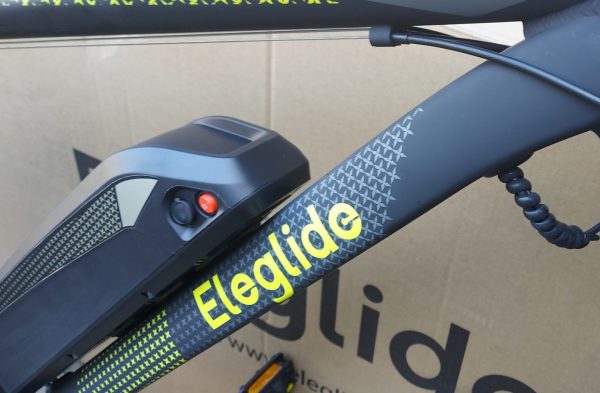 As far as range is concerned, I have charged to battery twice in 100 miles – I get roughly 40 miles using a mixture of different assist levels, riding in a very hilly area. Considering my weight (102kg) and where I live, this is a respectable range for a battery of this kind.
This battery uses unspecified 18650 cells, so longevity may be slightly less than what you'd get with Samsung or LG cells. Despite the horror stories often reported with generic cells, I haven't come across any problems and I see no reason why these batteries shouldn't last a few years before needing to be replaced.
Bike components
As you'd expect on a budget e-bike, there's nothing fancy about the gearing on the Eleglide – it's 21-speed and it works just fine. There's a triple crankset on the front (using a sealed cartridge bottom bracket). The front crankset has 24 / 34 / 42 teeth chainrings with a 14-28t 7-speed freewheel at the rear. This gives the rider a good range of ratios for climbing steep hills but limits top speed for faster, flat roads.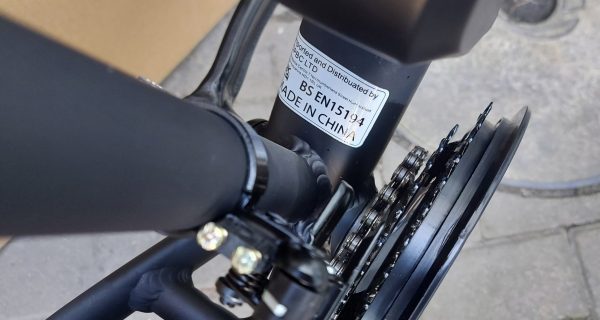 One thing that pleasantly surprised me was the Shimano trigger shifters. Usually on e-bikes of this price they tend to use the TX50 thumb shifters which are okay, but don't shift as well. The trigger shifters provide nice and positive gear changes and with a little bit of tweaking I managed to get the shifting spot-on.
Mechanical disc brakes are also common on e-bikes at this price point. These brakes work very well, considering they're not bedded in yet. They aren't as powerful as hydraulics but it wouldn't cost a lot to upgrade to something like Clarks Clout hydraulic brakes if you felt you wanted more braking power.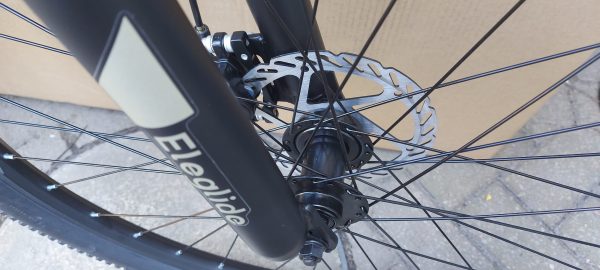 The front suspension forks are basic coil-sprung shocks with hydraulic lock-out. I haven't tested them off-road yet, but they seem pretty good at soaking up potholes. The lock-out function works well and is ideal if you're riding on smoother tarmac surfaces. I reckon these forks will be ideal for mild off-road riding and should be fine for riding on forest trails and gravel tracks.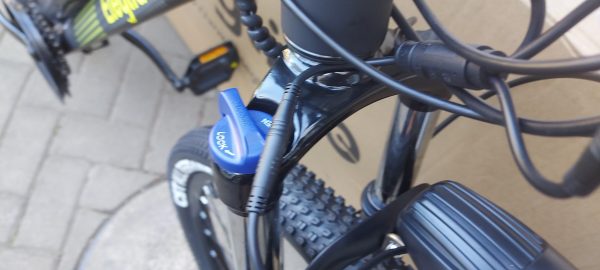 Wheel size is 27.5″ which is the common standard on modern mountain bikes. The rims look neat enough and are finished in a nice satin black with decals. The front hub uses a cup and cone bearing and felt a little notchy out of the box – I'm going to open them up and add a bit more grease. There's no quick release on the front wheel, but that's a minor detail and not expected on an e-bike of this price.
Another pleasant surprise is the CST AllTerrain tyres. These tyres should provide a reasonable amount of puncture resistance and they roll well on tarmac and should be good for mild off-road riding. If you were planning on riding on muddy off-road terrain you'd need to get a tyre with a more aggressive tread pattern.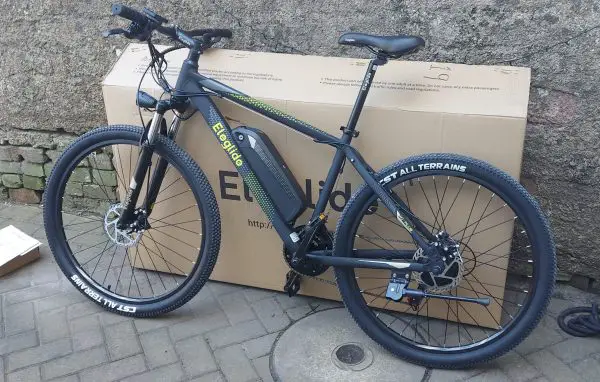 Frame and finishing kit
The frame is nice – the paintwork and finish are good and I like the colour scheme. The electric cables are all routed internally with the brake and gear cables routed externally. I like the geometry of this frame – it's got a nice sloping top tube and a reasonably slack head angle.
All of the finishing kits look to be of decent quality. There's a 27.2mm seat post, a nice stem and 680mm wide handlebars. As I've mentioned above, the handlebars are a good width, but could do with a little more back sweep – that's only my personal preference though.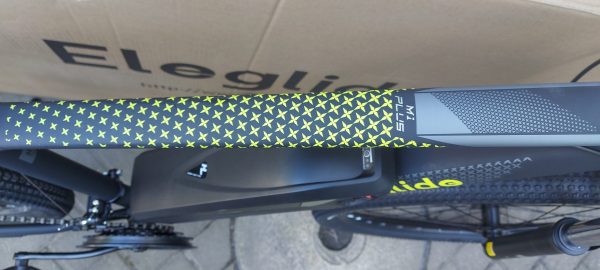 Accessories
There are mounting points for fitting a pannier rack and mudguards if required. There is a kickstand which seems to be of decent quality and quite sturdy. And, there is a front headlight which can be operated from the display – I haven't had a chance to test it in the dark, but I would imagine it will be fine for urban commutes in the winter months. I would recommend a stronger light for riding on unlit country roads.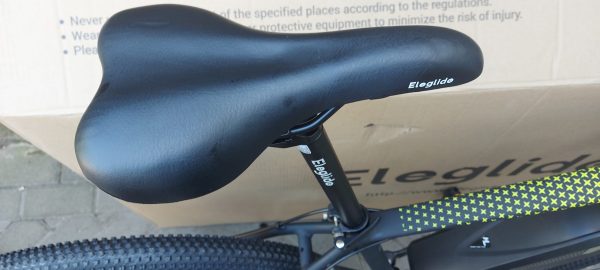 Full specification
The specification below is taken directly from the manufacturer.
Max. Range:50km (Electric Mode), 100km (Assist Mode), No Limit (Manual Mode)
Test Condition: The max range is achieved with a 75kg load and a constant speed of 15km/h on flat roads without strong winds at 26°C.
Max. Speed:25 km/h
Max. Load:100 kg
Slope:15°
Motor:250W 36V, 210 (Max RPM), 45N.M (Max Output Torque), 500W (Max Inst. Power)
Battery:12.5Ah, 36V, 450Wh, with Battery Protection System
Charger Output:100-240V 2A (Input), 42V 2A (Output)
Charging Time: About 7 hours
Derailleur:21 Speed Shimano Gear (Front 3, Rear 7)
Braking System: Dual Disc Brakes & Auto Power-off Design, 160mm (O.D.)
Suspension: Hydraulic Damping with Lockout
Tires:27.5″x2.1″ CST Pneumatic Rubber Tyres, 45-65PSI (Tyre Pressure)
Chainset:42T 34T 24T
Freewheel: 14-28 7-speed
Light: LED, 1.65W, 20° (Beam Angle), 0.5㎡ (Irradiated Area)
Display: S866 LCD Display
Waterproof Rate: IPX4
Recommended height of cyclists:165-195cm (5.41ft-6.4ft)
Weight: 21.7kg
What's included
1 x M1 Plus Bike
2 x Pedal
1 x Charger
1 x Tool Kit
2 x Key
1 x Throttle Kit
1 x User Manual
2 x Spoke Reflector
1 x Rear Reflector
Conclusion
I've tested quite a few different electric bikes around this price in the past and nothing comes close to the Eleglide M1 Plus in terms of value for money, components and overall quality. Having covered just over 100 miles so far, I'd have no hesitation in recommending this electric bike based on my first impressions. It will make an ideal daily commuter bike or it would be perfect for some weekend leisure riding or a spot of light off-roading.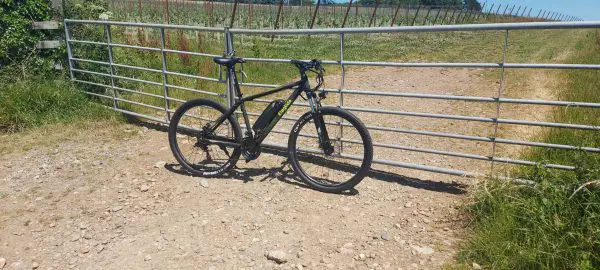 As a package, it's got everything you need on a cheap and cheerful e-bike. The gearing is nice, it's got a decent battery with a punchy motor. The brakes are more than adequate for the average rider and it looks really nice as well.
Several of my friends have had a ride on the M1 Plus, and they've all been impressed with the bike. Out of all the sub £1000 e-bikes I've tested, this is one of the best. If you like the look of the Eleglide M1 Plus, but don't mind a smaller battery, check out my review of the Eleglide M1.
£549.99 after coupon code: NNNM1PUK
€676.62 after coupon code: GKB11ANNI2 (EU)
Also available from Amazon – check out the great customer reviews!
If you have any questions about the Eleglide M1 Plus, please leave a message in the comments section below.