The new Eskute Polluno Plus comes with an impressive set of credentials at an even more impressive price tag. Featuring an impressive 720Wh battery with torque-sensing pedal assist, the Eskute Polluno Plus offers a lot for its £1399 price tag. In this review, we'll look at battery, performance and comfort to see if it's too good to be true.
In the interest of full disclosure, the electric bike reviewed in this article was generously provided to me by Eskute UK. This gesture, however, does not influence my opinions, and the ensuing evaluation remains impartial, reflecting my genuine experience and assessment of the product.
Eskute Polluno Plus overview
When Eskute first entered the UK and EU e-bike market back in 2020, their great-value electric bikes quickly became a hit with consumers. I tested one of their first models – the Eskute Voyager e-MTB. I was impressed with what that bike had to offer for the price.
Since then, Eskute has established itself as a widely recognised brand and further improved its model range with the Netuno and Polluno. This latest 2023 version of the Polluno is looking to be the best yet, with the addition of a class-leading 36v 20Ah battery and torque-sensing pedal assist.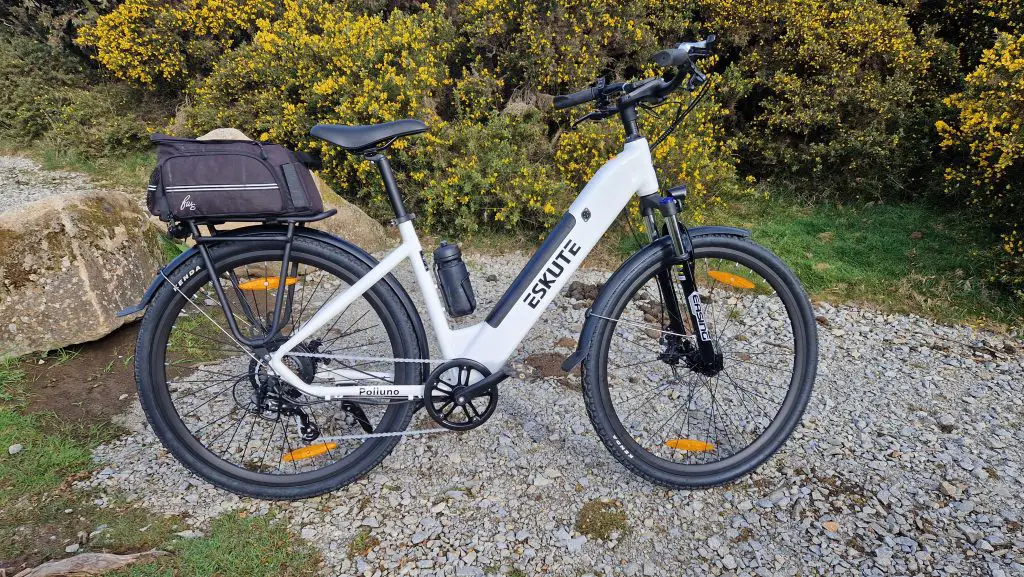 The Eskute Polluno Plus is now available in the UK and EU markets. Priced at £1399, this e-bike features an attractive introductory offer of £1199, making it a competitive option for those looking for a high-quality e-bike without breaking the bank. 
Key features include:
Bafang 250w hub motor
Torque-sensing pedal assist
36v 20Ah battery with Samsung cells
80 miles / 128 km maximum range
Front suspension with lockout
Mudguards, pannier rack, kickstand and lights
Below I'll take a closer look at the specifications of the Eskute Polluno Plus to see what's been changed and how it's going to benefit the riding experience.
Unboxing and assembly
The Polluno Pro was delivered quickly and by a 2-man team who were courteous and professional. It's a heavy box weighing in at 33 kg, so it's advisable to have help if you need to move it before unboxing. The bike was incredibly well-packaged – you should allow around 10 minutes to remove all packaging before commencing assembly.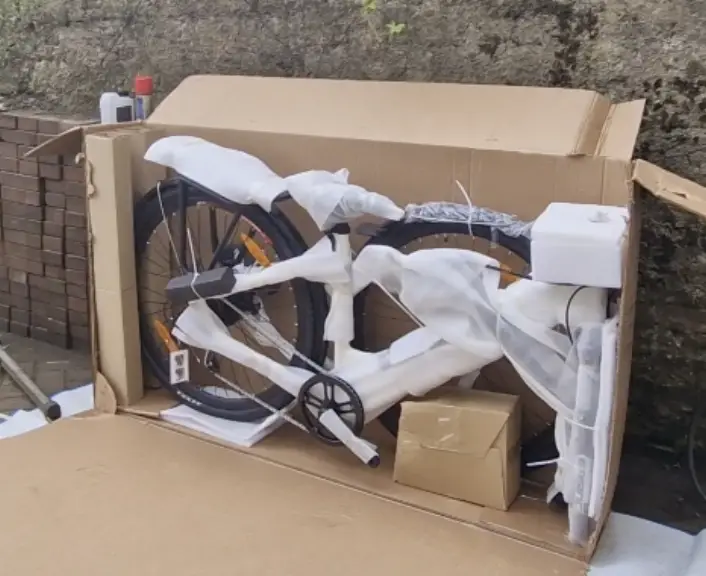 Assembly is fairly straightforward and a toolkit is provided. The front wheel, handlebar, stem/display, kickstand, headlight and front mudguard need to be fitted. 
Please note: If you're not used to doing things like this I would advise getting a bike shop or someone who's mechanically minded to help. Things like correctly tightening the stem are crucial to safety and handling.
Motor and battery
Motor: The Eskute Polluno Plus comes equipped with a Bafang 250w hub motor, which is smooth, powerful, and reliable. This motor offers ample power for tackling hills and maintaining speed on flat terrain. The torque-sensing pedal-assist system provides a more natural feel while pedalling, as it adjusts the level of assistance based on the amount of effort you put into each pedal stroke. This feature is particularly useful for those who want a more intuitive riding experience. Watch the hill climb test on YouTube.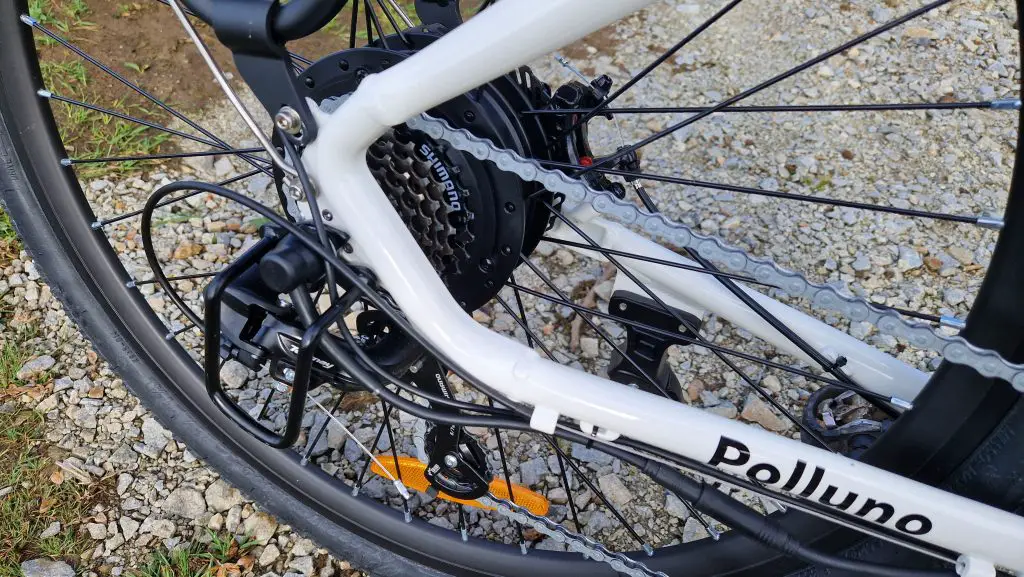 Battery: The bike's 36v 20Ah Samsung cell lithium battery has a claimed range of up to 80 miles on a single charge. After the initial test ride of 31 miles and 2500ft of elevation gain, there was still 71% remaining on the battery. This impressive range potential makes the Eskute Polluno Plus suitable for longer rides, commuting, and even a spot of touring.
Display and controls
The colour display is easy to read and use, providing essential information such as speed, battery level, and assist mode. The controls allow you to adjust the level of pedal assistance and switch the lights on. In addition, there's a partner app which allows you to connect via Bluetooth and change settings like km/h to mph, record rides and check for error codes.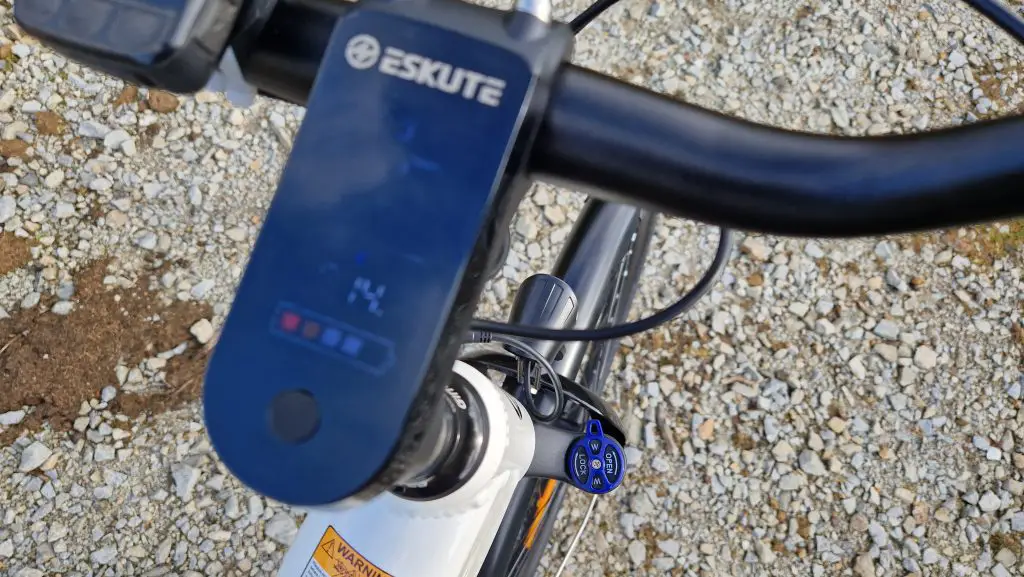 Bike components
Gearing: For gearing, there is a 44-tooth front chainring with a 14-28t 7-speed freewheel. The rear derailleur is a dependable Shimano Tourney with a TX50 thumb shifter. Throughout the test ride, the gear shifting performed as expected with nice and precise gear changes.
Brakes: The mechanical disc brakes are branded 'Repute' This isn't a brand I'm familiar with and I found the braking performance to be somewhat lacking in bite and modulation. I did readjust the brakes prior to riding but they didn't inspire confidence on the steep descents. Towards the end of the ride braking performance did seem to improve a little but it's early days yet and maybe they need to bed in a bit more.
Update 4/5/2023: Having ridden the Eskute on a longer 50-mile ride, the braking performance has definitely improved now they're bedded in.
Suspension: There is a front suspension fork which is a coil-sprung design and features lock-out and preload adjustment. I found the forks provided adequate performance when riding on the rough gravel tracks of Dartmoor. Out on the road, they help provide a smooth ride and will contribute towards reduced rider fatigue.
Wheels and Tyres: The Eskute Polluno Plus is available in 26″ or 28″ wheel sizes. The test model came with 28″ wheels fitted with 700 x 45c Kenda K935 tyres. These have K-Shield Puncture-resistance and a tread pattern that's suitable for a mixture of on and off-road riding. I found them to roll well on the tarmac and they also handled rough gravel tracks well.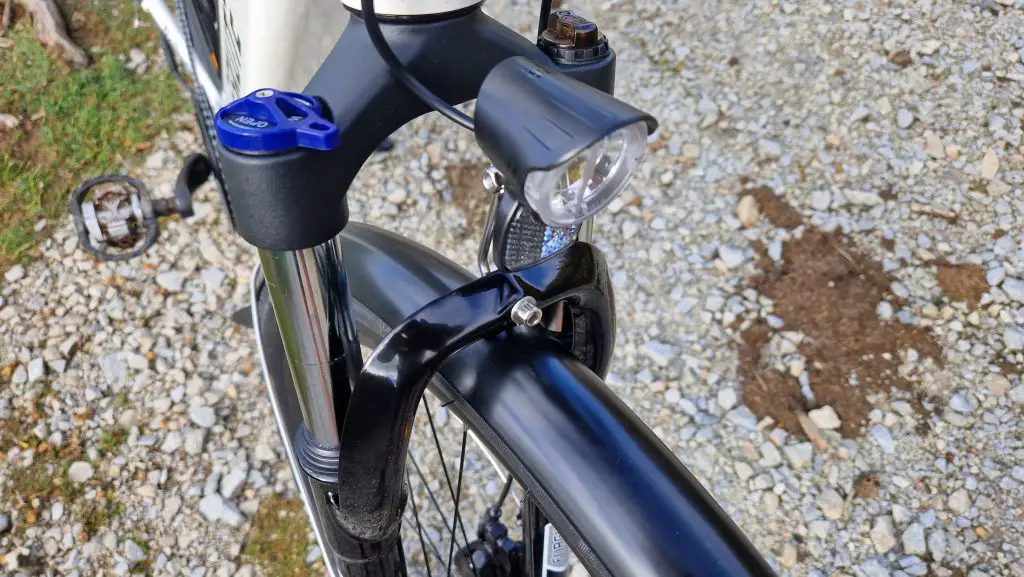 Additional accessories
The Eskute Polluno Plus is well-catered for in the accessories department. There are full-length mudguards front and back – these did a good job of keeping the muck off me when riding off-road. There is s sturdy pannier rack which has a 25 kg weight capacity and could be fitted with a small child seat if required. Finally, there's a frame-mounted kickstand and front and rear lights.
Comfort
The Eskute Polluno Plus boasts a comfortable riding position, making it ideal for those who prefer an upright posture while cycling. The step-through frame design makes mounting and dismounting the bike easy, especially for those with mobility issues or who simply prefer the convenience of not having to swing their leg over a traditional top tube.
There is a Dutch-style trekking handlebar which features a generous back sweep and rise which gives the rider a natural hand position and reduces numbness. In addition, there are ergonomic handlebar grips with palm support further improving comfort.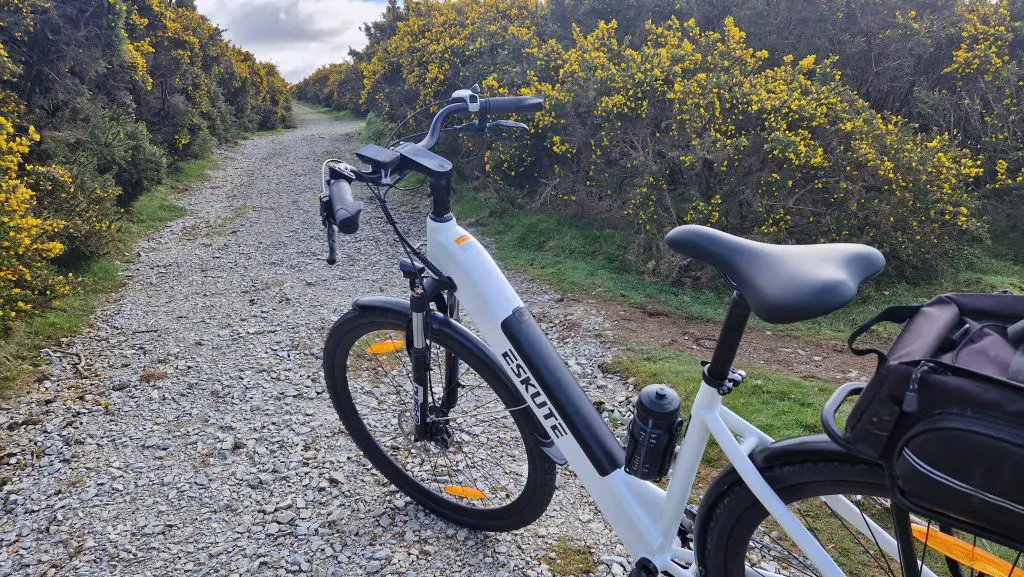 The saddle offers generous padding and support while not being too big like some saddles. I usually feel compelled to change saddles, but I found the Eskute saddle to be very comfortable throughout the 31-mile test ride.
Sizing
Regarding sizing, the Eskute Polluno Plus is designed to be ridden by riders of 5ft 2″ (160cm) up to 6ft 5″ (200cm). It's quite a big bike, I'm 6ft 1″ and found it perfect. There is a lot of height adjustment in the saddle but I would say shorter riders may struggle a little. If you are under 5ft 5″ I would recommend trying out a similar bike for size before committing to purchase.
Pros and Cons
Pros
Great value for money: With an introductory offer of £1199, the Eskute Polluno Plus offers excellent value for money, considering its high-quality components and impressive performance.
Torque-sensing pedal assist: The torque-sensing system provides a more natural and intuitive riding experience, adjusting the level of assistance based on your pedalling effort.
Comfortable riding position: The upright posture offered by the Eskute Polluno Plus ensures a relaxing and enjoyable ride, making it perfect for long journeys and leisurely rides.
Smooth and powerful motor: The Bafang 250w hub motor delivers smooth and reliable power, making it easy to tackle hills and maintain speed on flat roads in headwinds.
Excellent battery range: The 720Wh battery has exceeded expectations so far. On a recent 50-mile ride, the app battery indicator still showed 50% remaining.
Cons
Heavy: The Eskute Polluno Plus is relatively heavy although no more than other e-bikes in its class.
Mechanical disc brakes: I found the brake performance lacking. This may be down to the bedding-in, so I will give them the benefit of the doubt and report back here after I've covered a few more miles.
Sizing: It's quite a large bike and riders of the minimum recommended height of 5ft 2″ (160cm) may struggle.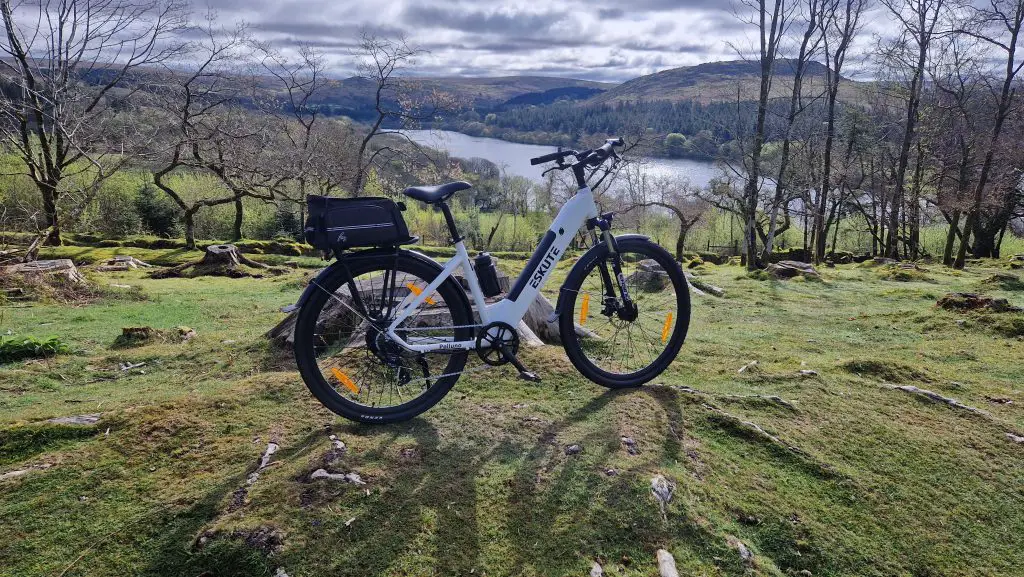 Conclusion
The Eskute Polluno Plus offers class-leading specifications and I'm thoroughly impressed with what this bike has to offer for the price. I found it very comfortable to ride with great battery range and excellent performance. The torque sensor provides smooth and responsive pedal assist and the bike handled on and off-road riding very well.
While the Polluno Plus is relatively heavy and the mechanical disc brakes lacked bite, these minor drawbacks are far outweighed by the overall performance, quality, and value for money that the Eskute Polluno Plus offers. If you're in the market for a reliable, comfortable, and high-performing step-through electric bike, I would have no hesitation in recommending the Eskute Polluno Plus.
FAQs
Q: How long does it take to fully charge the battery?
A: It's a big-capacity battery, so I would say between 6-8 hours depending on how much it's been depleted over a ride.
Q: Is the battery removable and can I purchase a replacement?
A: Yes, the battery is easily removable using the supplied key. Replacement batteries are available from the Eskute website.
Q: What is the maxim rider weight capacity of this e-bike?
A: The maximum weight capacity is 125 kg/ 275 lb
Q: Can the Polluno Plus be ridden without electric assistance?
A: Yes, there is very little resistance from the motor. It just feels like pedalling a rather heavy bike.
Q: Is the Polluno Plus suitable for both on-road and off-road use?
A: Yes, it's ideal for riding on gravel, canal towpaths and woodland trails. It is not recommended for hard off-road use – big rocks and tree roots should be avoided and definitely no jumps.
Q: Does the bike come with a warranty? If so, what is covered and for how long?
A: Yes, the Eskute Polluno Plus comes with a 2-year warranty. The frame, motor, controller and battery are covered for this period. The bike components are subject to wear and tear and are covered for 6 months, tyres are covered for 3 months. Screen and switch 6 months, front fork and handlebar 1 year.
Q: What is the frame material of the Polluno Plus?
A: The frame is made from 6061 Aluminium Alloy.
Q: Is the Eskute Polluno Plus waterproof or water-resistant?
A: Yes, it is water-resistant, and can be ridden in the rain. Although it is not recommended to ride through deep water or puddles as no guarantee can be given for water ingress in these circumstances.
Q: Can the brakes be upgraded?
A: Yes, if you were unhappy with the braking performance, I would recommend Zoom HB100 or Clarks Clout hydraulic brakes. If you decide on this upgrade, please ensure they are fitted by a competent bicycle mechanic.
Useful Links
Thanks for reading. I hope you found this Eksute Polluno Plus review useful. If you have any questions regarding this bike, please leave a message in the comments section below and we'll get back to you within 48 hrs.