8 of the Best Electric Bikes for Delivery (2022)
ebikechoices is supported by its audience. When you purchase through links on our site, we may earn a commission. Learn more
In recent years there's been a massive proliferation in food delivery companies like Ubereats and Deliveroo. Bicycles are the preferred mode of transport for this growing industry, so in this article I'll be looking at 8 of the best electric bikes for delivery currently available in 2022.
Why using an E-Bike for delivery makes perfect sense
More and more people who work for Ubereats, Deliveroo and Stuart are using an e-bike for their delivery job. Electric bikes are the perfect vehicle for small local deliveries within an urban setting. I can't think of a better way to deliver food orders or small packages and here's why:
Beat the traffic
With most cities constantly congested with traffic, an electric bike is a much faster way to get from A to B. E-Bikes will also go places that cars and small vans can't, making delivering much easier.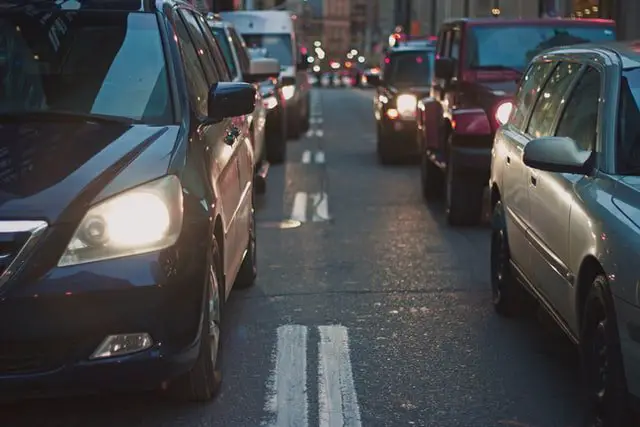 Zero emissions
In the UK and other parts of the world there has been increasing efforts by governments to dissuade people from using polluting vehicle within cities. With expensive charges being imposed for older vehicles and concessions for zero emission  modes of transport.
Low running costs
Apart from the initial purchase price, e-bikes are incredibly cheap to run. Charging an electric bike battery can only cost a few pence per day and servicing costs are substantially cheaper when compare with a car or van. There's no road tax or MOT to worry about. Insurance, although not compulsory is recommended and it's generally very affordable.
Good for health
Riding an assisted pedal cycle every day is going to have massive health benefits. You get to do some mild to moderate exercise and get paid in the process. Plus it can be great for your mental well-being and no two days are the same.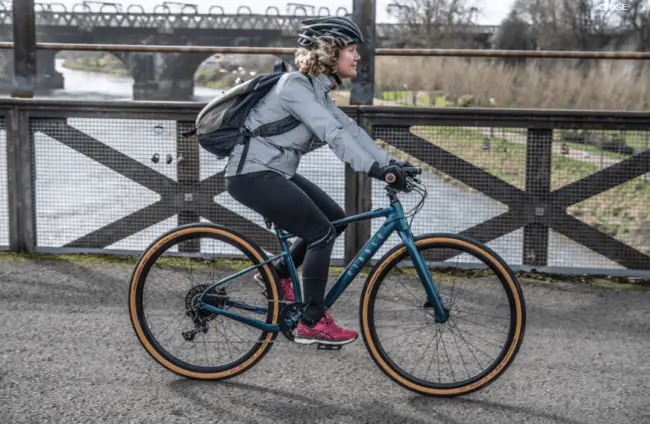 No more worrying about parking tickets and other fines
£130 million in fines were handed out last year just for the congestion charge alone [source], that's not including the millions paid out in parking fines (just in London).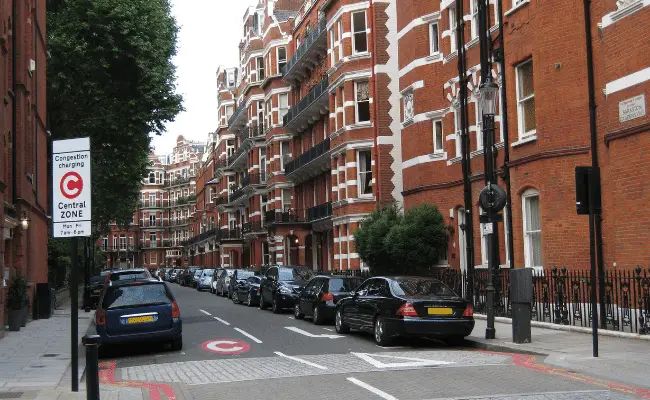 Anyone can ride an e-bike
Back in the day, you needed to be fit and healthy to be working as a bike courier. It was a young persons job and how fit you were had a direct influence on your earning potential.  Electric bikes have totally levelled the playing field in this respect, and I've see much older people working in this industry, thanks to the e-bike.
What type of E-Bike is best for delivery
The simple answer is any e-bike is suitable (as long as it's legal) and it really depends on how far you anticipate riding each day. Most Deliveroo riders in the UK seem to be riding anywhere from 40-80 miles over an 8 hour shift – your mileage is really going to depend on where you live, as a rider in a large city like London is going to be busier than in a smaller city like Exeter.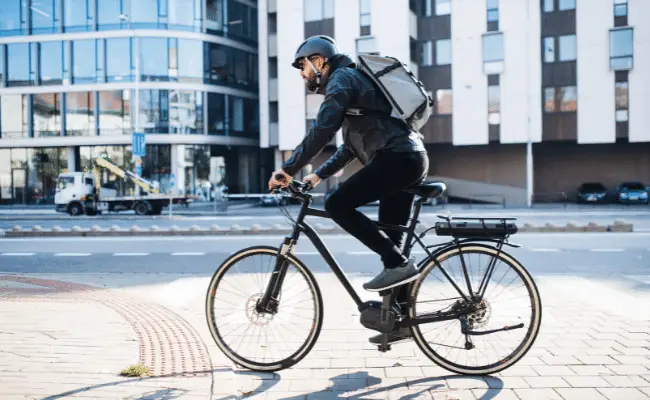 I would recommend as long a range battery as possible because the last thing you want is to be out of power halfway through a shift.  Having a medium-range battery could result in lost revenue, so it's a false economy. E-Bikes are generally quite expensive, so I'd advise paying a bit more and having a more powerful  battery. Alternatively you could buy a spare battery and use that as a back-up.
Another consideration is what you're delivering. If it's take away food (as with Ubereats and Deliveroo) these companies usually supply a large bag which can be carried by the rider. Some riders may feel comfortable carrying a bag on their back, so a bike with a rack would be more appropriate.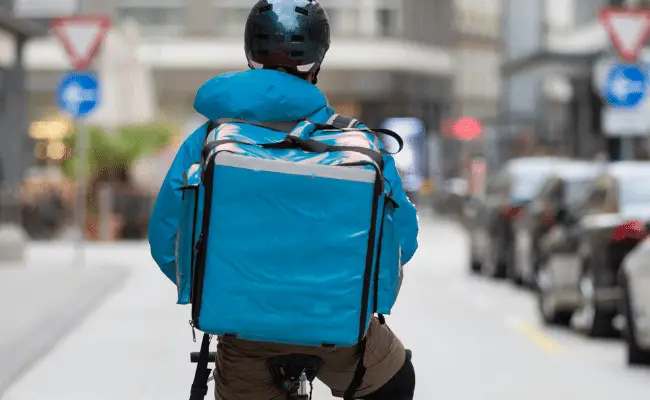 One thing I would definitely consider is getting an e-bike with higher-volume, puncture resistant tyres and maybe front suspension. This will be particularly useful for riding through poorly surfaced city street, or taking short cuts on unsurfaced tracks.
You don't necessarily need a cargo bike to carry bigger loads either. There's an increasing choice of excellent bike cargo trailers available which will allow you to carry much larger and heavier items.
Cargo E-Bike
These are the obvious choice If you're delivering bulkier packages and heavier items. Cargo e-bikes are especially designed to cope with larger and heavier payloads, they usually have long-range batteries and high-torque motors. Check out 7 of the best electric cargo bikes currently available.
Step-through Electric Bikes
An e-bike with a step-through frame may suit some riders. With a step-through (or easy-entry) frame it's much easier to mount / dismount the bike making them particularly suitable for delivery riders.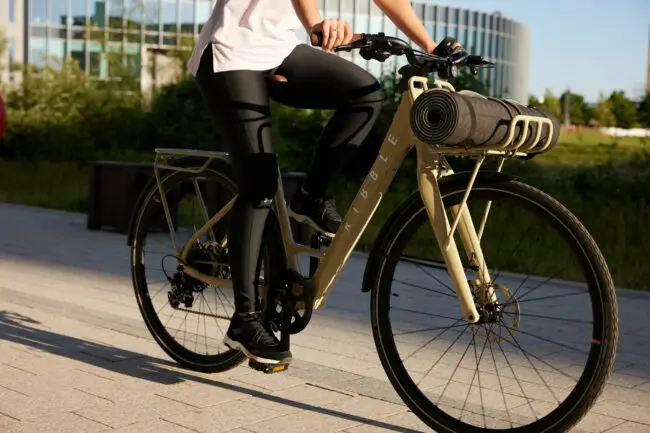 Lightweight E-Bikes
There are lots of benefits to using a lightweight e-bike for delivery work. These types of electric bike are particularly suitable if you're already quite fit and you just want the e-assist to help you with steep hills or give you a potential boost in earnings at the end of the day. Lightweight e-bikes aren't much heavier than regular hybrid bikes so they're much easier to pedal with the assist switched off.
Folding Electric Bikes
Folding e-bikes are great if you don't want to be leaving your bike unattended when delivering to offices. Bike theft is a major problem in a lot of cities and having an electric bike that is easily foldable means you can carry it with you. Unfortunately a lot of folding electric bikes are quite heavy, so you might end up lugging a 20-25kg bike up stairs.
DIY E-Bike
I know quite a few delivery riders who've opted to build their own DIY e-bike. The great thing about this option is you can customise your battery size and even go as far as altering the motor characteristics to suit your needs.  This option can work out a lot cheaper than buying a ready-made electric bike and you can buy quite a high-spec donor bike to start with.
I used to covert bikes to electric for a living and there's lots of info on this website on this subject. You can start by reading my electric bike conversion kit buyers guide.
The best e-bikes for delivery are…
I have selected 8 electric bikes covering all of the types listed above. Most of the bikes listed below are quite expensive so I've added a couple suitable budget options.
---
1. Ribble Urban AL e [lightweight option]
The Ribble Urban AL e step-through is designed to be a lightweight utility e-bike and as the name suggests, it's perfect for city riding and delivery riding in particular. It utilises a discreet and lightweight X35 ebikemotion 250w rear hub motor with integrated 250Wh (watt hour) internal battery.
This electric bike uses some very high quality components, from the powerful Shimano hydraulic brakes through to the SRAM NX 11-speed drivetrain. There's also front and rear lights and not forgetting the all-important load carrying potential of the fore and aft racks.
Although the battery capacity is on the small side, because the Ribble is quite light to start with, the rider shouldn't need to rely on the assist as much. There is a range-extender battery available which would effectively double the range from around 40 up to 80 miles.
Visit Ribble Cycles for more info on the Urban AL e
---
2. Specialized Turbo Vado SL 4.0 Step-through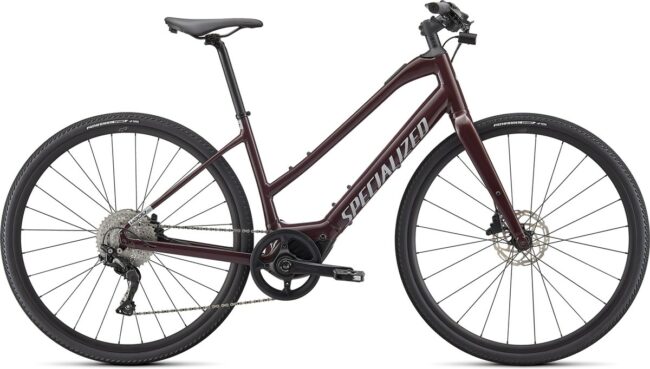 Another lightweight electric bike is the excellent Specialized Turbo Vado SL 4.0 Step-through. This e-bike uses a very smooth and surprisingly spritely SL1.1 integrated mid-drive motor with 320Wh internal battery.
Specialized have been producing some fantastic e-bikes lately and this model uses the same motor as found on the £10k + S-Works Turbo Creo road bike.
I have tested the regular frame version of this bike and it's so light and nimble to ride, you'd rarely need to even use the assist. When the e-assist is engaged it responds in such a smooth and intuitive way to your pedalling, that you feel like you have bionic legs!
Available from BIKEINN (EU shipping)
Buy direct from Specialized (USA)
---
3. Bergamont E-Cargoville [Cargo E-Bike]
The Bergamont E-Cargoville LT Edition electric cargo bike is solid and reliable all-rounder, with 190 kg maximum weight capacity (including rider and bike). Designed to have excellent riding characteristics, even with a full load, thanks to a solid frame construction with a low centre of gravity. There's an option to mount a second battery for increased range, meaning you could literally do over 100 miles between charges.
I reckon the Bergamont would be an excellent choice for the rider who wanted to deliver larger packages, maybe more along the line of courier work (as opposed to food delivery).
This e-bike has a great specification and is powered by the excellent Bosch 3rd generation Performance Line Active Cruise motor with 500Wh battery. It also benefits for an extra strong rigid CrMo steel fork and the superb Magura MT30 hydraulic disc brakes. Drivetrain is Shimano Deore 10-speed, with a massive gear range thanks to the 11-46 gear cassette.
The E-Cargoville LT is designed with all-day riding comfort in mind with Ergonomic contact points: Syncros Trekking saddle and Ergon GP10 lock-on grips.
Cargo features include a custom front and rear carrier system that can be fitted with various accessories, there's also a robust, foldable double kickstand for secure parking.
---
4. Pure Flux One [budget option]
If you're on a budget and want the ultimate low-maintenance electric bike, the Pure Flux One from Pure Electric is a cracking option. Weighing in at just 17.5kg, this lightweight, single-speed e-bike is perfect for quickly negotiating busy city streets.
One of the big appeals of this bike is the fact that it's practically zero maintenance. The Gates carbon belt drive doesn't need oiling, is silent and will last many times longer than a regular chain.
The 250w rear hub motor provides a good turn of speed and the 252Wh battery should easily give an assisted range of 25 miles – I reckon you could ride this like a regular bike for most of your shift and only use the assist when you really needed it. Let's say you average 60 miles a day, you'd still have nearly half that mileage with a help from the motor.
This is a great-looking e-bike and would be a good choice for riders who are already reasonably fit, but are looking increase their average speed over their shift. Read the full Pure Flux One article here.
Also available from Pure Electric Spain
---
5. Specialized Como SL 5.0  [8-speed hub gears]
The Specialized Como SL 5.0 benefits from the same excellent SL 1.1 motor and 320Wh internal battery as the Vado SL 4.0 (above), but with a beefier frame, Shimano 8-speed internal hub gears (with Gates carbon belt drive) and a front carrier.
What are the benefits of a geared hub you may ask? Well for starters, they're perfectly suitable for urban riding as unlike a standard derailleur system (where you need to be moving to change gear), you can shift gear while stationary – this is especially useful for delivery riders.
Another great thing about the internal hub gear system when used in conjunction with the Gates carbon belt drive, is virtually no maintenance and silent running – and no more chain oil to mess things up!
The SL 1.1 motor is incredibly smooth and efficient and the 320Wh battery should give an assisted range of around 40-50 miles, with more being achievable if the assist in used infrequently.
Available direct from Specialized (UK)
---
6. Eovolt Confort Electric Folding Bike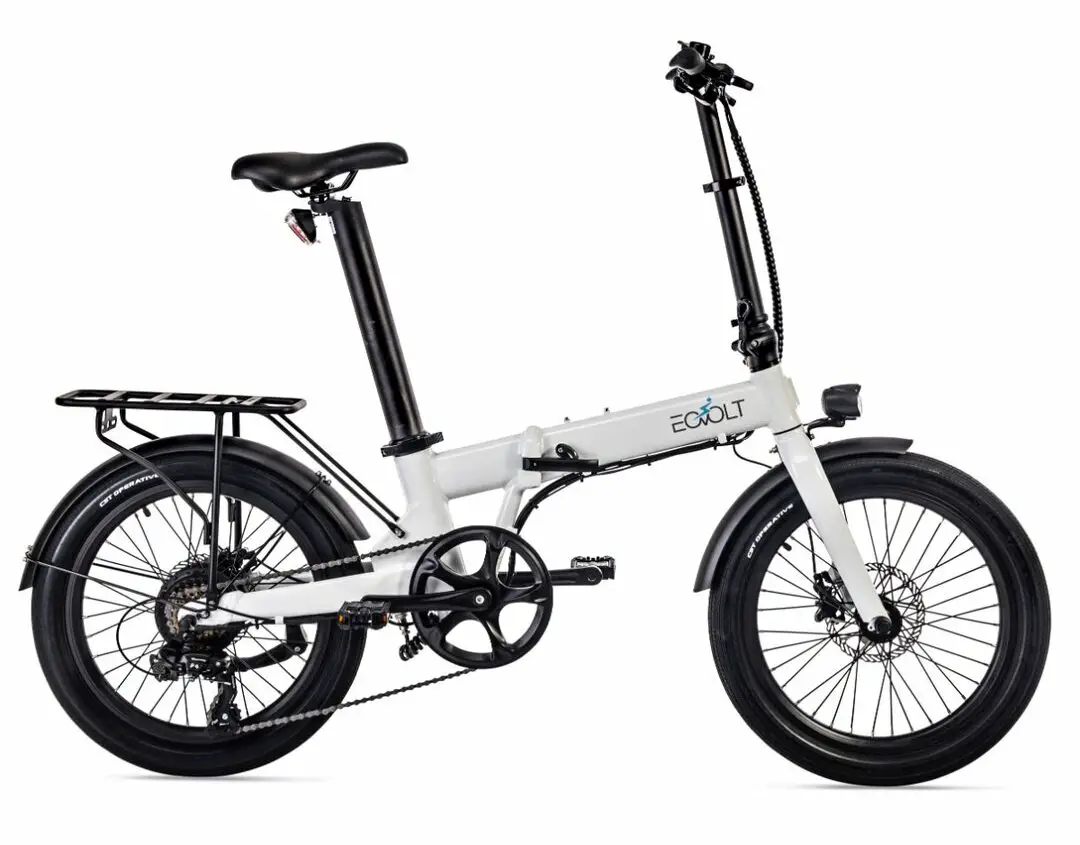 If you're after the convenience of a folding electric bike, then the Eovolt Confort is one of the best there is for the price. Sure, there's plenty of cheaper folding e-bikes available, but these nearly always have low-capacity batteries. The Eovolt has a substantial 504Wh battery pack which should give the rider a potential assisted range of around 50 miles – plenty of help for a delivery rider.
It's also very well catered for in the accessories department and wants for nothing – there's front and rear lighting, mudguards, pannier rack and a kickstand. Throw in high-volume 20″ tyres and hydraulic disc brakes and you can see the Eovolt Confort is a great all-round package.
The bike is designed to be folded down in around 10 seconds and only weighs 18kg, which is light for a foldable electric bike. This will be particularly useful for delivery riders who aren't comfortable leaving their bike locked-up outside while they go into a large office.
Buy from BIKEINN (EU and International shipping)
---
7. Orbea Vibe H30 [Lightweight]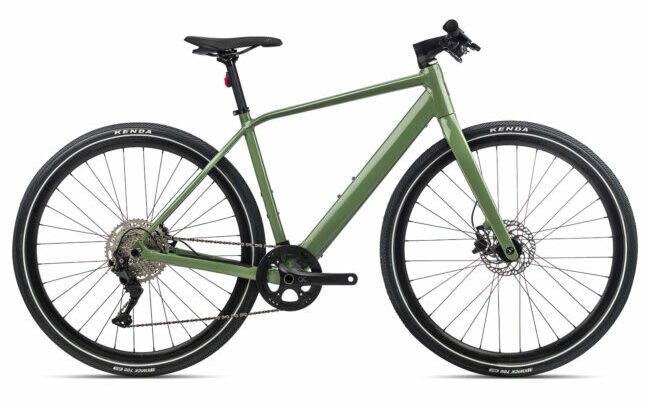 If you're looking for a city slicker that's fast, lightweight and nimble, then the Orbea Vibe H30 is a cracking e-bike. Powered by the excellent X35 ebikemotion system, the Vibe is designed with the urban ride in mind.
Looking at one of these you'd be forgiven for thinking it was a normal bike and for every intents and purposes it is – there's just some extra oomph on tap as and when you need it!
With powerful hydraulic disc brakes and a wide-range 11-46 10-speed gear cassette, you'll never have a problem stopping and you'll never run out of gears on a steep hill.
The 250Wh battery should give the average rider an assisted range of 50 miles, with more being possible if the assist is only used occasionally.
---
8. Cube Cargo Hybrid Electric Cargo Bike
If you need to regularly deliver bulky loads then there's simply no better solution than the Cube Cargo Hybrid electric bike. Powered by Bosch's Fourth Generation Cargo Line motor (85Nm of torque) and 500Wh battery, the Cube is the perfect choice for bike delivery couriers who need to transport large items or lots of smaller items in one go. There's up 250 litres of space up front and you can also have an additional pannier rack at the rear for even more capacity.
Another excellent feature of the Cube Cargo is the Nuvinci Enviolo CVT rear transmission which means you have a massive gear range and can change gear when stationary. This really is a fantastic delivery e-bike and could increase your earning potential by allowing you to do multiple deliveries in on one ride.
Check out more electric cargo bikes
---
Conclusion
Choosing the best electric bike for your delivery job really depends on your own personal preferences. If you are already quite fit and just want to have a bit of assist to fall back on half way through a long shift, then bikes like the Ribble and Orbea would be great options. At the budget end of things, the Pure Flux One is perfect for fairly flat, undulating city terrain and is probably the most maintenance-free of all the e-bikes featured here – it's also quite light.
At the other end of the scale you have the Cube Cargo Hybrid Electric Bike which is an absolute beast of a machine and designed for serious load-lugging.
If you want something that folds down really quickly, but doesn't compromise on quality and battery range then the Eovolt Confort is a cracking folding electric bike for the price.
The Specialized Turbo Como SL 5.0 is expensive, but you have high-end electric bike that's both comfortable, practical and has the benefit of a Shimano Alfine 8-speed hub gears.
Ultimately it depends on your individual needs. The high price of e-bikes is often discussed, but remember – if you buy one of the electric bikes purely from a work perspective you will be able to claim a substantial amount (if not all) back on your tax return.
More e-bike dealers in Europe
Thanks for reading and if you have any questions, please feel free to comment below.