If you're looking for an e-bike that's easy to live with daily, they don't come much easier than a step-through. This frame type has been around for over 100 years and has recently seen a massive rise in popularity. In this article, we'll look at 13 of the best step-through electric bikes currently available in 2023 and review some of the benefits of riding one.
My list of recommendations contains step-through e-bikes to suit all budgets and features popular models from trusted brands. Most of the bikes in this article are available in the US, UK and EU.
The 13 best step-through electric bikes in 2023
Step-through frames: A brief history
The step-through bike frame design has been around since the late 1800s and was originally designed to make it easier for women to ride bicycles wearing the formal attire of the period, mainly long skirts and dresses. This is why step-through bikes were traditionally thought of as women's bikes.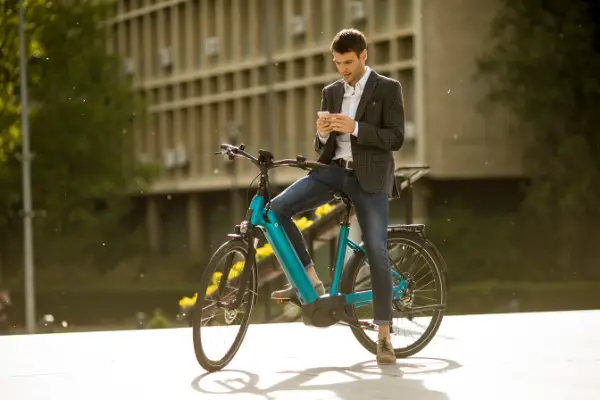 However, early in the 20th century, step-through frames were increasingly used to manufacture utility bikes (like post office bikes) as the design made it much easier to mount and dismount the bike.
Fast forward to the 21st century, and the step-through frame has become one of the most popular choices for the electric bike rider. They're comfortable, safe and stylish. The old-fashioned view that these frames are for women only has long since disappeared, and people of both sexes, ages and abilities now ride them.
Pros and cons of step-through electric bikes
There are more pros than cons when it comes to step-through electric bikes. I've listed the key benefits and negatives below.
Pros
Comfort: Step-through e-bikes are designed with comfort in mind and usually have an upright riding position, which puts less stress on the lower back and wrists. This is why, in Europe, step-throughs are popular among commuters.
Safety: Many cycling accidents happen when the rider loses their footing when stationary or just mounting the bike. A step-through can greatly reduce the chance of this happening.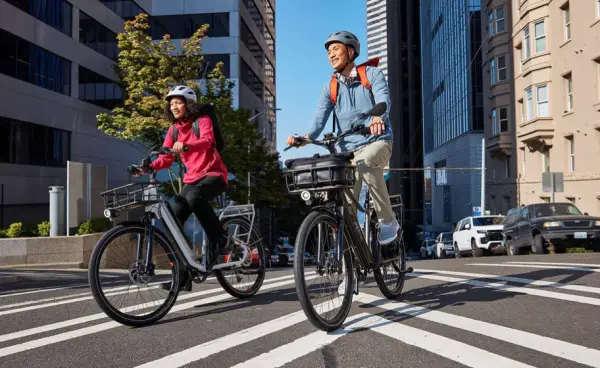 Clothing: If you wear tight-fitting jeans, a skirt, step-through electric bikes are perfect. You don't need to worry about wearing stretchy, cycling-specific clothing. Step-through e-bikes are great for riding out to meet friends for a drink or meal.
Mobility: A step-through frame is perfect if you have limited mobility or are recovering from an injury. This is why they have become popular e-bikes for older riders.
Quick to mount / dismount: This is why step-through bikes have been popular as delivery bikes since the early 20th century. The step-through is the perfect option if you're using an electric bike for delivery. Most cargo electric bikes have step-through frames.
Cons
Image: Even some younger riders still believe that step-throughs are for women. Don't let what other people think put you off. Ride whatever's comfortable and suitable for your needs.
Weight: Step-through frames are usually slightly heavier than traditional diamond frames due to structural elements and the thicker gauged tubing needed to increase strength.
Less mounting points: Step-through frames usually have fewer mounting points for things like water bottles, and there are fewer places to hang things like frame bags. Most step-through electric bikes have pannier racks, which isn't an issue.
Not as easy to carry: It's much easier to carry a diamond-frame bike, but you wouldn't want to carry an e-bike around on your shoulder anyway.
Should I get a step-through e-bike?
This depends on your personal preferences. I highly recommend one if you have mobility problems limiting how far you can lift your leg. Maybe you're a delivery rider constantly getting on and off your bike.
A step-through frame will make life easier if you ride in a busy urban area and constantly have to stop and start. As an electric bike for day-to-day use, they're brilliant – if you want to go shopping or pop out for a coffee, you can jump on it wearing jeans and a T-shirt and go!
So, on that note, I selected the 13 best step-through electric bikes available in 2023. My selection includes several bikes I've personally tested and includes something for all budgets.
---
Eskute Polluno Plus
Best step-through e-bike under £1500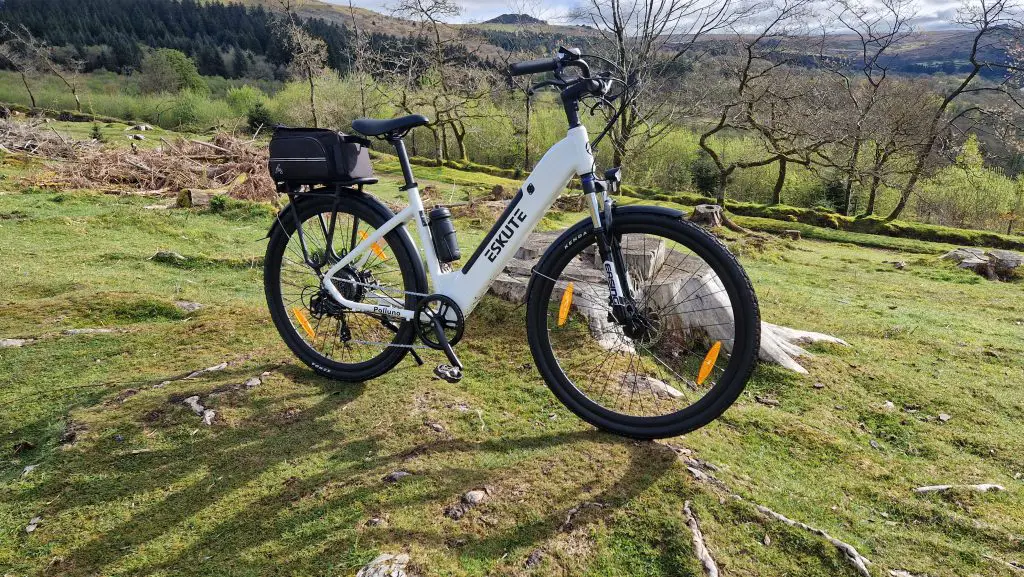 Key Features:
Torque-sensing pedal assist
36v 20Ah (740Wh) Battery
Bafang hub motor
2-Year warranty (on electric components)
Price: £1399
The Eskute Polluno Plus is the latest 2023 version of the popular step-through e-bike. This model benefits from significant upgrades over the previous model without a substantial price increase. There's now torque-sensing pedal assist and an impressive 36v 20Ah (740Wh) battery.
I am currently testing the Eskute Polluno Plus and am very impressed with it. It's incredibly comfortable to ride, and the battery range looks very promising. On a recent 31 excursion up to Dartmoor (UK), I still had 71% battery remaining at the end. Based on my initial impressions, I highly recommend the Polluno Plus, and at its introductory price of just £1299, it's the best in its class and worthy of this year's Best Newcomer award.
Watch my YouTube video review.
---
Bodywel A275
Best new step-through e-bike brand for 2023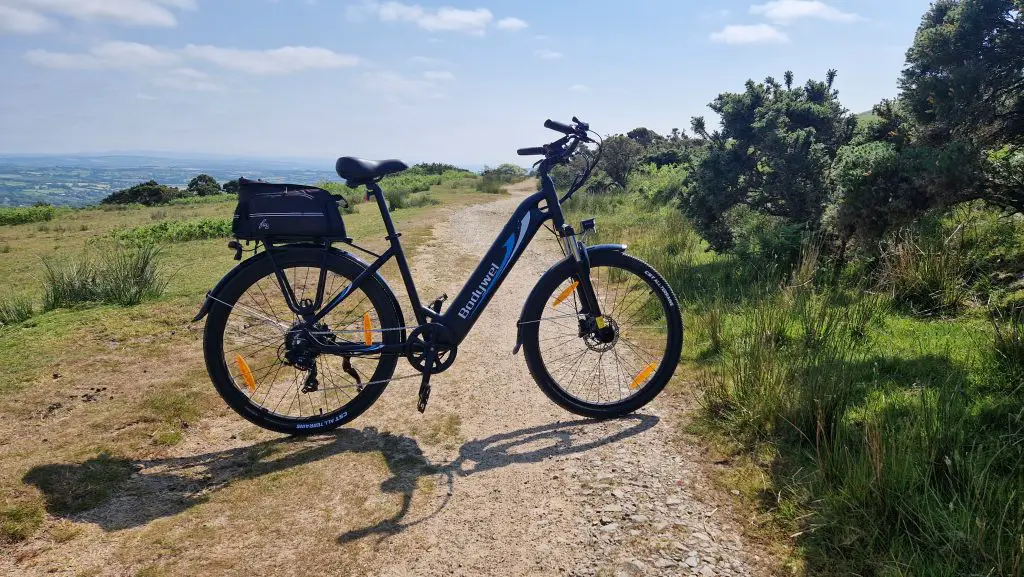 Key Features:
36v 15Ah (540Wh) Battery
Hydraulic disc brakes
27.5″ x 1.95″ All-terrain tyres
Price: £1179
Bodywel is a new brand for 2023, and I've recently been sent their A275 step-through e-bike to test. Based on my first impressions, it's a viable (and slightly cheaper) alternative to the Eskute Polluno Plus.
The Bodywel A275 features a 250w rear hub motor, 540Wh battery and hydraulic disc brakes. It's comfortable and benefits from mountain bike-style 27.5″ wheels with wide all-terrain tyres. This gives the A275 commendable off-road capabilities. Bodywel offers a 2-year warranty on the motor and controller and a 1-year warranty on the battery.
Check out my video review on YouTube
---
Rad Power RadCity 5 Plus
Best step-through city e-bike
Key Features:
672Wh Battery
Hydraulic disc brakes
250w (UK/EU) or 750w (US) hub motor
Price: £1399 / €1599 / $1999
The RadCity 5 Plus step-through from Rad Power Bikes is an excellent daily e-bike available in the US and Europe. The RadCity uses a reliable 750w rear hub motor (250w UK / EU) and a semi-integrated 672Wh battery. It is the perfect electric bike for city riding or leisurely outings in the countryside.
Components include 7-speed gearing and hydraulic brakes with 180mm rotors. In addition, there's a full complement of accessories, including mudguards, lights, a big pannier rack and an adjustable handlebar stem. The RadCity Plus is stylish, comfortable and affordable and features all the accessories you'll ever need!
---
Tenways CGO800S
Best belt-drive step-through e-bike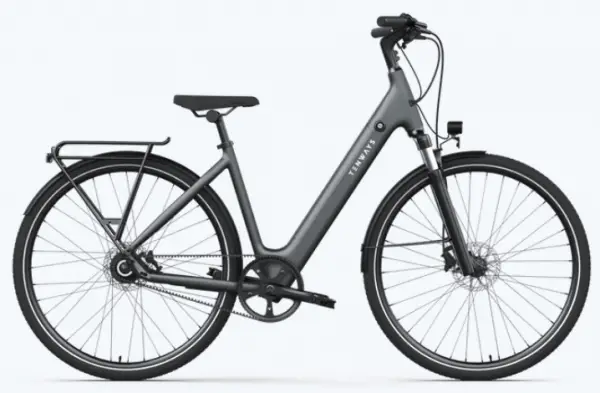 Key Features:
Hydraulic brakes
Gates Carbon Belt Drive
374Wh Internal battery
250w Rear hub motor
Price: £1899
If you want the simplicity and low maintenance of a single-speed step-through e-bike, then the Tenways CGO800s takes some beating! It features a 250w rear hub motor, torque-sensing pedal assist, a 374Wh internal battery, and a Gates Carbon Belt Drive. The CGO800S is ready to ride 365 days a year. No more worrying about oiling your chain or getting it on your clothes. These belt drives can last nearly 20,000 miles before needing to be replaced.
Designed for leisurely riding, the Tenways e-bike has a nice upright riding position and a suspension fork up front. Plus, there are powerful Tektro hydraulic disc brakes, puncture-resistant tires, mudguards, lights and pannier rack. The icing on the cake is it weighs only 19 kg!
---
Rad Power RadRover 6 Plus
Best fat tire step-through e-bike
Key Features:
672Wh Battery
Hydraulic disc brakes
750w Rear hub motor (US)
4-inch Tires
Price: $2099
This is the second e-bike from Rad Power featured on this list. The RadRover 6 Plus is one of their best-sellers on both sides of the Atlantic, and with good reason. You have all the benefits of a low-step frame combined with fat tires' 'go anywhere' versatility. The proven rear hub motor and 672Wh battery provide an assisted range of 25-45 miles.
The RadRover 6 Plus also benefits from improved braking, thanks to the powerful hydraulic disc brakes. The frame geometry is designed to be suitable for riders with an inseam of between 25-33.5″.
---
Fiido T1
Best step-through cargo e-bike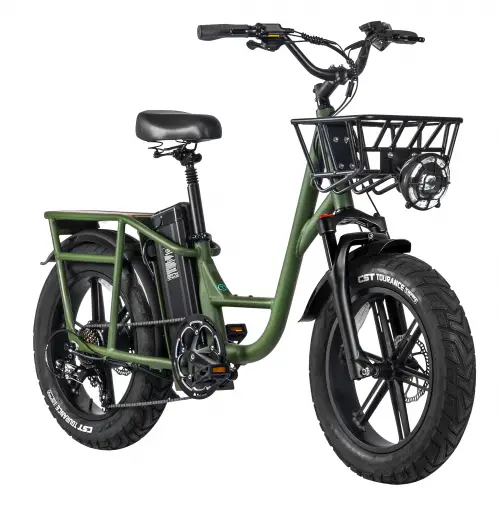 Key Features:
974Wh Battery
Hydraulic disc brakes
750w Rear hub motor
4-inch Tires
Cargo carrying capacity
Price: $1599
The Fiido T1 is a great option if you need an e-bike with more carrying capacity. It's a versatile machine with a big 974Wh (48v 20.3Ah) battery and a powerful 750w hub motor. Early isolated reports of the frame braking have led to this latest model having a reinforced frame and a 5-year guarantee (on the frame). This latest version also has hydraulic disc brakes.
It's designed with rider comfort in mind, with a step-through frame, fat road tires, large saddle (with suspension seat post) and upright riding position.
---
Engwe L20
Best 20-inch fat tire step-through e-bike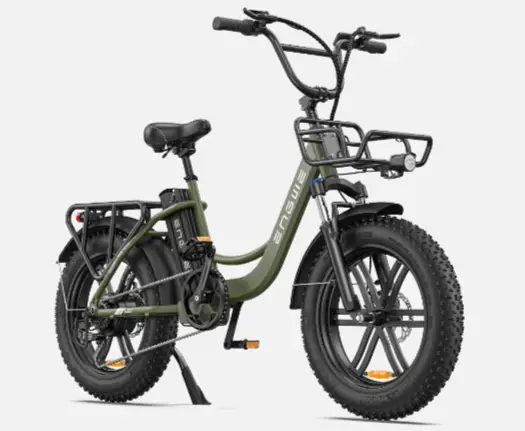 Key Features:
250w (UK/EU) or 750w (US) rear hub motor
48v 13Ah Battery
Mechanical disc brakes
20″ x 4″ Tires
Price: £999 / $1199
The excellent value Enwge L20 was only released in Spring 2023 and has already become a top-seller. Featuring a powerful hub motor with a 48v 13Ah battery, the L20 is a utility bike designed to be practical for daily transport.
It features mechanical disc brakes and Shimano gearing, tough mag-style wheels, and large cargo racks front and rear. The step-through frame design and upright riding position make it a comfortable and versatile option.
Watch my YouTube video review here.
---
Specialized Turbo Vado SL
Best lightweight step-through electric bike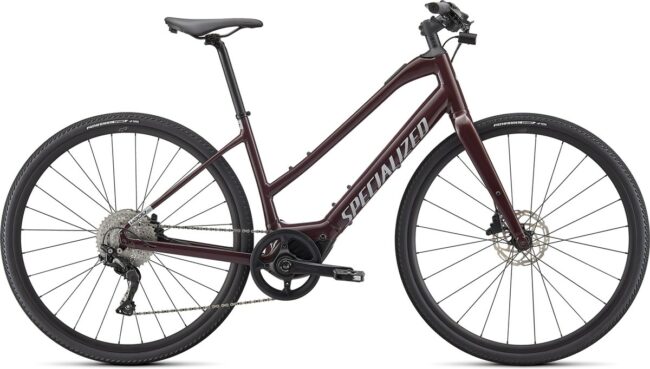 Key Features:
Mid-Drive motor
320Wh Internal battery
Hydraulic disc brakes
10-Speed Shimano gearing
Lightweight
Price: £2800 / $3249.99
The Specialized Turbo Vado SL is designed for riders seeking a lightweight e-bike with high-quality components. Featuring Specialized's excellent SL 1.1 motor and internal 320Wh battery, you can easily ride the Vado SL with or without the assist.
If you're looking for one of the best lightweight step-through e-bikes available, they don't come much better than this. I have tested the regular-framed version, and it's a joy to ride and highly recommended.
---
Trek Allant+ 7 Step-Through
Best Bosch-powered step-through e-bike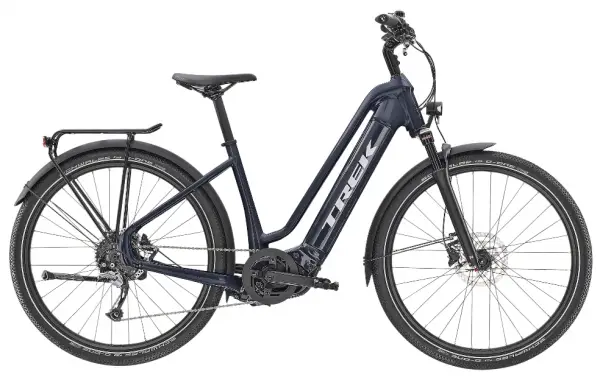 Key Features:
Bosch CX motor
500Wh Battery
Hydraulic disc brakes
9-Speed Shimano gearing
Price: £3285
I've featured the Trek Allant+ 7 because it's an absolute gem of an e-bike. It features the Bosch CX Performance Line motor, designed for mountain bikes. It produces 85Nm of torque and conquers hills with ease. The 500Wh battery gives a realistic range of around 40-50 miles, with more being possible in eco mode.
The front suspension is Suntour Mobi25, and the tires are excellent Schwalbe G-One 605b x 57c, making the Allant+ 7 a real all-terrain machine.
---
Magicyle Commuter
Best single-speed step-through e-bike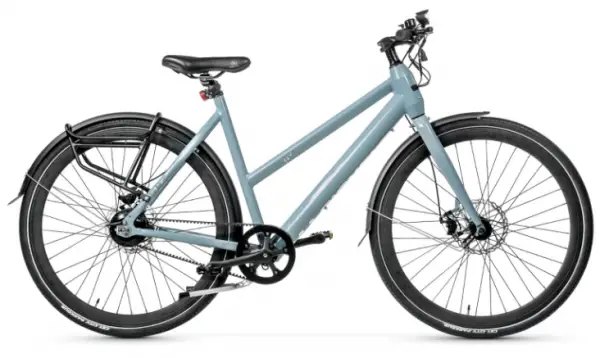 Key Features:
364Wh 52-volt battery
Mechanical disc brakes
350w Rear hub motor
Single-speed
Price: $1299
If you want the simplicity and low maintenance of a single-speed e-bike, then the Magicycle Commuter Step-Through is a great option. Featuring a 350w motor and internal 52v 7Ah battery, the Magicycle will be great for commuting and leisure riding.
The great thing about a single-speed e-bike is you don't need to adjust gears; you get on and ride! Belt drives are low-maintenance, and you won't have to worry about getting chain oil on your clothes. It's a nice-looking e-bike with subtle styling and worth considering if you want a hassle-free ride.
---
Ribble Urban E
Best urban step-through e-bike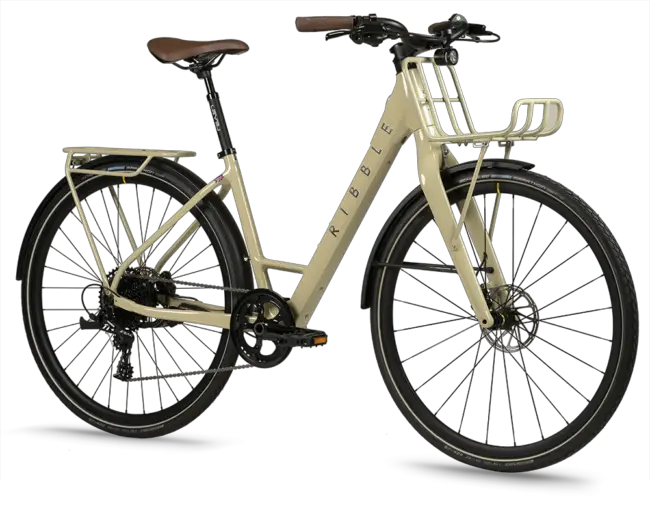 Key Features:
252Wh Battery
Hydraulic disc brakes
250w Rear hub motor
11-Speed SRAM gearing
Lightweight
Price: £2299
The Ribble Urban E is a stylish and lightweight step-through electric bike. The Ribble uses the Mahle ebikemotion, the lightest e-assist system available (at just 3.5kg, including battery). This bike has high-quality components, including a full carbon fibre fork, Mavic Allroad wheels, SRAM NX 1 x 11 gearing and Shimano hydraulic brakes.
The Urban E looks fantastic and practical thanks to its front and rear racks, making the Ribble ideal for running errands and maybe even shopping.
---
Frey Savannah Ultra
Best high-performance step-through e-bike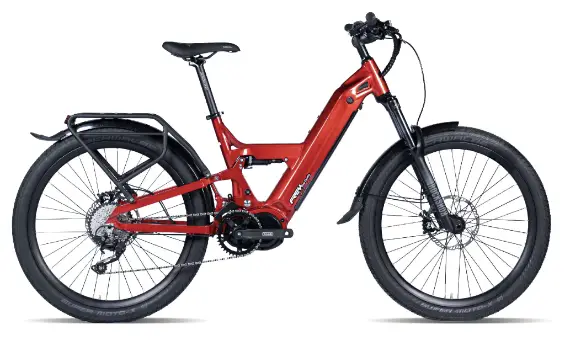 Key Features:
Bafang M620 1000w Mid-Drive Motor
840Wh Battery
Hydraulic disc brakes
Full-suspension
Price: $4580
There's nothing quite like the Frey Savannah Ultra anywhere. It's certainly a break from the norm. It features the Bafang M620 Ultra motor, which has a peak power 1500w. And there's an 840Wh battery to give you hours of fun.
Its full suspension frame with Rockshox forks and big tires make the Savannah perfect for long, off-road adventures. Thanks to its large battery and efficient motor, it would make a great e-bike for bikepacking. Plus, there are 4-piston hydraulic brakes and Shimano Alivio 9-speed MTB gearing. It is highly recommended!
---
Rad Power RadExpand 5
Best step-through folding electric bike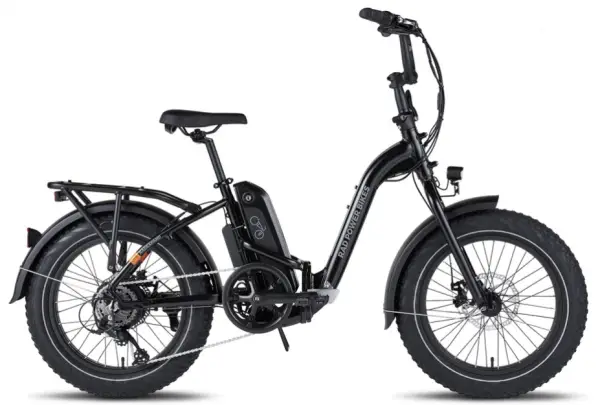 Key Features:
672Wh Battery
Mechanical disc brakes
250w (UK/EU) or 750w (US) Rear hub motor
Foldable design
Price: €1599 / $1449
New for 2023, the Rad Power Rad Expand 5 is their latest step-through folding fat tire e-bike. The US version features its powerful 750w rear hub motor. For the UK and EU, this motor is rated at 250w and limited to 15.5 mph (25 km/h). Battery range is estimated to be 25-45 miles, depending on the assist level, rider weight, and terrain.
I like the design, and with so many manufacturers opting for suspension forks on their e-bikes, it's refreshing to see a fat tire e-bike with rigid forks – I've always felt they're unnecessary and add weight to an already heavy bike. It's great value for money and is well worth considering.
---
Conclusion
Step-through electric bikes are practical and comfortable, perfect for riders of all ages, male or female. The old-fashioned view that step-throughs are just for women is very dated now.
The step-through e-bikes featured above are just a tiny amount of what's currently available. With this frame design, there are more electric bikes now than ever, and there is something to suit all budgets and disciplines.
I hope you've found my recommendations of the best step-through electric bikes article useful and if you need any help or advice choosing your next e-bike. Please leave a message in the comments section below – I aim to reply within 24 hours.