9 of the Best Step-Through Electric Bikes (in 2022)
ebikechoices is supported by its audience. When you purchase through links on our site, we may earn a commission. Learn more
If you're looking for an e-bike that's easy to live with on a day to day basis, they don't come much easier than a step-through. This type of frame has been around for well over 100 years and has seen a massive rise in popularity in recent years. In this article we'll be looking at 9 of the best step-through electric bikes currently available in 2022, and go over some of the benefits of riding one of these bikes.
Are step-through bikes unisex?
The step-through bike frame design has been around since the late 1800's and was originally designed to make it easier for women to ride bicycles wearing the formal attire of the period, which was mainly long skirts and dresses. This is why step-through bikes were traditionally thought of as women's bikes.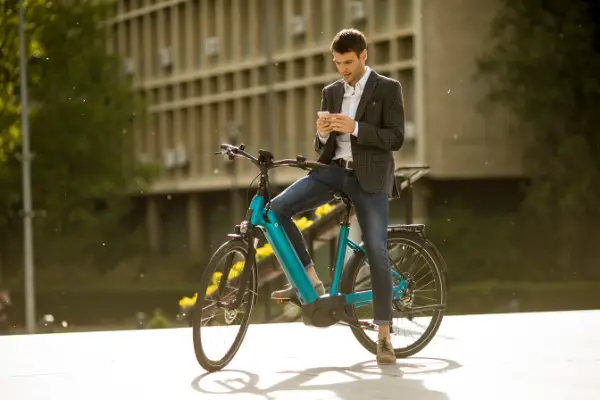 However, early in the 20th century, step-through frames were increasingly used in the manufacture of utility bikes (like post office bikes) as the design made it much easier to mount and dismount the bike.
Fast forward to the 21st century and the step-through frame has become one of the most popular choices for the electric bike rider.  They're comfortable, safe and stylish. The old-fashioned view that these frames are for women only has long-since disappeared and they're now ridden by people of both sexes, ages and abilities.
Pros and Cons of step-through electric bikes
There are more pros than cons when it comes to step-through electric bikes. I've listed the key benefits and negatives below.
Pros of riding a step-through e-bike.
Comfort: Step-through e-bikes are designed with comfort in mind and usually have an upright riding position which puts less stress on the lower back and wrists. This is why in Europe step-through's are popular among commuters.
Safety: A lot of cycling accidents happen when the rider looses their footing when they're stationary, or even just mounting the bike. A step-through can greatly reduce the chance of this happening.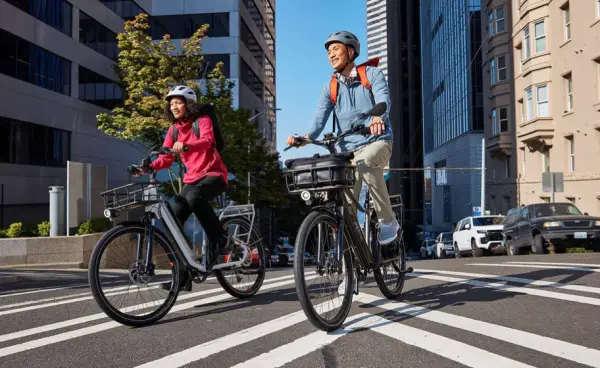 Clothing: If you're wearing tight fitting jeans, a skirt or whatever – step-through electric bikes are perfect. You don't need to worry about wearing stretchy, cycling-specific clothing. Step-through e-bikes are great for riding out to meet friends for a drink or meal.
Mobility: If you have limited mobility or are recovering from an injury, a step-through frame is perfect. This is why they have become popular e-bikes for older riders.
Quick to mount / dismount: This is why step-through bikes have been popular as delivery bikes going back to the early 20th century. If you're using an electric bike for delivery, the step-through is the perfect option. Most cargo electric bikes have step-through frames.
Cons of riding a step-through e-bike
Image: Even some younger riders still hold this old-fashioned view that step-throughs are for women. Don't let what other people think put you off.  Ride whatever's comfortable and suitable for your needs.
Weight: Step-through frames are usually slightly heavier than traditional diamond frames due to structural elements and the thicker gauged tubing needed to increase strength.
Less mounting points: Step-through frames usually have less mounting points for things like water bottles and there are less places to hang things like frame bags. Most step-through electric bikes have pannier racks though, so this isn't so much of an issue.
Not as easy to carry: It's much easier to carry a diamond-frame bike, but you wouldn't want to be carrying an e-bike around on your shoulder anyway.
Should I get a step-through bike?
This really depends on your personal preferences. If you have mobility problems that limit how far you can lift your leg up, then I would highly recommend one. Maybe you're a delivery rider who is constantly getting on and off your bike. If you ride in a busy urban area and are constantly having to stop and start, a step-through frame can make life easier. As an electric bike for day to day use, they're brilliant – if you just want to go shopping or pop out for a coffee, you can just jump on it wearing  jeans and a t-shirt and go!
The best step-through electric bikes are…
On to my selection of the best step-through electric bikes available in 2022. My selection includes e-bikes from all price brackets ranging from under £1000 to over £3000.
---
1. Rad Power RadCity 5 Plus
Available in the US** and Europe, the RadCity 5 Plus step-through from Rad Power Bikes is an excellent e-bike for day to day use. The RadCity uses a highly reliable 250w rear hub motor and 672Wh battery, making it the perfect electric bike for city riding or leisurely outings in the countryside. The RadCity Plus is stylish, comfortable and affordable and features all the accessories you'll ever need! **US version benefits from the more powerful 750w motor.
Available from Rad Power Bikes (EU and UK shipping)
---
2. Rad Power RadRover 6 Plus
This is the second e-bike from Rad Power bikes features on this list. The RadRover 6 Plus is one of their best-sellers on both sides of the Atlantic, and with good reason. You have all the benefits of a low-step frame, combined with the 'go anywhere' versatility of fat tyres. Plus, there's the proven rear hub motor and 672Wh battery, which provides an assisted range of between 25-45 miles.
The RadRover 6 Plus also benefits from improved braking, thanks to the powerful hydraulic disc brakes. The frame geometry is designed to be suitable for riders with an inseam of between 25-33.5″.
If you're after a step-through e-bike that's rugged and can tackle tougher terrain, then the RadRover 6 Plus is a great choice and highly recommended.
The similar RadRhino 6 Plus is available from Rad Power EU
750w version available from Rad Power US
---
3. Eskute Polluno Pro E-City Bike
New for Spring 2022 is the Eskute Polluno Pro E-City step-through electric bike. This latest model offers some nice improvements over the Wayfarer Pro. There's now a full step-through frame, along with some improvements in the components. The latest Bafang M410 mid-drvie motor is used – this produces up to 80Nm of torque, and there's an improved 522Wh battery that uses Samsung cells. For the price, the Eskute Polluno Pro punches well above its weight and is definitely worth considering in the under £2000 price range.
The Polluno Pro is currently discounted £1499 for November 2022 which is a great price!
---
4. Cube Touring Hybrid 500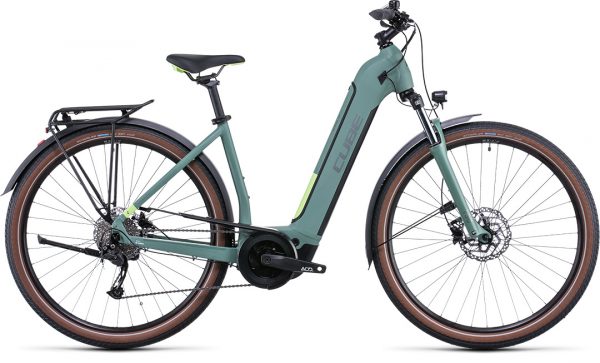 The Cube Touring Hybrid 500 is one of the most popular step-through e-bikes in Europe. It offers top-notch build quality and frame designed along with the best electric components on the market. Powered by the excellent Bosch Active Plus motor and 500Wh battery. The Touring 500 will comfortably do 100km on a single charge. As the name suggests, the Cube is designed for long days in the saddle and rider comfort is a big factor. It's a premium brand e-bike at a relatively affordable price. Plus, it comes with a comprehensive 2-year manufacturers warranty.
Available from fahrradlagerverkauf.com (EU shipping)
---
5. Specialized Turbo Vado SL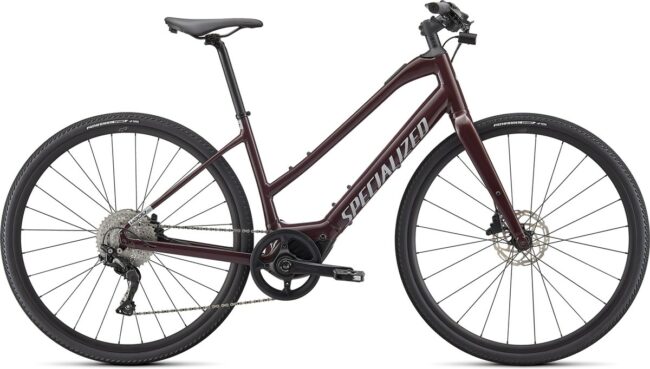 One of my favourite electric bikes on the market today is the Specialized Turbo Vado SL. This step-through version is stylish, fast yet comfortable. If you're looking for a lightweight electric bike that performs and feels like a regular bike without the assist, but turns you into a pro hill climber with the assist switched on, then this is the bike for you! It's smooth, fast and nimble – definitely aimed at the rider who wants a sportier ride.
Also available in the EU from Bikeinn
---
6. Cannondale Adventure Neo 2 EQ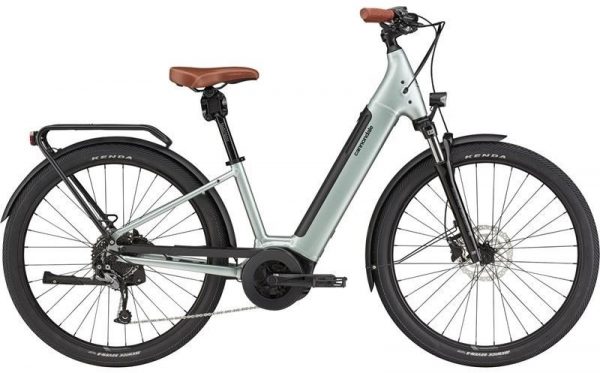 The Cannondale Adventure NEO 2 EQ electric bike is the perfect way to explore your city and beyond. It's lightweight aluminium frame makes it easy to get around, while the Shimano Alivio 9-speed drivetrain provides reliable shifting and hydraulic disc brakes keep you safe on the streets. The Cane Creek suspension seatpost ensures a comfortable ride, while the Bosch Active Line Plus 250W drive-unit provides plenty of power to take you wherever you want to go. With a 500Wh battery, this electric bike has a range of up to 149km, so you can explore for hours without having to worry about running out of battery.
---
7. Orbea Optima E40
The Orbea Optima E40 is another great lightweight option. With a classic step-through design and super-lightweight Mahle ebikemotion e-assist system, you'd be hard pushed to even know it was an e-bike. The Optima E40 is designed for the city rider who's happy to cruise along on the flat and have a helpful boost when needed. If you're in the market for a step-through e-bike, but don't want something too heavy, then the Orbea would be a great choice.
---
8. Haibike Trekking 4 step-through electric bike
German company Haibike have an impressive reputation when it comes to making quality e-bikes. They got their foot on the ladder early on in the electric bike revolution and have more experience than other manufacturers in this field. The Haibike Trekking 4 step-through is a quality machine on many levels. It uses the excellent Yamaha PW-TE mid-drive motor with 500Wh battery. Other components include a Suntour NEX25 suspension fork, Shimano 9-speed gearing and hydraulic brakes. Plus, pannier rack, mudguards and even lights. All this comes in at under £2500, making the Haibike an excellent choice for someone looking for a high quality e-bike from a prestigious brand.
---
9. Ribble Urban E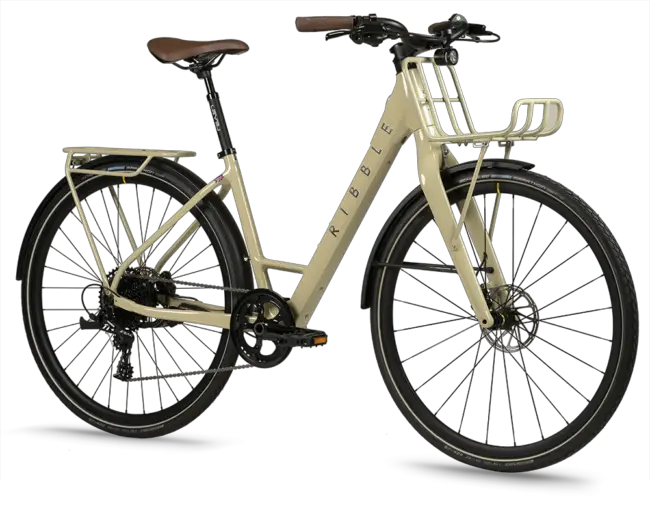 The Ribble Urban E is a stylish and lightweight step-through electric bike. The Ribble uses the Mahle ebikemotion, which is the lightest e-assist system available (at just 3.5kg including battery). This bike is awash with very high quality components including, full carbon fibre fork, Mavic Allroad wheels, SRAM NX 1 x 11 gearing and Shimano hydraulic brakes. The Urban E looks fantastic and is very practical thanks to its front and rear racks, making the Ribble ideal for running errands and maybe even a bit of shopping.
Visit Ribble Cycles for more info
---
Conclusion
Step-through electric bikes are practical and comfortable, and they're perfect for riders of all ages, male or female. The old-fashioned view that step-throughs are just for women is very dated now.
The step-through e-bikes featured above are just a tiny amount of what's currently available. They're more electric bikes now than ever with this frame design and there really is something to suit all budgets and disciplines.
I hope you've found this article useful and if you need any help or advice choosing your next step-through electric bike. Please leave a message in the comments section below – I aim to reply within 24hrs.