The choice and variety of factory-produced e-bikes available now are staggering! Building a DIY electric bike is still a tempting proposition for some people. In this article, I'll show you that building your own electric bike needn't break the bank, and the end result can look just as good as a more expensive factory-produced e-bike.
Building your electric bike
The DIY e-bike scene is just as strong as ever, and there is no shortage of intrepid enthusiasts willing to have a go at converting their trusty steed into an electric bike.
In one of my previous posts, I weighed up the pros and cons of buying an electric bike vs fitting a conversion kit. Converting a bicycle to electric assist isn't a job to be taken lightly, but if done correctly the result can not only save you a lot of money, but you will end up with a unique bike perfectly tailored to your needs.
If you are not really a 'hands on' kind of person, I would strongly advise buying a ready made electric bike.
There are a lot of arguments for and against building your e-bike, but there is no doubt about the substantial savings to be made when converting a bike you already own.
You could even build a bike from scratch, starting with the frameset and adding the components you need. Read my article on my latest DIY gravel bike build.
The electric bike below cost a total of £900 to build (including the cost of the BTWIN Riverside 900 donor bike). The bike has hydraulic brakes, decent suspension forks, puncture-resistant tyres and 1 x 10-speed gearing. The motor kit used was a Tongsheng TSDZ2 torque-sensing mid-drive with a 36v 13ah battery. I covered nearly 500 miles on this bike and it performed as well as any Bosch or Yamaha-powered electric bike I had ridden!
I have always built and ridden my electric bikes, and I can honestly say, having covered more than 5000 miles on these bikes, I have had very few issues. Maybe I have just been lucky or possibly it's down to the way I ride – only using the power when I need to and I only use pedal assist (no throttle).
Having said that retrofit electric bike motors (particularly the mid-drives by Bafang and Tongsheng) are not considered to be as reliable in the long-term as the offerings from Bosch, Yamaha, Shimano and Brose.
In the section below I will go over the pros and cons of the Bosch motor vs the Bafang and Tongsheng mid-drives. I haven't singled out the Bosch because I think it's a bad motor, on the contrary, I think it is an excellent piece of engineering and generally speaking, it is incredibly reliable. I have just used the Bosch as an example, the same would apply for the Yamaha and Brose and to a lesser extent the Shimano Steps.
Bosch vs Bafang and Tongsheng
Consider the fact you have gone out and purchased a Bosch-powered electric bike. You would have paid approximately 2000 GBP/ 2350 Euro / 2700 USD  for an entry-level bike like the Cube Touring Hybrid One. This is an excellent bike and would normally come with a 2-year warranty. After that warranty expires, you are on your own, and Bosch motors are notoriously expensive if they go wrong. Bosch batteries are also incredibly expensive to replace and even a minor fault can render the battery useless.
Bosch does not repair their motors, nor do they offer replacement parts to customers so they can effect repairs themselves. Diagnostic software is only available to accredited dealers and technicians. So basically they have you just where they want you!
The argument in favour of mid-drive conversion kits like the Bafang and Tongsheng is compelling:
Problems can be diagnosed and repaired by any competent DIY enthusiast.
Spare parts are readily available and easy to get hold of.
There is an abundance of information and advice available online.
Both of these motors can be programmed by the user using open-source software.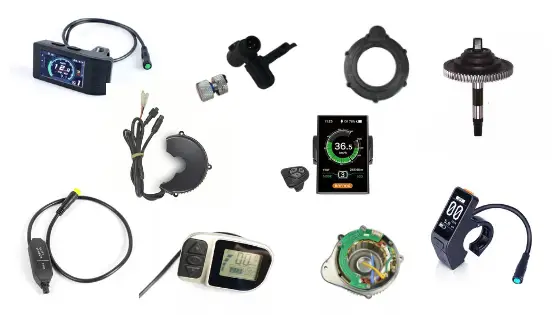 Another plus point with conversion kits, is there are a growing number of e-bike battery specialists that can repair faulty lithium batteries. I typically pay between £80-£100 to have a BMS repaired and have cells re-balanced. Incidentally, my battery repair guy won't touch Bosch batteries as the CPU inside the battery will effectively decommission it, and this can only be sorted out by an approved Bosch service centre.
Conclusion
Ultimately the Bosch is a fantastic motor and is renowned for being able to do very high mileages without problems, but if they do go wrong (especially out of warranty) Bosch will not repair the motor and a replacement can cost in the region of £800-£1000. The battery is also incredibly expensive considering its modest energy capacity (around the £500 mark).
The Bafang and Tongsheng motors are also good, but in the early days, they both suffered from serious reliability issues. I recall an electric bike conversion kit supplier telling me he had a skip full of broken motors.
Five years on and they appear to have substantially improved. That is not to say they are still without their faults though. If you do decide to go down the route of building your mid-drive electric bike, it may be worth buying some spare parts so that at least you can repair the problem quickly if one arises.
I would not recommend a Bafang or Tongsheng if you are not confident about repairing things yourself, especially if you are going to be covering high mileage (unless of course, you know of someone who can do repairs/servicing for you).
A quick price comparison is below.
The Cube Reaction Hybrid Performance – 9-speed 11-36 gearing, hydraulic brakes, puncture-resistant tyres, Suntour XCM forks. Motor spec: Bosch Active Plus motor 500Wh battery. Price: £2099 (At time of writing)
BTWIN Riverside 900 Hybrid – 10-speed 11-40 gearing, hydraulic brakes, puncture-resistant tyres, Suntour NEX forks. Motor spec: Tongsheng TSDZ2 468wh battery (LG cells). Price £900 (At time of writing)
Choosing the Right Bicycle for your E-Bike Build
If you have a half-decent, unused bicycle sitting in your shed or garage, it may well be worth taking the plunge and converting it to electric using one of the many different conversion kits currently available.
Pedal-powered vehicles of all shapes and sizes have the potential to be converted to electric assist, but you will need to consider a bike that is not only right for you but also something that will be able to withstand the extra weight and power produced by an electric motor and battery.
Another thing to consider is kit compatibility. If you are fitting a mid-drive, most of the units by Bafang and Tongsheng are only suitable for a bicycle with a standard 68 mm-73 mm threaded bottom bracket. More expensive mountain and road bikes usually have a press-fit bottom bracket. This can complicate a mid-drive installation and you will need to either purchase a special shim/reducer (in the case of PF BB30) or get an engineer to fabricate one. You may also need to modify the frame around the bottom bracket area as some press-fit bottom bracket shells are much wider than the standard 68-73mm.
Hub motors are only suitable for bikes with standard drop-outs. Some modern mountain and road bikes use thru-axles, so fitting a hub motor would not be a viable option.
Brakes
Most of the electric bike conversions I do, are on hybrid or mountain bikes that have hydraulic brakes. There are pros and cons to these, but you will find good hydraulic brakes provide better-stopping power and brake modulation.  Having said that, decent mechanical disc brakes like Avid BB5's are pretty good too, and even good quality rim brakes, when set up correctly can work just fine.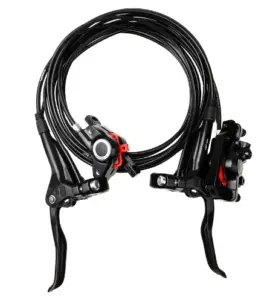 The main thing to consider is the extra weight your conversion kit is going to add to your bike. A 1500w direct-drive hub motor combined with a 52v20ah battery can add 10-12kg to the weight of your bike, which will have a noticeable effect on braking (especially downhill). A small mid-drive motor like a Tongsheng TSDZ2 in combination with a 36v13ah battery will add around 7kg to the weight of your bike.
What is the most suitable bicycle for a DIY e-bike build
Unfortunately, there is no easy answer to this question as there are many variables to consider, and ultimately it is a matter of personal choice, but you will need to consider the following:
How much power will you require – consider the e-bike law in your country carefully.
How much extra weight will your combined motor and battery add to your bike?
What will you be using your bike for? Commuting, weekend leisure rides, serious off-road riding,  XC riding.
Your level of fitness and cycling abilities.
Compatibility of your bike with conversion kit e.g. bottom bracket type (for mid-drives) wheel size and type of drop-outs (for hub motors).
How much range you would need out of a single battery charge – I always multiply the voltage (V) x amp- hours (Ah) e.g. 36v 17.5ah = 630-watt hours (wh). Using a constant 20 wh per mile would result in a range of 31.5 miles(50 km). This figure could be far greater or lower depending on how much power your kit draws from the battery.
I have converted most styles of bicycles from vintage mountain bikes to recumbents and modern road bikes. The most popular bikes to convert are usually hybrids or mountain bikes. This choice makes a lot of sense as both mountain and hybrid bikes are sturdy as they are built to handle more rugged terrain.
Gearing
This is another important factor to consider, especially if you are fitting a mid-drive system. If you live in an area with fairly moderate hills, then gear range isn't such an issue, but, if like me you live in an area that has relentless steep climbs you would certainly benefit from a wider gear range.
Mid-drive systems are perfect for hill climbing due to the way they transfer power to the rear wheel using the bike's gearing. This makes them extremely good at getting you up steep climbs, even if you only have a 250w motor.
Hub motors on the other hand are not quite as efficient. A direct drive motor usually needs to be put out in excess of 1000w to cope with long, steep climbs and even then they can struggle. Geared hub motors on the other hand tend to cope better, particularly the 48v 500w / 750w Bafang hub motors.
With a mid-drive system, it is always better to have a smaller chainring up front, to help reduce the load on the motor and lower the gearing. With a hub motor, it doesn't make much difference.
Internally geared rear hubs are great when combined with a mid-drive, but if you are using anything much above 250w, you will need to think of the extra wear and tear possible. The Shimano Alfine 8 is particularly robust and I have installed several BBS02s and BBSHDs on bikes with these geared hubs fitted – but it is essential to fit a gear shift sensor and also dial down the start current on the controller using a programming lead and software.
Tyres
Tyre choice really boils down to the kind of riding you will be doing. If you use a mountain bike for your daily commute and spend a lot of time riding on the tarmac, then it would be worth investing in more road-friendly tyres. Not only will it decrease the rolling resistance, but also improve the ride quality.
I always recommend a good quality puncture-resistant tyre like the Schwalbe Marathon Plus, especially if you have a hub motor fitted. Removing a wheel with a three or four-kilo motor in it is not straightforward and the last thing you want to be doing on your commute/ride is trying to replace an inner tube on one of these. Read my article on the best tyres for electric bikes for more info.
Other accessories
Depending on the type of riding you will be doing, you may want to kit your bike out with some extras. A good quality saddle combined with a decent suspension seatpost such as a Suntour SP-12 NCX will make for a very comfortable ride.  Mudguards are always a good idea if you live in an area that gets a lot of rain (like the UK!). Pannier racks are also useful, combined with a bag – the saddle bag can sometimes double up as a place to store your battery and controller (if you have a hub motor conversion kit).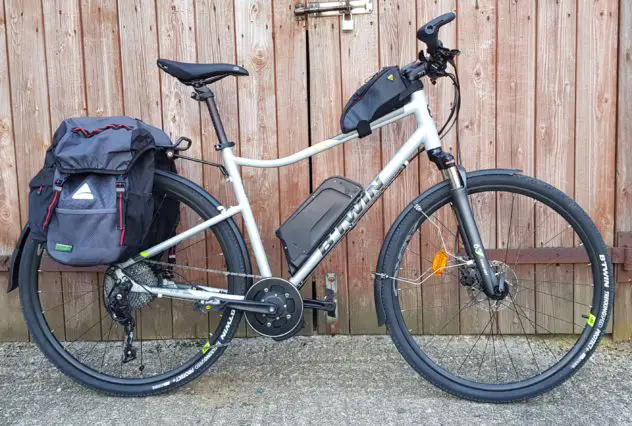 Below is a small selection of bikes I have converted over the years.
Boardman MTR 8.9 full-suspension mountain bike fitted with a Bafang BBSHD mid-drive motor with 52v battery.
Recumbent bikes are becoming more popular and are great fun when fitted with electric assist. The picture below is of an Ice Trikes recumbent I recently converted to e-assist using a Tongsheng TSDZ2 mid-drive motor.
A 12-year-old Whyte 46 full suspension mountain bike fitted with a 36v 350w TSDZ2 mid-drive motor and 36v10Ah bottle battery.
Surly Long Haul Trucker touring bike fitted with a front hub motor laced into the original rim and 36v 13ah battery pack.
Nasca Fuego recumbent bicycle fitted with a Bafang rear hub motor and 36v10Ah bottle battery
The Verdict – Is It Worth the Hassle?
This really depends on the kind of person you are. If, like me, you are a bit obsessive and like to tinker with things, then I would say give it a go!
Riding an electric bike that you have converted is a rewarding experience and great fun. As long as you can accept the reliability issues that sometimes come with these motors and the inevitable problems you may come across during the installation process then it is all worth the effort!
If you are the kind of person who doesn't like changing a tyre or adjusting the brakes, maybe you would be better off buying a ready-made electric bike, or getting a competent bicycle mechanic to fit the kit for you and carry out the ongoing maintenance.
Related articles
If you need any help or advice regarding anything in this article, please leave a comment below.
Buy the Bafang mid-drive from your region
Buy the Tongsheng TSDZ2 from your region
Links to Buy the Tongsheng TSDZ2