The Carrera Crossfire E electric hybrid bike has been one of Halford's best-selling e-bikes in recent years. For 2020 it has received a bit of a makeover. In this review, I will be taking a closer look at the latest model to see if the changes are just cosmetic.
BUY THE LATEST CARRERA CROSSFIRE E HERE
Summary
I've always had a soft spot for hybrid bikes. You have the fast rolling 700c wheels of a road bike, combined with the versatility of a mountain bike – the best of both worlds, so to speak!
Since Halfords first started to sell electric bikes a few years back, the popularity of e-bikes has soared. It's nice to see this British institution keeping up with the times, and their range of in-house brand Carrera electric bikes offers something for all tastes.
I have ridden most of their e-bikes and the Carrera Crossfire E has always been one of my favourites. The last model was released back in 2018, and now Halfords have just released the 2020 model. The price is currently £1399, but aside from subtle differences like the frame, and internal cable routing, is the 2020 model much different from the outgoing 2018 model?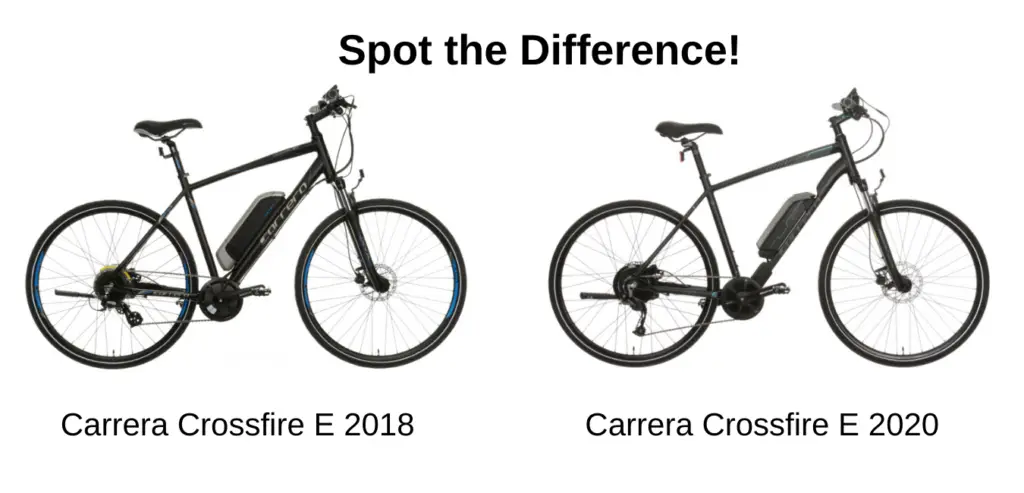 Electric Components
Suntour Electric hub motor
The motor has remained unchanged, this version still uses the excellent Suntour HESC  electric bike motor with active torque sensing pedal assist. The display also remains unchanged. My opinion? If it ain't broke, don't fix it!
The Suntour motor has proven itself to be a reliable e-bike drive system, and the torque-sensing pedal assist is simply sublime!
For those of you unfamiliar with torque sensing pedal assist, what it does, is measure the amount of force being applied to the pedals (as well as cadence). This gives a very smooth, intuitive pedal assist feel. Most cheaper electric bikes have a cadence-based pedal-assist system, which means you only have to turn the pedals to get assistance.
The upshot of this is, is you get a sensation of an enhanced cycling ability – you feel like you have somehow developed the cycling strength of a pro!
The other benefit of a torque-sensing pedal assist is increased motor efficiency. When you are cruising along on the flat and not putting in much effort, the motor will not be giving you much assist, but when the road steepens and you start to put more effort in, the motor adds to this effort – for me, this is what e-bikes are about. I'm not interested in the motor doing all the work, I still want to feel like I have had some exercise.
Battery
The battery itself still has the same 36v 11.6ah (417Wh) energy capacity as before. In 2018, the motor controller (the brains of the motor) was located at the rear of the battery casing. Now the controller is hidden on the underside of the frame (where the downtube meets the bottom bracket).
This battery uses high-quality Panasonic 18650 lithium cells and is guaranteed for 2 years. Halfords claim a maximum range of approximately 60 miles, but this will vary greatly depending on rider weight, how hilly your route is, wind direction etc.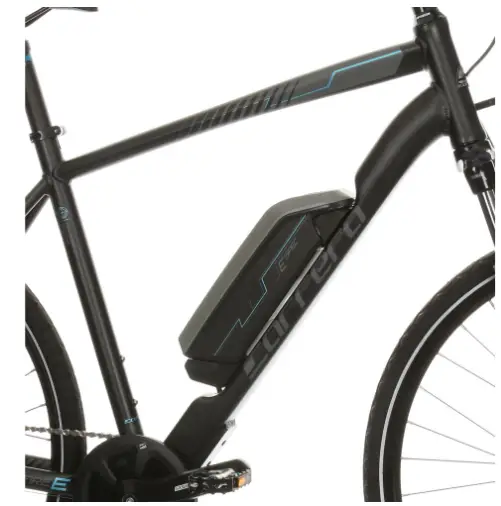 I have ridden about 45 miles on a 2018 model and still had a couple of bars left on the battery indicator, but I only used the assist on steep hills.
Components
Gearing
The gearing remains unchanged for 2020, except for very neat internal cable routing. This model uses the same 8-speed 11-32 rear cassette with a reliable Shimano Acera derailleur and front trigger shifter, making for nice and reliable gear changes with decent indexing.
Brakes
Although on Halfords website, it states mechanical disc brakes, I can confirm this is a typo, and the Carrera Crossfire E has the same Tektro Hydraulic disc brakes as the 2018 model. The rear brake pipe is also internally routed, making for a very clean look.
Although these brakes are considered 'entry-level' they will be more than adequate for the daily commuter or weekend leisure rider.
To give you an example of their effectiveness, they stopped me nicely, coasting down a 10% hill at 30mph without too much fuss or brake fade (and I weigh nearly 17 Stone).
Front Suspension
The Crossfire E uses the proven Suntour NVX forks with about 63mm of travel, hydraulic lock-out and preload adjustment. These forks are pretty standard on better-quality hybrid bikes and are perfect for soaking up smaller potholes and coping with light off-road exploring.
Wheels and Tyres
Again the wheels and hubs are unbranded. They look sturdy enough, and I can confirm these wheels seem to take a fair bit of abuse, having ridden down some very rough Cornish back lanes on one of these bikes.
The tyres are Kenda K935 700 x 40c. These have an all-terrain tread and will be suitable for both road riding and canal paths and light trails. The Kenda tyre also offers a reasonable amount of puncture protection.
I do however always recommend Schwalbe Marathon Plus tyres for the ultimate in puncture protection. I use them on my touring bike and I haven't had a puncture since I started using them (about 10'000 miles ago).
Finishing Kit
The seat post, stem, handlebars and kickstand are all Carrera items. The handlebars are a nice width (not too wide), and the kickstand is a useful addition.
As you would expect with a hybrid, there is provision for mudguards and a pannier rack.
Frame
The basic frame design and geometry have remained the same, except for a slightly recessed area for the battery and a housing area for the motor controller in the downtube, near the bottom bracket area.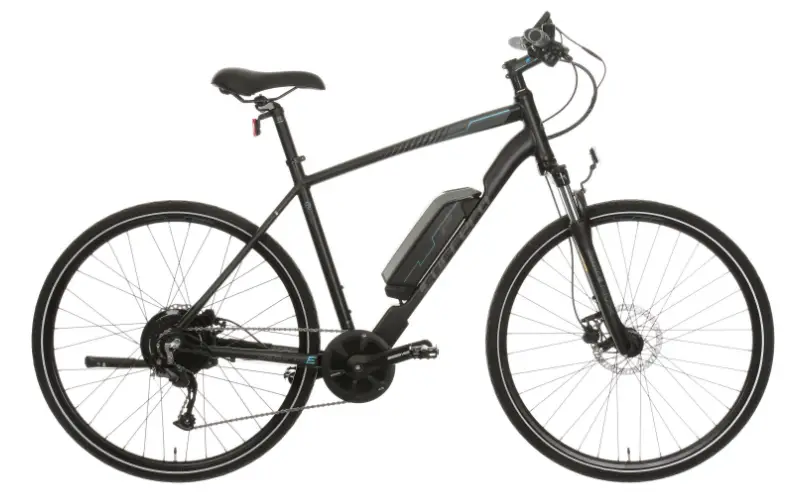 One of the nice additions is the internal cable routing, bringing the Crossfire E into line with some of the more prestigious brands.
Who is the Carrera Crossfire E aimed at?
The Carrera Crossfire E is aimed at men and women who are looking for a versatile all-rounder. I would imagine this will be a hit with both commuters and leisure riders alike. The Crossfire E is also available in a women's low-step frame version, so if you are after a 'his and hers' e-bike, this ticks all the right boxes.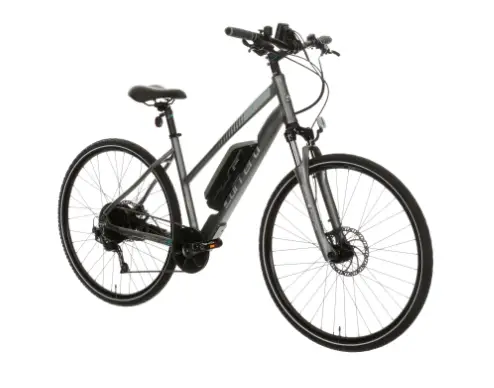 Reliability
There's not much to say here really. As I have stated before the Suntour Electric system seems to be generally reliable. I have a friend who has a 2018 model and he has racked up over 4000 trouble-free miles.
Having said that, as with all electric bikes, things can and do go wrong from time to time. Halfords do offer a 2-year parts warranty, as long as you have your bike regularly serviced by them.
***UPDATE*** I'm hearing about an increasing number of electrical cut-out issues from customers, and although none of my friends who own the earlier model has experienced any problems, they do seem to be affecting some owners. Here is a link to a dedicated UK Facebook group for the Carrera Crossfire E.
Conclusion
I like the Carrera Crossfire E electric bike. It is one of the better options at this price point. I can see why it is one of the more popular e-bikes in the UK.
I have ridden a few miles on a 2018 model and the 2020 version certainly seems to have been improved in all the right places. My only real criticism is the weight. At 22.5kg some people may find it a bit heavy to lift onto a car rack. Mind you, it's still lighter than an equivalent Cube electric hybrid bike.
Internal cable routing is now commonplace on more expensive bikes, and it is nice to see that Halfords added this to their latest model. The slightly recessed battery also looks neater.
I'm glad, they have kept the Suntour HESC motor, as I think that this is one of the better electric bike hub motors available. Indeed, mid-drive motors generally produce more torque, but I have ridden Bosch-powered electric bikes and there isn't a lot in it.
When you consider the cheapest Bosch-powered electric bike is a good £400 more than the Crossfire E, it starts to make sense.
Another thing to consider is, if a Bosch motor ever packs up out of warranty, you are looking at a lot of money for a replacement, whereas the Suntour hub motor can be easily replaced or fixed.
If you are after a comfortable mile-muncher or a reliable daily hack. Then the Crossfire E would make an excellent purchase.  It is also available through the cycle-to-work scheme.