When you purchase through links in our articles we may earn a small commission. Read our affiliate disclosure.
If you're looking for an e-bike to replace your car for running errands a utility e-bike could be just the ticket. Smaller than a cargo bike but versatile enough to carry groceries and even passengers, these types of electric bikes are becoming increasingly popular. One of the best in its class in terms of value for money and all-around performance is the Fiido T1 Pro. In this review, I take a close look at the performance, battery range and practicality to see if it's a viable alternative to using your car.
Skip to product specifications
Key Features
750w rear hub motor
48v 20.4Ah battery
Cargo-carrying capacity
Front Suspension
In the interest of full disclosure, the T1 Pro reviewed in this article was generously provided to me by Fiido. This gesture, however, does not influence my opinions, and the ensuing evaluation remains impartial, reflecting my genuine experience and assessment of the product.
Fiido is quickly establishing itself as a major global e-bike brand, with strong sales in the US, EU and UK. The T1 Pro is their flagship cargo/utility e-bike and is aimed at riders who want to use an electric bike for running daily errands. Do we need to rely on cars and the ever-increasing expense of running one day to day?
Unboxing and Assembly
The Fiido T1 Pro was very well packaged in a heavy-duty cardboard box with lots of foam protection. Upon inspection, there was no damage or marks whatsoever. Full marks here!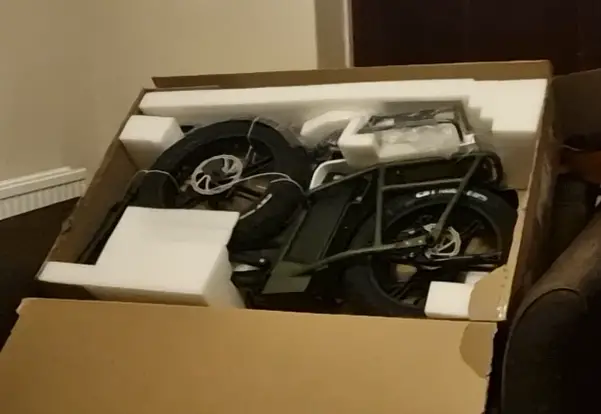 Assembly was a fairly straightforward process. The front wheel and mudguard needed to be fitted, along with the saddle / seatpost, front basket and large headlight. I found the instructions easy to understand, and all the necessary tools were provided.
Please note: I advise getting a professional bike technician to check the bike over before use if you haven't assembled a bike before.
Test Ride
The test route was hilly with lots of country lanes and rough forest tracks. The weather was a mixture of sunny spells, gusting winds with occasional heavy downpours. The road surface was very wet, and muddy with standing water in places. Not ideal testing conditions.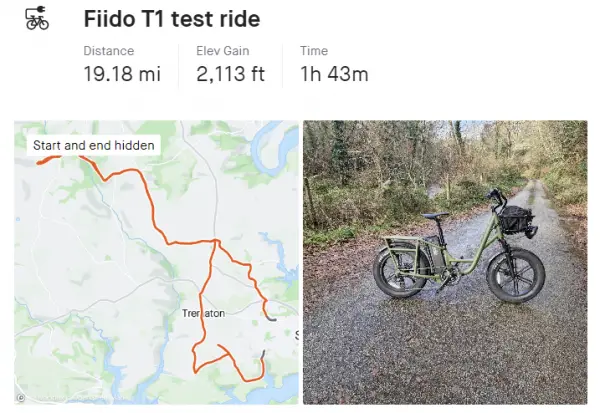 Starting in pedal assist level 1 there's no sudden surge of power, more like a gentle push. The pedal assist seems to respond to changes in gradient. For example: On flat ground, the assist is very subtle, but the moment you start going uphill it increases the steeper it gets. When the road levels off, the assist seems to reduce. I prefer the instant responsiveness of torque-sensing assist. But, at least with the T1 you have the throttle to fall back on, and that works very well.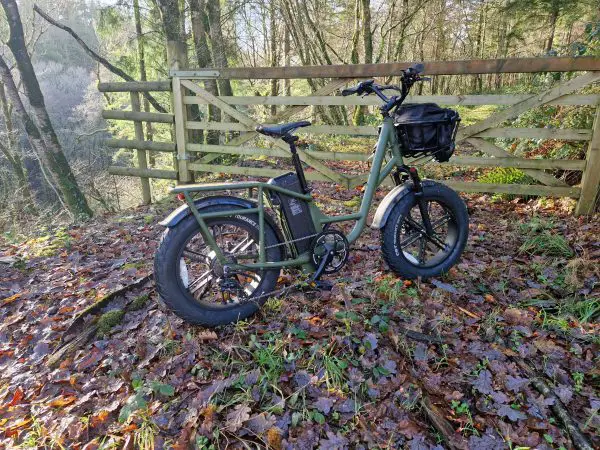 After a short while, I decided to keep it in assist level 2, and there it stayed for most of the ride. On the first hill, I noticed that the motor seems to produce a lot more torque than similar motors (like on the Engwe Engine Pro). It flew up the first mile-long climb and didn't seem to struggle, despite me putting in a minimal amount of pedalling effort.
Another thing I noticed is how smooth the ride is, particularly the suspension. Most of the budget fat tire e-bikes I've tested in the last year have a little back-and-forth play in the fork stanchions. Not so on the T1, the suspension had a premium feel to it – very smooth with good damping. I would usually lock forks out, but these were so good, I let them do their job.
Handling is another thing that immediately impressed me. It feels quite neutral and confidence-inspiring – I've always found fat tire e-bikes to be a bit cumbersome, especially at lower speeds, but the Fiido T1 Pro feels a lot more nimble than its weight and style would suggest. I hit speeds of nearly 40 mph on one descent, with a long, sweeping bend at the bottom, and the T1 felt planted!
I feel the handling is greatly helped by the CST Tourance 20 x 4-inch tires. Unlike most fat tire e-bikes, this tread is much more road-orientated, meaning you get reduced rolling resistance and road noise.
The Rush hydraulic brakes are not a brand I'm familiar with, and the initial braking performance was better than expected. I had plenty of chances to try the brakes on wet, muddy descents and they worked very well. Towards the end of the ride, they were starting to get a little noisy, but it was very mucky, so that's to be expected. UK buyers take note: They are set up with the rear brake on the right and the front on the left.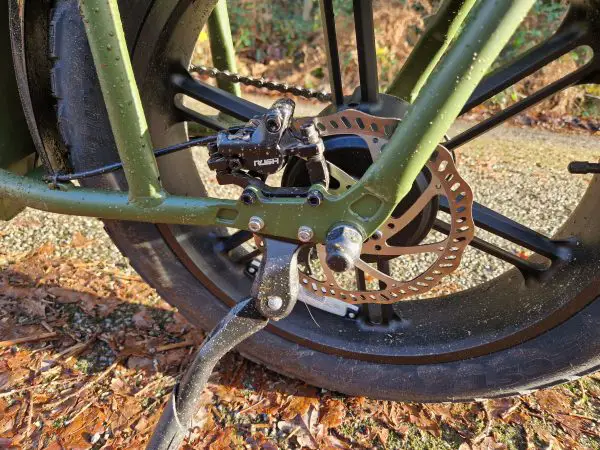 Motor performance was better than expected. I tried one steep climb approaching 20% gradients and didn't need to come out of level 2. Although I had to increase my pedalling effort, I didn't feel like I was working too hard.
I'm also suitably impressed with the throttle response. I don't usually use a throttle on an e-bike, but this one is handy. It's great for pulling away at traffic lights or starting on a hill.  Riding on the flat will effortlessly take you along at a comfortable cruising speed.
Regarding the battery, Fiido claims a maximum range of 93 miles (150 km) on a charge. Given the size of the battery, this may be possible with the best of testing conditions – flat road, light wind, good temperature, lightweight rider and lowest assist level used.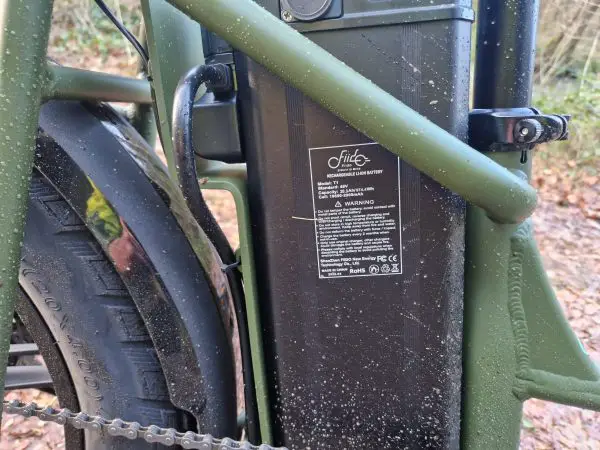 I weigh 107 kg, and the test route was just under 22 miles, and very hilly. The air temperature was in the low single digits, with a strong headwind for a large portion of the ride. I used assist level 2 throughout the ride and used level 3 for 15 % of the ride. In the end, I still had 2 bars left (out of 5). Considering the weather conditions, the weight of the bike, the rider and the very hilly terrain, that's pretty good.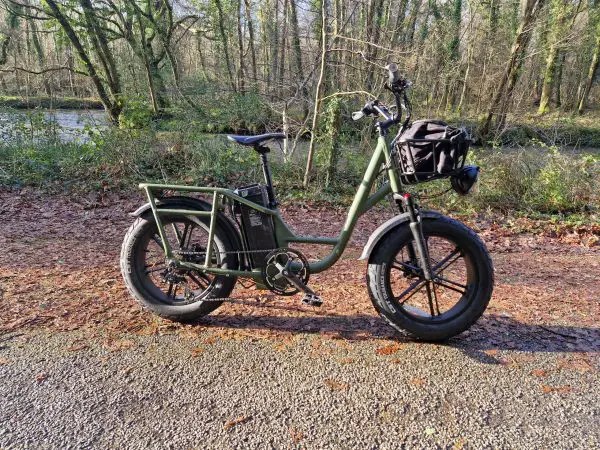 Other Features
The Fiido T1 is a well-thought-out e-bike. It's very similar in design to the Rad Power Radrunner Plus but comes in cheaper, and has better specs. I love the cargo-carrying potential of this bike. The front basket, although not massive, was big enough for me to fit my large rucksack comfortably. You could easily get a bag of shopping in there.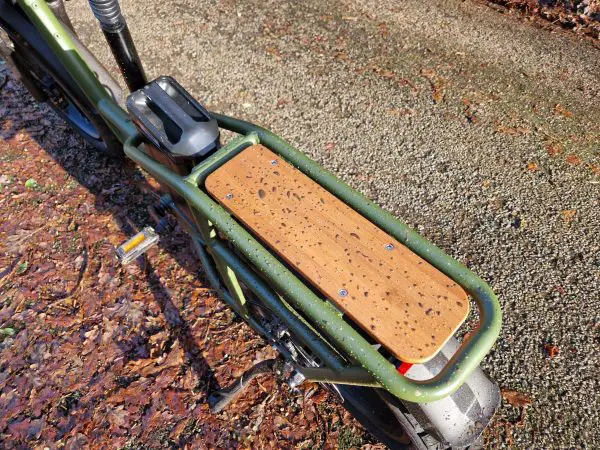 Unlike the aforementioned RadRunner Plus, the Fiido T1 has solid mag wheels. They may be heavier than traditional spoked wheels, but who wants to worry about broken spokes on a cargo e-bike? I think it's a great move by Fiido. Plus, they suit the style of the bike.
I like the integrated rear rack. It's finished off with a lovely wood insert, which along with the paintwork, gives the T1 a nice retro look. I reckon tan-wall tires, and a brown leather saddle with matching grips, and it would be perfect!
The rear rack has been rated to 80 kg, which means you could carry a child (in an approved seat) or even an adult passenger. I've been looking at cargo baskets, which are all quite expensive. I do have an old heavy-duty crate in my garage that would fit perfectly and will accommodate 2 large shopping bags.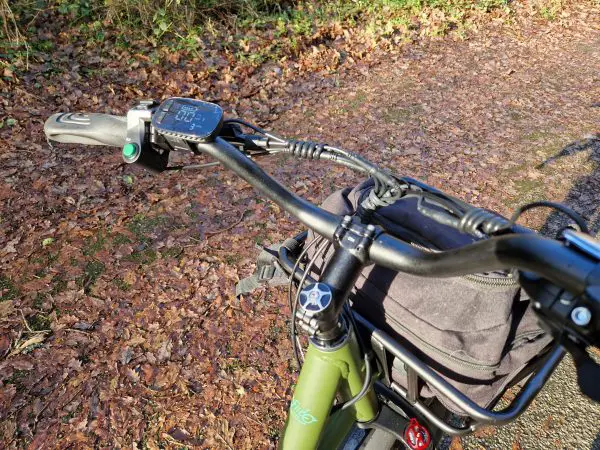 One more thing Fiido have excelled at here is the headlight. It's huge and even has a low and high beam switch. I've yet to test it out at night, but I did try it inside the house at night and it's bright. There's also a tail light, neatly fitted to the underside of the rack.
The step-through frame design is nice, and this opens up the Fiido T1 to riders of all ages and abilities. Step-through frames are so much easier to mount and dismount. Plus, the low standover height, makes the stop/start nature of city riding much easier. The design of the T1 gives the rider a nice, upright riding position so you're not hunched over the handlebars, and can remain comfortable on short or long rides.
The T1 comes with an adjustable suspension seatpost. I didn't like it. Even fully adjusted, it still bounced too much for my liking. Others may like this feature, and I can see how it may help with rider comfort and reduce the chance of back pain.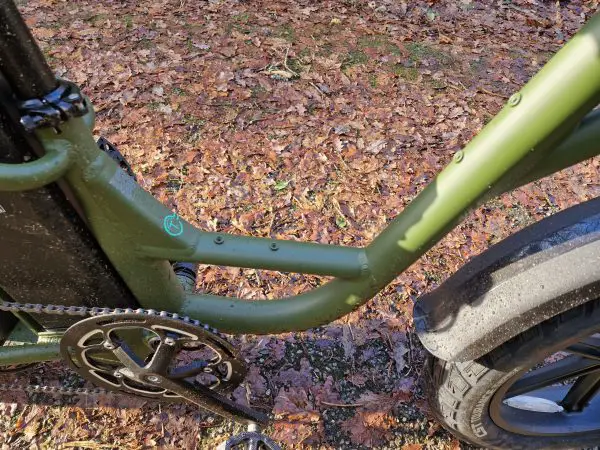 Who is the Fiido T1 suitable for?
The Fiido T1 is such a versatile design that it's going to be suitable for a multitude of tasks from daily commuting to shopping and general errands. You could even carry a small child in a suitable seat on the back. There's also a lot of potential for using the T1 in a delivery job. It's going to be a lot better carrying food orders in the basket or a suitable basket on the rear rack.
Pros and Cons
Pros
Powerful hub motor
Big capacity battery
Comfortable riding position
Good suspension
Excellent cargo-carrying potential
Cons
Very heavy
The pedal assist takes getting used to
Saddle uncomfortable if pedalling
I didn't like the suspension seatpost
FAQs
How long does it take to charge the battery?
The battery takes approximately 8 hours to charge from empty to full.
What is the maximum speed of the Fiido T1 Pro?
This UK version was limited to 15.5 mph although the US version is a class 3 e-bike and will do around 28 mph. It is easy to unlock the speed if required but beware of your local e-bike laws.
Can you ride the Fiido T1 Pro in the rain?
Yes, the Fiido T1 Pro is designed to withstand normal weather conditions, including rain. However, it is not advisable to ride through deep-standing water or very heavy rain.
How much is the Fiido T1 Pro?
The T1 Pro is currently available for $1699, although Fiido does periodically have special offers on its website.
Is the Fiido T1 Pro frame safe?
Yes, this latest version has thicker tubing and inner steel reinforcement (on the downtube). Any previous concerns regarding broken frames have been addressed and now the T1 undergoes rigorous testing far in excess of the minimum required by EU law.
What are the alternatives to the T1 Pro?
The closest alternative in terms of styling and cargo-carrying options is the Rad Power Radrunner Plus. Although it's a great alternative option, it lacks some of the features of the T1 Pro.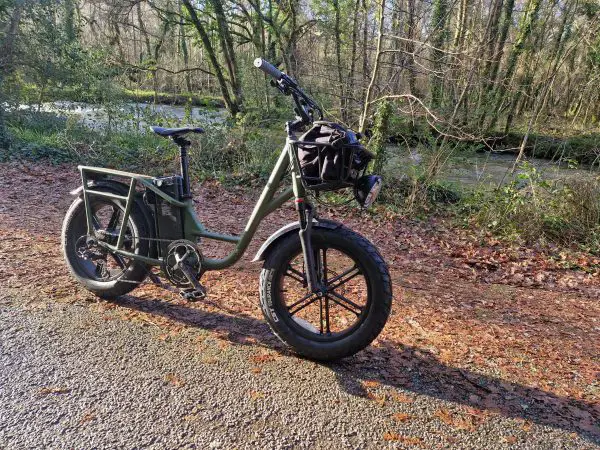 Conclusion
It's early days yet, but my first impressions are very favourable. I'm waiting for some dryer weather to take the Fiido T1 for a long ride and test out its potential.
Apart from some minor niggles like the saddle and seatpost, it's difficult to find fault in the T1. The pedal assist takes some getting used to, so you may end up relying on the throttle more. Throttle response is good, and you can get away from traffic lights or junctions quickly if needed.
The suspension fork is better than expected and it handles well for such a heavy e-bike. I also love the retro styling – it harks back to a time when utilitarian bikes were the norm.
On paper, no other cargo/utility e-bike can touch the Fiido at this price point. The 974Wh battery, hydraulic brakes and powerful motor all make for a very appealing package. Based on my initial findings, I have no problem in recommending the T1 Pro.
Specifications
Motor: 750w geared rear hub motor
Battery capacity: 974.4Wh (48V 20.3Ah)
Range: 93 miles / 150 km  – Tested range: 30-35 miles (heavy rider, level 2, very hilly)
Top speed: 28 mph (45 km/h)
Brakes: Radius Hydraulic disc brakes
Gears: 7-Speed Shimano
Weight: 36.2 kg (79.8 lbs)
Saddle height: 92cm~118cm
Dimensions: 180cm x 69cm x 118cm (70.9" x 27.1" x 46.5")
Max load: 200KG (120KG for riding seat, 80KG for rear rack) 441Ibs(264.6Ibs /176.4Ibs)
Accessories: Mudguards, Front Basket, Rear Rack, Kickstand, Lights, Suspension seatpost
Thanks for reading, I hope you found this Fiido T1 Pro review useful and if you have any questions relating to this e-bike, please leave a message in the comments section below.