E-bikes are becoming more and more popular, with good reason. They're a great way to get around town, they're eco-friendly, and they're fun! If you're looking for a little extra cargo space, you might be wondering if there's a way to add a trailer to your e-bike. Wonder no more! In this article, we'll tell you everything you need to know about cargo trailers for e-bikes. Keep reading to learn more!
Benefits of using a cargo trailer (on an e-bike)
So, you've got a decent e-bike but you want to use it more often, and maybe start replacing car journeys. Electric bikes are great fun but they're not always practical, particularly if you have loads (or little people) to carry. The obvious solution would be to go out and get an electric cargo bike, but these are bulky and can be quite expensive.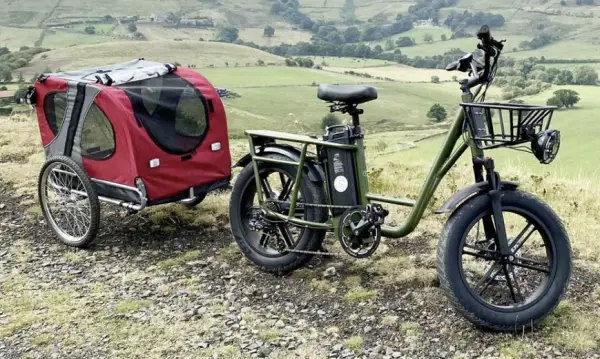 One of the main benefits of using a cargo trailer is practicality – cargo e-bikes are generally quite heavy and in some cases cumbersome. When using a trailer you can have the benefit of your regular e-bike for leisure rides and the load-carrying convenience of the trailer only when you need it.
Types of cargo trailer
Load carrying: These kinds of trailers are specifically designed to carry heavier loads. They're suitable for carrying goods, tools, shopping or whatever you choose to carry.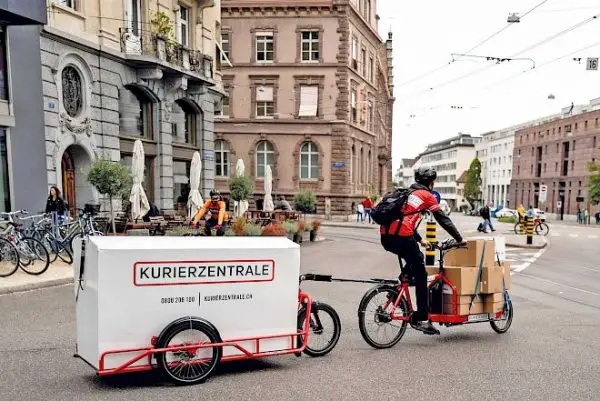 Bikepacking or touring: Touring trailers are specifically designed for long-distance bike touring or bikepacking. These trailers are generally lightweight in design and are used for carrying things like tents, sleeping bags and other provisions.
Child trailers: Child trailers for e-bikes are very popular and are great for family outings on cycle-friendly trails. They can even be used for taking the kids to school or taking your child with you on errands.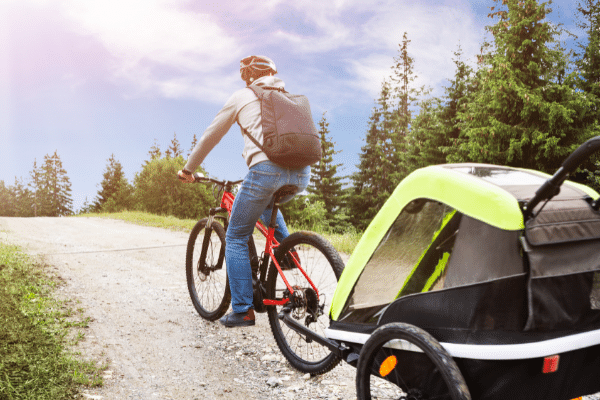 Pet trailers: If you have a dog and want to take him/her with you when you go cycling, pet-specific bike trailers are a great way for you both to enjoy cycling together. Plus, if your favourite green space or park is a few miles from your home, you won't need to take the car.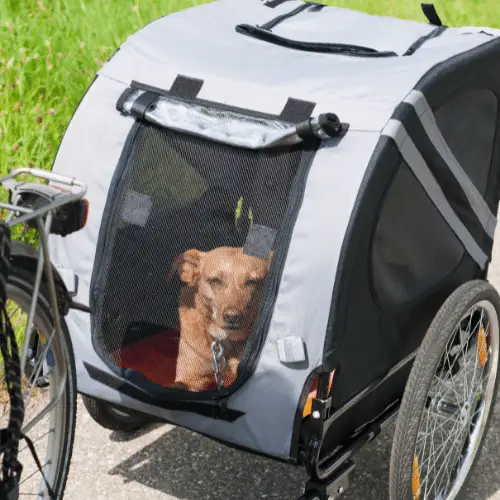 What can a cargo trailer be used for?
This article will focus on trailers that are specifically designed for carrying cargo. I have posted separate articles for child bike trailers and pet trailers.
Work or delivery business: If you want to save a fortune in fuel and maintenance costs, using an electric bike for your business is a great idea. You'd be surprised how much gear you can get in a cargo trailer! There's an increasing amount of companies who use e-bikes and e-cargo bikes for delivery and courier work – this is perfect for an urban environment where meeting tight deadlines and avoiding traffic congestion is paramount. Plus, many local authorities will offer grants for environmentally-friendly transport.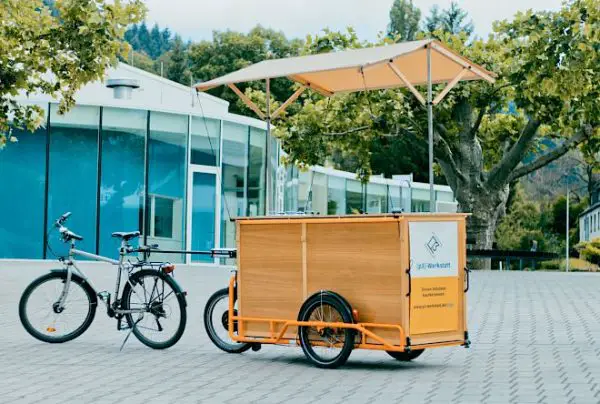 Touring and bikepacking: For multi-day, week or month-long touring, a cargo trailer is a very popular option. Bike touring is not about speed, but more about taking in the sights and sounds. There's only so much you can fit in pannier bags and a trailer is ideal for larger items like tents, sleeping mats/bags, cooking utensils and food/provisions. Touring trailers are designed to be very lightweight and easy to tow and will usually have a waterproof storage area.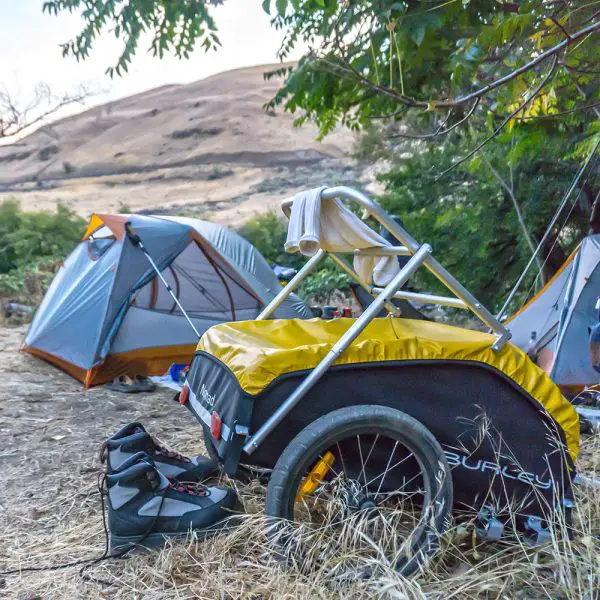 How to choose the right cargo trailer for your needs
In 2022 there's a great choice of cargo bike trailers to choose from. You can buy anything from a small trailer that's ideal for shopping through to large trailers designed for carrying commercial loads. What you need depends on the intended use. If you're going to be using a trailer for business use daily, you'll want something robust and can handle the weight your carrying.
What's the best e-bike to tow a cargo trailer?
You can use any e-bike you choose, including folding electric bikes and recumbent e-bikes. But, it's worth thinking about the kind of riding you plan on doing. If you're riding in an area with lots of steep climbs, then you will need a mid-drive motor, preferably with a good gear range. A mid-drive is going to be more suitable for lugging heavy loads up steep hills. However, if you're riding on fairly flat or undulating roads then a hub motor will be just fine.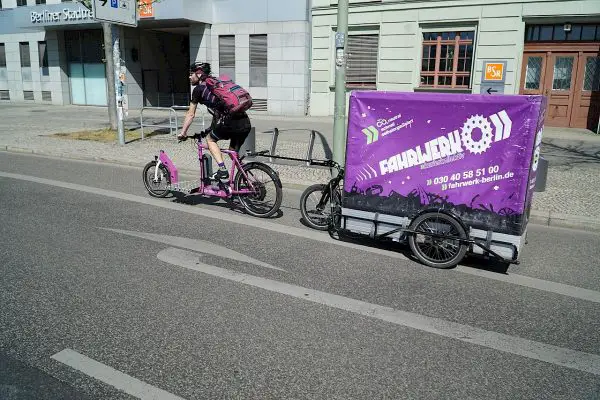 Compatibility – Some of the trailers below will attach to your bike via the rear wheel quick-release mechanism. If this is the case and your e-bike has a rear hub motor, then you may need to fabricate an adapter. The same will be true if your bike uses modern 'thru-axles'. If your e-bike has a front hub motor, then it's likely to have quick-release wheels. Some modern mid-drive electric bikes use thru-axles, so I would check beforehand.
7 of the Best Cargo Trailers for E-Bikes
I've picked out a selection of the 7 best cargo trailers suitable for e-bikes. There's something below for everyone ranging from personal use to heavy-duty business use. Needless to say, the prices vary greatly from just under £100 to over £2000. All of the cargo trailers featured below have good customer feedback.
---
Carla Cargo Trail 🏆 Best for heavy-duty use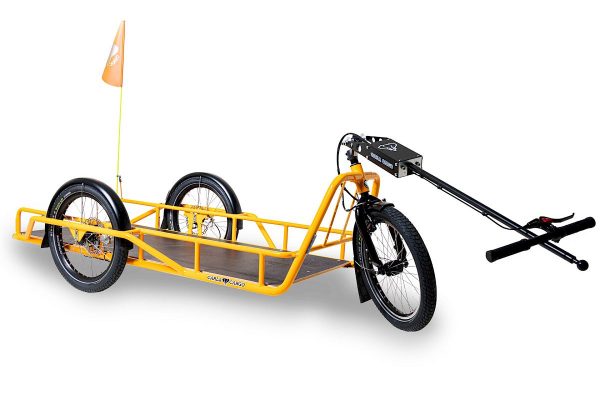 The Carla cargo trailer offers a large loading area, making it perfect for transporting larger items. With a weight capacity of up to 200 kg and a payload volume of 1.5 m³, this bike trailer can handle just about anything you need to transport. Additionally, the Carla cargo trails come with an innovative mechanical overrun brake and 20-inch hollow chamber rims for extra durability. And if that wasn't enough, the wheel hub dynamo in the front wheel ensures that you'll always have light while biking at night.
The combination of an e-bike with a Carla cargo trailer opens up new possibilities, such as transporting goods over long distances quickly and comfortably. So what are you waiting for? Visit the Carla website below for more info.
Find out more on the Carla website
---
Homcom Steel Frame Bike Cargo Trailer 🏆Best Value

The Homcom bike cargo trailer is perfect for taking care of your everyday needs. This convenient and easy-to-use trailer can be quickly folded down and stored away when not in use, and the quick-release wheels make it simple to take with you on the go. With a weight capacity of up to 40kg, this bike trailer can handle whatever you need to transport, and the included removable cover will keep your belongings safe and dry. At under £100, it represents excellent value for money – this is the trailer I'll be buying for my e-bike!
---
Burley Flatbed Bike Trailer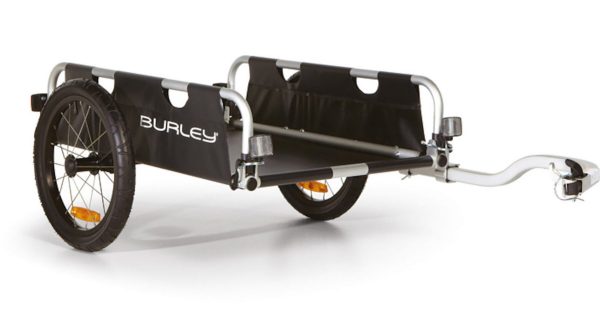 The Burley Flatbed bike cargo trailer is perfect for anyone looking to haul a large load on their bike. With a capacity of up to 45kg, this trailer has been designed with stability and tracking in mind. The open front and back make it easy to access your gear, while the two-wheel design keeps the trailer upright even when not attached to a bike. Whether you're planning an epic camping trip or just need to transport some heavy items, the Burley Flatbed bike cargo trailer is up for the job.
---
Topeak Journey Touring Bike Trailer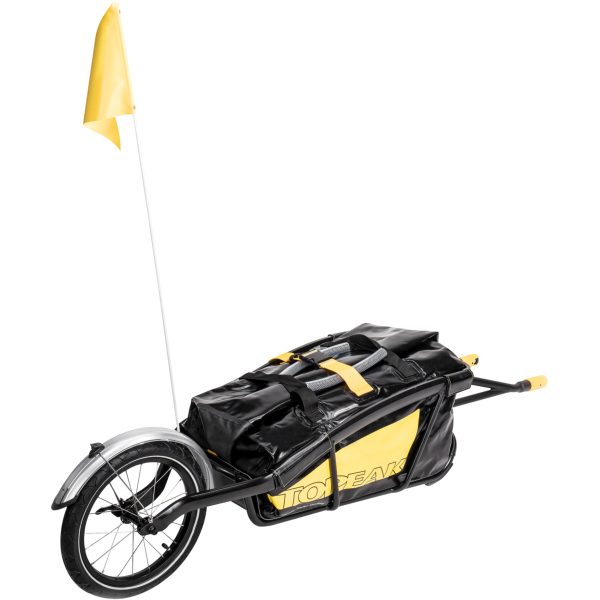 The Topeak Journey trailer and drybag combo are perfect for a ride to the market or a trip across a continent. Featuring an elegant TwinSpar frame, the lightweight yet rugged alloy design handles any touring load with predictable and stable road manners. SlideLock quick-release fittings allow the rider to attach or remove the trailer easily, making it perfect for quick trips into town or packing up for an extended journey. If you're looking for a reliable way to transport your belongings on two wheels, be sure to check out the Topeak Journey trailer and drybag combo!
---
Homcom 70L Bike Cargo Trailer
The HOMCOM 70L trailer is a great way to move items around. It's made of steel construction with a removable storage box and 600 x 600D Oxford cover. It has an overall dimension of 144L x 59W x 80H (cm), a cargo dimension of 61L x 42W x 30H (cm) and a weight capacity of 40kg. If you're looking for an affordable, durable option for moving things around on your bike, this trailer is worth considering.
---
Burley Nomad Bike Trailer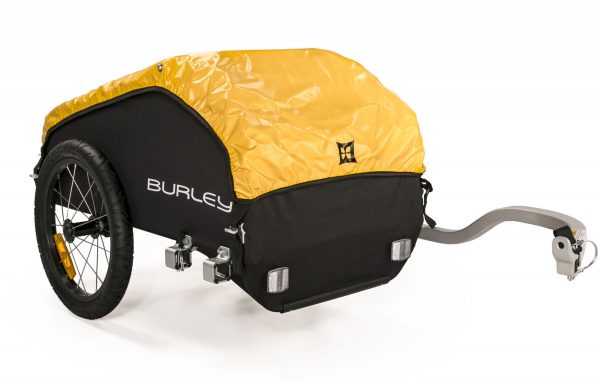 If you're in the market for a bike cargo trailer, be sure to check out the Burley Nomad. This efficient, lightweight (7.6kg) design is perfect for touring, and its 105-litre cargo capacity with weatherproof cover means you can take everything you need with you on your next adventure. To find out more about this versatile trailer visit the Burley website today.
---
Homcom Open Steel Frame Bike Trailer
The Homcom folding steel bike trailer will make running errands or grocery shopping easier. It attaches easily to most e-bikes and has a weight capacity of 40kgs., meaning you can carry all of your cargo with ease. Plus, the two air-filled tyres provide stability and a smoother ride, making it easier than ever to transport bulkier items. Another great budget trailer for under £100.
---
Conclusion
I hope the information I've provided will help you make the right decision when buying a trailer for your e-bike. If you're looking for a cargo trailer that will work well with your electric bike, any of the trailers featured here should do the trick. With an e-bike and trailer, you can now take care of all sorts of errands and tasks without having to use your car. Whether you're shopping, delivering goods, taking kids to school or even bikepacking. These trailers open up a world of possibilities!
I'm going to buy a trailer to use with my electric bike and will be posting photos here shortly. Let me know in the comments below if you've had success using a cargo trailer with your e-bike.