It can be very difficult to motivate your kids to get out on their bikes, especially with all the distractions of modern technology. More and more manufacturers are offering e-bikes in smaller sizes suitable for teenagers. In this article, I'll be looking at 8 of the best electric bikes for kids currently available.
Do kids really need electric bikes?
As a father to five daughters, I'm all too aware of the importance of children getting regular exercise. A lot of people like me, who grew up in the 70s and 80s find the idea of children riding electric bikes bizarre. Quite often I hear things like "Why do kids need an electric bike"  or "Children today are lazy".
Unfortunately, it's a sign of the times we're living in and things have changed a lot in 40 years. We didn't have smartphones back then and we didn't have easy access to cheap junk food.
It's widely accepted that children are in the midst of an obesity epidemic and we need to do everything to encourage our kids to be more active. If you're already an active parent, then an e-bike will enable your child to accompany you on longer, more challenging rides.
⚠The UK and EU e-bike law currently only allows children of 14 years and over to legally ride electric bikes in public places, but there's nothing to stop a younger child from riding on private land.
Can riding an e-bike help a child lose weight?
I know of at least two families who have had very encouraging results after buying their children an e-bike. The evidence is clear that riding an electric bike can help with fitness and weight loss. Light to moderate exercise when combined with a healthy diet is the key, but for children especially, exercise should have an element of fun to keep them interested.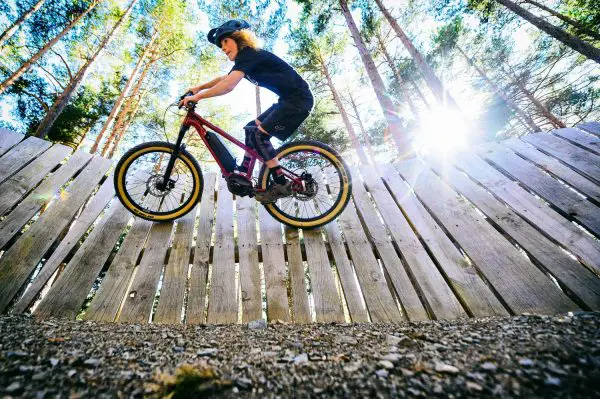 Another big limiting factor can be access to safe cycling infrastructure. I grew up in a rural town in Somerset and never had any issues cycling as a child. The roads today are much busier and it can be an intimidating place for a young adult.
Thankfully, due to the continuing efforts of organisations like Sustrans, we've seen a growing national cycle network that enables cyclists of all ages to enjoy riding without the intimidation of traffic.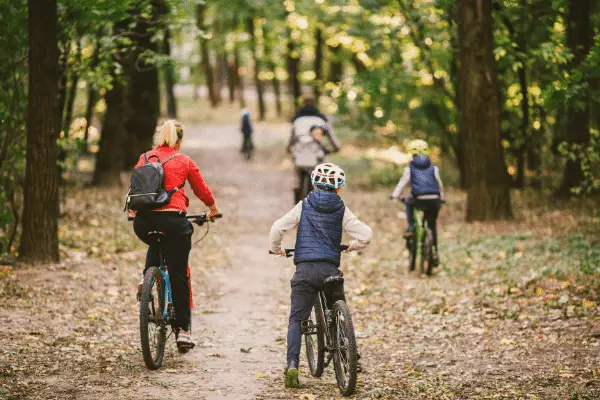 What kind of electric bike is suitable for a teenager?
Although a lot of manufacturers sell electric bikes specifically aimed at young adults. These bikes usually have slightly smaller wheel diameters (24″) and take into account shorter heights. Both of my older daughters are 13 and 14 years old respectively, they're both around 5'7″, and can comfortably ride a small to medium-framed adult bike.
I would recommend a bike that has some growing room. It's important to factor in growth as you don't want them to be outgrowing their e-bike in a short space of time.
You don't have to spend a fortune on an electric bike. A lot of the cheaper Chinese brand e-bikes are quite small to start with – I've tested a few of these bikes and both my daughters can ride them comfortably.
In my opinion, a standard 250w rear hub motor should be more than adequate for a teenager. If you want to spend more money, then there's a good choice of Bosch-powered electric bikes aimed at the youth market.
The Best Electric Bikes for Kids 
And so on to my list of the best electric bikes for kids. All of the bikes featured below come from top manufacturers and are basically scaled-down versions of their adult counterparts. Unfortunately, none of these e-bikes come cheap but I don't believe there can be any compromise on quality where children are involved.
---
Haibike AllTrack Kids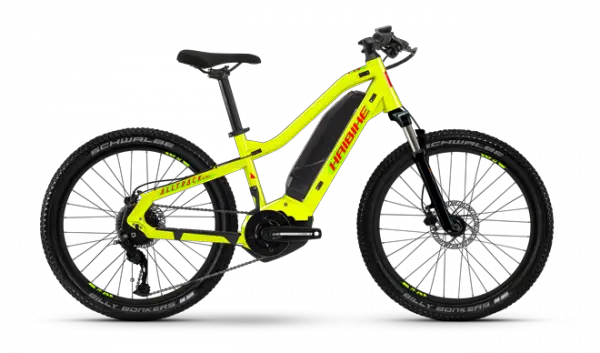 Haibike were one of the early pioneers of the electric mountain bike, long before the bigger manufacturers caught on. Their AllTrack Kids e-MTB uses the excellent Yamaha PW-TE drive unit along with a 400Wh battery and is suitable for junior riders up to 140cm tall.
The AllTrack is a fully capable e-MTB for kids with decent components ranging from Suntour XCR forks, Tektro hydraulic disc brakes and Shimano 1 x 9 gearing, with an 11-36 cassette. The unisex frame geometry means the AllTrack Kids is perfectly suitable for girls and boys.
Buy from fitstore24.com – EU shipping
---
Cube Acid 240 Hybrid Rookie Pro
Bosch didn't have a perfectly proportioned kids' e-bike in mind when they designed their excellent mid-drive motors, but that hasn't stopped Cube from integrating it into the Acid 240 Hybrid Rookie Pro frame. They have used the same high-quality design and construction techniques as their adult mountain bikes to build a junior e-MTB that's both fun to ride and safe.
The Cube Acid 240 Hybrid Rookie Pro uses the 40Nm Bosch Active Gen 3 motor with a 400Wh battery, plus high-quality components from Shimano and Suntour. This makes the Acid 240 a 'scaled-down' adult e-MTB suitable for kids 12 years and above.
---
Cube Reaction Hybrid Rookie SL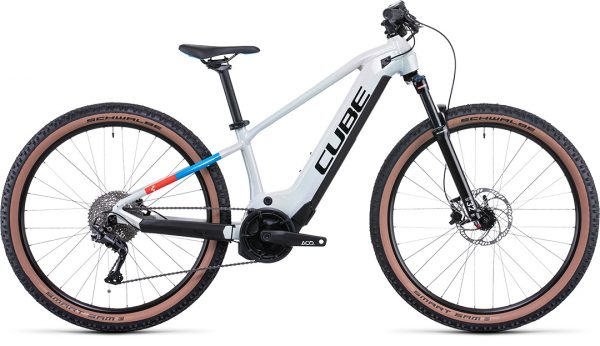 The Cube Reaction Hybrid Rookie SL is basically a perfectly scaled-down version of the adult model. It uses the excellent Bosch Active Line Plus (50Nm) motor with 400Wh battery, plus 10-speed Shimano Deore gearing and Suntour XCR32 air forks. For safe braking, there are powerful Magura MT Thiry hydraulic brakes and trail-busting Schwalbe Smart Sam 2.25″ tyres.
If your child is serious about mountain biking but struggles with the tough uphill sections, this is a great introduction to the sport and a fantastic motivational tool. Suitable for boys and girls with a height of 136-147cm.
---
Commencal Meta HT Power Kids e-MTB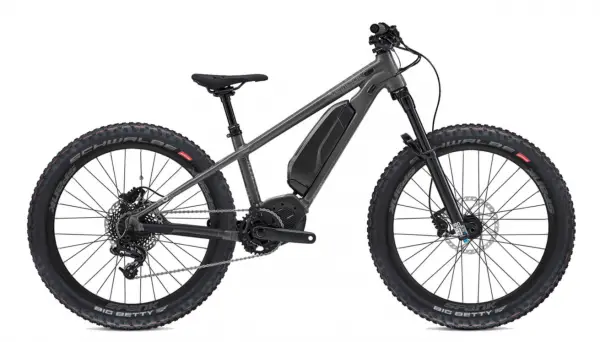 Commencal is a serious mountain biking brand with over 20 years of producing bikes for top riders around the globe. Their Meta HT Power 24 brings a high-end e-MTB to younger riders with no compromise on quality and components.
The Meta HT Power uses the excellent Shimano Steps E7000 motor with a 418Wh battery – this is the exact same motor used on adult e-MTBs and has a proven track record for performance and reliability.
Of course, the motor is only one side of the story and the Commencal uses high-quality components like the Manitou forks with 120mm travel, dropper seat post, and SRAM GX gearing.
Make no mistake, this is a serious electric mountain bike which is designed to motivate talented young riders into being their best!
Find out more info on the Commencal website
---
Woom UP 5 Kids E-Bike
The lightweight Woom UP 5 uses the excellent Fazua Evation modular e-bike drive system and is an electric mountain bike designed for kids from 7 years and upwards..
This e-MTB features high-quality components usually found on adult bikes – SRAM NX 1 x 11 gearing, Promax hydraulic brakes, air suspension and 2.35″ Schwalbe MTB tyres.
One of the great things about the Woom UP 5 is the weight is kept to a minimum thanks to the Fazua motor and if your child wants to ride their bike without the help of the motor – the battery and drive unit can be removed in seconds.
Visit Woom for more information
---
Mondraker F-Play 24 Kids Electric Mountain Bike
The F-Play 24 from the prestigious MTB brand Mondraker is basically a full-sized, full-suspension electric mountain bike scaled down to size! The Mondraker uses the lightweight and discreet Mahle X35 hub motor and 250wh battery concealed in a brand-new Stealth Alloy frame. Trail-busting forward geometry handling is delivered through a custom-tuned RockShox Judy fork with Zero Suspension giving 100mm travel on both ends. With hydraulic disc brakes and 10-speed Shimano Deore gears this is the perfect small bike for the biggest rides.
This is another serious e-MTB for kids and delivers world-class performance in a pint-sized package! Make no mistake, this bike may have a small motor but it is every inch a high-quality mountain bike that will have your son or daughter shredding out on the trails!
---
Mondraker Play 20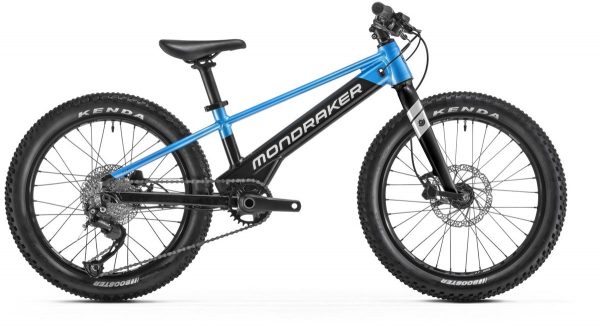 Mondraker Play 20 is the perfect electric bike for kids. It's lightweight and easy to handle, with a Mahle X35 ebikemotion 250w motor that makes it fun to ride. The 250Wh battery lets them ride for up to 50 miles on a single charge, giving them plenty of freedom to explore.
The Mondraker Play 20 features some excellent components including SRAM hydraulic disc brakes and Microshift 1 x 9 gearing with an 11-34 cassette. Plus-size tyres ensure there's always plenty of grip when riding off-road.
Mondraker's mountain bike heritage has been put to good use here and the Play 20 is the perfect way to build your child's confidence and enthusiasm in cycling.
---
Mondraker Play 24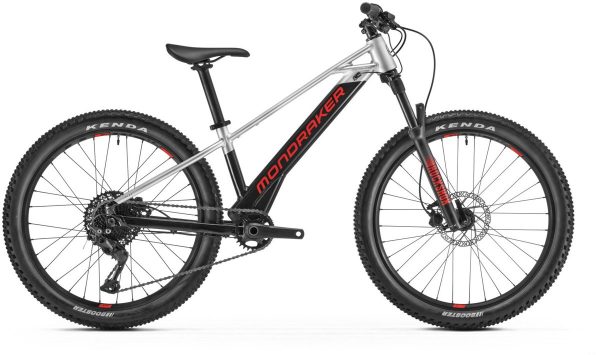 Designed for bigger kids, the Mondraker Play 24 has the design and top-of-the-range features of their adult bikes but adapted to 24″ wheels.
The frame is made of lightweight 6061 aluminium which gives the bike its own personality. Electric assist is provided by the excellent Mahle hub motor with a 250Wh internal battery. There's a top-quality RockShox Judy Silver fork with 100mm of travel, SRAM Level hydraulic disc brakes, and 2.4″ wide tires to improve comfort and grip. The package is finished off with the excellent SRAM NX 1 x 11 groupset which will give enough gear range to tackle steep, technical climbs.
Also available from fitstore24.com – EU shipping
---
Conclusion
Initially, I was a bit sceptical about whether e-bikes were really necessary for children, but when I thought about it a bit more it started to make perfect sense.
In the summer months I regularly take my daughters cycling, but living in one of the hilliest parts of the country can stifle their enthusiasm. We're not talking gentle slopes – a lot of hills in my area are a 10-15% gradient which, for young legs can be a struggle. My two eldest daughters have ridden e-bikes and they have said that if they had access to one they would be inclined to accompany me on more challenging rides.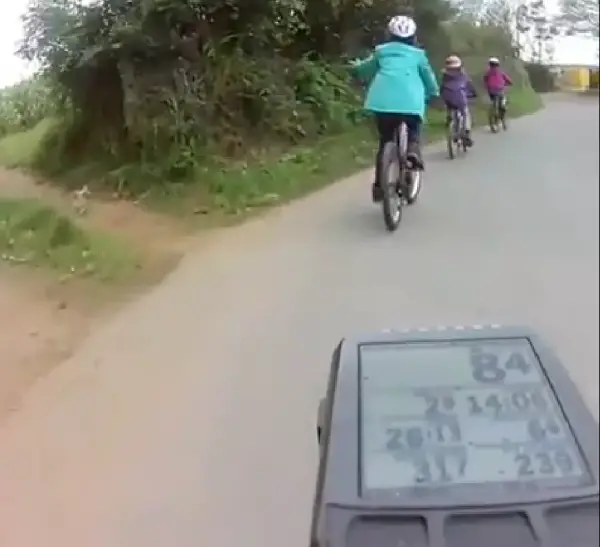 Electric bikes are also an excellent way to get fit and lose weight. There are more children struggling with weight than ever before and anything that encourages kids to be more active can only be a positive thing.
Unfortunately, all of the e-bikes featured above are very expensive, but it's worth remembering that if your child is 14, then it's quite possible a small or extra small adult-framed electric bike will do the job perfectly. My 13 and 14-year-old daughters both ride adult bikes.
E-bikes in general have had a very positive impact on the lives of thousands of adults, and they can do the same for kids.
Thanks for reading, if you have any questions please feel free to leave a comment below.