When you purchase through links in our articles we may earn a small commission. Read our affiliate disclosure.
Most folding e-bikes currently on the market in the sub £1000 / €1000 price range, have lower capacity batteries. This is fine if you only ride shorter distances. But, what if you've set your sights on a longer ride? Enter the Fiido L3, the small e-bike with a big heart! Rocking a massive 1113Wh 48v battery, this diminutive electric bike has an impressive range. In this article, I'm going to be taking a look at the specifications to see if it's a viable option for long-range commuting. Hopefully, I can get my hands on one in 2023 for a full review article.
Specifications
| | |
| --- | --- |
| Motor Type | Rear Hub Motor |
| Motor Power | 350-watt (Nominal) |
| Battery | 48v 23.2Ah / 1113.6Wh |
| Range | Up to 120 miles / 200 km (Level 1 Assist Mode) 80 miles /130 km (Electric Mode) |
| Top Speed | 16 mph / 25 km/h |
| Maximum Load | 120kg / 265lbs |
| Bike Weight | 24kg / 52 lbs |
| Brakes | Mechanical Disc |
| Wheel Size | 14″ |
| Dimensions | 1240mm (L) x 580mm (W) x 1040mm (H) |
| Availability | Visit Fiido Website |
Pros
Massive battery capacity
Powerful motor
Great value for money
Nice display
Designed for comfort
Cons
Heavy
Single gear / low gearing
Small wheels
---
Fiido has a reputation for making quirky electric bikes. The Fiido X is a good example of their unique design ethos – I've been using one regularly for the past couple of months, and it's great fun to ride. Most modern folding e-bikes have a battery in the 360Wh – 500Wh range. This is great for shorter, urban commutes. But if you want to explore further afield, or your commute is longer, these smaller batteries aren't always sufficient.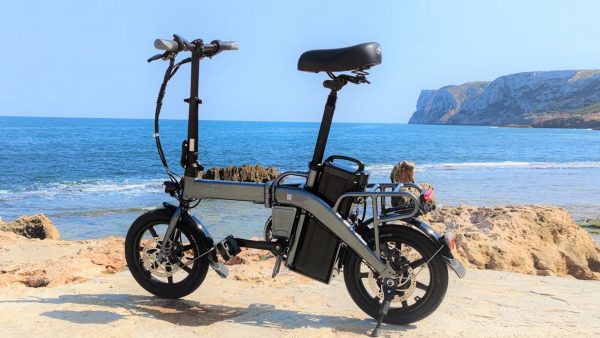 Enter the Fiido L3 – a folding electric bike on Steroids! It has 14″ wheels in a compact frame, but the centrepiece of this e-bike is the remarkable 48v 23.2Ah battery. This gives the L3 a potential range (in the lowest assist setting) of 124 miles. It should be noted, that the test conditions for Fiido's range test are flat ground (no hills), with a lightweight rider. In the real world, you're going to be looking at 70-90 miles. If you use throttle only, this range will be reduced even further.
That's still a very impressive range for a small hub motor e-bike and one that's unparalleled at this price point. Below, I've taken a closer look at the key features to see if the Fiido L3 is a one-trick pony.
Motor
Strong Performance
Smooth
Limited Top Speed (15 mph)
The Fiido L3 uses a 48v 350w rear hub motor that's activated by either pedal assist or throttle. Anecdotal reports suggest the L3 produces considerably more power than the specification would suggest. Assuming the L3 uses a 15 amp controller, it's safe to say a peak power of around 800w (with a freshly charged battery) is available in full power mode.
Battery
Biggest in Class
80 miles – Realistic Range
Quality Cells
If it's long-range you're after, then it doesn't get any better than this at this price range. You'd be hard-pushed to find another e-bike with a battery of this size for under £1500. What makes it more remarkable is the current price of £821 / €849 / $899. With a total energy capacity of 1113Wh (48v 23.2Ah), the Fiido L3 is going to go much further than anything in this price range, folding or otherwise. This battery uses DMEGC cells which are one of the highest-quality Chinese battery brands.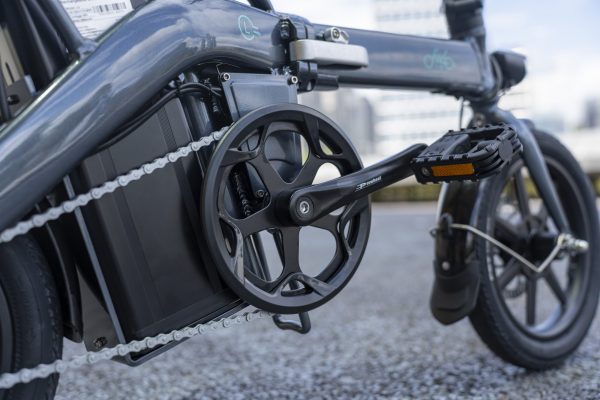 Brakes
Acceptable Stopping Power
Upgradeable
Nothing too fancy here, but the mechanical disc brakes will do a decent job of stopping the L3. It's quite small, but heavy (due to the large battery), so these brakes should be ideal. If you decided to upgrade, it would be cheap enough to fit some Zoom HB100 hydro-mechanical callipers.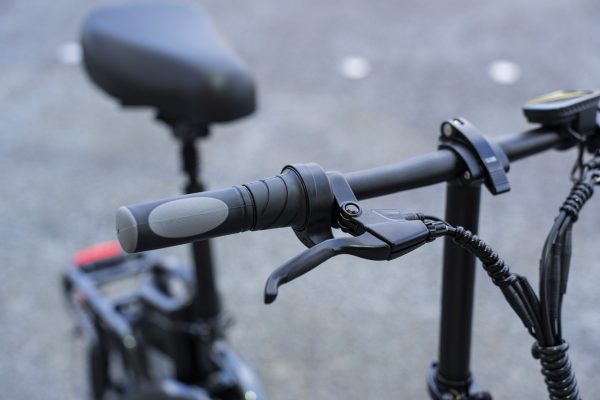 Frame
Good Quality Paint Finish
Folds Easily to Compact Size
The frame is made from aluminium and folds down to a very manageable size. Despite the diminutive look, the Fiido L3 has plenty of adjustment for shorter or taller riders.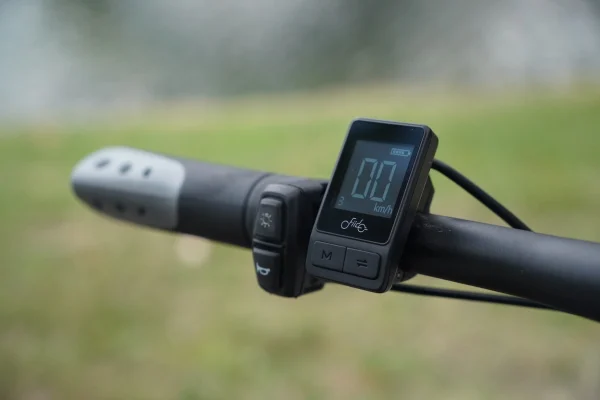 Accessories
Mudguards
Integrated Pannier Rack
Lights
Kickstand
There's everything here you'll need for the daily commute or weekend adventures. Mudguards, lights, kickstand and there's even an integrated pannier rack.
Gearing
Does a compact folding e-bike with a huge battery need more than one gear? Probably not, and considering the small wheel diameter and maximum electric speed of 15 mph, I don't think it really matters. Due to the small wheels, you're going to be pedalling very fast by the time you get to 15 mph anyway. Plus, with this much power, climbing moderate hills isn't going to be a problem.
Wheels and tyres
Puncture-Resistant Tyres
Tough Mag Wheel Design
The one-piece magnesium wheels should be durable, and are shod in 14″ x 1.95″ CST tyres – these tyres have a degree of puncture protection. Although, they won't be immune from punctures, and it might be worth investing in slime-filled inner tubes or using a tube-compatible sealant.
Who is the Fiido L3 aimed at?
The Fiido L3 has much more potential than regular folding e-bikes, simply because of its massive battery range. If you wanted to commute 25 miles each way, then the L3 would be more than capable. Its only limitations are the small diameter wheels, which may not be so great for soaking up potholes.
As a tool for escaping the city, getting some fresh air, and exploring the country. I reckon the Fiido L3 would be great fun! No more range anxiety, and if you chose a suitable route, you could disappear for hours on end! Having a couple of L3s tucked away inside your motorhome would also be a good idea.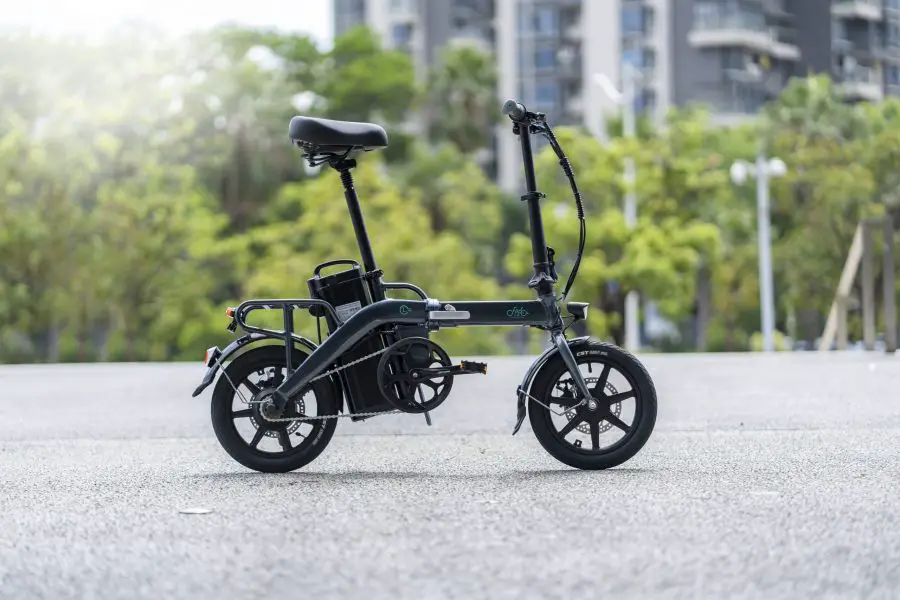 Conclusion
Small folding e-bikes like the Fiido L3 are not going to appeal to everyone. They do look quite dinky, and seeing a strapping 6-foot adult riding one of these may draw the odd laugh. But, that aside and looking at it purely from a practical point of view, the L3 has bags of potential.
Imagine the weather's nice and sunny, and you want to go and visit friends who are 50 miles away. If there's a safe and quiet route, you could ride there, charge the battery and ride back. Or, you could get a train or bus on the return journey. Either way, the Fiido L3 has lots of potentials.
If you're after a cheap form of transport but want something that'll cover a decent range. Then there's really nothing that can touch the L3 at this price point. I might be able to get my hands on one of these in 2023, and if I do, I'll post a full review of the Fiido L3 here.
Thanks for reading. If you own a Fiido L3, please feel free to leave a review in the comments section below.
Related Articles