The Enwge EP-2 Pro is a budget-friendly folding electric fat bike with strong performance and all-terrain versatility. In this review, I'll look at everything from motor performance to battery range, comfort and handling.
Key Features
750w rear hub motor
48v 13Ah battery
Front suspension forks
20″ x 4″ tyres
Mudguards, pannier rack, lights and kickstand
Price: $1050 / £950 / €1000
Skip to product specifications
In the interest of full disclosure, the EP-2 Pro reviewed in this article was generously provided to me by Engwe UK. This does not influence my opinions, and this review remains impartial, reflecting my genuine experience and assessment of the bike.
Unboxing and assembly
The Engwe EP-2 Pro comes partially assembled and includes instructions and the necessary tools. You must fit the front wheel, mudguards, lights, rear rack and pedals. You should allow roughly one hour (including unboxing and removing packaging). As always, I recommend using the services of a qualified bicycle mechanic if you are not confident in doing the job yourself.
Electrics
Motor: The Engwe EP-2 Pro is powered by a geared rear hub motor, rated to 750 watts of continuous power. It's integrated into a six-spoke mag wheel design. As with the Engine Pro, the peak power with a fresh battery is considerably higher – probably around 1000-1100w.
Assist: There are 5 levels of assist to choose from, and when you start pedalling, there's no lag in power delivery. Level 3 provided the best all-around performance without sacrificing too much battery range. Levels 1-2 were fine for cruising on the flat at slower speeds. Levels 4-5 were needed for steeper hills and, on the flat, would take you up to about 28 mph.
Display: I'm very impressed with the display. It's large, easy to read, and provides the rider with plenty of info. The speed is prominently displayed and is surrounded by a circular power gauge. The keypad is located near the left-hand grip and is easy to use. There's a plus and minus key for changing power levels, an on/off button, a light button and a button for activating the walk assist.
Throttle: The EP-2 also features a right-hand half-twist throttle. There is an initial lag when used, but this soon gives way to a useful turn of speed. I'm not a big fan of throttles on e-bikes, but they can be useful for that initial push-off from a junction or to get going on a hill.
Battery: Power is provided by a 48v 13Ah (624Wh) lithium-ion battery. The battery is well-hidden inside the frame and can then be removed by unlocking the frame and folding it to expose the battery. It's a nice touch, making this bike less obviously "electric". The battery can be easily removed or charged in situ via the charging port. The claimed range of 80-100 km (49-62 miles) is very optimistic, and based on the initial test ride, I would say a range of 25-35 miles is more realistic.
Performance on hills: How does the Engwe EP-2 Pro perform on hills? I found assist level 3 was fine for most climbs up to around 8% gradient. Much steeper, and levels 4 and 5 were required. On very steep climbs above 15% gradients, the motor starts to struggle, and you will need to add a fair bit of your pedalling effort.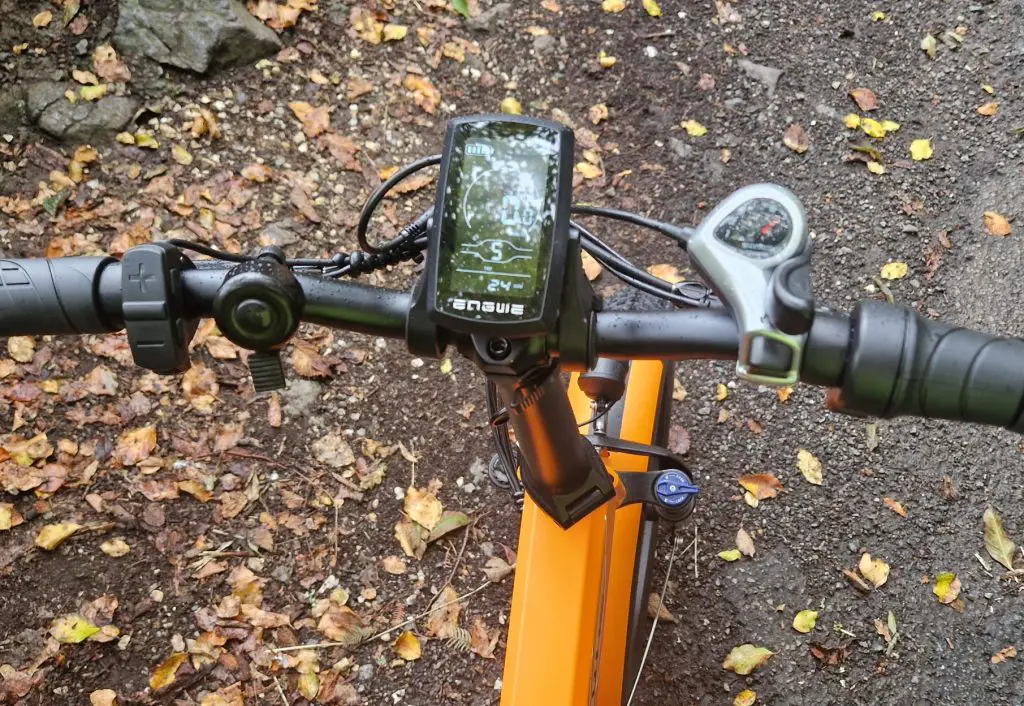 Bike Components
Gearing: For gearing, there's a single front chainring with a Shimano Tourney 7-speed rear derailleur. The rear freewheel is a 14-28, and a Shimano TX50 thumb shifter is used to change gears. The gears work well but need some initial adjustments to make the shifting acceptable. Gearing is a little too low for an e-bike with this much power, and you quickly run out of gears once you're above 20 mph.
Brakes: The EP-2 Pro uses mechanical disc brakes. Braking performance is acceptable, but you do need to pull them in hard on the steep descents. You'll miss the bite and modulation if you're used to hydraulic brakes. Also, they did make an annoying squeal on occasion. I expect this to improve as time goes by.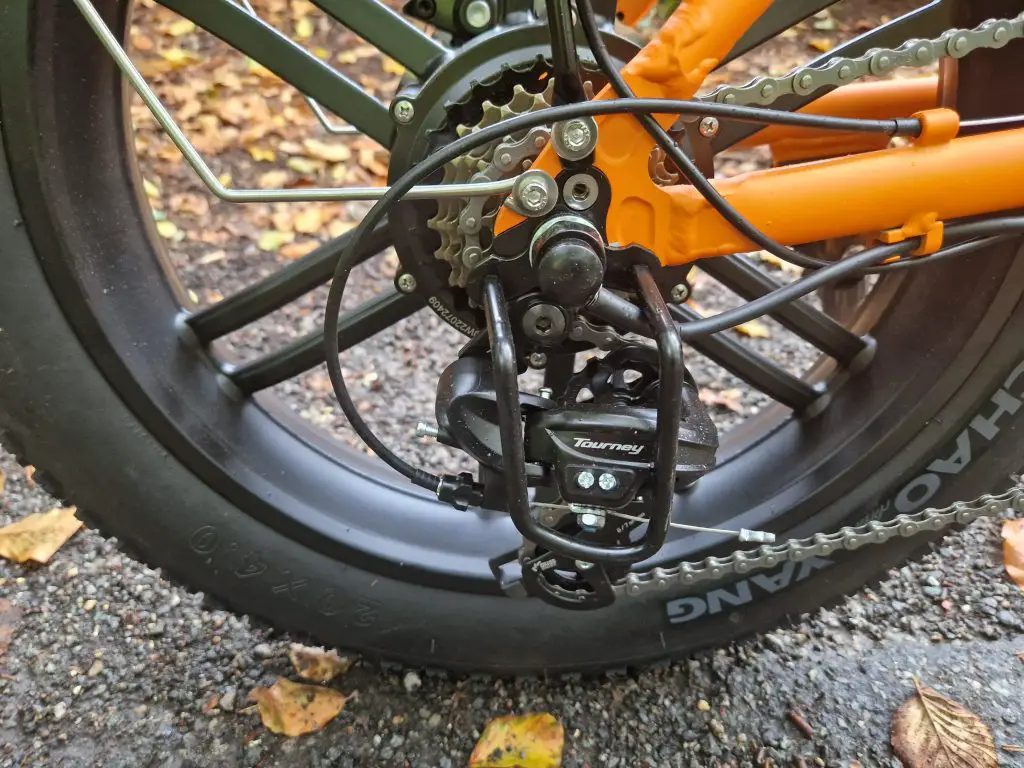 Suspension: There's a front suspension fork with lock-out and preload adjustment. Compared to the Engine Pro fork, it has skinnier stanchions and doesn't look like it will take too much off-road abuse. It worked fine on the road, but I would err on caution if using off-road (avoid big obstacles like rocks and don't do jumps).
Accessories: Despite its budget, the Engwe EP-2 Pro has all the extras you need on an e-bike. There are metal mudguards that are easy to fit and give a nice finishing touch to the bike, and a kickstand that isn't as sturdy as the one on the Engine Pro but does the job. The front headlight is bright enough for city/town riding, and the tail light with integrated brake light works very well. Finally, there's a steel pannier rack that seems very sturdy.
Handling and Comfort
The EP-2 Pro is a good size. I found the riding position slightly better than the Engine Pro, mainly because the steering column isn't quite tall.  Handlebar height can be easily adjusted, as can the saddle height. I would say riders from 5'4″ to 6'4″ should be fine. Shorter riders may find the reach too long as there is minimal adjustment in the saddle (fore and aft). The saddle is identical to the Engine Pro and is very comfy with lots of cushioning.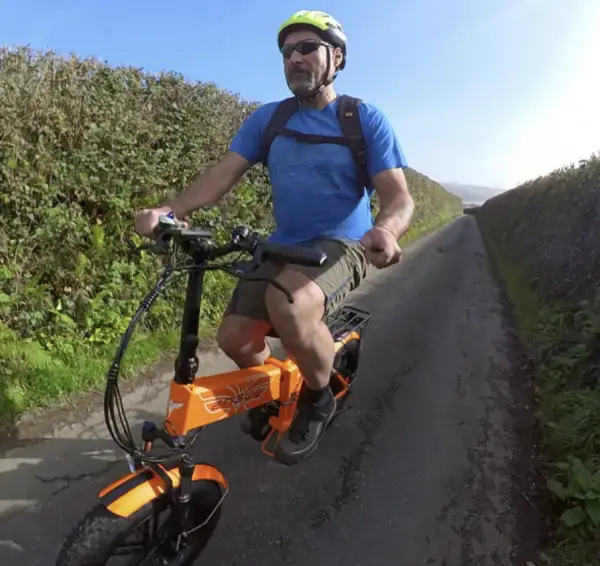 Out on the road, the Engwe EP-2 Pro has stable and predictable handling. You could feel the big tires at low speeds, but it felt quite responsive at higher speeds.
Folding is a straightforward process – the pedals fold easily, and there's a catch on the steering shaft and one on the main beam. It takes seconds (with practice) to fold the EP-2 Pro down, but it is heavy and may not seem easy for some people.
Who is the Engwe EP-2 Pro Suitable For?
The Engwe EP-2 Pro is a versatile machine and, as such, is suitable for a variety of uses. If you live near a beach or dry, sandy environment, the EP-2 would be a great way of getting around. Conversely, if you live in an area with lots of snow in the winter, you can drop the tire pressure and ride away. But it's not just for off-road riding – the Engwe is quite happy cruising on the tarmac, and with the fat tyres and front suspension, it gives a smooth ride. I reckon it would make a great e-bike for commuting.
Pros and cons
Pros
Great value for money
Foldable for easier storage
Strong performance on the flat and moderate hills
Decent range from the 624Wh battery
Comfortable
Cons
Very heavy
Not legal in some countries
Mechanical disc brakes were noisy
Conclusion
If you're looking for a folding electric fat bike with a fair bit of power, the Engwe EP-2 Pro has to be one of the best options at this price. It comes across as being well-made, sturdy and versatile. Plus, I think it looks great in the matte orange paint scheme.
Some downsides to consider include weight, noisy brakes, rolling resistance of the big tyres, and legality issues in the UK and EU.
The performance is good for cruising on flat or gently undulating terrain, but you must still put a little effort in on steep hills. It's comfortable, and the brakes are adequate. Handling is decent for a folding e-bike.
👇Use code: infuencer30off for a €30 discount (UK and EU)
Specifications
| | |
| --- | --- |
| Motor Type | 750-watt Brushless Geared Rear Hub |
| Battery | 48v 13Ah (624Wh) Generic cells |
| Battery Range | 80-100 km manufacturers claimed range. 25-35 miles (40-56 km) as tested |
| Top Speed | 28 mph / 45 km/h (on the flat) |
| Weight | 34 kg / 74 lbs |
| Maximum Load | 136 kg / 300 lbs |
| Gearing | Shimano 7-speed |
| Brakes | Tektro Mechanical disc brakes with cut-off sensors on brake levers |
| Suspension | Front coil-sprung suspension fork with lock-out function |
| Accessories | Kickstand, pannier rack, headlight, tail/brake light |
Thanks for reading. We hope you found this Engwe EP-2 Pro review helpful. If you have any questions before you buy. Please leave a message in the comments section below, and one of our team will get back to you within 48 hours.