7 of the Best Electric Cargo Bikes (in 2022)
ebikechoices is supported by its audience. When you purchase through links on our site, we may earn a commission. Learn more
In this article, I'm going to be taking a closer look at some of the best electric cargo bikes currently available (in 2022). Cargo E-Bikes are quickly catching on as a viable alternative for shorter car journey's, particularly in areas where there is good cycling infrastructure.
What is a Cargo E-Bike?
As the name suggests, a cargo e-bike is an electric pedal cycle that has been specifically designed for the purpose of carrying larger items (or even children).
Cargo e-bikes are increasingly being used in day to day life, and they are particularly useful for delivery riders. They're also great for nipping to the shops or taking a couple of kids to school (if it is safe to do so).
Electric cargo bikes are being touted as a viable replacement for the car, particularly for shorter shopping trips and the school run. This sounds great, but the main problem we have (in the UK at least) is poor cycling infrastructure.
In cities with a good cycling network they're great, but there's a long way to go in order to make them safe to use in rural areas. I'd love an e-cargo bike, but I live in the country where the lanes are narrow with high hedges and lunatic drivers!
Cargo e-bikes are incredibly versatile machines and they're improving all the time. You can even add to the carrying capacity of these load lugers by fitting an additional bike cargo trailer.
Do cargo E-Bikes need a more powerful motor?
Unfortunately, European and UK e-bike laws require all electrically assisted pedal cycles to produce no more than 250w of continuous power regardless of how much weight they are carrying or their intended purpose – e.g. courier work.
Thankfully, electric bike technology has come on in leaps and bounds over the last few years and the latest breed of e-bike motors from companies like Bosch have a very high torque output (important for climbing steep hills).
Some of the e-cargo bikes featured below have the latest Bosch Cargo Line Motor which has been especially developed to cope with the rigours of hauling large / heavy loads.
The Bosch Cargo Line motor was inspired by their top-of-the-range e-MTB Performance CX motor and produces a class-leading 85Nm of torque and massive 400% of assist. Although the continuous power output must be rated at 250w, these motors will often produce more peak power when under load (up to 400 watts), making them the perfect choice for a cargo e-bike.
Bosch reckon an average of 40 miles range can be achieved in 'tour' mode using the 500Wh battery – check out the Bosch range calculator for more info.
The best electric cargo bikes are…
On to my list of the 7 best electric cargo bikes currently available. The cargo e-bikes listed below have been chosen based on their overall specification, build quality and value for money. Unfortunately, there's no such thing as a cheap cargo e-bike, but when you think about how much money you could potentially save over the course of a year, they start to make perfect sense!
---
1. Raleigh Stride 2 Cargo E-Bike
Iconic British brand Raleigh have embraced the electric bike boom from the start and we're now seeing their range extended to include a range of e-cargo bikes.
The Raleigh Stride 2 electric cargo bike uses the latest technology including Bosch Cargo Line motor and Enviolo CVP (constantly variable planetary gear) hub gearing – this gives the rider the an infinite number of ratios. You can also change gear when under load (pedalling hard) or when stationary.
There's a 500Wh battery and top-flight Magura hydraulic disc brakes, making the Raleigh Stride 2 a serious contender in the e-cargo bike world.
---
2. Gazzelle Makki Load Electric Cargo Bike
Gazzelle bikes are another well-know Dutch brand who've pioneered e-cargo – the Gazzelle Makki Load Cargo E-Bike is awash with all the latest tech and uses a Bosch Performance Line 3.0 motor with a Enviolo stepless CVP transmission.
The Gazelle Makki Load is no ordinary electric cargo bike and has had design input from parents and children from the outset, the Makki E Cargo is the ideal solution for transporting you and your kids in both comfort and safety. It can also double-up as a shopping bike when the kids are at school.
---
3. Babboe Go E Cargo Bike
Dutch company Babboe have been producing excellent cargo bikes for many years and were on of the first to implement electric technology on their bikes. The Babboe Go E-Cargo Bike is one of the more affordable options on this list and is exquisitely hand-crafted.  Taking the traditional 'Dutch Bike' style and implementing it on a cargo e-bike means solid construction and a comfortable riding position.
Featuring a 250w rear hub motor with 374Wh battery and 7-speed gearing, the Babboe Go is the perfect solution for shorter, less hillier rides. These small rear hub motors are renowned for their reliability and give the rider a very useful boost when riding.
---
4. Cube Hybrid Electric Cargo Bike
The Cube Hybrid Electric Cargo Bike is brimming with the latest in e-bike technology, including the Bosch Cargo Line motor, 500Wh battery and a Enviolo CVP transmission.  The EPP foam carrier can be fitted with optional seats and seatbelts for carrying the children, or used as a space to fit several shopping bags, some work tools or packages for delivery.
There's also the additional benefit of Suntour XCR32 100mm air forks to smooth out the pot holes and the excellent Schwalbe Marathon E-Plus tyres, which are virtually puncture-proof.
---
5. Bergamont E-Cargoville LT Edition Electric Cargo Bike
German brand Bergamont have been producing some very high quality e-bikes for a good few years now and this latest cargo bike has an excellent specification. The Bergamont E-Cargoville LT Edition has everything you need for carrying heavier or larger items around town.
The E-Cargoville features an excellent specification including a Bosch Performance Line Cruise motor with 500Wh battery. There's also Magura MT30 hydraulic brakes and a wide-range Shimano Deore 10-speed drivetrain. I'm a big fan of the Bergamont and it features on my list of 8 of the best electric bikes for delivery.
---
6. Tern GSD S10 – My Personal Favourite?
I was fortunate enough to have a go on the Tern GSD S10 a couple of years back and it really is a fantastic bit of kit! It's such a fun and responsive e-bike to ride with the benefit of foldable parts making it much easier to transport.
The Tern GSD S10 boasts an amazing specification for such a compact package – Bosch Cargo Line, 400Wh battery (with the option of adding another), Magura MT5 4-pot hydraulic brakes, Suntour front suspension and Schwalbe Big Ben Plus tyres.
In the accessories department there's a centre stand, front and rear lights (with an always-on brake light), mudguards and, of course that amazing cargo rack. The Tern GSD S10 also boasts an excellent 200kg maximum carrying capacity (including bike and rider weight). Read the full Tern GSD S10 review.
---
7. RadWagon 4 Electric Cargo Bike – Best Budget Option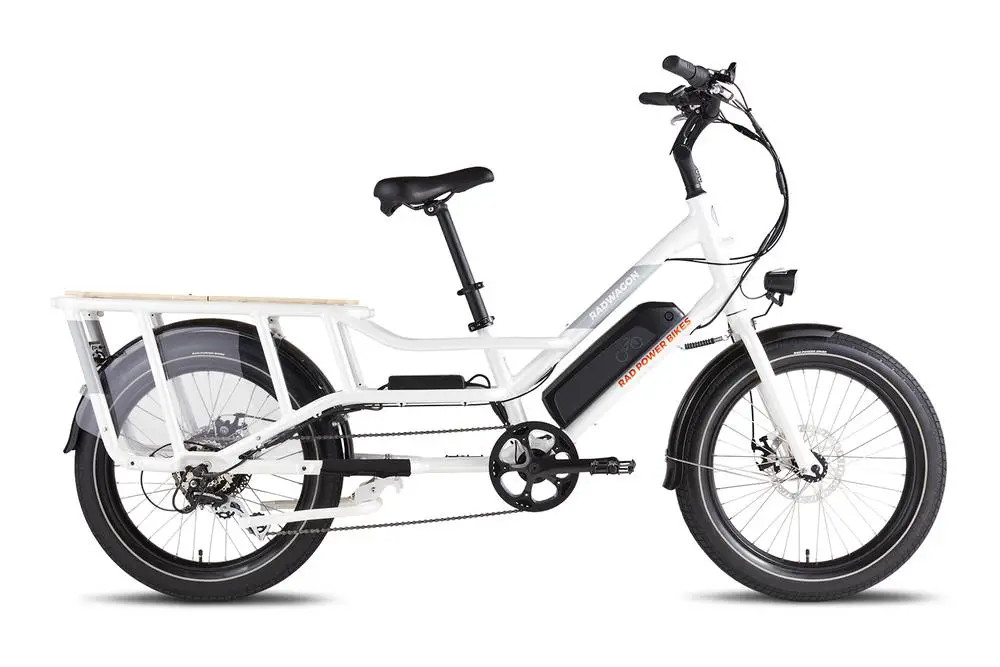 The RadWagon 4 from Rad Power Bikes has been hugely successful on both sides of the Atlantic. In the EU, the RadWagon is limited to 250w, but the Stateside version produces 750w from the rear hub motor. There's a decent 48v 13Ah battery which should give a realistic range of between 30-40 miles.
One of the main reasons the RadWagon 4 is such a good seller is it's very affordable price (when compared with other e-cargo bikes) – it really does offer a high-quality entry into the world of e-cargo.
All of the components are fairly entry-level, but good quality. There is a Shimano drivetrain and mechanical disc brakes along with high-volume, puncture resistant tyres. There's also front and rear lights a centre stand and of course, loads of luggage space. For more info read my article on Rad Power Bikes.
---
Conclusion
If you live in an area that has a safe cycling network, then I'd say go out and buy one today. Electric cargo bikes are the ultimate in personal transport – you can get the shopping, take the kids to school and you can even use them for doing deliveries or running errands. I believe the cargo e-bike will eventually revolutionise transport in urban areas, but for some rural areas they just won't be practical.
All of the e-cargo bikes featured here are excellent forms of transport in their own right but is there a clear winner? As always, that's a tricky question to answer as it really depends on personal needs.
For me personally, I would go for something like the Tern GSD S10, I've ridden one before and it really is an amazing e-bike, plus you can have two batteries giving a potential range in excess of 150 miles.
I think the Rad Power RadWagon 4 offers exceptional value for money. It's practically impossible to find a decent electric cargo bike for less than £2500, but Rad Power Bikes have done an excellent job of making an affordable e-cargo bike that has a high quality construction.
All the other brands featured here are excellent and whatever you decide is right for you, you won't be disappointed. With the current push for greener transport solutions, the Cargo e-bike is definitely here to stay and we're going to be seeing more of them in the future.
If you don't want to fork out the extra money for an electric cargo bike, there are plenty of child's trailers suitable for e-bikes now available. You can even buy pet-specific trailers for transporting your dog, if you have one.
Thanks for reading and if you have any questions or require advice, please leave a comment below and I will usually reply within 24hrs.