Lankeleisi XT750 Plus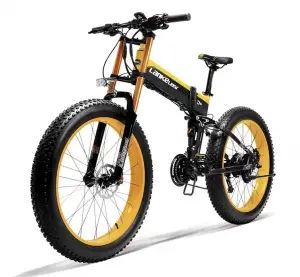 A great value electric fat bike with a smooth motor, comfy ride and decent battery range.
Motor Performance
Smooth and powerful
Battery Range
Around 50 miles as tested
Components
Everything worked as expected
Price
Great value for money
If you want the benefits of a folding fat tire e-bike but prefer the comfort and stability offered by bigger 26-inch wheels, then the Lankeleisi XT750 Plus might be for you. In this 'hands-on' review, we'll be taking it on a 30-mile test ride so that we can thoroughly evaluate things like battery range, motor performance and handling.
The Lankeleisi XT750 Plus is a foldable fat tire electric bike that boasts an impressive 1000-watt rear hub motor and an equally impressive 840Wh battery. But, how does it hold up on a long and hilly ride on poorly surfaced country roads?
Unboxing and First Impressions
In the interest of full disclosure, the electric bike reviewed in this article was generously provided to me by Lankeleisi UK. This gesture, however, does not influence my opinions, and the ensuing evaluation remains impartial, reflecting my genuine experience and assessment of the product.
The e-bike provided for this review was delivered very quickly. As a bonus, the delivery team were very professional, providing a 2-man delivery. The bike was very well packaged and all the tools required for assembly were included.
My first impressions of the Lankeleisi were favourable. It's a very striking-looking electric bike that's finished in a bright yellow. I thoroughly inspected the bike and found the finish to be flawless throughout. Assembly was fairly straightforward once all the packaging was removed. The front wheel, handlebars, headlight and front mudguard needed to be installed. Once this was done, it was just a case of adjusting everything and charging the battery.
Please note: If you haven't assembled a bike before, we always recommend getting a competent bicycle mechanic to assemble and check your bike before riding.
Electric Components
The Lankeleisi XT750 Plus is a powerful e-bike with a big battery capacity. To make a good assessment of the motor and battery performance, I decided to take it for a long first test ride of nearly 30 miles. Unfortunately, the weather was particularly poor, with bursts of heavy rain and a strong SW wind. I decided on a tough route, taking in poorly surfaced country lanes with steep hills and a total of 3000 ft elevation gain.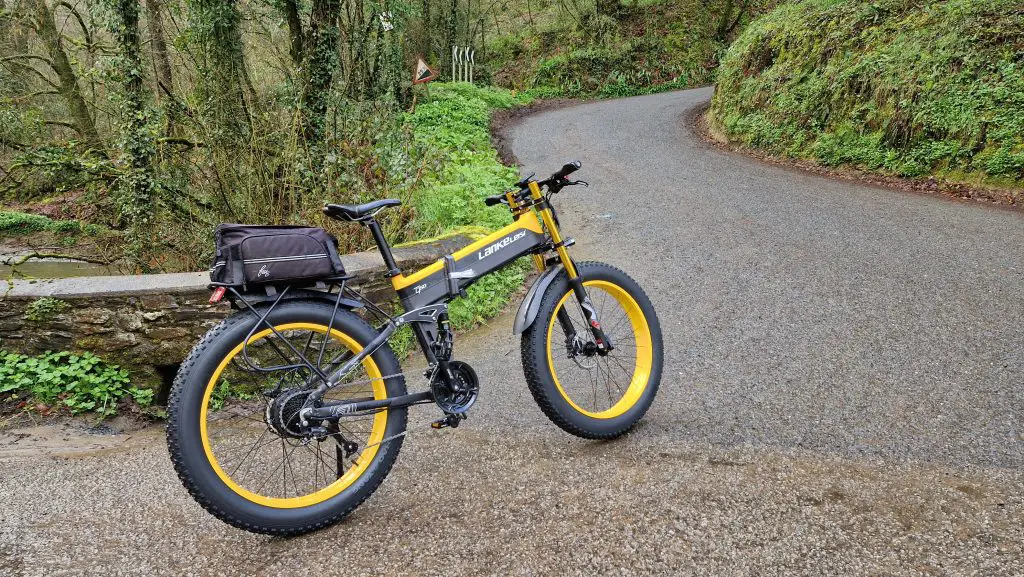 Motor Performance
I had big expectations for the Lankeleisi performance and I wasn't disappointed. The 1000-watt rear hub motor is incredibly smooth and surprisingly quiet. I started my ride in assist level 2 (out of 5) and found straight away that this was enough power for climbing moderate hills with ease. The pedal assist is cadenced-based, but it's very responsive and smooth on the uptake.
The XT750 took the first long hill climb in its stride and powered effortlessly up there without fuss. I'm not sure who makes this motor, but I would certainly put it up there with the Bafang hub motor, in terms of performance and refinement. If anything, it's a bit quieter than the Bafang – full marks here! On the flatter, more undulating parts of the ride, the Lankeleisi felt great, with the powerful motor allowing me to maintain a good average speed without exerting myself.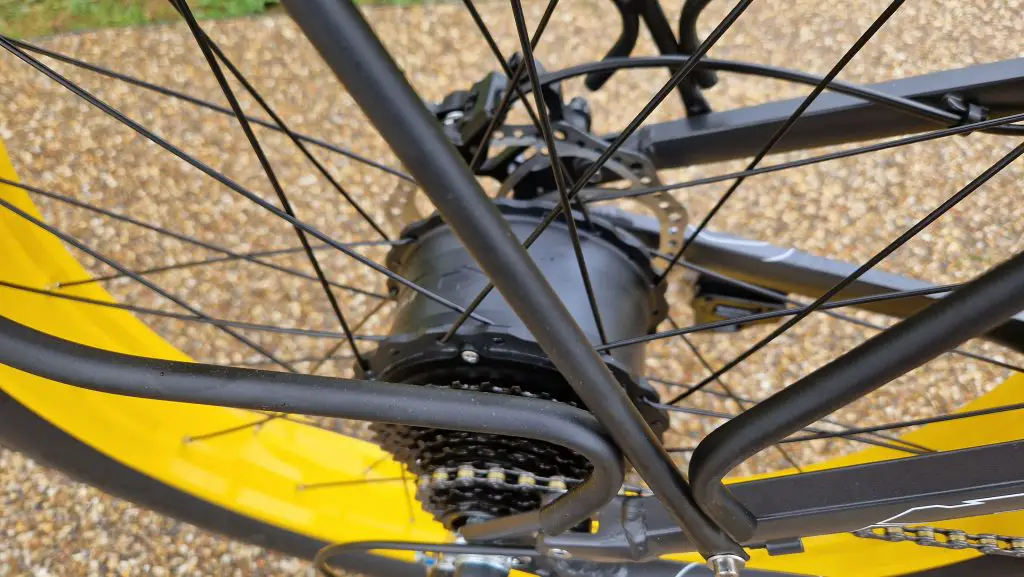 In conclusion, the motor performance is excellent, and one of the best big hub motors I've come across. It feels under-stressed and doesn't struggle with steeper hills like some do.
Display
The S700 LCD display is nice and clear to read, with all the usual features. I particularly like the battery power indicator which has 10 bars instead of the usual 5. It seems to give a more accurate measure of battery usage. I also liked the fact it was set to MPH out of the box. You can configure speed, throttles and PAS settings in the advanced settings menu (accessed by long-pressing the arrow keys). I decided to set the max speed to 18 mph / 30 km/h to keep battery consumption at a sensible level.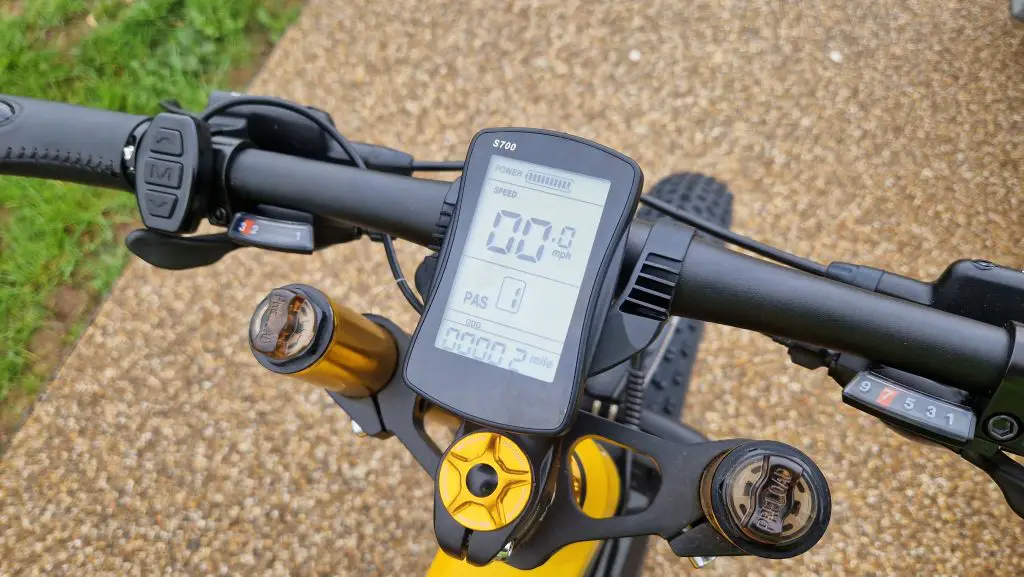 Battery
When assessing battery range, it's important to take into consideration the weather, rider weight, power used and how hilly the terrain is. The weather was wet and windy, but not too cold. Rider's weight is approximately 105 kg and assist levels 2-3 were used for 90% of the ride.
There is a generous 840Wh of energy capacity in the Lankeleisi battery. I couldn't find any info on what cells are used, but based on the initial battery usage, I'm impressed. Lankeleisi quotes a range of anywhere between 27 to 74 miles on their website depending on whether the throttle or PAS is used. After 30 miles, the battery indicator had only lost 4 bars out of 10. Bearing in mind the battery wasn't quite fully charged beforehand, I reckon this looks promising and once the weather dries up a bit, I'm planning on a much longer ride.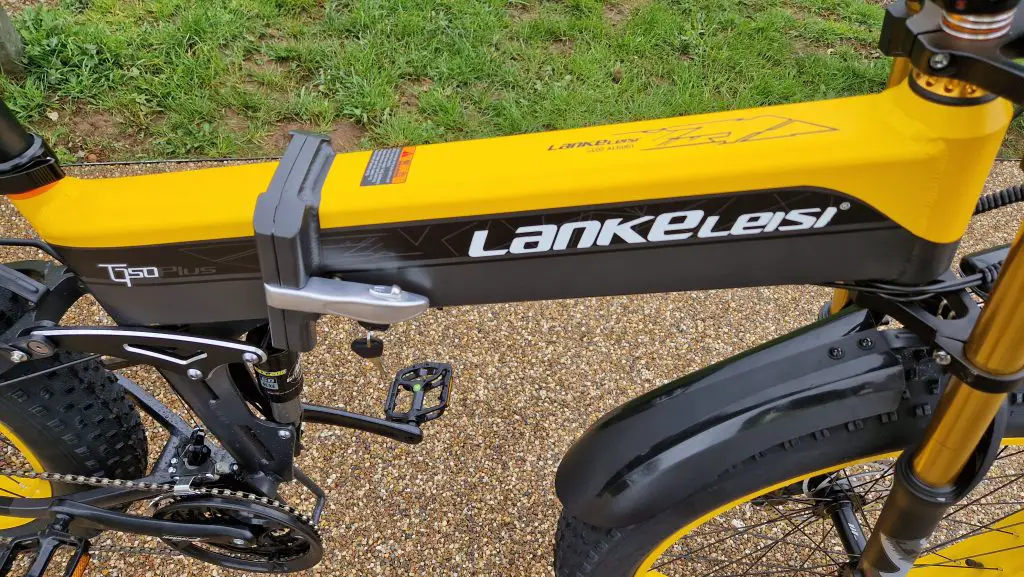 This battery is hidden inside the frame and can be charged either in situ or it can be removed. To remove the battery, you need to release the folding mechanism, unfold the bike, unlock the battery (using the key) and use the recessed handle to remove the battery.
Bike Components
Gearing
This is where the Lankeleisi XT750 Plus differs from a lot of the other electric fat bikes on the market. It has a total of 27 gears. Some may think this is overkill, but it does work in the bike's favour. With a 42/32/22 triple crankset upfront and an 11-32 9-speed cassette at the rear, there is enough gear range to keep your pedalling cadence optimal for longer rides and hill climbs. This means that you don't need to rely on higher power for hill climbs, and can save on energy consumption.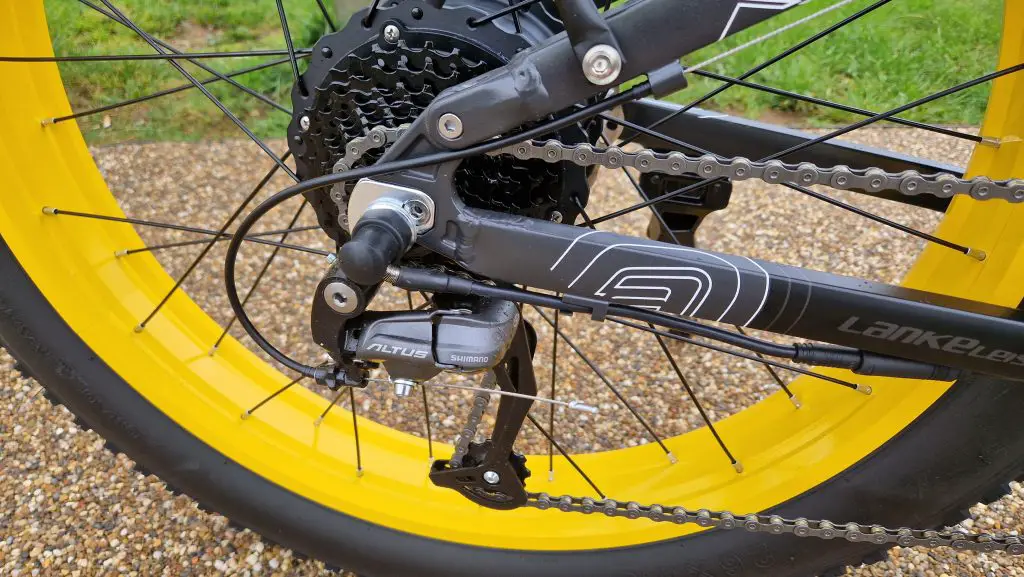 As for shifting quality, I found the gear shifting to be pretty good considering the budget components. Both the front and rear derailleurs worked perfectly throughout the ride. The bike had been set up properly at the factory and I had no problems with the gear indexing.
Brakes
The hydraulic brakes were another pleasant surprise. Considering the very wet and muddy surface, steep descents and heavy rider, the brakes performed admirably. These brakes also have built-in cut-off sensors which is a good safety feature on a powerful e-bike. The 180mm rotors are a good size, and I didn't get any of the annoying brake squeals sometimes associated with disc brakes. Full marks here!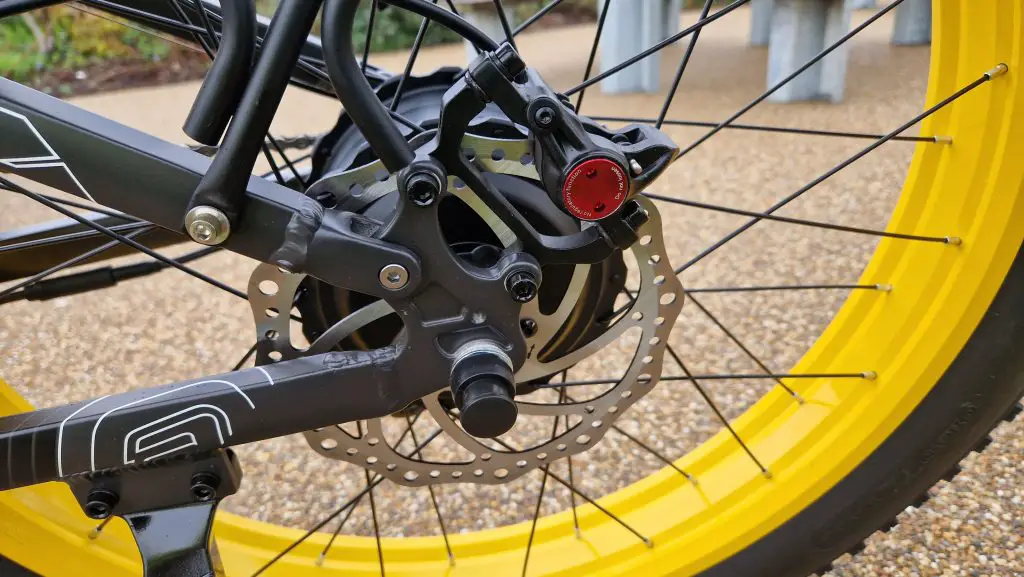 Suspension
This is another department where the Lankeleisi XT750 Plus is well-catered-for. With a big motorcycle-style suspension fork up front and a single rear shock absorber, the bike feels smooth to ride on poorly maintained road surfaces. You can't lock the front fork, but there is a degree of preload adjustment available. The rear shock was much firmer than units I've come across on other bikes and had a good rebound. The linkages all seemed to be moving freely.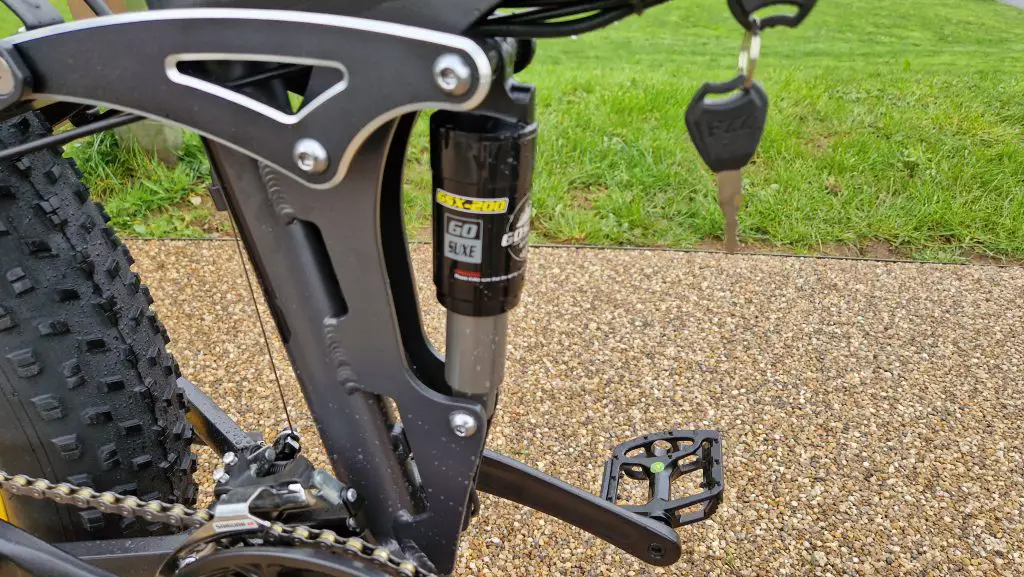 It should be noted that this suspension is not going to be suitable for sustained heavy off-road use. It will be fine for mild to moderate off-road riding but would advise against jumps and riding over large rocks and tree roots.
Wheels and Tires
The XT750 Plus boasts full-size 26-inch wheels with 4-inch CHAOYANG fat tires. The tires provided a good amount of grip on the test ride, although they were quite noisy at speed. The wheels look tough and the spokes were well-tensioned. Also, I noticed that the front wheel bearing was particularly smooth and free-spinning.
Finishing Kit and Accessories
There's a full complement of accessories including a pannier rack, front headlight, kickstand and mudguards. There is no rear light, just a reflector but it would be easy enough to add a rechargeable light if required. All of the finishing kit looks good quality, I particularly liked the handlebar which is neither too wide nor narrow. I didn't like the feel of the grips, so I swapped them out for some ergonomic grips before the test ride. I also decided to remove the throttle as I don't usually use one when riding an e-bike.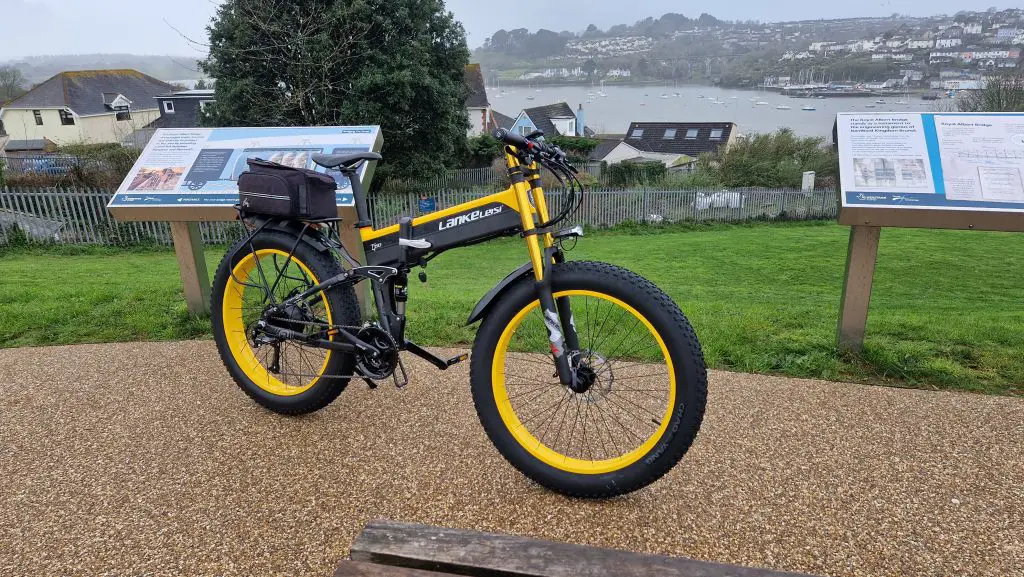 Comfort and Handling
Full-suspension electric fat bikes usually excel in this department, and the Lankeleisi is no exception. I would say the riding position is more sporty than something like the Himiway Cruiser, which I tested recently. I didn't experience any discomfort throughout the ride and the big tires and full suspension gave the bike a 'magic carpet' like ride – very smooth indeed! The only thing I didn't get on with was the big saddle, but that is just my personal preference. Some riders prefer big saddles with lots of padding.
Folding
One feature of the Lankeleisi XT750 Plus is the folding design. It's not a traditional folding electric fat bike, as it doesn't have folding handlebars and pedals. But, if you had limited storage space, being able to fold it in half may make it easier to store or transport by car. A word of warning though – it's incredibly bulky and heavy. You need to be quite strong to lift it.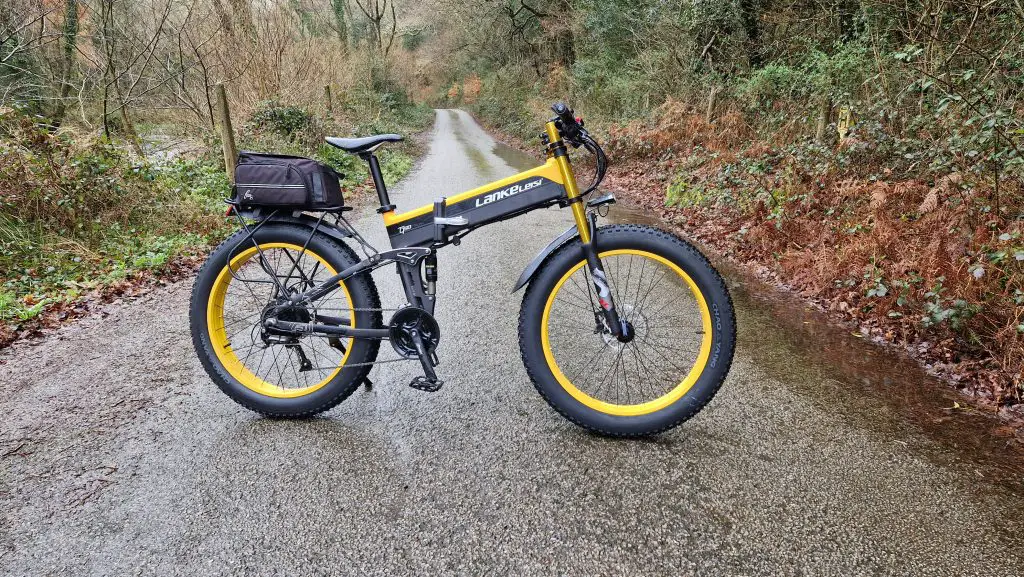 Sizing
This is a big bike! Although there is quite a bit of adjustment in the saddle height, it's very long. I am a fraction over 6 feet and I felt totally at home on the Lankeleisi. It has quite a stretched-out riding position. I have quite long arms in relation to my body, so I'm not sure how shorter riders would get on with it. I would say you'd need to be a minimum of 5'8″ to ride this bike. If you found the reach too long, you could fit a shorter or adjustable stem. In addition, you could fit handlebars with a swept-back design.
Lankeleisi XT750 Plus Price
At the time of this review, the XT750 Plus is on offer at £1499 which represents very good value for money. When you compare it to similarly-priced alternatives like the Engwe Engine Pro, and Cyrusher XF800 it's competitively priced.
Conclusion
The Lankeleisi XT750 Plus is a lot of e-bike for the money. I'm particularly impressed with the smoothness of the motor, and the responsive nature of the pedal assist. Based on the initial test ride, the potential battery range could be around 60 miles, provided the electric assist is used wisely.
Out on the road, I found it enjoyable to ride. I'm not a big fan of full-suspension on electric fat bikes, and I would have preferred to be able to lock out the front fork and rear suspension as I did find the bike 'bobbed' around a bit when climbing steeper hills.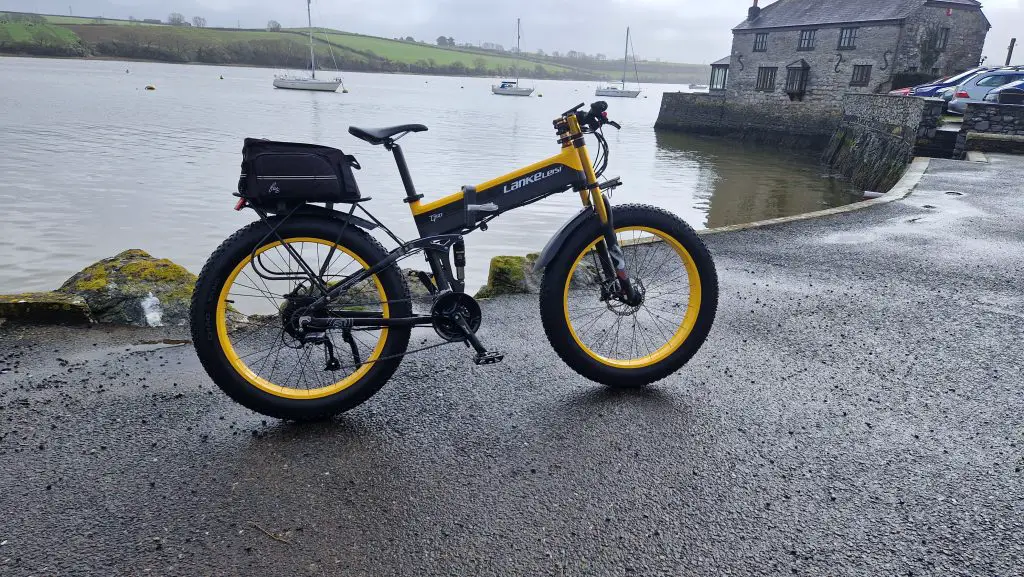 As for the general comfort, I thought it was okay. It didn't have the relaxed riding position of the Himiway Cruiser, and the long reach and flat handlebars put you in a sportier riding position. If this wasn't to your liking, it would be easy enough to fit some riser handlebars. For me, the saddle was too big and squishy – this type of saddle is the norm on electric fat bikes and it's easy enough to change if required.
Overall, I liked the Lankeleisi XT750. It's a big and heavy bike, but has plenty of power and is enjoyable to ride. Despite my test ride being plagued by wet and windy weather, there were no issues and it performed admirably. If you're in the market for a big folding electric fat bike, it's worth considering.
Thanks for reading. If you have any questions relating to this or similar e-bikes. Please leave a message in the comments section below and we will usually reply within 48 hrs.
Related articles