ebikechoices is supported by its audience. When you purchase through links on our site, we may earn a commission. Learn more
The Himiway Cruiser is a popular fat tire electric bike that's available in the US, UK and EU. Featuring a powerful 750-watt rear hub motor (250-watt UK and EU) and impressive 48v 17.5Ah battery, the Himiway Cruiser has a great specification on paper. But, how does it perform in the real-world? In this hands-on review, we'll be looking at motor performance, battery range, comfort and handling to see if it's worth your hard-earned money.
Specifications
| | |
| --- | --- |
| Motor Type | 250-watt 48-volt Brushless Rear Hub (UK and EU version) |
| Battery | 48v 17.5Ah / 840Wh LG Cells |
| Battery Range | 60 miles / 100 km (claimed) |
| Top Speed | 15.5 mph / 25 km/h |
| Weight | 32 kg |
| Maximum Load | 158 kg / 350 lbs |
| Gearing | 7-speed Speed |
| Brakes | Mechanical disc brakes with 180mm rotors |
| Suspension | Front coil sprung suspension fork with hydraulic lock-out |
| Accessories | Mudguards, Kick stand, Pannier rack, Headlight, |
| Price When Reviewed | £1549.00 (UK) $1599 (US) €1799 (EU Countries) |
Pros
Quiet and smooth motor
Responsive pedal assist
Strong motor performance
Good battery range
Very comfortable riding position
Good braking performance
Cons
Heavy
Saddle a bit too wide
Himway e-bikes have seen great success in the US, where they have a network of dealers all over the country. More recently, they have entered the UK and EU market, with 250-watt versions of all their popular models. The sample used for this review is the UK / EU spec Himiway Cruiser 250w.
Unboxing and First Impressions
Please note: The sample provided for this review was supplied free of charge, courtesy of Himiway UK. This in no way prejudices our opinion of the bike.
The Himiway Cruiser was delivered in a timely fashion. Unfortunately, the box had significant damage to the exterior – this damage was obviously caused in transit and is not the fault of Himiway. Thankfully, the bike was very well protected and the bike and components were completely unscathed.
Inside the box, there was a separate smaller box containing the charger, pedals, quick-release skewer (for the front wheel), multi-tool, and a complimentary Himiway baseball cap. Assembly was a fairly straightforward process. The handlebars, seatpost, pedals, light, front wheel and mudguard needed to be fitted, and the whole assembly process to roughly 30-40 minutes.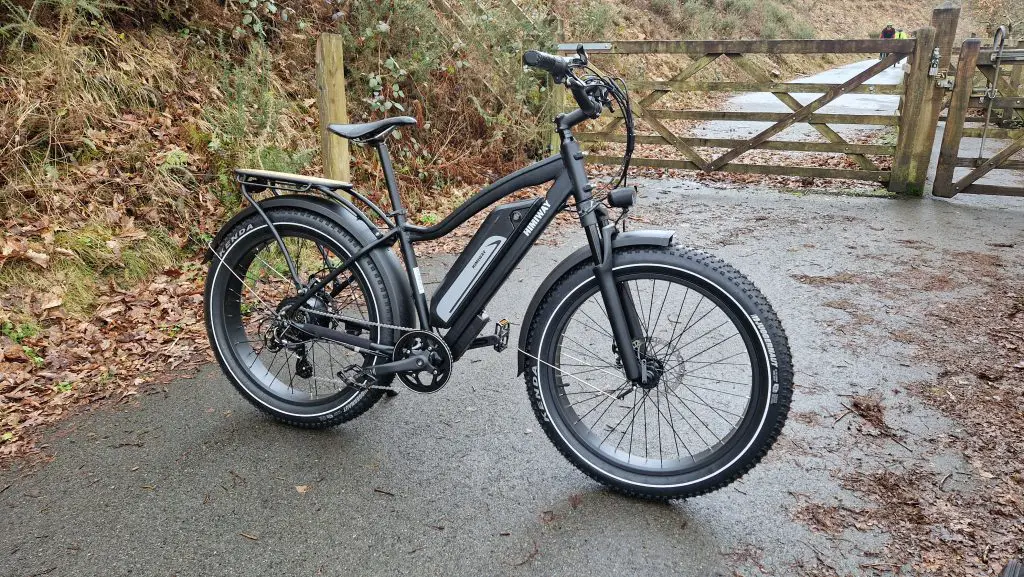 Once I'd adjusted the seat height and handlebars, I sat on the bike and immediately felt at home – it has a very comfortable and natural riding position. I'm also impressed with the looks – the Himiway Cruiser has an imposing presence, dominated by the 4″ tires. It's a really cool-looking e-bike that has a flawless matt black paint finish.
⚠️Please note: If you haven't assembled a bike before, we always recommend getting a competent bicycle mechanic to assemble and check your bike before riding.
Electric Components
Motor Performance
The first thing that impressed me, was how smooth and quiet the hub motor is. Although this motor is rated to 250-watts for the UK and EU market, the Himiway provides a very good level of assist. The Himiway motor was noticeably quieter than the Bafang hub motor fitted to the Cyrusher XF800 I've previously tested.
There are 5-levels of pedal assist to choose from. I found that levels 1 to 2 provided minimal assist – enough to cancel out the extra weight and rolling resistance of the tires. Assist level 3 is a good starting point for undulating terrain, but for me, assist level 4 is the 'sweet spot'. I decided to leave it in level 4 for the duration of the test ride, and only used 5 for the journey back into a strong headwind.
Another thing that impressed my was the immediate response from the pedal assist. Cadence systems can be notoriously hit and miss when it comes to riding experience. Some have a delay, others can feel erratic. Not so, with the Himiway Cruiser – the assist comes in quickly and smoothly. The transition when the power cuts out at 15.5 mph is very smooth.
There is a half-twist throttle on the right-hand side, and this is totally legal in the UK and EU, as it only works up to 6 km/h. It's quite useful for that initial push off from junctions and traffic lights.
Motor performance update 23/3/23: Today, I tested the Himiway, on a particularly steep hill, with an average gradient of 10% over half a mile. I kept it in level 3, and it got me up there comfortably, with minimal effort. It feels like a very strong motor with good torque output.
Display
There is a large, LCD display that has all the functionality you need on an e-bike. Speed, battery level, trip, and assist levels are displayed. It's not particularly fancy, but it does the job well and importantly is clear and easy to read. There is a multi-function keypad located next to the left-hand grip. Here, you can turn on the lights, switch assist levels up or down, and scroll through the settings.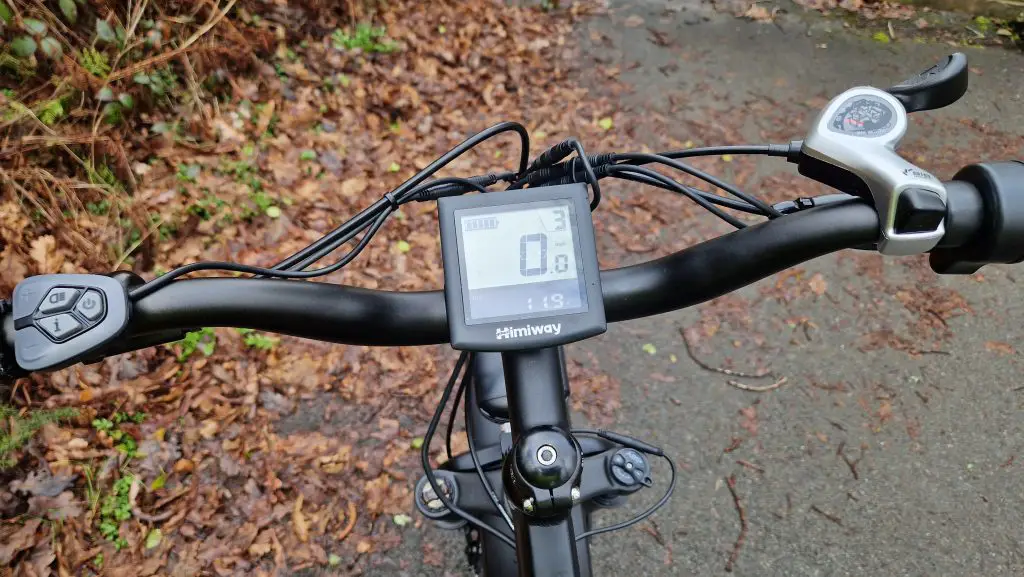 This display also has an advanced settings feature which can only be accessed with a 4-digit code. If you can access this feature, you can change things like number of assist levels (up to 9 maximum), and you can even change the start up characteristics of the motor, and the percentage of power in each assist level.
Battery
The Himiway Cruiser rocks an impressive 840Wh battery (48v 17.5Ah). Even more impressive, is the fact they use a quality branded cell like LG. The battery is sleek, and easy to remove, with a side-exit design, that fits neatly into the frame cradle. It should be noted that the battery was probably about 90% charged for the first ride, as I forgot to put it on charge the night before.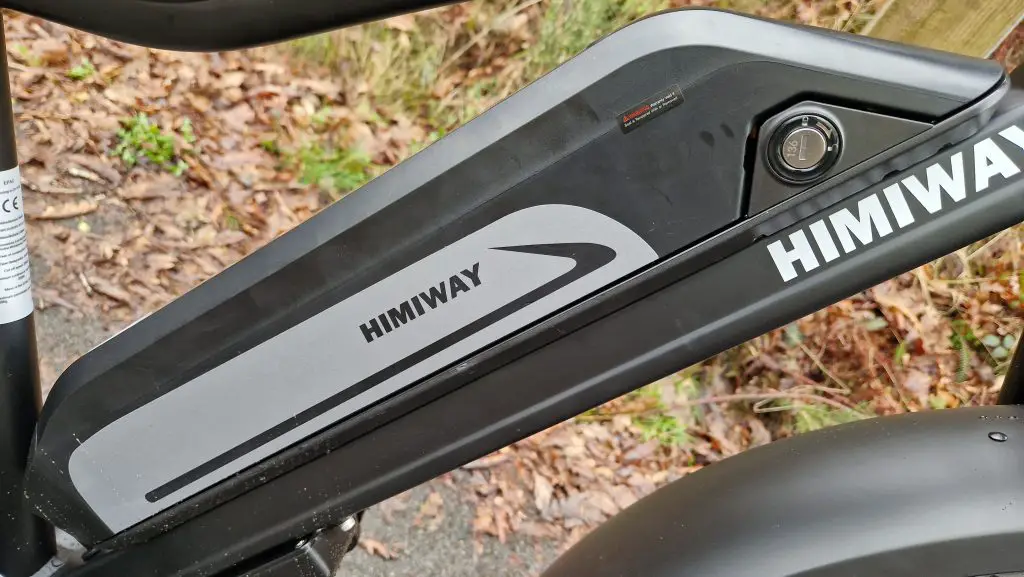 Battery range is claimed to be 35 – 60 miles, which based on my initial test ride, seems like a realistic figure. The test route was 25 miles with just over 2000 ft of elevation gain, I kept it in assist level 4 for most of the ride. When I got back home, it had just dropped down to 2 bars (out of 5) on the battery indicator. I reckon, I could have easily ridden another 15 miles before it was depleted. Taking into account the wind, hilly terrain and rider weight of 231 pounds (105 kg), I think that's pretty good going.
Battery range update 23/3/23: I took the Himiway for a 37 mile ride today with around 2000 ft of elevation gain. I still had 3 bars left on the display when I got back. I reprogrammed the pedal assist settings to level 1 (25%), level 2 (40%) level 3 (52%) level 4 (70%), level 5 (90%). I only used assist levels 1 – 3, and kept it in 3 for most of the way back. This would indicate, the claimed max range of 60 miles, should be easily achievable.
Bike Components
Gearing and Brakes
Gearing is provided by a single 46-tooth front chainring and 14-28 7-speed freewheel. The derailleur used is a Shimano Altus, which is a step up from the entry-level Tourney derailleur usually used on these types of e-bike. Shifting is taken care of via a Shimano TX50 thumb shifter. The gears shifted well throughout the test ride, and did not need any adjustment out of the box.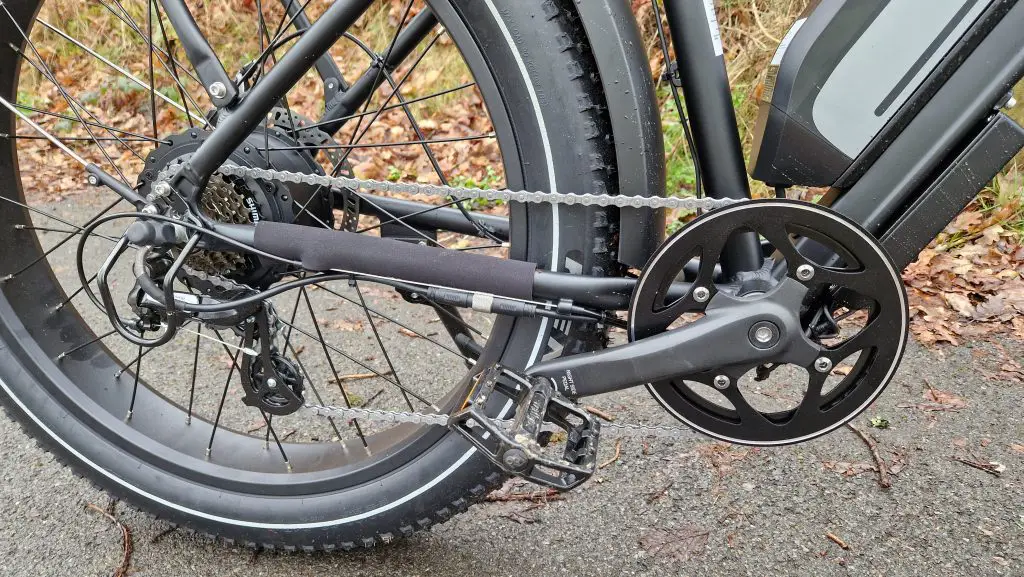 Braking is provided by Tektro Aries mechanical disc brakes with 180mm rotors. I'm not a massive fan of mechanical disc brakes, but I was pleasantly surprised with the performance of these brakes. They provided good braking throughout the test ride, and despite the wet and dirty surface, they did not squeal like most brakes do.
Suspension
The Himiway Cruiser has a front suspension fork. It's a budget coil-sprung unit with lock-out and preload function. I did get a chance to ride off-road, and the suspension provided an adequate amount of damping, although there was a 'knocking' sound when negotiating some rocky sections. I did check to make sure the headset was fully tightened, which it was. On compacted gravel and asphalt, there was no sound and the forks worked well. In conclusion, these forks are okay for mild to moderate terrain, but I wouldn't recommend riding on terrain with big rocks and other obstacles.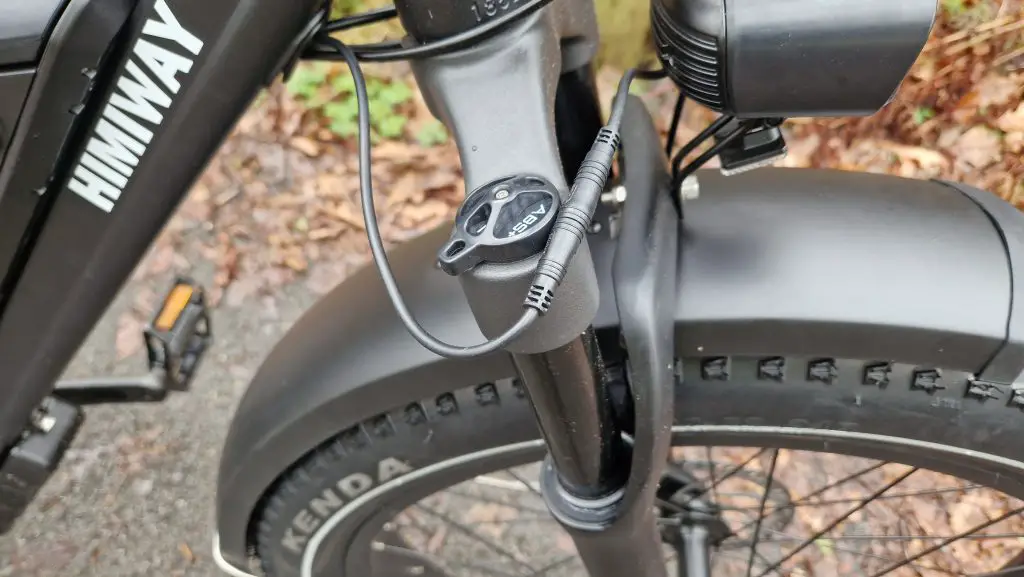 Wheels and Tires
Wheels are 26 x 4 inch, they look nice and are finished in black to compliment the rest of the bike. Tires are Kenda Juggernaut, which is a good quality fat bike tire. These tires have a good degree of puncture protection. On asphalt they were smooth and road noise was minimal. When riding across wet and muddy open moorland, they provided decent grip.
Finishing Kit and Accessories
There's a nice and wide alloy handlebar which has a big rise and nice sweep-back. Handlebar grips are a leather-style ergonomic grips which not only look nice, but are very comfortable. There's a big saddle, which is comfortable to sit on, but I found it a little uncomfortable for pedaling, as it's too wide for my liking. For the purpose of the test, I swapped it out for a Charge Spoon saddle.
The Himiway Cruiser is well catered for in the accessories department, you can even add things like a front basket. There are front and rear mudguards with stays, a big rear pannier rack with a nice, wooden insert, front and rear lights, and a kickstand. Incidentally, I got to try out the lights in a tunnel on my test route, and the front light is suitably bright.
Comfort and Handling
This is an area the Cruiser scores very highly. From the first time I sat on it, through to the subsequent ride, the Himiway impressed me. Out on the road it's very smooth, and road noise from the tires is muted and never spoils the experience. The riding position is very natural and relaxed, and the big tires really filter out the road chatter. After the 25 mile ride, I had no aches or pains, and didn't experience any discomfort whatsoever.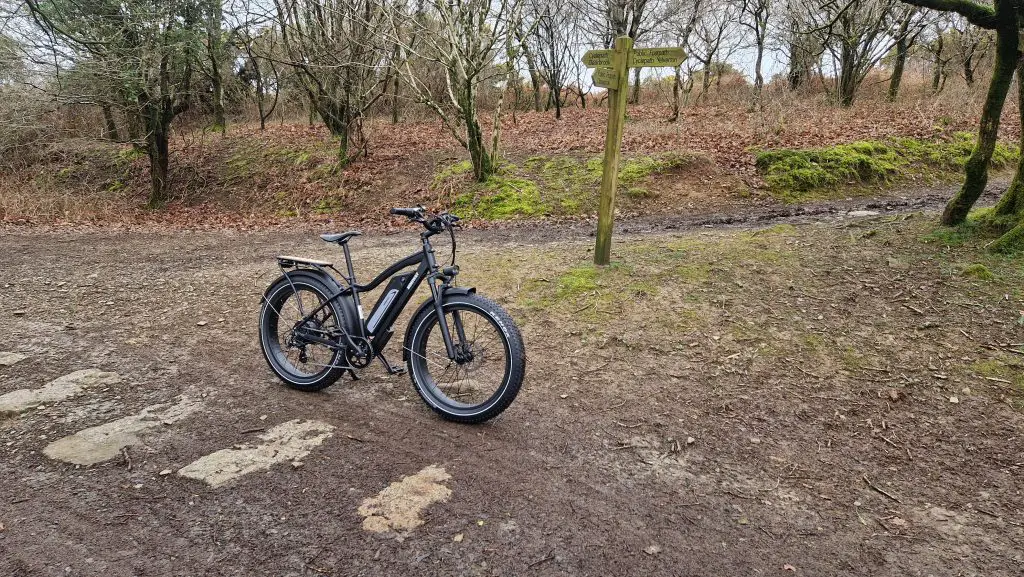 As for the handling – it felt very planted on the long, sweeping downhill bends. The bike really did feel like it was glued to the road. I had the tire pressures set at just over 20 psi up front and 25 psi at the rear, which is about right for riding on the road. For off-road riding, you'd want the pressures down a bit lower.
Sizing
Here's where things get a little confused. Himiway recommend a rider height of between 5'3″ – 6'5″. That's quite a broad range of heights. I'm just over 6 foot, and I found it felt perfect. There's plenty of adjustment in the saddle, although I'm not sure how a 6'5″ rider would get on. At the other end of the scale, I can see a rider of 5'3″ struggling, even with the saddle as low as it can go. If you're at the extremes of what is recommended, I would advise finding one to try out. Maybe have a look on Facebook groups to see if there's someone in your area who is willing to help.
Himiway Cruiser Price
At the time of this review, the Himiway Cruiser is available for £1549 in the UK, €1799 in Europe, and $1599 in the USA. There's no doubting, the Himiway offers excellent value for money.
Who is the Himiway Cruiser Suitable for?
It's going to be ideal for commuters, leisure riders or anyone who wants a comfortable and versatile e-bike for exploring the countryside. It would make an ideal e-bike to compliment outdoor activities like fishing. You could use it for a spot of bikepacking, or you could hook up a bike trailer for the kids and take them on an adventure!
The Verdict
I've tested a lot of electric fat bikes over the last couple of years, and I have to admit, I found the Himiway Cruiser a breath of fresh air! It's comfortable, with nice handling, smooth power output and a decent battery range. I couldn't find fault with the way it rode or handled. I like the frame geometry, and the way it felt out on the road. It provides a very comfy, upright riding position and due to the sloping top tube, has a low standover height.
I think Himiway have done a great job with the motor – it's not only very powerful, but it's smooth, and the quietest of all the fat bikes I've tested to date. Battery range is also encouraging. I reckon 40 miles should easily be achievable with sensible use of the assist. I also like the fact that it's easy to customize the pedal assist settings to suit your particular needs.
What are the alternatives? The closest comparison I can draw, is with the Cyrusher XF800, which I tested last summer. Although the Cyrusher is a good e-bike with full-suspension, hydraulic brakes and great performance. It's more expensive, heavier and battery range isn't as good. For my money, the Himiway clinches it, with better frame geometry, more powerful battery and a quieter motor.
Based on my initial test ride, I think the Himiway Cruiser is one of the best fat tire e-bikes for the price, and I'd have no hesitation in recommending it.
Thanks for reading. If you have any questions relating the Himiway, or you'd like to leave your own review. Please leave a message in the comments section below.