So, you've brought your electric bike and have been using it for a while but could it be improved? In this article, I'll be looking at 4 of the best e-bike upgrades available in 2023.
If you've been riding your e-bike for a while now you may be thinking about ways it could be improved. You may be feeling more adventurous and looking for more battery range or possibly looking for better gearing or improved comfort. Below I've listed several ways you can upgrade your electric bike for 2023.
More powerful battery
It's quite common to purchase an e-bike thinking the supplied battery will give you enough range, and then find a few months down the line you've outgrown it and want to ride further. Thankfully, most factory electric bikes have interchangeable batteries or the provision for a range extender battery.
---
Bosch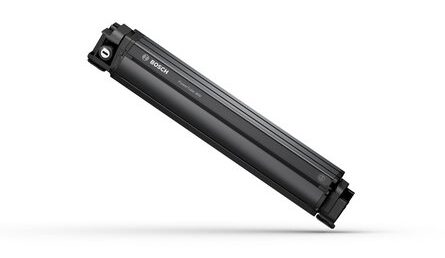 The Bosch Powerpack battery is available in 400Wh and 500Wh options. It's easy to upgrade if you have this kind of battery or buy a spare to carry with you on a longer ride.
Bosch's Powerftube battery is the type that fits into the frame. If you have a 500wh Powertube, you can easily upgrade to the 625Wh version or even the latest 750Wh version.
Shop Bosch Powertube Batteries on eBay
---
Shimano Steps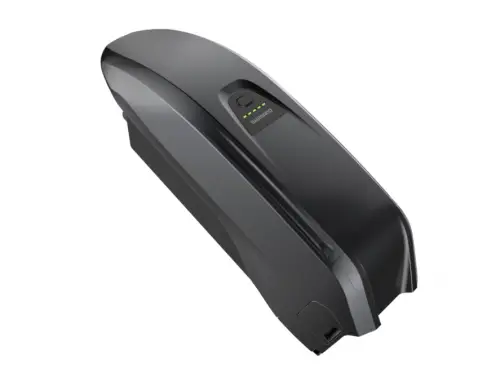 Shimano steps batteries are available in 400Wh,500Wh and now 630Wh versions so it's easy to change to a more powerful battery if you need the extra range.
Shop Shimano Steps batteries on eBay
---
Ebikemotion range extender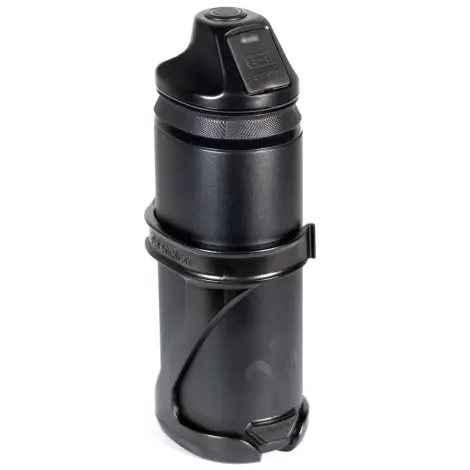 The Ebikemotion range extender battery comes in a convenient water bottle size and gives an extra 208Wh of energy, very useful if you're planning longer rides and find the standard 250Wh internal battery doesn't quite go far enough. If you own something like a Ribble CGR AL e or a similar e-bike, then this battery can effectively double your assisted range.
Shop ebikemotion range extender battery on eBay
---
Specialized range extender battery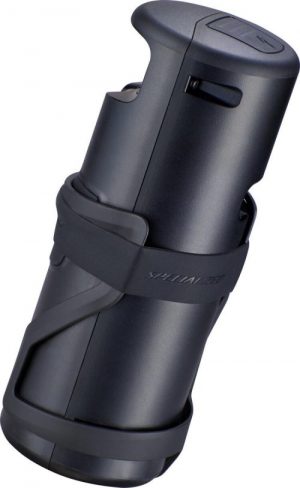 If you own one of the Specialized SL range of e-bikes, you can purchase a range extender that adds another 160Wh to the 320Wh internal battery. This also comes in a compact bottle-sized format which makes it easy to transport in case of emergencies.
Available from Specialized direct
---
Fazua Evation spare battery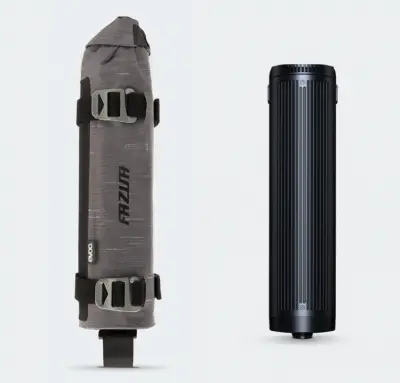 Fazua doesn't sell a larger capacity battery, but they sell a 250Wh range extender which comes with a bag that can be attached to the frame. This is essentially a straight swap for your existing battery, so when that's depleted you simply swap the batteries over. These can be used on any e-bike that uses this system – like the Vitus E-Substance electric gravel bike.
Shop Fazua Evation range extender batteries on eBay
---
Electronic shifting
The traditional way of shifting gears is through a simple, yet effective cable-pull system. The gear cable is connected to the front shifter and when you click the shifter it pulls the rear derailleur which in turn moves the chain up or down the cassette.
This kind of system works very well indeed but does require maintenance from time to time. Cables stretch and wear out, so adjustment is sometimes needed as part of your bike's ongoing maintenance schedule.
What is electronic shifting?
Electronic or wireless shifting does away with the need for cables. Instead, you have a small motor in the derailleur along with a wireless receiver. The shifter on the handlebar is replaced by a simple keypad which sends a wireless signal to the derailleur when you press up or down.
There are several benefits to this kind of system – the main one being low maintenance. The derailleur is always perfectly trimmed and the gears shift flawlessly every time. With traditional cable-pull gear systems, there's a slight delay in the shift, but with wireless shifting it's instantaneous.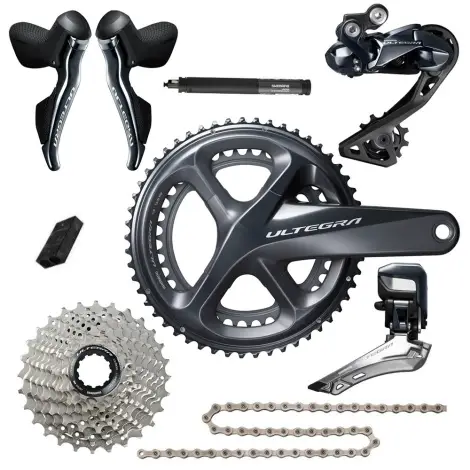 Another benefit of wireless shifting is it's effortless. For any of you who've ridden for a few hours on hilly terrain, the constant shifting can sometimes make your thumbs ache. If it's very cold or wet this problem can be exasperated. With electronic shifting, you don't get this problem as you simply lightly press a button to shift up or down the cassette.
But what about battery life? Modern wireless shifting systems use rechargeable lithium batteries, which will work for months between charges. The SRAM AXS electronic shifter uses a standard CR23032 battery which will last for up to two years between replacements.
I know a few people who use electronic shifting on high-end road bikes and they have confirmed that they only need to recharge the batteries once every 3-4 months (under normal use).
What is the best wireless shifting for e-bikes?
The two main manufacturers of wireless, electronic shifting are Shimano and SRAM and there are different systems available depending on what kind of e-bike you ride.
A majority of electric bikes sold use flat handlebars, with drop bar road and gravel e-bikes accounting for a smaller percentage of sales. Flat handlebar wireless shifters are a lot cheaper than drop bar/road shifters.
When electronic shifter first became available it was very expensive, but now that technology is trickling down and becoming much more affordable for us mere mortals!
---
SRAM GX Eagle AXS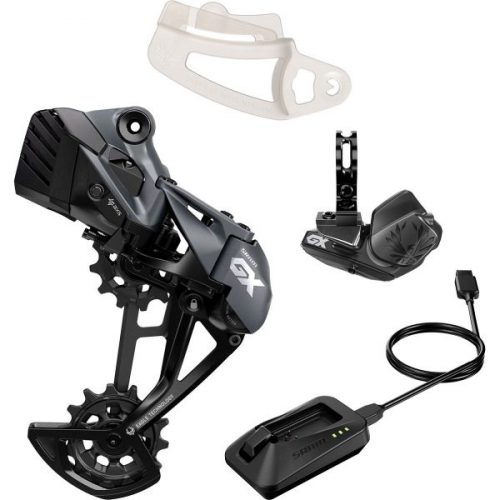 SRAM GX Eagle AXS is the most affordable in terms of a factory quality upgrade. Costing around £500, the wireless kit includes a shifting unit, derailleur and charging dock. It is compatible with any 12-speed Shimano or SRAM cassette, so if you already have a hybrid or e-MTB that has 12-speed gearing, it would be an easy upgrade.
Buy Now – SRAM GX Eagle AXS wireless shifting upgrade 
Also available from Leisure Lakes Bikes (Klarna Payment Option)
---
Archer DX1 Trail wireless shifting
The Archer DX1 Trail system (above) utilises your bike's existing derailleur and can be configured to work with several shifting options (9/10/11 speed). The motor/receiver unit fixes to your chainstay and connects to your derailleur with a short cable and is remotely operated from the handlebar. It's not going to be as refined as the SRAM unit but reviews are generally very positive and it's a lot cheaper than the SRAM option.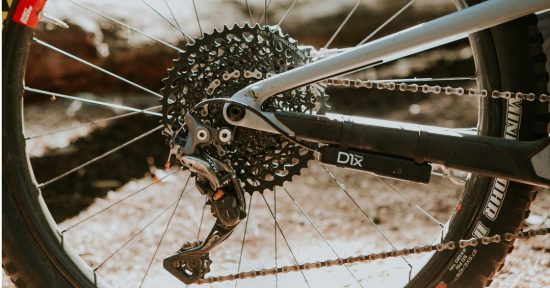 Find out more information on the Archer D1X Trail
---
Suspension Seat Post
If you have purchased a hardtail mountain bike or traditional hybrid e-bike, you may find that the constant jarring when going over rough terrain can take its toll on rear-end comfort. In some cases, it may even exacerbate lower back problems and cause discomfort.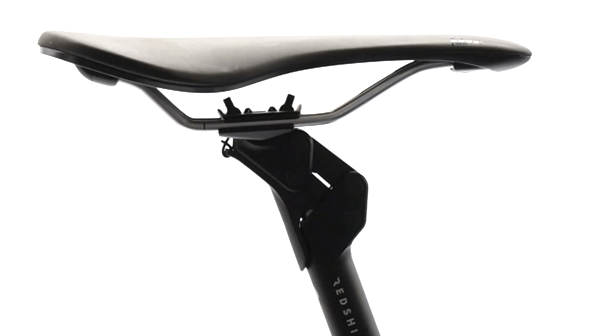 Fitting a suspension seat post can be an affordable way to mitigate this problem, but not all suspension seat posts are created equally. The traditional kind of suspension seat post seen on e-bikes is usually the basic vertical, coil-sprung type. The parallelogram type of seat post provides a different experience more akin to having rear suspension.
I've fitted the Suntour SP-12 NCX on several e-bike conversions at the request of customers and the added comfort has to be experienced to be believed!
---
Shock absorbing stem
The hands can also take a bit of a hammering when riding on rough terrain. Even if you have decent suspension forks, having a shock-absorbing stem can be a great upgrade to improve comfort in your hands and upper body.
Redshift ShockStop
The only decent retrofit shock absorbing stem available is the Redshift ShockStop (pictured below) customer reviews are favourable, although it is quite an expensive upgrade, it's going to be worth it if you suffer from pains in your wrists.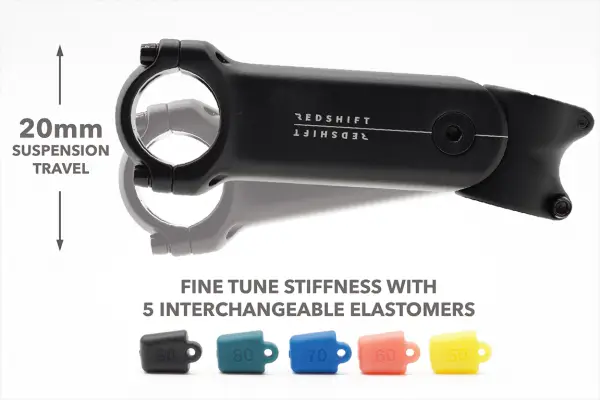 Buy the Redshift ShockStop on Amazon
---
Conclusion
With a lot of decent e-bikes now costing well over £2000, most riders keep them for a good few years. A time will inevitably come when you want to spend a bit of money on upgrades. Whether you want to upgrade to a better groupset with more gear range, change the wheelset or just fit comfortable handlebar grips, there are lots of accessories and upgrades available.
I've already spent quite a bit upgrading my wheelset, tyres, gearing and saddle. If I was to spend any more, it would probably be on a 12-speed upgrade with electronic shifting. I generally ride my e-bike over larger distances between 60-100 miles, I've tried wireless shifting and it works a treat!
Thanks for reading. If you have any questions relating to any of the upgrades in this article, please leave a comment below and I will respond within 24hrs.