If you're looking for an electric bike that's both practical and affordable, Rad Power Bikes may have the perfect e-bike for you. With a wide range of models to choose from, there's something to suit all needs, whether commuting, carrying cargo or just leisure riding. In this article, I'll take a closer look at the range of electric bikes offered by Rad Power, and select my favourites based on specification, versatility and overall value for money.
About Rad Power Bikes
Rad Power founder Mike Radenbaugh started off by building his first e-bike way back in 2007 and then started an e-bike conversion business. In 2015 Mike formed Rad Power Bikes with college friend Ty Collins and the rest is history! Rad Power is one of the most remarkable e-bike success stories of the last ten years and has gone on to be one of the biggest independent electric bike brands in the US.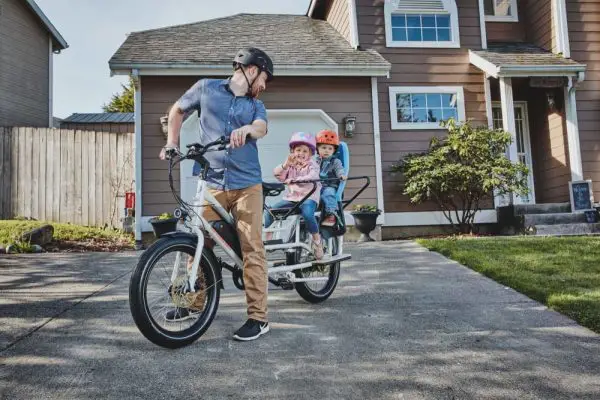 More recently Rad Power have expanded into the lucrative European market where their e-bikes have continued to sell incredibly well. The secret of their success is providing good quality, tough and versatile e-bikes at affordable prices.
UK Shipping
The great news for UK customers is that Rad Power Bikes have worked hard to ensure continuity of supply after Brexit and still ships their e-bikes to the UK without any additional taxes.
Best Rad Power Electric Bikes
In this article, I've picked out 5 of the best Rad Power electric bikes currently available from their European website. The European models are identical to their American counterparts with the only difference being the power is limited to 250w with 25km/h maximum assisted speed and no throttle. All of their e-bikes offer excellent value for money while not compromising on quality.
---
Radrunner 2 Electric Utility Bike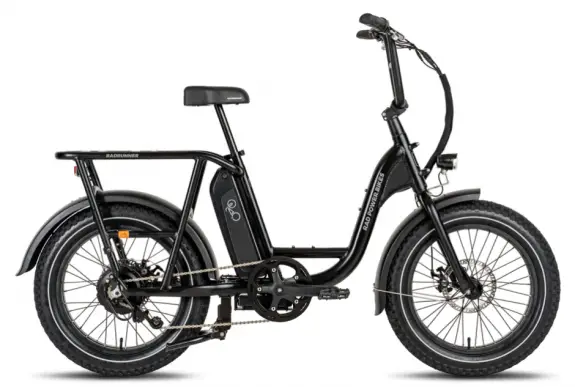 The Radrunner 2 utility electric bike is one of their best-sellers. It benefits from a compact design with shock-absorbing fat tyres, combined with the versatility of being able to carry a substantial amount of cargo, thanks to a range of accessories which include front racks, panniers, child seats and more! The Radrunner 2 uses a 250w geared hub motor powered by a decent 672Wh battery (using Samsung cells).
---
RadWagon 4 Electric Cargo Bike (my personal favourite)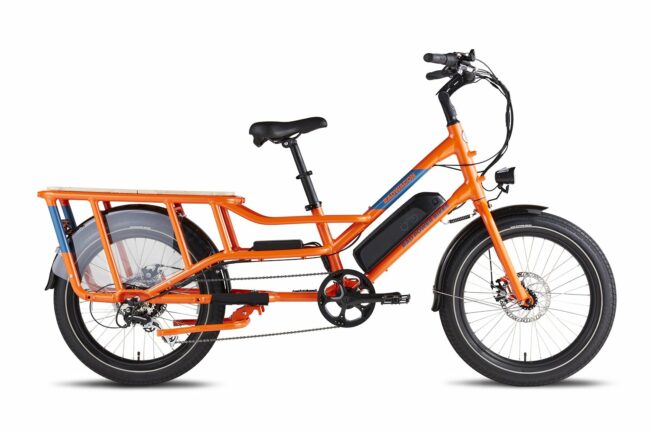 If you need an e-bike that's capable of carrying more than just you, then the Radwagon 4 electric cargo bike is excellent value for money. There's nothing else available in this category that can come close in terms of price. Rad Power offers a whole range of accessories to complement the Radwagon including things like extra large pannier bags and even child seats. Electric assist is provided by a small, 250w geared hub motor and the battery is 48v 14Ah (672Wh) which gives a claimed range of up to 70km. The RadWagon 4 features on my list of best electric cargo bikes in 2023.
---
RadCity 5 Plus Step-Through Electric Commuter Bike
The RadCity 5 Plus is an excellent step-through electric bike, suitable for commuters and leisure riders alike. Featuring a comfortable, upright riding position with a low standover height, the RadCity 5 is perfect for riders of all ages and genders. Plus, there's everything you would expect on a good city bike like mudguards, lights, a pannier rack and a kickstand. Other features include hydraulic disc brakes, a front suspension fork and the reliable 250w hub motor with a 672Wh battery as used on other models.
---
RadRhino 6 Plus Electric Fat Bike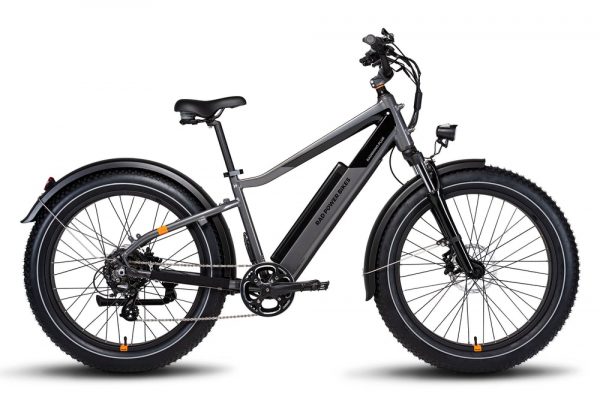 The RadRhino 6 Plus is another one of Rad Power's top sellers. This electric bike has the added benefit of all-terrain capabilities thanks to the Kenda juggernaut 4″ oversized tyres. If you're looking for an e-bike you can ride on the sand or in the snow, the RadRhino 6 Plus is ideal. There's also a step-through version available, which makes this e-bike suitable for older riders. The specification is pretty good considering the price – hydraulic disc brakes, good quality tyres and the 48v 250w hub motor with 672Wh battery. The RadRover features on our list of the best electric fat bikes in 2023.
Visit Rad Power EU for more info
---
RadMission Electric Metro Bike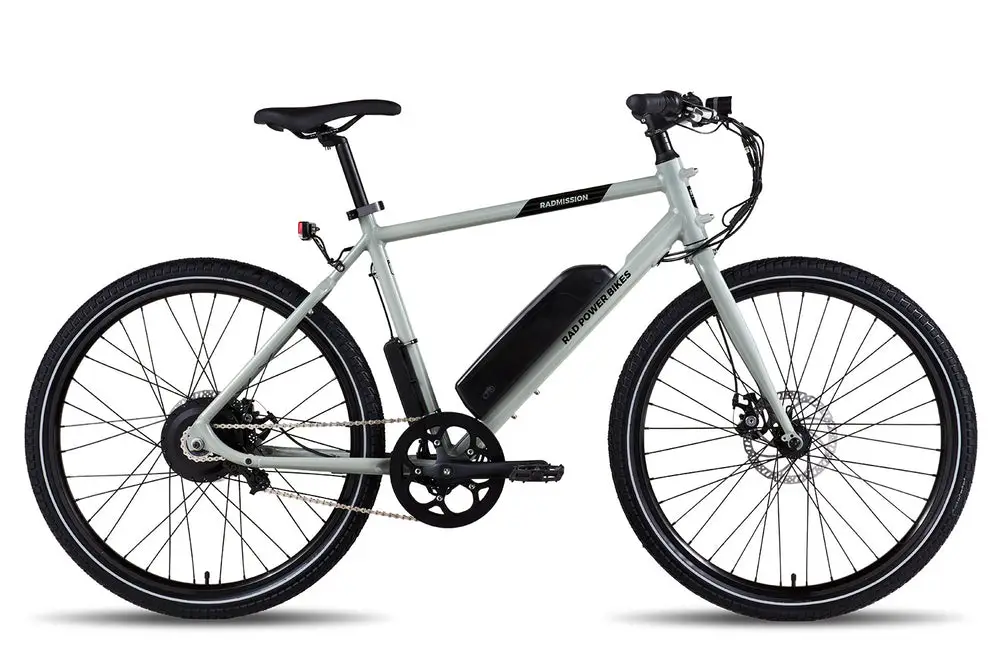 The RadMission Metro is Rad Power's cheapest electric bike, and offers the simplicity of a single-speed drivetrain making it perfect for urban riding on fairly flat terrain. At its current price of just €949 it offers excellent value for money especially when you consider the build quality and decent 504Wh battery fitted. If you're looking for a simple form of transport to hustle you along on urban streets with ease, the RadMission Metro is well worth considering.
---
Conclusion – what's the best Rad Power Bike?
My experience with the Rad Power brand is limited. Although, I did manage to have a go on one of the early 750w RadRhino imports and was very impressed with the build quality and general feel of the bike.
If I had to choose an electric bike from their range as a standout winner, it would have to be the RadWagon 4 electric cargo bike – I've been toying with the idea of getting a cargo e-bike for some time, but don't want to spend too much money. When the time comes, I'll seriously consider getting one of these.
Rad Power Bikes have a good reputation for providing quality electric bikes at reasonable prices and going by the specifications, prices and customer reviews. I'd have no hesitation in recommending any of their e-bikes.
Do you own a Rad Power E-Bike? Please feel free to share your experiences in the comments section below.