The Bodywel A275 is a new step-through e-bike that's available in the UK and EU. Aimed at the budget end of the market, the Bodywel features a neat low-step frame, a 250w geared hub motor and a substantial 540Wh battery. In addition, there are hydraulic disc brakes, a feature you don't usually see on e-bikes at this price point. In this review, I put the Bodywel A275 through its paces and take an in-depth look at the specifications.
Skip to product specifications
Key features
250w rear hub motor
540Wh battery
Hydraulic disc brakes
Price: £1179
Update 08/07/2023: Bodywel has announced an ongoing promotion where you can buy the A275 plus a spare battery for £1199. This will give the rider a potential range of up to 200 km on a single charge.
In the interest of full disclosure, the electric bike reviewed in this article was generously provided to me by Bodywel. This gesture, however, does not influence my opinions, and the ensuing evaluation remains impartial, reflecting my genuine experience and assessment of the product.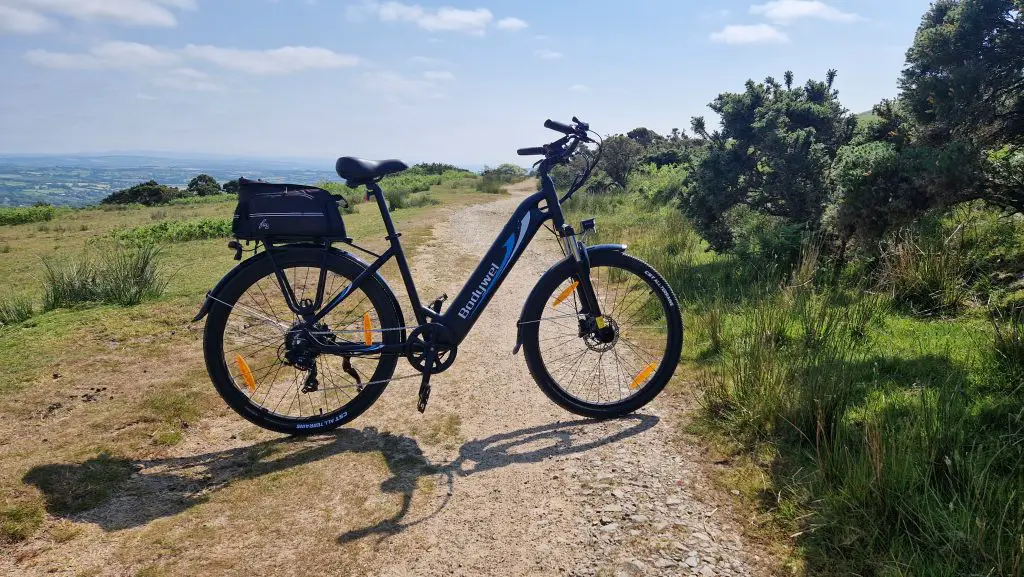 Unboxing and assembly
The Bodywel A275 arrived undamaged and well-packaged. Included in the package were an instruction manual, a battery charger, pedals, tools and some cable ties. Once I removed the substantial protective packaging, the assembly process was fairly straightforward.
Fit front wheel with supplied quick-release skewer
Fit front and rear mudguards
Install pannier rack and rear light
Fit kickstand
Fit front headlight
Fit adjustable handlebar stem
Fit and adjust handlebars
Install seatpost/saddle
I have a lot of experience assembling bikes and if it's not something you've done before, I would recommend the services of a competent bicycle mechanic.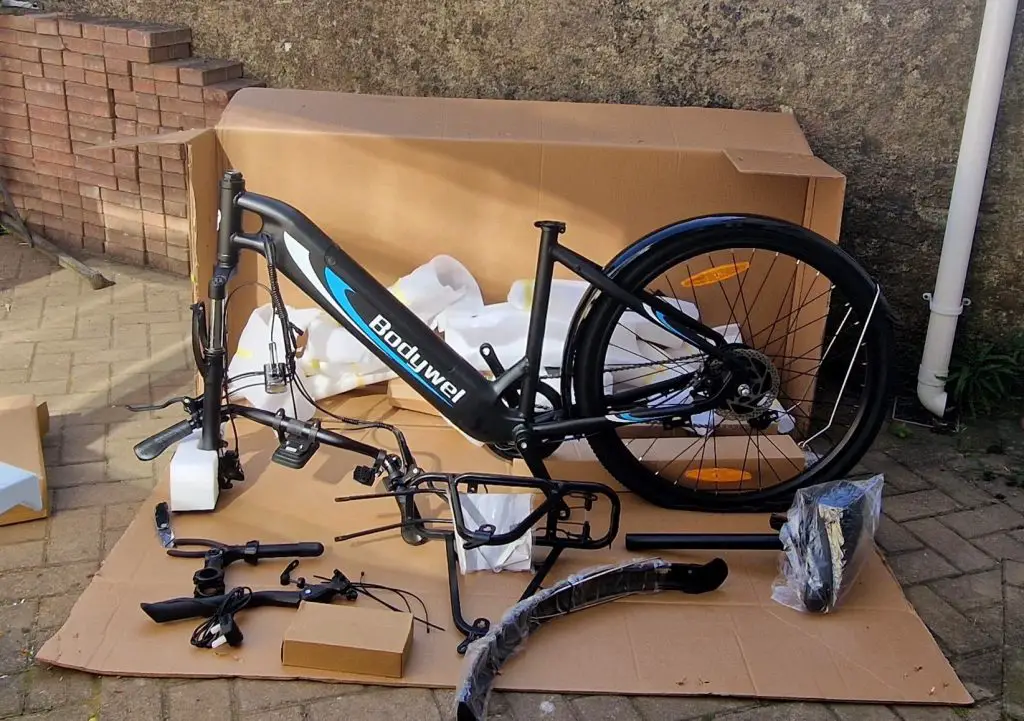 Test route
I decided upon a challenging initial test route that covered 36 miles with over 3000ft of elevation gain. Also, a mixture of main roads, country lanes and moorland gravel tracks to test the Bodywel A275 to the fullest.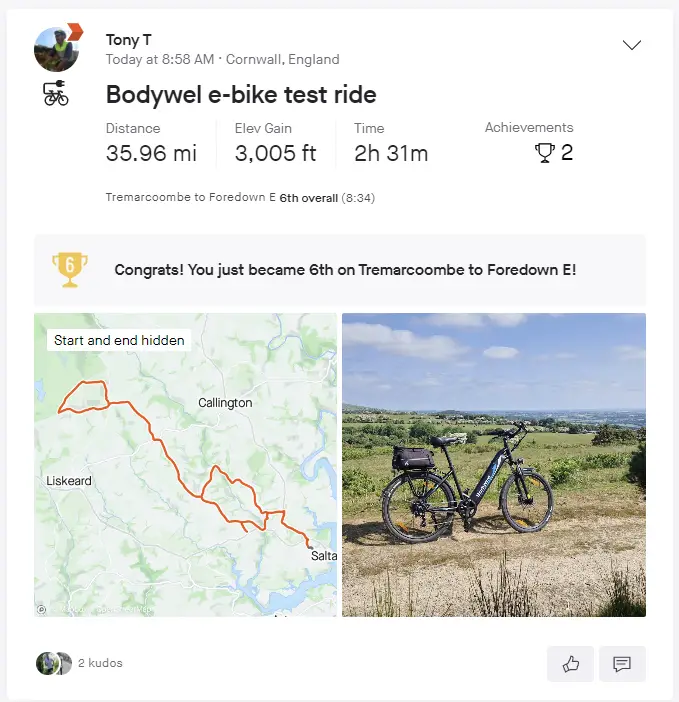 Electrics
The Bodywel A275 comes fitted with an unbranded 250w geared rear hub motor and cadence-based pedal assist. Throughout the test ride, the motor performed as expected – it was smooth, reasonably quiet and offered a decent level of assistance. Both the performance and noise levels of this motor were no better or worse than something like a Bafang hub motor.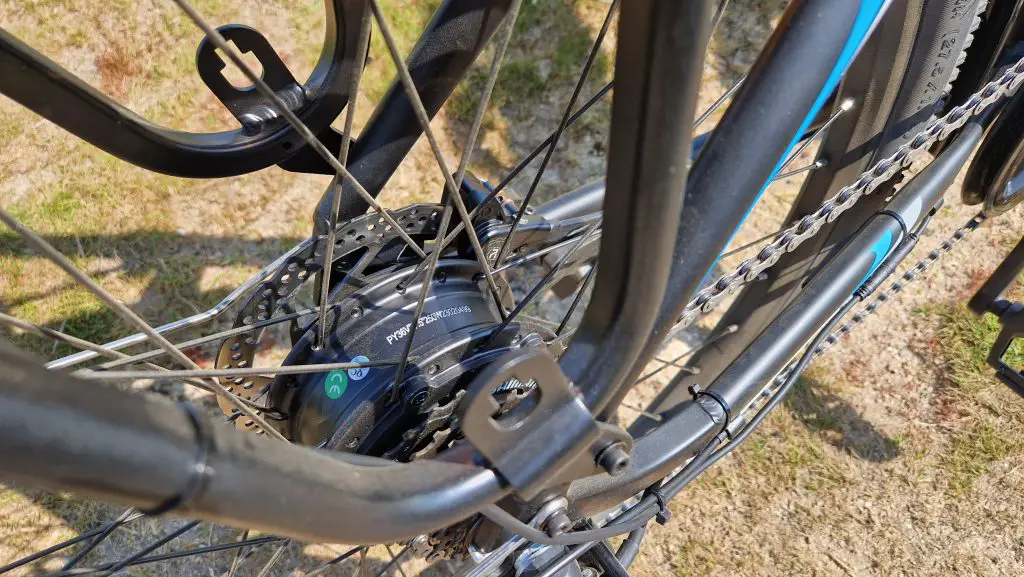 I liked the pedal assist. For a cadence-based system, it was responsive and provided smooth power delivery once pedalling started. Beyond the 15.5 mph (25 km/h) cut-off point, the motor stopped as smoothly as it started making the transition to leg power less noticeable.
You can choose from 3 levels of pedal assist (0-3). Level one provides minimal assistance and cuts off at around 8 mph. Level 2 is much better and cuts off at 12 mph. Level 3 is very good and takes you up to the 15.5 mph cut-off point. You can unlock the speed limit to 19 mph, but I wouldn't recommend this if you want to stay on the right side of the law.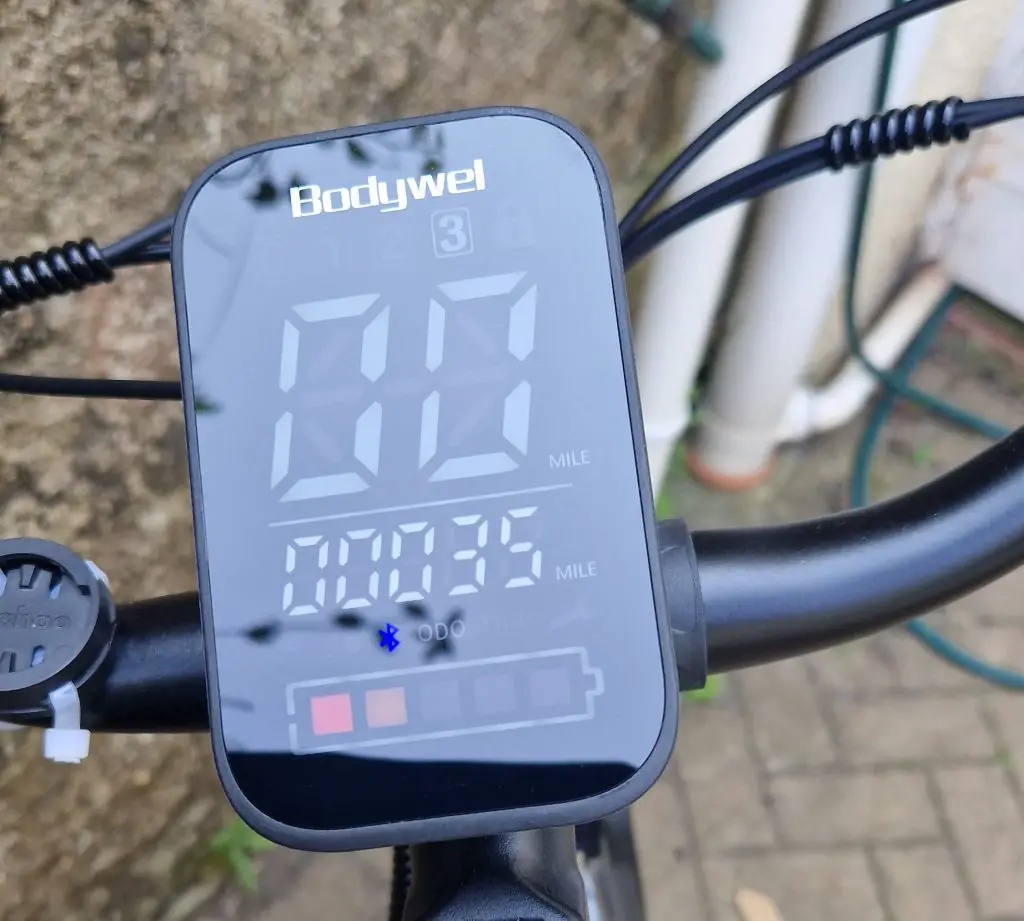 There is a very large colour display that straddles the stem in the centre of the handlebar. When cloudy or in the shade the display is clear and easy to read but in direct sunlight, you cannot see anything which is disappointing. A standard black and white LCD would have been much better. A partner app is available which connects your smartphone via Bluetooth.
The 36v 15Ah/540Wh battery is integrated into the frame, giving the Bodywel a clean, stylish look. There's no information on the cells used but battery performance was better than expected considering the hilly route.
Bodywel claims a maximum range of 100 km (62 miles) from a fully-charged battery and I feel this is certainly achievable. I covered 36 miles with some off-road riding and 3000ft of climbing and when I got home the battery indicator had just dropped to two bars (out of five). I used mainly assist levels 2 and 3 for the duration of the ride.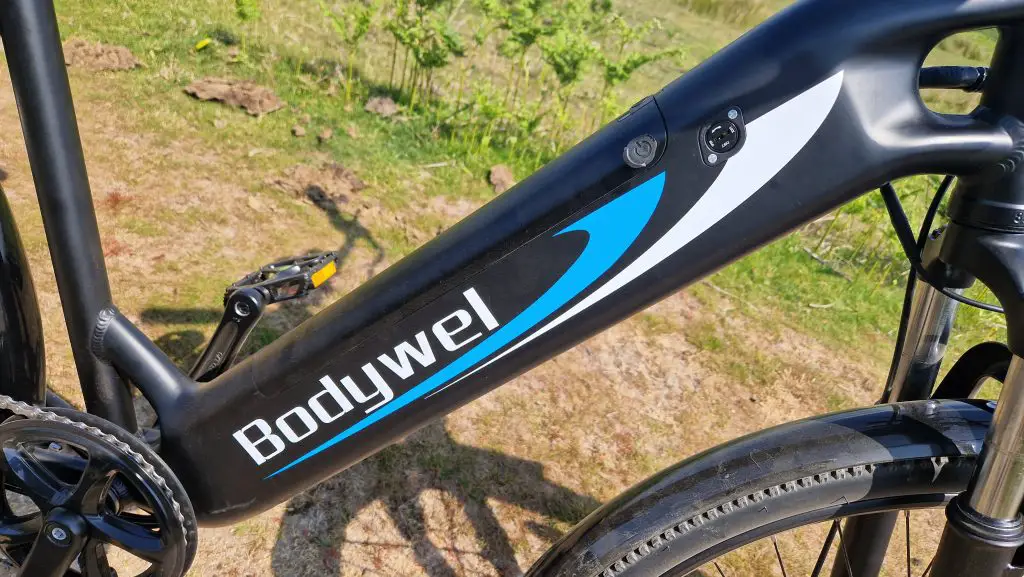 Bike components
The Bodywel A275 features a Shimano Tourney 7-speed drivetrain with a TX50 thumb shifter. I did need to slightly adjust the derailleur a couple of miles into the ride to improve shifting. This was just a case of turning the barrel adjuster on the derailleur. Once I'd made the small adjustment, the gears shifted perfectly throughout the test ride.
It's nice to see hydraulic brakes on a budget electric bike. The brakes are branded 'Ronglun' which is not a brand I'm familiar with. However, braking performance was very good and definitely on par with a more well-known brand like Tektro.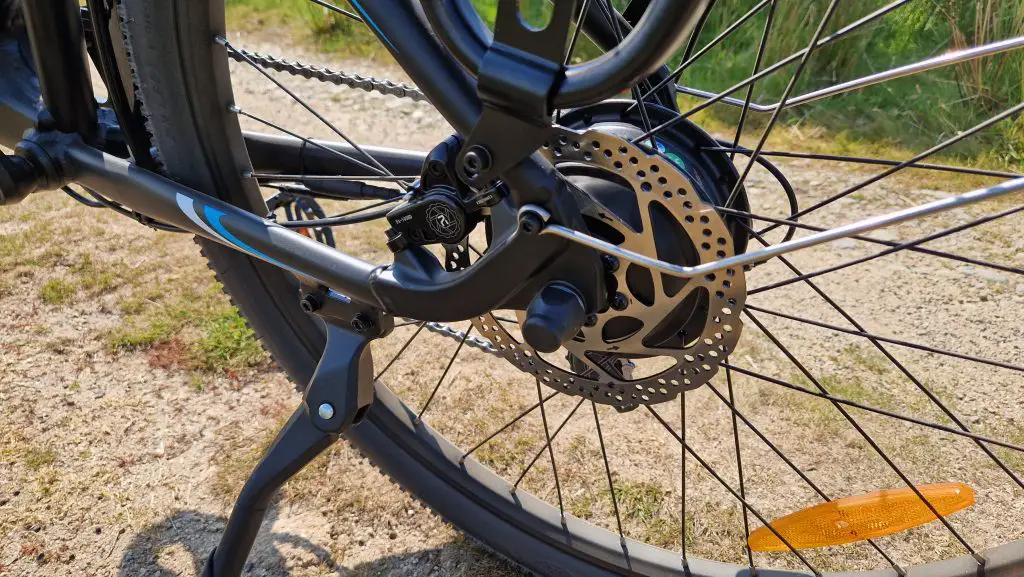 The CST AllTerrains 27.5″ x1.95″ tyres are an excellent choice for a hybrid. I have experience with these tyres on other electric bikes and they're a good all-rounder. Perfect for riding on the road and more than suitable for a bit of light off-roading. Due to their size, these tyres add another layer of comfort by damping road surface imperfections.
For additional comfort, there's a basic front coil-sprung suspension fork. Although basic in design, it did a good enough job when riding off-road. The only downside is there's no lock-out or adjustment feature.
Accessories include mudguards, a pannier rack, a kickstand, and front and rear lights. The pannier rack is rated to 25 kg, so you could fit a large cargo basket or even a small child seat.
Comfort and sizing
The Bodywel A275 is a comfortable bike. It's definitely on par with the Eskute Polluno Plus I tested a couple of weeks ago. There is a big and comfy gel saddle, Dutch-style trekking handlebars and an adjustable stem. This gives an upright and very relaxed riding position.
I like the step-through frame design and this makes getting on and off the bike a whole lot easier especially if you have difficulty throwing your leg over a regular frame.
As far as sizing is concerned, I'm just over 6ft and found the Bodywel fitted me perfectly. My oldest daughter who is 5'8″ also found it comfortable. Bodywel says the A275 is suitable for riders from 5'2″ – 6'4″ (160cm-195cm). I would say riders at the shorter end of this may struggle a bit as the frame is quite large.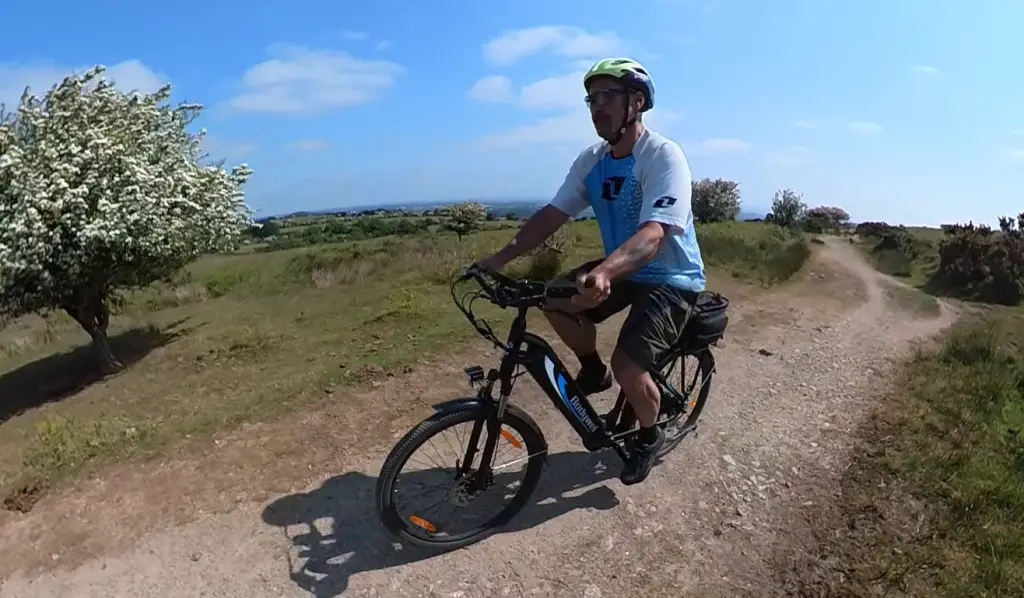 Who is the Bodywel A275 suitable for?
The Bodywel A275 is marketed as a commuter e-bike and it's going to be perfect for that purpose. It's comfortable and with the rack, mudguards and lights it would make a great e-bike for the ride to work.
It also hits the mark as a leisure bike for weekend excursions to the countryside. I've already tested its off-road abilities and it would be perfect for exploring somewhere like King Alfred's Way in the south of England.
Pros and Cons
Pros
Comfortable
Hydraulic disc brakes
Responsive pedal assist
Good battery range
Cons
Can't read the display in direct sunlight
No lock-out or adjustment on the suspension fork
FAQs
What is the top speed of the Bodywel A275 e-bike?
The maximum assisted speed is 15.5 mph (25 km/h), as per legal requirements for electric bikes in the UK and EU, although this can be unlocked to 19 mph (30 km/h) – Not advisable to stay on the right side of the law.
How long does the battery take to charge?
The battery takes approximately 5-6 hours to charge from empty to full.
Is the Bodywel A275 e-bike suitable for off-road use?
Yes, it's suitable for moderate off-road terrain. I have tested it on moorland gravel tracks on Bodmin moor in Cornwall and it performed admirably. I would not recommend taking it on very rough terrain with big rocks and steep, technical descents.
Can I remove the battery for charging?
Yes, the battery can be easily removed for charging indoors. Two keys are provided, you turn the lock and remove the battery.
What is the rider's weight limit?
The Bodywel A275 has a maximum load capacity of 120 kg, this includes the pannier rack weight capacity of 25 kg.
Conclusion
Based on my initial test ride, I'd have no problem recommending the Bodywel A275. It's not particularly fancy and doesn't have any gimmicks. It's just a good value all-around electric bike.
Everything works as it should. The brakes are decent, the battery range is respectable and the motor didn't have too much bother hauling my 105 kg up some steep Cornish hills.
It's definitely a contender for one of the best budget step-through e-bikes in 2023 and well worth considering.
Buy the Bodywel A275 for £1199 and receive an extra battery – ongoing promotion from 8th July 2023
Specifications
Motor: 250w hub motor
Motor torque: 40Nm
Battery: 540Wh removable
Display: full colour
Frame: Aluminium Step-Through
Tyres: CST AllTerrains 27.5″ x 1.95″
Weight:24kg
Range: 100km
Max load: 120kg
Gearing: Shimano Tourney 7-speed
Brakes: Hydraulic disc brakes with 160mm rotors
I hope you found this Bodywel A275 review useful. If you have any questions about this e-bike, please leave a message in the comments section below.