The all-new Engwe L20 is an affordable utility e-bike aimed at the everyday rider who wants more space to carry shopping or work-related things. It bridges the gap between a regular and full-on cargo e-bike. In this review, I take the L20 on a hilly local ride to see how the motor performs and to assess the battery range.
Key features
48v 250w Motor (750w US version)
48v 13Ah Battery
Front and rear cargo racks
Step-through frame design
Front suspension fork
In the interest of full disclosure, the Engwe L20 reviewed in this article was generously provided to me by Engwe. This gesture, however, does not influence my opinions, and the ensuing evaluation remains impartial, reflecting my genuine experience and assessment of the product.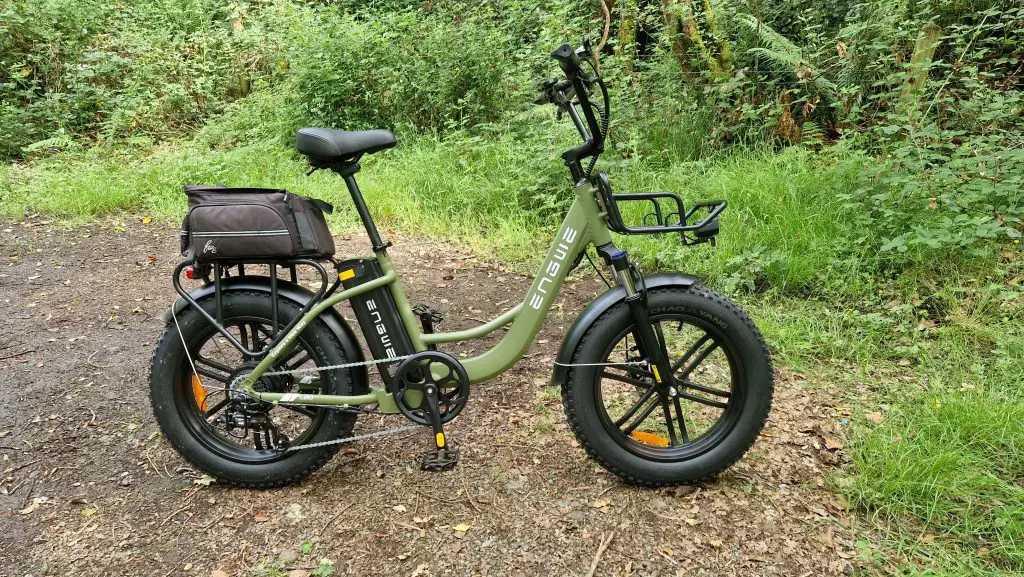 Unboxing and assembly
This is the fourth e-bike I've had from Enwge, and they've all been very well packaged. The Engwe L20 was thoroughly protected with foam padding. Inside the box was a toolkit, battery charger, and user manual.
The assembly process involves fitting the front wheel, handlebar, front rack and light, seatpost and pedals. You should allow at least an hour for assembly, and if you're not confident doing the job yourself, enlist the help of a bicycle mechanic.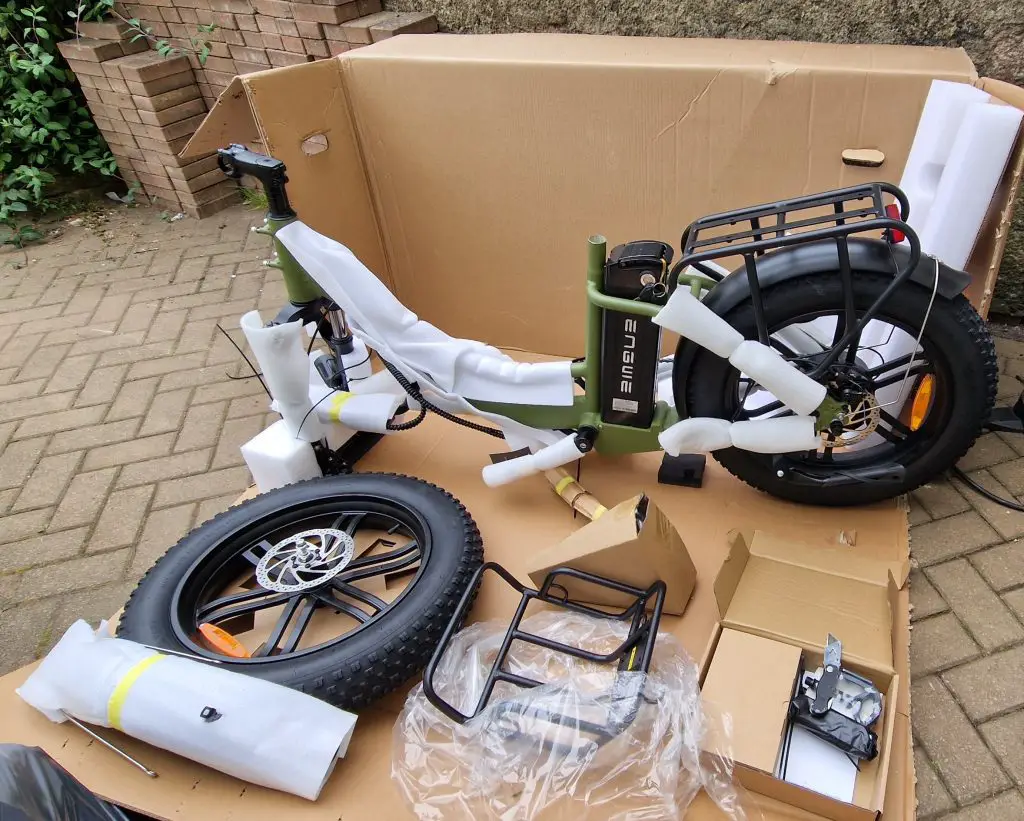 Test route
I decided upon a short but very hilly route to test the motor to the fullest. The route involved poorly surfaced country lanes going into steep wooded valleys. Watch my YouTube video review.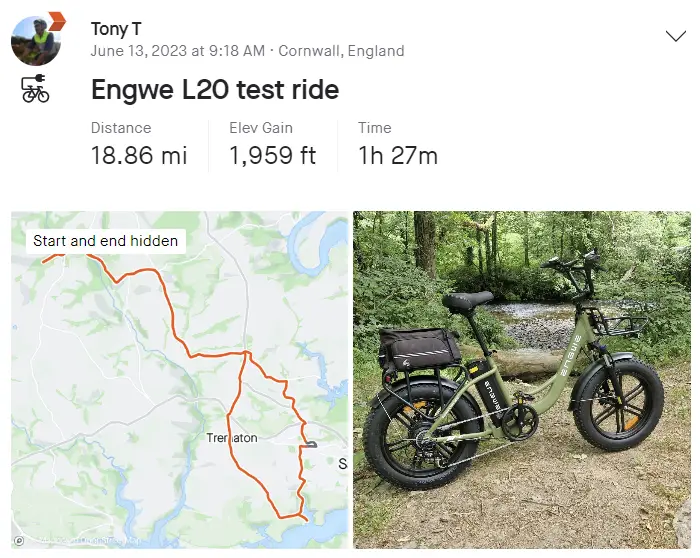 Electrics
The Engwe L20 is fitted with a 48v 250w rear hub motor. I suspect it's the same motor fitted to the 750w version, as it feels more powerful than 250w, particularly on hills. This version is set up to comply with UK and EU e-bike laws and cuts off at 15.5 mph (25 km/h), although it can be unlocked via the display's advanced settings function.
Motor performance is strong. Once you start pedalling, the assist kicks in quickly and delivers brisk acceleration. I did find the assist levels a little strange, though – there are five levels of assist, which are limited by speed and power. Level 1 barely assists up to 5 mph, level 2 about 8 mph, and it's not until you use level 4 that things start happening. This seems counter-intuitive as I'm used to the levels going to the max speed cut-off but at reduced power outputs instead of speed.
The neat display shows speed, distance, battery, and assist level. It can be easily changed from km/h to mph, and you can also raise the speed limit. However, I wouldn't advise this in the UK and EU. Direct sunlight can make the display difficult to read.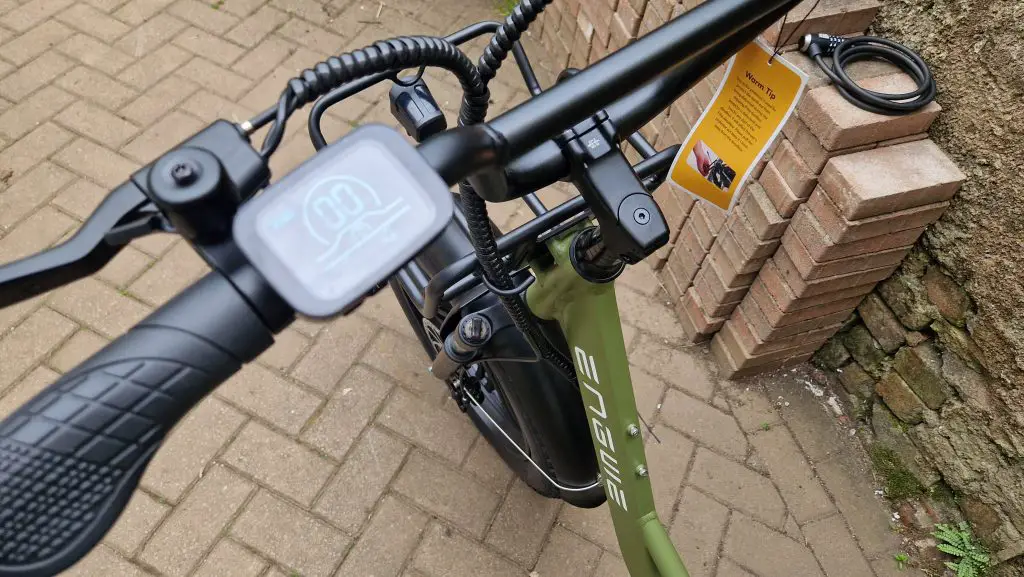 The battery is a 48v 13Ah, and Engwe claims a maximum range of 140 km on a charge. Based on the initial test ride, this does seem very optimistic. After just under 20 miles, I had 2 bars remaining on the battery indicator, although it was a hilly route with a 105 kg rider. I reckon the average rider on a less hilly route should be able to get 35-45 realistically using pedal assist.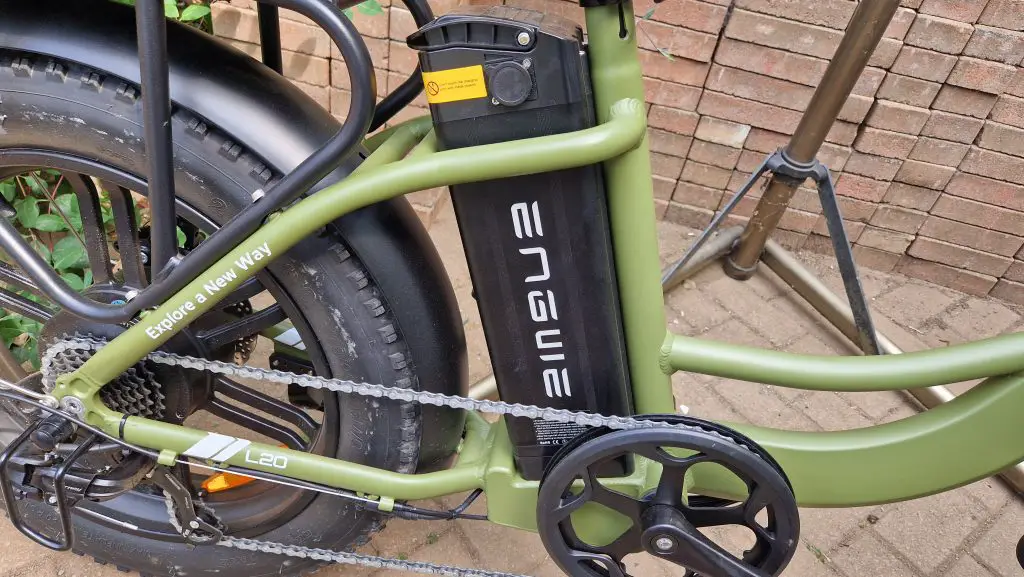 Bike components
The Engwe L20 features a standard Shimano Tourney 7-speed drivetrain with a TX50 thumb shifter. The gear changes were reliable, and the indexing did not need adjusting out of the box, although this may vary from bike to bike.
The mechanical disc brakes provided predictable braking. I performed an emergency stop from 20 mph, and the bike reached a standstill quickly enough. My only complaint is the excess noise and squealing from the brakes – nothing unusual for mechanical discs, which should subside over time.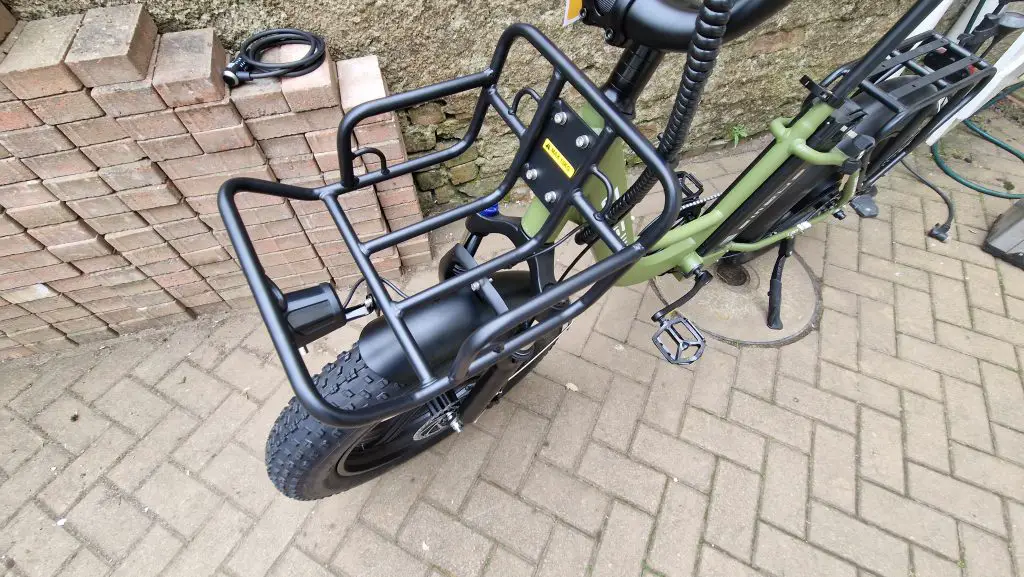 One of the big plus points of the Engwe L20 is the addition of a front and rear cargo rack. Both are a good size, with the rear having a 25 kg load capacity and the front 13 kg. This will be great for carrying shopping or using the e-bike for a delivery job like Deliveroo, in addition to the cargo racks, front and rear lights (with brake light), mudguards and a kickstand.
Comfort and sizing
A stand-out plus of the Engwe L20 is its comfort. It has a comfortable and relaxed riding position with a low-step frame, high-rise handlebars, ergonomic grips, and a big, comfy saddle. Regarding sizing, there is plenty of adjustment to accommodate riders from 5'2″ to 6'5″. I'm just over 6 feet and found the L20 very comfortable.
In addition to the riding position, there are the big 20″ x 4″ fat tyres and front suspension fork. This combination helped to smooth out the rough road surfaces ridden on the test route.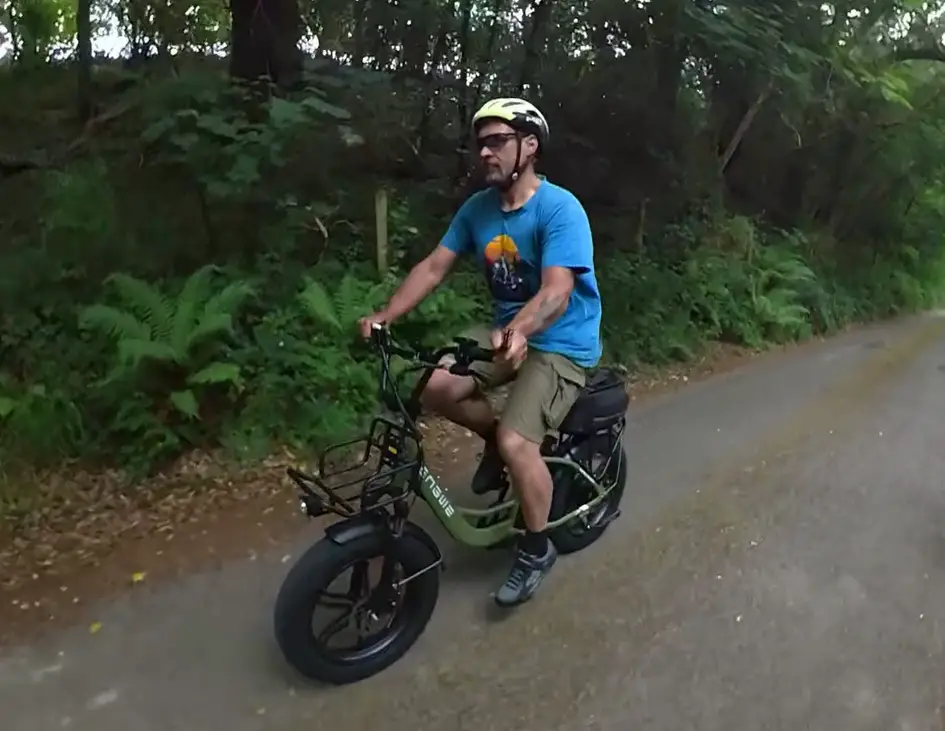 Who is the Engwe L20 suitable for?
The Engwe L20 is suitable for commuting, leisure riding, running daily errands, and even work-related riding like food delivery. It's a versatile all-rounder ridden on or off the road.
Pros and Cons
Pros
The motor feels very powerful
Comfortable
Good cargo-carrying potential
Cons
Very Heavy
The speed cuts out too soon in the lower assist levels
FAQS
How much is the Engwe L20?
The Engwe L20 costs £1199 in the UK, €1199 in the EU and $1199 in the USA. Discounts are currently available using the code ENGWEL20 (UK and EU).
What is the range of the Engwe L20?
The Engwe L20 has a claimed maximum range of 140 km (86 miles), although this will be unrealistic for everyday riding. Based on my initial test ride, I would suggest a real-world range of 35-40 miles.
Is the Engwe L20 waterproof?
The L20 can be ridden in rain, although it is not advisable to ride in very heavy rain and shouldn't be ridden through deep puddles.
What is the maximum weight limit?
The total weight capacity is 120 kg / 264 lbs, including rider and cargo.
What is the top speed?
The Engwe L20 is limited to 15.5 mph / 25 km per UK and EU laws. The L20 will do 25 mph in the US, making it a Class 3 e-bike.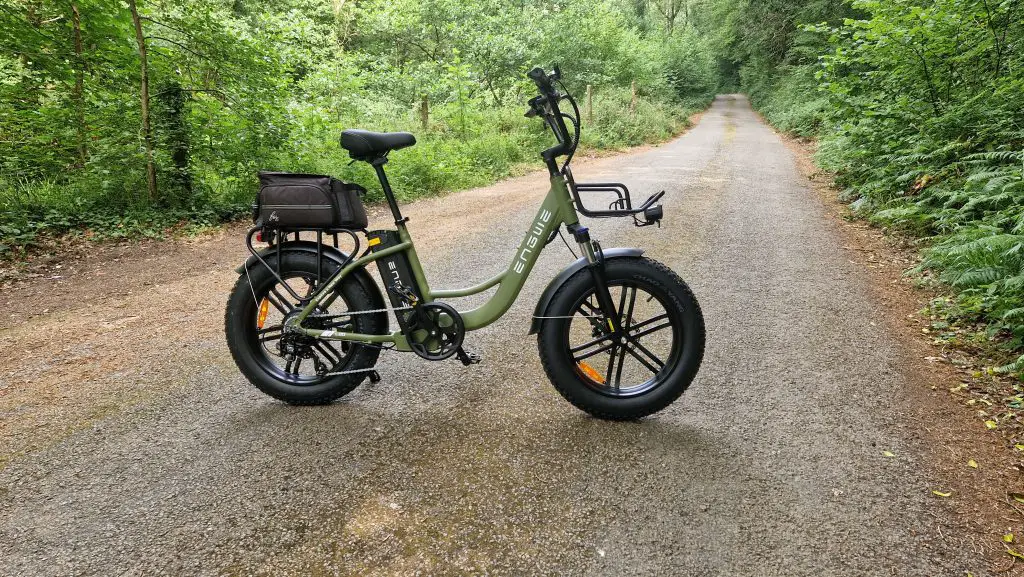 Conclusion
Based on first impressions, I like the Enwge L20. I'm not a massive fan of electric fat bikes, but there's something about the L20 that makes it a pleasure to ride. It has a very comfortable riding position, and the motor has enough torque to deal with the steepest of hills.
Riding the Engwe L20 is a leisurely affair, and it's great if you want to get to your destination without breaking into a sweat. The big bonus here is versatility – with a front and rear cargo rack, big tyres and front suspension, the L20 is ready to run errands, whether shopping or delivering food.
Except for the speed limits in the pedal assist levels and heavy weight, there's not much to dislike about the Engwe L20. If you're looking for a comfy e-bike with bags of power and a decent carry capacity, it's well worth considering.
Links to buy the Engwe L20 are below – UK and EU customers use ENGWEL20 for a £100/€100 discount.
Specifications
Motor: 48v 250w rear hub motor (750w US version)
Battery: 48v 13Ah
Range: 140 km (claimed) 65 km (realistic)
Charge time: 6-8 hours
Top Speed: 15.5 mph (25 km/h) 250w version 25 mph (US version)
Weight: 32 kg
Maximum load: 120 kg
Gearing: Shimano Tourney 7-speed with trigger shifter
Brakes: Mechanical disc brakes
Accessories: Kickstand, mudguards, integrated front and rear light
I hope you found this Engwe L20 review useful. If you have any questions, please leave a message in the comments section below.