If you were to ask me what my idea of the perfect commuter e-bike would be, it would need to have the following: Quality mid-drive motor, good battery range, lightweight, decent gear range plus all the accessories. The Rose Bikes Backroad+ Urban ticks all the right boxes. In this review article, I'll take a closer look at the specification and explain why I would buy one.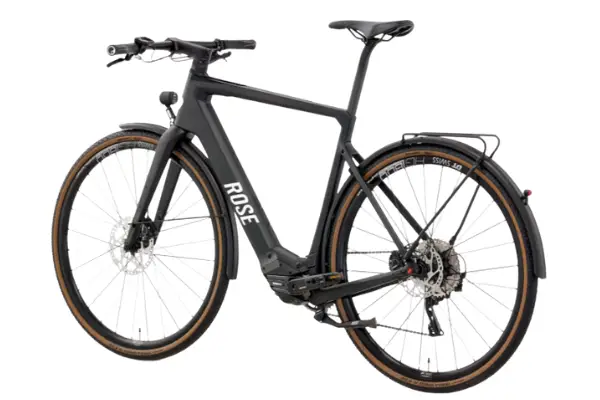 Summary
Rose Bikes have been around for a very long time (since 1907) and have an excellent reputation both in their home country of Germany and worldwide.
I've always been a big fan of their bike range and more recently they've started producing some very interesting electric bikes. From electric gravel bikes to fully-kitted-out touring and urban e-bikes, there's something for all occasions.
Components are always top-notch and the frames range from nice alloy through to full carbon fibre. In this article, I'm going to be concentrating on the Backroad+ Urban but will be looking at other bikes in the range in future articles.
The Bike
The Backroad+ Urban is, as the name suggests aimed at the urban / commuting market. Although it's so much more than that! It's one of those electric bikes that could be used for light touring, bikepacking or just running errands. You could also take it off the beaten track on gravel and woodland trails.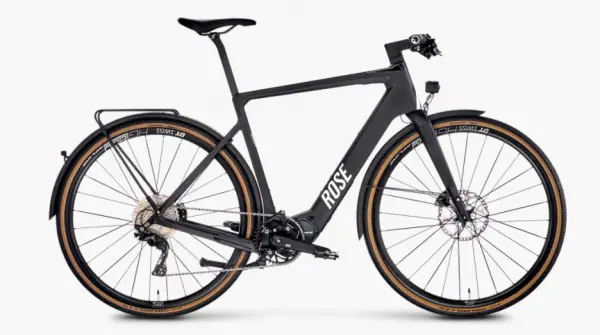 Featuring a full carbon frame and fork, one impressive thing is the comparatively low weight (when compared with similar e-bikes). Weighing in at a claimed 17.03kg, the Backroad+ Urban is very light for a fully kitted-out e-bike. This is even more impressive when you consider the powerful Shimano Steps EP8 motor and 360Wh internal battery.
Shimano EP8
Shimano's flagship e-bike motor the EP8 or DU-EP800 was released in 2021 as a replacement for the E8000 e-MTB unit. This motor is very light at only 2.6kg and delivers an impressive 85Nm of torque and up to 400% assist – this puts it on par with the latest Bosch CX Performance Line motor.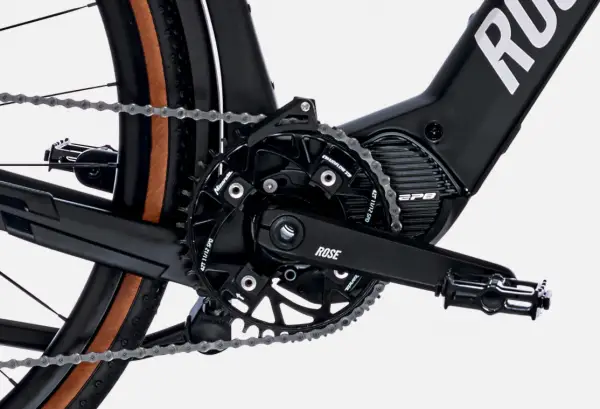 One of the great things about this motor is the performance and assist characteristics can be personalised using the Shimano E-Tube App.
Apart from the impressive performance, the motor is also incredibly energy efficient, meaning you get more range per charge. There's also 36% less drag from the motor (when compared with the E8000).
Shimano has also greatly improved the pedal-sensing technology, making the EP8 even smoother than before. There's also a new 'Trail' mode which works in the same way as Bosch's e-MTB mode. In this mode, the motor gives you exactly the correct amount of power you need depending on your pedalling input. This negates the need for the rider to keep switching between modes, all you have to do is ride!
Make no mistake – the Shimano EP8 is a top performer and having it installed in a lightweight carbon frame it's going to feel very lively indeed!
Battery
The 360Wh internal battery was first seen on lightweight e-MTBs like the Orbea Rise. This battery was developed for applications where keeping the weight to a minimum was more desired over a massive range. Having said that, due to the lightweight nature of the Backroad+ Urban and the minimal pedalling resistance – you would only really need to use the assist for climbing hills or riding into a strong headwind. A range of 100km should be easily achievable from this battery.
Bike components
Rose Bikes always uses high-quality components on their bikes and the Backroad+ Urban is no exception. This model features high-end Shimano components all around, even the finishing kit is of the highest quality.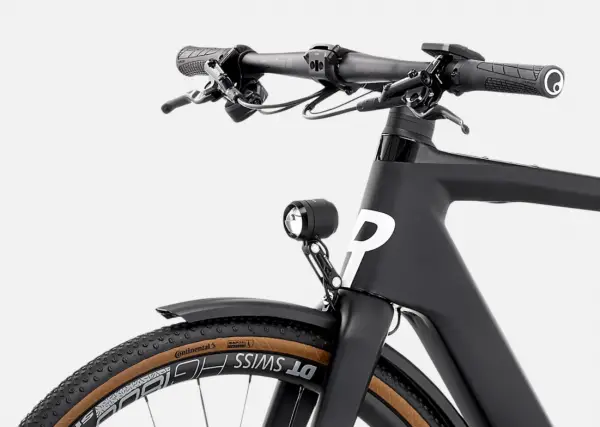 Gearing
The Backroad+ Urban features a Shimano 1 x 11 drivetrain with an SLX shifter and Shimano XT rear derailleur – these are usually the preserve of high-end mountain bikes and are not only incredibly durable but also shift perfectly. The SLX shifter has a very light and crisp shifting action. There's an 11-42 cassette combined with a 42t narrow-wide chainring giving an excellent range of gears for riding on or off the road.
Brakes
Shimano BL-MT201 / BR-UR300 hydraulic brakes with flat-mount callipers are going to offer decent braking with good modulation. My e-bike uses these brakes and I can vouch for their effectiveness. I live in a very hilly area and often descend – 15% gradients without problems and in all weather.
Wheels and tyres
A top-quality DT Swiss HG1800 wheelset designed to cope with the rigours of gravel riding is fitted – this wheelset features a 148mm rear boost hub with thru-axles and centre lock disc fitment. Tyres are the excellent Continental Terra Speed ​​Protection which is tubeless-ready and suitable for multiple riding surfaces.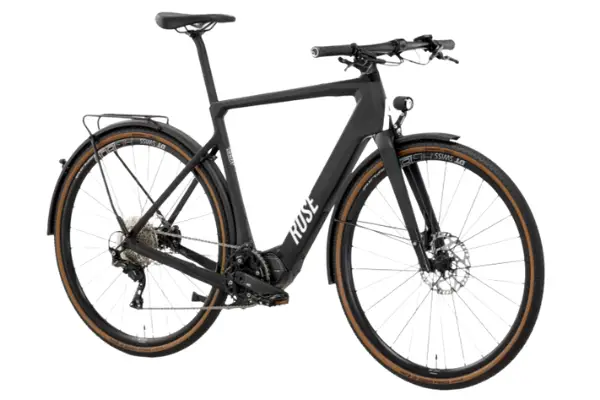 Frame and finishing kit
The frame is a thing of beauty and made of high-quality carbon fibre – the Backroad+ Urban shares its frameset with other bikes in the range and has been designed with gravel-specific geometry, meaning a slacker head angle and dropped seat stays. This is a frame designed for all-day riding comfort on or off the road.
There's a D-shaped carbon seat post which further reduces road buzz and an alloy stem with a flat handlebar making negotiating city streets a breeze. The saddle is an Ergon SFC30 which again is a very high-quality item and renowned for comfort.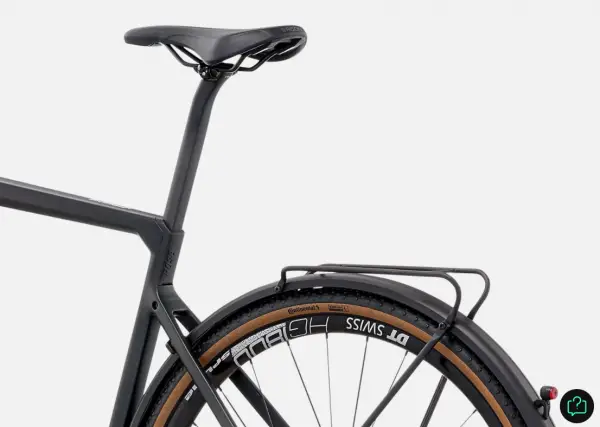 Accessories
No urban e-bike would be complete without mudguards, lights and pannier rack. The Backroad+ Urban is well catered for in this department with Wingee rear mudguard with integrated luggage struts rated to carry up to 16kg in weight (8kg per side). There's a Lightmove 150 Lux front headlight and mudguard-mounted tail light (operated from the Shimano display).
Conclusion
I'm impressed with the Backroad+ Urban, there's nothing quite like it available from other manufacturers. The icing on the cake is the Shimano Steps EP8 motor – I've ridden e-MTBs fitted with this motor, and they fly. I can only imagine what it's like to ride a lightweight e-bike with this motor, but I would say it's a bundle of fun! Rose Bikes also do a stripped-down version called the Backroad+ Fitness – this weighs 2kg less!
Some might say that over €4000 for an electric bike is way too much money, but if you were using this for a daily commute, think about the savings in fuel alone, not to mention the savings in insurance, tax and servicing costs.
The Backroad+ Urban would also make a great touring or bikepacking bike, there's enough clearance for 40mm tyres and the frame geometry would make it good for light off-road riding and long days in the saddle. Due to the efficiency of the motor and relatively lightweight, I reckon you could squeeze 120km out of a charge and even if you did run out of battery power, you could carry on riding it as a regular bike.
Unfortunately, the Backroad+ Urban is only available to buy online in the EU, but if you wanted one, it should be straightforward enough to arrange a courier in the UK to collect it from one of Rose Bikes' many shops in Germany. I'm going to try and get over there later in the year to see if I can test-ride one – watch this space!
Thanks for reading, if you're the proud owner of a Backroad+ Urban, please feel free to post a review below.