If you're thinking of disappearing for a weekend (or longer) on a cycling adventure, but want to use an e-bike, what are the best electric bikes for bikepacking and is it even practical to use one?
There's nothing quite like the freedom of jumping on your bike and going off on an adventure, whether you're exploring your local area or going further afield.  Bikepacking is a liberating experience, and if you want to escape the hustle and bustle of daily life, and reconnect with nature there's no better way to explore the countryside than on an electric bike.
What is Bikepacking?
The idea behind bikepacking is to travel light and cover long distances while experiencing the great outdoors. Bikepackers often venture into remote areas, where they can explore scenic trails and rugged terrain. Because they are carrying their gear, they can set up camp wherever they choose, making bikepacking a great way to see the country.
Bikepacking can be done as a solo activity, or with a group of friends, and it can range from short weekend trips to longer expeditions that last several weeks or even months. It requires some degree of physical fitness and technical skill, as you'll be riding on various surfaces, including dirt roads, gravel paths, and singletrack trails.
Overall, bikepacking is a great way to combine your love of cycling with a sense of adventure and exploration. Below, we'll explain why e-bikes are the perfect option for shorter bikepacking trips.
Is an Electric Bike Suitable for Bikepacking?
Most electric bikes can be used for bikepacking, but it depends on the kind of mileage you're going to be covering and the sort of terrain you'll be riding over. If for example, you were going to do a tour of the Scottish Highlands taking in gravel tracks and cross-country sections it would be wise to get a bike capable of handling different surfaces – either a Mountain bike (hardtail or full-suspension), hybrid bike or gravel e-bike.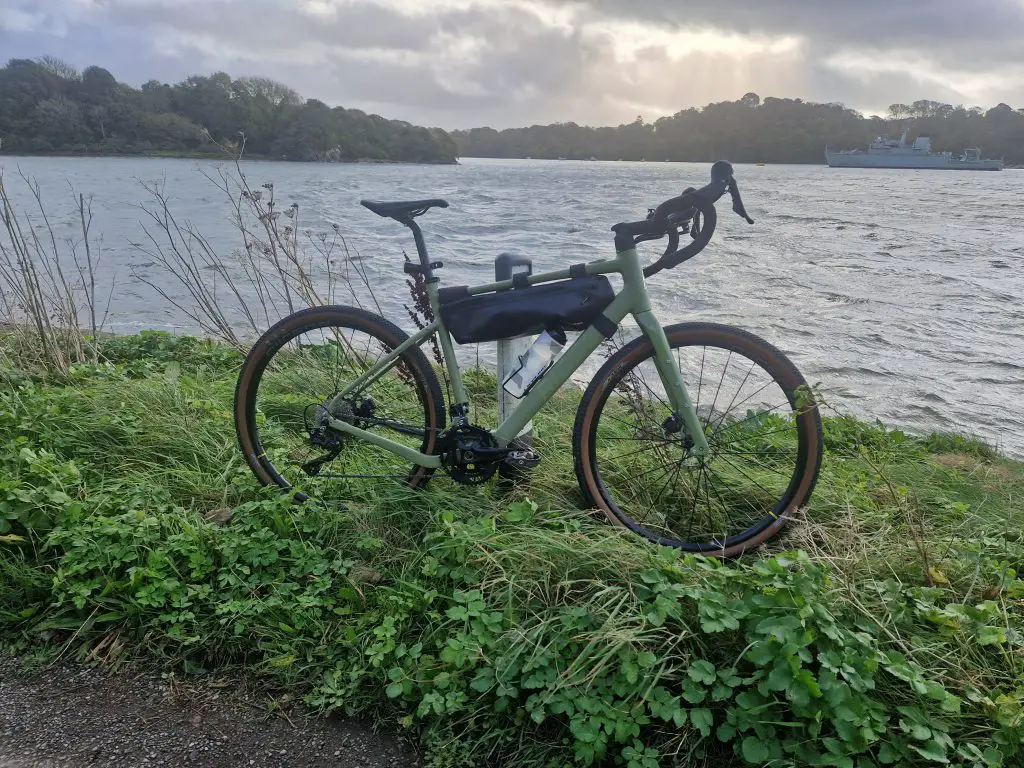 Battery range will be another important consideration, the last thing you want is to be pedalling a heavy electric bike, laden with camping gear and no electric assist. Ideally, you want to be aiming for an e-bike with a range of at least 40-50 miles, but preferably more. It may be worth investing in a spare battery just in case.
The kind of electric motor your bike has will also be important. If you're going to be doing a lot of cross-country riding with some steep, technical climbs, you will want a mid-drive motor. Although one of the latest generations of lightweight X35 ebikemotion gravel bikes like the Ribble Gravel AL e would be more than up to the job.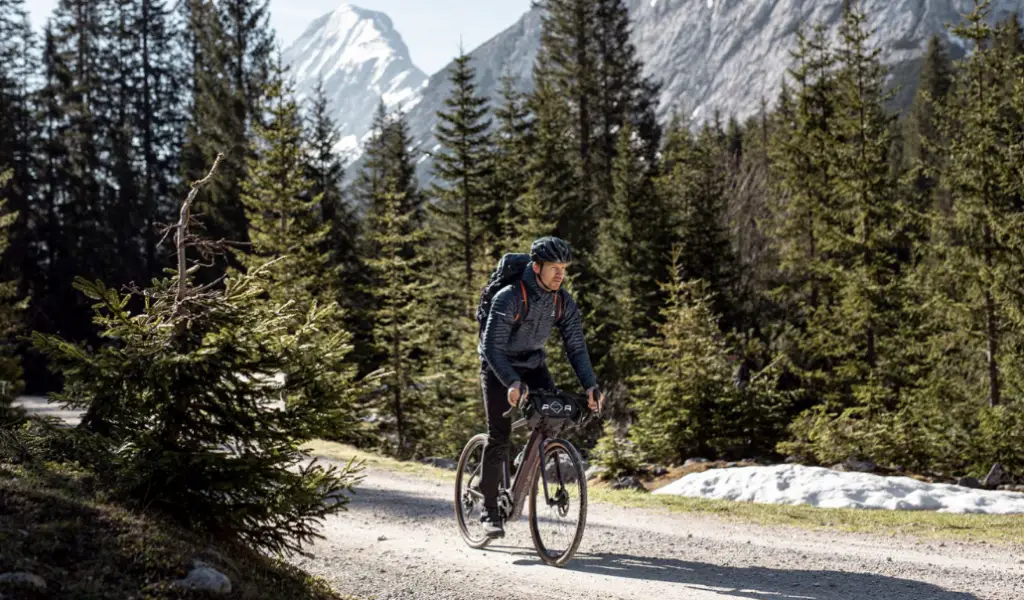 Weight is something you'll need to think carefully about. Electric bikes can vary greatly in weight starting at around 11kg for a carbon-framed Endurance e-road bike like the Ribble SL e through to 26kg for something like the Cube Kathmandu.
Bike weight is just the beginning because you also need to factor in the weight of your luggage. If you're doing proper bikepacking and carrying a tent, sleeping bag, cooking gear and clothes etc. You could be looking at an additional 10-15kg on top of the weight of your bike. So you don't want to be running out of battery power, or if it's a possibility and you don't have a spare, you may want to consider one of the lighter e-bike options.
How do Bikepacking Bikes differ from Touring Bikes?
Touring bikes are generally designed to carry much heavier weight and are traditionally made from steel. If you're travelling light then an aluminium or carbon frame is usually more than adequate.
Another great thing about bikepacking is you don't need to rely on a bike that has pannier racks fitted, and there is now a whole range of travel bags specially designed to fit neatly onto a bike frame without the need for racks front and rear. This all adds to the weight saving, and makes things a lot easier on the legs, giving you more freedom to explore the countryside.
What Kit will I need for Bikepacking?
This depends on how long you plan on staying out for,  and the kind of weather you'll be expecting. Below I have comprised a list of some basics for a few days of bikepacking.
Small lightweight tent
Sleeping bag
Sleeping mat
Stove
Lighter / matches
Some food – or you can go to a shop rather than carry it with you
A good book
Eating/drinking receptacles
Waterproofs
Change of clothing
Personal care – toothbrush, wet wipes, deodorant
At least 2 – 3 water bottles
Torch
Visit Wiggle for tents and other camping essentials
What Bags will I need for Bikepacking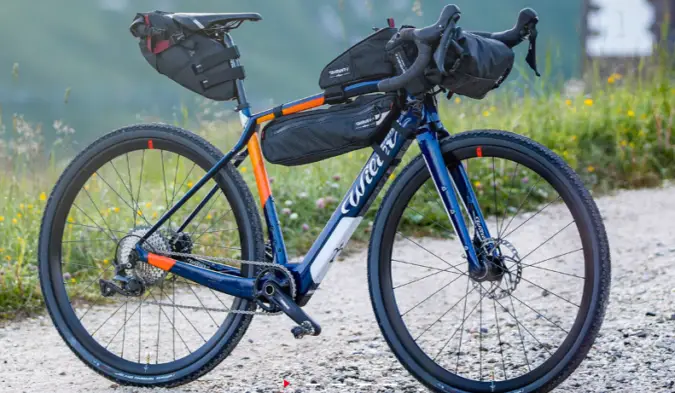 There are some great bags now available specifically aimed at travelling light. I have listed the most common ones currently used.
Saddlebag – these can be anything from 8 litres up to 15 litres in capacity
Frame bag – useful and can usually carry 3 to 8 litres capacity
Top tube bag – ideal for mobile phones, snacks and energy gels.
Waterproof handlebar mobile phone mount – ideal if you're using Kamoot or Google Maps for navigation
Handlebar bag – mounts on the front of your handlebars and some can have a large capacity
Fork-mounted bags (optional)
Lightweight rucksack (if you don't mind having something on your back)
Check out Bikepacking bags on Tredz
Visit Chain Reaction Cycles for bike bags – Worldwide Shipping

What Devices Should I Take Bikepacking?
If you plan on riding off the beaten track it's always a good idea to take so tech along to make life easier.
Smartphone (if you have one)
Powerbank (or maybe two) for keeping things charged up
A spare battery for your electric bike – if you're planning on going to a remote area like the Scottish Highlands
A stand-alone GPS navigation device/bike computer like the Wahoo Elemnt Bolt
Visit Wiggle for bike computers and GPS devices
Can I use a Solar Panel to Charge my E-Bike Battery?
It is possible with the right solar panel, inverter and charging connector, but you cannot at present purchase ready-made solar e-bike battery chargers.
The video below courtesy of ebikeschool.com shows how it is possible to build a DIY solar charger for an e-bike. It should be noted that this may not work with Bosch batteries as they can only be charged with their specific charger.
If you don't want to go through the hassle of making and carrying a solar charger, then you will need to be frugal with the electric assist (depending on your daily mileage). You'll be surprised how much range you can squeeze out of a standard 417Wh (watt hour) battery if you go easy on the e-assist. I have managed 120 miles (with 11'000ft of climbing) out of a similar battery pack.
Another option would be to buy a portable power station. These devices are large batteries and some are capable of charging e-bikes. In addition, when combined with a foldable solar panel, it's possible to go completely off-grid and keep going for days on end.
The 9 Best Electric Bikes for Bikepacking
You don't need to spend a fortune on an electric bike for bikepacking so I have included a wide range of e-bikes ranging in price from just under £1000 to over £4000 – it's important to remember if you do find yourself out of power, pedalling a heavier electric bike without power can be difficult, especially if you are in hilly or mountainous terrain.
I will be updating the list of e-bikes below to include some exciting new models for 2023 – watch this space!
---
Ribble Gravel AL e
Best Lightweight E-Bike for Bikepacking
Not everyone wants to ride a heavy e-bike, especially if they're carrying 20kg in extra gear for a few days of bikepacking. This is where the excellent Ribble Gravel AL e comes in. I've had the pleasure of riding this bike and it is very light for an e-bike at just 14kg. Not only that but the Gravel AL e is a very capable gravel e-bike that is equally at home on narrow country lanes and moorland trails.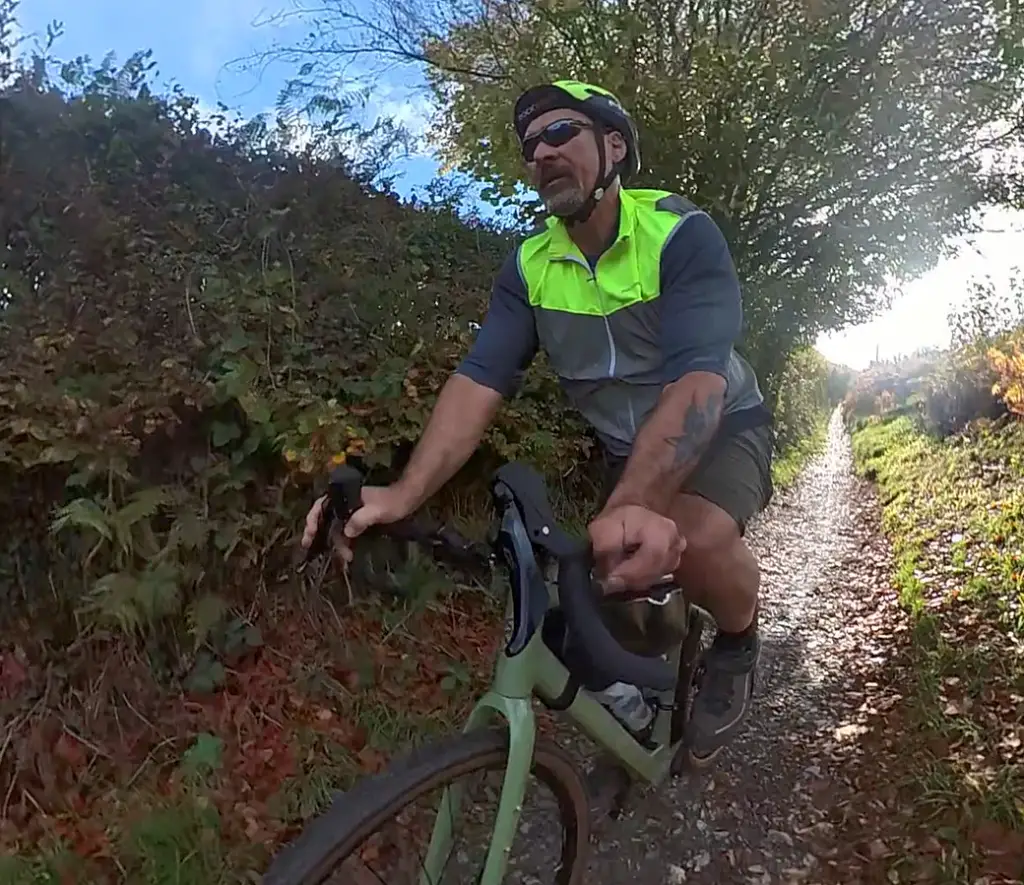 Available in a range of options starting at £2795, the Gravel Al e is perfect for intrepid explorers who are looking for a little extra help on the climbs. The Gravel AL e is a versatile option for long days exploring the great outdoors.
Check out my YouTube video review
---
Vitus E Substance
The latest version of the Vitus E Substance electric gravel bike is the perfect candidate for a spot of bikepacking. The 2022 model features the new Fazua Ride 50 Trail e-bike system – this is an enhanced version of the Evation, with 10% more power and 6% less weight. Battery power remains unchanged at 250Wh, although Fazua claims a slightly better range (than the older Evation) due to improved motor efficiency.
The frame and components look unchanged from last year's model. There is SRAM Apex 1 hydraulic groupset with a 10-42 XD cassette and 38t chainring. If you wanted lower gear for climbing, The SRAM Apex 1 rear derailleur will work with a Sunrace MX9 10-46 cassette.
If you're bikepacking adventures were mainly on gravel and single-track, the Vitus E Substance would be a great option. The deal clincher for me is the relatively light weight of the bike – weighing just 15.3kg, you can easily ride the Vitus without the motor. This is especially useful if you find yourself running out of battery power in the wild. There is the option of buying a spare battery for those longer adventures.
Available now from Chain Reaction Cycles
---
Decathlon Rockrider E-ST900
Best e-MTB for Bikepacking under £2000
When I first had a go on the Decathlon Rockrider E-ST900 a couple of years back, I was impressed with what it had to offer for the price. My opinion hasn't changed one bit. Even now, there is no other e-MTB that comes close to the Rockrider for sheer value for money.
Over two years after its release, it still has one of the best specifications for the price. Brose-T mid-drive motor, 36v 14.5Ah battery with Samsung cells, tubeless-ready tyres, Shimano Deore M6000 1 x 10 groupset and Rockshox forks. This is a bargain and keeps selling out as fast as Decathlon can re-stock it!
There is no better e-MTB available for this price, and if you looking for adventure, the E-ST900 can take a pannier rack a frame bag, a handlebar bag and a large seatpost bag. The battery will give you a potential range of 75 miles which is more than enough for a day of cross-country riding. It is quite a heavy bike, and those 2.8″ tyres will provide a lot of extra rolling resistance on the tarmac, so as long as you don't run out of battery you won't go wrong!
Buy Now: Decathlon Rockrider E-ST900 
---
Cube Kathmandu Hybrid
Best Bikepacking E-Bike for Long Distance
The Cube Kathmandu Hybrid 45 625 has been designed specifically with touring and bikepacking in mind. This is typified by its massive capacity battery of 625 watt-hours. I have tested the current (2020) model and a range of over 100 miles out of a single charge is easily achievable if used sensibly.
This bike is built to cope with the rigours of long-distance all-terrain riding and is perfectly suited to bikepacking. The renowned Shimano XT groupset has a massive gear range with a 10-51 12-speed rear cassette, which means you won't have any problem getting up the steepest of ascents lugging a load of camping gear.
Like its predecessor, the Cube Kathmandu Hybrid 45 is a true touring electric bike. This bike has everything you will ever need, from lights to the kickstand, mudguards to a pannier rack – the Kathmandu wants for nothing and is ready for adventures right out of the box! The long-range battery is a deal clincher for me which is just as well, as this bike is heavy (26kg), and you don't want to be running out of e-assist in the middle of the Scottish Highlands!
Check out the 2023 Cube Kathmandu Hybrid One 750
---
Specialized Turbo Tero 4.0 EQ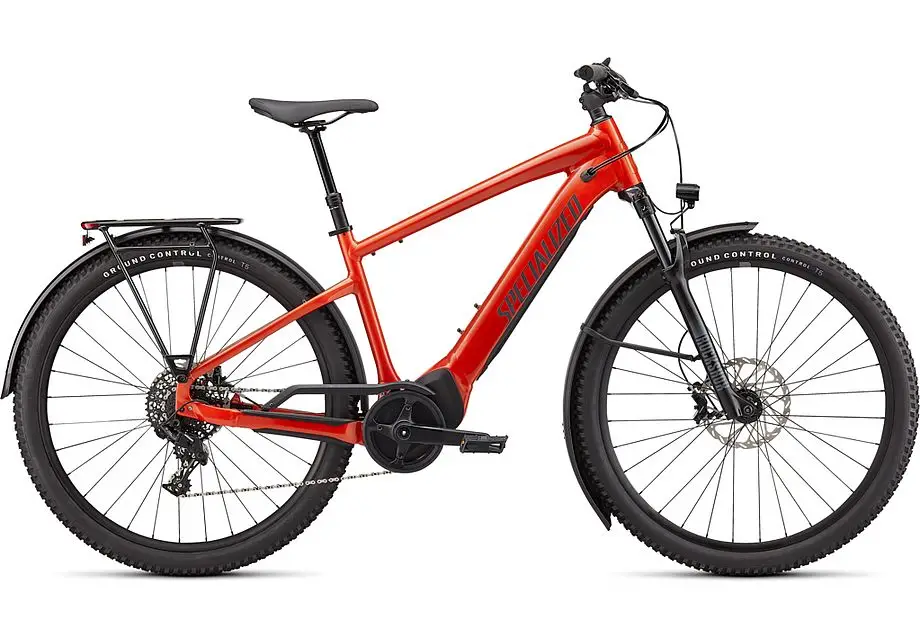 The Specialized Turbo Tero 4.0 EQ is a full-kitted-out hardtail e-MTB that's ready for weekend adventures. Featuring the powerful Specialized 2.2 motor (developed with Brose) and a massive 710Wh battery, the Turbo Tero is perfect for exploring the great outdoors!
Of course, the motor and battery need to be complimented with good components, and the Tero 4.0 EQ is very well catered for in this department. Upfront there's a Rockshox Recon fork with 110mm of travel. The gearing is SRAM NX 1 x 11, and the brakes are SRAM Guide T with large 200mm rotors.  The EQ stands for 'extra equipment' and the Tero EQ has mudguards, a pannier rack and a dropper seat post.
Conclusion
At over £4000, the Specialized Tero 4.0 EQ isn't cheap. But, it's an incredibly versatile machine that's capable of taking you further and on more challenging terrain than a lot of the other e-bikes featured here. As an all-around package, it's hard to beat and well worth considering if your budget allows it.
Available from Specialized (UK)
Buy direct from Specialized USA (Tero 3.0)
---
Decathlon E-ST100
Best E-Bike for Bikepacking under £1000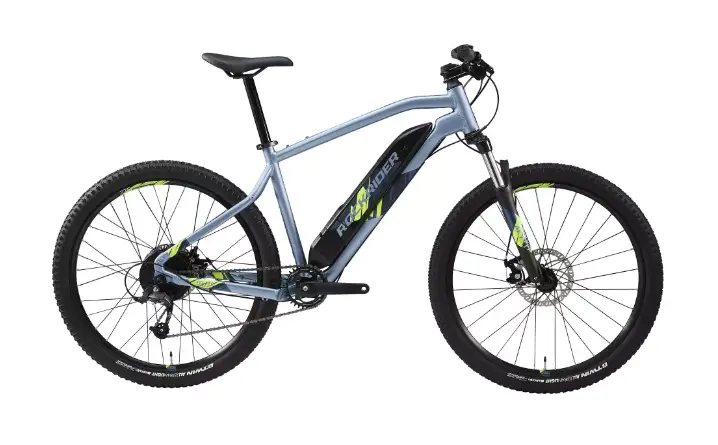 If you're looking for a budget bikepacking option, you won't get better value than the Rockrider E-ST100 from Decathlon. Featuring a 250w motor with a 380Wh battery, the E-ST100 is just the ticket for cheap bikepacking adventures. With 27.5″ x 2.2″ tyres and Suntour front suspension with 100mm travel, the Rockrider is ideal for adventures closer to home. In addition, they've kept the gearing nice and low, with an 11-34 8-speed cassette and 32t front chainring. The only real compromise is the mechanical disc brakes, but these could easily be upgraded to hydraulic at a later stage. Frame geometry is the same as the much more expensive e-st900 (below).
Currently on Sale at £899 – Visit Decathlon
---
Specialized VADO SL 4.0 EQ
Best Hybrid E-Bike for Bikepacking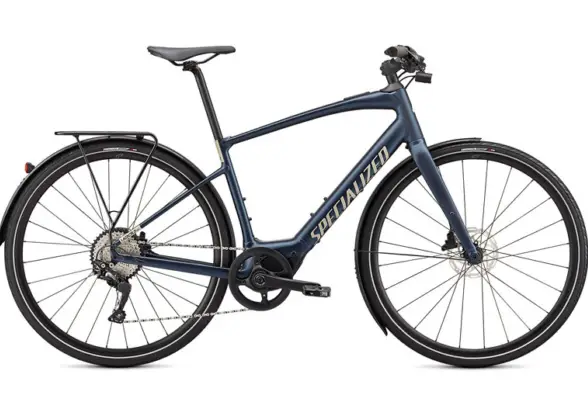 What if you could have a mid-drive electric hybrid bike, that had a punchy motor and a decent 320Wh battery all wrapped up in a package that weighed around 15kg? The new Specialized Vado SL 4.0 EQ is just that!
Designed and marketed as an urban electric bike, the Vado SL 4.0 EQ is also suitable for weekend adventuring. Its tyres, gearing and frame geometry make it the perfect companion for some light off-road riding and the fact it has lights and a pannier rack makes it ideal for weekend bikepacking trips.
The Specialized Vado SL 4.0 EQ uses the same SL 1.1 motor as found on their range-topping S-Works e-road bike – it's an incredibly smooth and efficient motor and if used sensibly will give the rider a range of nearly 80 miles. The fact it is so light means if you do run out of battery power you can still ride it as a normal bike, and the wide gearing will help with steep climbs.
Buy Now: Specialized Vado SL 4.0 EQ (Specialized direct UK)
Buy direct from Specialized USA
---
Decathlon Riverside 500E
Best Budget Hybrid E-Bike for Bikepacking
When I first reviewed the Decathlon Riverside 500 electric hybrid bike, I was impressed with the specification. You get hydraulic brakes, torque-sensing pedal assist and a 417Wh battery which will give a realistic range of between 40-60 miles from a single charge.
The Riverside 500 has nice gearing with a 36t front chainring and an 11-34 8-speed rear cassette. Power is provided by a small but punchy rear hub motor, which will be good enough to get you up moderately steep climbs.
From a bikepacking perspective, it's comfortable, has front suspension, and has clearance for wider tyres. If you were planning on riding rougher terrain, you could fit some gravel-specific tyres for added grip. For extra range, you could purchase a spare battery. The Riverside 500e is a good budget option.
---
Boardman ADV 8.9e
My list wouldn't be complete without one of my favourites – the Boardman ADV 8.9e Electric Adventure Bike. I've already featured this bike (along with the Ribble) in my list of the best electric gravel bikes, and it's worthy of mention here. Bikepacking is at the heart of the Boardman ADV's DNA and the fact it is not only relatively lightweight but also uses the excellent Fazua Evation e-bike drive system makes it an excellent choice.
Having ridden the Boardman ADV 8.9e a couple of times I can honestly say it's an excellent e-bike. I know a few owners who are very satisfied with their purchase, and the fact you can remove the electric drive system and battery (effectively making it a regular bike) is a big bonus if you don't want to use the electric all the time. It's well-made and takes rough terrain in its stride. It's also one of the most competitively priced electric adventure bikes available.
Buy Now: Boardman ADV 8.9e Electric Adventure Bike
---
The Verdict – What is the Best Electric Bike for Bikepacking?
Bikepacking using an electric bike is a great way to explore your local countryside. As long as you are properly prepared for your journey. All of the above bikes have their own merits, and it does come down to your budget, and the kind of terrain you're going to be riding on.
If you are planning on roughing it, and strictly staying off-road, riding open moorland and single track, then I would say something like an electric mountain bike would be best.
For a versatile e-gravel bike, that is lightweight and boasts 650b x 47c tyres, the latest Vitus E Substance is well worth a look. The Fazua Ride 50 Trail motor is lighter, more efficient and produces 10% more support. Plus, it's light enough to be ridden even if you run out of power.
The Ribble Gravel AL e has always been a favourite of mine – the assist it provides is very subtle and some might say it doesn't provide enough assist. This boils down to your abilities. It is very light and in my opinion, the overall lighter weight of the bike more than makes up for the lack of oomph!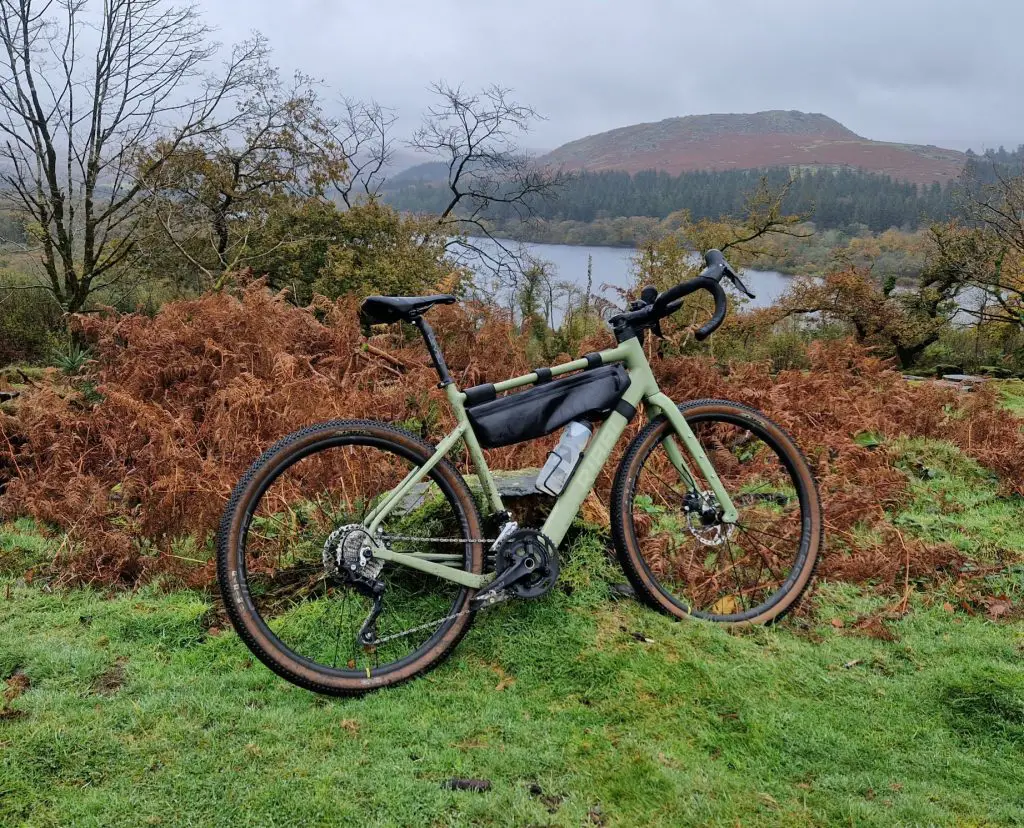 Much like the Ribble, the Boardman ADV 8.9e is specifically aimed at the gravel/adventure rider. It's a great bike with an innovative motor system, it's also competent at dealing with a multitude of terrains.
A good hardtail electric mountain bike would be a wise choice if you are going into the wilds and are planning on negotiating challenging terrain. The Specialized Turbo Tero 4.0 EQ is perfectly suited to this job, with a 710Wh battery, powerful mid-drive motor and excellent specification.
The best value hardtail e-MTB by far is the Decathlon Rockrider E-ST900. Not only does it have a great motor, battery and specification. But you can also add a pannier rack and there is plenty of space for extra bags on the frame, handlebars and seatpost.
Another great electric bike with bikepacking potential and a bit of a wildcard is the Specialized Vado SL 4.0 EQ. Despite being aimed at the urban e-bike market, I've had a quick ride on one of these (on a rough track) and I think it would be a great bike for bikepacking – It's ruggedly constructed, has all the mod cons and above all is lightweight and has a decent battery range, combined with a smooth mid-drive motor.
At the cheaper end of the scale, there is the excellent Riverside 500 Electric hybrid bike, for more mellow adventures and light off-road riding, it's superb. The frame geometry is unisex in design with a low standover height and high handlebars making for a very comfortable, upright riding position – very important for long days in the saddle.
Bikepacking is great fun and needn't be expensive. All of the electric bikes featured in this article would be suitable for exploring the countryside with overnight camping. Only spend what you're comfortable with and allow some money left over to cover the cost of tents, camping gear and bags – all this kit can run into £100's easily. The main thing is to get out there and enjoy the countryside!
Online E-Bike Dealers in the USA
Thanks for reading and if you have any questions or need any advice on bikepacking, please leave a comment below and I will reply within 24hrs.