The Eleglide Citycrosser is a rigid-frame urban electric bike that's not only cheap but has some tricks up its sleeve! It's currently the cheapest e-bike with a torque sensor, a feature not usually found on electric bikes at this price. But how does it perform out on the road? In this review, I take the Citycrosser on a 30-mile test ride to see if it lives up to my expectations.
Key features
Torque-sensing pedal assist
36v rear hub motor
Integrated 360Wh battery
Front cargo rack
CST Puncture-resistant tyres
👇Latest deal – FREE Xiaomi Mi Band 8 Smart Bracelet👇
In the interest of full disclosure, the Eleglide Citycrosser reviewed in this article was generously provided to me by Geekbuying. This gesture, however, does not influence my opinions, and the ensuing evaluation remains impartial, reflecting my genuine experience and assessment of the product.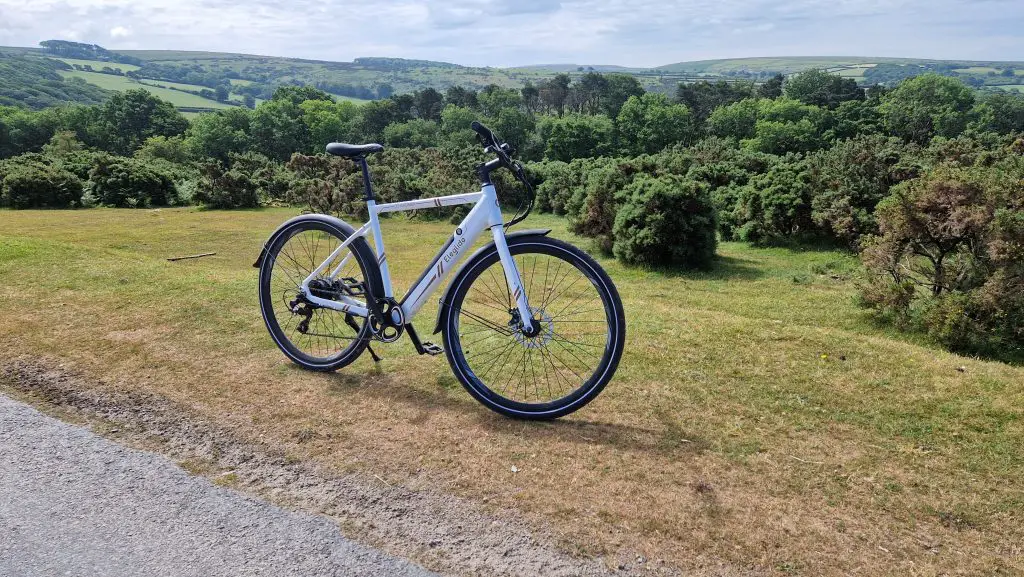 Unboxing and assembly
The Eleglide Citycrosser arrived well-packaged and removing all the foam and cable ties was a job in itself! Once all the packaging was removed, assembly was relatively straightforward. The front wheel and mudguard needed to be fitted along with the front brake calliper, handlebars, pedals and optional front cargo rack. I decided to leave the rack off for the time being.
You will need to ensure special care is taken aligning the front brake calliper and tightening the handlebars. In addition, make sure the front wheel is properly tightened and the tyre pressures set correctly – 65 psi for the rear and 60 psi for the front.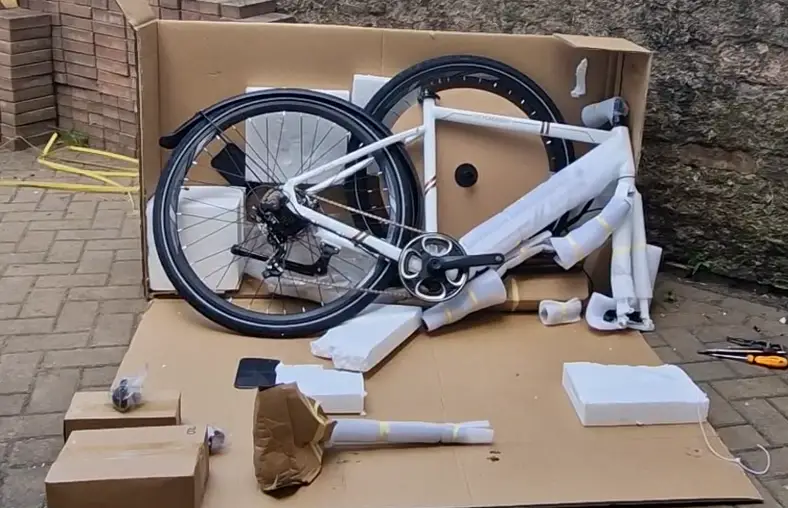 Test route
The inaugural test ride for the Eleglide Citycrosser was a challenging 30-mile with roughly 2000ft of elevation gain and a brief off-road section. Once the battery was fully charged, I headed off in the glorious sunshine. This route involves a section of NCR27 and finished off near Burrator Reservoir on Dartmoor.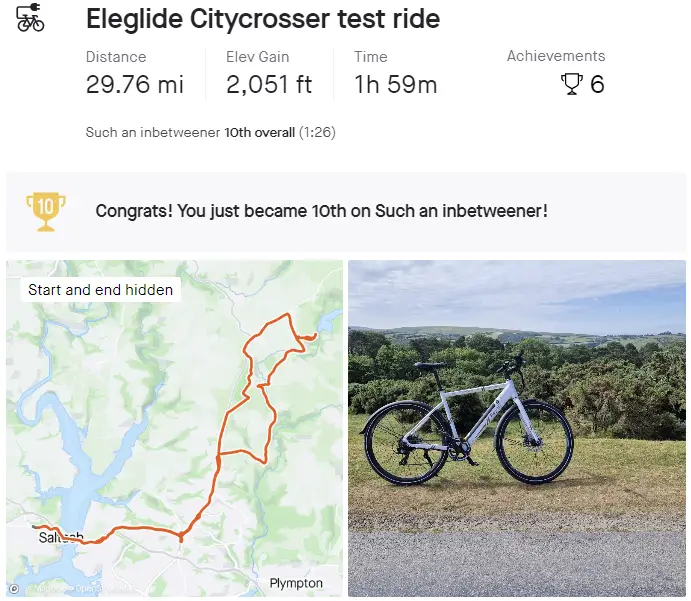 Electrics
The Eleglide Citycrosser uses a fairly standard 36v 250w geared rear hub motor. What sets the Citycrosser apart from similarly-priced e-bikes is the addition of a torque-sensing bottom bracket.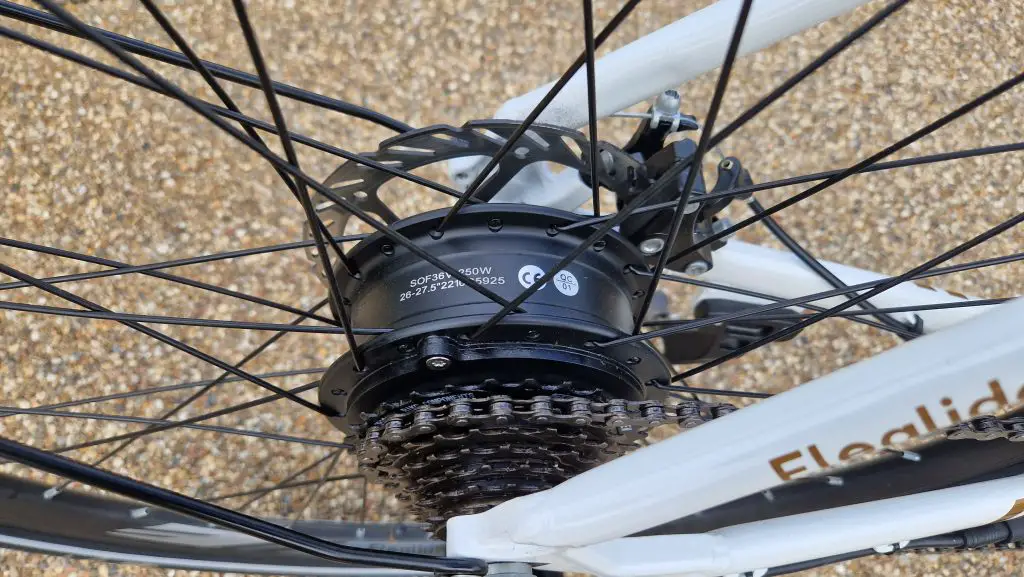 For those of you unfamiliar with a torque sensor, it measures rider pedalling force as well as cadence. This provides the rider with a much more responsive and intuitive riding experience. Plus, it improves efficiency which improves battery range.
From the outset, I was impressed with the performance. There are 5 levels of assist available and I found levels 1 and 2 enough for most of the route. Although power delivery is smooth, the motor is a little noisy when starting off, but soon quietens as speed picks up. The Eleglide Ciycrosser performed as expected and will comfortably get you up moderately steep hills.
Watch my YouTube video review with hill climb test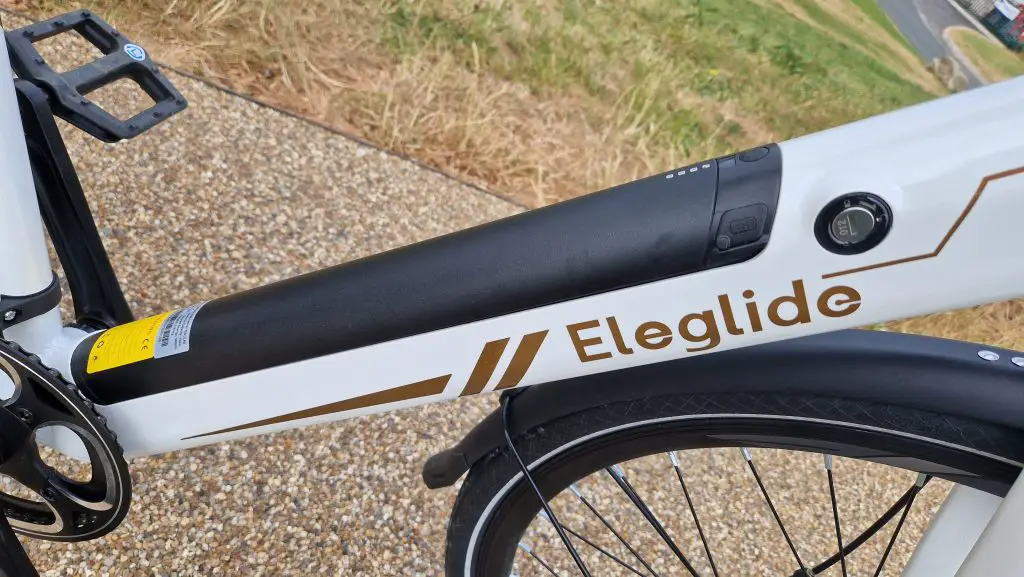 For power, there's a 360Wh battery that's neatly integrated into the downtube of the bike. Eleglide claims a maximum range of 75 km (46 miles) which, based on my initial ride should be achievable with sensible use of the assist. I had 2 bars out of 5 remaining at the end of the test ride.
The backlit display is basic, easy to read and functional. It provides you with all the important information like speed, battery, trip distance and assist level. It can be easily changed from km/h to mph and you can even raise the speed limit (not recommended in the UK and EU).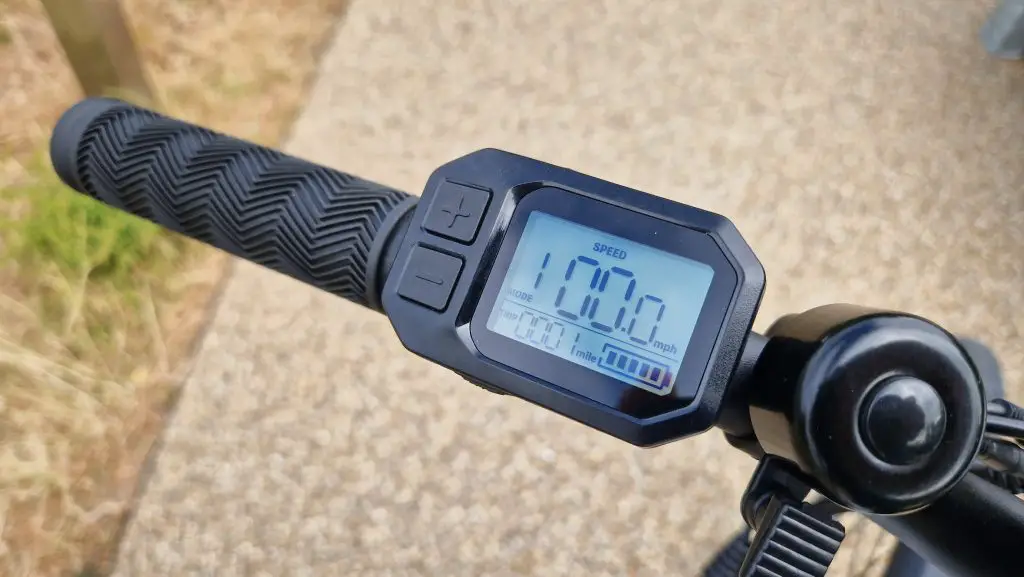 Bike components
The Eleglide Citycrosser uses tried and tested components. Gearing is the 7-speed Shimano Tourney which is the 'go to' drivetrain for budget e-bikes. It worked well throughout the test ride and the trigger shifter provided nice and accurate gear changes. The Gearing is low enough to get you up steeper hills and high enough for pedalling at 18-20 mph.
Braking performance was acceptable but a far cry from hydraulic disc brakes. The mechanical callipers were quite noisy at times and required quite a lot of effort to bring the bike to a standstill. Once they are bedded in and cables are re-adjusted, I'll update this section to let you know if they've improved.
The wheels are 28″ with nice CST Platinum 700x38c tyres. These tyres roll well on tarmac and provided adequate grip on loose gravel and they have a Kevlar puncture-resistant layer as a bonus – top marks here!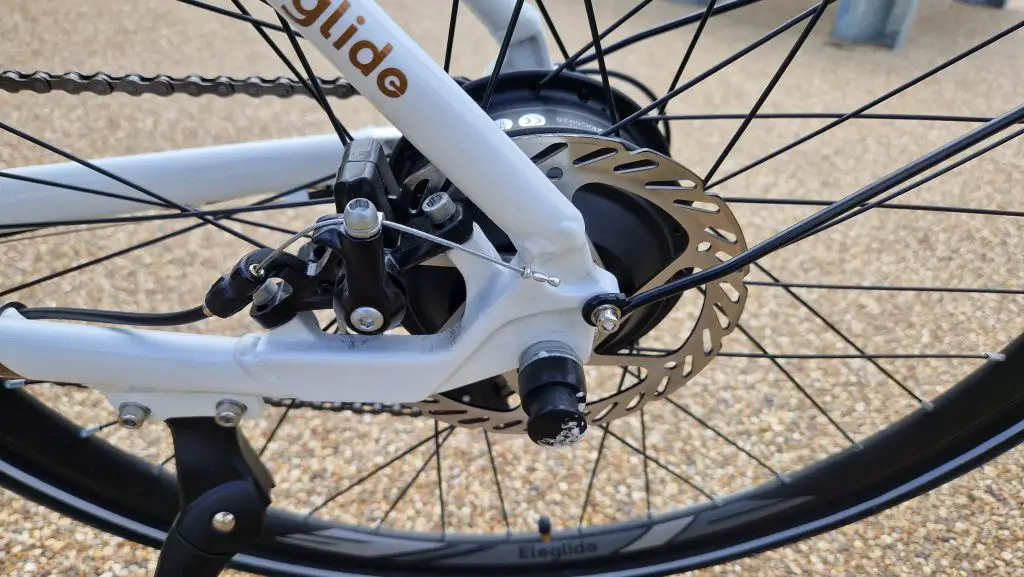 Comfort and sizing
The Eleglide Citycrosser is aimed at riders of different heights although I would say it falls into the medium to large sizing category. I measured the top tube at 58cm and the bottom bracket to the top of the seat tube at 54 cm. This should make it ideal for riders from 5'7″ to 6'2″ (173cm – 188cm). I'm 6'1″ and found it fitted me perfectly.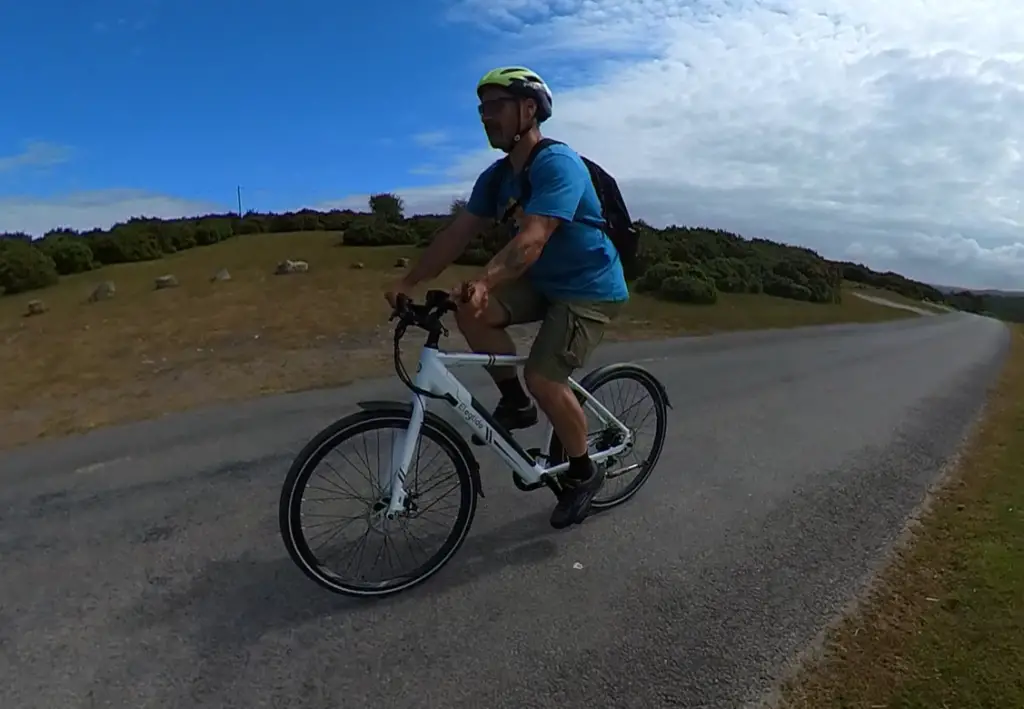 Regarding comfort, the Citycrosser has a decent saddle with adequate padding. There are some nice riser handlebars which put you in a fairly upright riding position. The stem is angled-up slightly which improves this. The rubber grips are okay, but I would be inclined to fit ergonomic grips for added hand comfort.
Who is the Eleglide Citycrosser suitable for?
The Eleglide Citycrosser is going to be a great e-bike for commuting as it's fairly lightweight and rolls well on the road. It will also make a great recreational electric bike for exploring the countryside. I've ridden it off-road briefly and it's fine on gravel tracks.
Pros and Cons
Pros
Torque-sensing pedal assist
Fairly lightweight
Fast rolling tyres
Clear display
Cons
Mechanical disc brakes
The motor is noisy under load
FAQs
How heavy is the Eleglide Citycrosser?
The Citycrosser weighs 18.9 kg without the rack as weighed by myself.
Is the Citycrosser waterproof?
It can be ridden in light rain but it's not recommended to ride in heavy rain and should not be ridden through deep puddles.
Can the speed be unlocked?
Yes, you can unlock the speed in the advanced settings function but please consider your local e-bike laws.
What is the battery range?
The battery range will vary greatly depending on the weight of the rider, terrain and assist level used. I managed 30 miles with 2 bars remaining on the battery. I would say a realistic range for the average rider would be 35 to 40 miles.
Is the Eleglide Citycrosser good on hills?
It's perfect for moderately steep hills. I tested the Citycrosser on hills up to 12% gradient and it had no problem at all.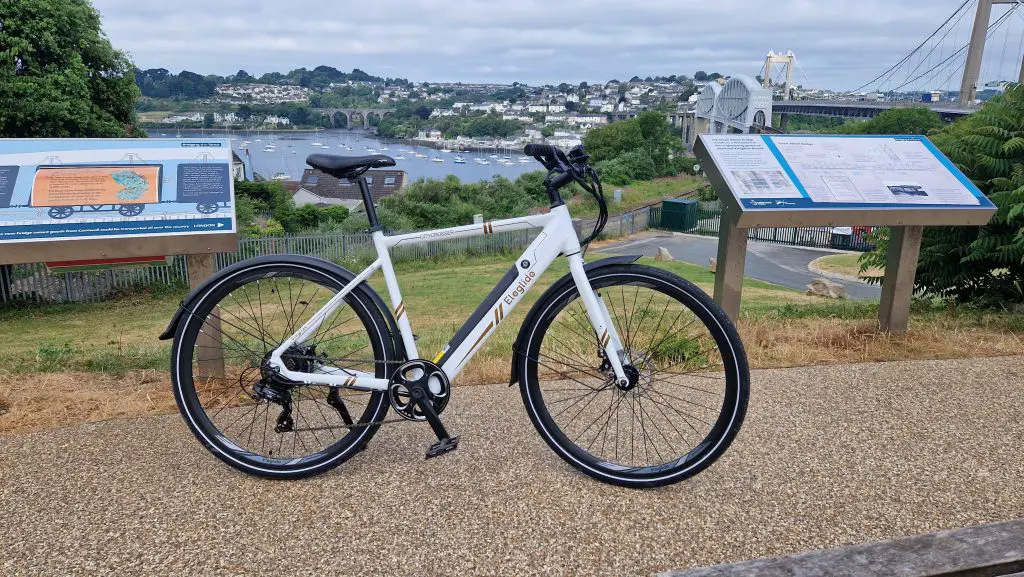 Conclusion
It's very hard to find fault in the Eleglide Citycrosser, especially when you consider the price. Based on my initial test ride, I think it's an excellent electric bike and I would have had the same opinion if it was priced closer to £1000.
The torque sensor works very well and reacts to changes in pedalling force. The battery range is respectable, the performance is okay and it's comfortable. The only downsides are the mechanical brakes and the slightly noisy motor.
If you're looking for a cheap electric bike to get you from A to B but don't want to spend a small fortune, the Eleglide Citycrosser gets my vote! It has to be one of the best-value e-bikes currently available and is well worth considering.
👇Latest deal – FREE Xiaomi Mi Band 8 Smart Bracelet👇
Specifications
Motor: 36v 250w continuous, 400w peak power
Pedal assist: Torque sensor (with cadence sensor)
Battery: 36v 10Ah (360Wh) Chinese cells
Battery Range: Claimed 75 km (46 miles) real-world range prediction 40-56 km (25-35 miles)
Charge time: 6.5 hours (claimed)
Top Speed: 25 km/h (15.5mph)
Weight: 22 kg (with rack)
Maximum load: 120kg
Gearing: Shimano Tourney 7-speed with trigger shifter
Brakes: Mechanical disc brakes
Accessories: Kickstand, mudguards, front rack, front headlight, rear reflector
Water resistance rating: IPX4 – suitable for moderate rainfall, but not submersion in water.
I hope you found this Eleglide Citycrosser review useful. If you have any questions about this bike, please leave a message in the comments section below.