If there is one kind of bicycle that benefits the most from electric assist it is the Cargo bike. In recent years we have seen a proliferation in cargo e-bikes. The Kona Electric UTE is one of the best electric cargo bikes currently on the market. In this review, I will be looking into the benefits of owning a cargo bike as well as the potential commercial applications.
Check out my article featuring 7 of the best electric cargo bikes in 2023
What are Cargo Bikes?
A cargo bike is simply a bicycle that has a specially designed frame so that it can carry either goods or passengers.
There are many different styles of cargo bikes currently available, the most popular of which is the long-tail cargo bike. This is an ordinary bicycle that has an extended frame, allowing it to carry either passengers or other large items that you would not normally be able to fit on an ordinary bicycle.
Before the advent of electric assist, cargo bikes were limited in their uses, simply because of the practicalities of propelling a heavy frame and cargo using human power alone (particularly uphill).
Thankfully, due to the evolution of electric bike technology, the cargo bike can now be used by everyone – mums taking their kids to school, couriers delivering food for Deliveroo, and the list goes on and on.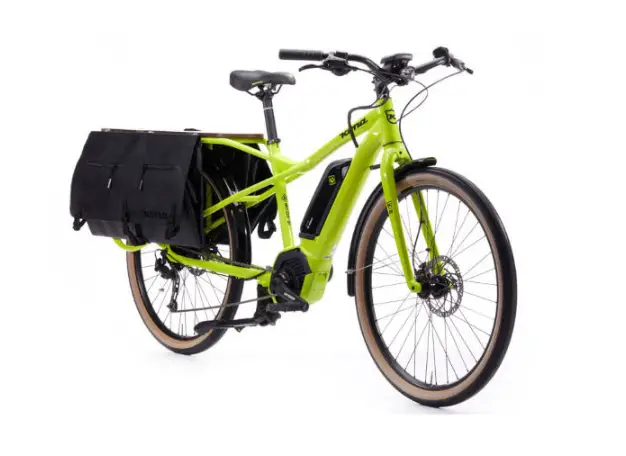 Out of all the different styles of ebike I can think of, the electric cargo bike is the most practical and versatile by a mile!
A lot of us are desperately trying to break free from the shackles of the car, and internal combustion engine. Electric cars and vans are still very expensive, and you need a driving licence, insurance, and so on to use them.
With an electric cargo bike, none of this is necessary. Apart from the initial investment (which in this case is nearly £4000), once you have your cargo bike, you can leave the car at home on those shopping trips, commutes to work and even the school run!
I really think that electric cargo bikes can revolutionise the way we live in so many ways. I will be getting one next year because I love cycling so much,  I would much rather ride to the shops than take the car.
Different types of Cargo Bike
Long-tail Cargo Bike
This is probably the most common type of Cargo bike, the Kona UTE featured in this article is a typical example. Other examples would be the Surly Big Easy and the Tern GSD S10 folding Cargo bike.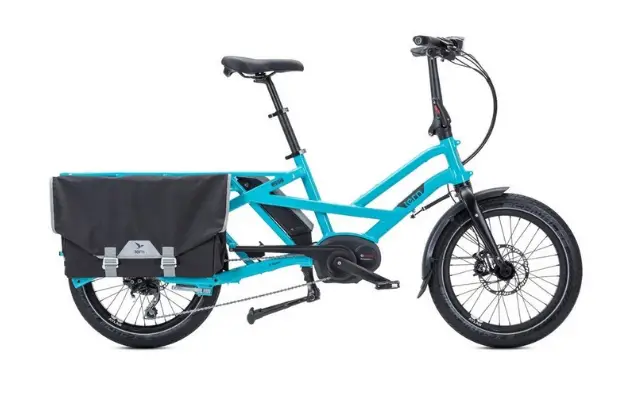 Standard Sized Cargo Bicycle
These are basically heavy-duty bicycles, with a beefed-up frame and integrated front and rear racks. A good example would be the BPM Cargo Electric Fat Bike (pictured below).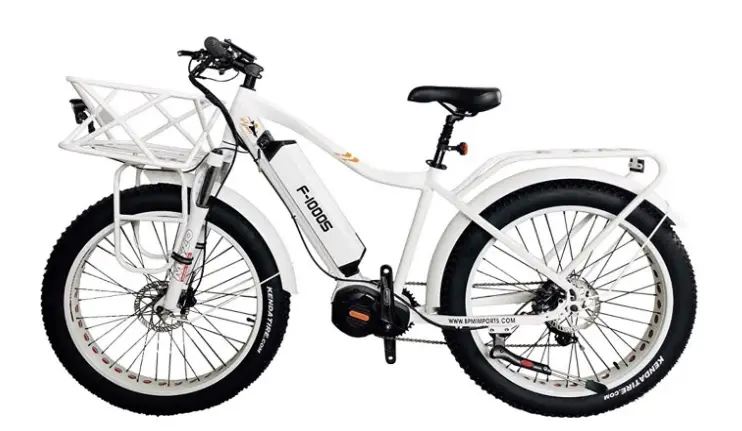 Box Cargo Bikes and Trikes
These types of cargo bike are very popular in Europe, particularly the Netherlands, Denmark and Germany. These can be two or three-wheeled cargo bikes and have a greatly increased capacity for carrying children, shopping or goods.
A good example of a 2-wheeled box cargo bike would be the Cube Cargo Hybrid (pictured below).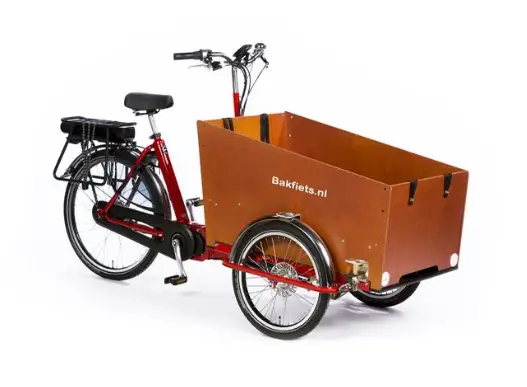 The Dutch company Bakfiets are well-known for producing 2 and 3-wheeled cargo bikes. There is an example below of their Classic Cargo Trike fitted with the excellent Shimano Steps mid-drive electric motor.
Anyway, let's move on and have a closer look at what the Kona Electric UTE cargo bike has to offer.
Electric Components
As with any electric bike, the components used will always be a deciding factor when making a purchase. How powerful is the motor? What is the Battery range?
When it comes to choosing a Cargo ebike, the type of electric components used are crucial. You will certainly need a robust motor that produces a decent amount of torque to cope with the extra weight.  A more powerful battery will also be necessary to handle the extra demand being put on the motor.
Bosch Performance Line CX Motor
At the heart of any good e-bike is its motor, and Kona has gone for one of the best currently available. The Bosch Performance Line CX motor is usually reserved for high-performance electric mountain bikes. This motor is perfect for an electric cargo bike, simply because of the impressive amount of torque it can produce.
Although the maximum continuous power rating of the motor is a road legal 250w, the torque output is an excellent 75Nm.  Torque is what you really need on a bike like this, especially if you're carrying extra weight. And the Bosch motor delivers the goods – literally!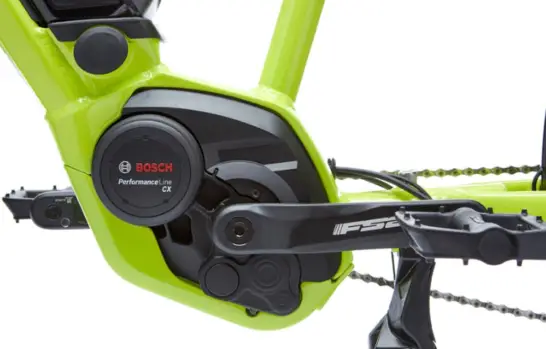 This motor delivers up to 300% assist, including cadence support up to 120 rpm. The torque sensing system is one of the most advanced found on any e-bike motor. Taking thousands of measurements per second, to ensure the motor is providing the exact amount of assistance required at any given time while ensuring optimum efficiency for battery range.
Intuvia Display
The Bosch Intuvia display is large and easy to read. It is mounted in the centre of the handlebars, with the control keypad being next to the left-hand side grip.
This is a good display and gives you all the important information you need, including speed, battery range, assist mode and trip function. The display can also be easily removed for safekeeping, and it has its own internal battery.
Battery
Bosch PowerPack 500
The removable Bosch PowerPack 500 battery, like all other Bosch batteries uses a smart BMS (battery management system) which monitors voltage, current and temperature. It will shut the battery down if any irregularities occur, thus protecting the battery from any potential damage or hazards.
This battery should give a potential range of between 60-80 miles depending on how much the bike is loaded up, and the amount of assist used. You can use the battery range assistant courtesy of Bosch – this is a great way to estimate your potential range, there is an option for a cargo bike in the calculator.
Bike Components
On a cargo e-bike, gearing is everything. The last thing you want is to be standing on the pedals just to get yourself up a short hill. The right gearing is also crucial for optimum efficiency of the mid-drive motor.
Another important consideration is brakes. You don't want to be flying down a steep hill, loaded up with weight, only to find the brakes aren't man enough for the job. Good quality hydraulic disc brakes are a must on any decent cargo bike.
Other components like a stand, mudguards, lights and a comfortable saddle should all focus high on the list of cargo bike's component list.
Gearing
As you would expect with a cargo bike of this calibre, the Kona uses high-quality Shimano gear components.  The unusually small 15t chainring is down to the way the gearing is arranged inside the motor. A rear 9-speed 11-32 cassette with an excellent quality Shimano Deore Shadow derailleur, combined with an Acera trigger shifter makes for excellent gear shifting.
The Bosch CX motor utilises a gearshift sensor,which cuts power to the motor for a split second when shifting. This reduces wear and tear on the drive-train, and makes for smooth gear shifting.
Brakes
The Tektro HDM285 hydraulic disc brakes with a large 180mm rotor up front and 160mm rotor at the rear provide excellent stopping power, something that is very important on a bike designed for carrying extra weight.
Lights
The Busch and Muller lights are of excellent quality and can be conveniently switched on or off using the display keypad. They are run from the Bosch battery and provide excellent lighting for nighttime riding.
Load Capacity
The Kona Electric UTE is designed to carry a lot of weight, although I can't find an exact figure, i'm assuming it's a lot as their promotional video features the bike being ridden with adult passengers. It can safely be assumed it can carry at least 75kg, possibly even more.
The extra long cargo rack comes complete with two very large and durable pannier bags, that you could fit most of the week's shopping in! You can also fit a single or double child seat if required.
Wheels and Tyres
The super tough 650b (27.5″) WTB ST i23 TCS rims combined with 14g spokes are specifically designed to cope with the extra weight this bike is likely to carry.  There is a Formula hub at the front and a Shimano Deore hub at the rear, making these really robust wheels, that should be more than up to the job.
The excellent WTB Horizon Comp Puncture Protect 650x47c tyres not only look nice, with their tan side walls, but should provide good traction on a multitude of surfaces including gravel and light trails.
Finishing Kit
The seat post, stem and handlebars are all Kona branded components. The Saddle is a comfortable Velo Plush, and the grips are Velo ergonomic.
The Kona Electric UTE is also fitted with an excellent Ursus Jumbo 80 centre stand, which is a nice touch, considering a side stand probably wouldn't have been up to the job. The whole package is finished off with a set of high-quality mudguards front and rear.
Frame
The frame and forks are made from 6061 butted alloy. Kona have always made excellent frames, and this one is no exception. It is well made, with internal cable routing and finished off in a lovely gloss yellow.
Who is the Kona Electric UTE aimed at?
The Kona Electric UTE is for anyone who wants a versatile and practical electric bike that can go above and beyond the normal carrying capacity of a regular bike.
This could be used by couriers, mums taking their kids to school and so many other things. The applications for a Cargo ebike like this are numerous.
Conclusion
The Kona Electric UTE is really a great bit of kit.  Kona's mountain biking heritage shines through on this bike. It feels very sturdy indeed!
The Bosch CX motor is a perfect choice for an electric cargo bike, as it produces enough torque to cope with the extra weight that is likely to be carried.
As with all of the Bosch motors, the pedal assist is just so smooth and responsive. It makes riding this bike an absolute joy. You don't even realise your riding a cargo bike.
Despite the longer wheelbase, the bike handles superbly, it inspires confidence whether riding on tarmac or gravel. This is all helped by the mass centralisation given by the motor and battery. It gives the bike a very 'planted' feel.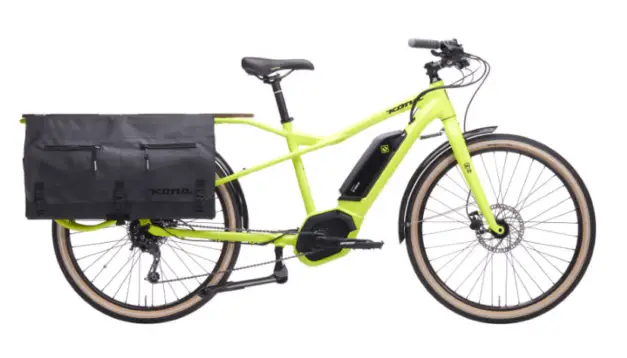 Unfortunately electric cargo bikes of this calibre don't come cheap. I believe that the Kona Electric UTE is one of the best in its category. The price is going to put a lot of potential buyers off. There are cheaper alternatives available, but most of these use the less efficient rear hub motor.
In summing up, if you are in the market for a long-tail electric cargo bike, and you don't mind paying a hefty price tag, then the Kona Electric UTE is a fantastic bike. It is well made, it has a great electric motor and it looks great too. If I had the money, I would definitely be tempted!
Watch this space, I will be doing more electric cargo bike reviews in future.
If you own a Kona Electric UTE cargo bike and would like to share your experiences, please leave them below in the comments section.