New e-bike sales in the UK tapered off in 2022, except for electric cargo bikes, which increased in popularity. The Mycle Cargo is a long-tail budget option that's a great alternative to the Radwagon 4 by Rad Power. This latest iteration features upgrades such as hydraulic brakes and a new display. I had the privilege of testing out this latest version over 3 weeks, and in this review, I'll examine its practicality and quirks.
Mycle is a UK-based company that assembles their bikes in Gloucestershire by Cytech-trained technicians. All of their e-bikes are covered by a standard 12-month warranty, which can be extended for 24 months if required. The Mycle Cargo retails for £2299, making it one of the cheapest long-tail cargo e-bikes available.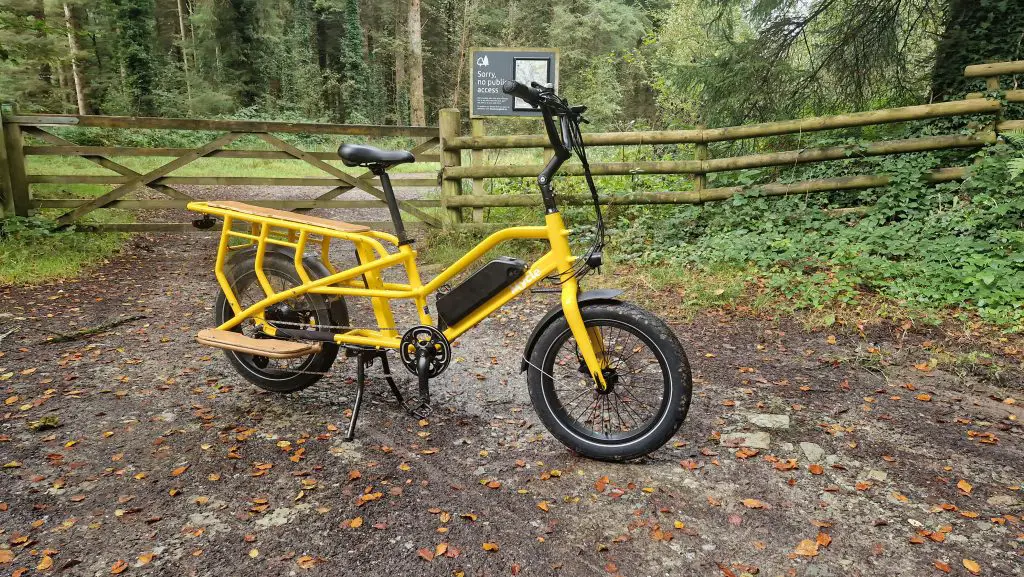 Unboxing and assembly
Upon receiving the Mycle Cargo, the first thing that strikes you is the substantial weight of the package, tipping the scales at nearly 40kg. The substantial packaging ensures that the bike and its components are protected during transit. As you open the box, you're greeted with the partially assembled bike, neatly secured and cushioned with protective materials. Each component is wrapped, ensuring no scratches or damages.
The assembly process, while reasonably straightforward, requires some attention to detail. The main bike frame with the rear wheel is attached inside the box. The front wheel, mudguard, handlebar, centre stand, and pedals are separately packed and must be fitted. Clear instructions are provided, guiding you through each step of the assembly. However, if you're unfamiliar with bike assembly, it might be a good idea to seek assistance from a professional bicycle mechanic. This ensures that the bike is set up correctly.
Test ride
The test model was equipped with running boards, so for the initial test ride, I decided to take my 11-year-old daughter along to see how the bike dealt with the weight of a passenger. It takes a little getting used to at first, but you quickly adapt.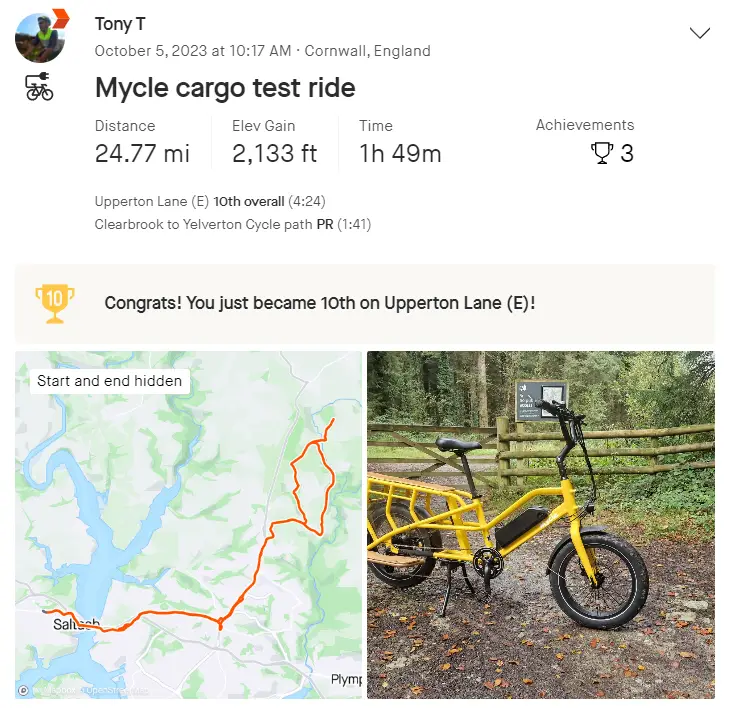 What impressed me first was the power of the motor. Although it's rated to 250w, in line with UK e-bike laws, it does produce a lot of torque, and the hilly terrain in Devon wasn't a problem. I kept the bike in full-power mode throughout the ride and didn't struggle once.
The motor is also smooth and fairly quiet. It uses a cadence-based pedal sensor, which did have a delay on start-up. The twist grip throttle does help a little getting off the line, but I think that if Mycle could add a torque sensor, it would transform the riding experience.
Regarding battery range, the Mycle Cargo performed commendably. The 48v 15Ah battery has a claimed range of 60 km (37 miles); I used 4 bars out of 5 for the 25-mile test ride. Bearing in mind, I'm quite heavy at 105 kg, plus I was carrying an 11-year-old child, and the route included 2100ft of elevation gain. I think that's pretty good going. Mycle offers a dual battery option, doubling the potential range to 120 km (74 miles).
Braking performance was also a strong point. I think all cargo e-bikes should have hydraulic brakes, and it's good to see Mycle fitting these as standard. The brakes used are Tektro, and they performed very well through the test.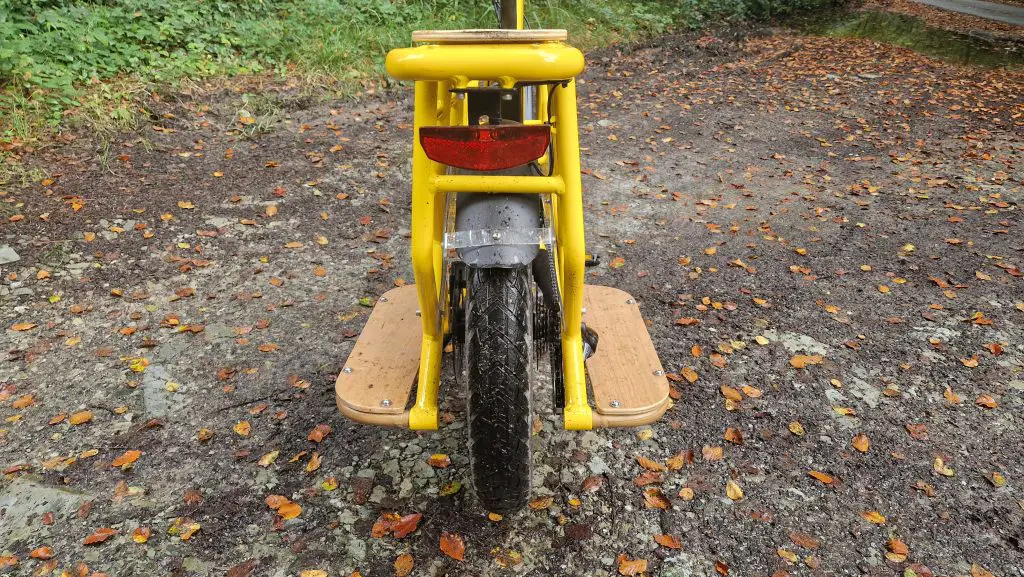 As far as comfort is concerned, I found it acceptable. My only complaint was the limited adjustment in the seat post. I had it set at maximum (I'm just over 6ft), and it still felt too low for optimal pedalling efficiency. However, the big gel saddle is very comfy, and the wide, high-rise handlebars put you in an upright riding position. The frame has a low standover height, making it suitable for shorter riders.
There's no suspension on the Mycle Cargo, but this wasn't an issue. The big 20″ x 3″ tyres did a fantastic job soaking up poor road surfaces and seemed to roll very well compared to other fat tyre bikes I've tested.
Electric components
At the heart of the Mycle Cargo is a high-torque 250w rear hub motor. This motor is designed to produce significant torque, making it especially good for carrying additional weight and climbing hills. During the testing period, this motor provided smooth and consistent performance. If you're not carrying extra weight, it feels quick compared to similar (and more powerful) e-bike motors.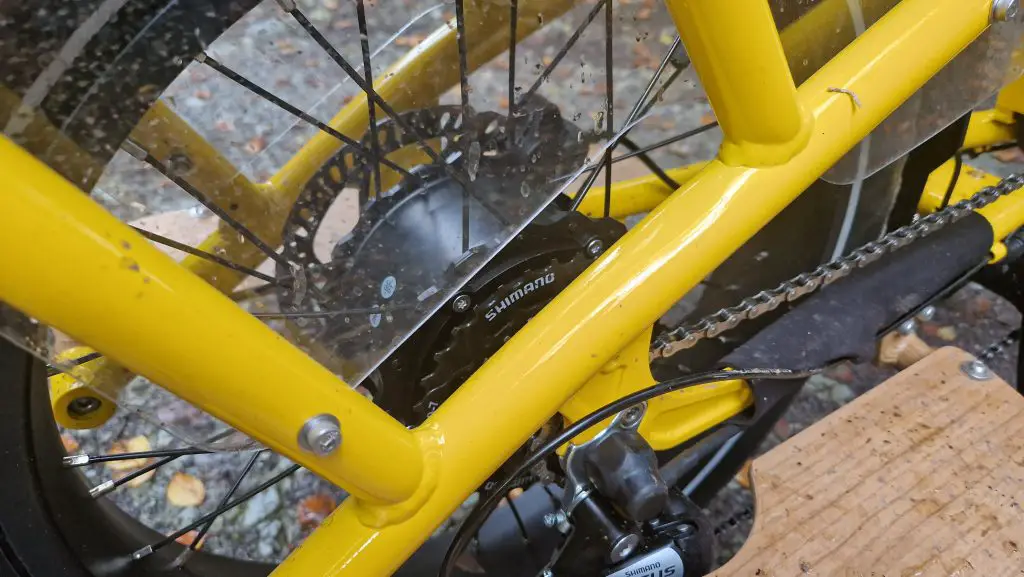 The 48v 15Ah battery uses LG cells and provides a commendable range in real-world testing. I did two similar rides, one with a passenger and one without. Both rides were around 26 miles with 1800ft of elevation gain and were ridden in the full power setting (level 5). One bar remained on the battery indicator after the loaded ride and two after the unladen ride.
The Mycle Cargo now features a clear and user-friendly LCD display as standard fitment (previously, this was an optional extra), which provides riders with essential information at a glance. From current speed and distance travelled to battery life and power assist levels, the display gives the rider all the information needed to keep them on the move.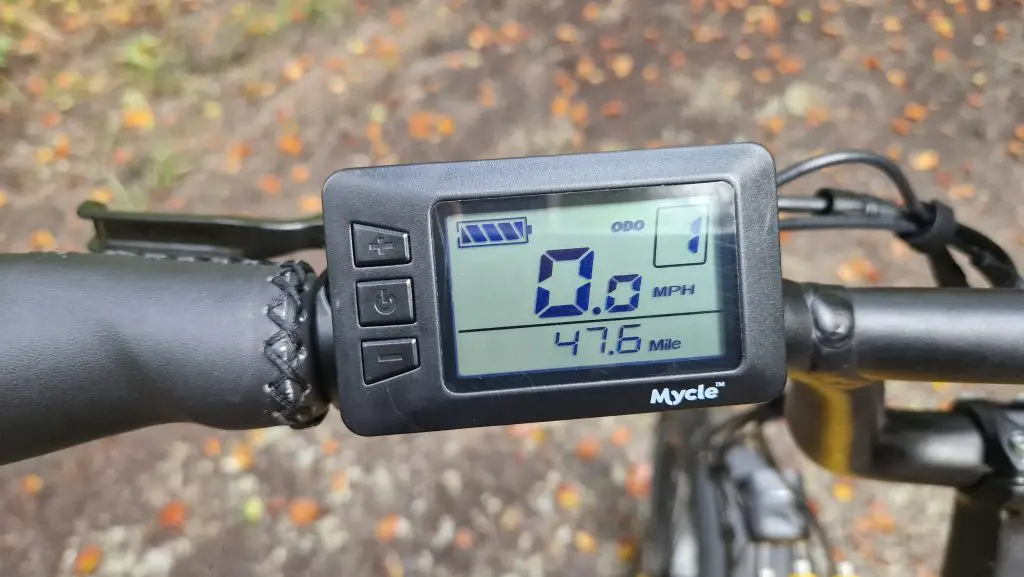 Bike components
The gearing is a dependable Shimano Altus derailleur paired with a TX50 thumb shifter and a 7-speed wide-range 14-34 freewheel. The low gearing really helps with steeper hills, but once you get to the cut-off speed of 15.5 mph, you'll be hard-pushed to go much faster as you'll be pedalling too quickly.
Safety is an important consideration for a cargo bike, and the Mycle doesn't compromise in this department. The Cargo has Tektro hydraulic disc brakes with integrated motor cut-off sensors. These performed well throughout the testing period and worked as expected.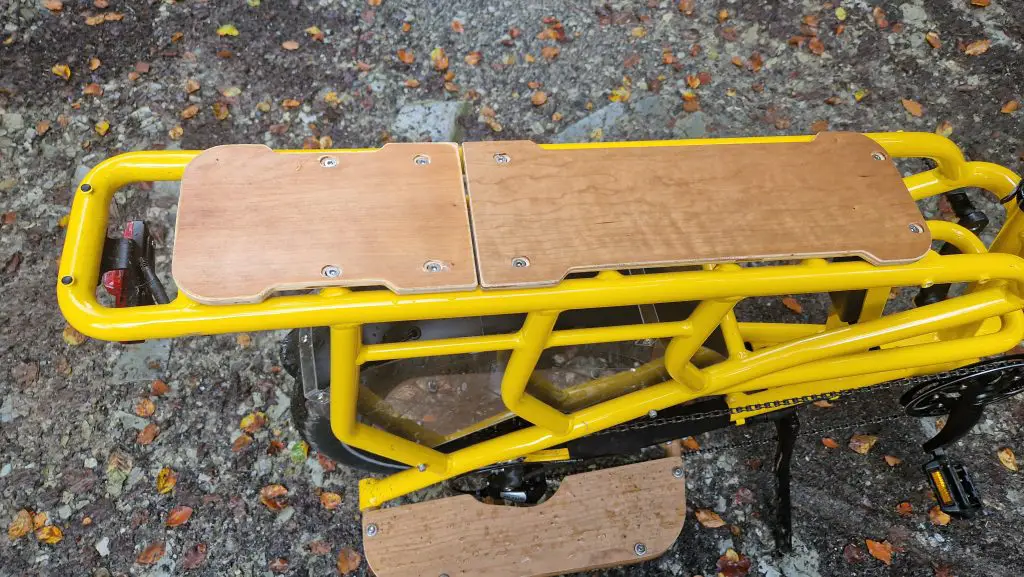 The alloy frame looks very tough, and the cargo rack is integral. The rack has a load capacity of 125 kg, meaning you can easily carry two children or even an adult! The finish of the frame was flawless and looked quite durable. I didn't notice any scratches or chips after the test period.
Accessories include mudguards and a sturdy centre stand to ensure parking stability. The test model was also equipped with optional running boards, perfect for carrying passengers. Furthermore, the Mycle boasts a high-quality headlight and rear light for enhanced visibility during nighttime rides or in low-light conditions.
Sizing and comfort
One of the good features of the Mycle Cargo is its emphasis on rider comfort. The bike has a generously sized gel saddle designed to provide maximum cushioning and support during rides. This, combined with the bike's low standover height, ensures that mounting and dismounting the bike is easy, even for riders who might not be as agile. Furthermore, the high handlebars contribute to the overall comfort, allowing riders to adopt an upright position. This posture reduces strain on the back and shoulders and offers a clear view of the road ahead, making for a safer and more enjoyable riding experience.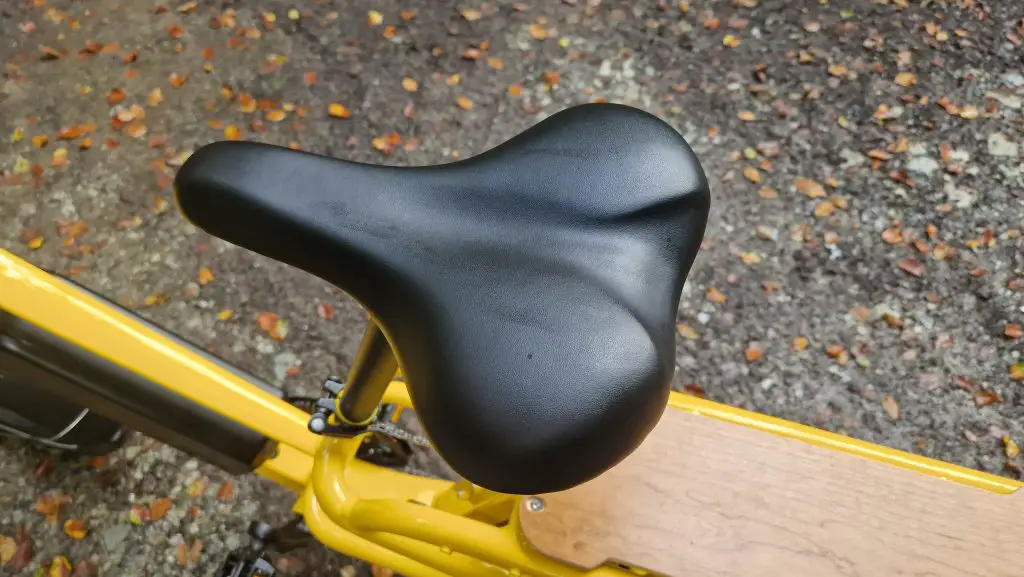 However, while the Mycle should score high on comfort for most riders, taller individuals face some challenges. The seat post wasn't quite long enough for me to achieve a truly comfortable riding position. As a result, I would recommend taller riders purchase a longer seat post to achieve an optimal saddle height for pedalling.
Who is the Mycle Cargo suitable for?
The Mycle Cargo is going to be suitable for a multitude of tasks. The bike's design, especially with the optional running boards and child seats, makes it ideal for transporting small children to school. Not only does this provide a sustainable alternative to the traditional car commute, but it also adds an element of fun for your children. The spacious design and sturdy build make it a good option for delivery riders.
I also think it would make a great daily commuter e-bike. With its blend of strong performance, comfort and utility, the Mycle would be great for the ride to and from work.
Pros and cons
Pros:
Powerful Motor: The 250w rear hub motor offers significant torque, making it ideal for hill climbs and carrying additional weight.
Long Battery Life: The 48v 15Ah battery provides a respectable range, allowing for extended rides without frequent recharges.
Comfortable Design: With a big gel saddle, low standover height, and high handlebars, the bike ensures a comfortable, upright riding position.
Versatility: Suitable for various users, from parents and commuters to food delivery riders and small businesses.
Cons:
Pedal Assist Delay: There's a slight delay in the pedal assist, which may cause problems when pulling away on a gradient.
Seat Post Limitation: The seat post may not be long enough for taller riders, affecting optimal pedalling comfort.
Low Gearing: While great for torque, the low gearing makes pedalling much beyond the 15.5 mph electric assist cut-off impossible.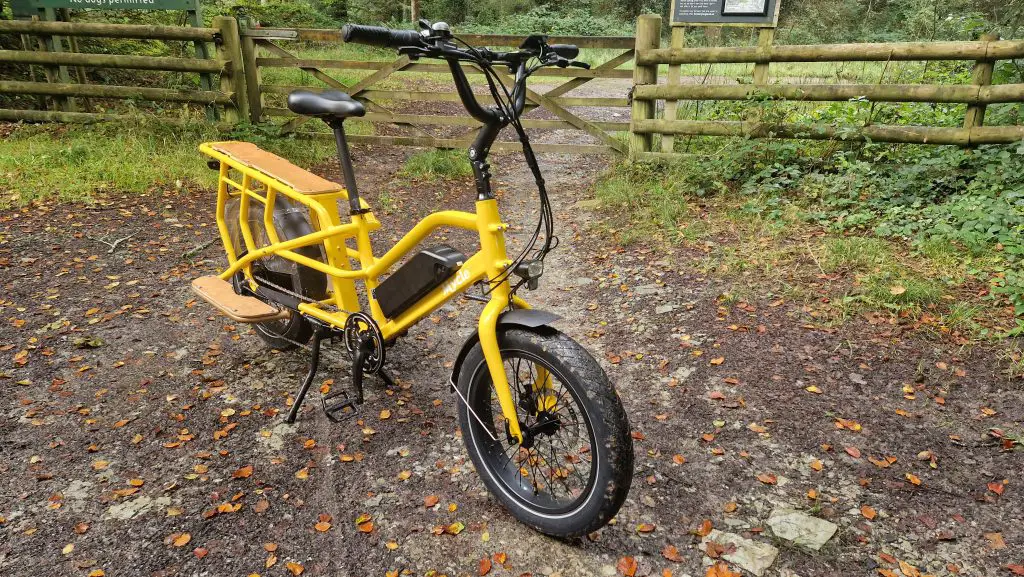 Conclusion
I've really enjoyed my time testing out the Mycle Cargo, and while it does have a few quirks, such as the pedal assist delay, low gearing and the seat post limitation for taller riders, its benefits far outweigh the negatives.
For those seeking an affordable cargo e-bike that doesn't compromise on performance, safety or comfort, the Mycle Cargo is well worth considering. Whether you're a parent, a commuter, a delivery rider, or a small business owner, this bike has many potential uses, and I'd have no problem recommending it.
If you have questions about the Mycle cargo, please leave a message in the comments section below.