What is there not to like about electric cargo bikes? They do it all. They're generally comfortable to ride, they can carry large loads, and even your young children (or maybe an adult).
The Tern GSD S10 epitomises everything a cargo e-bike should be: It's very well built, it can carry 200kg in weight (including rider), and it isn't any longer than a regular bicycle. Despite its hefty price tag, I think it is one of the best electric cargo bikes currently available. Read my full review below for more details about this great e-bike.
Summary
Tern Bicycles was founded in 2011 in Taipei, Taiwan and are well-known for its excellent range of compact and folding bikes. Tern is a truly global company with top team members dotted all around the globe, including the US, UK and Europe. Their bikes have won several awards and have always been innovative, the Tern GSD S10 electric cargo bike is no exception.
I like the acronym – GSD stands for 'get stuff done', and the way this bike has been designed, speaks volumes about the company's R&D team and design philosophy. What we have here is the bicycle equivalent of a Swiss army knife!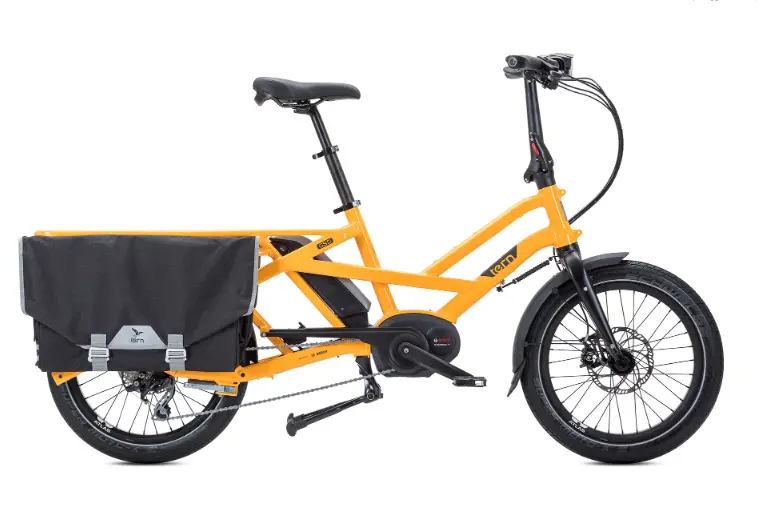 Imagine the brief: Design an e-bike that can carry 200kg in weight and has enough space to carry a couple of small children, and do a week's worth of shopping. But on top of that, make the design no longer than an ordinary bicycle.
Add high-quality e-assist courtesy of Bosch, and also add the option of two 500Wh (watt hour) batteries to give a potential range of 140 miles.
Design the bike in such a way, that almost anyone can ride it – the Tern is designed to accommodate anyone from 150cm-195cm, making it suitable for teenagers and adults. This is thanks to the telescopic adjustable seat post and adjustable handlebars.
The Tern GSD can be used in any capacity – fancy going to the shops, but don't want to take the car? Need to collect a couple of little ones from the nursery? How about a spot of touring?
This e-bike has so many potential uses, it's ridiculous. As much as I like the Kona Electric UTE, the Tern GSD ticks all the right boxes for me in terms of overall practicality. Let's have a closer look at the components.
Electric Components
When it comes to a load-lugger like the GSD, motor performance is paramount. In terms of motor type, the mid-drive is much more suited to this set-up, as it uses the bicycle's gearing in the same way an internal combustion engine does on a motorcycle.
Battery range is also an important consideration. If an e-bike is designed to carry more weight, then the battery needs to be up to the job. In the case of the Tern, they have provided the option of two batteries. This way it is highly unlikely you will ever run out of pedal assist.
Bosch Performance Line CX
Tern has opted for the excellent Bosch Performance Line CX motor** to power the GSD. This is one of Bosch's high-performance e-bike motors, usually reserved for mountain bikes and the like.
This is a great motor and it is perfectly at home on the Tern. The high torque output of 75Nm will ensure there is plenty of off assist on hand, as and when you need it.
The Bosch motor will give the rider up to 275% assist,  meaning it will amplify the rider's input depending on what level is selected. Even in Eco mode, the rider receives a massive 50% more assistance than they are putting in.
This is all achieved by an advanced torque sensing pedal assist system, that not only measures the rider input (through force being applied to the pedals) but also pedalling cadence (RPM) and speed. Resulting in a very smooth delivery of power, that is adaptive to riding style.
Not only does this motor provide performance, but it is also very efficient, meaning you will always get the optimum battery range.
**The latest version of the Tern GSD S10 uses the new Bosch Cargo Line motor with 85Nm torque.
Bosch Purion Display
The Bosch Purion display is simplistic and functional. Speed, battery and trip are all available. There are also integrated controls to increase/reduce assist levels, plus a 6km walk function.
Battery
Bosch PowerPack 400Wh Battery + optional 2nd Battery
This is the crowing glory of the Tern GSD S10. Having one 400Wh battery is ideal for nipping about town or daily commuting, but having the option of a 2nd battery is an excellent idea. This means that you will never need to worry about running out of power again.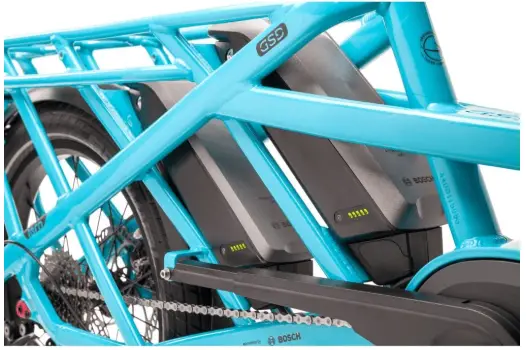 With the dual batteries fitted, you would have a potential battery range of 140 miles (2 x500Wh), making the GSD viable in a commercial capacity (courier bike) or used for touring.
Bike Components
Naturally, a cargo bike will need to be robust and have good brakes, gearing, wheels and tyres. Thankfully the designers at Tern have adorned the GSD S10 with excellent brakes, ultra-tough wheels, top-of-the-line Shimano Deore drive-train and wide Schwalbe all-terrain tyres.
Gearing
As you would expect from a load lugger like the GSD, gearing is of paramount importance. The Tern uses Shimano's excellent Deore 1 x 10, using a Shadow+ rear derailleur with an 11-36 cassette.
Up front is a small 20t chainring, but this is increased by a factor of 2.45 due to the Bosch motor's internal design. This gives you a 49t front chainring, which will be ideal for city riding.
There is the option to change the front chainring for anything from a 14t – 22t, so if you live in a very hilly area you can easily lower the gearing if required.
Brakes
Another important factor that cannot be overlooked with a cargo bike is braking. Imagine descending a steep hill loaded up to the gunnels with stuff.
Thankfully Tern has fitted the excellent Magura MT5 4-pot hydraulic brake callipers with 180mm disc rotors. These brakes are excellent and are guaranteed to provide safe and confident braking in all conditions.
Wheels and Tyres
The 20″ wheels on the GSD are designed to be super tough. The extra wide 36 mm Tern Atlas rims are complemented with front and rear thru-axle hubs with the Syntace X-12 reinforced design – these are designed for downhill MTBs and gravel bikes, so their durability is proven. Heavy-duty stainless steel 13G spokes complete the package.
Schwalbe Super Moto-X, 62-406 tyres are fitted. These are specially designed for the GSD and feature Schwalbe's excellent puncture protection and reflective side wall.
Load Capacity
A total load capacity of 200kg is the manufactures recommended maximum. This includes the weight of the rider and bike. This gives a phenomenal potential carrying capacity. Even if you are on the larger side (like me) there is still room for an extra 70kg of cargo.
Finishing Kit
Here is a bike that has most of the extras you will ever need. The finishing kit is of an excellent standard, from the adjustable stem, through to the telescopic seat post. The beautifully sculpted saddle even has a handle for passengers to hold on to. It's attention to detail like that, that sets the Tern GSD apart from the competition.
There is an SKS chain blade chain guard, stainless steel mudguards and a heavy-duty kickstand. There is even the addition of a Tern Valo direct integrated front headlight, that puts out a respectable 150 lumens and a high-quality Herrmans H-Trace rear light – specifically designed for e-bikes.
Frame
The well-designed frame is what makes this bike so robust. The Tern 7005-Alloy, patented MultiTruss design is super strong and has been rigorously tested to exceed the day-to-day requirements. The front fork is made of 7005 alloys with a 1.5″ Taper and 110mm Boost Thru-axle.
Who is the Tern GSD S10 for?
There are so many applications for a cargo bike like the Tern GSD. If you live in an urban environment with good cycling infrastructure, this could easily replace your car as a form of day-to-day transport.
If you have a couple of younger children, what a great way of doing the school run on a sunny Spring or Summer morning.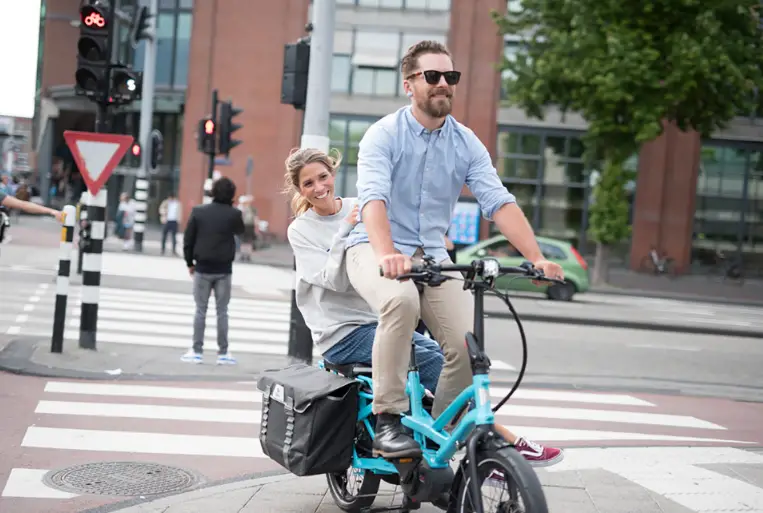 Need to go and do the weekly shop? No worries, this bike can comfortably carry a full supermarket trolley's worth of shopping.
Maybe you are partial to exploring the countryside on the weekend, or even doing a spot of touring in France. This bike is so versatile, it can be ridden on tarmac, canal towpaths, and gravel tracks while carrying all the provisions you need for escaping for a few days. Tent, sleeping bag, change of clothes, food, gas stove – the list goes on and on. The Tern GSD S10 would make an excellent touring electric bike.
The Tern GSD S10 is featured on my list of the best electric cargo bikes
Using a Cargo e-bike for business
I think one of the most promising applications for the GSD Cargo bike is using it for a delivery or courier business.  In a city like London, where the traffic can be horrendous, you could get important packages from one end of the city to the other much quicker than using a small van.
Despite the initial expensive purchase cost, you could make this bike pay for itself in a matter of months. Even the added cost of the dual battery would be worth it – you could easily cover 80 miles a day on this without ever having to worry about going near a petrol pump!
Think how much it costs to run a small van or even a motorcycle. You need insurance, fuel, and road tax. Using an electric cargo bike like the Tern GSD could prove to be a wise long-term investment.
Conclusion
I love the Tern GSD S10 electric cargo bike. If I had £4000 knocking about, I would go out and buy one tomorrow. I love the way it handles, I love the comfortable riding position, but most of all the practicality and overall quality of the package is hard to beat.
The Bosch motor, as always comes up trumps and works in perfect harmony with the GSD. Hills are nothing to be feared anymore, ramp the power up to boost mode and you will effortlessly pedal up a steep hill, carrying cargo without breaking into a sweat or getting out of breath.
The design team at Tern have done themselves proud in producing a truly viable alternative to the car. I can't fault the GSD. I know the price tag will put a lot of people off, and you can indeed purchase cargo bikes for less than half the price of this.
What you are paying for is an incredibly well-made and truly innovative design. There is nothing on the market that can match the Tern for sheer all-around practicality.
There are some great electric cargo bikes out there that are cheaper. The Kona UTE in particular springs to mind. That is a good bike in itself, but it is substantially longer, it doesn't fold down and only has provision for one battery (although you could carry a spare).
As a tool for business, it has so much potential. Plus if you did decide to use one of these for your courier business, you would be able to offset the purchase price against your tax bill.
Final Thoughts
I re-discovered my love of cycling through e-bikes nearly four years ago. In that time, I have been fortunate enough to try out countless different electric bikes, ranging from downhill mountain bikes to the latest e-road bikes.
Nothing has tugged at my heartstrings quite like the Tern GSD. It's such an enchanting bike to ride. I have visions of myself aimlessly exploring the north Atlantic coastline of my home county of Cornwall on one of these.
In my opinion, the best electric cargo bike of its type out there. When my finances allow, I will be adding one of these to my inventory!