I've been asked to take a look at the new Kugoo G-Booster electric scooter to see if it lives up to the hype. High-performance e-scooters have been steadily coming down in price, and the Kugoo is currently available for just under €1000, which makes it one of the best value performance e-scooters currently available. Rocking 2 x 800-watt motors, dual suspension and big, off-road tyres, the G-Booster certainly looks like a lot of fun.
Kugoo G-Booster Specs
General
Brand: KUGOO
Type: Electric Scooter
Model: G-BOOSTER
Color: Black
Specification
Motor Power: 800W x 2
Battery Capacity: 48V/23Ah
Charging Time: 10h
Range: 85km
Max Speed: 55km/h
Climbing Slope: 35 degree
Frame Material: Aluminium alloy
Tire: 10inch Pneumatic tire
Max Load: 120kg
Dimensions&Weight
Product Weight: 30kg
Package Weight: 38kg
Product Size(L x W x H): 120 x 26 x 118cm
Package Size(L x W x H): 124 x 30 x 65cm
Pros
Very powerful – 2 x 800-watts
Massive battery – 48v 23Ah
Wide Deck
Dual Suspension
Off-road tyres
120kg Weight Capa
Cons
Not legal for road use
Very heavy at 30 kg
Not for the faint-hearted!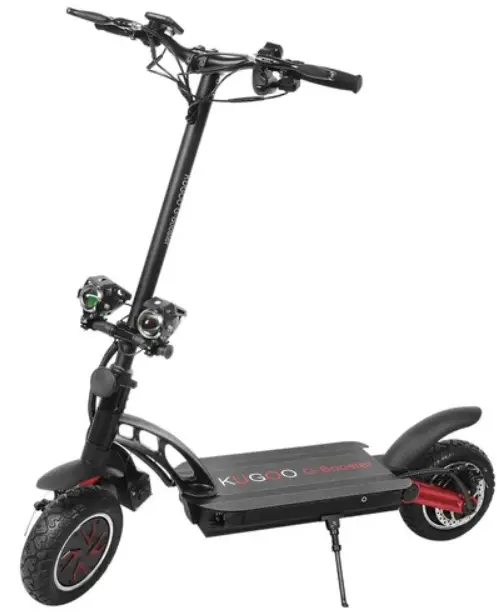 Motor and Performance
One of the standout features of the G-Booster is its dual 800-watt motors and an impressive (claimed) top speed of 55 km/h. I always take these estimates with a pinch of salt, as testing is usually done on flat roads with no wind and lightweight riders. You can probably knock 5-10 km/h off that speed for a heavier rider on undulating terrain, which is still very impressive for an e-scooter of this price.
Available now from Geekbuying – USE CODE: NNNKGBOSTES (€999.99 EU only) 
Power is controlled via the multi-function display which offers three power modes, so you can easily customise the power to suit your needs. There are a set of keys and a voltage meter on the left-hand side of the handlebar.

Battery
An e-scooter with 1600 watts needs a decent battery, and the G-Booster boasts a 48v 23Ah (1104 Wh) battery, which should give the rider enough range for hours of off-road fun. Claimed battery range is 85 km (52 miles) – this will be significantly variable depending on rider weight, terrain, and power level used.  At constant full power, an 1104 Wh battery would be depleted well within the hour.
Weight and Size
In terms of size and weight, the G-Booster is foldable, but very heavy at 30 kg – it's one of the heaviest electric scooters at this price point. But, it folds small enough to be transported (if you can carry the weight), and with dimensions of 120 x 26 x 118cm, it's easy to find a spot to store it at home or on public transport.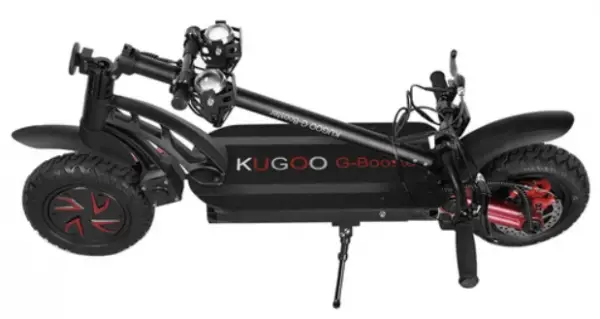 Other Specs
The Kugoo G-Booster has dual suspension, and mechanical disc brakes front and rear – these brakes also cut the motor when braking. Tyres are 10″ pneumatic and have a tread pattern suitable for dry off-road riding. There are also two front headlights and a kickstand.
Legality ⚠️
It should be noted, that the Kugoo G-Booster is intended for use on private land, as the power output and top speed, exceed e-scooter laws in the EU. In the UK, no privately owned e-scooter is currently allowed on public roads, although the authorities in some areas, do seem to turn a blind eye to them.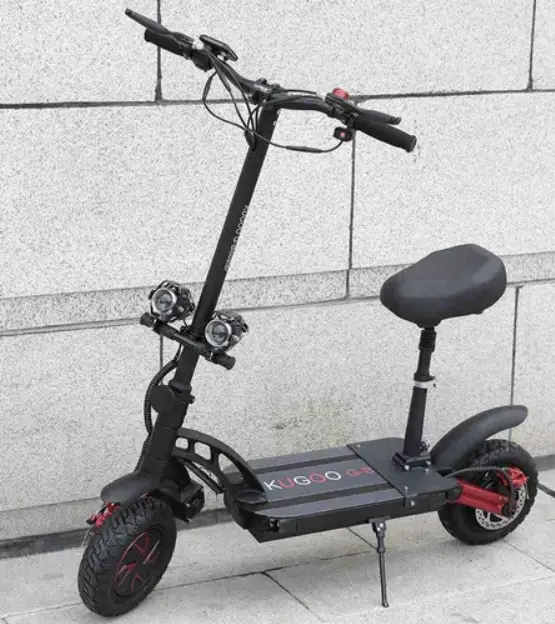 Conclusion
The Kugoo G-Booster looks like a whole lot of fun! I've been looking at some of the customers reviews online, and the consensus is it's a great electric scooter at an affordable price. With 1600 watts on tap and that massive 1104 Wh battery, it offers the best bang for your buck for the price. If you're thinking of purchasing one and using it on public roads, I would ride it sensibly and not draw attention to yourself, as it's a lot of money to get confiscated. If I can get ahold of one of these to review shortly, I'll update this article accordingly. I have just received an iEnyrid M4 Pro S to test and will be posting a review of that week commencing 9/1/2023. For more info on choosing an e-scooter, check out our electric scooter buyer's guide.
Further Reading